These healthy eggless turkey meatballs are juicy, and meaty, and are so easy to make. Added vegetables will make them moist and even more nutritious. Perfect for weeknight dinners and meal prep, as the freeze and reheat well.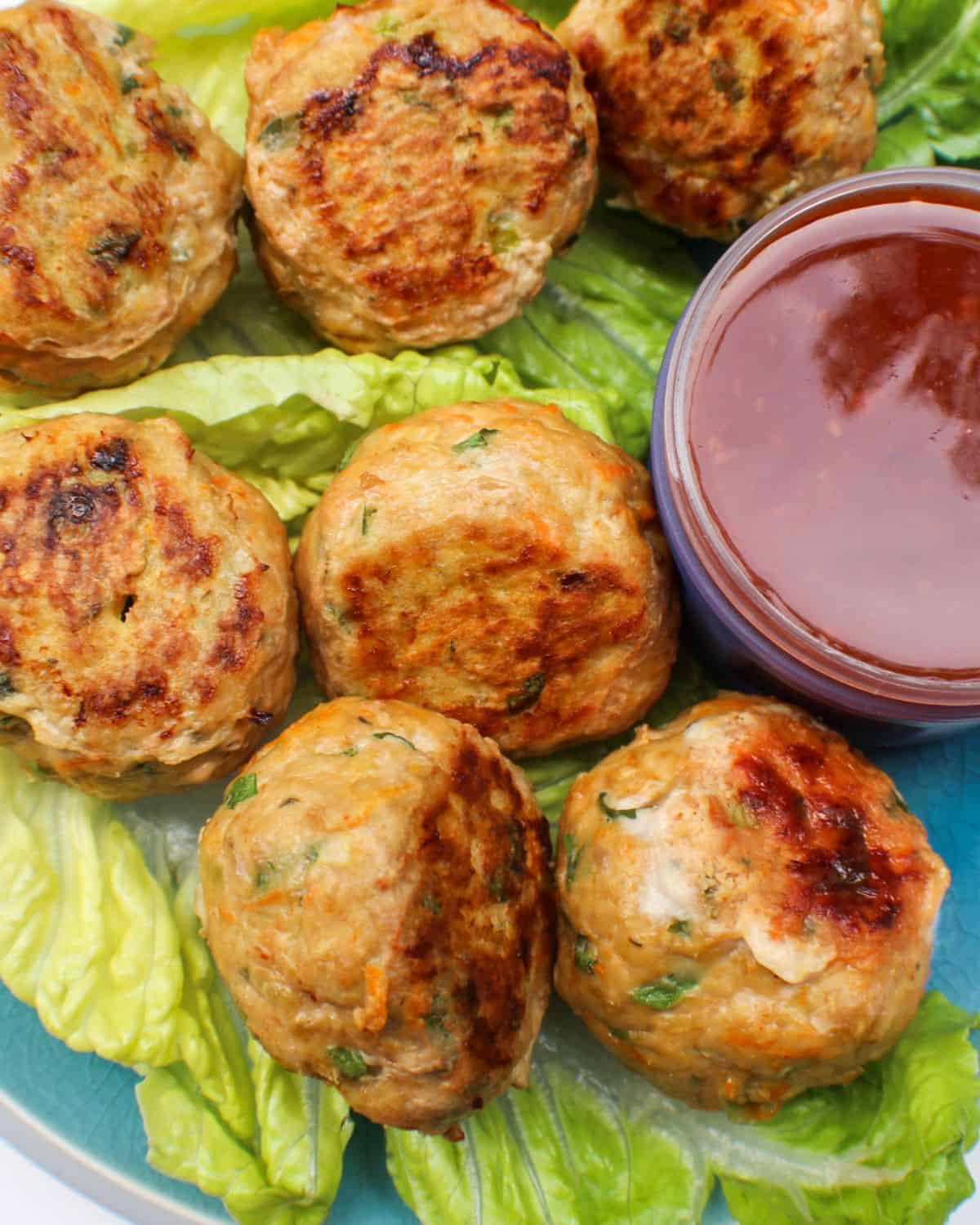 Jump to:
Eggless meatballs
When my son was one year old, I had to do an elimination diet to see if he is sensitive to eggs, gluten, or dairy. I was running out of ideas on what to make and one day decided to try to make these meatballs using only organic turkey meat, vegetables, olive oil salt, and herbs. Surprisingly, they held together and did not fall apart after baking. I made them this way so many times and still do, even when my son is not sensitive to any eggs or gluten. When we followed a gluten-free diet, I served these egg-free meatballs with buckwheat groats or millet porridge. Both are nutritious and gluten-free grains.
This recipe does not require any binding ingredients or dairy. Ground turkey meat holds together well when combined with juicy vegetables. These meatballs are paleo and can be low fodmap if you skip herbs and spices.
Enjoy them as it is or with your favorite spaghetti sauce. Both raw or cooked meatballs freeze well, so I often make a double batch and freeze some for easy meals during those busy weeknights.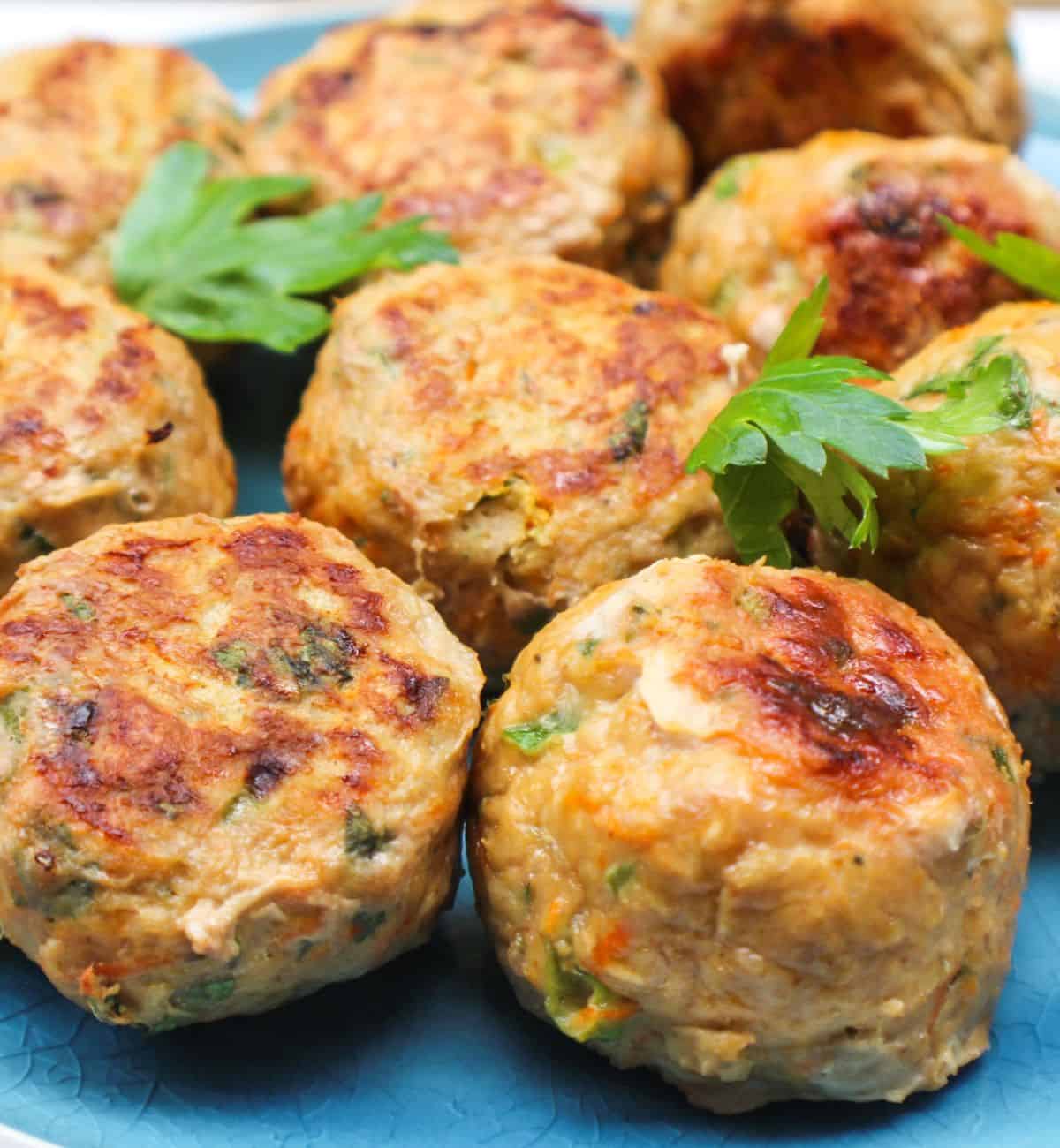 Ingredients
See the recipe card below for ingredient quantities.
Ground turkey: I tried using both 93% and 97% lean ground turkey. I recommend using 93% (still lean), as the meatballs will hold better and have better texture due to the fat content. Turkey meat is already very lean and 97% ground turkey can be very dry.
Carrots and zucchini: Both vegetables need to be grated using a shred box or a food processor. If using a shred box, use the finer side for carrots and the larger one for zucchini. Squeeze some of the extra zucchini juice after shredding it not to add too much liquid to the meatballs. Both vegetables will add nutrients, fiber and will help to hold the meatballs together. Carrot also adds a hint of sweetness.
Salt: I usually add about ½ teaspoon of salt per pound of meat. It is a perfect amount to make the meal savory and it is still lower in sodium.
Herbs and spices: I used garlic powder, onion powder, dry thyme, dry oregano, and dry parsley. You can use any other herbs and spices you like.
Olive oil: you will need it only to grease the parchment paper. Olive oil will also brown the meatballs and add some flavor.
How to make meatballs with no eggs
Prepare the pan: line a large baking pan with some parchment paper. You can use foil, but I avoid cooking with foil as it can leach into the food. Grease the parchment paper with a thin layer of olive oil or ghee butter. Preheat oven to 400°F.
Grate the veggies: use a finer side of a box grater to grate the carrots and the larger side to shred the zucchini. No need to peel the zucchini, just squeeze some access water after shredding to get rid of extra moisture that can make meatballs fall apart.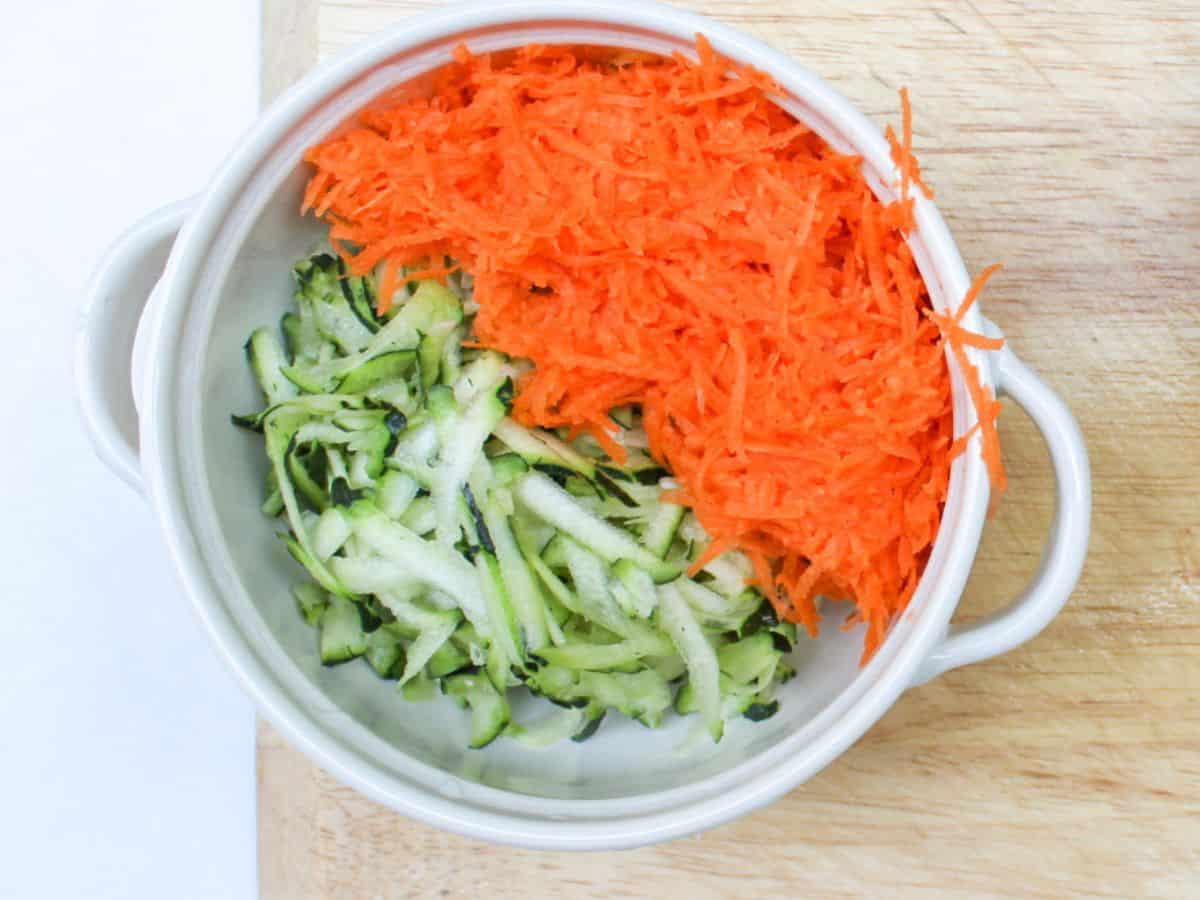 Make meat mixture: in a large bowl, add ground turkey, shredded veggies, salt, herbs, and spices. Use your hands to mix the mixture well to combine all the ingredients.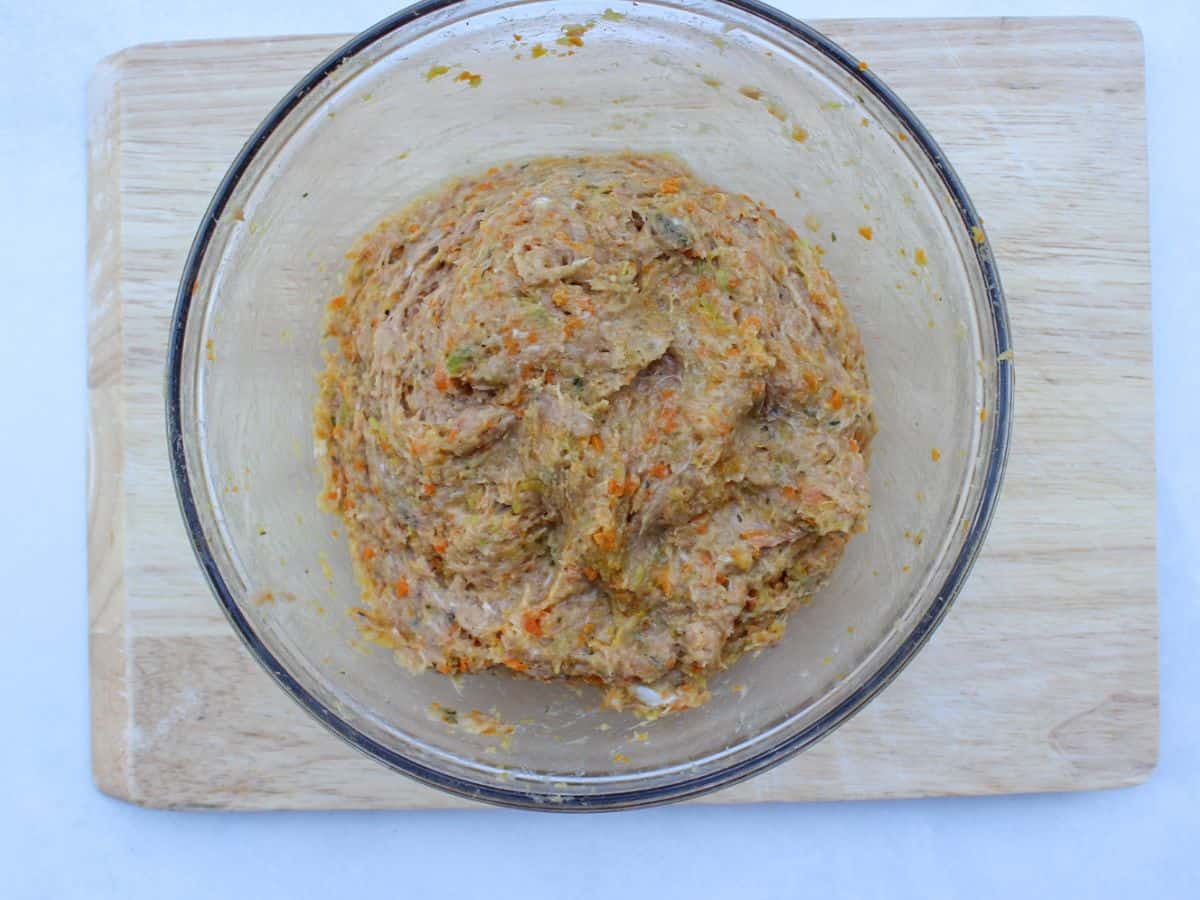 Form meatballs: scoop and spoonful of the meatball mixture and use your hands to form the meatballs. I usually make them the size of a golf ball or smaller. Repeat with the rest of the mix. You will have between 10-12 meatballs, depending on the size. Place the meatballs in a single layer on a prepared baking pan.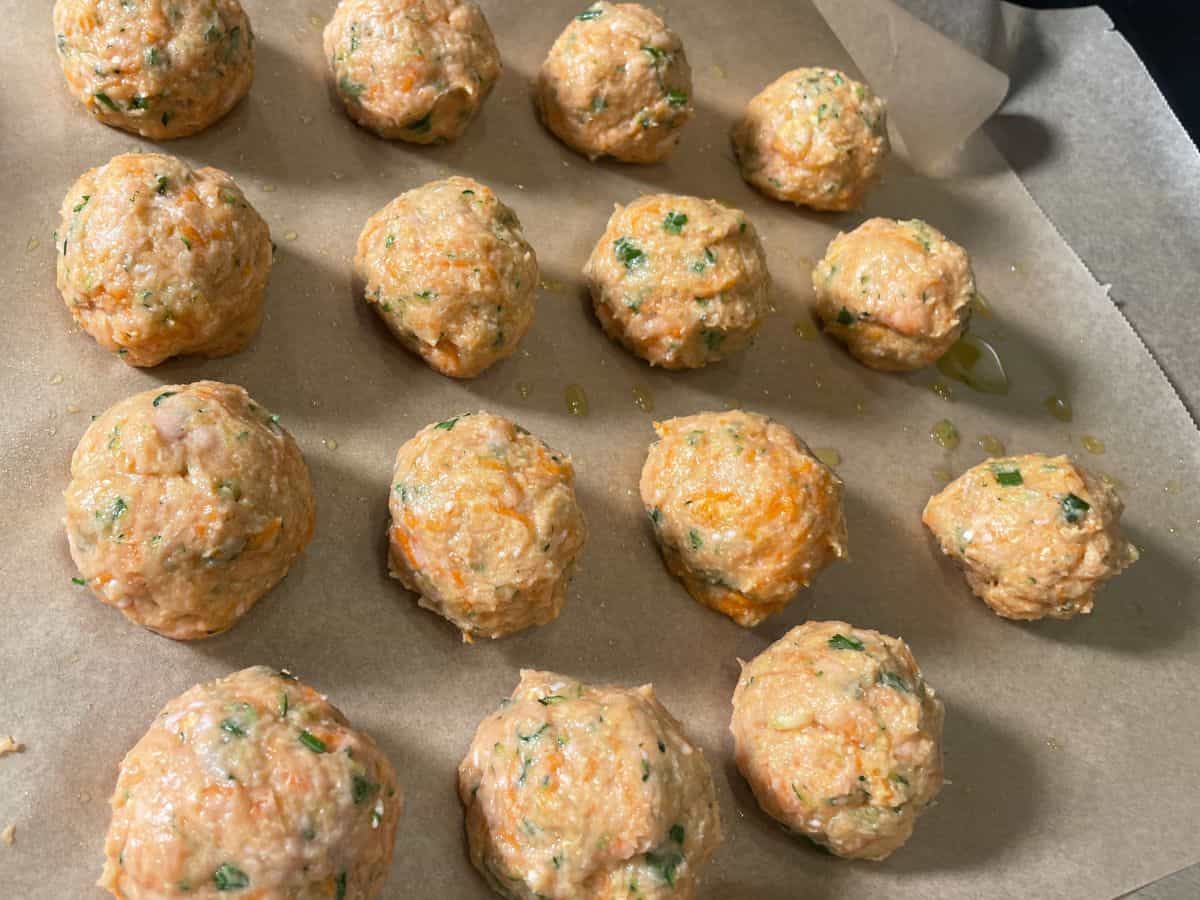 Bake: bake the meatballs at 400°F for about 20-25 minutes flipping them halfway. The internal temperature should reach 165°F degrees, The time will depend on the size of the meatballs and your oven. If baking at lower temperatures, add 3-5 more minutes of cooking time.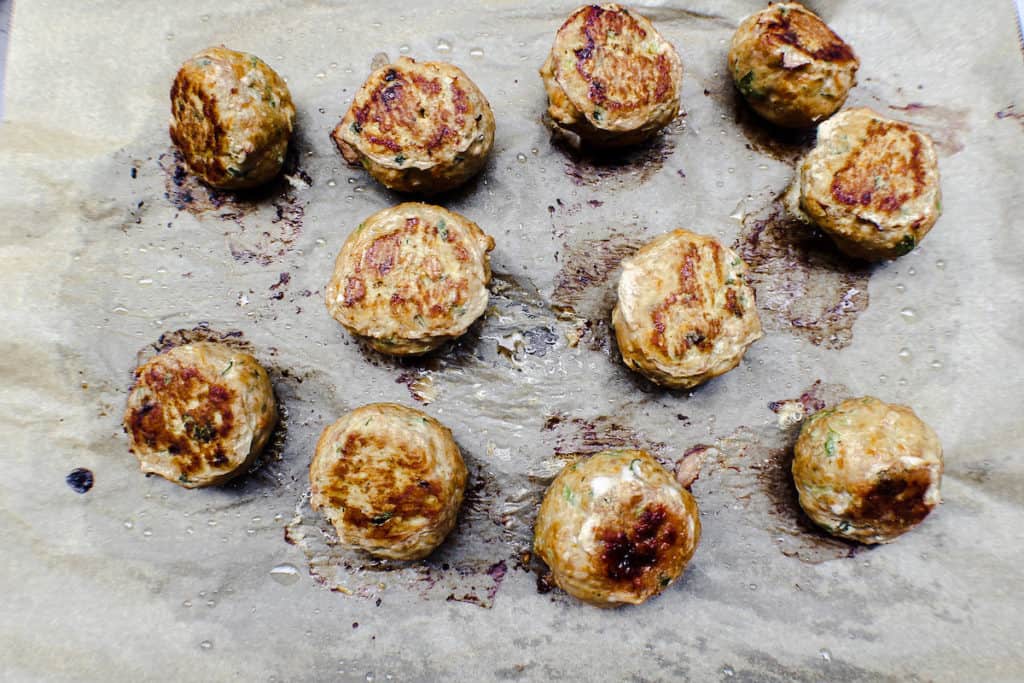 Recipe tips
squeeze the access liquid out of the shredded zucchini.
if the meat mix is too sticky to form the meatballs, wet your hands with some water.
use a cookie scoop to make meatballs all the same size.
always use the meat thermometer to make sure the meat is fully cooked. It will also prevent overcooking it.
How to serve
These healthy turkey meatballs taste great on their own or can be served with some pasta sauce and Parmesan cheese. We enjoy them over whole wheat spaghetti or rice.
For a low-carb meal, serve with spaghetti squash or zucchini noodles. Substitute white rice for some cauliflower rice.
How to store and reheat
Let the meatballs cool down at room temperature for about 30-40 minutes. Do not leave them out for longer than 2 hours. Place them in an airtight container and store them in the fridge for about 3-4 days.
To reheat: gently microwave the meatballs if enjoying with no sauce. If you want to serve them with some spaghetti sauce, use a large skillet and heat the needed amount of meatballs together with the sauce over low heat. They will taste just like fresh.
Freeze them uncooked: you can easily freeze uncooked meatballs and bake them without thawing. Just add about 8-10 to the baking time. I usually line a cutting board with some parchment paper and do a quick freeze for about one hour. Once they harden, transfer the meatballs to a freezer-safe container or a bag. They will last in the freezer for up to 3 months.
Freeze them cooked: let the meatballs fully cool down and freeze them in freezer-safe bags for up to 3 months. Best way to reheat frozen meatballs them in a skillet with your favorite sauce until the internal temperature reaches 165°F. This way the meatballs remain juicy and taste fresh again.
Other recipes with ground turkey or chicken
📖 Recipe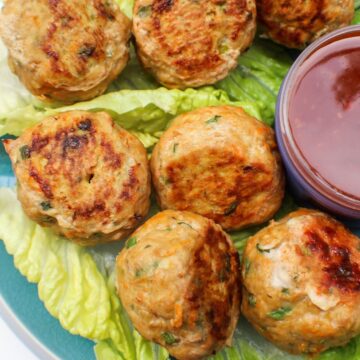 Eggless turkey meatballs
These healthy egg-free turkey meatballs are juicy, and meaty, and are so easy to make. Added grated vegetables will make them moist and even more nutritious. Perfect for weeknight dinners and meal prep.
Equipment
1 Box grater

or food processot

1 large bowl

1 large baking pan

1 sheet parchment paper
Ingredients
1

lb

93% ground turkey

1

carrot

½

small zucchini

½

teaspoon

salt

¼

teaspoon

garlic powder

¼

teaspoon

onion powder

½

teaspoon

oregano

½

teaspoon

dried parsley

¼

tablespoon

dried thyme

1

tablespoon

olive oil
Instructions
Preheat oven to 400° F. Line the baking dish with some parchment paper and and grease it with some olive oil.

Use the fine side of the grater to shred the carrot and the larger one to grate the zucchini. Use your hands to squeeze any extra liquid from the zucchini.

In a large mixing bowl, add meat, shredded carrot and zucchini, salt and spices. Use your hands or a large wooden spoon to mix everything well until all ingredients are combined.

Form small meatballs and arrange them on a prepared pan. Bake for 20-25 minutes, flipping them half way though until the internal temperature reaches 165° F.
Notes
You can shred the veggies in a food processor.
Use a cookie scoop for evenly sized meatballs.
Use the thermometer to to make sure the meat is cooked through and to prevent from overcooking.
Deep your hands in cold water to form the meatballs if the meat is sticky.
The nutritious facts are for informational purposes only.
Nutrition
Serving:
3
ea
Calories:
256
kcal
Carbohydrates:
2.5
g
Protein:
31.3
g
Fat:
13.5
g
Saturated Fat:
3.3
g
Polyunsaturated Fat:
3.5
g
Monounsaturated Fat:
5.2
g
Trans Fat:
0.2
g
Cholesterol:
105.4
mg
Sodium:
392.2
mg
Fiber:
0.8
g
Sugar:
1.4
g