Are you searching for a perfect dip for your buffalo chicken wings? Forget the store-bought options and try this homemade blue cheese dip. It is creamy, tangy, and ready just in 5 minutes.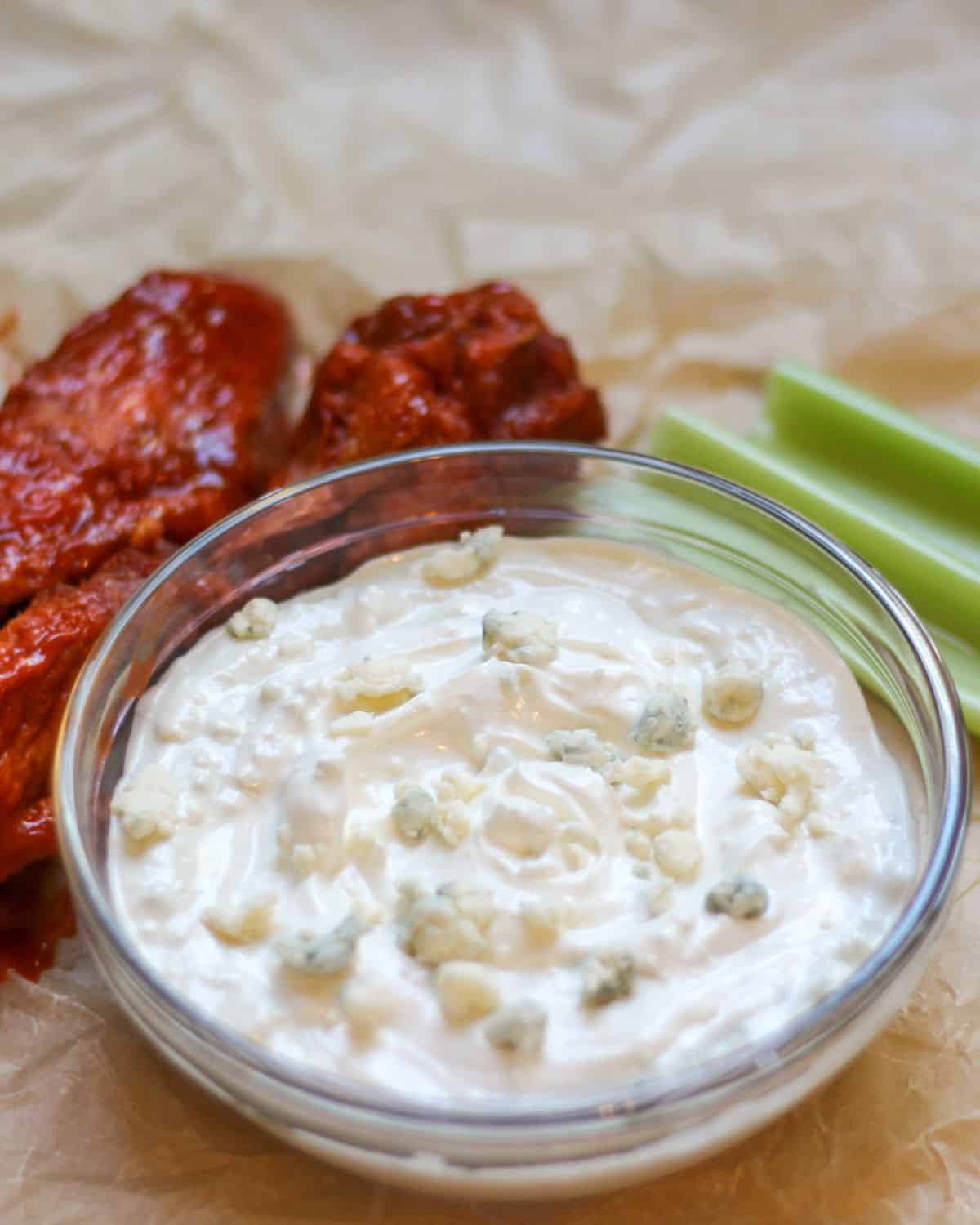 New York was the first place I lived in the US and the first place where I tried classic buffalo chicken wings. I was lucky to experience this classic American dish firsthand.
There is a strong belief, that buffalo chicken wings originated in Buffalo, NY. That's where the name comes from and where the wings were first served in a hot sauce and with a side of a blue cheese dip. And that's how they are served up to these days in most of the restaurants.
Besides being a great combo, I think that over time, certain food pairings become a tradition because they're enjoyed by so many people for a long time. That's why today, people associate buffalo wings with blue cheese dressing and they expect the dish to be served with this famous condiment.
Spicy buffalo wings quickly became one of my favorite foods and still are. On a game day and at least once a week, I often prepare them at home. Me and my husband would eat them every day if we could, it's been our favorite food for years. And of course, I have been making my own blue cheese for dipping.
There is no way I will eat wings without a good blue cheese. I have not found restaurant-quality bottled blue cheese yet. So, I had to figure out how to make my own. As simple as it sounds, it took me quite a few times to find the right amount of ingredients ratio to make the blue cheese that everyone loves.
Besides being a tradition, creamy blue cheese dip has a nice cooling effect when you eat hot wings, it also contrasts with the spicy buffalo sauce creating a flavorful combination.
The perfect blue cheese dip for me should have the following qualities:
Creamy: a mix of sour cream and mayo makes it super creamy and rich.
Tangy: achieved by adding melon juice or vinegar
Aromatic: achieved by adding some fresh garlic
Umami: good quality blue cheese adds that distinctive umami complex taste.
Chunky (my personal preference): it should contain distinctive chunks of blue cheese.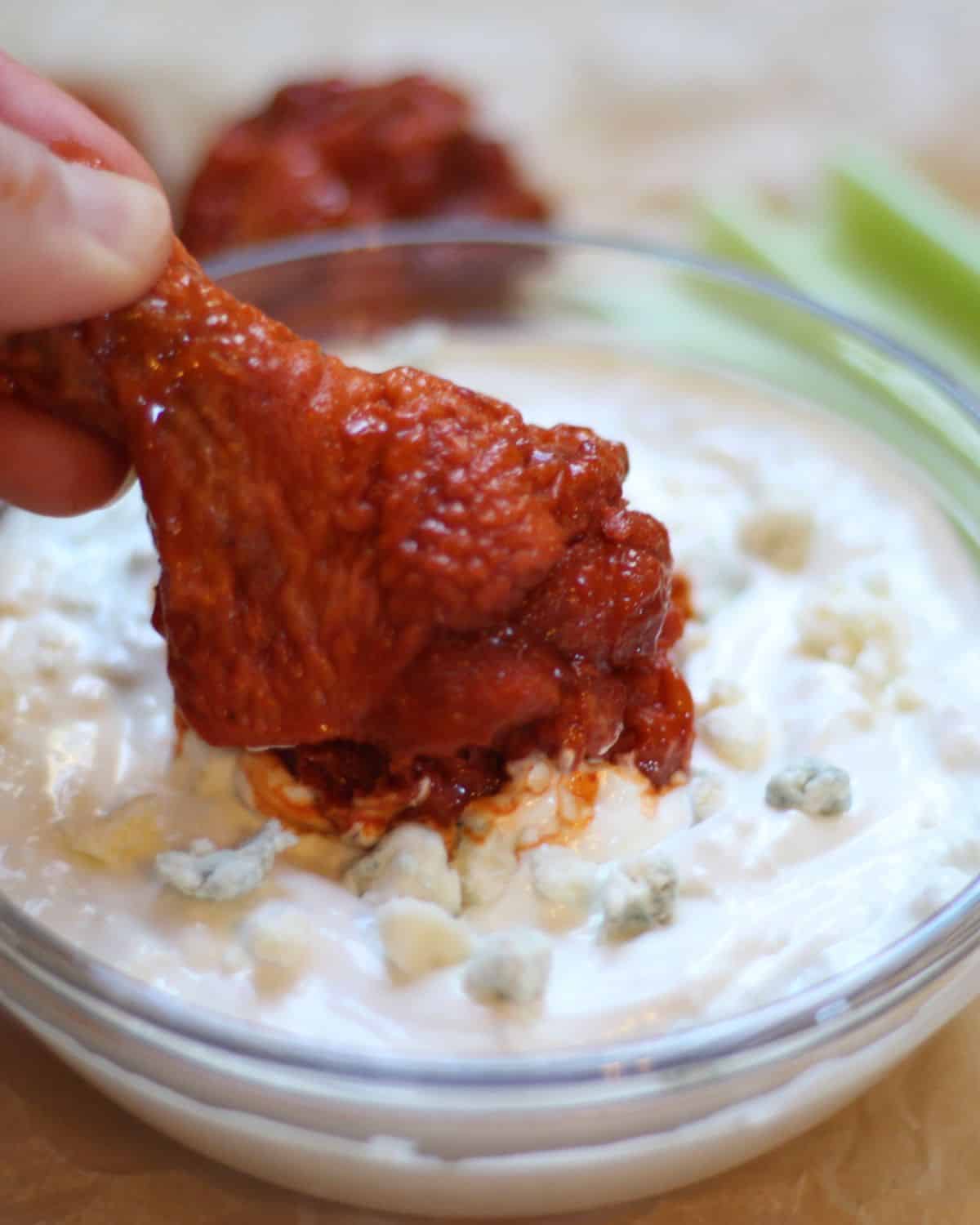 Jump to:
Chicken wings recipe ideas
So next time if you need some wings for a big game, I recommend skipping the take-out and making your own. And if you need a good wings recipe, I have a few favorites below to choose from:
Ingredients
Blue cheese crumbles: you can use Roquefort, Gorgonzola, Stilton, or any other favorite blue cheese variety.
Mayonnaise: top for real full-fat mayo for best results
Sour cream: I use full-fat sour cream. You can also use Greek yogurt instead
Lemon juice: a little bit of freshly squeezed lemon juice will brighten up the flavors. You can also use vinegar instead.
Worcestershire sauce: it is optional. But I like to add just a little bit of the sauce to compliment the richness of the blue cheese and other dairy ingredients.
Garlic: you will need only half of the clove. Make sure you grate it very finely or turn it into a paste before adding to the dip.
Salt and pepper: I usually add very little or no salt at all, because the blue cheese is already salty enough.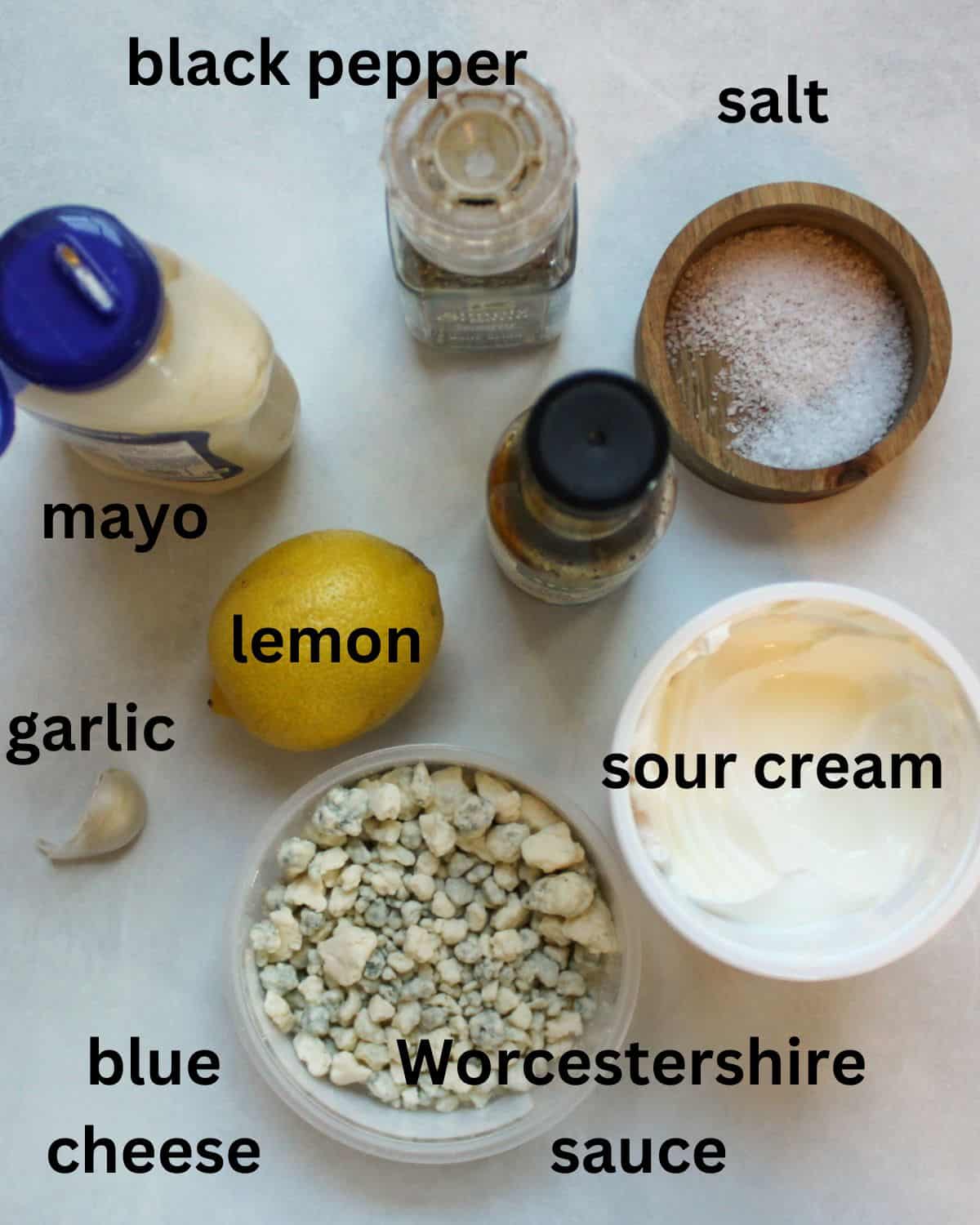 Step-by-step directions
First, grate or finely dice half the garlic clove. If you do not want to add fresh garlic, you can use about ¼ teaspoon of garlic powder or skip it altogether.
In a medium bowl, mash blue cheese with a fork to break the large crumbles. If if prefer the sauce to be less chunky, you can use a food processor.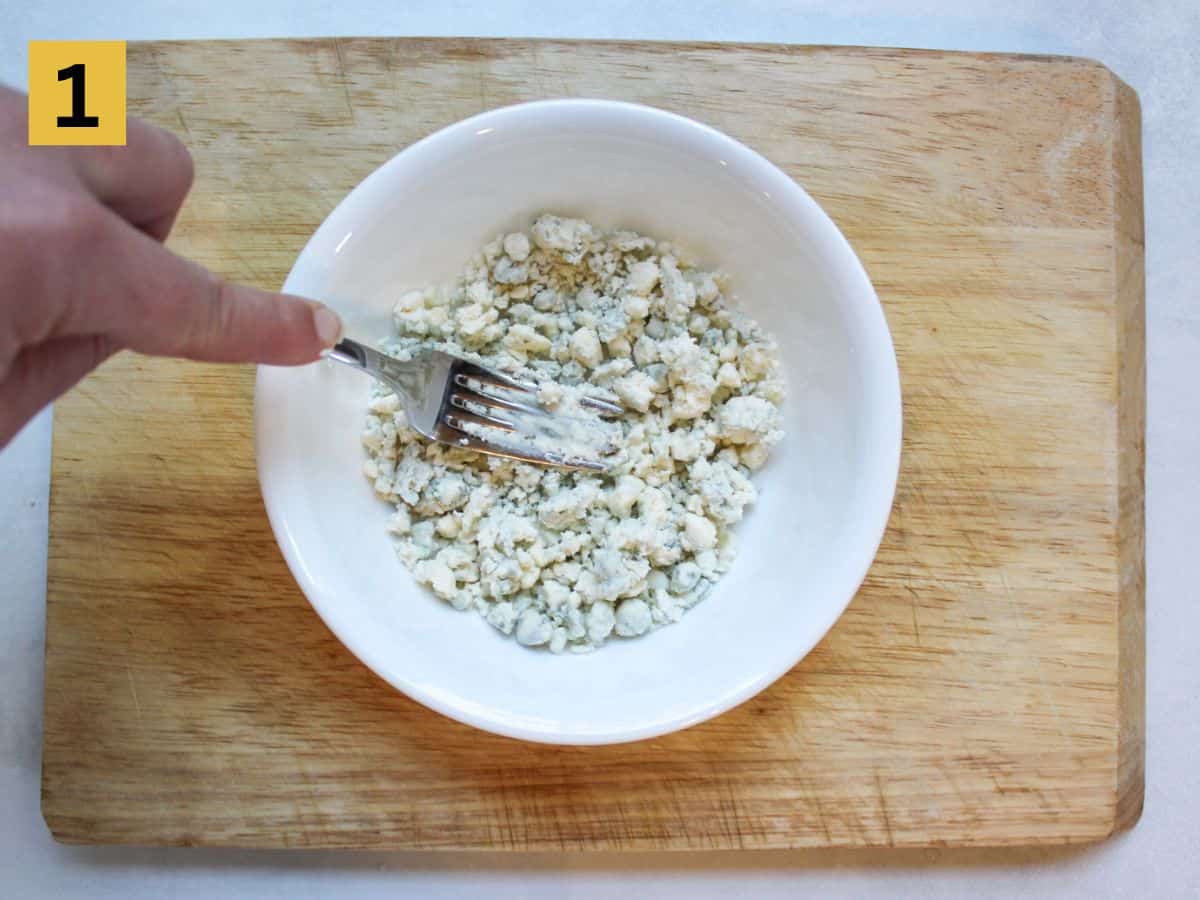 Now, add mayonnaise, sour cream, lemon juice, grated garlic, and lemon juice, and mix it all well until combined. Use a fork to break the big crumbs and to make the dip creamy.
Always taste it and add some salt (I rarely need it). You can add more lemon juice or blue cheese to balance the taste to your liking. Let the dip sit in the fridge for at least one hour before serving for the flavors to blend and intensify. Enjoy it with wings, vegetables, or potato or tortilla chips. Optionally, you can garnish the dip with some chopped scallions.
Nataliia's expert tips
Store the prepared dip in the fridge in an airtight container or a jar for up to 7 days.
I have noticed that homemade blue cheese thickens the next day, so I like to add a little bit of water to make it thinner.
Crumble the blue cheese with a fork or a food processor to minimize the large lumps.
Be careful with fresh garlic and add only half of the clove (or less), as too much garlic may overwhelm the dip.
Serving ideas
Similar to the ranch, creamy blue cheese dressing and dip is a versatile condiment that can be served in other ways besides chicken wings. This recipe makes about 2 cups, so I often use it during the week in a few different ways. Below are my favorites you may enjoy as well:
Veggie dip: serve it as a dip for fresh carrot sticks, celery sticks, cucumbers, cauliflower, bell pepper, and more.
Salad dressing: it can work as dressing for salads featuring lettuce, spinach, chicken, and bacon. You can thin it out by adding some water or buttermilk.
Sandwich spread: add a layer of blue cheese dip to your buffalo chicken sandwich or a wrap.
This recipe makes about 1 cup of dip.
📖 Recipe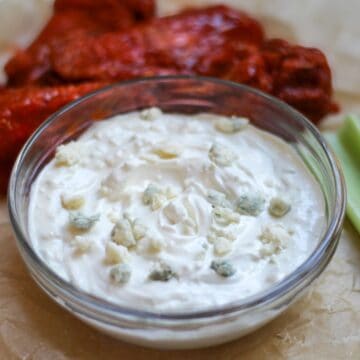 Homemade Blue Cheese For Chicken Wings
Are you searching for a perfect dip for your buffalo chicken wings? Forget the store-bought options and try this homemade blue cheese dip. It is creamy, tangy, and ready just in 5 minutes.
Ingredients
½

cup

blue crumbled cheese

⅓

cup

sour cream

¼

cup

mayonnaise

½

garlic clove, finely minced or grated

1

dash

Worcestershire sauce

1

teaspoon

lemon juice

to taste

salt, pepper

2

Tablespoons (options)

water

if you need to make it thinner
For serving
buffalo chicken wings

celery, carrots

chips
Instructions
In a medium bowl, add ½ cup blue cheese and mash it with a fork to break large crumbs.

Add ¼ cup sour cream, ¼ cup mayonnaise, finely minced garlic, ½ teaspoon Worcestershire sauce,1 teaspoon lemon juice and mix everything to combine.

Taste the dip and add salt (if needed), black pepper to taste. Enjoy as a dip or a dressing.
Notes
lighter version: use a low fat mayo and low fat sour cream. You can also make it with plain Greek yogurt.  Salad dressing: if you plan to use it as a salad dressing, thin the dip out with buttermilk or even water. Salt: I rarely add salt, because mayo and blue cheese are already quite salty. If you do, make sure to taste it first.
Nutrition
Serving:
1
Tablespoon
Calories:
88
kcal
Carbohydrates:
1
g
Protein:
3.3
g
Fat:
8.3
g
Sodium:
226.8
mg
Sugar:
1
g