By baking chicken wings at 400°F, you can achieve the perfect balance of crispy exterior and juicy interior in just 40-50 minutes of cooking time.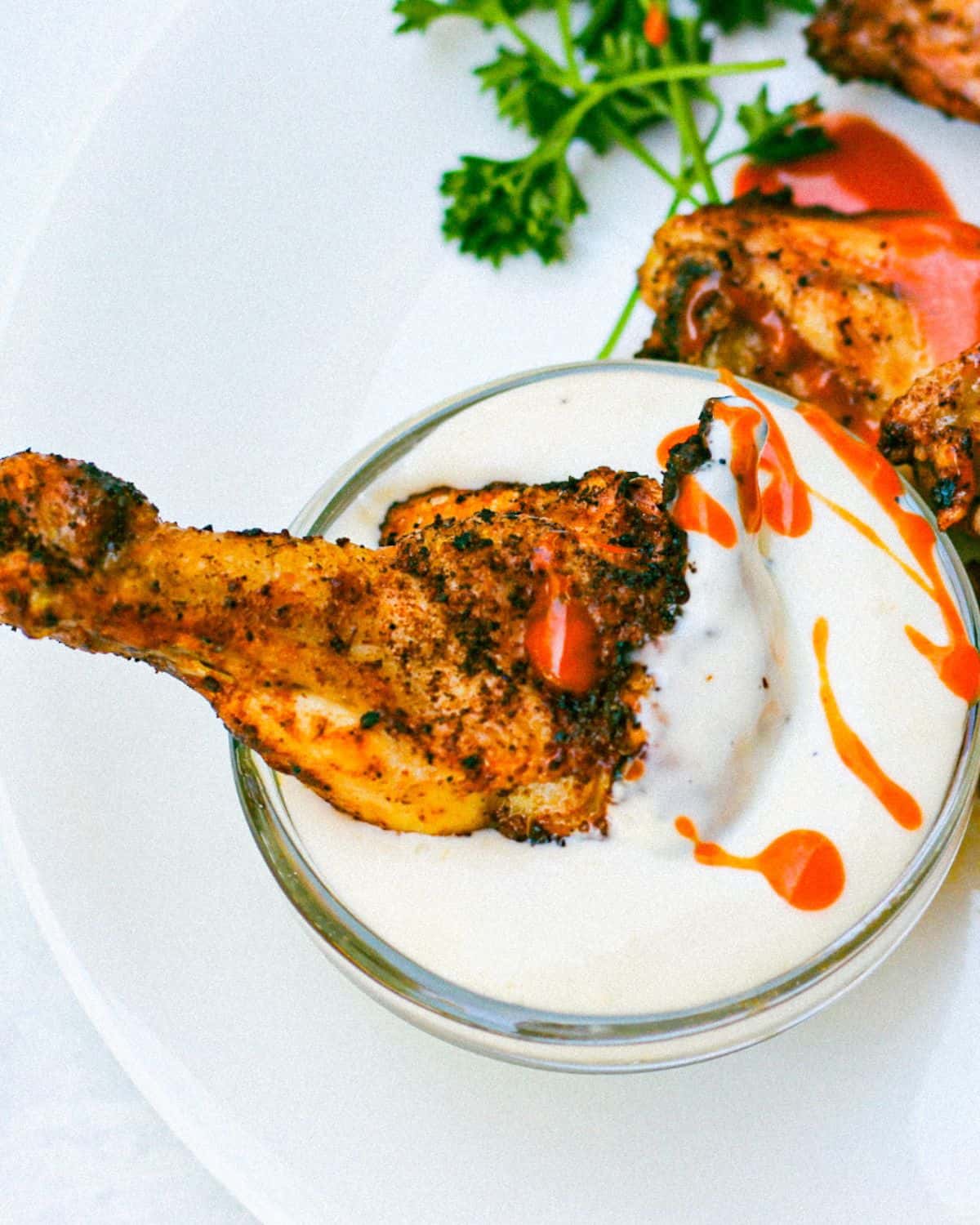 As a huge fan of wings, I find myself craving them all the time. In fact, my love for wings is so deep, we used to order them several times a week.
But recently, every time after enjoying the restaurant wings, I would wake up feeling so unwell and thirsty (because deep fried in oil and containing a high amount of sodium).
Not to mention, they can be quite expensive. And if it's a game day, you will have to wait for hours to get them delivered.
So I decided to find the perfect way of making them at home without too much frying, too much sodium and without smoking my house.
After experimenting with baking them at different temperatures, I discovered that baking them at 400°F is the way to go.
Baking is one is the easiest and healthiest method to make wings, there is minimal cleanup required, and you can cook about 2 pounds of wings at once.
And for sure, this is my family's favorite recipe for the perfect oven-baked chicken wings.
Jump to:
Ingredients you will need
Chicken wings: you can buy party wings, that are already cut into wingettes and drumettes. If you have whole wings, you can bake them as it is or cut them into portions by yourself.
Baking powder: I made them with or without powder, both ways are great. Baking powder reacts with the chicken skin to create a crispy and airy layer.
Salt: I add only a little bit of salt because I usually serve my wings with a variety of dipping sauces and blue cheese.
Dry rub, spices, and sauces (optional): the above ingredients are the basic ones you need to make the wings. The rest is all to your preference, as you can add some dry rub or spices or toss them in your favorite wing sauce afterward.
How to bake wings at 400°F(204°C)
Step 1. Start by preheating the convection oven to 400 degrees F. Prepare your baking dish by laying a large sheet of parchment paper over the baking pan. It will make the clean-up easier and will also make the skin crispier.
Note: if baking whole chicken wings, it's better to bake them on an oven-safe wire rack.
Step 2. Take the wings out of the packaging and pat them dry with some paper towels. Cut them into portions if desired. Place wings in a large bowl or a tray. Now, sprinkle them with some salt and baking powder. You can also add a dry rub or any other spices you like (if using any) Mix well until they are well coated. They won't coat evenly, and it's ok. Just do the best that you can.
Note: I usually do 1 Tablespoon of baking powder per one pound of wings.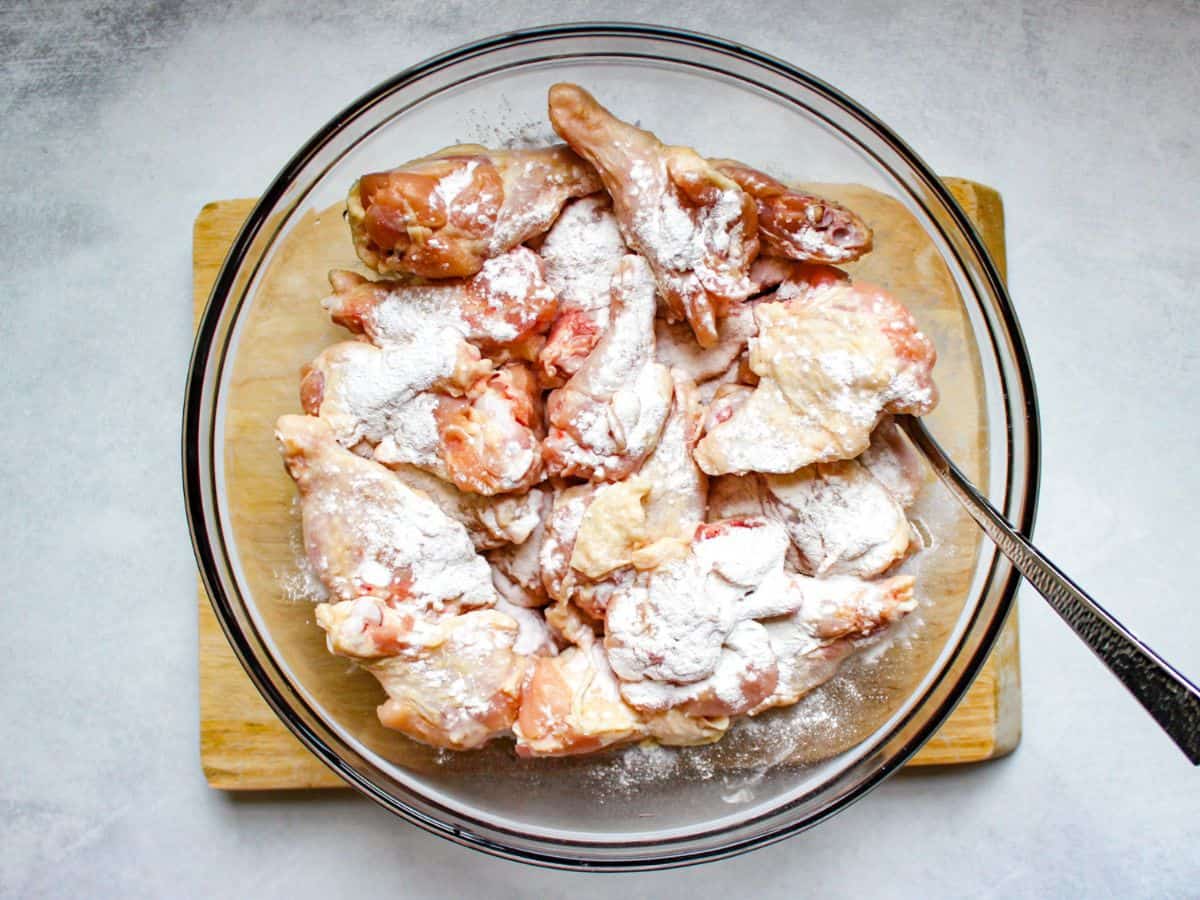 Step 3. Arrange the wingettes and drumettes on a prepared baking sheet or a wire rack if you are baking them whole. Leave some space in between the wings, so they come out crispier.
Note: If you need to cook them in batches, cover the rest of the raw wings and place them in the fridge while you bake the first batch.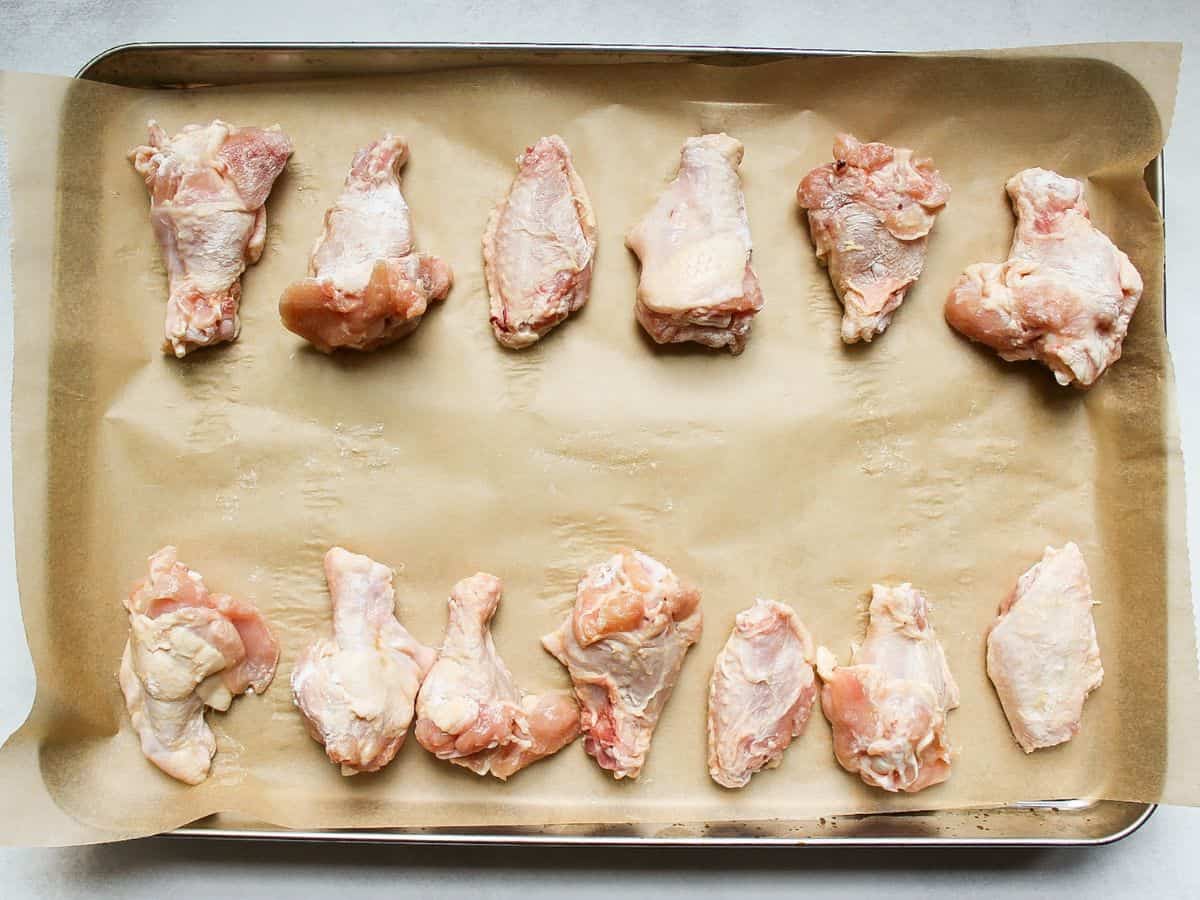 Step 4: Place the baking dish in a preheated oven and bake them for about 40-50 minutes. In about 25 minutes, I usually take them out and flip each piece of the other side using tongs. Then, bake for another 20-25 minutes until the wings are golden brown and the internal temperature of the thickest part of the wing reaches 165°F.
Helpful note: At 400 °F, no doubt the wings will be cooked all the way through if baked for about 50 minutes. But I still like to check with my instant-read thermometer to ensure the internal temperature reached 165°F.
Step 5. Let the wings rest for about 5-10 minutes. Now, you can toss them in your favorite sauce or serve them as it is.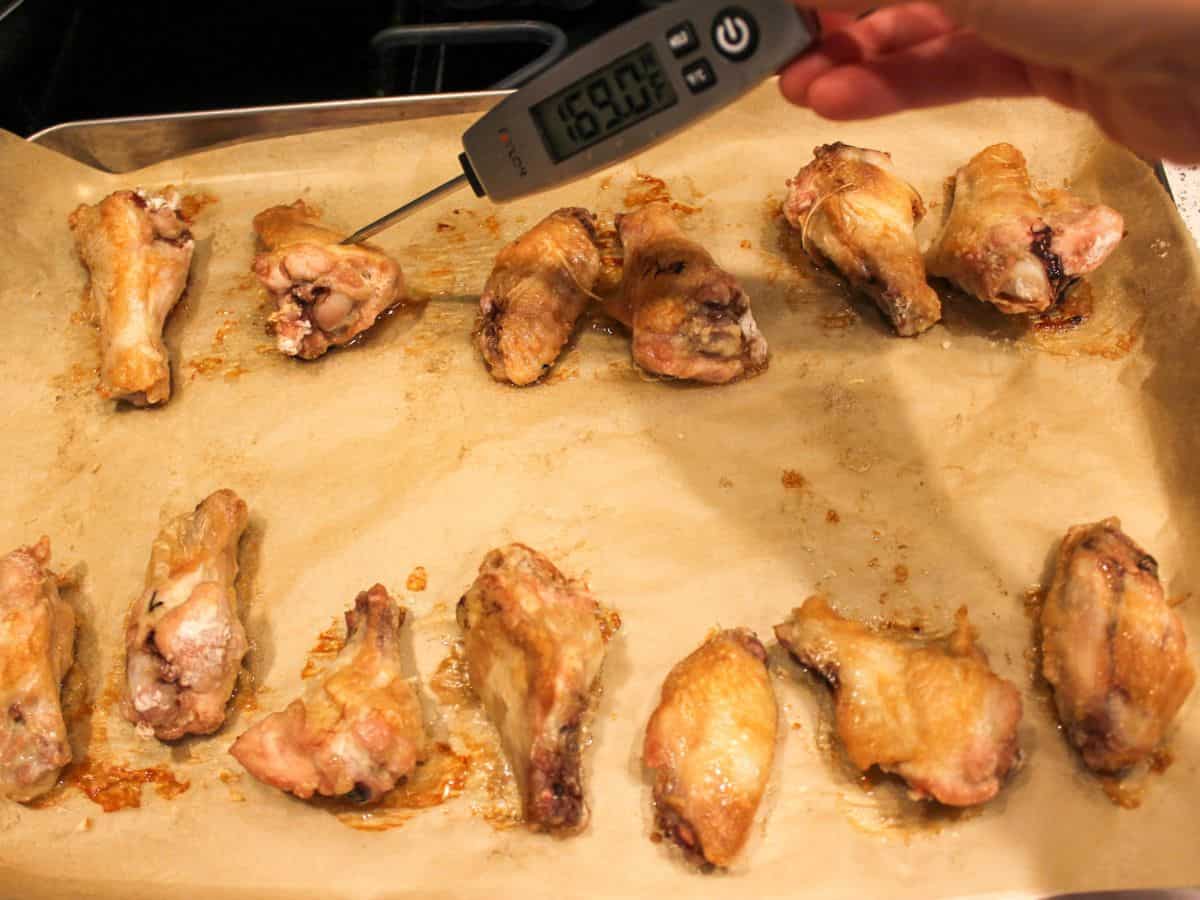 Is better to bake wings at 350, 400, or 425?
Having experimented with baking my chicken wings at 350°F, 400°F, and 425°F, I can confidently say that 400°F is the best temperature to achieve perfectly cooked wings in a convection oven.
Here is why:
Crispier skin: chicken wings are high in fat, and to make them crispy without over drying them inside, the temperature needs to be rather high to render the fat effectively. At 350°F, the wings will cook through, but the skin might be somewhat rubbery and soggy.
Faster cooking time: baking at a higher temperature reduced the overall cooking time. This is especially helpful when you are preparing a larger batch of wings or have other dishes to cook.
Great caramelization: very often, we use different sauces and glazes to bake the wings. The glaze usually contains sugar, so it will caramelize better at higher temperatures, giving the wings a sticky exterior.
Risk of overcooking: baking at 400°F reduces the risk of burning and drying out the wings, which can happen fast when cooking at 425 or higher temperatures.
Reduced the risk of smoke: cooking your chicken wings at higher temperatures like 425 can cause fat to sizzle which may activate your smoke alarm. Plus, you will have to air out your whole house to get rid of that smoke.
Expert tips for making perfect wings
Never wash chicken wings or any other poultry meat.
You can buy already cut into segments wings, they are usually called party wings.
Once you take them out of the package, pat them dry with some paper towels.
For best results, bake the wings at 400°F for about 40-50 minutes.
If the wings look extra fatty, add another 10 minutes of cooking time.
Line the baking pan with parchment paper or foil for easier cleanup and better caramelization (if baking in sauce).
Do not overcrowd the baking pan if you want them to be crispy, I usually fit about 12-15 wings on a standard-size baking pan (17.9×12.9).
Add 1 Tablespoon of baking powder per 1 pound of wings for extra crispy skin.
Serving ideas
There are so many delicious sides and dips that pair well with chicken wings. Here are a few ideas:
Celery and Carrots: classic accompaniment to chicken wings that provide a refreshing crunch. Plus it's a great way to add veggies to your meal.
Ranch or Blue Cheese Dressing: dip your wings in a creamy dressing to cool down the spiciness and add more flavor.
French Fries or Onion Rings: sweet potato fries, regular fries, or pub-style onion rings pair well with the wings.
Useful note: one pound of wings usually contains 10-12 pieces ( drumettes and wingettes), which is enough to feed 1-2 people.
Storing and reheating
You can store cooked chicken wings for about 3-4 days. Make sure to cool them down and transfer them to an airtight container before placing them in the fridge.
If you make the wings with different glazes and sauces, keep them in separate containers not to mix up the flavors.
The best way to reheat the wings is in the preheated to 350°F oven or in the air fryer. Both methods will reheat the wings evenly and make them crispy again.
For a quick snack or a meal, you can also reheat them in a microwave for about 1-2 minutes or until heated through.
Chicken wings parts
Whole chicken wings consist of a drumette, a wingette, and a tip. You can cook whole wings or cut them into parts.
I prefer them cut into parts, because this way they cook more evenly, and it is easier to eat them. It may also take slightly longer to bake whole chicken wings.
If you decide to bake whole wings, I usually have better results baking them on a wire rack instead of a baking sheet.
I usually look for already cut-into-parts chicken wings at the grocery store. If you buy whole chicken wings, it is easy to cut them with a sharp knife.
Place a wing on a cutting board and use a knife to carefully separate the wing into 3 sections, following the natural bone structure.
This way you will have a drumette (look like a chicken leg), a wingette (flat part), and a tip. The tips are usually discarded or can be used for making the stock.
Frequently asked questions
How to reheat wings in the oven?
Line the baking sheet with parchment paper or aluminum foil, arrange the desired amount of wings, and place them in a preheated to 350°F oven for about 12-15 minutes. You can brush them with a little bit of vegetable oil to bring back the crispiness. 
How long to bake wings at 350°f?
The exact baking time will depend on the size of the wings, but it typically takes about 45-60 minutes to bake chicken wings thoroughly at 350°F
How long to bake wings at 425°f?
It takes about 25-30 minutes to bake chicken wings at 425°F. It is a good idea to use a meat thermometer to ensure the internal temperature reaches 165°F
Other easy chicken recipes
📖 Recipe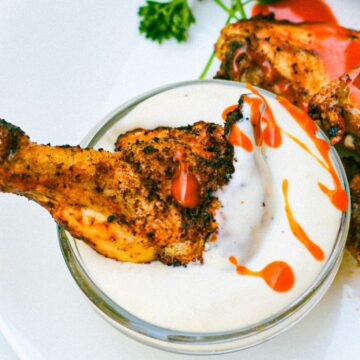 How Long to Bake Chicken Wings at 400
By baking chicken wings at 400°F, you can achieve the perfect balance of crispy exterior and juicy interior in just 40-50 minutes of cooking time.
Equipment
1 large bowl

1 Baking pan

parchment paper
Ingredients
2

pounds

chicken wings

2

Tablespoon

baking powder

¼

teaspoon

salt, to taste
for serving (optional)
4

ribs

fresh celery

2

ea

fresh carrots, sliced

2

Tablespoons

buffalo wing sauce

2

Tablespoons

blue cheese or ranch
Instructions
Preheat oven to 400°F. Line a baking sheet pan with some parchment paper.

In a large bowl, add 2 pounds of wings, baking powder and salt. Mix until the wings are coated.

Arrange the wings on a prepared pan in a single layer. Bake for about 40-50 minutes or until browned and fully cooked.

Enjoy as it is or toss the wings in your favorite sauce. Serve with celery, carrots and a blue cheese on the side.
Notes
this is a basic recipe how to bake wings at 400. You can add dry rubs, spices and any of your favorite sauces.
the nutrition information is only the estimate and does not include sides or sauces.
Nutrition
Calories:
578
kcal
Protein:
53
g
Fat:
38.9
g
Sodium:
254
mg