These easy chicken rissoles are made with only 5 main ingredients. Fun dinner or lunch idea that pairs well with any side dish.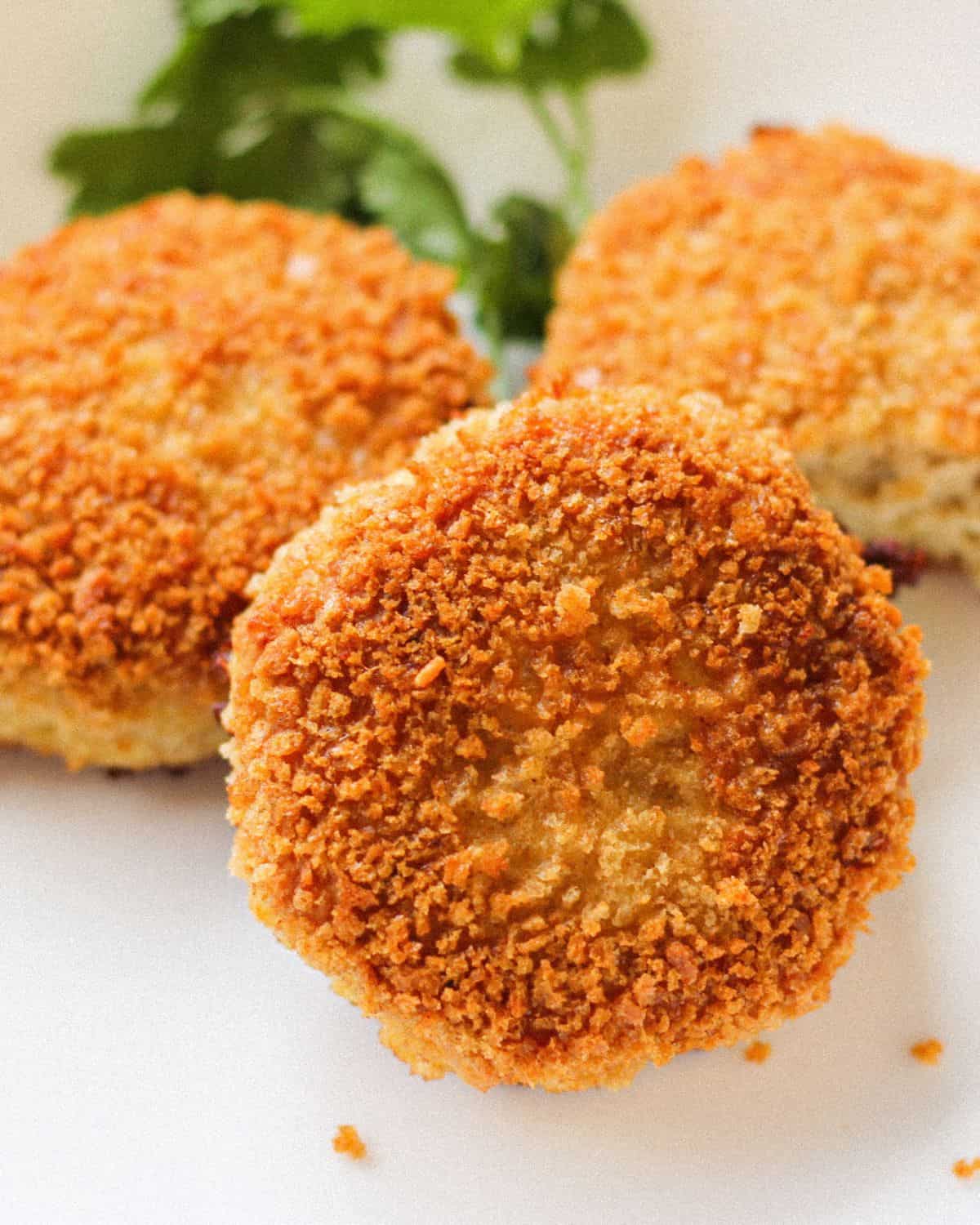 Jump to:
What are rissoles
Rissoles are fried or baked savory patties made with meat, veggies, and sometimes cheese. Rissoles are usually enclosed in a pastry or rolled into breadcrumbs. Breading makes them crispy on the outside and juicy on the inside.
They usually call this type of meat patty "Rissole" in Australia and New Zealand.
Only recently, I realized that lots of cuisines have their version of rissoles. Italy - "Polpette", Ukraine - "Kotlety", Denmark - "Karbonader".
This recipe is a leaner and lighter version of rissoles made with chicken breast minced in a food processor.
You can also buy already ground chicken at the grocery store.
Serve it as a main dish with some Sweet Potato Fries or Roasted Carrots and Green Beans.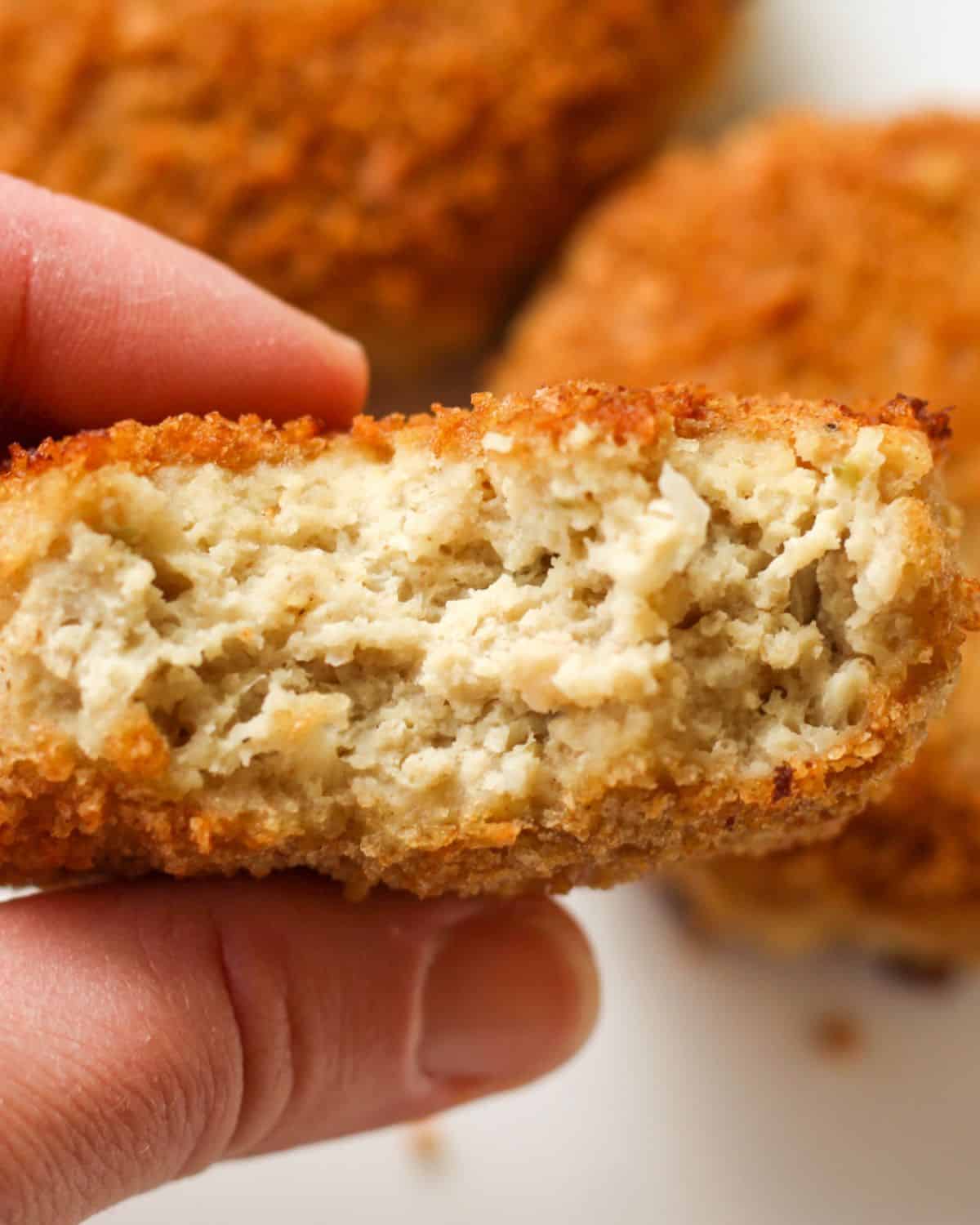 Ingredients
You can find the ingredient quantities and full instructions in the recipe card below.
Ground Chicken - you can make your own mince or by already ground chicken at the store.
Panko Bread Crumbs - panko bread crumbs will create a crispy and lighter coating. I also added some to the meat mix.
Egg - one large egg to bind the ingredients and hold the patties together.
Onion - you will need grated or very finely chopped onion to add.
Olive oil - you will need it for frying, and I add some to the meat mix. My secret for the best chicken resolves is adding about 1 teaspoon of olive oil to the meat mix.
Salt and spices - I usually add about ½ teaspoon of salt per pound of meat. You can add more or less by taste. I also added some black pepper, dried oregano, garlic powder, and coriander.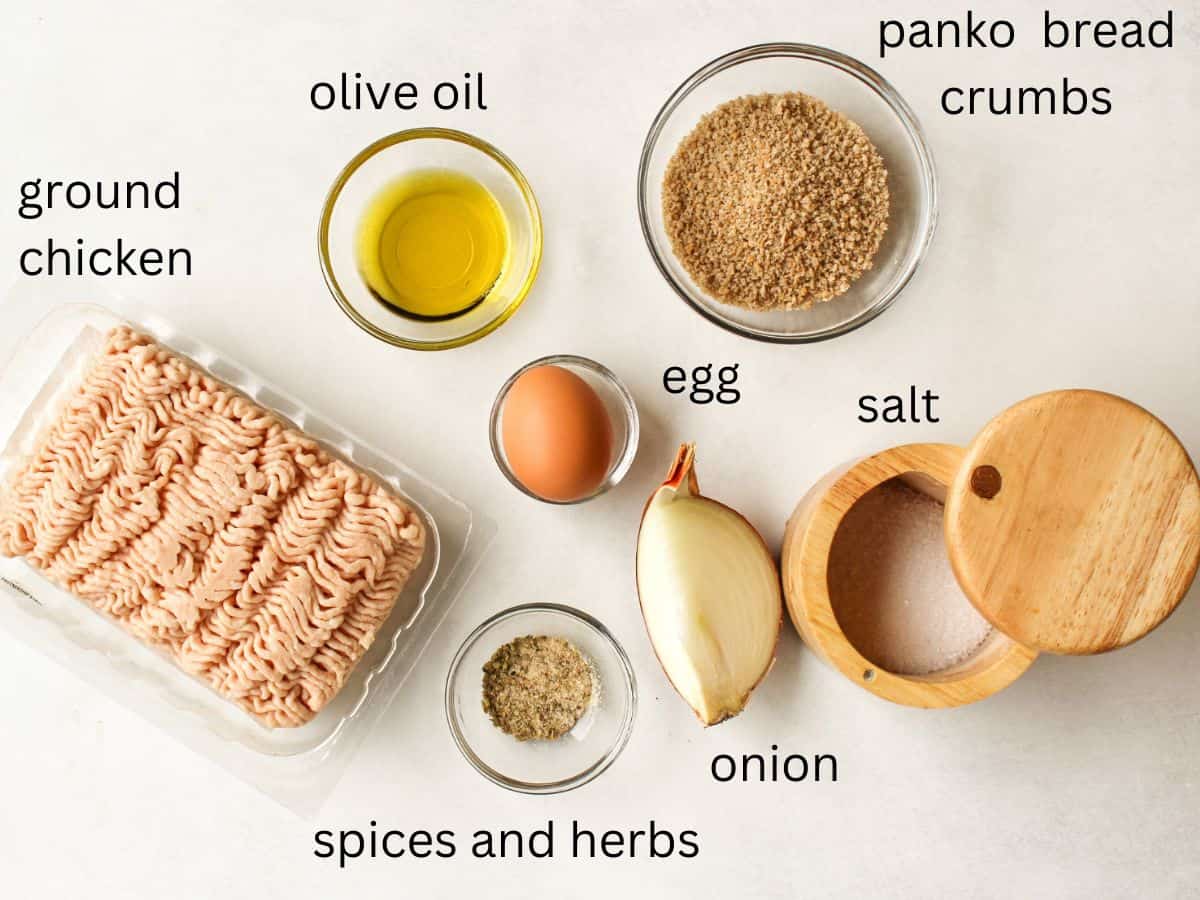 How to form rissoles
Please, check out the step-by-step detailed instructions with the images below this paragraph.
Once you mix all the ingredients, line a cutting board or a counter with a sheet of parchment paper. Scoop a large spoonful of meat mixture and form a ball. Place the ball on parchment paper and repeat the process with the rest of the meat.
If you have a small amount of meat left, but it is not enough to make a rissole, just break it into smaller pieces and add to already formed balls.
Now, gently flatten the meatballs with your fingers. This recipe makes about 7 rissoles, 3 inches in diameter each.
You can make the meat mix for rissoles ahead of time and store it in the fridge for up to 12 hours or overnight
Step by step directions
Step 1 - in a large bowl, add chicken mince, grated onion, egg, breadcrumbs, olive oil, salt, and spices. Use your hands or a fork to mix everything well.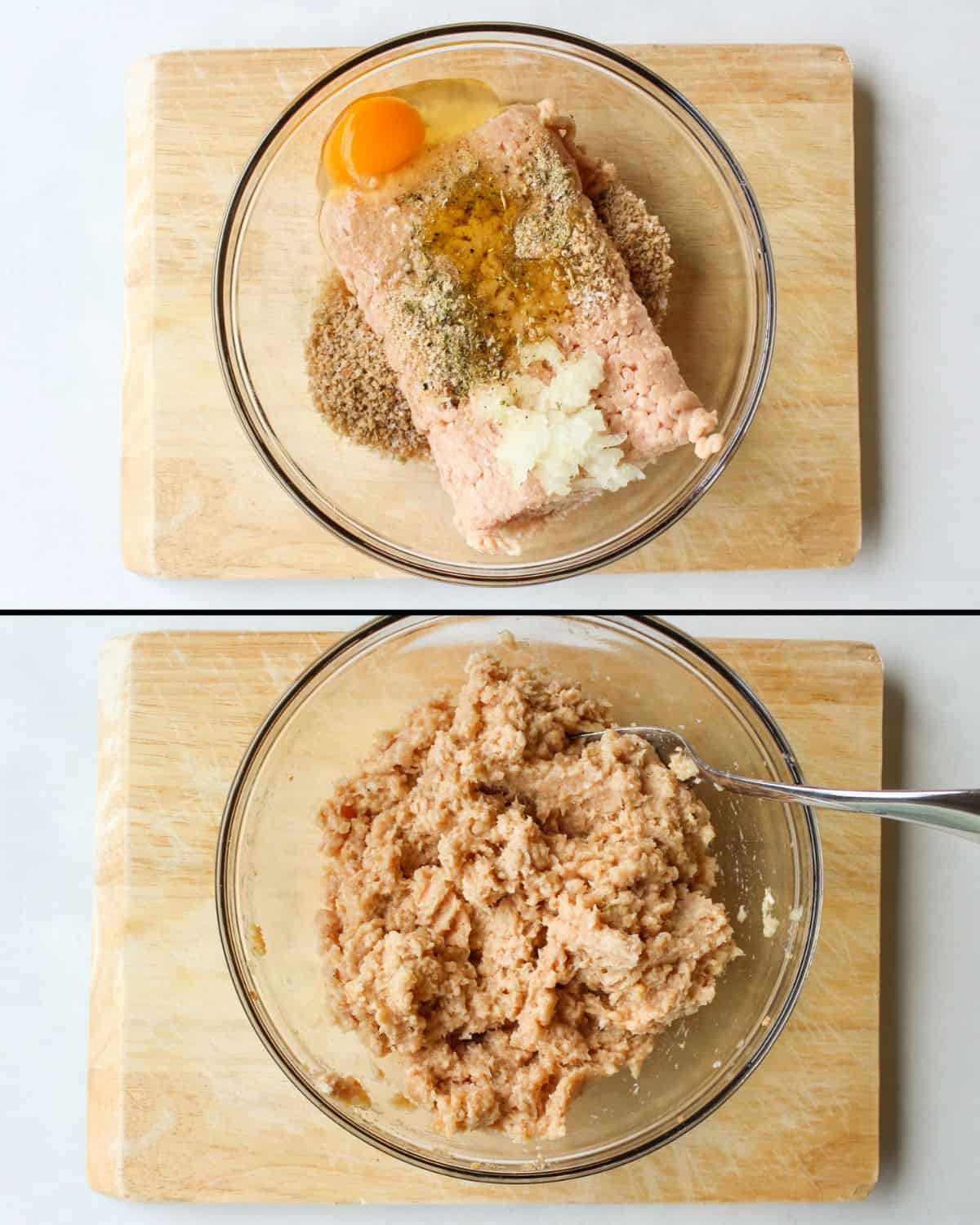 Step 2 - use your hands to form about 7 rissoles. Mine turned out about 3 inches long and about 1 inch thick. You can make them smaller or larger.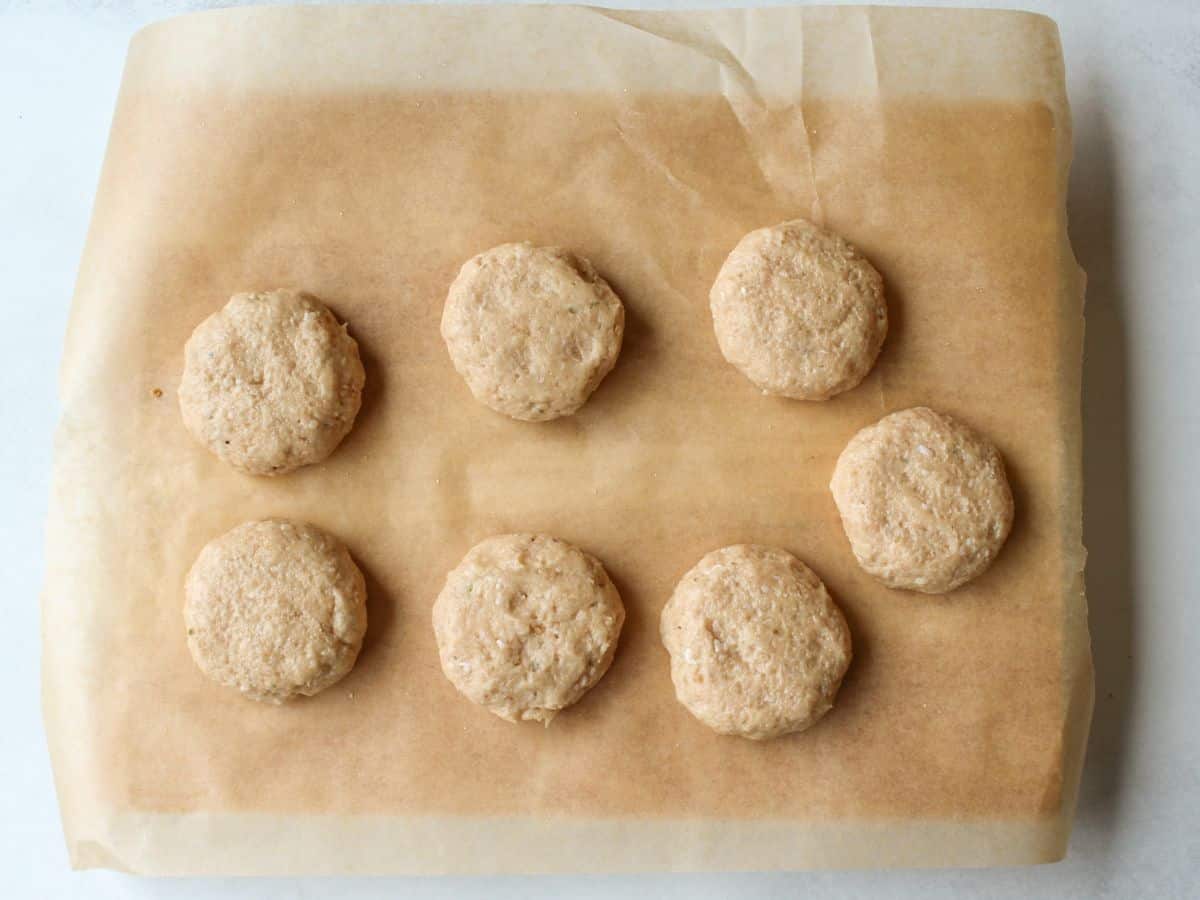 Step 3 - in a shallow large dish, add the remaining amount of breadcrumbs. Coat each chicken patty in a breadcrumb mixture.
Step 4 - heat the oil in a large 12-inch pan. Place breaded rissoles carefully on a preheated skillet and fry them for about 4 minutes over medium meat until well browned. Flip them carefully with a spatula and cook on the other side for another 4 minutes. If you use an oven-safe skillet, I love to finish them in the preheated to 400° F oven for another 10-15 minutes.
If you do not want to use the oven, cover the skillet with the lid and cook them for another 4 minutes until the meat is fully cooked and the internal temperature reaches 165°F.
Tips, variations, and serving ideas
Frying pan - when using a stainless steel skillet, make sure to use a sufficient amount of oil and preheat it well. Once you place the patties, do not move them until it is time to flip.
Oven - I recommend finishing them in the oven by placing the oven-safe skillet or transferring them to a baking pan lined with some parchment paper.
Gluten-free - you can use gluten-free bread crumbs if you avoid gluten.
Add-ins - add some grated carrots, broccoli, or zucchini to the meat mix for extra nutrition. Make sure to squeeze any liquid out of veggies.
Serving - rissoles go well with potatoes, rice, vegetables, or a salad. I like to use a hamburger bun and make a sandwich the next day. Kids like to dip the rissoles in ketchup, similar to nuggets.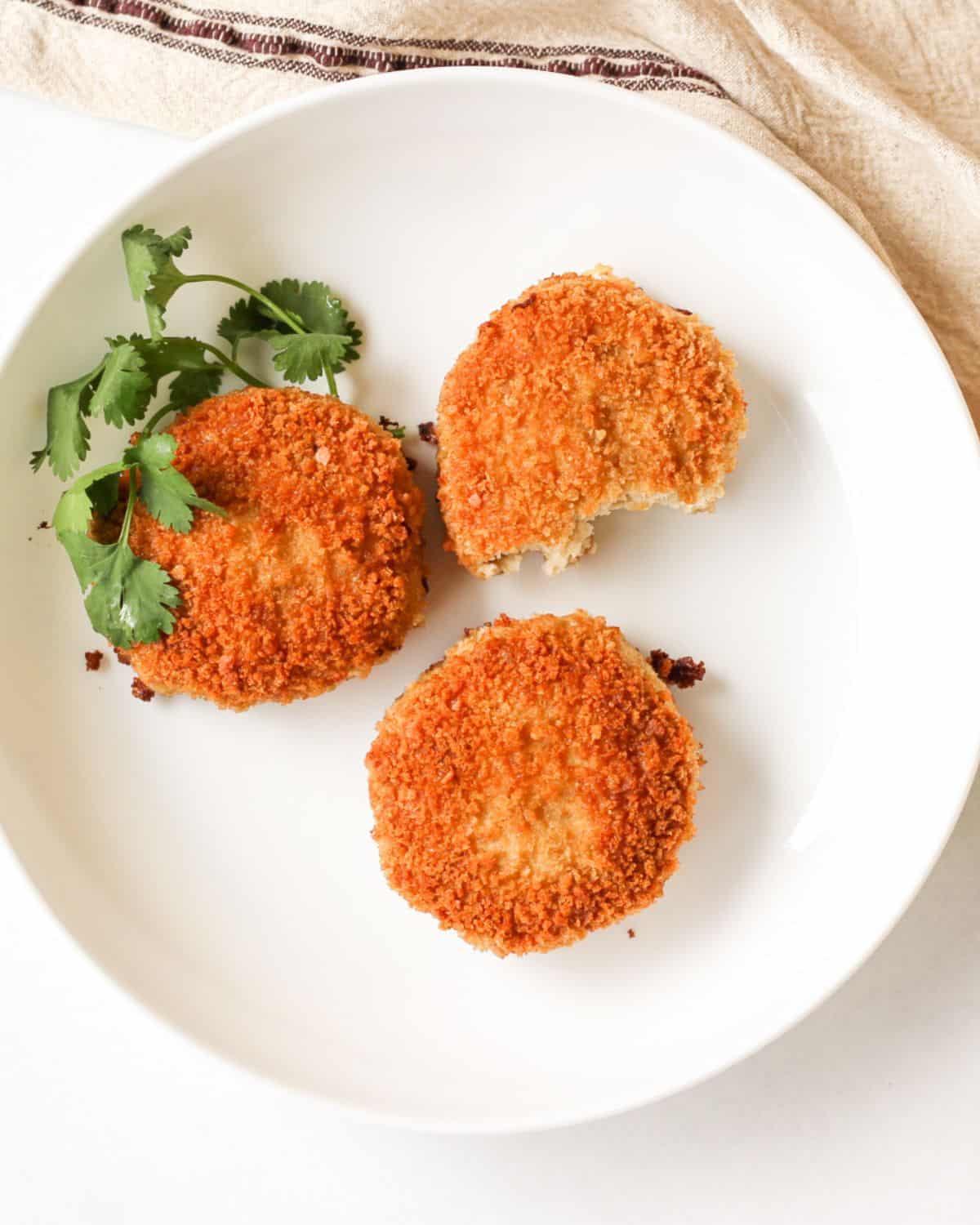 How to store
When the patties cool down, place them in an airtight container and store them in the fridge for up to 3 days.
They reheat well in the microwave making them a great option for your lunch box.
Whenever possible, I recommend warming them up in the air fryer or the oven to keep them crispy.
Common questions
Can I freeze rissoles?
Yes, you can freeze them uncooked or cooked. Frozen rissoles are best enjoyed within 2-3 months.
Can I bake them instead of frying?
I prefer searing my rissoles first to make them crispy and finish them in the oven. But you can put them in the oven right away. They might not be as crispy though.
Can I use turkey instead of chicken?
Yes, you can use ground turkey, beef or pork.
Other ground chicken and turkey recipes
📖 Recipe
Easy Chicken Rissoles
These easy chicken rissoles are made with only 5 main ingredients. Fun dinner or lunch idea that pairs well with any side dish.
Equipment
1 Large Mixing Bowl

1 12 inch frying pan
Ingredients
1

pound

minced chicken

¾

cup

panko bread crumbs

for the meat mix and coating

1

egg

2

Tablespoon

onion, grated or very finely chopped

2

Tablespoons

olive oil + 1 teaspoon for the meat mix

½

salt

½

dried oregano

¼

garlic powder

¼

black pepper

¼

coriander
Instructions
In a large mixing bowl, add ground chicken, 3 tablespoon breadcrumbs, 1 egg, 2 tablespoon grated onion, 1 teaspoon olive oil, ½ teaspoon salt, ½ teaspoon dried oregano, ¼ teaspoon ground garlic, ¼ teaspoon black pepper, ¼ coriander. Mix everything well until combined.

Preheat the oven to 400°F if finishing the rissoles in the oven.

Form 6-7 balls and lay them on parchment paper. Flatten each meatball to form a plum patty.

In a shallow dish, add the remaining breadcrumbs. Add about 2 tablespoon oil to the skillet and heat it over medium heat. Coat the rissoles in breadcrumbs and fry for about 4 minutes on each side. Once both sides are browned, finish them covered for about 10 minutes over low-medium heat or in preheated oven for about 15 minutes. The internal temperature must reach 165°F.
Notes
use gluten-free breadcrumbs if needed.
this recipe makes about 7 rissoles.
it's better to reheat them in the oven or air fryer to keep them crispy.
deep them in ketchup or other favorite sauce.
Nutrition
Serving:
2
ea
Calories:
270
kcal
Carbohydrates:
9.1
g
Protein:
23.1
g
Fat:
16.1
g
Sodium:
389
mg
Sugar:
0.8
g