You'll need only a few simple ingredients and 30 minutes to make this easy and satisfying chicken mince stir fry.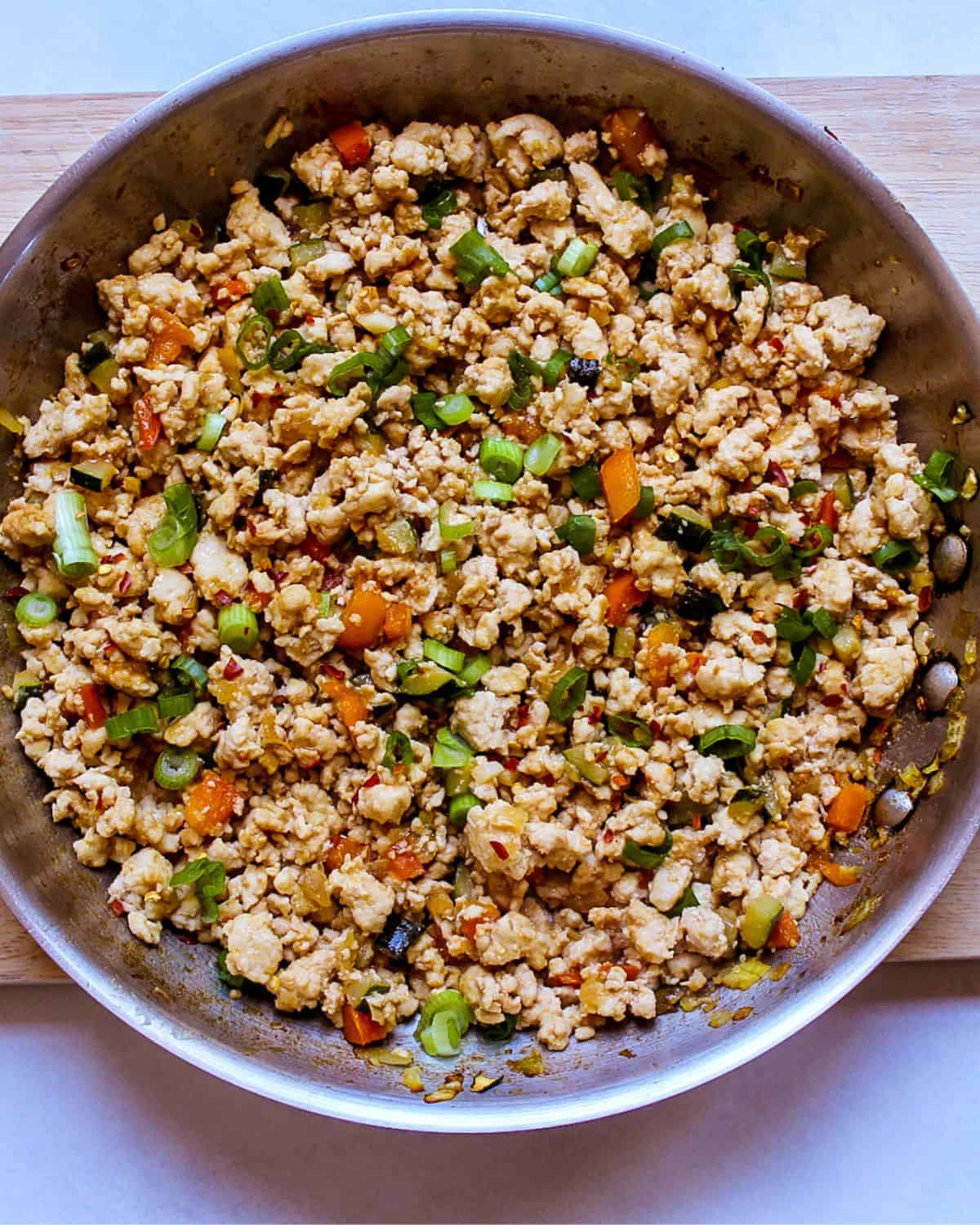 Jump to:
Chicken mince stir fry recipe
Since my son continues to prefer only ground meat, I have to get creative in order to make our meals diverse and flavorful.
Actually, It's been a fun challenge to come up with new and fun ways to use ground chicken in everything from pasta dishes to stir fries.
Chicken mince or ground chicken stir fry is an Asian-inspired dish made with a very simple homemade sauce and lean chicken meat.
For this recipe, I prefer mincing chicken breast by myself, but you can also use store-bought ground chicken.
If you buy already ground chicken, chose at least 7% fat ground meat. Store-bought lean ground chicken can be quite dry. That's why I prefer mincing chicken breasts at home.
And to make it more nutritious, I added some fresh vegetables such as yellow and spring onions, bell pepper, and zucchini.
This ground chicken stir-fry pairs well with a variety of vegetables, chose the ones your family loves.
Here is why you will love this recipe:
better for you: less sodium than any take-out stir fry.
easy and quick meal: perfect for busy weekdays when you need to have dinner on a table in under 30 minutes.
versatile: you can add different vegetables, seasonings, and sauces (spicy or not).
meal prep: it is easy to pack and reheat for your lunches throughout the week.
budget-friendly: chicken is one of the least expensive meats these days.
Ingredients
Here is the detailed ingredients overview with the best substitutions to make this easy recipe. You can find the quantities in the printable recipe card at the end of this post.
Chicken breasts: I used 2 small chicken breasts. If you are looking for juicier meat, use boneless skinless chicken thighs or a combination of dark and white meat. You can also buy one pound of already ground chicken.
Onion: yellow or sweet onions work great.
Bell pepper and zucchini: a simple choice of vegetables to add more nutrients and flavor.
Green onions: green spring onions are added to the dish at the very end. They add fresh flavor and color.
Garlic: always use fresh garlic, as it adds depth and complexity to the stir fry. Without it, the dish will taste bland.
Ginger: same as garlic, fresh ginger is another must ingredient. It also adds mild heat to the dish. If you do not have fresh ginger, you can use dried one.
Soy sauce: I used regular dark soy sauce. You can also use a light soy sauce instead.
Rice vinegar: adds mild acidity and aroma.
Fish sauce: adds umami flavor and makes the dish taste more interesting. You can also use oyster sauce instead.
Honey: stir fry sauce usually needs some sweetness. I used honey, but you can use honey or brown sugar.
Oil: any cooking oil will work. I usually use olive or avocado oil.
How to make chicken mince stir fry
Follow easy step-by-step directions with accompanying process pictures for easy visualization.
Mince the chicken
If you are using store-bought ground chicken, skip this step.
Pat dry chicken breasts with paper towels. Cut the chicken breast into slices.
Now, cut each slice into thin strips. Collect the strips into a pile and chop them finely into a mince. Repeat with the rest of the meat.
Alternatively, you can cube the chicken, chill it in the freezer for 20 minutes and mince it in a food processor.
The mince is ready and so much better than the store-bought.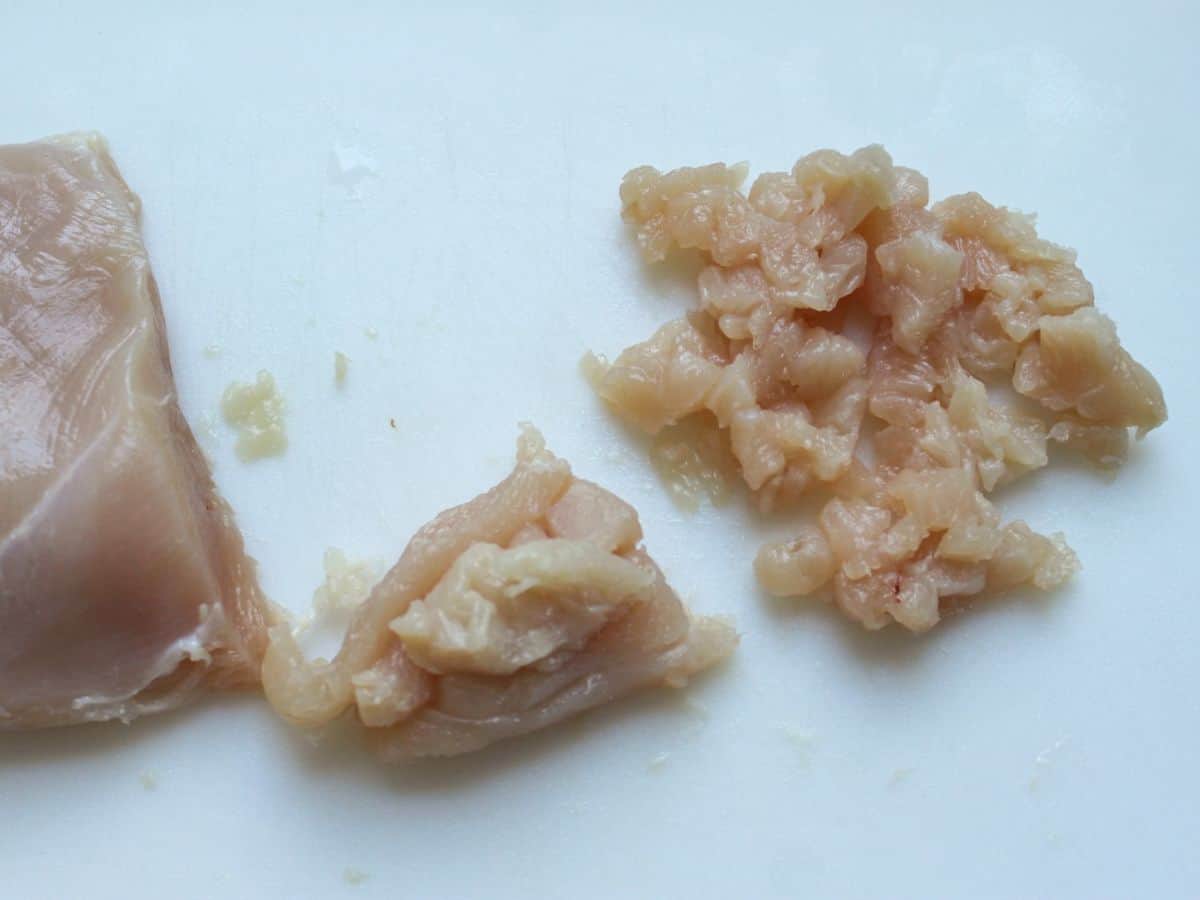 Prepare the vegetables
Rinse the bell pepper, zucchini, and green onions. Peel the onion, garlic cloves, and ginger root.
Cube zucchini and bell pepper. Dice the yellow and green onions. Chop garlic and ginger finely.
Make the sauce
In a small bowl, whisk soy sauce, fish sauce, rice vinegar, and honey. Set the sauce aside.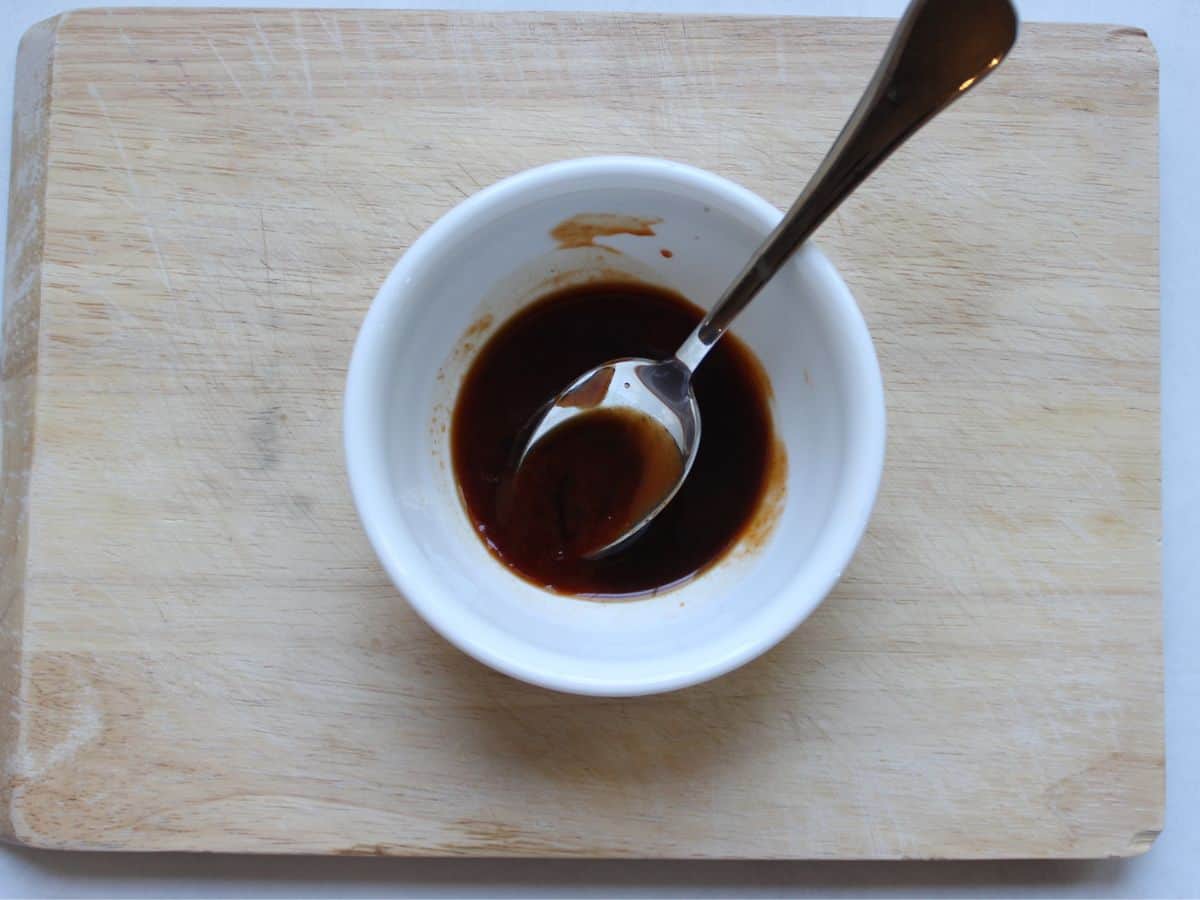 Cook the stir fry
Image 1. In a wok or any other large frying pan, heat one tablespoon of oil over medium heat. Add chopped onions, peppers, and zucchini. Cook for about 5 minutes over medium-high heat until the vegetables start softening.
Image 2. Now, add minced chicken and use a spatula to break it into smaller pieces. Cook the chicken for 6-8 minutes, stirring often until it is no longer pink inside.
Image 3. Now add the prepared sir-fry sauce, garlic, and ginger and mix the dish. Cook for another 2-3 minutes over medium-high heat.
Image 4. Add diced green onions on top and some red pepper flakes (optional). Let it cool down for a few minutes and serve it over steamed white rice. You can drizzle the dish with some sriracha sauce for a spicy taste.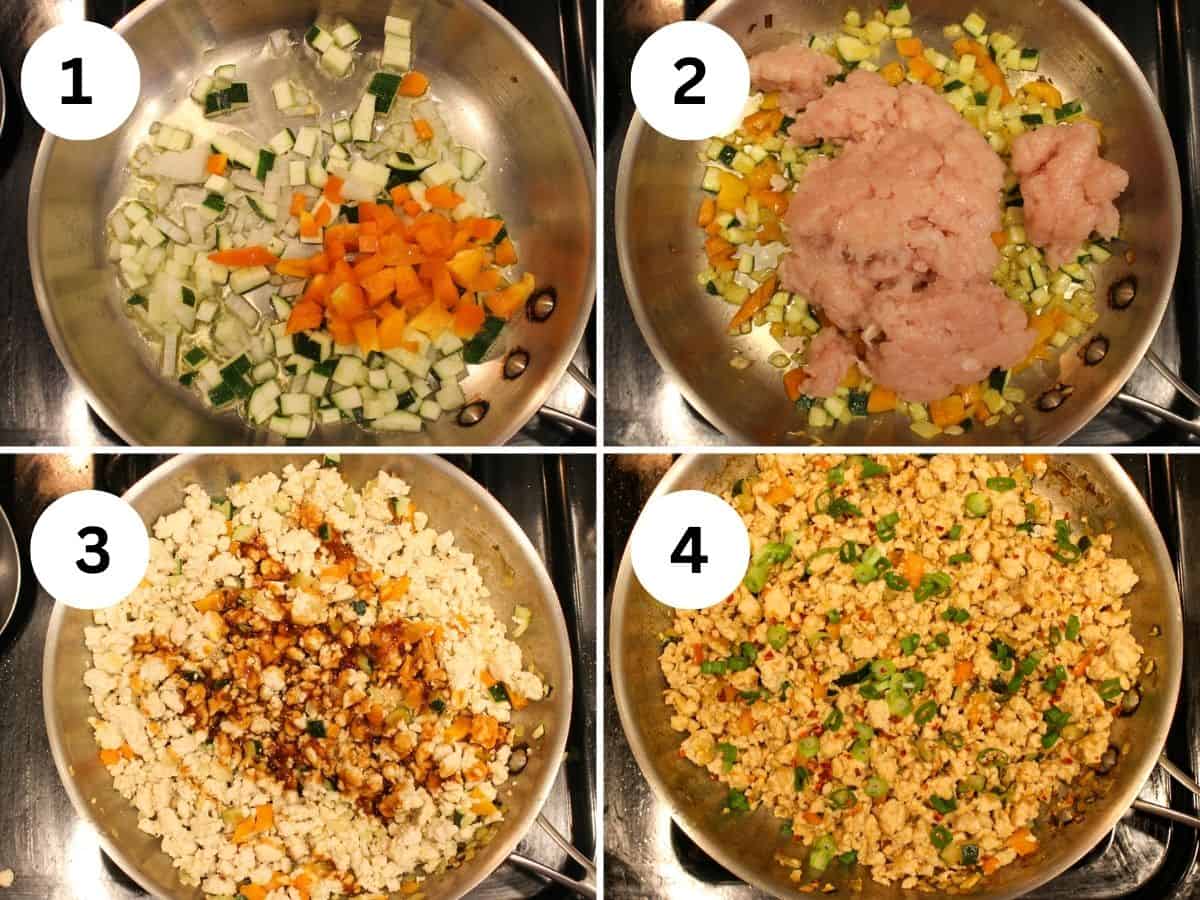 Fun serving ideas
Below you can find some fun ways to serve chicken stir fry, besides white or brown rice:
Noodle bowls: serve your stir fry over some Asian-style noodles, such as udon, soba, or rice noodles.
Low carb: serve it over cauliflower rice or zucchini noodles.
Egg rolls: perfect to use the leftovers. Simply roll the cooked stir fry in rice paper wrappers and fry until crispy.
Fried rice: turn it into a delicious fried rice meal, by adding some fried egg, cooked rice, sesame seeds, and extra scallions.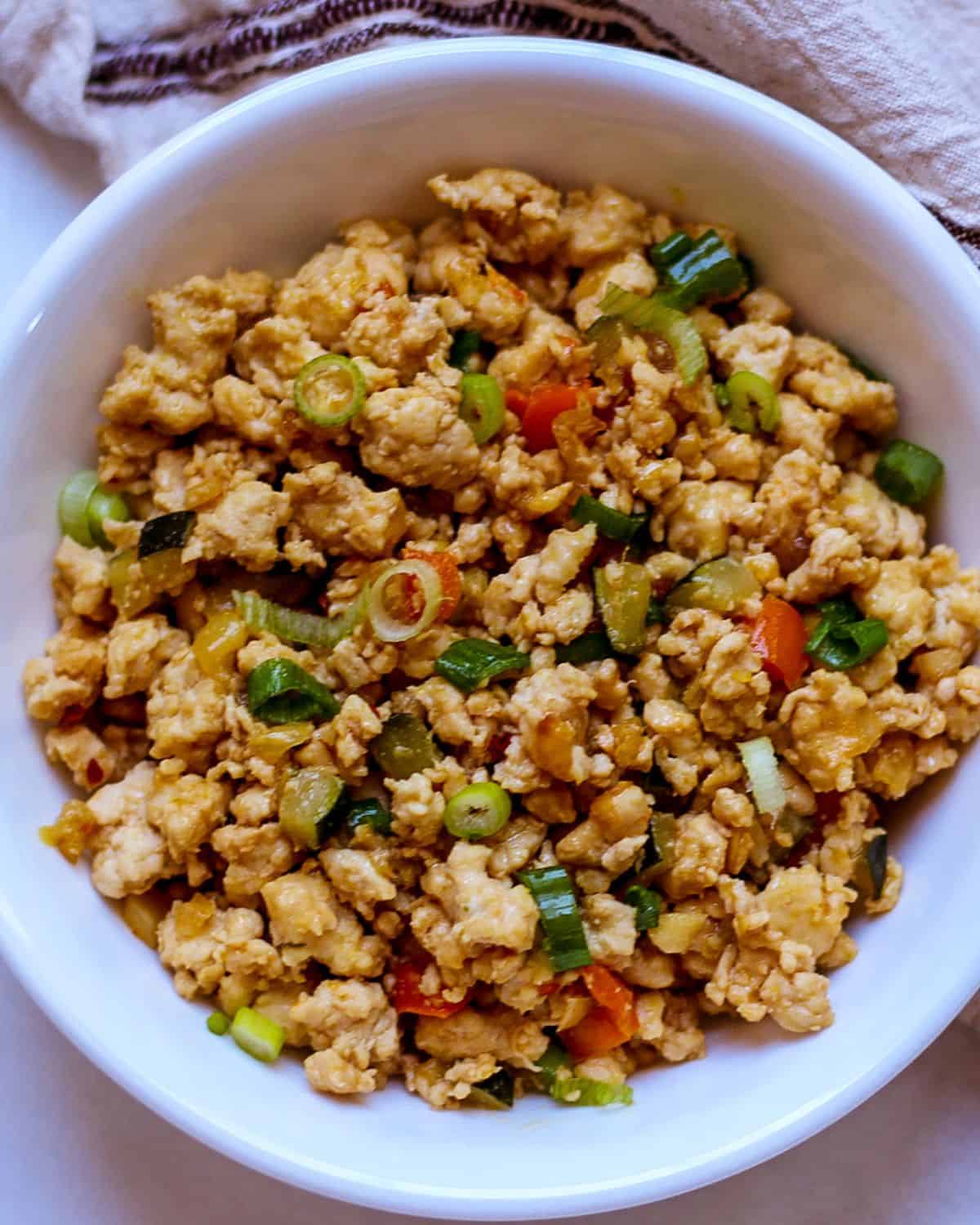 Storage tips, cooking tips, and shortcuts
Store: store cooked stir fry in an airtight container for up to 3 days. You can also freeze it for up to 3 months.
Shortcuts: you can buy stir-fry sauce in a bottle, especially if you do not already have the required ingredients to make it.
High heat: for the best results, cook the stir-fry over medium-high heat.
Don't overcook: chicken cooks fast, so do not overcook it as it will be dry.
Other minced chicken recipes
Check out other recipes using ground and minced chicken that my whole family loves:
📖 Recipe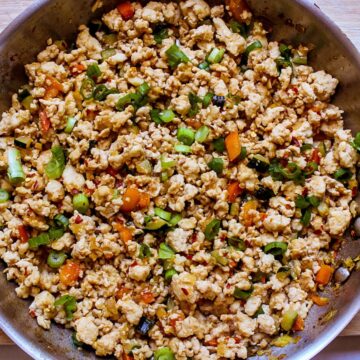 Chicken Mince Stir Fry
You'll need only a few simple ingredients and 30 minutes to make this easy and satisfying chicken mince stir fry
Equipment
measuring spoons

1 chef's knife

1 cutting board

1 large frying pan or wok
Ingredients
Stir fry ingredients
1

pound

chicken breasts or thighs

or store-bough ground chicken.

1

Tablespoon

olive oil

½

small onion

½

bell pepper

1

small zucchini

2

cloves

garlic

1

teaspoon

fresh ginger, diced or grated
Sauce ingredients
2

Tablespoons

dark soy sauce

1

Tablespoon

fish sauce

1

Tablespoon

rice vinegar

1

Tablespoon

honey or brown sugar
Instructions
Stir fry instructions
Place the chicken breast on a cutting board. Cut the chicken breast into ¼ inch slices. Cut each slice into thinner strips. Gather the strips and chop them finely. Repeat with the rest of the chicken. You can also mince it in a food processor.

Cube onion, pepper and zucchini. Dice green onions. Grate or finally chop garlic and ginger.

In a large skillet, heat 1 Tablespoon of oil. Add diced onions, peppers and zucchini. Cook over medium-high heat for about 3-5 minutes, just until the vegetables start softening.

Add minced chicken to the pan and fry it stirring often for 6-8 minutes or until the meat is fully cooked.

Add garlic, ginger and the prepared sauce. Stir-fry for another minute or two until the garlic releases it's aroma.

Garnish with sliced green onions. Serve hot over steamed white rice or noodles.
Sauce instructions
In a small bow, whisk together 2 Tablespoons dark soy sauce, 1 Tablespoon fish sauce, 1 Tablespoon rice vinegar, 1 Tablespoon honey until well combined.
Notes
You can use food processor to mince the chicken.
Let the stir fry cool down to room temperature before placing it in the fridge.
The nutritional information is for informational purposes only.
Nutrition
Calories:
270
kcal
Carbohydrates:
8.1
g
Protein:
36
g
Fat:
9.8
g
Sodium:
550
mg
Fiber:
1.1
g
Sugar:
6.8
g