Learn how to make these crispy air fryer frozen wings. These wings go straight from the freezer to your air fryer with minimum prep time to become a delicious and easy appetizer.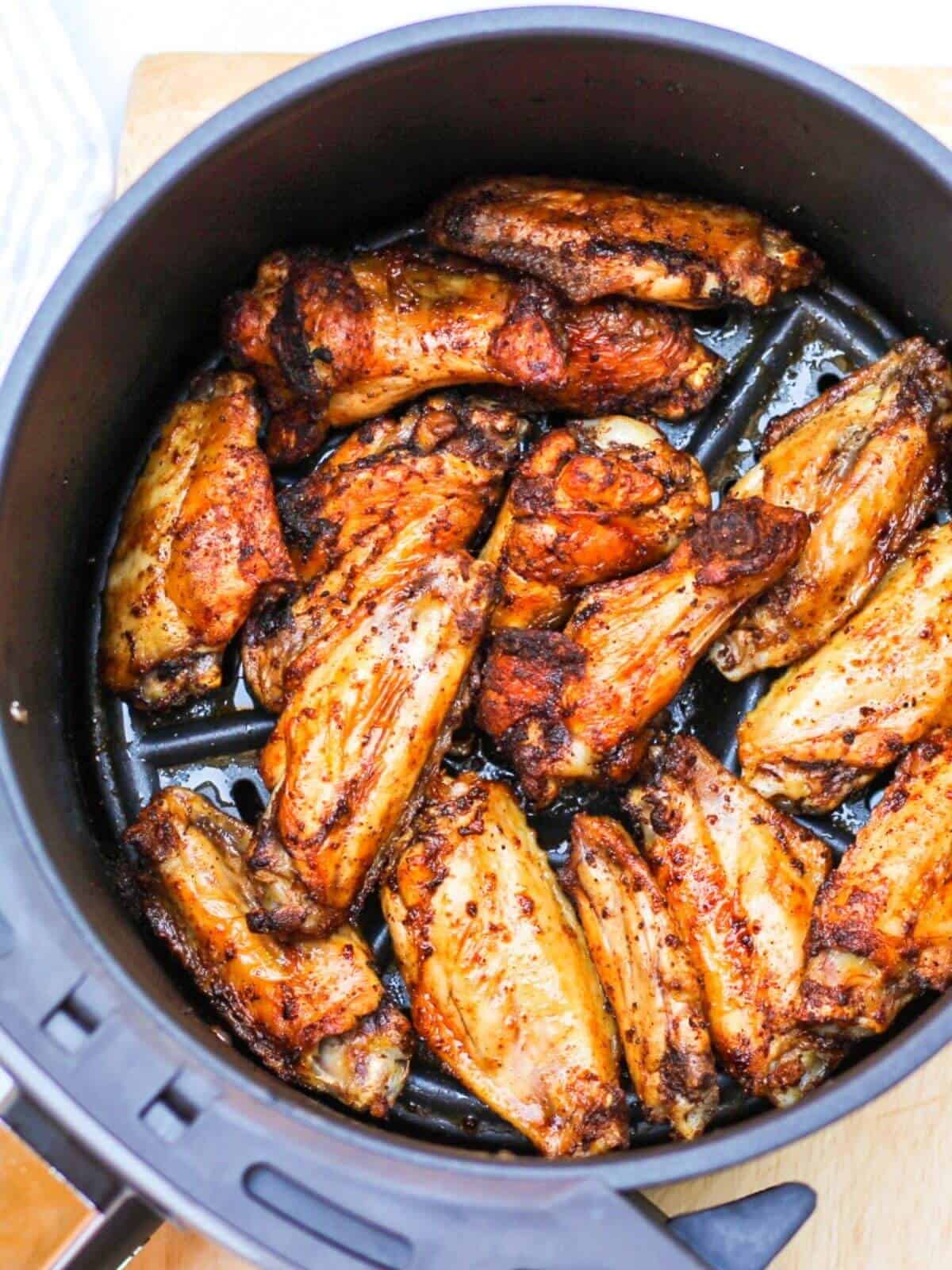 Cooking frozen chicken wings has never been easier. If you are craving wings at least once a week (like me), you can have these delicious air fryer chicken wings at any time. I just always make sure to have some in my deep freezer.
If you prefer chicken drumsticks, try our Air Fryer Lemon Pepper Chicken Drumsticks.
The best chicken wings are those made at home. They are always hot, crispy and so much healthier. No need to pay the extra cost and wait for delivery, especially if it's a game day.
You can also bake perfect wings in a convectional oven, if you do not have air fryer.
Jump to: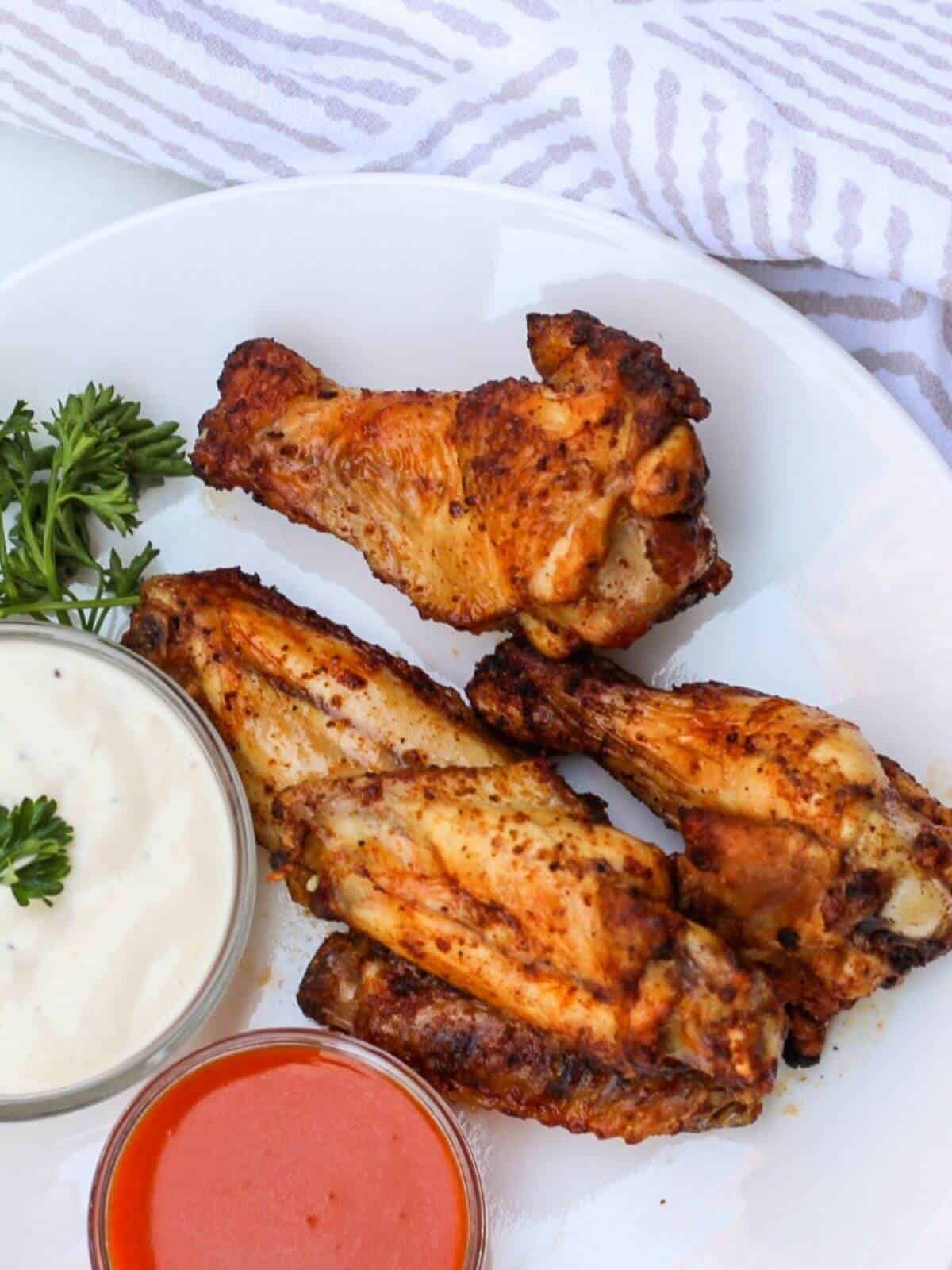 Why you will love this recipe
perfect appetizer for a last-minute party.
buffalo chicken wings are ready in under 30 minutes - faster than a take-out
air frying is much healthier than deep frying.
it is a great recipe idea for your next super bowl party.
less sodium compared to restaurant ones.
Ingredients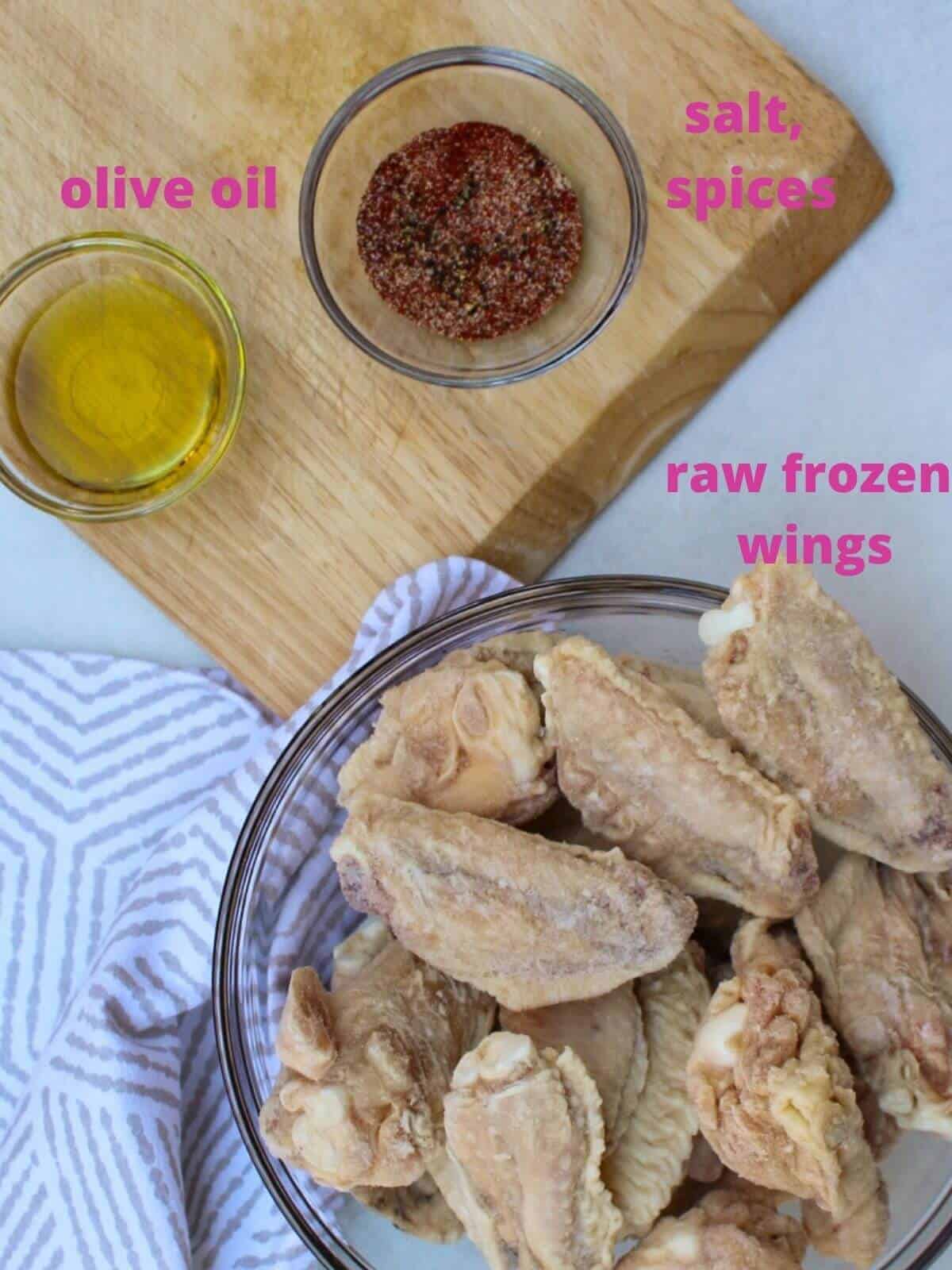 Frozen Raw Chicken Wings: I usually buy a few two-pound bags of frozen raw chicken wings at the grocery store to keep them in my freezer. You can cook only half of the bag if you like.
Olive Oil: I used only little extra virgin olive oil. Canola, vegetable, or avocado oil will all work great.
Salt: I added a really small amount of salt because we enjoy wings by dipping them into our favorite wing sauce. If you prefer naked wings, add some extra salt.
Spices: you can use any of your favorites here. I always use are garlic powder, onion powder, black pepper, and paprika. Paprika creates a nice golden-brown look.
See the recipe card for ingredient quantities.
How to air fry wings from frozen
Air Fry (with no seasoning) - First, preheat the air fryer at 400°F for about 5 minutes. Now, add frozen chicken wings to your air fryer basket in a single layer.
Note: it is OK if some wings are not in a single layer, they will still cook through. But if your air fryer is smaller, the best way is to cook them in two batches if you like crispy skin on your wings.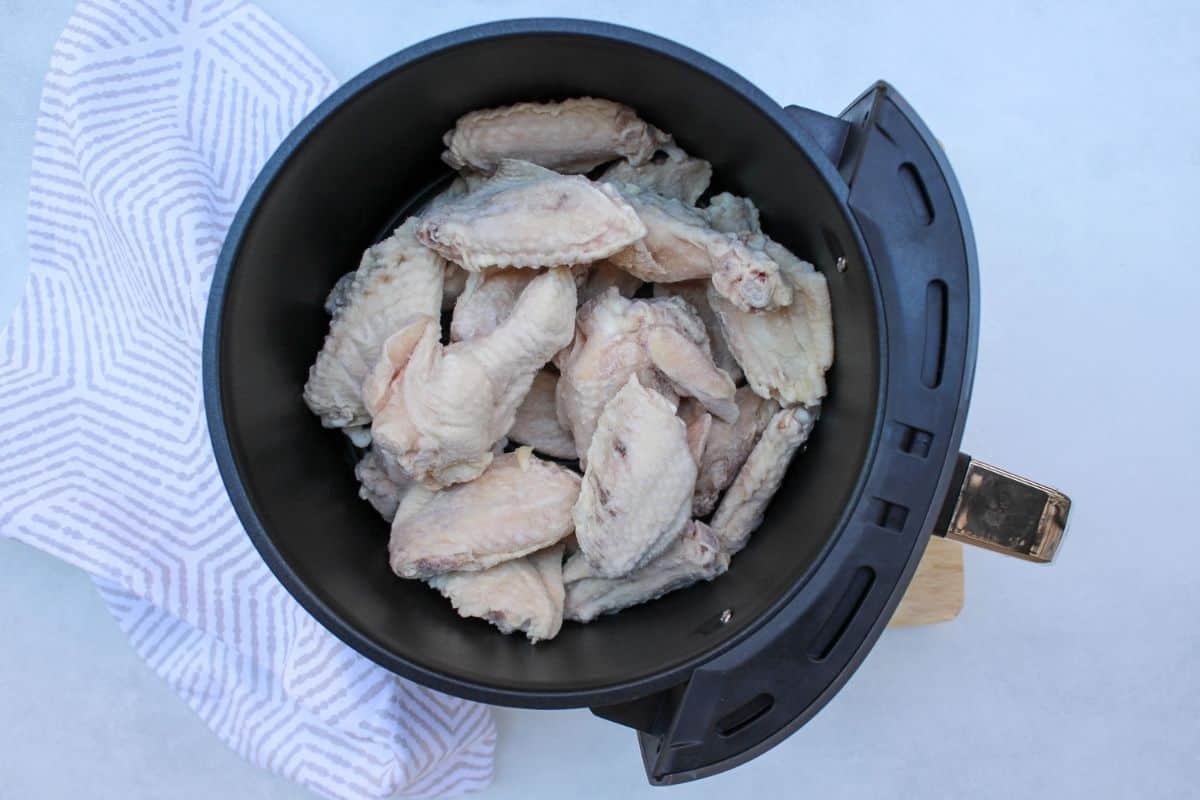 Season - At this point, the wings are almost fully thawed and all the liquid will drip and remain at the bottom of the basket under the crisper plate. Remove the basket with wings. Add oil, salt and spices. Using a wooden spatula mix the wings well to coat each piece evenly.
Note: for the best results, get rid of the accumulated liquid at the bottom of the air fryer.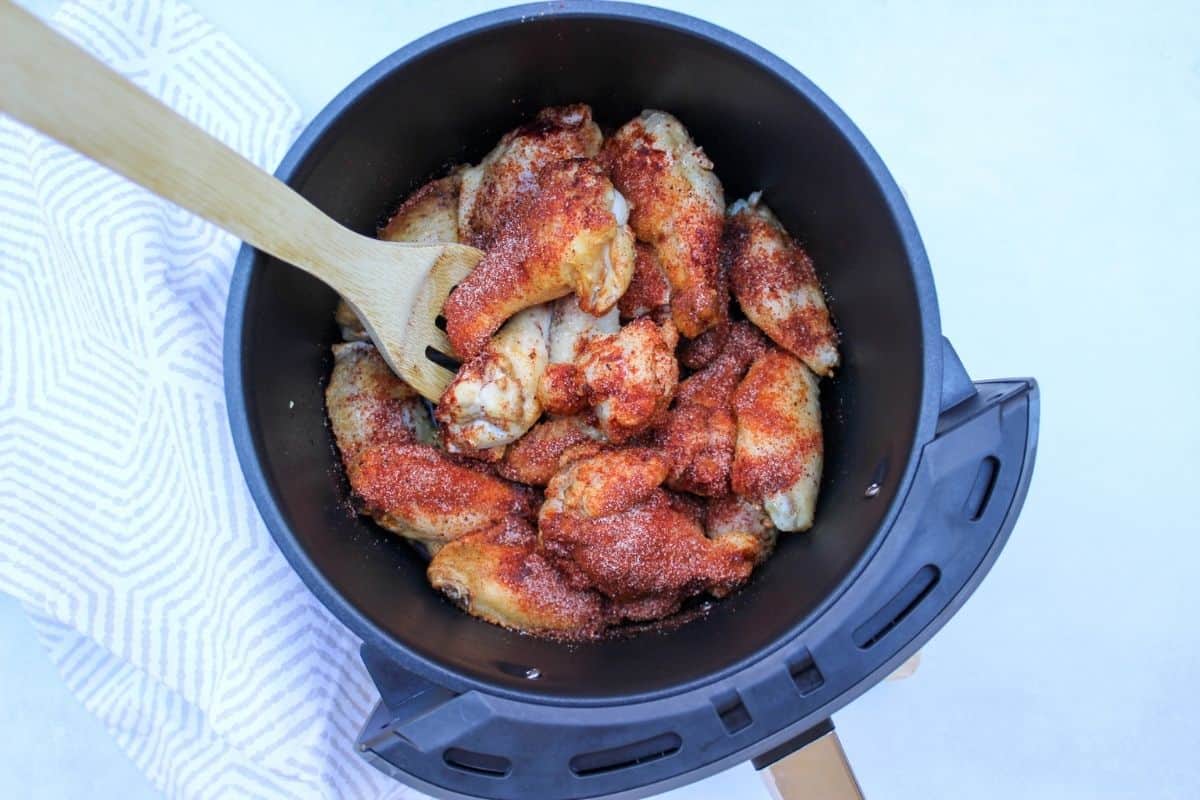 Air Fry Until Fully Cooked - Place wings back into the air fryer basket and depending on the size of the wings cook them for another 12-15 minutes (tossing them every 6 minutes) or until fully cooked and the internal temperature reaches 165 degrees F.
Note: use a meat thermometer to make sure the wings reached 165°F and are fully cooked.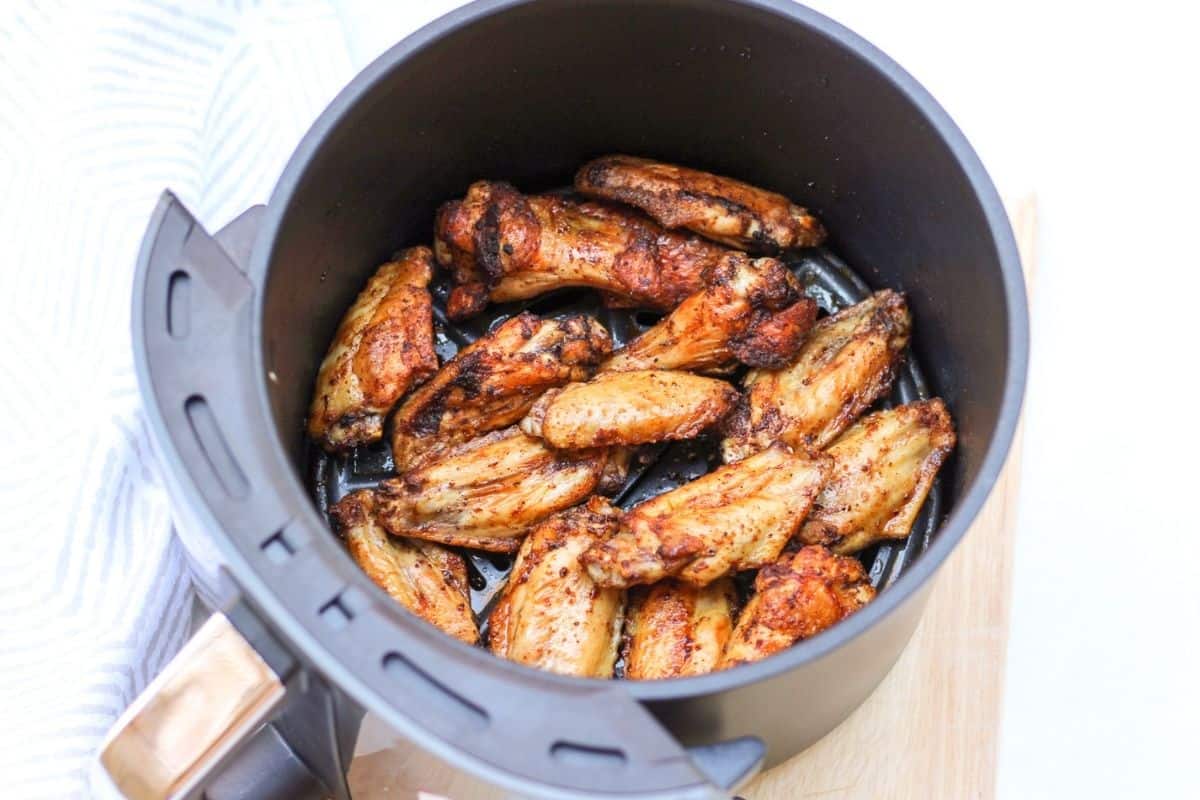 Serving
Toss in cooked wings in your favorite sauce: buffalo sauce, bbq sauce, mango habanero sauce etc. My personal preference is serve naked wings with the variety of wings sauces in small bowls for dipping.
When using hot wings sauce, consider serving these crispy chicken wings with sides of blue cheese dressing or ranch dressing for dipping. This creamy sauces will cool down the extra heat.
And of course, fresh and crunchy carrot and celery sticks.
Note: slice carrots and celery into sticks and place them in mason jars (or glass container) filled with water ahead of time. This trick will make veggies super fresh and crunchy.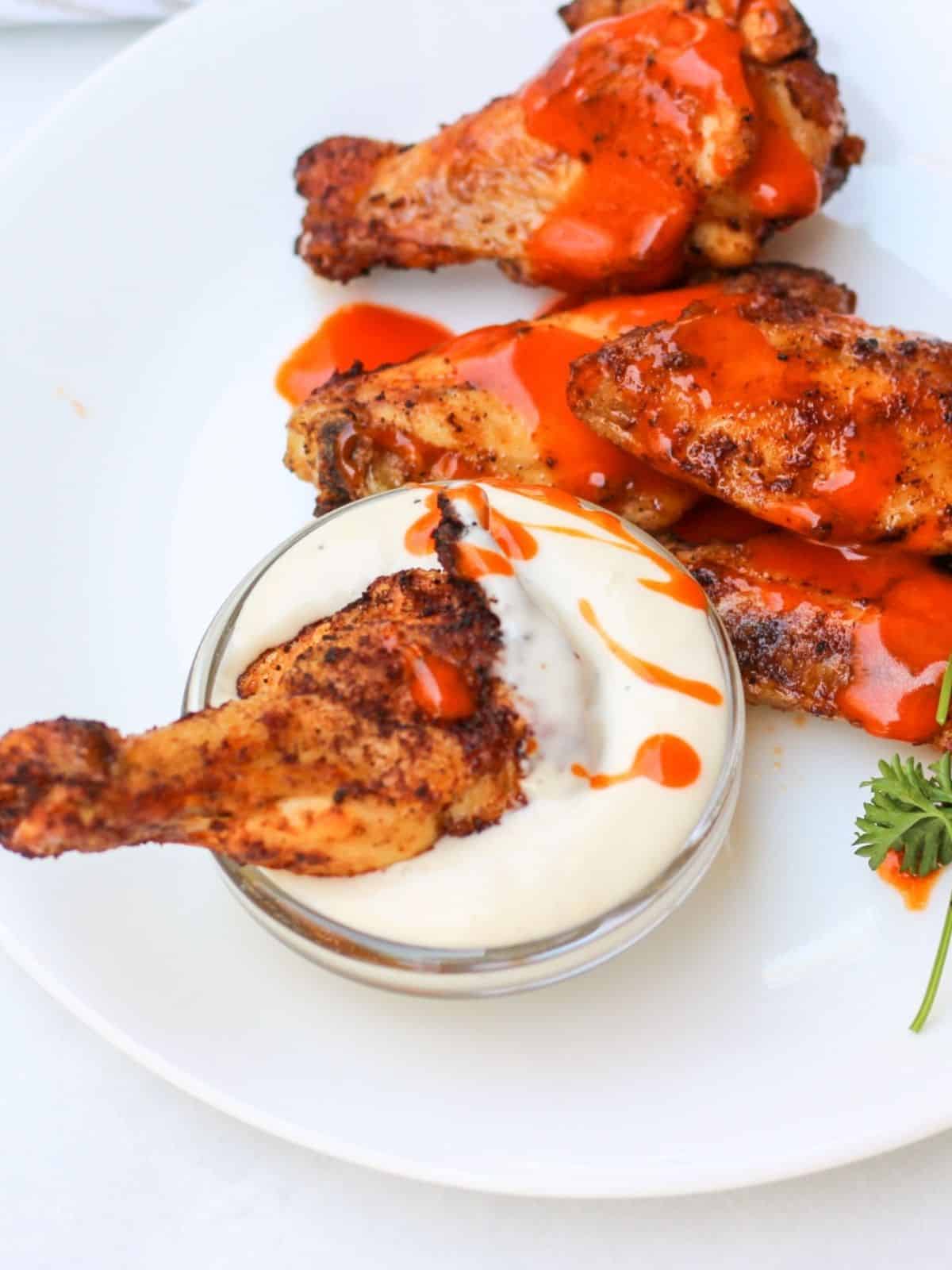 Storing and reheating
Place leftover chicken wings to an airtight container and store them in the fridge for up to 3 days.
Reheat the wings in the microwave oven for 1-2 minutes or in the air fryer for 3-5 minutes at 400°F.
Tips for success
add oil, salt, and spices after the first round of air frying.
drain any accumulated liquid from the bottom of the air fryer.
do not overcrowd, arrange wings in a single layer.
if all wings do not fit in one layer, cook them in two batches.
for extra crispy air fryer chicken wings, coat the wings with a little bit of potato starch and baking powder (one teaspoon of each) together with spices and salt
Equipment
Ninja Air Fryer XL: Any brand or type of air fryer works great for making chicken wings.
Note: if you use Ninja air fryer, cook these wings on max crisp setting.
Spatula: make sure to use a wooden or silicone spatula. Using a metal spatula may result in scratching the air fryer surface.
Food thermometer: I always use my food thermometer to make sure that the meat reaches a safe temperature. I strongly recommend getting one. It always comes in handy.
Recipe variations
Dry Rub - If you prefer dry rub, toss the wings right after cooking into your favorite dry rub mix. If you use dry rub omit salt and spices and use only oil during the cooking process.
Precooked frozen wings - If you have already precooked wings, you still can make them in the air fryer. To air-fry precooked chicken wings, cut the cooking time in half. Make sure to omit the oil and spices if they are already listed as ingredients on the package.
Fresh wings - If you bought fresh wings cook them in the air fryer for 12-14 minutes or until the internal temperature reaches 165°. Add olive oil and spices right away and toss them a few times during the cooking process ( every 5-6 minutes).
Extra Spicy - Add ¼ teaspoon of cayenne pepper to your spice mix for even hotter wings.
Common questions
How many chicken wings to serve per person?
As an appetizer: 6-8 wings (3-4 whole wings) person.
As entree: 10-12 wings (5-6 whole wings) per person.
Can you air fry other frozen food and meat?
Yes, I love making frozen chicken breasts, frozen steaks and frozen veggies in my air fryer. Best option when you do not have time to thaw the frozen food.
Other air fryer recipes to try
📖 Recipe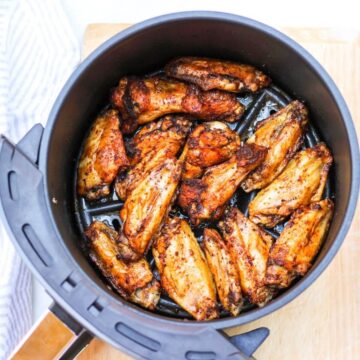 Air Fryer Frozen Wings (2 pounds)
Learn how to make these crispy air fryer frozen wings. These wings go straight from the freezer to your air fryer with minimum prep time to become a delicious and easy appetizer.
Equipment
1 Air Fryer Ninja XL

or other brand

1 wooden spatula

1 Food thermometer

1 set of measuring spoons
Ingredients
2

pounds

frozen chicken wings

1

Tablespoons

olive oil

or canola

¼

teaspoon

salt

¼

teaspoon

black pepper

½

teaspoon

garlic powder

1

Tablespoon

paprika (optional)

¼

teaspoon

onion powder (optional)
Instructions
Preheat air fryer at 400°F for 5 minutes. Add frozen chicken wings to the preheated air fryer basket. Cook at 400°F for 12 minutes.

Remove the basket with almost fully thawed wings. Add olive oil, salt and spices. Mi with wooden spatula to coat.

Air fry the wings for another 12-14 at 400°F minutes tossing them halfway or until the internal temperature reaches 165°F and wings are not longer pink inside. (dark discoloration near the bone is OK). Enjoy with your favorite sauce!
Notes
cook in two batches not too overcrowd.
add 1 teaspoon of potato or corn starch and 1 teaspoon of baking soda together with the spices for extra crispy wings.
consider draining any liquid from the bottom of the air fryer after the first 12 minutes of cooking.
use wooden or silicone spatula in the air fryer to prevent from scratching.
be careful while handling food straight from the air fryer.
use meat thermometer to ensure the wings are fully cooked.
nutrition facts listed above may vary. For more accurate quantities weight or measure raw ingredients and use nutrition apps (such as MyFitnessPal) to calculate the recipe calories and macros.
Nutrition
Calories:
741
kcal
Protein:
57.4
g
Fat:
55.5
g
Sodium:
291.7
mg