Guacamole without onion is a milder version of a traditional guacamole dip. Made with only 4 main ingredients and no special equipment, this simple guacamole is great as a dip, spread, topping and so much more.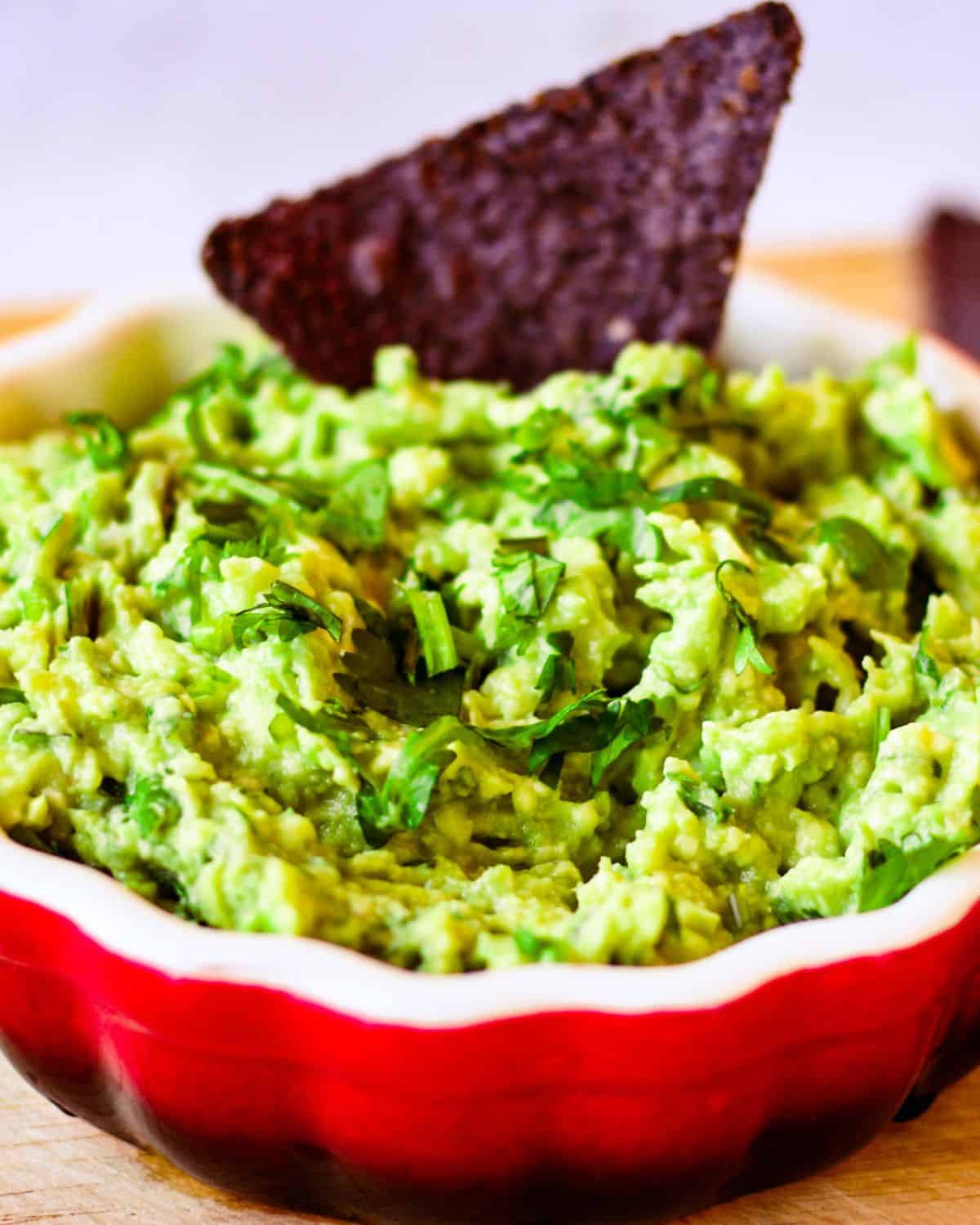 This recipe is the only way I make my guacamole because it is easy, quick and tastes as great a classic version. My my husband does not eat raw onions, and I cannot eat raw onions (although I love them so much) due to my food sensitivities.  
If you do not like the crunchiness and texture of the raw onion, but you still like its flavor - I recommend adding some onion powder instead.
In my experience, onion-free guacamole is the best one to serve at the party. I've met too many people who avoid raw onions, but not that many who would complain if the dish did not have this pungent vegetable.
Jump to:
Only 4 Ingredients
The combination of these 4 very simple ingredients creates the most delicious guacamole with no raw onions.
Ripe Avocados
Hass is the most popular type you will find at the grocery store. The avocados need to be ripe for a creamy consistency. Ripe avocados have dark green or brown skin and are soft when gently pressed with fingers. Avoid avocados that are too mushy or have dents. You can also safely use slightly overripe avocados if they still taste good.
Cilantro
Freshly finely chopped with stems cilantro leaves will add a nice flavor to your guacamole. I always add a lot of it to my guacamole. If you are not a fan, skip it or use about ¼ teaspoon of ground coriander instead.
Note: I love a lot of cilantro in my guacamole, you can use less depending on your preference.
Fresh Lime
You will need juice of about half a lime. Avoid bottled lime juice as it doesn't taste as good. Lime juice will add some tart and tangy taste to the dip and it will prevent the mashed avocados from turning dark too fast.
Seasoning
I add only some salt by taste and garlic powder for a slightly spicy taste. You can also use onion powder, ground coriander, and black pepper. If you want to add some heat to the dip, add some cayenne pepper or crushed red pepper flakes to it.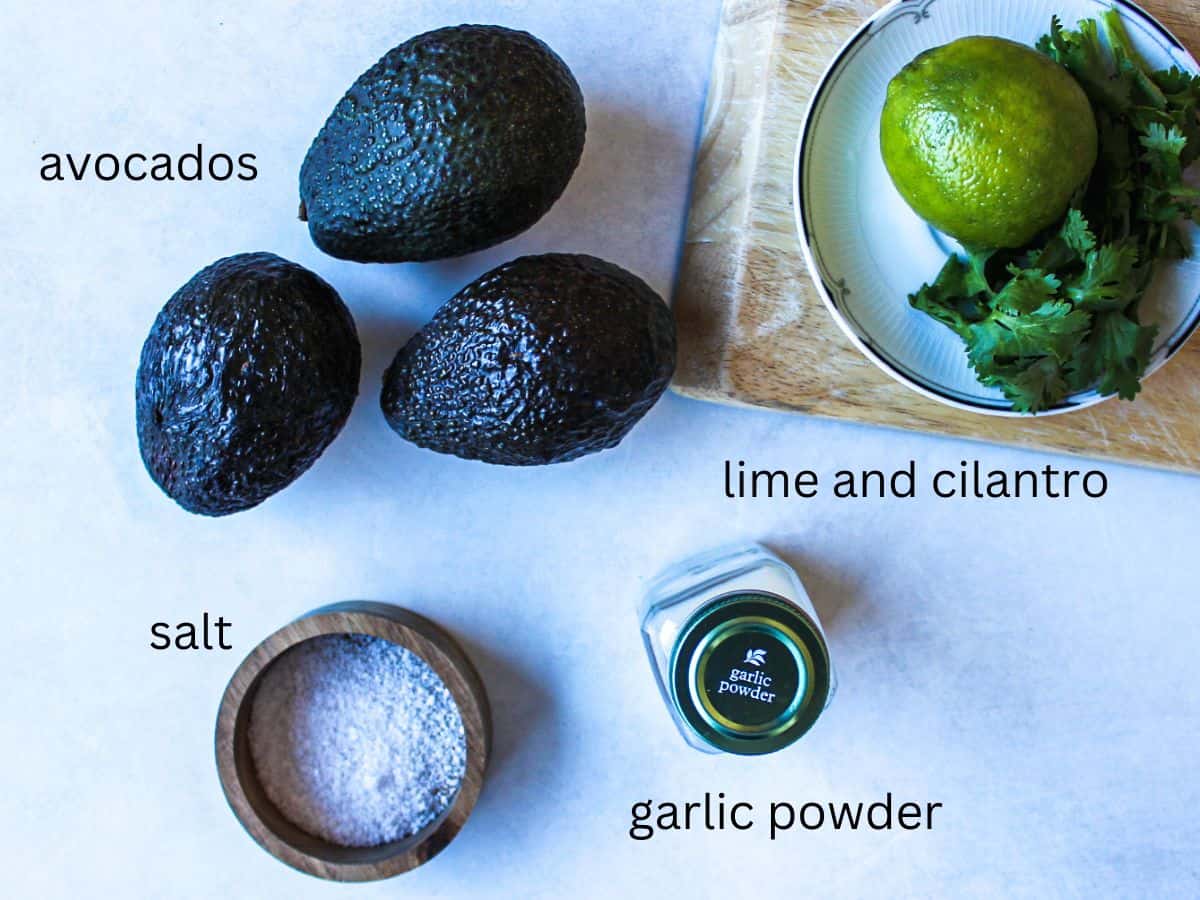 How to make it
Rinse your avocados and fresh cilantro under cold water. If you have time, soak fresh cilantro in cold water. Place both ingredients on some paper or cloth towels to dry.
Cut the avocado in half and carefully remove the pit. Scoop out the green flash into a wide plate or bowl. I just use a fork and smash it until desired consistency (if the avocados are perfectly ripe). This method is super easy. and you will have no extra dishes to wash. Alternatively, you can use a potato masher, but the fork does the same job.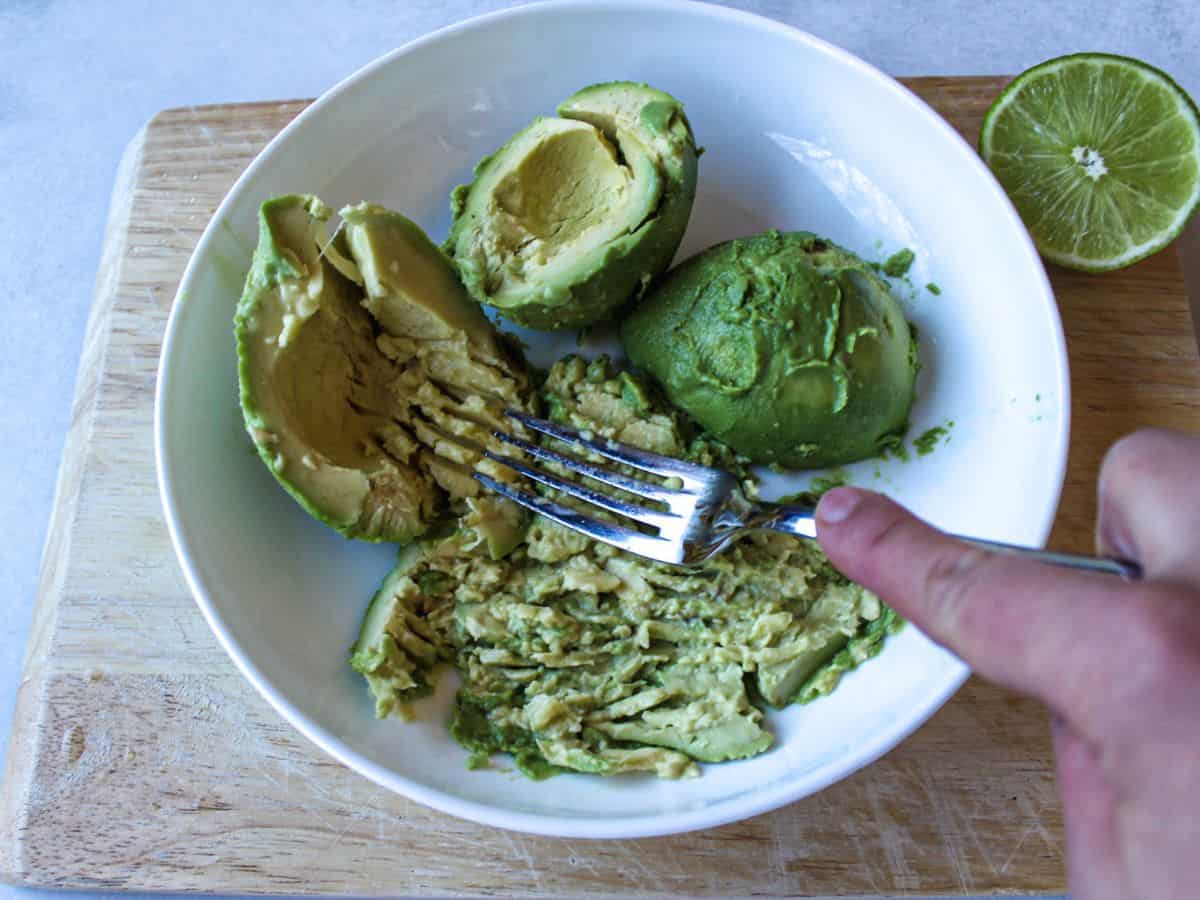 After your avocado is mashed, squeeze there the lime juice, add salt and garlic powder by taste and mix everything well. This way guacamole will not start browning right away while you chop the cilantro,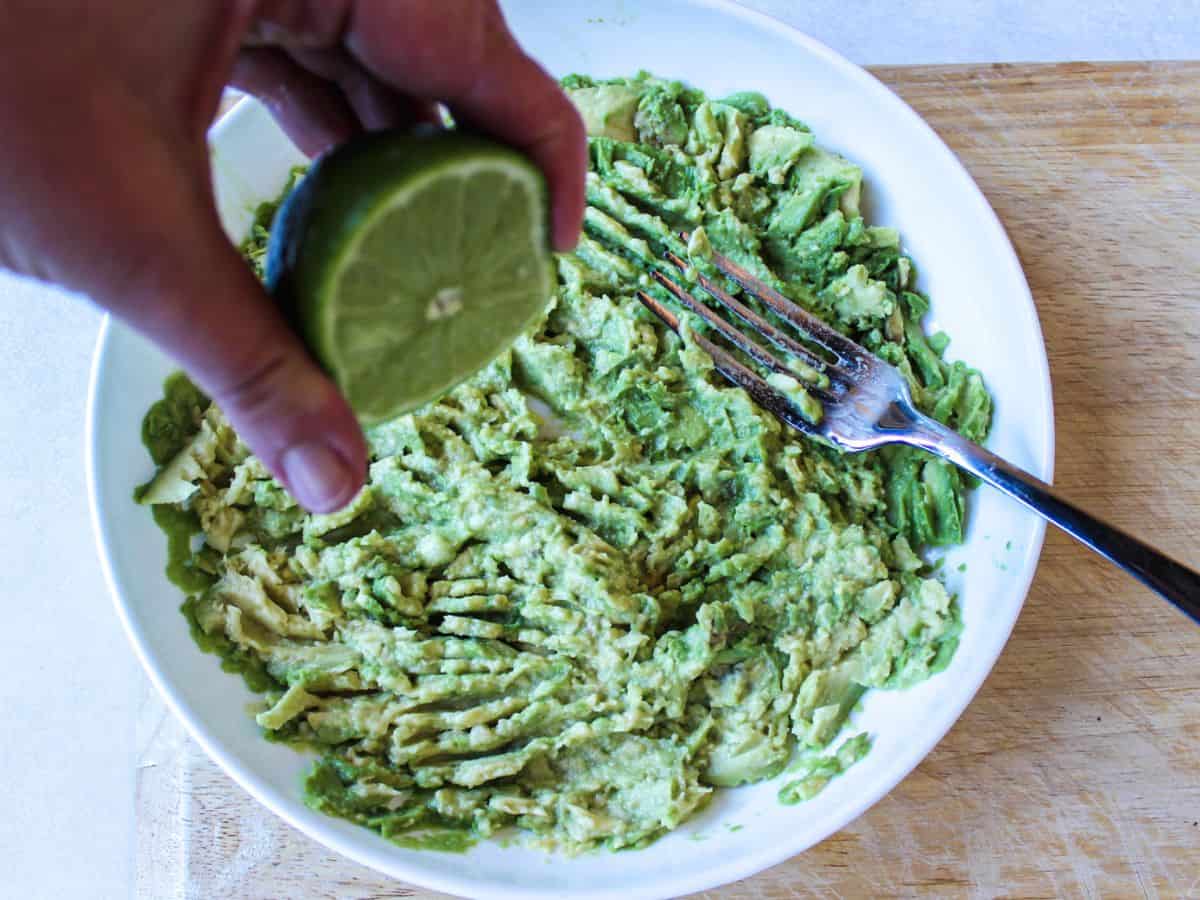 Finally, place a bunch of washed and dried cilantro on a cutting board and chop it finely or until the desired consistency. I cut off about one inch of the stems as they tend to be dry. But you can cut off the stems completely. Stems have a stronger flavor, and some people do not enjoy them.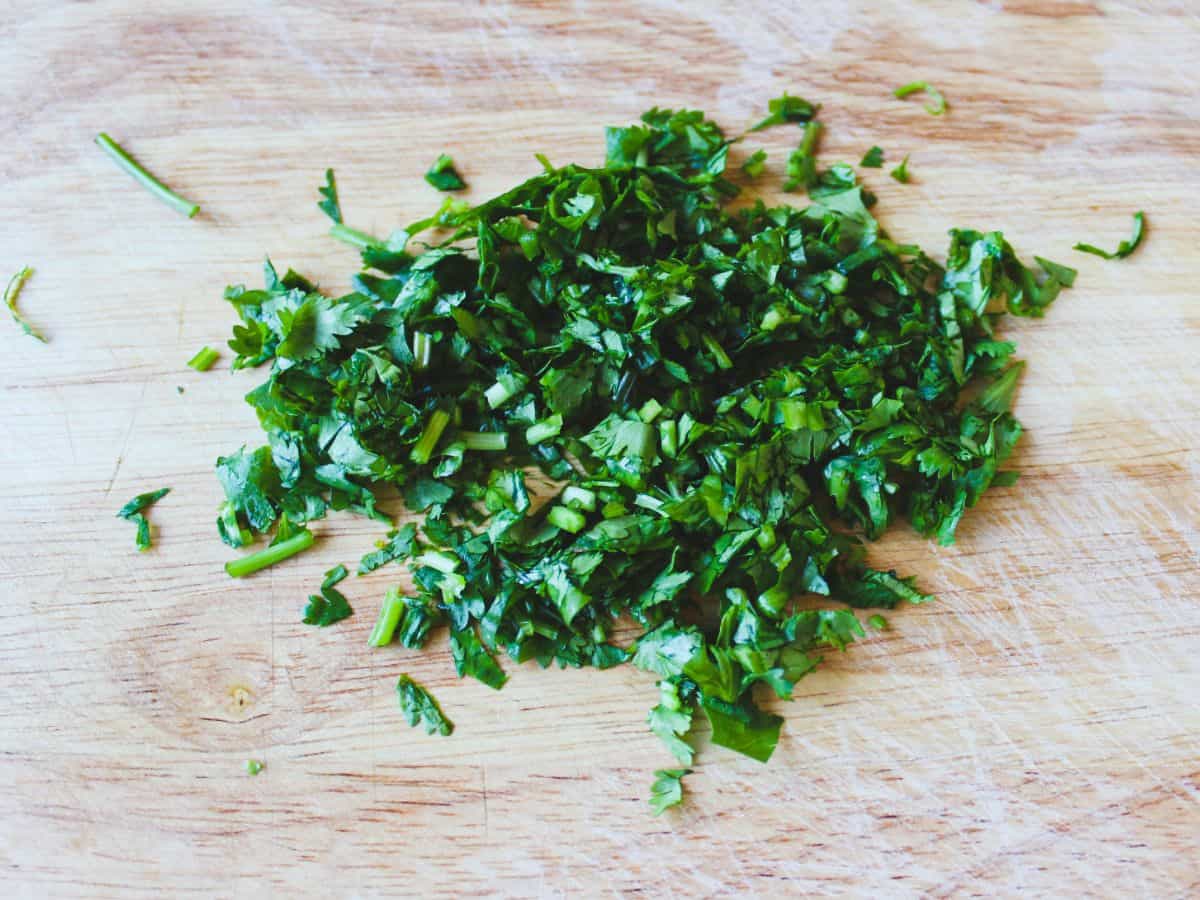 Add the desired amount of cilantro to your guacamole and mix it. Taste the dip to make sure it has enough seasoning and lime. Add more as needed.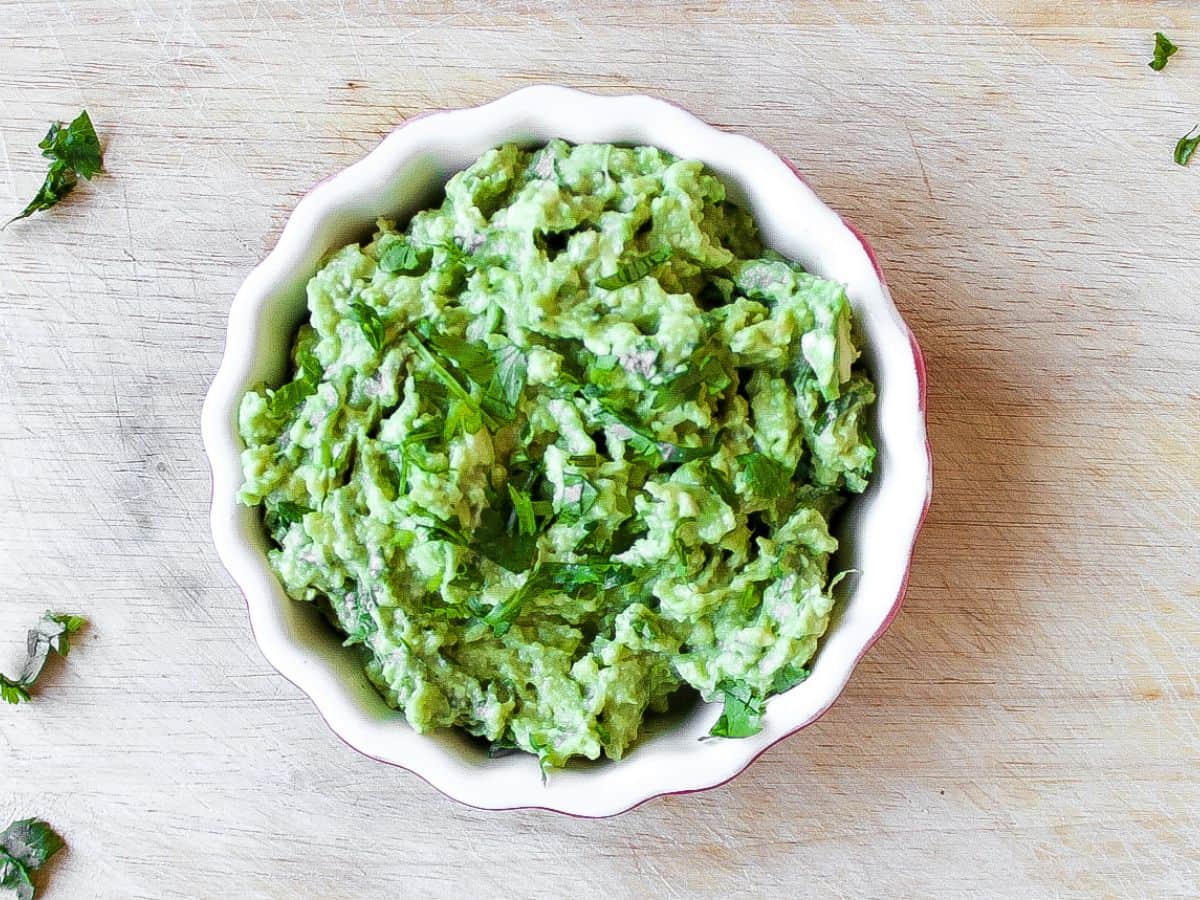 How to store guacamole to avoid darkening
Home-made fresh guacamole is better to enjoy as soon as it is ready, but we always tend to have some leftovers. Only one problem - it gets dark the next day and does not look appetizing.
No matter, how much lime juice I used to add, it would still get dark on top the next day. Until I found out the best way to store the guacamole: transfer the dip into a bowl or a container and cover it with plastic wrap pressing it into the dip. This way avocado has no contact with the air and it will not turn brown. On top, add another layer of wrap to make it airtight ,or use a container lid.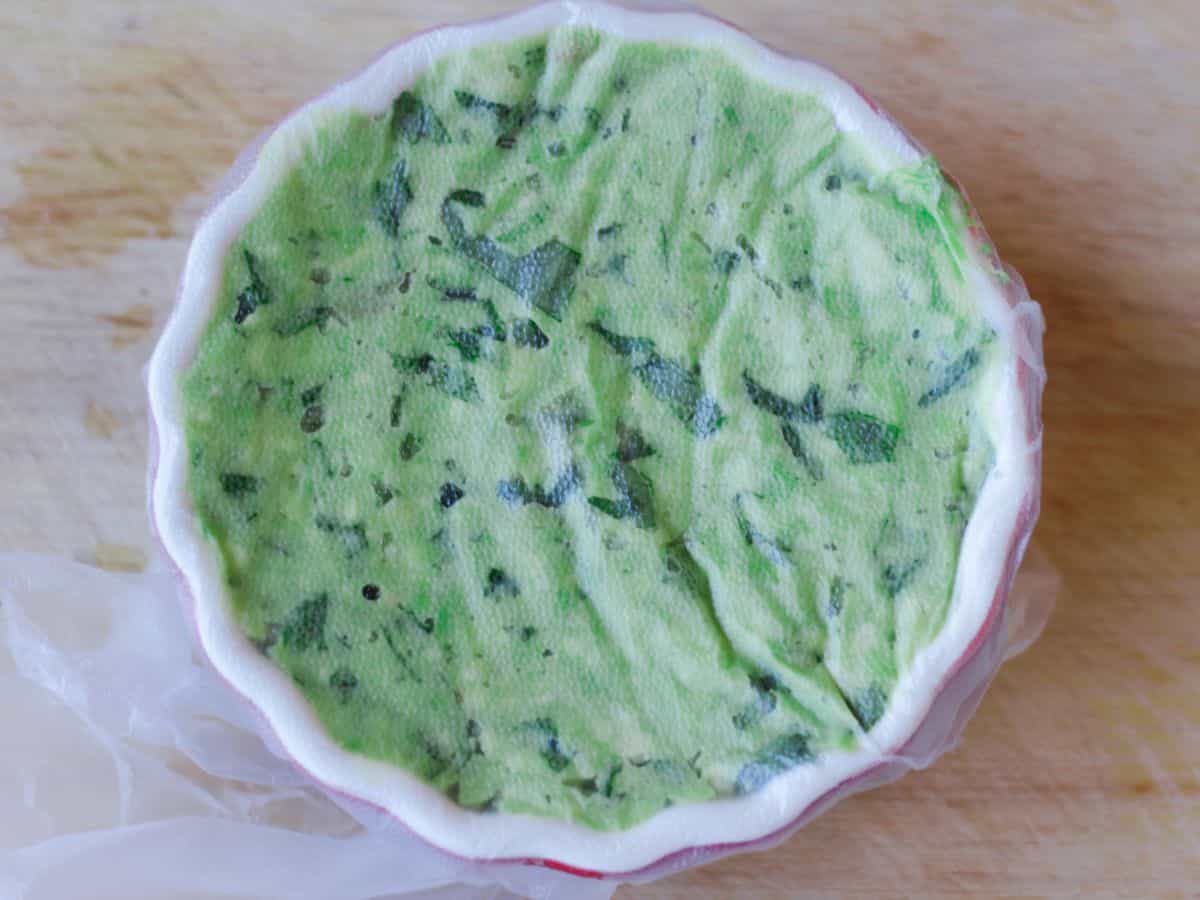 Home-made avocado can be stored in the fridge for about 3 days if the chips were not dipped more than once and it was not been in contact with any other foods on the table.
If you make a big batch, it is better to store it in the fridge and refill a smaller bowl on a table as needed.
Another great way to store your guacamole is freezing. Freeze freshly made dip for up to 3 months.
Useful tips
if avocados are slightly under-ripe and you still need to make the dip, it's better to use a blender or food processor to make your guacamole smooth.
add a thin layer of lime juice on top before serving to slow down the browning.
Serving ideas
Dip: serve it with some black or white corn tortilla chips. We love having guac and chips as a side dish for our favorite chicken quesadillas.
Spread: spread the leftover of this onion-free guacamole on a piece of toast and add some egg on top, and you have a filling breakfast that won't leave you with an onion breath for the rest of the day.
Topping: you can boost the nutrition of so many foods by adding some of the guacamole on top: salads, fries, turkey burgers, nachos, and more.
Frequently asked questions
How to ripen avocados faster
It takes 2-3 days to ripen the avocado on the counter. You can speed up the process by placing unripe avocados in a brown bags with bananas.
Can I use lemon instead of lime?
Yes, you can add freshly squeezed lemon juice instead. Although lemon juice has a slightly different flavor, it is acidic enough to be used instead of lime to make guacamole.
Other popular dips and spreads
📖 Recipe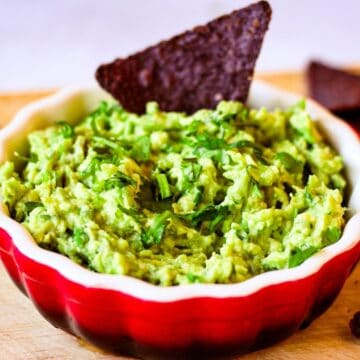 Guacamole without onion
Guacamole without onion is a milder version of a traditional guacamole dip. Made with only 4 main ingredients and no special equipment, this simple guacamole is great as a dip, spread, topping and so much more.
Equipment
1 cutting board

1 knife

1 set of measuring spoons
Ingredients
3

Hass ripe avocados

1

small bunch

fresh cilantro (about 1 Tablespoon of chopped)

½

lime

¼

teaspoon

salt

or more by taste

¼

teaspoon

garlic powder

or more by taste
Instructions
Rinse and dry avocados and cilantro. Cut avocados in half and carefully remove the pits.

In a large shallow bowl, mash avocado halves until smooth or chunky (it's up to your preference). Squeeze the juice out of the ½ of lime, add salt and garlic powder. Mix well with the fork.

Finely chop fresh cilantro and add it to the avocados. Do a taste check and add more seasoning or lime juice if needed. Transfer the guacamole to the serving bowl and enjoy.
Notes
store home-made avocado for up up 3 days in the fridge and for up to 3 months in the freezer.
make it spicy by adding some chopped jalapenos or cayenne pepper.
serve it with some corn chips, quesadillas, nachos and more.
nutrition facts above are for information purposes only.
Nutrition
Calories:
160
kcal
Carbohydrates:
8.5
g
Protein:
2
g
Fat:
14.7
g
Sodium:
200.8
mg
Fiber:
6.7
g
Sugar:
0.7
g