This high-protein hummus is a healthy spin on the famous middle eastern recipe. Added Greek yogurt and hemp seeds will boost the amount of protein in this delicious dip.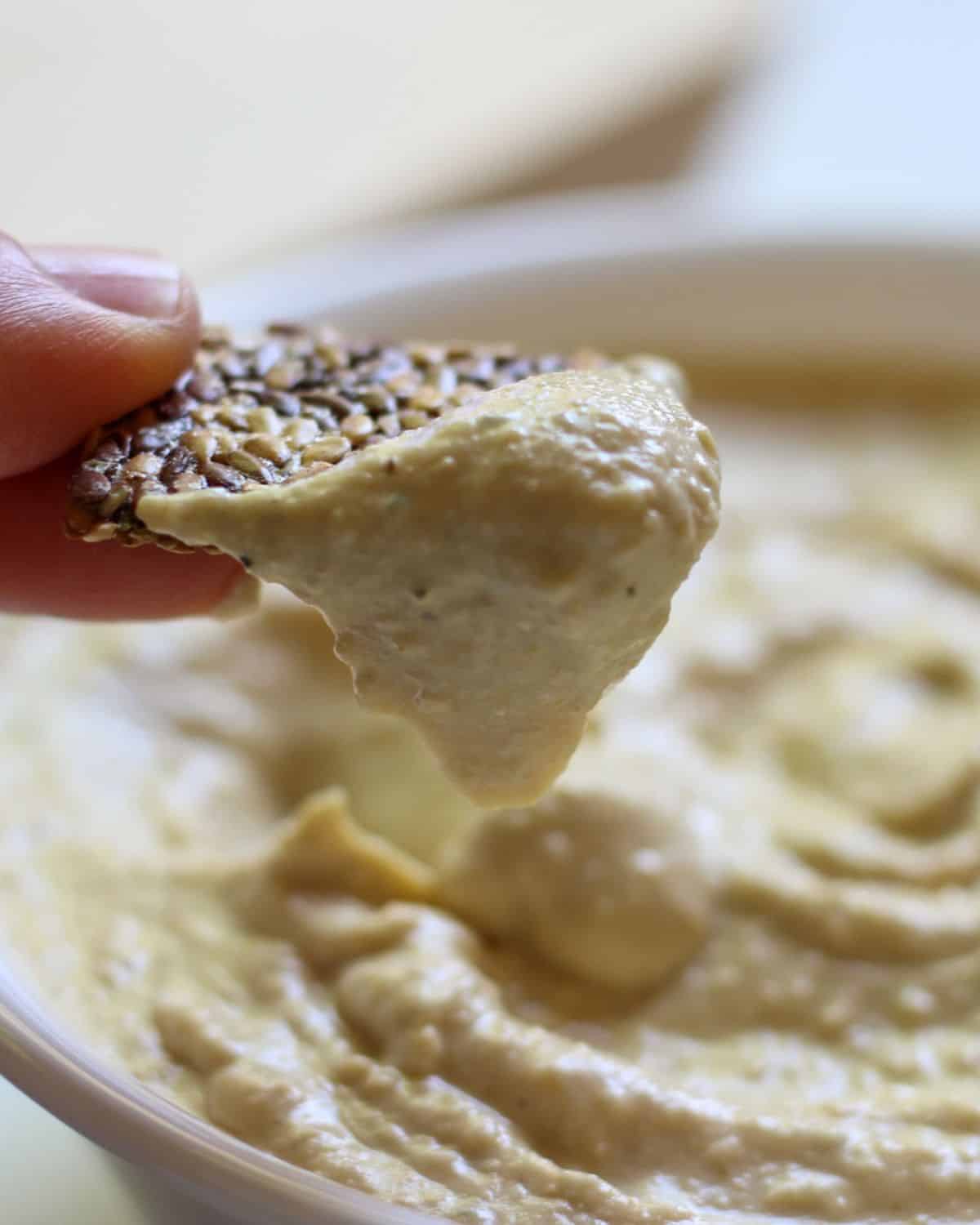 Jump to:
Why you will love this recipe
Protein-packed - garbanzo beans, tahini, hemp seeds, and Greek yogurt are all high in protein.
Versatile - hummus can be used in so many ways: for dipping, in salads or sandwiches, and even as a pasta sauce.
Minimum prep time - takes about 10 minutes including cleaning time.
Affordable - it is so much cheaper and healthier than store-bought hummus.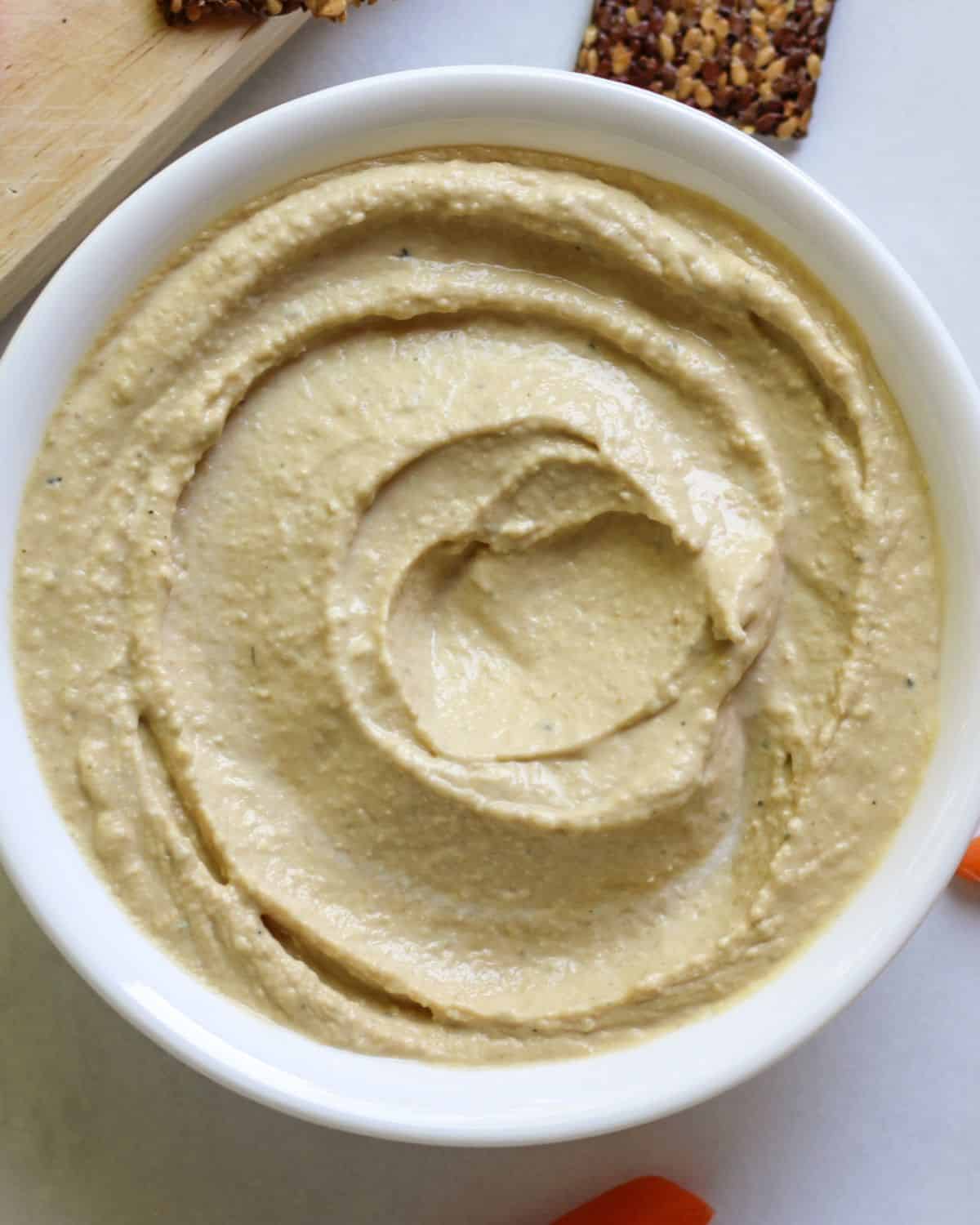 Ingredients notes
Garbanzo beans - canned or home-cooked chickpeas as the main ingredient to make hummus. I always use low sodium ones.
Tahini - it adds smoothness and extra nutrients. Although raw sesame tahini is higher in nutrients, I prefer using roasted tahini. It has a richer flavor and a nuttier taste.
Hemp seeds - are another highly nutritious ingredient. Hemp seeds add a lot of extra protein, fiber, and omegas. In addition, hemp seeds are a great source of a complete plant-based protein, meaning it contains all the essential amino acids.
Greek yogurt - you will need a full or low-fat plain Greek yogurt. Greek yogurt is another great source of protein and it will add extra creaminess to the texture. You can skip the yogurt for a vegan version.
Olive oil - good quality extra virgin olive oil is the key. You can make it oil-free by skipping this ingredient.
Lemon juice - fresh lemon juice for that citrusy and tangy taste we all love, and of course some extra vitamin C. Avoid using bottles of lemon juice.
Garlic - I used one fresh garlic clove. Add more for a stronger taste.
Sea salt - add salt by taste. Hummus does not need much salt, so add just a little bit at first and you can always add more if needed.
Cumin - is the basic spice to add to this popular middle eastern dip.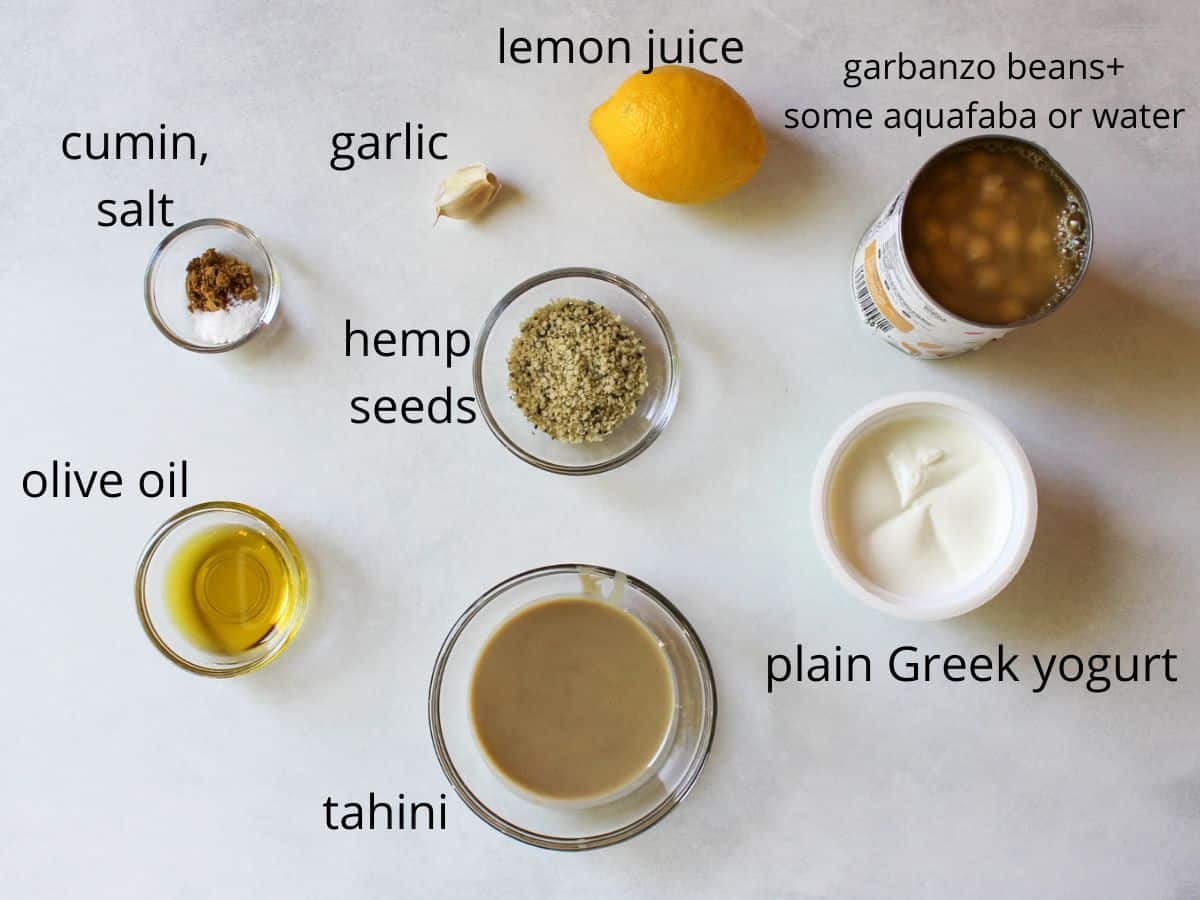 How to make high-protein hummus
Prepare Ingredients - drain the chickpeas and rinse them under cold water. Reserve about 3 Tablespoons of aquafaba. Measure the rest of the ingredients, and peel the garlic.
Note: simmer canned beans in a medium saucepan filled with water for about 15 minutes and peel them afterward for an extra creamy texture. Peeling a can of garbanzo beans will take about 10-15 minutes.
Blend - Add all the ingredients to your food processor. Blend for 40-60 seconds on medium-high speed, scraping the ingredients off the sides if needed. When the hummus is creamy and smooth, it's ready!
Note: In my opinion, there is no difference in which order you add the ingredients or if you blend tahini and olive oil first (unless you are using a blender). A good food processor with sharp blades will make creamy hummus just by dumping all the ingredients at once.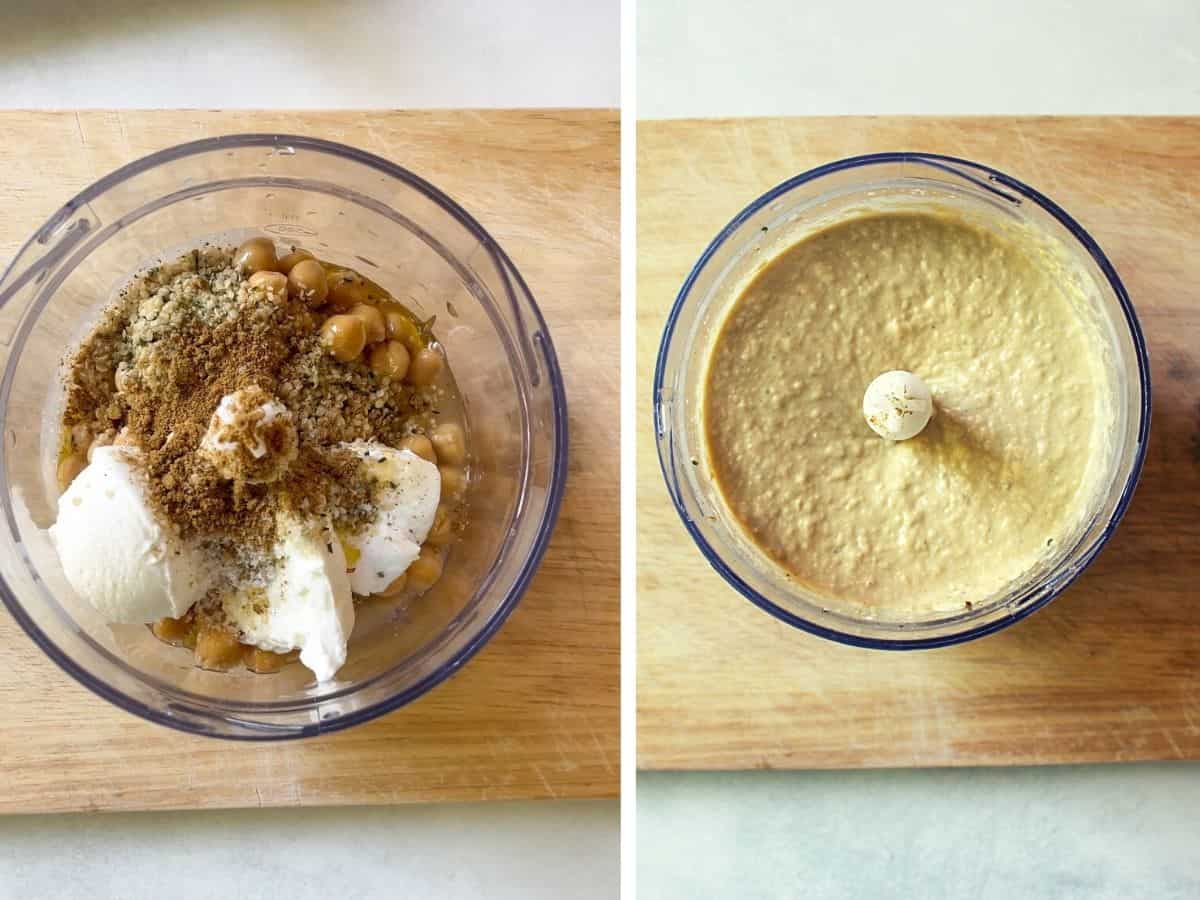 How to garnish
drizzle a good quality olive oil.
chopped fresh herbs (parsley, dill, basil).
sesame seeds or some extra hemp seeds.
some red pepper for a spicy kick.
kalamata olives, pine nuts, diced carrots, or sweet peppers.
How much protein per serving
The whole batch contains about 52 grams of protein.
The recipe yields about 6 servings (¼ of a cup per serving) which equals bout 8.8 grams or protein per serving.
The protein content for this particular recipe is much higher than in traditional hummus (about 3-4 grams).
Tips for success
peel the garbanzo beans for a creamy texture.
add a cube of ice to the food processor for fluffy hummus.
use no sodium chickpeas and add salt by taste.
use high-quality ingredients.
Serving
Dip: pita bread, chips, seed crackers, celery sticks, and baby carrots.
Spread: it goes well on a slice of multigrain bread with some avocado and veggies. Great for making sandwiches and wraps.
Pasta Sauce: I often add a few tablespoons of hummus to the bowl with hot pasta for an easy lunch. You won't believe it, but it makes the most delicious pasta dish.
Salad: add a scoop to your favorite salad for some great taste and extra protein.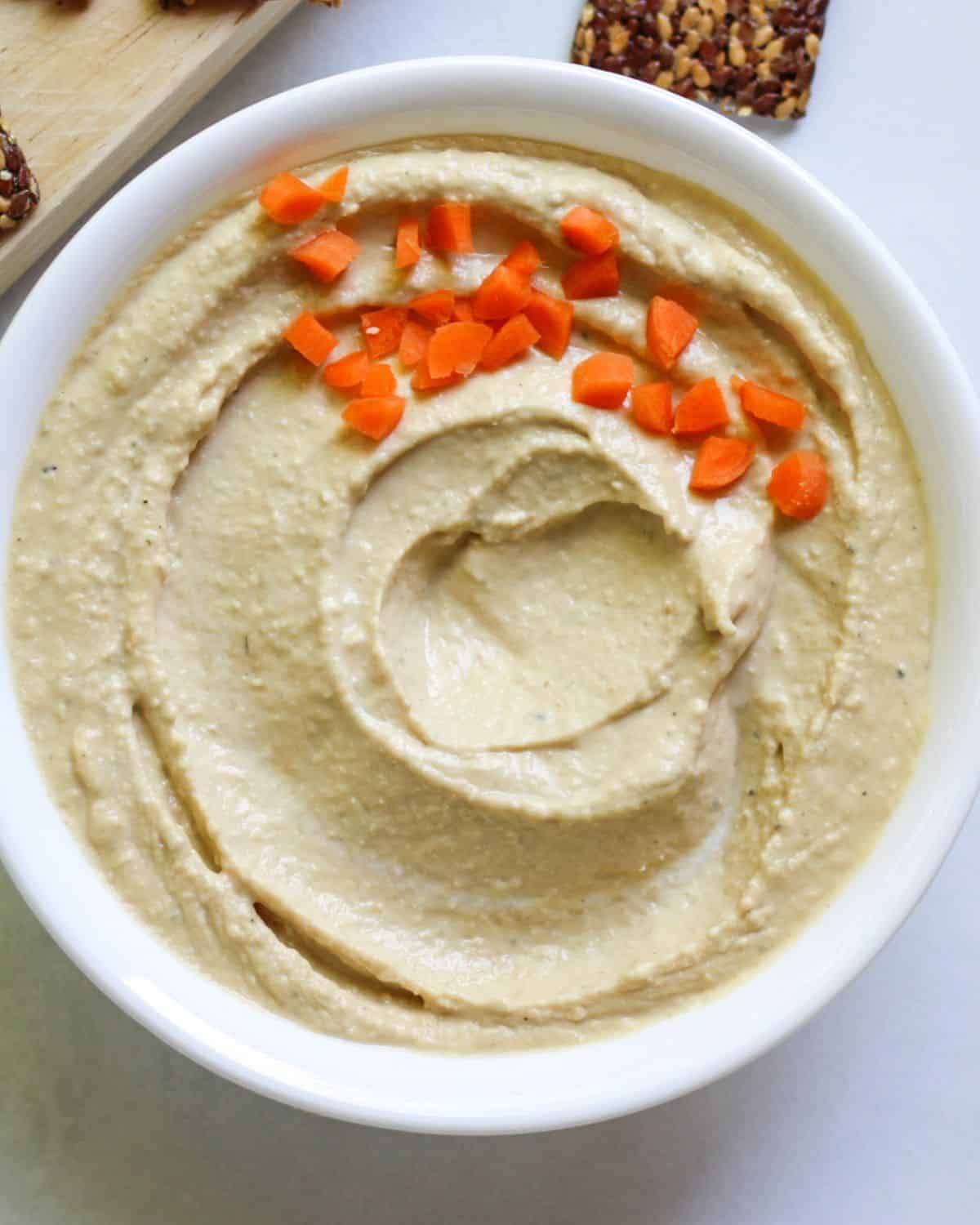 How to store the leftovers
Refrigerating: Store prepared hummus in an airtight container for up to 3-4 days. Do not leave hummus at room temperature for longer than 2 hours.
Freezing: Freezing will change its texture and taste. Instead, you can freeze already cooked chickpeas and steam them for about 20 minutes before making hummus.
Frequently asked questions
Can I use a high-speed blender?
Yes, if you do not have a food processor, you can use a high-speed blender such as Vitamix. Make sure to add liquid and thinner ingredients first for creamier results and better blending. You may need to add more cold water or aquafaba when using the blender.
Can I use dry chickpeas?
Yes, only after you cook them. Soak the beans first and boil them in water for about 2 hours or until soft. It's a great idea to cook the beans ahead of time and freeze them in batches. 
Is this hummus high in calories?
Hummus is not a low-calorie food, but it is nutritious and healthy when consumed in moderation. It is packed with dietary fiber, protein, and healthy fats. This particular recipe has approximately 229 cal per serving (¼ of a cup).
Other healthy dips and spreads recipes
📖 Recipe
High-protein hummus recipe
This high-protein hummus is a healthy spin on the famous middle eastern recipe. Added Greek yogurt and hemp seeds will boost the amount of protein in this delicious dip.
Equipment
1 Measuring Cup

1 set of measuring spoons

1 food processor
Ingredients
1

(15-ounce) can

cooked chickpeas

or 1½ cups cooked chickpeas

2

Tablespoons

aquafaba or cold water

5

Tablespoons

Tahini (roasted)

3

Tablespoons

shelled hemp seeds

3

Tablespoons

plain Greek yogurt

2

Tablespoons

olive oil

¼

cup

fresh lemon juice

1 lemon

1

garlic clove

½

teaspoon

ground cumin

½

teaspoon

salt

add less if using beans with added salt.
Instructions
Drain and rinse chickpeas reserving 2-3 Tablespoons of aquafaba (the liquid in the can or water the beans were cooked in). Juice the lemon using a citrus press or a fork.

In a food processor container, add all the ingredients. Close the lid and process for about 1 minute, scraping the sides and bottom of the container. Process for another 20-30 seconds if needed or until smooth.

1 (15-ounce) can cooked chickpeas,

2 Tablespoons aquafaba or cold water,

5 Tablespoons Tahini (roasted),

3 Tablespoons shelled hemp seeds,

3 Tablespoons plain Greek yogurt,

2 Tablespoons olive oil,

¼ cup fresh lemon juice,

1 garlic clove,

½ teaspoon ground cumin,

½ teaspoon salt

Serve with the drizzle of olive oil.
Notes
Use no sodium garbanzo beans.
Peel the beans for creamier texture.
Skip oil to make it oil-free.
Use high quality ingredients.
Nutritional facts are for information purposes only, and not to be considered medical advice.
Nutrition
Calories:
229
kcal
Carbohydrates:
13.4
g
Protein:
8.8
g
Fat:
15.9
g
Sodium:
211.6
mg
Fiber:
5.2
g
Sugar:
0.8
g