Lemon pesto is a delicious and tangy sauce made from aromatic basil leaves, pine nuts, savory Parmesan cheese, olive oil, and an abundance of freshly squeezed lemon juice with some zest.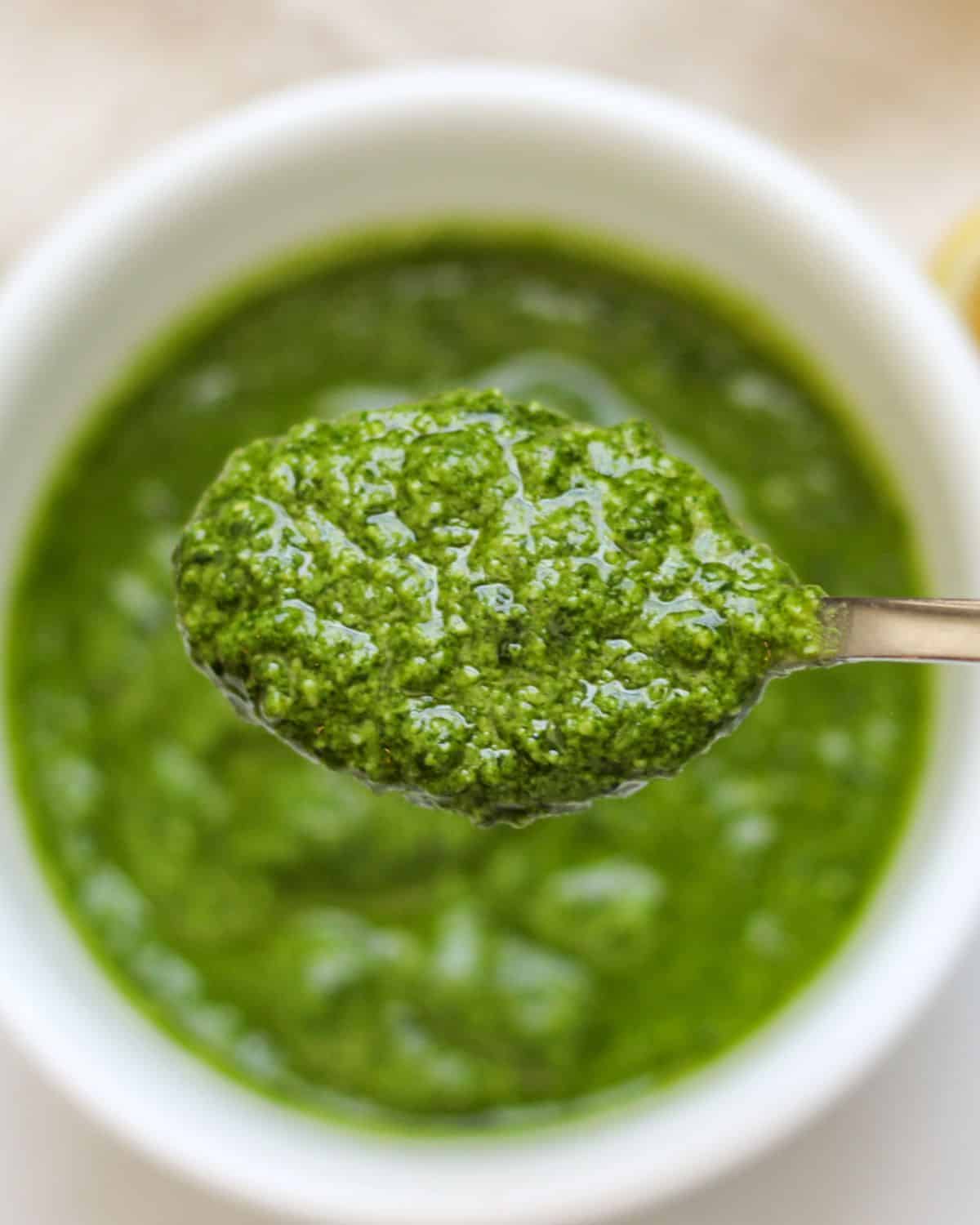 Jump to:
Lemon pesto recipe
After making your own pesto, you will never want to go back to the pre-made jarred one.
I have had store-bought pesto plenty of times, and I think it is just OK. But little did I realize how good homemade pesto made from fresh basil leaves can be. 
The lemon juice and zest add such a nice zing and freshness to the sauce, highlighting the basil and garlicky notes.
This lemon pesto is perfect for pizzas, pasta, seafood, chicken, and more.
Pesto sauce comes from Italy. Traditionally, the authentic Italian pesto is made with mortar and pestle.
It is quite a work, compared to using a food processor, but worth trying it the authentic way at least once. 
For this recipe, you will need a food processor, but a high-performance blender can also do the job.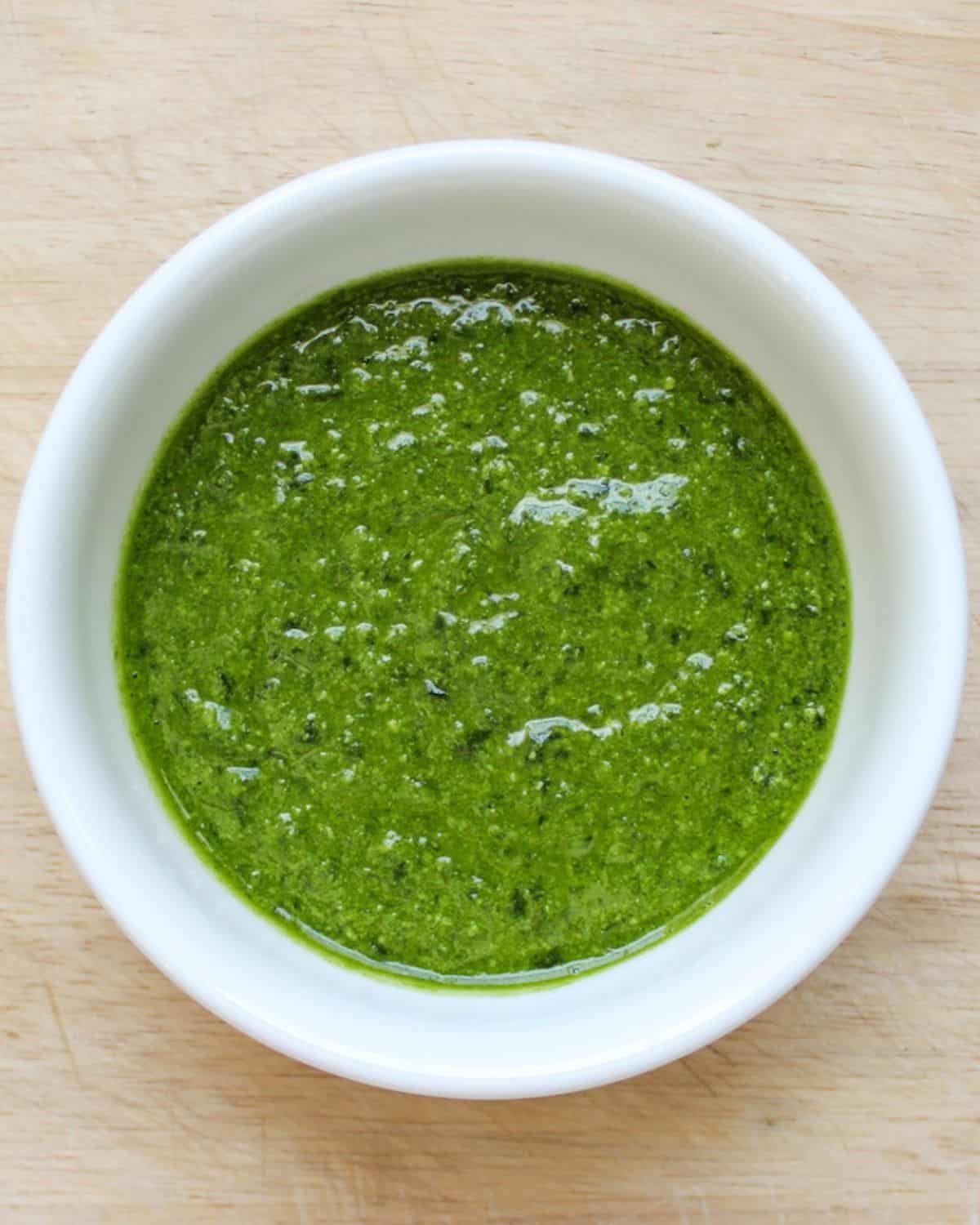 Ingredients
You can find the ingredients quantities and instructions in the recipe card at the end of this post.
Basil - you will need fresh basil leaves without the stems. I usually buy a large pack and remove the stems by myself, this way the basil is always fresh.
Pine nuts - are a traditional ingredient for any pesto recipe. Pine nuts add flavor, slight sweetness, and texture to the sauce. If you do not have pine nuts, see the substitution options in the next paragraph.
Parmesan cheese - you will need freshly grated Parmesan cheese.
Garlic - a few fresh garlic cloves for a not-too-harsh garlic flavor. If you are a fan of garlic add about four cloves.
Lemon - do not use bottled lemon juice, it will not taste the same. You will need the juice and the zest.
Salt and pepper - I add at the very end by taste. Remember that Parmesan cheese is already quite salty by itself.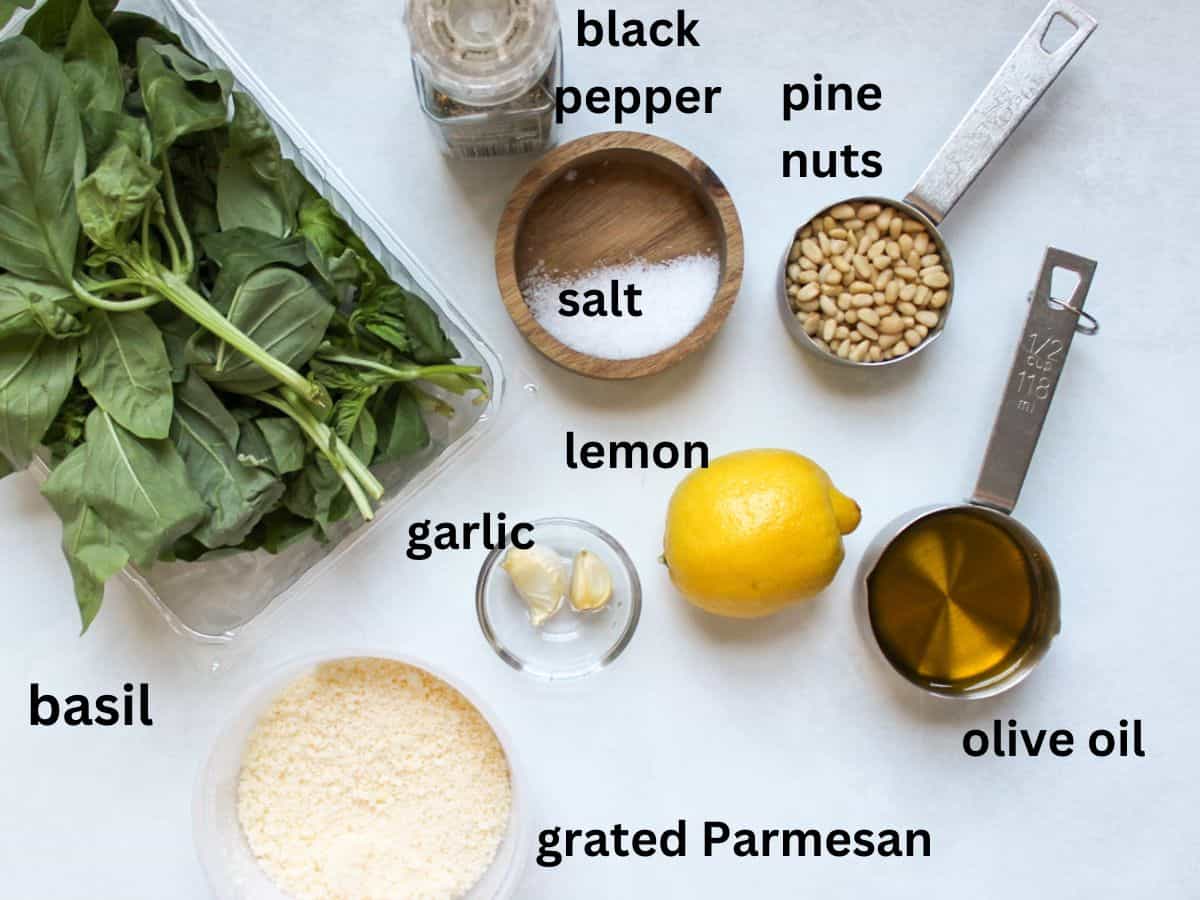 Ingredients substitutes
Basil: it is the most important ingredient in pesto, but if you are not used to its strong flavor, use half the amount of basil and half baby spinach.
Pine nuts: use walnuts or almonds. For a nut-free version, you can use roasted sunflower seeds.
Parmesan cheese: you can also use freshly grated Parmigiano-Reggoano.
How to make lemon pesto
Below you can find detailed instructions with the process images on how to make the recipe.
Prepare the basil
Fill a large bowl with cold water. Add basil to the bowl. Gently swish the basil around the water. Remove basil from the water, and shake it gently to get rid of access water, holding onto the stems.
Now, you can pick the leaves from the stems and lay them on a clean cloth towel or a paper towel.
Place another towel on top and pat them dry as much as you can. Uncover and let them air-dry completely.
Note: You can first pick the leaves and then wash them, but I prefer to wash them with the stems, this way it is easier to remove them from the water and shake the access water without breaking the leaves.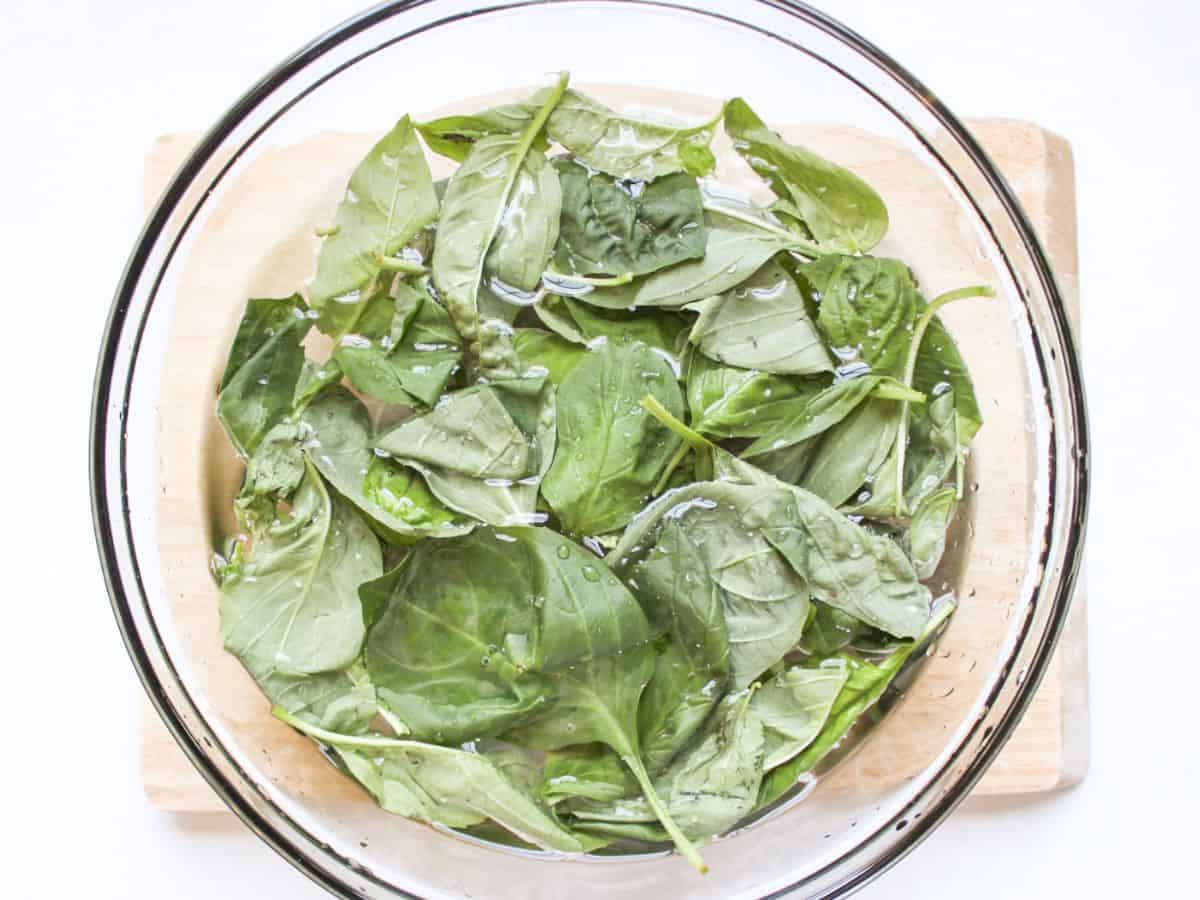 Roast the pine nuts
Add the pine nuts to the non-stick frying pan. Roast them for about 5 minutes over low-medium heat, stirring them often until slightly browned.
Roasting will intensify their flavor and texture.
Make the pesto
Add dry basil leaves and roasted pine nuts to the food processor container. Pulse it about 2 times, 30 seconds each, or until the ingredients are finely ground.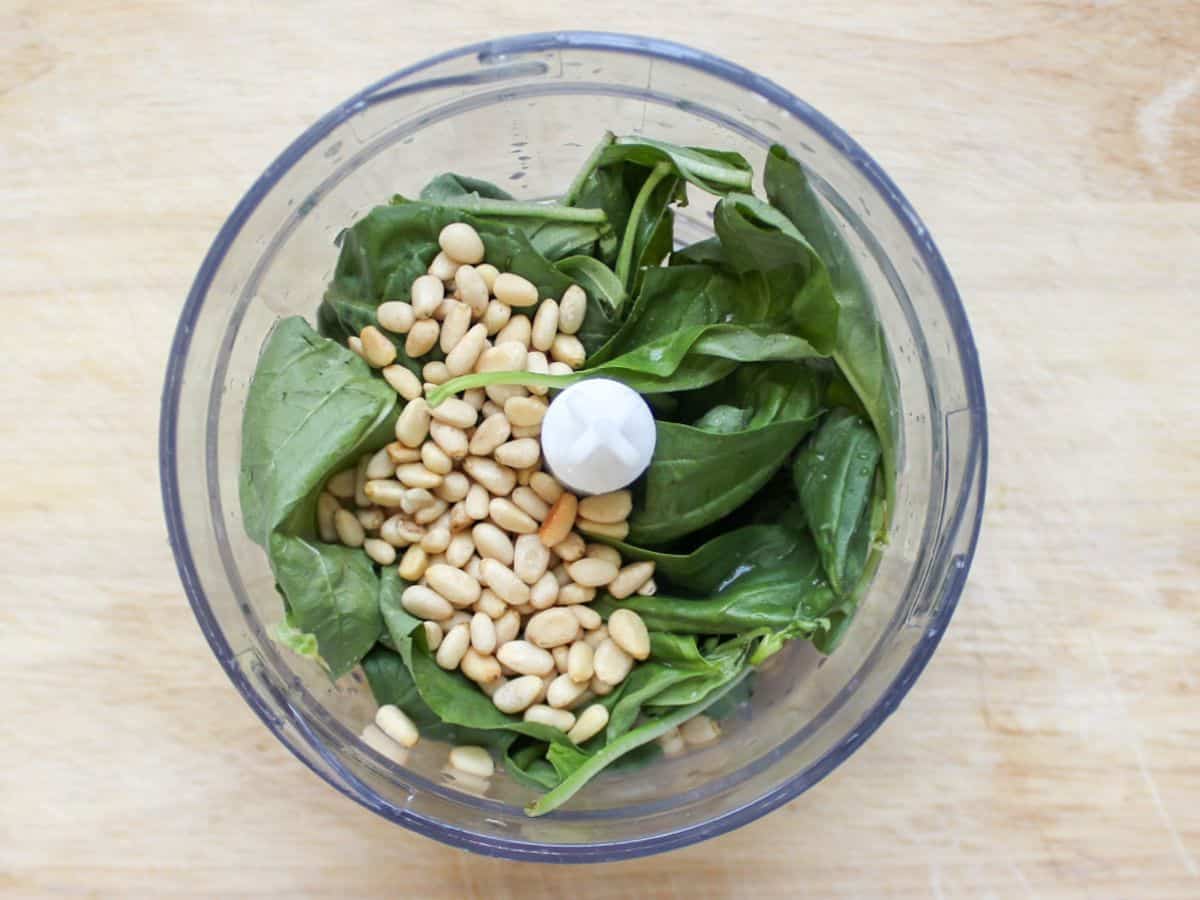 Wash the lemon well and cut it in half. Use a cheese grater or a zester to remove the yellow outer layer of one lemon half.
Be careful, not to remove any white skin, as it may make the sauce bitter. Now, dice garlic cloves into small pieces.
Add lemon zest, chopped garlic, and Parmesan cheese to basil and pine nuts. Now, squeeze there the juice of both halves. Make sure to catch and discard any lemon seeds.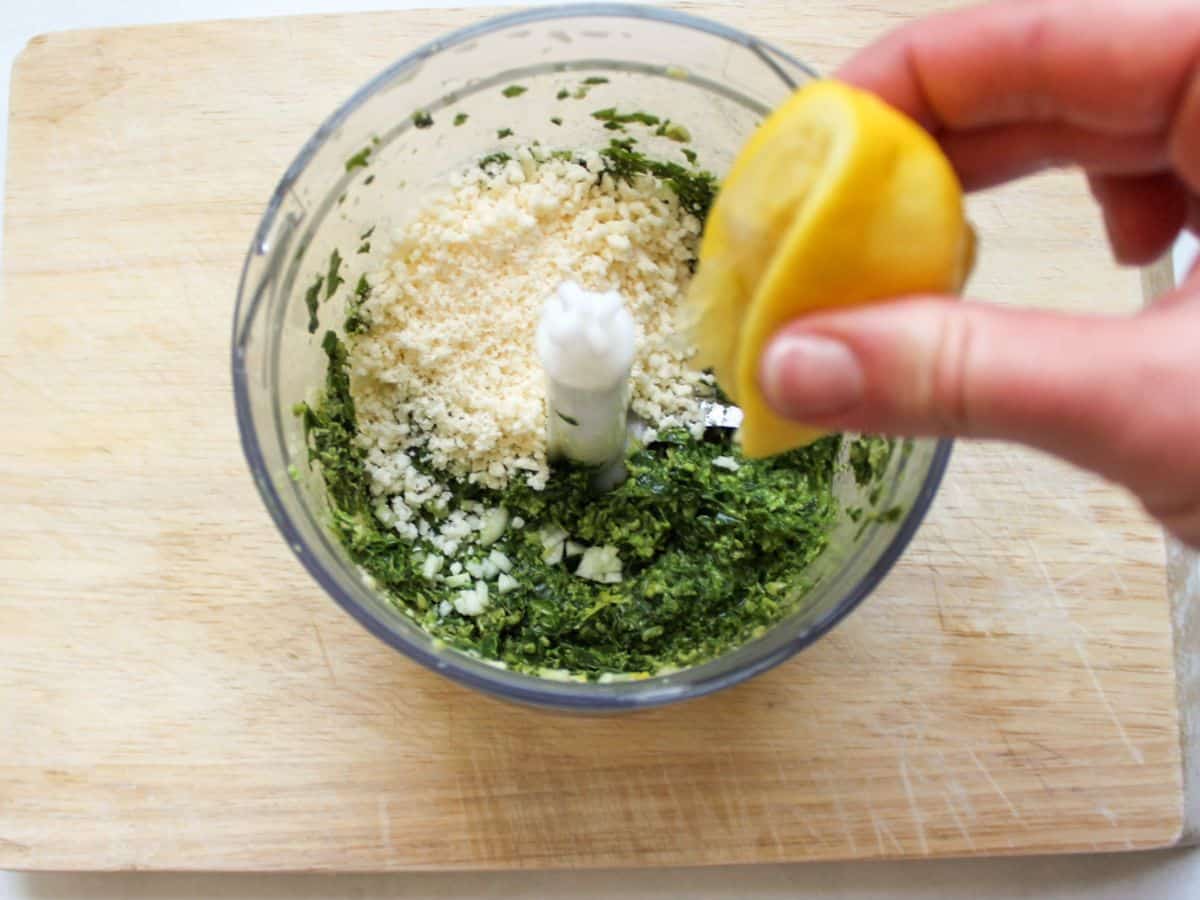 Blend it again for about 60 seconds until it becomes one consistency, scraping the walls of the food processor if needed.
If your food processor has a feeding chute, use it to pour the olive oil slowly while keeping the appliance running.
If your food processor does no have that function (like mine, pictured below), add ½ cup of oil, close the lid, and pulse it for 15 seconds at the lowest speed to incorporate the oil into the pesto.
Alternatively, you can stir in olive oil when you transfer the pesto into the bowl.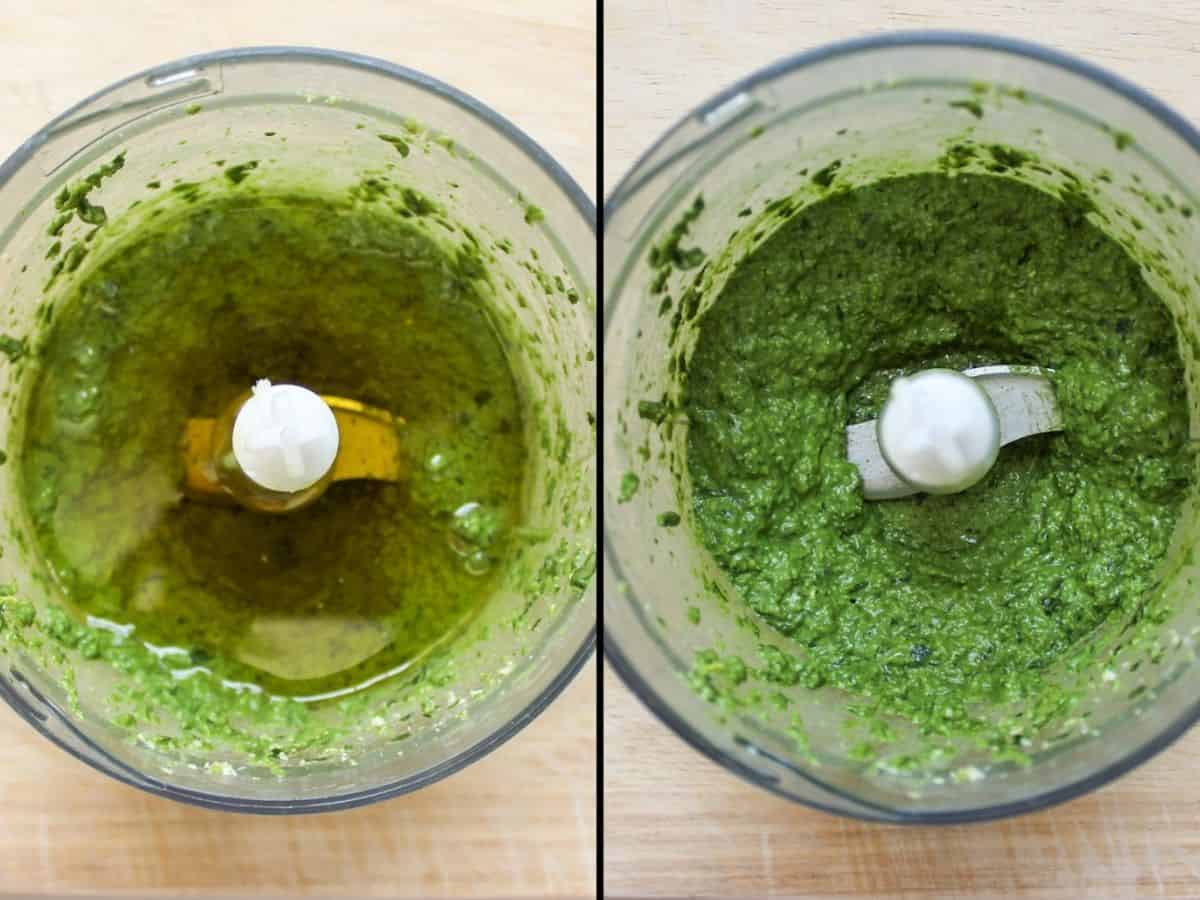 Transfer pesto to the bowl and add salt and black pepper to taste. Enjoy!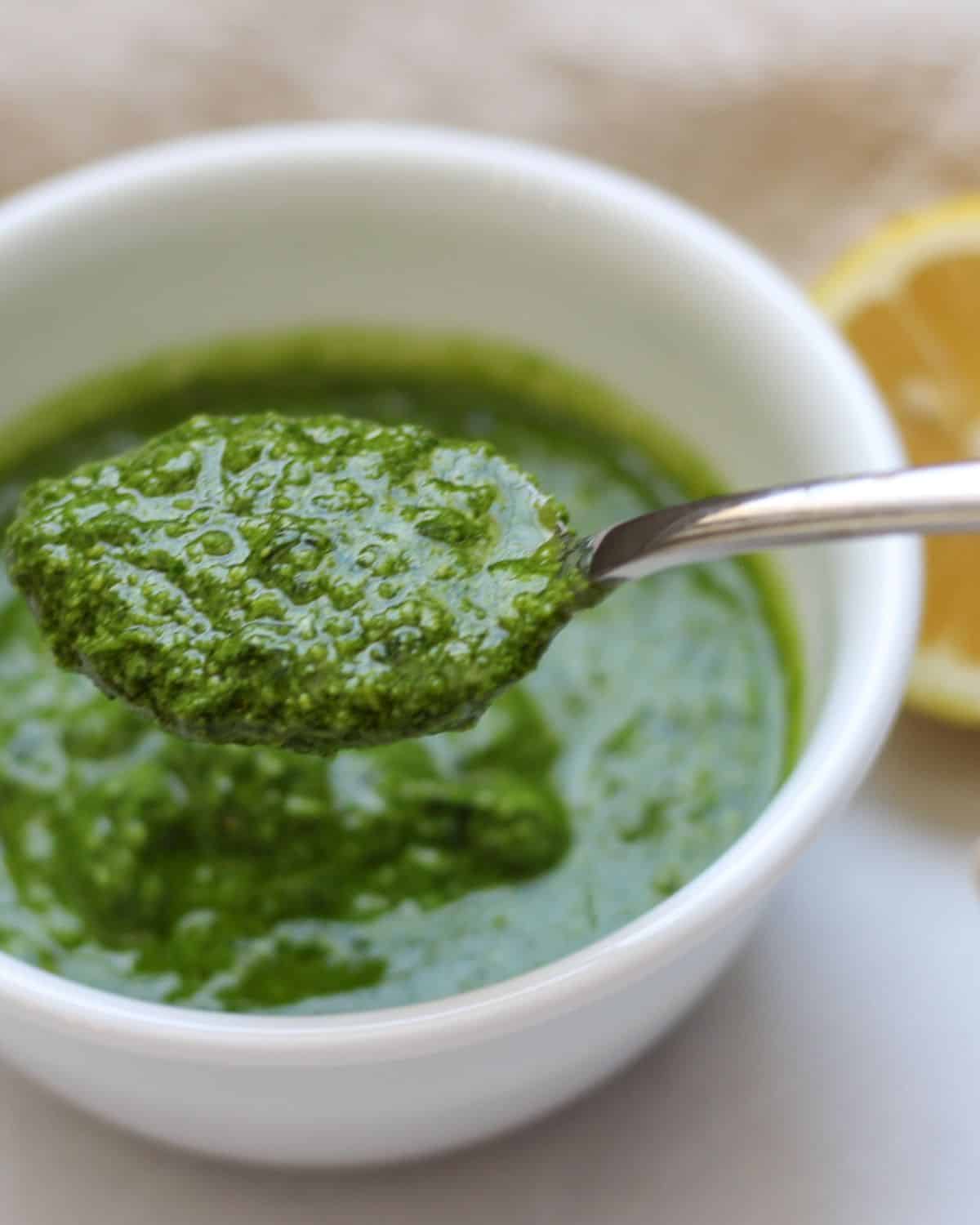 Recipe tips
chose fresh basil without brown spots.
use only the basil leaves and tender stems, discard the woody thick stems as they will be stringy once processed.
make sure to wash and dry basil well before making pesto.
even if you decide to use other nuts instead of pine nuts, do not forget to toast them for extra flavor and smooth texture.
use high-quality extra virgin olive oil.
How to store
Transfer any pesto leftovers to a glass jar with a tight lid or an air-tight container. Store it in the fridge for up to 5 days.
You can freeze pesto for up to 6 months. I usually use an ice cube tray or a freezer-safe container.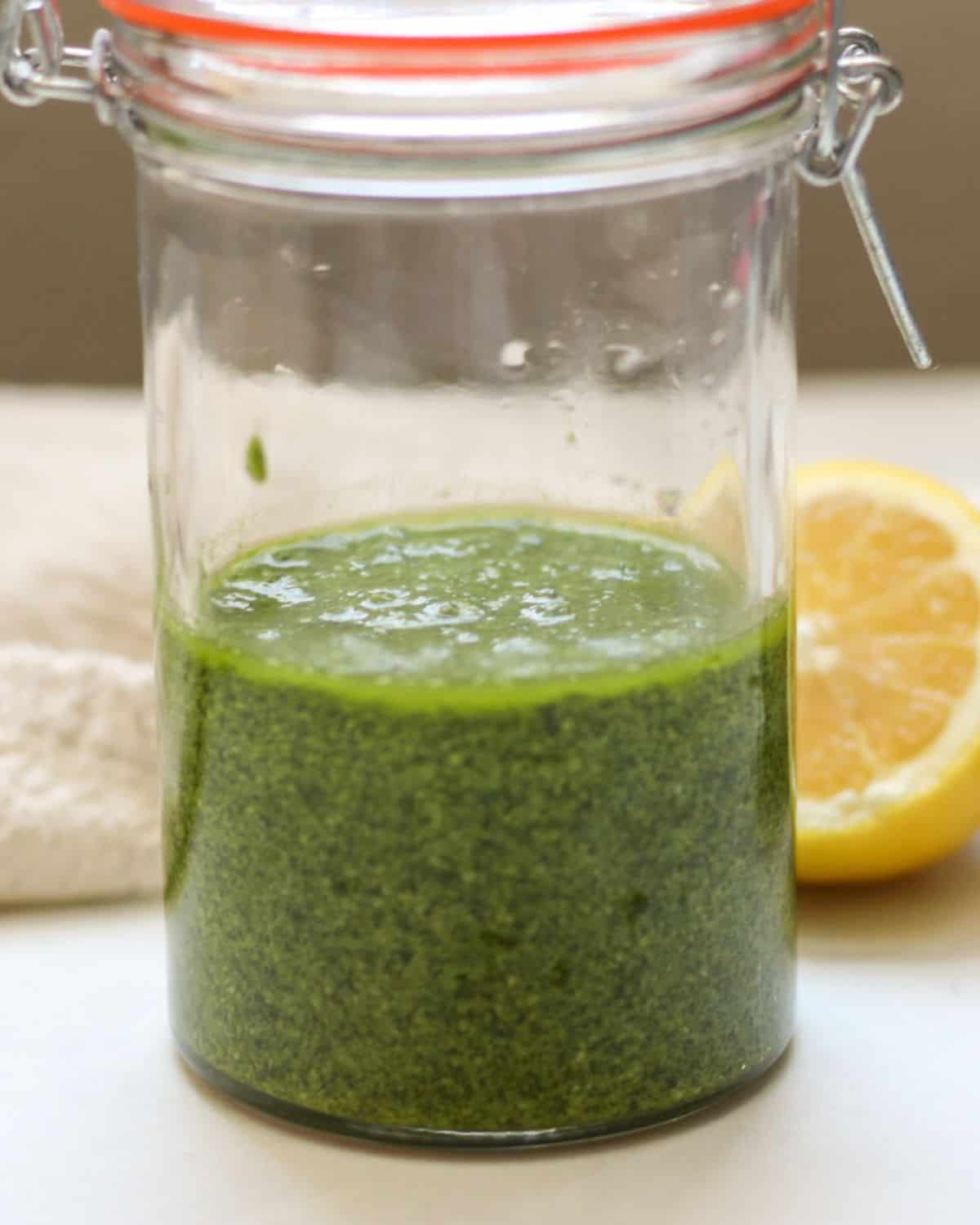 What to serve with lemon pesto
Lemon pesto is especially food with seafood, including baked salmon, sea bass, and grilled shrimp.
Use fresh basil pesto sauce to make a delicious your pasta.
Spread it on a panini sandwich or drizzle some oven-roasted veggies.
Add some flavor to chicken breasts or drumsticks by marinating them in pesto for a few hours in the fridge before baking.
Frequently asked questions
Can I use stems to make pesto?
Stems of a basil plant are edible and can add a lot of extra flavor. Thin ones can be chopped and added to the food processor along with the basil leaves. It is better to discard the thick, woody stems.
Will lemon keep pesto green?
Lemon juice can prevent the pesto from turning brown, slowing down the oxidation process. Mine was in the fridge for about 4 days and still looked bright green. 
Can I use a different types of nuts in my lemon pesto?
Yes, you can substitute pine nuts with walnuts, almonds, or even pistachios. And to make it nut-free, you can use roasted sunflower seeds instead. 
📖 Recipe
Lemon Pesto
Lemon pesto is a delicious and tangy sauce made from aromatic basil leaves, pine nuts, savory Parmesan cheese, olive oil, and an abundance of freshly squizzed lemon juice with some zest.
Equipment
1 Measuring Cup

1 large bowl

1 cheese grater or zester

1 food processor or blender
Ingredients
3

cups

fresh basil leaves, loosely packed

⅓

cup

pine nuts

½

cup

freshly grated Parmesan cheese

2

garlic cloves

1

whole lemon

⅛

teaspoon

salt and black pepper, or to taste
Instructions
Rinse and dry basil leaves. Peel and chop the garlic cloves finely.

Toast pine nuts in a frying pan over medium heat for about 3-5 minutes or until slightly browned. Let them cool down.

Add basil 3 cups basil leaves and toasted pine nuts to the food processor. Pulse basil and pine nuts for 30-60 seconds or until they are finely chopped.

Add diced garlic cloves, ½ cup grated Parmesan cheese, the juice of one lemon, and the zest from half of the lemon. Zest is optional but it adds more lemony flavor. Pulse again for about 30 seconds, scraping the sides of a food processor if needed until the peso is finely processed,and all ingredients combined.

Keep the food processor running on the slowest setting and start pouring the olive oil. You can also do it manually, by transferring the pesto into the bowl and pouring the oil slowly while stirring it continuously.
Notes
Serve lemon pesto with your favorite pasta. spread it on bread or use it as marinade for sea food and chicken,
Double the recipe and freeze some pesto for later.
Use more or less lemon juice, depending on your preference.
Store home made pesto in a air-tight jar for up to 5 days in the fridge.
The nutrition facts are for information purposes only
Nutrition
Calories:
250
kcal
Carbohydrates:
2.3
g
Protein:
4.5
g
Fat:
25.5
g
Sodium:
176.6
mg
Fiber:
0.5
g
Sugar:
0.6
g