These moist, moderately sweet small batch chocolate chip muffins come in 2 flavors: vanilla and chocolate. They are ready to enjoy in only 40 minutes.
My son loves sweet snacks, especially chocolate. He always asks for chocolate muffins or cookies every weekend, so we love making them together.
Recently, I started making smaller batches of sweets. Because if we bake too many, I end up eating them the next day while everyone is at school or work.
This small batch chocolate chip muffins recipe yields 6 regular size muffins.
Jump to:
Why you will love this recipe
this small batch of muffins recipe is a perfect treat without leftovers. I do not like eating sweets every day (I do, but I avoid it), so making these 6 muffins is the right amount for our family, when we want something sweet.
the recipe is not loaded with sugar. I used as less agave nectar as possible to make them healthier. You can use sugar-free chocolate chips instead of regular ones.
muffins come together in under 40 minutes with only a few dirty bowls at the end.
they come in 2 colors and flavors- vanilla chocolate chip and double chocolate. You can make them in one color if desired, but I think it's more fun the way I make them. And some family members might like one better than another.
Ingredients
Below you can find the image and the list of all exact ingredients I used to make these 6 chocolate chip muffins.
Flour: I used all-purpose organic unbleached flour. I try to use this flour in all my recipes instead of white flour.
Baking Powder and Baking Soda: both are needed to make our pancakes raise well and be fluffy.
Salt: I love adding a little bit of salt to my muffins, especially chocolate ones. It always balances the sweetness and brings up flavors.
Egg: one egg, at room temperature.
Greek Yogurt: I used Fage plain 5% yogurt. Make sure to bring it to room temperature. You can use any full-fat or no-fat Greek yogurts or even sour cream.
Agave Nectar: I used organic agave nectar as the main sweetener for this small batch muffins recipe.
Olive Oil: use extra virgin olive oil and you will not taste or smell it, but adding olive will create a beautiful muffin texture. You can also use any other neutral vegetable oil.
Milk: I used 2% milk at room temperature. We always have it on hand, because my son loves drinking it. But if you have any other milk - use it. Plant or Cows will work great in this recipe.
Vanilla Extract: vanilla extract will add some flavor, especially for the white muffins. If you make the whole batch as double chocolate, I would still add some vanilla.
Chocolate Chips: I used 58% semi-sweet chocolate chips here. If you want to reduce the sugar amount, use the sugar-free ones.
Cocoa Powder: you will need just a little bit of plain cocoa powder to make the 3 double chocolate muffins. If making only vanilla chocolate chip ones, skip this ingredient.
See the recipe card for ingredient quantities.
Recommended equipment
2 medium mixing bowls
Measuring spoons set
Measuring cup
Whisk
Silicone or wooden spatula
6-cup standard muffin pan (or 12)
6 parchment muffin liner
How to make small batch chocolate chip muffins
Now, it is time to get all the ingredients on your counter, invite your kids to help you, and make these moist chocolate chip muffins. Below are the detailed step-by-step instructions with images.
Mix Dry Ingredients: First, preheat the oven to 400°. Line a 6 muffin pan (or 12) with 6 muffin liners. In the first medium bowl, mix together flour, baking soda, baking powder, and salt. Set aside.
Mix Wet Ingredients: In the second medium bowl, add egg, yogurt, agave nectar, olive oil, milk, and vanilla. Using a whisk, mix everything well until combined., As you can already tell we are using the dry and wet ingredients method for making these muffins.
Combine: Now, pour the wet ingredients into dry. Using your spatula, mix until just combined. Do not over mix it. Fold in chocolate chips leaving about 20 pieces aside for topping.
3 Vanilla Muffins: Using an ice cream spoon or a tablespoon, fill in only 3 muffin cups with the batter (about ¾).
Add Cocoa Powder: Add powdered cocoa to the rest of the batter. Mix quickly until combined.
3 Double Chocolate muffins: Fill in the rest of the muffins cups with chocolate batter. Now, distribute those 20 chocolate chips over the muffin tops. This will make muffins look even more beautiful.
Bake: Place the muffin pan on the center rack of your oven. Bake at 400° for 15-17 minutes or until the toothpick comes out clean.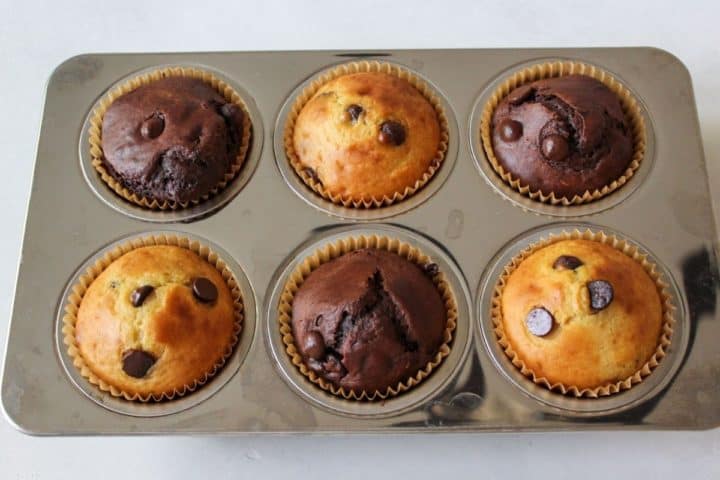 Cool Down: Let the muffins cool down for 5 minutes before transferring them to the rack or plate. Enjoy warm or cold.
Top Tip
Make sure to bring all refrigerated ingredients to room temperature for the best muffin texture. Just them out 30 minutes before starting making the muffins.
Serving Suggestions
1 (maybe 2 muffins!) per serving are plenty when served with some fresh fruits or berries as a quick breakfast or a snack.
For adults, I recommend enjoying your muffin with a cup of coffee or tea.
For kids, offer a glass of milk, water, or mint tea.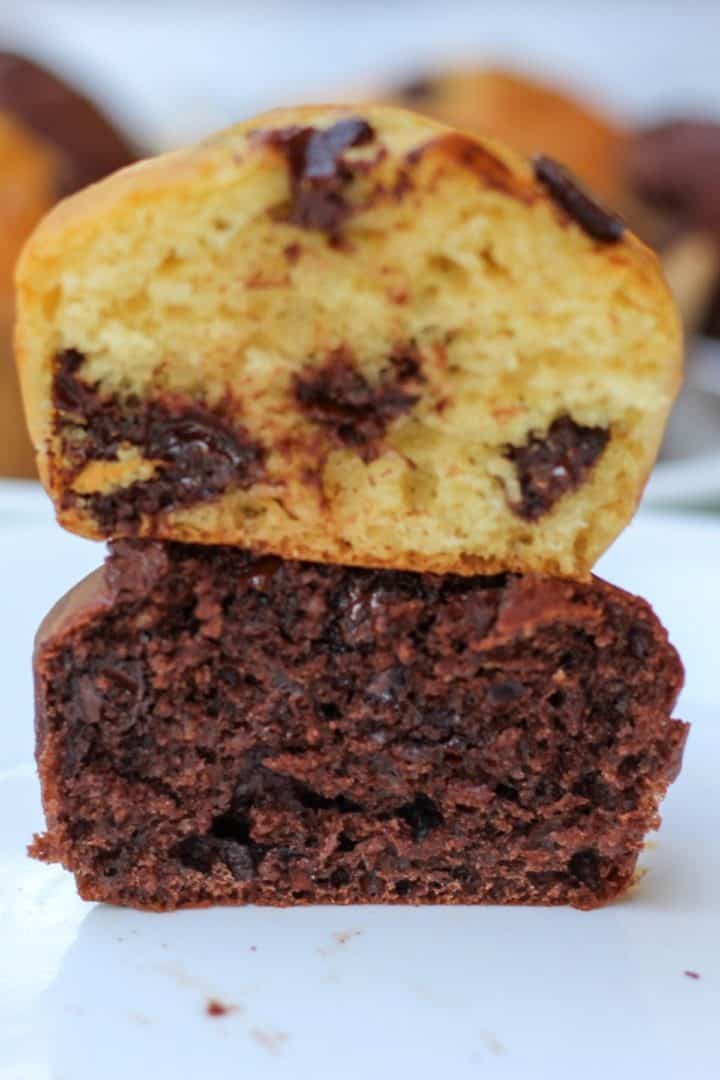 Storing
On the counter: when the muffins are completely cooled down, transfer them to an airtight container with some paper towel at the bottom. Store at room temperature for about 2 days.
In the fridge: when fully cool down, transfer these muffins to a storage bag and keep them in the fridge for about 5 days.
In the freezer: freeze these muffins in a freezer-safe storage bag for about 2 months. Microwave for about a minute or until hot before serving.
Recipe variations and substitutions
Less Sugar: Use the same amount of sugar-free chocolate chips, instead of regular ones. My favorite sugar-free chocolate for baking is Lily's brand.
Less Fat: use the same amount of apple sauce instead of olive oil to reduce the amount of fat.
Gluten-free: use the gluten-free flour blend instead of wheat flour to make these chocolate chip muffins.
Frequently asked questions
What temperatures are the best to bake muffins?
The best temperatures to bake muffins are between 350°F and 425°F, with the times between 23-10 minutes respectively. After a few experiments, I found 400°F is the best temperature to bake muffins at a high altitude.
Is there an egg substitute?
I have not tried any egg substituted for this recipe, but I assume you can use the flax egg, by combining one tablespoon of flax meal and 3 tablespoons of water and letting it sit for about 5 minutes
Why did my muffins stick to the pan?
If you added too much sugar or not enough fat, your muffins can easily stick to the pan or even parchment paper liners. This should not be the case for this recipe unless you altered it.
I highly recommend using a parchment paper muffin liner. They never fail me. Otherwise, make sure to grease your muffin pan well.
Please, take a moment and leave a few words about this muffins recipe in the comment section below.
Other delicious sweet recipes you may like
📖 Recipe
Small Batch Chocolate Chip Muffins
I usually make this small batch of chocolate chips muffins when we are craving something sweet and when it needs to be gone in one day, so I will not eat it the next day. These moist, moderately sweet chocolate chip muffins come in 2 flavors and can be ready in under 40 minutes.
Equipment
2 medium mixing bowls

1 Measuring Cup

1 set of measuring spoons

1 Whisk

1 silicone or wooden spatula
Ingredients
⅔

cup

all-purpose flour

90 grams

½

teaspoon

baking powder

¼

teaspoon

baking soda

⅛

teaspoon

salt

¼

cup

Greek yogurt

3

Tablespoons

agave nectar

1

egg

2

Tablespoons

olive oil

3

Tablespoons

milk

½

teaspoon

vanilla extract

¼

cup

chocolate chips

or more by taste

20

ea

extra chocolate chips for the tops

1

teaspoon

cocoa powder
Instructions
Preheat oven to 400°. Place 6 muffin liners in a muffin pan. In a mixing bowl, add flour, baking soda, baking powder and salt. Mix them to combine.

⅔ cup all-purpose flour,

½ teaspoon baking powder,

¼ teaspoon baking soda,

⅛ teaspoon salt

In a second mixing bowl, add all wet ingredients. Using a whisk, mix all wet ingredients well for about 1-2 minutes until one consistency.

¼ cup Greek yogurt,

3 Tablespoons agave nectar,

1 egg,

2 Tablespoons olive oil,

3 Tablespoons milk,

½ teaspoon vanilla extract

Pour wet ingredients into dry. Using a spatula, mix until just combined. Fold in ¼ cup of chocolate chips.

Using a spoon, fill three muffins cups with about 1.5 Tablespoons of batter in each. They should be little bit than half full.

Add cocoa powder to the remaining batter. Mix with the spatula to incorporate.

Fill the rest 3 muffin cups with chocolate batter. Distribute the remaining chocolate chips over the muffins top, pressing them gently into batter.

20 ea extra chocolate chips for the tops

Bake for 15-17 minutes or until toothpick inserted in the center of the muffin comes out clean. Cool down for 5 minutes before transferring the muffins to the cooling rack or plate. Enjoy!
Nutrition
Serving:
6
g
Calories:
165
kcal
Carbohydrates:
21.4
g
Protein:
3.9
g
Fat:
7.1
g
Sodium:
66.2
mg
Sugar:
10.6
g