Try these easy small batch pancakes recipe on a weekend morning. Greek yogurt makes them light and delicate, while the edges remain crisp. So good with honey and berries.
I like making small-batch pancakes because they are the best when eaten fresh. If you need to make pancakes for one or two people - this recipe yields 8 small pancakes, which is enough for 1 adult or 2 kids.
If you need to make more pancakes, proceed to the recipe card below, and you can choose the option to double or triple the recipe with all the quantities calculated.
I usually eat this small batch by myself. They are so good, it's hard to share.
While growing up in Ukraine, my mom used to make similar pancakes with sour cream, but she made the batter little bit thicker, so the pancakes are much taller.
At first, my plan was to make a small batch of pancakes with sour cream (just like my mom did), but I just happened to have only Greek yogurt. As a result, I made this pancakes with a full fat Fage yogurt, by adjusting little bit the ingredients and making the batter thinner (so my pancakes are thinner). They turned out so good, I decided to share the recipe with you.
Jump to:
Why you will love this recipe
it's easy and fast to make. Only one dirty bowl and 15 minutes in the kitchen to make these delicious fluffy pancakes.
this is a great pancake recipe for one or for two people (depending on what you serve them with and how hungry you are).
It is a great recipe to make with kids. Add some sprinkles or chocolate chips for more fun.
these fluffy pancakes are packed with protein because we are going to use Greek yogurt for the batter.
Ingredients for small batch pancakes batter
Below is the image and a list of all ingredients to make this pancakes for two.
Egg: one large egg. The egg can be cold or at room temperature.
Greek Yogurt: I used Fage full-fat Greek yogurt. This brand is the best for making pancakes and for baking.
Milk: I used regular 2% cow's milk. You can use coconut, almond, or any other type of plant milk.
Vanilla Extract: this ingredient is optional. But vanilla always makes pancakes taste better.
Sugar: I used a little bit of white sugar. You can use coconut sugar or even some maple syrup as a sweetener. Add more or less by taste and depending on what you going to serve the pancakes with.
Baking Soda: baking soda will help to make the pancakes fluffy.
Apple Cider Vinegar: baking soda and apple cider vinegar will create the reaction and it will serve as a leavening agent.
All-Purpose Flour: I used unbleached all-purpose flour.
Suggested equipment
Measuring cup
Measuring spoons
Large mixing bowl
Whisk
Non stick skillet or frying pan
Instructions
Below you can find detailed step by step instructions with images how to make this pancakes for two.
1. In a mixing bowl, add one whole egg, yogurt. Now, use a whisk to mix everything for a minute or two until one consistency. After that, add milk, vanilla, sugar and salt. Whisk it again until sugar is almost dissolved.
2. Add baking soda to the measuring spoon. Pour the vinegar over the baking soda to create a bubbly leavening agent. Add it to the batter and mix it briefly again.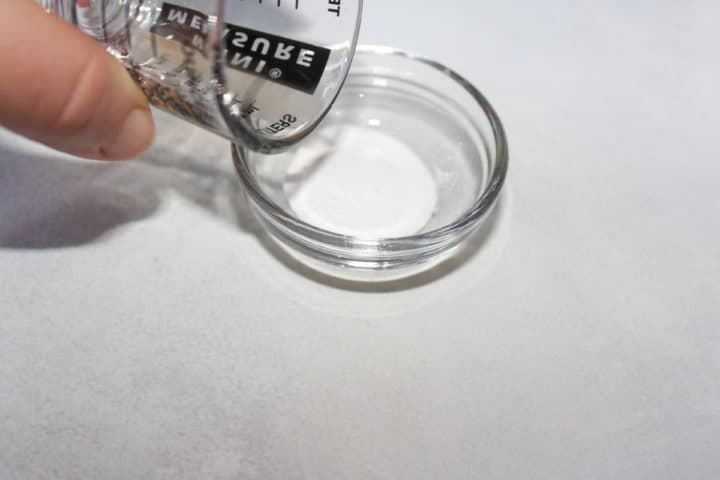 3. Gradually, start adding the flour. One tablespoon at a time until you have a needed consistency. The batter needs to pour easily, but cannot be too runny. You can adjust it by adding more flour or milk. This recipe quantities create the right consistency batter, but sometimes it depends on the flour and how you measure the ingredients.
4. At this time, preheat the nonstick skillet over medium heat. Add olive oil (or coconut). Pour one tablespoon of batter onto the hot skillet. Repeat with the rest of the dough. Do not overcrowd the pan, because you will have a hard time flipping the pancakes.
5. Cook for 1-2 minutes on one side. Using a spatula, flip the pancakes and cook for another minute or until it becomes golden-brown.
6. Stack cooked pancakes on a plate, add your favorite toppings and enjoy!
Pro Tip
Your flour maybe different than mine, so you may need to adjust the consistency of the batter. Add one tablespoon at a time of milk - to make it thinner, or one tablespoon of flour - to make it thicker.
Ways to serve
So many ways to enjoy this small batch of pancakes. Below are my favorite ideas.
-honey or maple syrup with seasonal berries and fruits.
-with some plain Greek yogurt.
-scrambled eggs with bacon.
Storing and reheating
This small batch pancakes recipe is made to eat right away. But if for some reason you need to save it for later, refrigerate the pancakes in a glass container with the lid for about 3 days.
Reheat the pancakes for about 40-50 minutes in a microwave.
Frequently asked questions
Can I make this pancake batter ahead of time?
-Yes, you can store prepared pancake batter overnight or for up to 2 days in an airtight container in the fridge.
What consistency pancake batter needs to be?
-You should be able to pour the pancake batter easily, but it cannot be too runny.
I need to make a bigger batch, how do I adjust the ingredients?
-It is very easy and the recipe card below has the option to adjust the number of servings. You can click 2x or 3x ,and it will automatically adjust the quantities for the whole recipe.
Please, let me know in the comments section if you liked these pancakes. And if you have any questions, I will be happy to answer them below as well.
Other breakfast recipes you may like
Sirniki (Ukrainian farmers cheese pancakes)
Buckwheat Porridge in Instant Pot
📖 Recipe
Small Batch Pancakes
Try these easy small batch pancakes recipe on a weekend morning. Greek yogurt makes them light and delicate, while the edges remain crisp. So good with honey and berries.
Equipment
1 Measuring Cup

1 set of measuring spoons

1 mixing bowl

1 Whisk

1 non-stick skillet
Ingredients
1

egg

5

Tablespoons

Greek yogurt

plain 5% Fage or other

3

Tablespoons

milk

2% or whole

¼

teaspoon

vanilla

1

teaspoon

sugar

or more by taste

1

pinch

salt

½

baking soda

¼

teaspoon

apple cider vinegar

5-6

Tablespoons

flour

all purpose

1

teaspoon

olive oil

for frying
Instructions
In a mixing bowl, add egg and yogurt. Whisk until one consistency. Add vanilla, milk, sugar and a pinch of salt. Whisk until most of the sugar is dissolved.

1 egg,

5 Tablespoons Greek yogurt,

3 Tablespoons milk,

¼ teaspoon vanilla,

1 teaspoon sugar,

1 pinch salt

In a spoon, add baking soda and pour apple cider vinegar over it. Add the bubbly leavening agent to the batter. Whisk briefly.

½ baking soda,

¼ teaspoon apple cider vinegar

Add flour. One tablespoon at a time until the batter is desired consistency. Not too runny, but easily poured.

Heat the frying pan over medium heat. Add olive oil. Pour a Tablespoon of batter onto the skillet. Repeat with the rest of batter.

Cook on each side for 1-2 minutes or until golden.

Stack the pancakes and enjoy hot with your favorite toppings.
Notes
*adjust the batter consistency by adding 1 Tablespoon of milk or flour.
*do mot overcrowd the frying pan. It will be hard to flip them.
*to make a larger batch, click on the double or triple the recipe above.
Nutrition
Serving:
4
pancakes
Calories:
182
kcal
Carbohydrates:
23.1
g
Protein:
8.2
g
Fat:
5.9
g
Sugar:
8.4
g