Enjoy this green spinach pineapple smoothie as a quick breakfast or a snack. With its refreshing taste and creamy texture, this healthy smoothie is a great way to add some nutrients to your diet.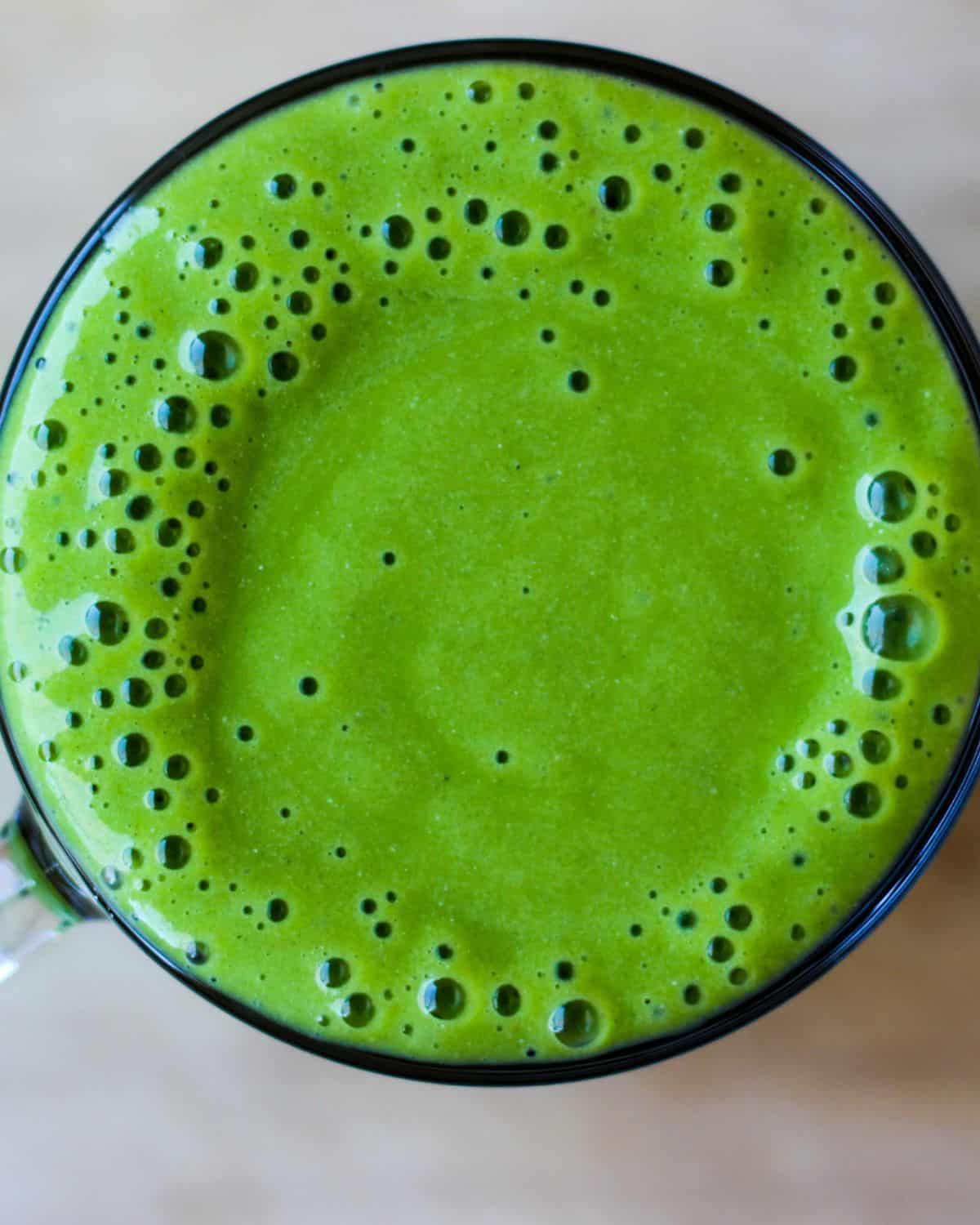 In the summertime, I enjoy smoothies after my morning runs. It's such an easy way to consume more veggies and fruits.
Kids also enjoy the drink, and I often make one for my son as an afternoon snack.
The spinach pineapple smoothie is one of my favorite ones to make. Its creamy texture, beautiful green color, creaminess, and sweet tropical notes make it an irresistible treat.
This smoothie is power-packed with Vitamins, minerals, and healthy fats.
Besides being a great source of Vitamins C and A, pineapple contains an enzyme called bromelain. This enzyme is known for having anti-inflammatory properties, benefiting digestive health, and having some anti-cancer properties.
And spinach is rich in folate and important antioxidants, which are great not only for your immune system but also for your brain health.
Other delicious smoothies to try
Jump to:
Main ingredients
You can find the pineapple green smoothie ingredients quantities in the recipe card below. They are arranged in the order you should load them in a blender, which is important to insure the ingredients blend smoothly and evenly.
Liquid: I used unsweetened coconut milk. It is light and at the same time makes the smoothie creamy. You can use any other milk, coconut water, or even some orange juice.
Fresh Spinach: I used baby spinach. You can also use frozen spinach. If you make it for a picky eater, start with about ¾ cup of spinach.
Banana: fresh ripe banana is both sweet and creamy. If you are using fresh pineapples (not frozen), I recommend using a frozen banana. The smoothie needs to be cold, so I like to use some frozen fruits instead of ice cubes. Ice is OK too, but it may make the drink watery.
Pineapple: I used frozen pineapple chunks. I usually buy already frozen pineapple for my smoothies.
Hemp seeds: you do not have to add the seeds, but they add a great amount of healthy fatty acids, protein, and fiber.
Honey(optional): just a touch of honey if you are having a sweet tooth. I rarely add any, only sometimes when I want a sweeter drink.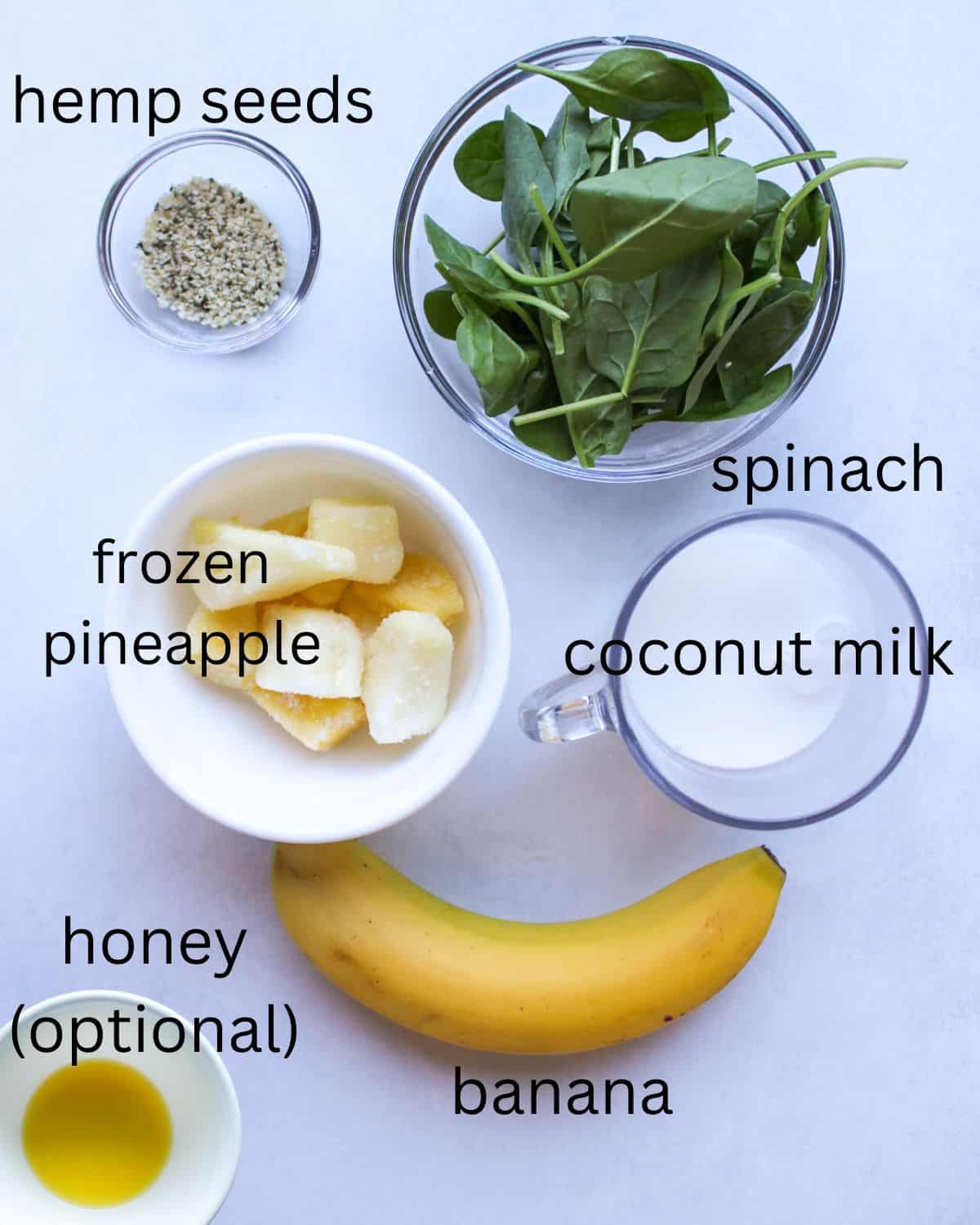 How to make spinach pineapple smoothie
Step 1. Load the blender in this order for a creamier texture: coconut milk, spinach, banana, hemp seeds, and frozen pineapple.
If you are using frozen bananas and fresh pineapple, switch their places and add frozen bananas at the end.
Frozen fruits at the top will help to push down the rest of the ingredients and prevent the spinach from getting stuck at the bottom of the blender.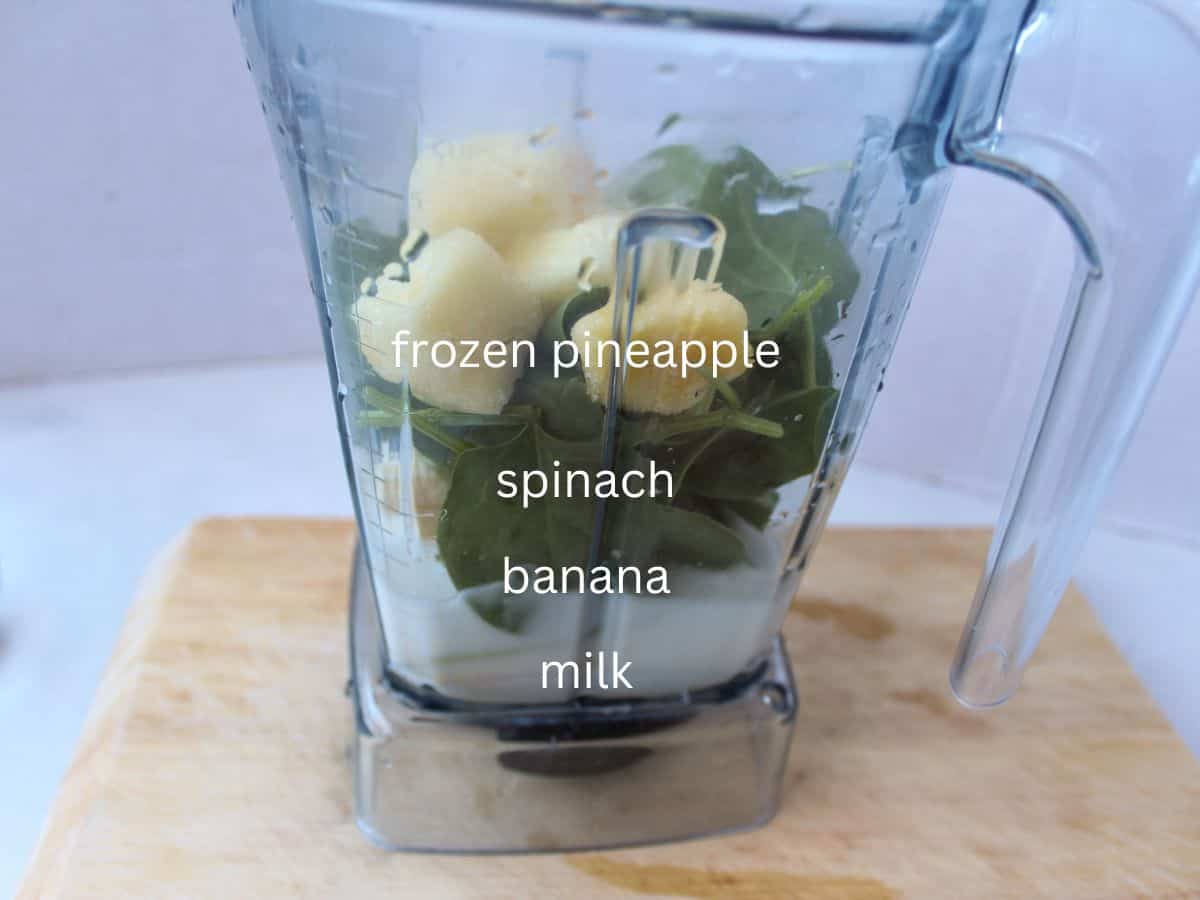 Step 2: Turn on the blender and process it on high speed for about 60 seconds or until all the ingredients are well blended, there are no chunks and the dink is smooth and creamy.
If the blender is having a hard time processing the ingredients, add more liquids.
Turn off the blender and pour the smoothie into a glass, Enjoy it right away with a straw.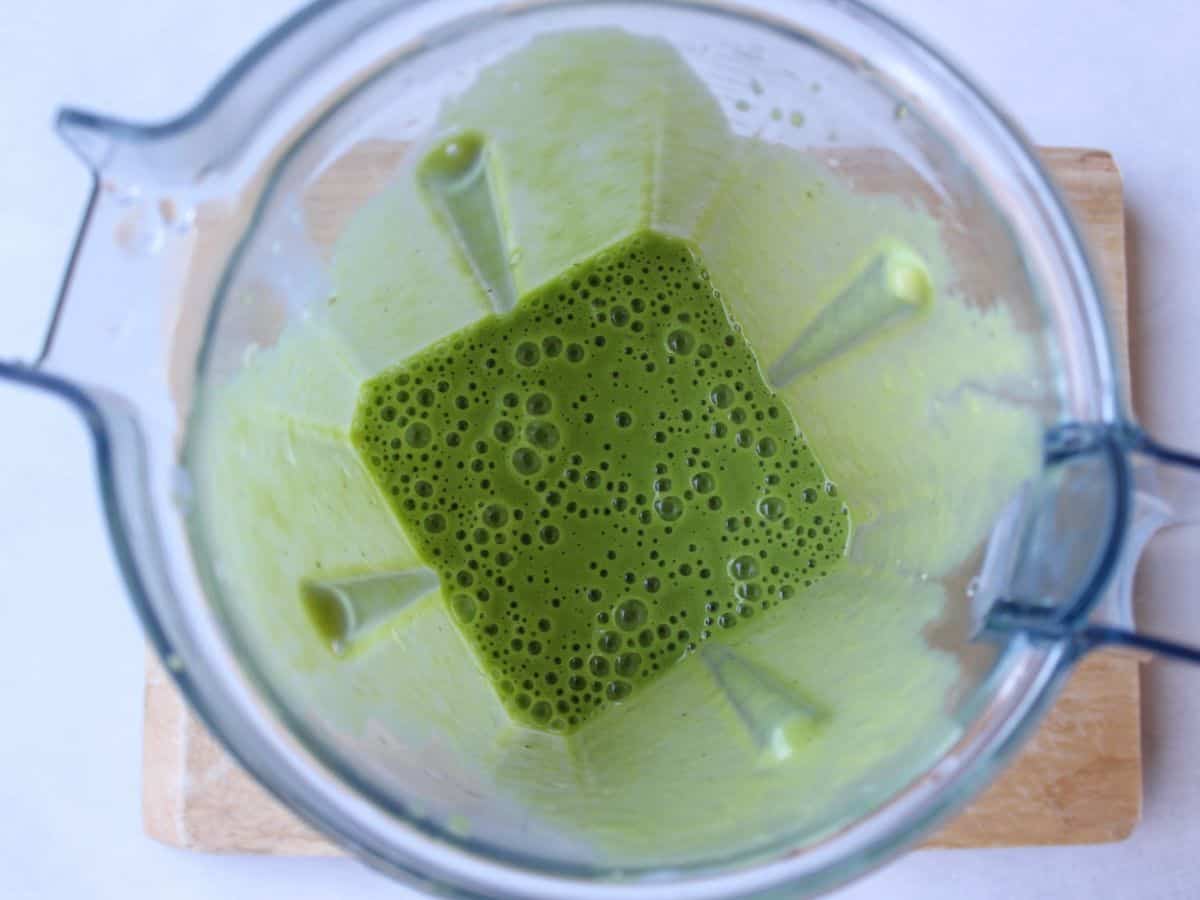 Top tip
You can freeze spinach to have it on hand for your smoothies at all times.
Equipment
I used a Vitamix blender to make this recipe. High-speed blenders are the best, as you can also use them to make nut butters, flours and even soups.
Regular blender also works great for smoothies, or you can even use a food processor.
I often add my ingredients by eye and taste, but to create this recipe I used measuring cups and measuring spoons to measure my ingredients properly.
Variations
Smoothies are always fun to make, as there is an endless number of variations to try. Below are my favorites to try for this recipe:
Tropical: use a fresh ripe mango instead of a banana and add a few tablespoons of lime juice.
Chocolate: add a Tablespoon of cocoa powder or a scoop of chocolate protein powder.
Green machine: you can add a scoop of your favorite super-food greens powder or some spirulina.
Optional add-ins
Fats: chia seeds, almond butter, peanut butter, flax seeds.
Natural sweeteners: agave nectar, maple syrup
Protein: Greek yogurt, protein powder, collagen.
Frequently asked questions
Can I make a smoothie ahead of time and store it in the fridge?
It is better to enjoy the smoothie right away, but you can safely store it in the fridge for up to 24 hours. Make sure to stir it before drinking as the smoothie will separate.
Can I freeze the smoothie?
Yes, the best way to store the smoothie leftovers is to freeze them. Simply pour it into a freezer-safe container or food storage bag and store it in the freezer for up to 3 months.
Can I substitute other leafy greens for spinach?
​The flavor will change, but you can use kale or collard greens instead of spinach to make this smoothie.
📖 Recipe
Green Spinach Pineapple Smoothie Recipe
Enjoy this green spinach pineapple smoothie as a quick breakfast or a snack. With its refreshing taste and creamy texture, this healthy smoothie is a great way to add some nutrients to your diet
Equipment
1 Blender

1 Measuring Cup

measuring spoons
Ingredients
¾

cup

light coconut milk

1

ea

large banana

1

cup

baby spinach

or more

1

cup

frozen pineapple chunks

1

Tablespoon

hemp seeds

1

Tablespoon (optional)

honey or maple syrup
Instructions
In a blender container, add

¾ cup light coconut milk

,

1 ea large banana

,

1 cup baby spinach

,

1 cup frozen pineapple chunks

,

1 Tablespoon hemp seeds

, and honey (if using).

Blend all the ingredients on high speed for about 6o seconds or until the smoothie is creamy with no chunks. Add more milk if it is too thick.

Davide it between two glasses and enjoy!
Notes
You can add more or less milk to make the desired consistency.
Always add frozen and hard to blend ingredients last and liquid first.
You can freeze the leftovers for up to 3 months.
The nutrition facts are for information purposes only.
Nutrition
Calories:
182
kcal
Carbohydrates:
34.6
g
Protein:
3.3
g
Fat:
5.4
g
Fiber:
3.1
g
Sugar:
17.5
g