Enjoy this sweet and refreshing fruit drink on a hot summer day or whenever you crave something cold and sweet. Made with berries, fruits, and a little bit of sugar, Ukrainian Kompot can be a great alternative to store-bought juice or soda.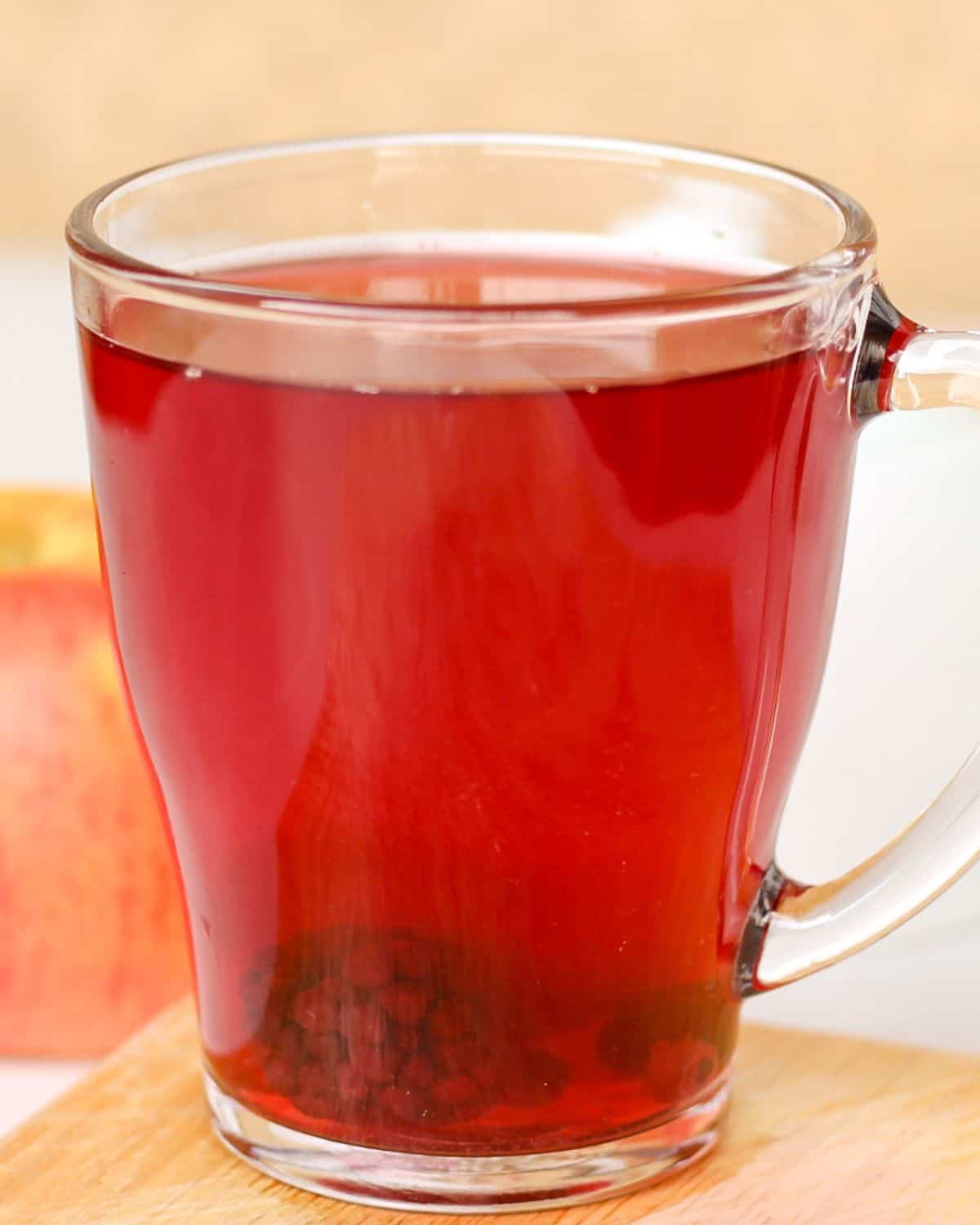 What is Kompot
Kompot (Компот) is a fruit drink popular in Ukraine and other European countries. It is sweet, fruity, and so refreshing. Do not confuse it with Compote - fruit sauce.
Besides being tasty, sweet, and refreshing, this drink is much healthier than soda or a juice box. It is rich in vitamins and antioxidants.
Kompot is great to make during summer months when so many seasonal fruits and berries are available.
You may have also heard of Uzvar, which is a variation of Kompot. Uzvar is made with dried fruits when the fresh fruits are not in season.
Both drinks can be enjoyed cold or hot, but Kompot is usually served cold on a hot summer day.
A variety of fruits are simmered for a few minutes in a large quantity of water and then brewed for at least one hour to make a rich and refreshing fruit drink. Sugar or honey is added as a sweetener and sometimes, herbs and spices for extra flavor.
Similar to jams, Kompot is great for canning to preserve for winter. Great option to use fruits when you have a great harvest.
The choice of fruits
For this recipe, I used a frozen mix of berries (strawberries, blackberries, raspberries) and fresh sweet apples.
I often use frozen organic berries, as they are picked in season and have the best taste.
If you have a garden with lots of fruits, it makes sense to use fresh fruits. I make Kompot with only fresh fruits when we do apple or berry picking.
Otherwise, it is more affordable to use frozen organic berries alongside fresh apples and pears.
You always want to have both sweet and sour fruits to balance the taste. Sometimes, lemon juice is added, if the drink is too sweet.
You can find other fruit combinations under this paragraph.
You can mix 1, 2, or more types of fruits. The more different fruits and berries you use, the more aromatic your drink will be.
Other fruits combinations to try:
Sour or sweet cherries, red currants
Apples, pears, and grapes
Cranberries, orange
Apples, blackberries
Apricots, plums, cherries
Peaches and cherries
You can make kompot more aromatic by adding some herbs and spices:
cinnamon, lavender, whole black peppercorns, cloves
fresh mint, rosemary, or lemon balm
orange or lemon peel
Fruits to water ratio
I recommend using 3 parts of water per 1 part of the fruit.
The easiest way is to use measuring cups.
For 6-8 serving batch, I would use 6 cups of water and about 2 cups of fruit. The measurements do not have to be very precise
For this amount, I add 2-3 Tablespoons of sugar dissolved in a little bit of water. If you add sugar while boiling the fruits, they will absorb it and won't taste great.
You always can add more or less sugar by taste.
Kompot may be served with whole fruits, as they also taste delicious.
How to make Kompot
Step 1. Prepare the fruits by washing them. If you use apples and pears, peel them (store-bought apples are always covered with wax), remove the seeds, and cut them into slices.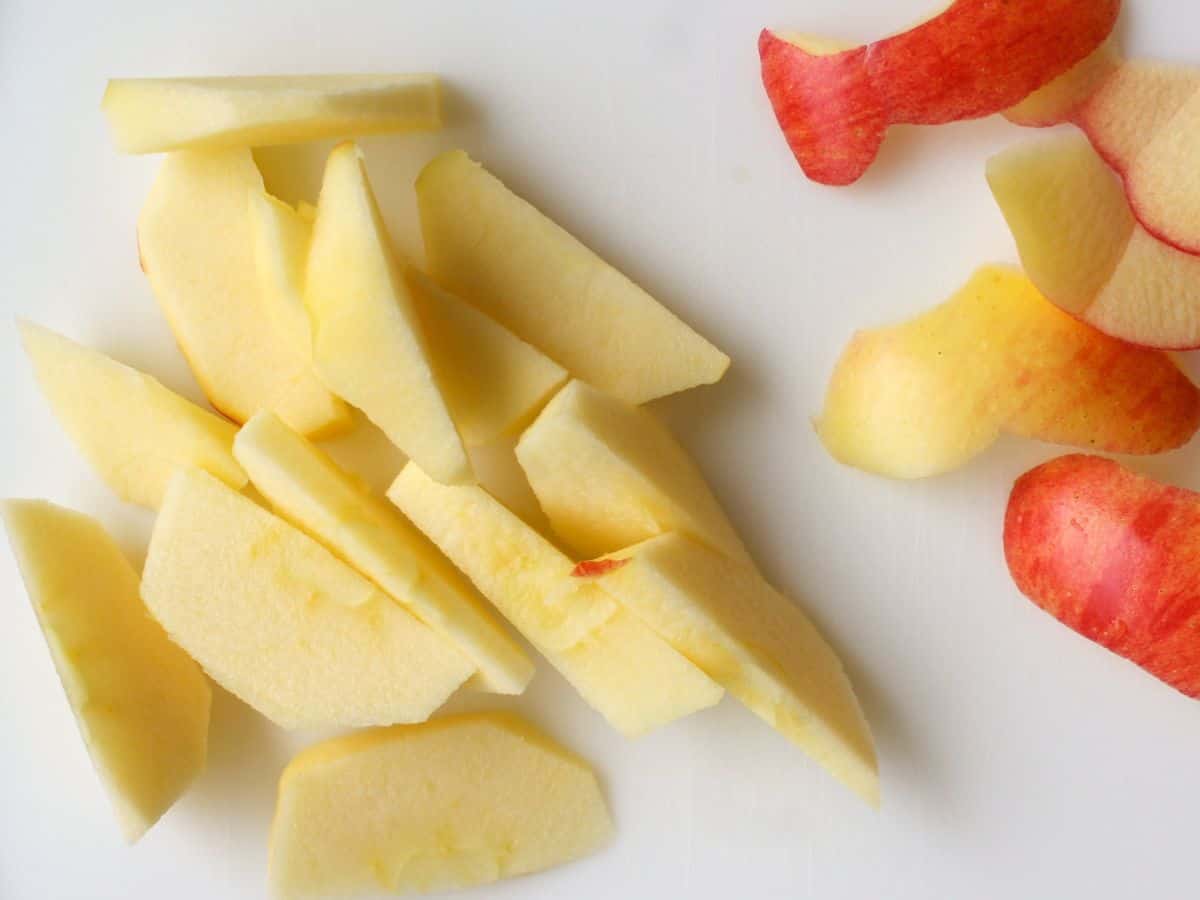 Step 2. In a large pot, add fruits and cold filtered water. Bring everything to a boil. As soon as it starts boiling, cover the pot and turn the stove to the lowest position. Simmer on low for 5 minutes,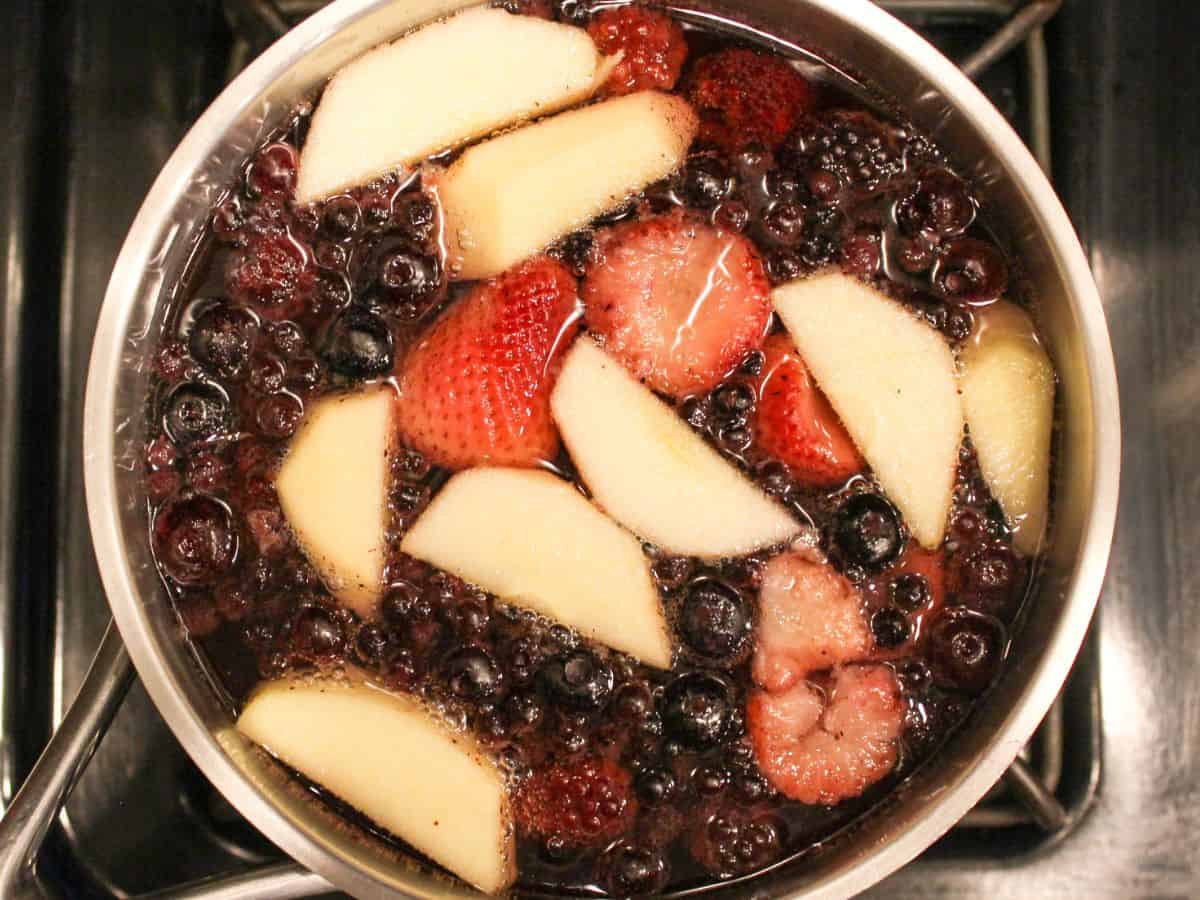 Step 3. Turn off the heat and let it brew covered for at least one hour.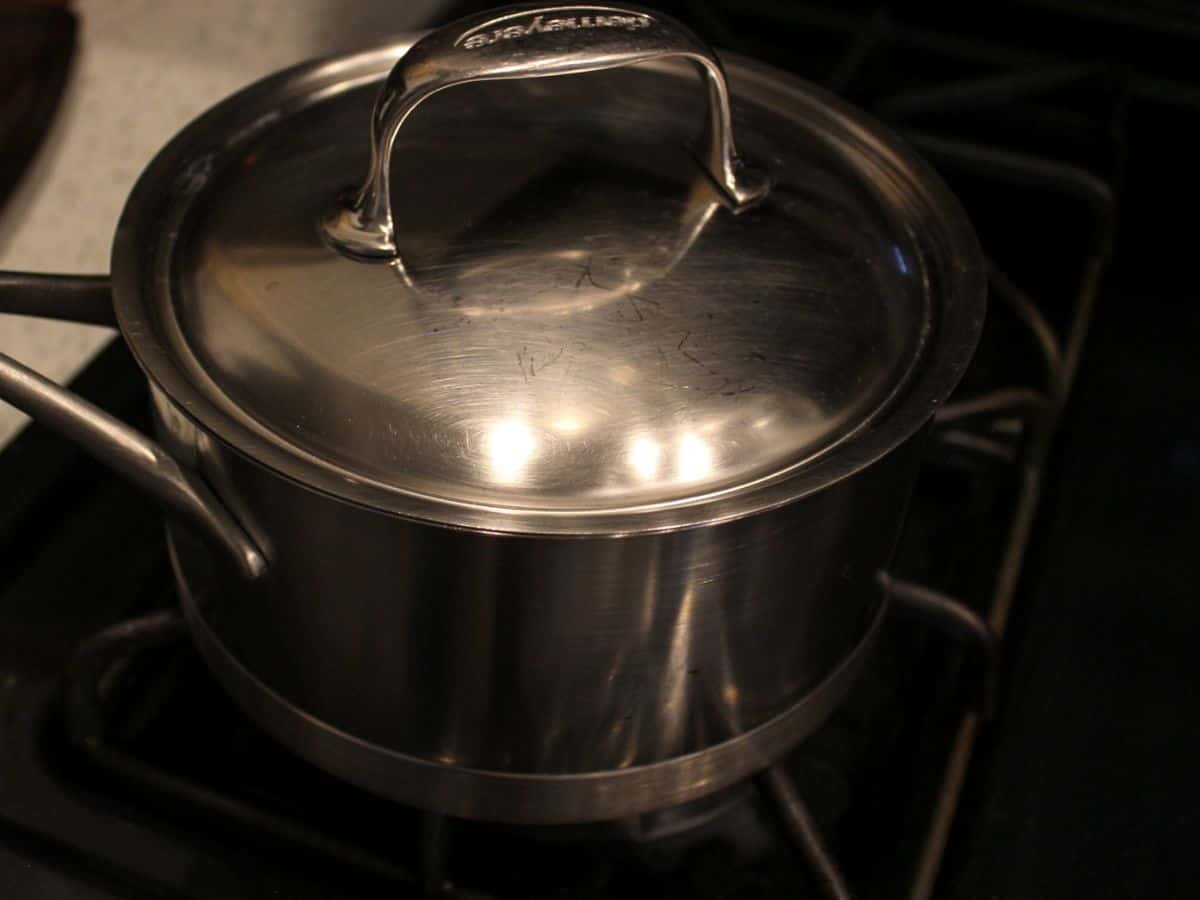 Step 4. Add 2-3 Tablespoons of cane sugar to a half cup of hot water and mix until sugar is dissolved. Pour the mix to hot kompot and stir well. Taste it and add more sugar if needed.
Step 5. Transfer Kompot to the pitcher or a jar and chill in the fridge until ready to serve. If preferred with no fruits, you can strain it using a mesh strainer.
Recipe tips
always peel store-bought apples and pears, as they always have wax.
using organic frozen berries is more affordable
add sugar or another sweetener at the very end, when kompot is already brewed.
add more or less sugar by taste and depending on the type of fruits used.
always let it brew after simmering for at least one hour.
How to store and serve
When kompot cools down, transfer it to the jar with a lid or a pitcher and store it in the fridge for about 3-4 days.
You can serve it cold or reheat it in the microwave to have a warm drink.
If you serve it with fruits, do not forget to provide a spoon.
Other Ukrainian recipes to try
📖 Recipe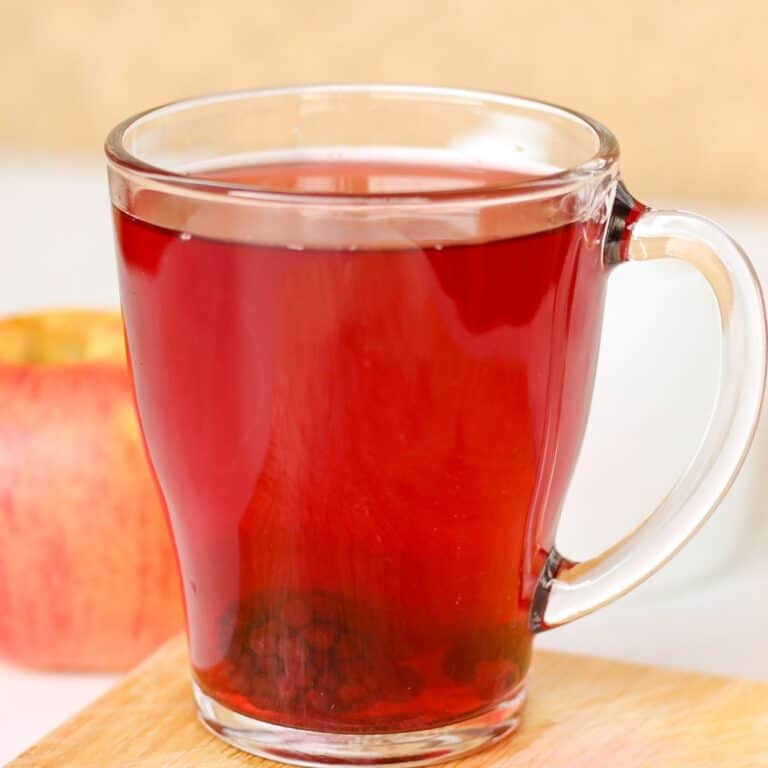 Ukrainian Kompot Drink
Enjoy this sweet and refreshing fruit drink on a hot summer day or whenever you crave something cold and sweet. Made with berries, fruits, and a little bit of sugar, Ukrainian Kompot can be a great alternative to store-bought juices or soda.
Equipment
1 Measuring Cup

measuring spoons

large pot
Ingredients
1½

cups

frozen berries (strawberries, blueberries, blackberries)

1

medium apple, peeled, cored and sliced

6

cups

filtered water

2-3

Tablespoons

cane sugar

½

cup

hot water
Instructions
In a large pot, add frozen berries, sliced apple and 6 cups of water. Bring to boil, cover and simmer on low for 5 minutes. Turn off the heat.

Add 3 Tablespoons of cane sugar to ½ cup of hot water. Stir until the sugar is dissolved. Add the sugar mix to the pot and stir.

Cover the pot and let kompot rest for one hour. It will brew and become even more aromatic. Serve warm or chilled.
Notes
you can use frozen or fresh variety of fruits.
adjust the amount of sugar by taste.
let kompot  brew for at least 1 hour.
Nutrition
Serving:
1
cup
Calories:
57
kcal
Carbohydrates:
14.6
g
Protein:
0.1
g
Sodium:
0.4
mg
Fiber:
1.8
g
Sugar:
12
g