This Ukrainian braised cabbage recipe is a vegan cabbage recipe made with carrots, onions, olive oil, tomato paste, and salt. Very tender braised cabbage will be great as a side dish on your plate or as a filling for pierogies and pies.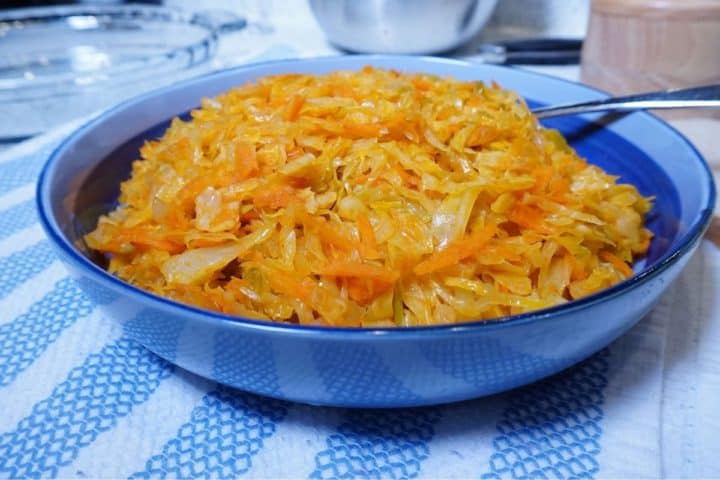 My mom and both of my grandmas used to make this braised cabbage filling for rolls, pies, and pierogies known as "vareniki" in Ukraine. This cabbage was my favorite filling. I would get upset if my mom made "varenyky" and braised cabbage was not inside them.
WHY YOU WILL LOVE THIS BRAISED CABBAGE?
The ingredients are available all year round. You can buy fresh, good-quality cabbage, carrots, and onions on any day of the year.
This is a healthy recipe that is very low-cost and affordable. Healthy food does not have to be expensive.
Very easy to change it up and make it as a main dish by adding some protein such as sausage, meat, or beans.
Can be made ahead of time as a filling for your pies or dumplings. Just store it in an airtight container for a few days until you are ready to use it in your favorite recipe.
INGREDIENTS YOU WILL NEED:
Cabbage: one head of fresh green cabbage. It will seem like a lot of cabbage but it will shrink a lot in the cooking process.
Carrots: 2 medium-sized carrots. Carrots will add color and sweetness to your braised cabbage.
Onion: one small or half of the big onion. You cannot make a delicious braised cabbage without the onion.
Olive Oil: 2 Tablespoons of oil for frying the veggies. You can use any other neutral oil here as well.
Tomato Paste: I used 2 Tablespoons of tomato paste. This is a must for this recipe.
Sugar: ½ teaspoon of white or brown sugar. It is needed to balance the sourness of tomato paste.
Salt: I used ¼ teaspoon of salt. If you like your cabbage to be more savory add more salt.
Boiling Water: ½ cup of hot boiling water to cook the cabbage.
Bay Leaf: 1 or 2 bay leaves to add some amazing flavor to your cabbage.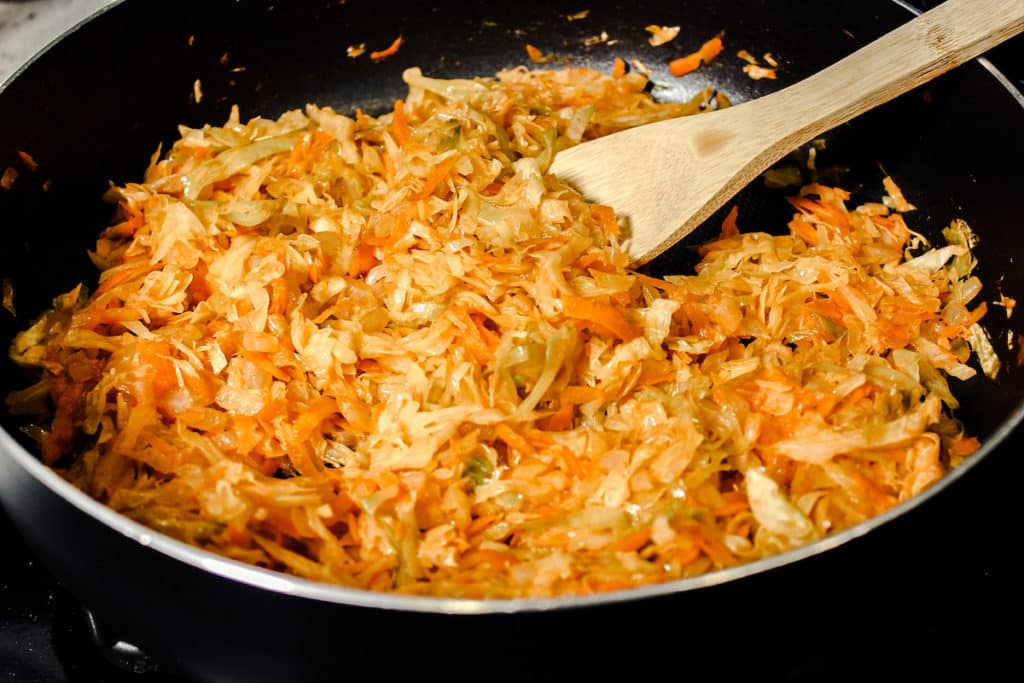 HOW TO MAKE UKRAINIAN BRAISED CABBAGE:
Prepare the vegetables. Rinse the cabbage and remove the outer leaves. Cut the cabbage in half through the core, and cut each half again. You will have 4 wedges. Remove the core with the knife from each of the wedges. Thinly slice the cabbage into strips by placing one of the flat parts of the wedge against the board. Shred all 4 wedges. You will need to shred the cabbage the same way you do it for the coleslaw. Using a grater large side, grate the carrots. Peel the onion and dice it into cubes.
In a deep fry pan heat olive oil over medium heat. Add onions and cook for 2-3 minutes until translucent. Now add grated carrots and cook together stirring occasionally for another 3 minutes.
In a small bowl or cup mix tomato paste, sugar, 4 tablespoons of water, and half of the salt and add it to the pan. Mix everything well together.
Start adding gradually the cabbage. Add one big handful at a time, mixing it and letting the cabbage settle down and shrink. Once all the cabbage is in the pan, cover the lid, turn the heat on medium-low, and cook for 5 minutes, stirring every minute.
Boil water using an electrical heater or microwave. Add hot water and bay leaf to the cabbage. Cover the pan, turn the heat on low and cook for about 3o minutes mixing it every 5 minutes until the cabbage is soft. Reduce time to 20 minutes if you prefer your cabbage more crunchy. Enjoy!
HOW TO SERVE THIS VEGAN BRAISED CABBAGE:
My favorite ever way to eat this delicious cabbage besides pierogies is with mashed potatoes on the side. You should try it. These two go so well together.
This vegan braised cabbage is great as a side dish with any kind of meat. I usually serve it with chicken breasts or some beef roast.
As a quick snack or meal serve it with a slice of sourdough bread. Simple but so delicious.
STORING AND REHEATING:
Refrigeration: let the cabbage cool completely, then transfer it to an air-tight container and store it in the fridge for 3 days. Reheat the needed amount over medium heat in a frying pan with a little bit of olive oil.
Freezing: this cabbage freezes well. Just let it cool down and transfer it to a freezer-friendly container or Ziploc bag. Store the cooked cabbage in the freezer for 3 months. Reheat in the microwave or using a frying pan over low heat, covered and with a little bit of water.
Other favorite Ukrainian recipes
📖 Recipe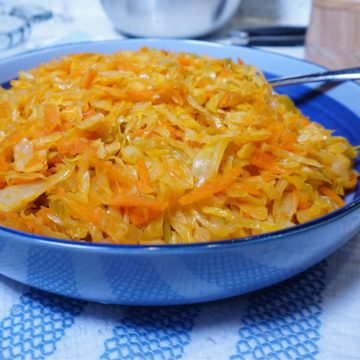 Ukrainian Braised Cabbage
This Ukrainian braised cabbage recipe is a vegan cabbage recipe made with carrots, onions, olive oil, tomato paste and salt. Very tender braised cabbage will be great as a side dish on your plate or as a filling for pierogies and pies.
Ingredients
1

large green cabbage

2

carrots

1

small sweet onion

2

Tablespoon

olive oil

3

Tablespoon

tomato paste

½

teaspoon

sugar

¼

teaspoon

salt

use more or less by taste

½

cup

hot boiling water

1

bay leaf
Instructions
Wash the cabbage, remove outer leaves and shred it thinly, using a big knife. Shred the carrots on the medium shred of the box grater. Dice the onion into small cubes.

Heat 2 Tablespoons of oil over medium heat in a big frying pan. Add onions and cook them for 2-3 min stirring occasionally. Add the carrots and cook together another 3-5 min.

In a small bowl mix 4 tablespoon water, 3 tablespoon tomato paste, ½ teaspoon sugar and half of the salt. Add the mix to the pan and mix well with carrots and onions.

Start adding cabbage gradually, one handful at a time by letting it settle down. Cabbage will shrink a lot as you cook it. Once all cabbage added, cover the pan with the lid and cook covered for about 5 min over low-medium heat stirring every minute or so to prevent cabbage from burning.

Add hot boiling water (use the microwave or electric water) and the bay leaf to the pan. Cover and cook on low heat for about 30 minutes stirring it every 3-5 min until cabbage is soft. If you prefer your cabbage "al dente" with the little crunch it will take only 20 min. Softer cabbage is better for the pies or dumplings, crunchier is great as a side dish. Enjoy!
Nutrition