Finely hand-grated potatoes, onions, flour, eggs, and seasonings are all you need to make the most authentic Ukrainian deruny. Serve them hot and crispy with a dollop of sour cream for the contrast of temperatures.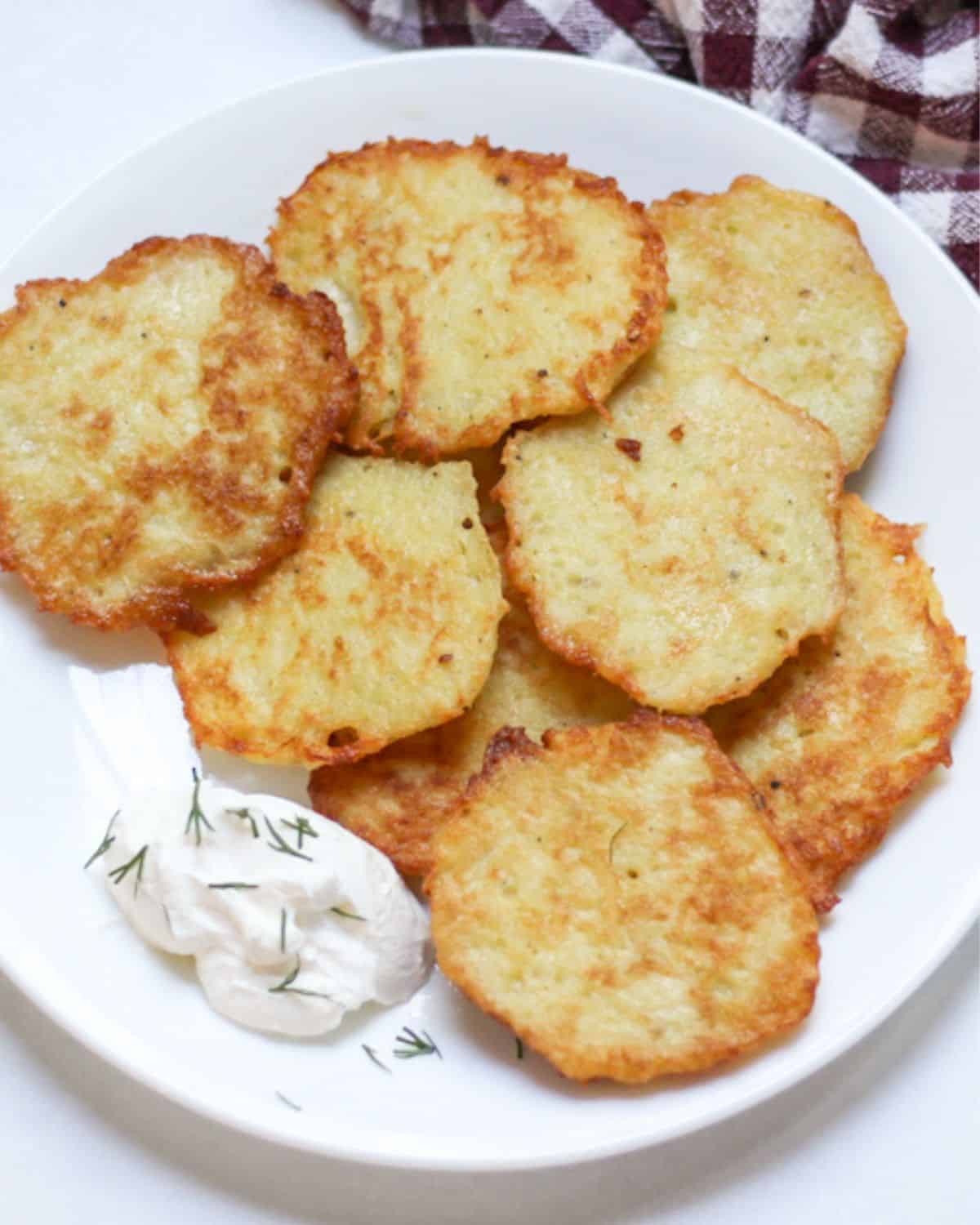 About Ukrainian deruny
Similar to these potato fritters, deruny are made with potatoes, onions, flour, and eggs. But there is a difference in texture and flavor between the two recipes.
The secret of Ukrainian version is in very finely grated ingredients and the amount of flour added, which creates savory deruny with the consistency of a pancake.
As they fry, the edges of deruny become golden and crispy, while the center stays soft and tender.
Classic Ukrainian pancakes have a few different names: deruny, terchanyky, or sometimes drankini.
Both "deryny" and "terchanyky" are names that come from Ukrainian words that mean "to grate".
If you want authentic derynu, do not use the food processor as short cut because the real recipe is made with hand-grated potatoes.
Every time I make deruny, I go back to those days in my family kitchen in Ukraine. I'd watch my mom grating the potatoes and she would always mention that we have to be careful with the sharp edges of the grater. My mom would always let me have the first one, straight from the pan. I would dip it in homemade cold sour cream to cool it down faster.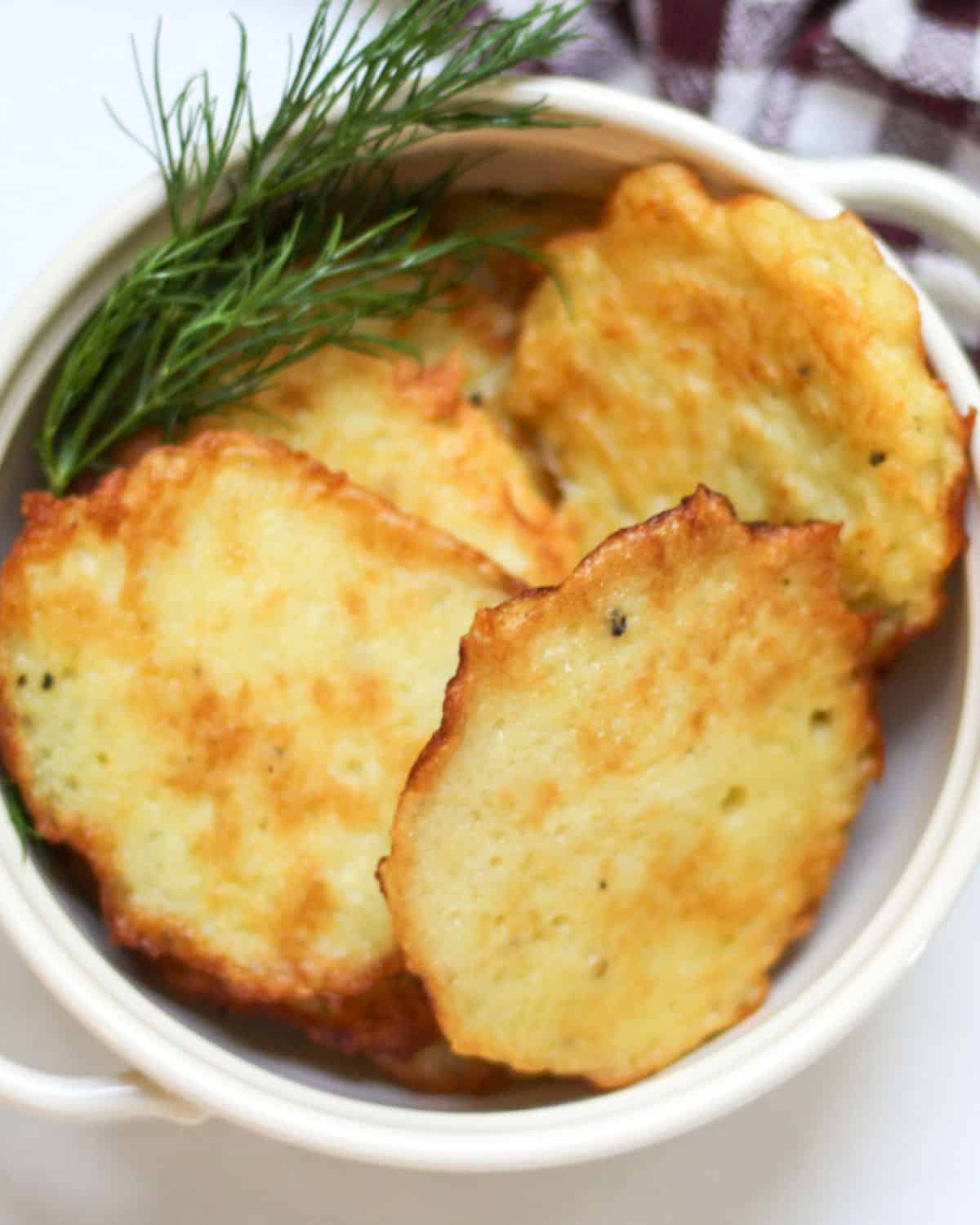 Ingredients
You can find the full list of ingredients and their quantities in the recipe card below.
Potatoes: Living in the US, I had the best derynu made with yellow potatoes. They have a slightly buttery flavor, and creamy texture and are high in starch. You can also make them with Yukon gold potatoes or Russet potatoes. Avoid waxy varieties of potatoes. Those are best for potato salads and soups as they hold their shape well.
Onions: I used yellow onion. You can also use a sweet onion or a finely chopped green onion instead.
Flour: All-purpose flour works best. You can also use any gluten-free one if needed.
Eggs: help to bind all the ingredients and will help to hold the shape.
Salt and pepper: I only add some salt and pepper. Some like adding paprika, garlic powder, and dried herbs.
Oil (for frying): In Ukraine, we fry everything with sunflower oil. Living in the US, I have been using olive oil or avocado oil.
Sour cream (for serving): To serve it the Ukrainian way.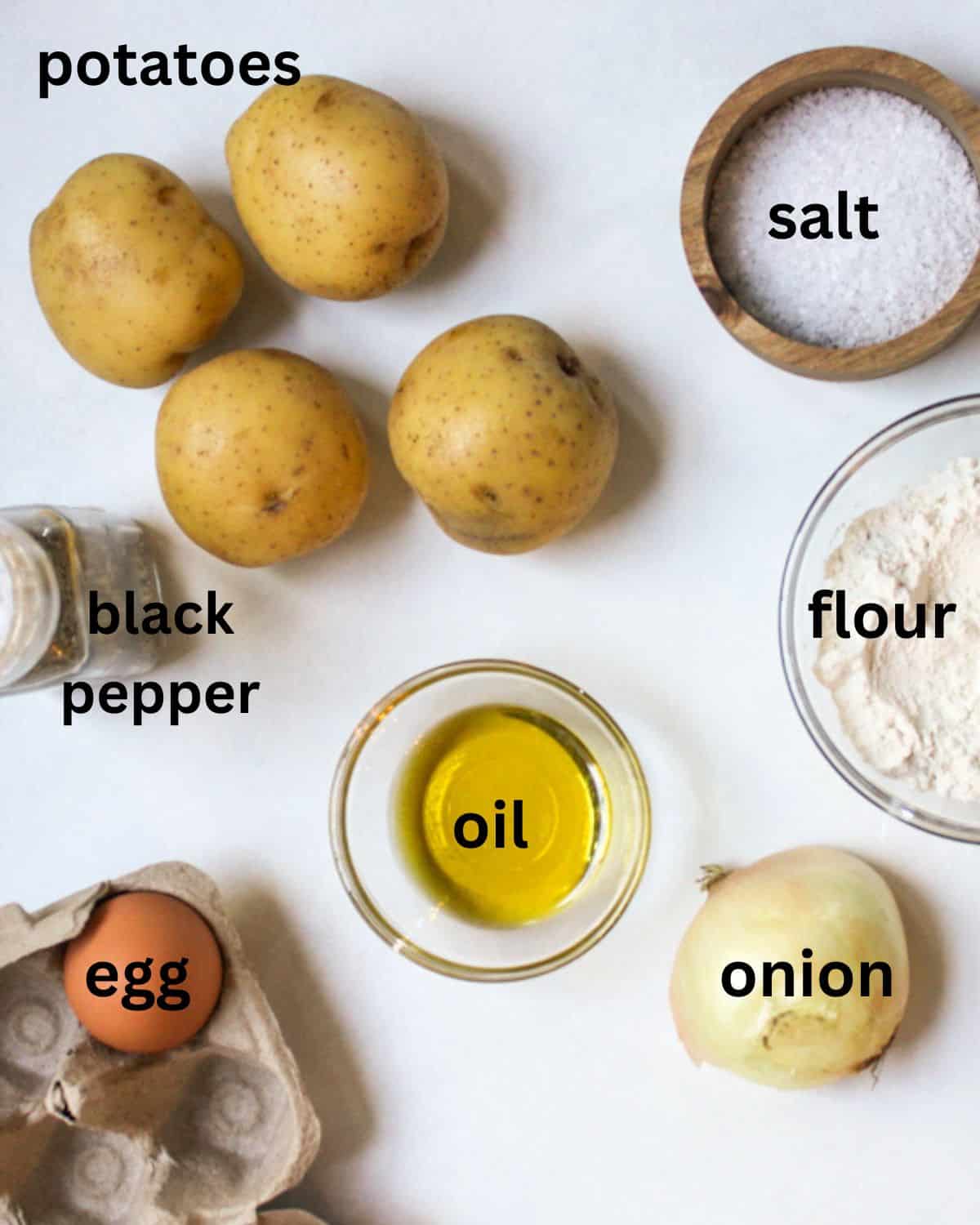 Method
Scroll down to the shorter version of the instructions in the recipe card. Read this paragraph, if you are a beginner or prefer more detailed the step-by-step instructions with images.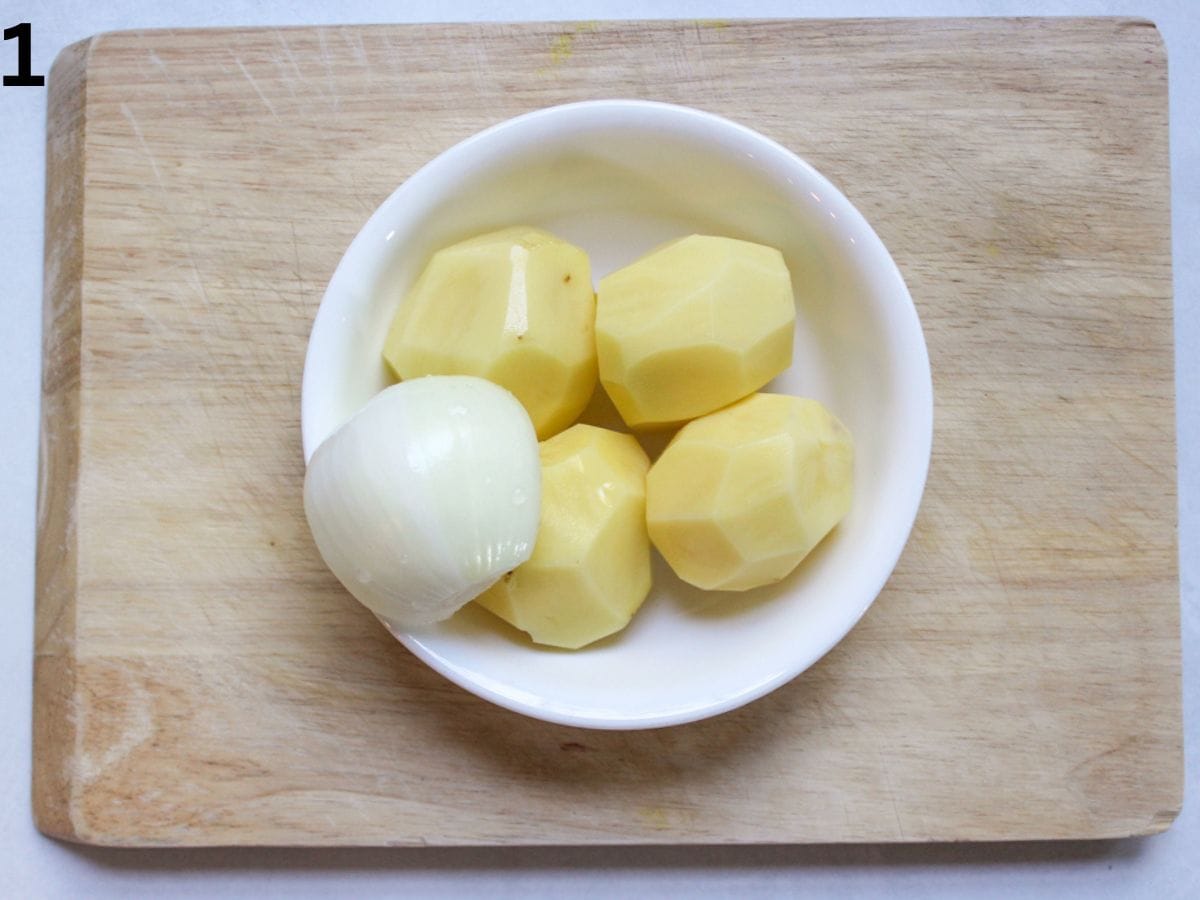 1) Wash and peel. Wash and peel the potatoes. Peel the onion.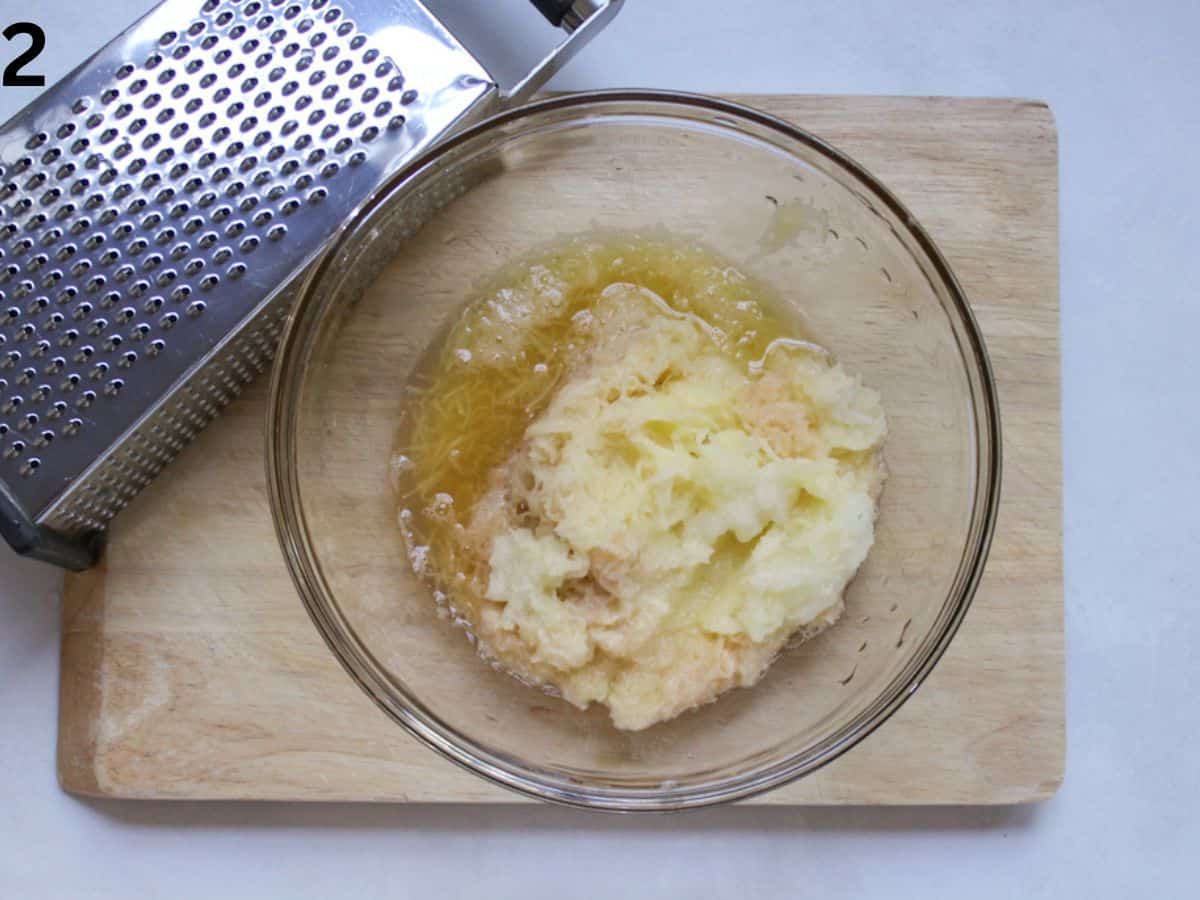 2) Grate. In a large bowl, place the box grater. Grate potatoes and onion using the finest shred side (but not the star shape one). A the end, grate the onions using the same fine shred side. You can see the one I used in the image below.
You may have a few tears grating onion. Chilling the onion in the fridge before grating may reduce the amount of eye irritation. Drain the extra liquid at the bottom of the bowl, but avoid squeezing out the excess as you would do for regular latkes. Deruny batter should remain slightly runny.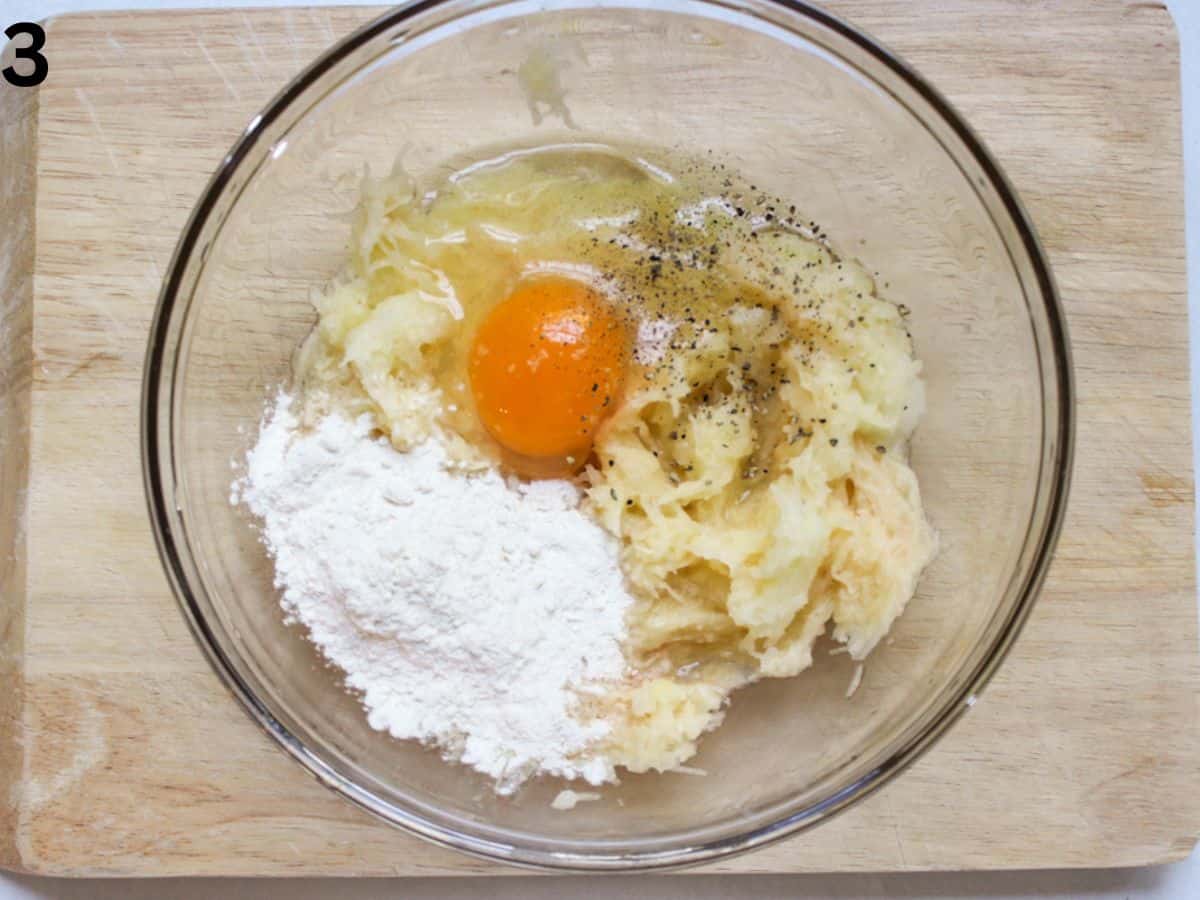 3) Batter. Now, add one egg, flour, salt, and black pepper to the potatoes.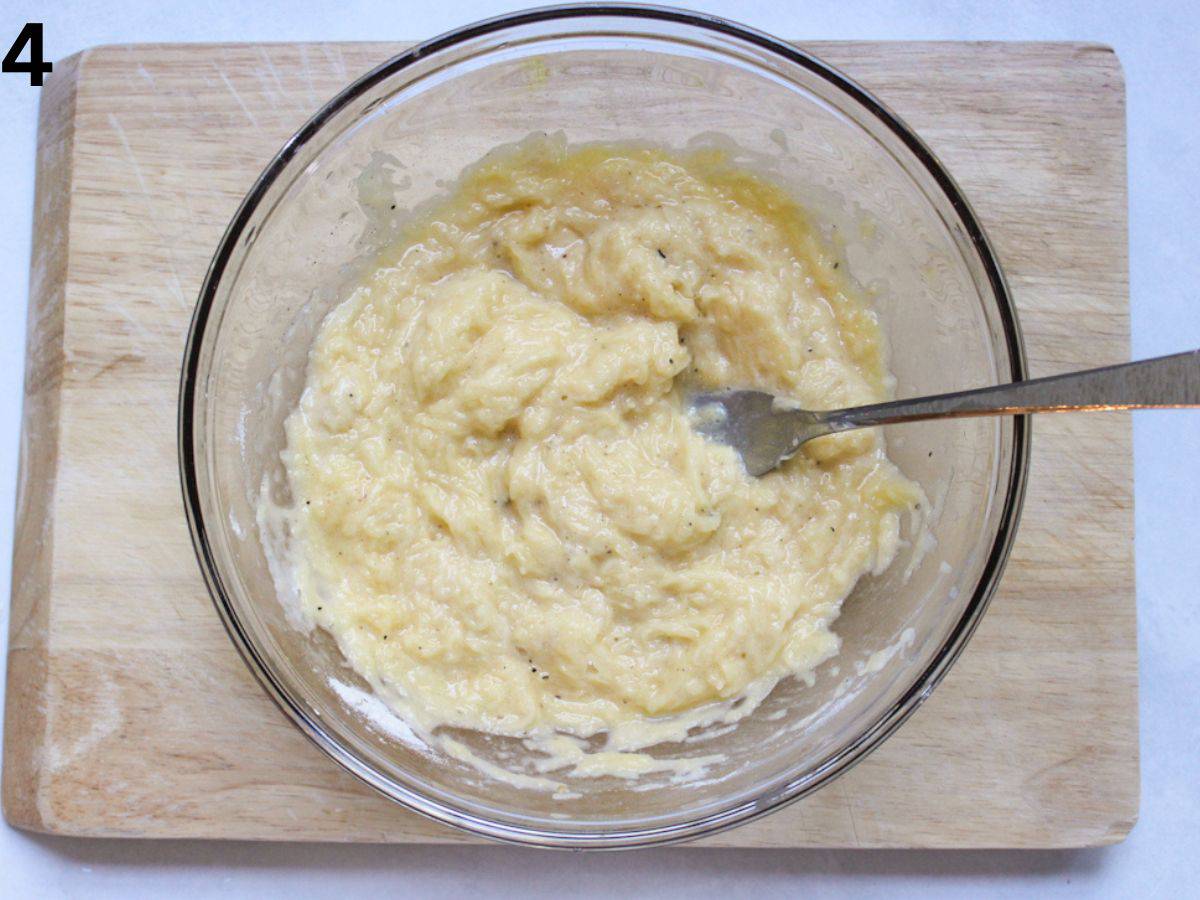 4) Stir everything with a fork to create a batter. You may store the prepared batter in the fridge for a few hours, it may darken but still be good to use.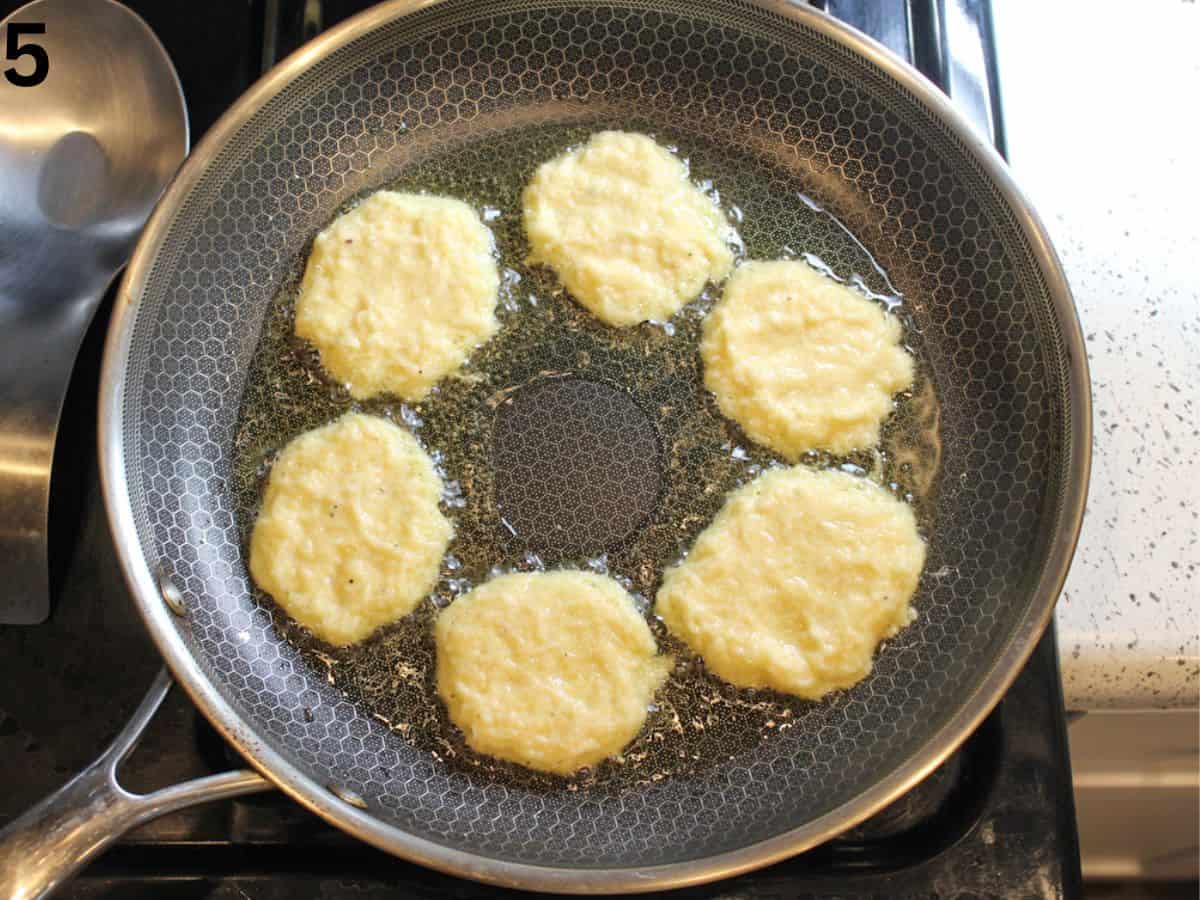 5) Fry. Heat a generous amount of oil in a large skillet. Add a spoonful of batter at a time, flattening it with the back of the spoon to make the pancake thinner. It should be about ¼ inch thin. Fry Deruny over medium heat until they are golden brown on one side, which usually takes about 3-4 minutes.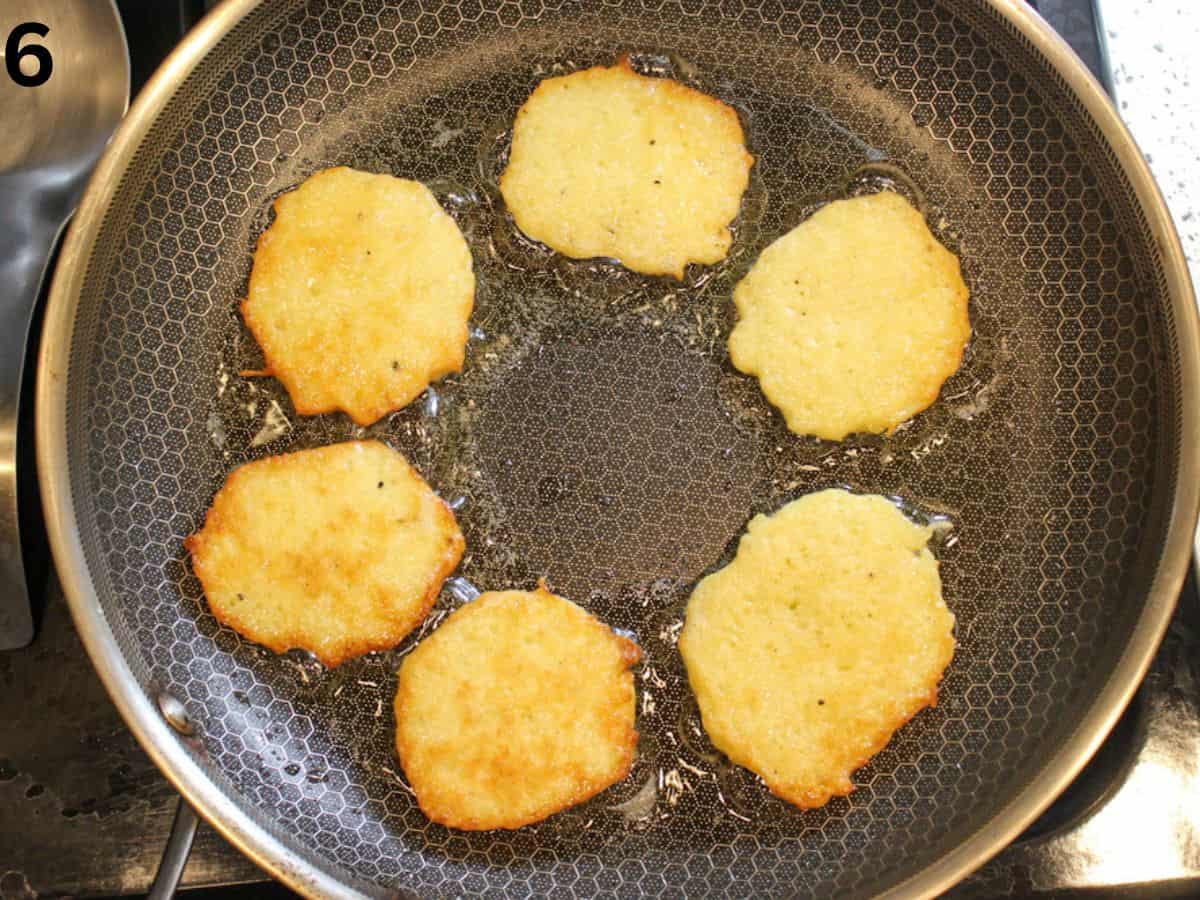 6) Flip and Serve. Then, flip them over and fry the other side until golden brown.
Once fried, you can transfer them to a plate lined with paper towels to drain any excess oil. I usually skip this step because my mom never did it. I do not find them to be very greasy due to the batter type.
Serve them hot with some sour cream for dipping.
Stuffed deruny (regional variation)
In some regions of Ukraine, especially the Western part, you'll find stuffed deruny. While regular deruny are typically served as a side dish, the stuffed varieties are great as a main course.
Common fillings include minced meat, mushrooms, or vegetables, and occasionally, they are accompanied by gravy.
To make stuffed potato pancakes, simply take a few spoonfuls of batter and pour it onto the hot skillet. Now, Flatten it with a spoon to make the area larger. Now, add one spoonful of the filling in the center. Cover the filling with another scoop of potato batter. Fry on both sides for about 4-5 minutes or until golden brown.
How to serve
You can serve these Ukrainian potato pancakes as a side or main dish with salads, vegetables, and more. The key is to serve them hot.
In Ukraine, they are always served with a large dollop of sour cream for dipping or on top. We also like to add some chopped fresh herbs in summer, such as dill, parsley, and green onion.
As a main course, deruny may be served with some hearty mushroom sauce on top.
​Living in the US, my family likes deruny with some apple sauce on the side.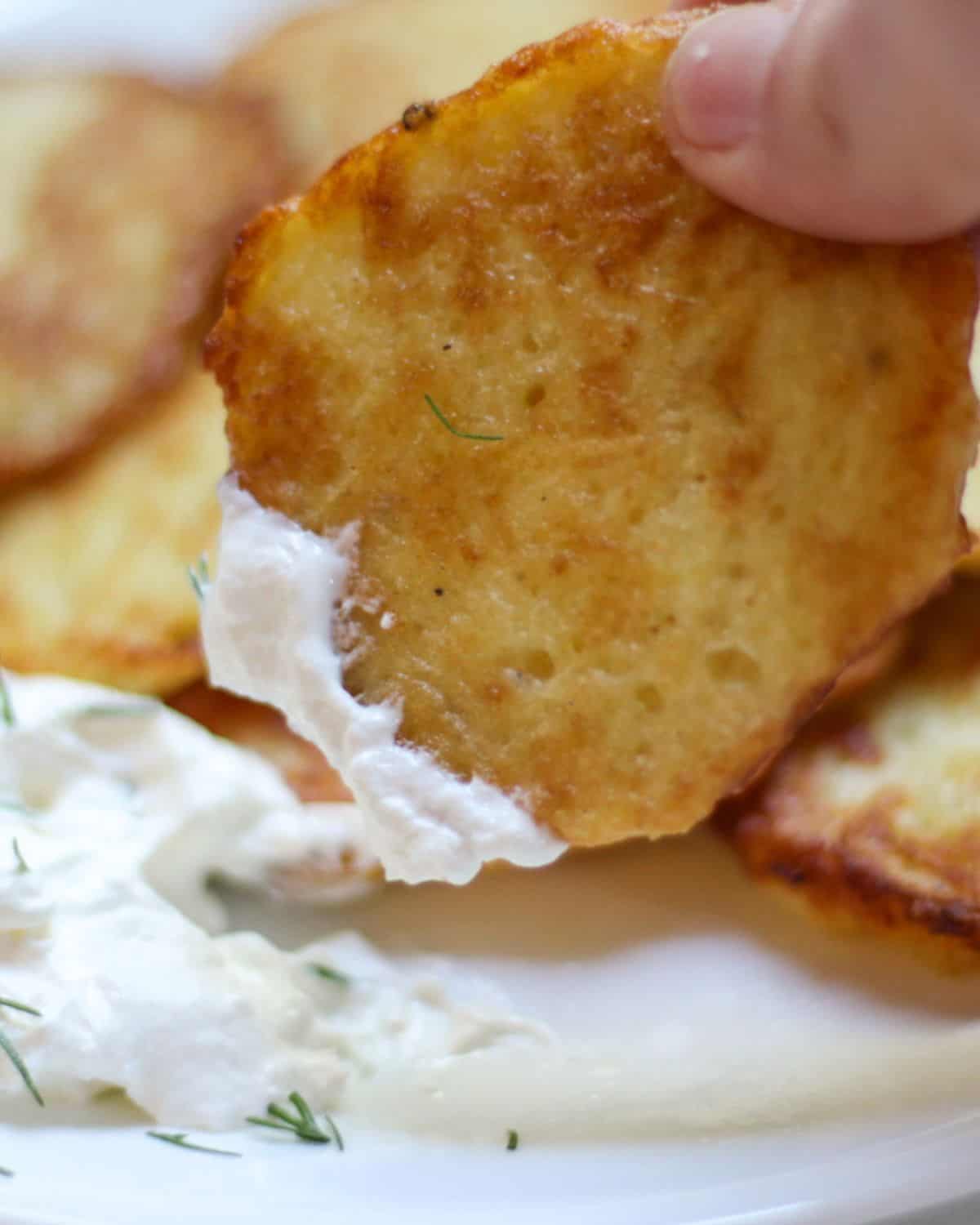 How to store
They taste best when hot and crispy. But if you have any leftovers, place them in an air-tight container and keep them in the fridge for about 2-3 days.
I like to serve the deruny leftovers next day for breakfast to go with the scrambled eggs.
You can reheat them in the microwave or air fryer (preferred).
Potato pancakes can be safely frozen for up to 3 months. I have never tried freezing them, because they will not taste the same. So I always make them fresh.
More traditional Ukrainian recipes
📖 Recipe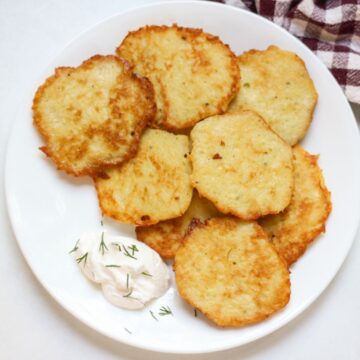 Ukrainian Deruny (Potato Pancakes)
Finely hand-grated potatoes, onions, flour, eggs, and seasonings are all you need to make the most authentic Ukrainian deruny. They are best served hot with a dollop of sour cream for a contrast of temperatures.
Equipment
1 grater box

1 large bowl

1 Frying Pan
Ingredients
4

medium size potatoes

1

small onion

1

egg

3

Tablespoons

all purpose flour

½

teaspoon

salt, to taste

¼

teaspoon

black pepper

2

Tablespoons

olive oil, for frying

1

Tablespoon

sour cream (for serving)
Instructions
Wash and peel the potatoes and onion. Using a finest side of the grater, grate the potatoes and the onion into the large bowl. You will notice some liquid at the bottom. Gently drain it, without squeezing the potatoes.

Add 1 egg, 3 Tablespoons of flour, salt and pepper to bowl. Mix the batter well with a fork. It should remain rather thin than thick, similar to the pancakes batter.

In a large frying pan, heat 2 tablespoons of olive oil. Add a spoonful of potato batter at a time into the hot skillet, flattening it with the back side of the spoon. Fry on one side over medium heat for about 2-3 minutes or until golden brown. Flip with a spatula and fry on the other side for another 3 minutes.

Remove deruny from the frying pan onto a plate. You can place them on a paper towel to absorb any excess oil. Serve hot with a dollop of sour cream.
Notes
Potatoes - yellow potatoes are the best to make deruny, but you can also use Yokon or Russet. Grating - for authentic Ukrainian pancakes, use the finest side of a grater box. Batter - do not squeeze out the liquid, only drain what is visible in the bowl. The batter should remain thin, similar to the regular pancakes.  Add-ins - you can add grated carrots, chopped fresh herbs, dried spices to the batter. All nutrition facts are only estimate and should be used for information purposes only.
Nutrition
Calories:
187
kcal
Carbohydrates:
32.4
g
Protein:
5.4
g
Fat:
4.6
g
Sodium:
309
mg
Fiber:
2.5
g
Sugar:
1.9
g