Olivier salad is a staple food for almost every holiday in Ukraine (and other post-Soviet countries). Never underestimate the power of simple ingredients that can turn into such a delicious appetizer-salad. Little tangy, slightly crunchy with a hint of sweetness, this potato salad is a must to try.
If you celebrate New Year's Eve with Ukrainian folks, I guarantee there will be a tub of Olivier potato salad on a table. It's so good that is usually made in large batches enough to eat for the next few days.
Jump to:
What is Olivier potato salad
Olvier is is a traditional eastern-European potato salad made with boiled vegetables, pickles, hard-boiled eggs, some kind of meat (chicken, smoked ham, duck), and dressed with mayonnaise.
There are couple variations of this salad and the exact original recipe remains unknown.
Why you will love this salad
it can be an appetizer, side dish, or even a meal. I love to enjoy a bowl of this salad with some rye bread as a light and quick lunch.
it is healthy and has good amount of nutrients. Made with boiled vegetables and good quality protein, such as chicken breast and eggs, this salad is a nutritious and clean recipe. Some think that mayo makes the dish unhealthy. I do not agree with that statement: a small serving of homemade or any good quality store-bought mayo cannot be unhealthy.
this salad is kid-friendly and most of the kids will enjoy it on a side with the main dish.
Olivier salad is super easy to make. All you need is to boil the ingredients, chop them and add dressing. Kids will enjoy being involved in preparing this dish.
you can surprise your guest by making this salad in place of traditional potato salad. Everybody will be excited to try this Russian comfort food.
Olivier salad ingredients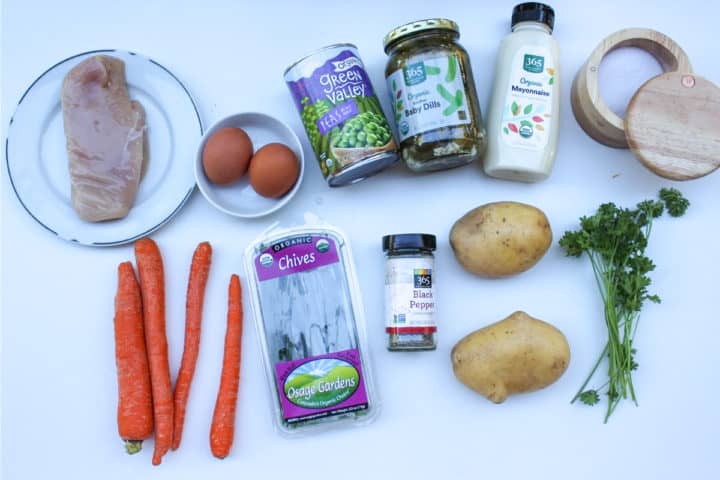 Potatoes: I used Yukon gold potatoes. Any lower starch, waxy potatoes will work: young white, yellow, or red potatoes are the best for this salad because they do not crumble or fall apart after cooking. Avoid very starchy potatoes such as Russet.
Carrots: pick fresh, sweet carrots for your Oliver salad. I would avoid canned or frozen ones.
Eggs: eggs are another main ingredient for this potato salad.
Chicken Breast: I usually use boiled chicken breast. Sometimes we use less healthy type of protein, such as ham, any smoked meat, or even hot dogs.
Pickles: pickles give a crunch and tangy taste. Dill pickles are best for this salad. Avoid any sweet ones.
Canned Peas: I used no salt added canned peas. If you use the salty ones, make sure to adjust the amount of salt added to the salad.
Chopped Chives and Fresh Parsley: I used green chives. If you love onions, use diced fresh onions instead. You can also add chopped fresh dill, if you love it.
Black Pepper and Salt: add amount by taste. Just do not overdo it. Everyone can season their own plate by taste.
Mayonnaise: full-fat or low-fat good quality mayo. I always prefer a full-fat one for a more creamy salad.
See recipe card for ingredient quantities.
Instructions
1. Boil whole potatoes, carrots, chicken breast until cooked. Make hard-boiled eggs by boiling them for about 10 minutes. Let them cool down until easy to handle. Peel carrots, potatoes and eggs. Dice all the cooked ingredients and pickles into small cubes (about half an inch).
If you look for easier way to cook perfectly soft potatoes that hold the shape when you chop them, try this instant pot steamed potatoes recipe. So easy and always perfect.
2. Drain canned peas to get rid of any liquid. In a large container or bowl, add all diced ingredients, peas, chives and parsley. Add a few pinches of salt and black pepper. Do not add much. These two are better added by taste when serving.
3. Add mayonnaise and mix all ingredients carefully with a large spoon. Enjoy your Olivier salad!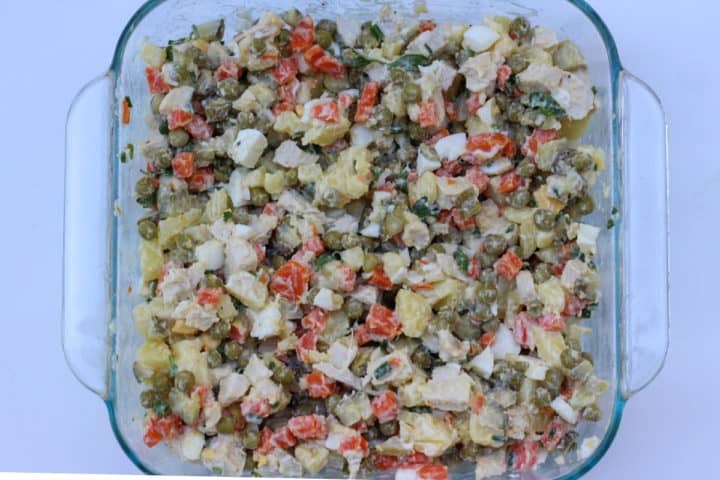 How to boil vegetables
Option 1: rinse carrots and potatoes. Fill a large pot with water, add about ¼ teaspoon of salt (salt will prevent vegetables from falling apart), and bring to boil. Carefully, add whole vegetables and boil until a fork can be easily inserted in the middle. Carrots will take about 20 minutes, so you will need to remove them earlier. Potatoes will be fully cooked in 40 minutes. Time may vary depending on the size of the vegetables. Let vegetables cool down, peel and cube.
Option 2: wash, peel, and cube ( about half an inch) the vegetables. In a large pot add water, ⅛ teaspoon of salt. Bring water to a boil. Carefully add cubed carrots and potatoes. Cook for 10-15 minutes or until soft. Drain, let them cool, and add to the salad.
How to cook chicken for the salad
Option 1: in a medium pot, bring water to boil. Carefully place chicken breast in boiling water and cook on medium-high for 15-20 minutes until meat no longer pink inside and internal temperature reaches 165 degrees Fahrenheit. I always recommend using thermometer to prevent chicken being over or under cooked.
Option 2: preheat oven to 400 degrees Fahrenheit. Rub the chicken breast with little bit of salt, garlic powder, onions powder and olive oil. Bake for 19-22 minutes until fully cooked.
Option 3: if you have a whole chicken, use this recipe to boil it. You will have enough chicken for this Olivier salad and more. As a bonus there will be some delicious chicken broth after you boil a whole chicken.
How to cook eggs
We will need hard boiled eggs for this salad. Add eggs, cold water to the small pot. Bring water to boil and cook eggs for 10-11 minutes. Transfer eggs to the bowl with cold water and peel once cooled down.
Top tip
If the salad will be prepared ahead of time, or you are making a big batch to enjoy for the next few days, do not add the dressing. Just keep all chopped ingredients in a separate container and add mayo right before serving. This will make your potato salad taste fresh and will prevent it from becoming soggy.
Serving suggestions
As appetizer salad with some fresh baguette or crackers.
In place of classic potato salad. As a side for grilled chicken, hamburgers, or BBQ ribs.
As a small meal or filling snack with a slice of fresh bread.
Storing
Refrigeration: you can keep this Olivier potato salad in the fridge up for 3 days. Make sure to use a container with a tight cover or use foil. If you plan to keep it in the fridge for a couple of days, add mayo right before serving to keep the salad fresh.
Freezing: this salad will not freeze well.
Recipe variations and substitutions
make it vegetarian by skipping the chicken and adding a couple of more extra hard-boiled eggs.
use frozen peas instead of canned ones. Just make sure to thaw them and drain any liquid before adding to the salad.
if making the salad in spring or summer, add one fresh cucumber for fresh summer taste.
use sour cream for dressing instead, if you do not eat mayonnaise.
add one peeled and cubed green apple instead of pickles.
Other Ukrainian recipes you may like
📖 Recipe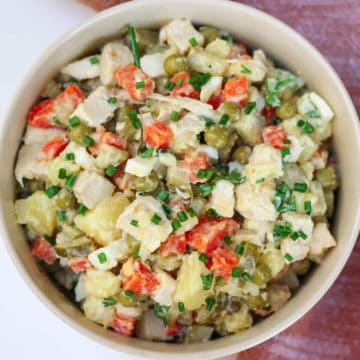 Olivier salad
Olivier salad is a staple food for almost every holiday in Ukraine (and other post-Soviet countries). Never underestimate the power of simple ingredients that can turn into such a delicious appetizer-salad. Little tangy, slightly crunchy with a hint of sweetness, this olivier potato salad is a must to make.
Ingredients
2

large potatoes

1

chicken breast

3

medium carrots

2

eggs

3-4

medium pickles

1

cup

canned peas

drained

1

tablespoon

chopped fresh chives

1

tablespoon

chopped fresh parsley

1

pinch

salt

add more by taste

1

pinch

black pepper

add more by taste

6

Tablespoons

mayonnaise
Instructions
In a 3 separate pots, boil water and cook all the ingredients: carrots with potatoes, chicken and eggs. Let them cool down.

Peel the vegetables and eggs. Cube potatoes, chicken breast, carrots, eggs and pickles (about half an inch cubes). Add them to the large bowl or container. Add drained peas, chopped chives and parsley, little bit of salt and pepper. Dress the salad with mayo, gently mix everything with a large spoon. Enjoy!
Notes
do not add much salt and pepper. They can be added when serving individually.
see the recipe post how to cook vegetables and chicken.
let vegetables cool down before peeling and cutting them.
do not add mayonnaise if the salad is served the next day. Add dressing right before serving for freshness.