Never underestimate the power of simple ingredients that can turn into something very delicious. Creamy, tangy, and full of textures Olivieh salad is a great side dish or appetizer for any family gatherings and holidays.
Jump to:
🥗What is Olivieh potato salad
Olvieh salad is a potato salad made with boiled vegetables, pickles, hard-boiled eggs, meat (chicken, smoked ham, duck), and mayonnaise. Chef Lucien Olivier of Belgian origin created this potato salad for one of the famous Moscow restaurants in the 1860s.
Soon, it became a very popular recipe in a lot of post-soviet countries and a staple dish on New Year's Eve.
The exact original version has not been preserved, but according to a few sources, it included some gourmet ingredients such as beef tongue, capers, black olives, olive oil, crayfish, and even caviar. A lot of listed salad ingredients were not affordable or available for most populations of post soviet union countries.
That's why this recipe has been adapted to the current version by using more affordable substitutions. It became widely popular in a lot of countries. Due to its geographical location, even Persian cuisine adapted this salad and it became their traditional dish as well.
There are a lot of different recipes for this dish. Today, I offer you my version of this creamy potato salad that I grew up eating every New Year's Eve growing up in Ukraine. I still keep the tradition and make it once a year living here in the United States now.
🥦Is it nutritious?
Yes, this salad provides a load of dietary fiber, potassium, and Vitamins A and C. The vegetables are rich in antioxidants, while eggs and chicken are a great source of lean protein and healthy fats.
Always choose a good quality mayo (or make your own) and limit the amount of added salt.
📋Useful ingredients notes
Potatoes: I used Yukon gold potatoes. Any low starch, waxy potatoes will work: young white, yellow, or red potatoes are the best for this salad because they do not crumble or fall apart after cooking. Avoid very starchy potatoes such as Russet.
Carrots: pick large and thick carrots. It will be easier to cube them after boiling. I would avoid canned or frozen ones.
Eggs: some recipes suggest using quail eggs, but chicken eggs work just as great.
Chicken Breast: I usually use boiled chicken breast or boiled chicken thighs. Oven-baked chicken will work great too. Other times, we use ham, smoked meat, or even hot dogs.
Pickles: pickles give a crunch and a tangy tasty. Dill pickles are best for this salad. Avoid any sweet ones.
Canned Peas: I used no salt and added canned sweet peas. If you use ones with added salt avoid adding too much salt for seasoning. If in season, boil the fresh ones or even frozen ones.
Chopped Chives: green onions will work too. The traditional recipe requires adding red or yellow diced onion, but I find the flavor is too strong for me.
Fresh Parsley: other fresh herbs of your preference will make the dish even better. Try dill, sage, and cilantro.
Black Pepper and Salt: add by taste. Take into consideration the sodium in pickles and mayo. Each person can season their own plate by taste later.
Mayonnaise: full-fat or low-fat good quality mayo. I always prefer a full-fat one for a more creamy salad. You can add a Tablespoon of mustard as well.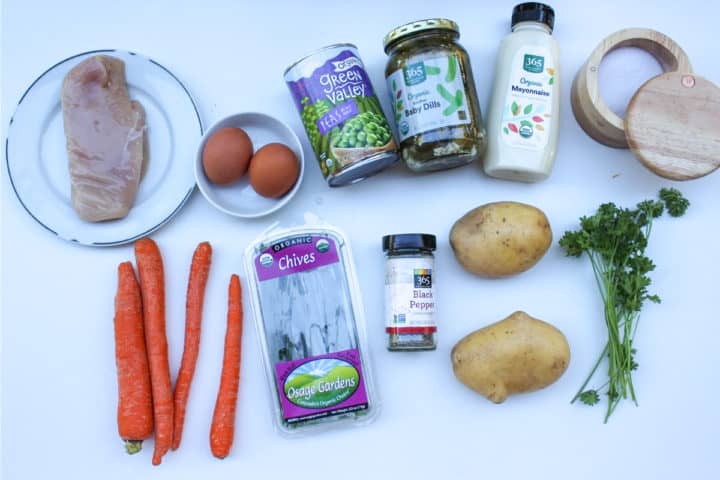 ⏲️Instructions
Wash and scrub potatoes and carrots before boiling. No need to peel. In a large saucepan, add potatoes and carrots. Fill with enough water to cover. Bring to boil, cover and simmer on lo-medium heat between 20-40 minutes. Check the carrots by piercing the thickest part with the fork and remove them from the pot once tender. Potatoes will need more time to be fully cooked (about 40 minutes). Remove the veggies from the water and set them aside to cool down.
In a medium pot, add chicken breast and about ½ teaspoon of salt (optional). Boil for about 15-19 minutes or until fully cooked and internal temperature reaches 165°F. Once cooked, remove from water and set aside covered (to prevent drying).
In a small pot, add eggs, and water and boil them for about 10 minutes. The eggs must be hard-boiled to be cut into cubes. I always add one more minute of cook time, just in case. Transfer eggs to a bowl with cold water after they are cooked to cool down.
Now, peel potatoes, carrots, and eggs. Dice all the ingredients into cubes (about half an inch). Drain canned green peas. Chop parsley and chives. In a big bowl or a container, add all the ingredients. Sprinkle your salad with a little bit of salt and black pepper. Add mayo and mix everything carefully with a wooden spoon without breaking the vegetables. Serve right away or better chill in the fridge for a couple of hours.
🔪Recipe shortcuts
use a store-bought shredded chicken or the leftover rotisserie chicken.
get a bag of frozen diced peas and carrots, and cook them according to the package instructions to use in this recipe.
boil potatoes in your instant pot - faster and always perfect whole-boiled potatoes.
♨️Recipe tips
Avoid starchy potatoes such as Russet.
Dice all ingredients into even small cubes.
If you are making it ahead (for the next day's party), store chopped ingredients in the fridge without the dressing. Add mayo right before serving for a fresher taste.
Chill for a couple of hours before serving.
Avoid any sweet pickles. Kosher Dill or crunchy cornichons are the best ones to use.
In summer, along with the pickled cucumbers, add a fresh one as well.
To make it vegetarian, skip the meat and add an extra hard-boiled egg.
🍴Serving tips
Holiday appetizer salad: Olivieh is a great holiday dish when served with fresh french baguette or some artisan crackers. Great for birthday parties, New Year's Eve, Labor day, and other holidays.
Potato salad: whenever you need to make a potato salad for a potluck or a barbecue, try this unique recipe.
Sandwich: it makes a great lunch sandwich, but adding some between toasted and sliced bread. You can also add some lettuce and cheese in there.
🌡️Storing
Refrigeration: transfer the salad leftovers to an airtight container and store them in the fridge for up to 3 days.
🍲Other Ukrainian recipes to try
📖 Recipe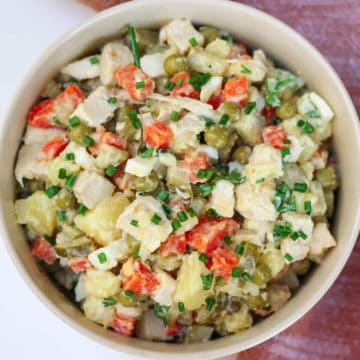 Olivieh salad
Never underestimate the power of simple ingredients that can turn into something very delicious. Creamy, tangy, and full of textures Olivieh salad is a great side dish or appetizer for any family gatherings and holidays. 
Equipment
3 large, medium and small pots

1 Large Mixing Bowl

1 cutting board
Ingredients
2

large potatoes

1

chicken breast

3

medium carrots

2

eggs

3-4

medium pickles

1

cup

canned peas

drained

1

tablespoon

chopped fresh chives

1

tablespoon

chopped fresh parsley

1

pinch

salt

add more by taste

1

pinch

black pepper

add more by taste

6

Tablespoons

mayonnaise

or more by taste
Instructions
In a 3 separate pots, boil carrots with potatoes ( until tender, 20-40 min), chicken breasts (15-19 min) and eggs (10 min). Remove the ingredients from water and let them cool down.

Peel the vegetables and eggs. Cube potatoes, chicken breast, carrots, eggs and pickles (about half an inch cubes). Add them to the large bowl. Add drained peas, chopped chives and parsley, little bit of salt and pepper.

Dress the salad with mayo, gently mix everything with a large spoon. Chill for the best results in the fridge. Enjoy!
Notes
do not add much salt and pepper. Seasoning can be adjusted when serving individually.
let vegetables cool down before peeling and cutting them.
do not add mayonnaise if the salad is served the next day. Mix it in right before serving for freshness.
you can use roasted chicken, ham or even beef hot dog franks.
nutritional facts are for information purposes only, and not to be considered medical advice.
Nutrition
Calories:
209
kcal
Carbohydrates:
11
g
Protein:
12.5
g
Fat:
13.5
g
Sodium:
285
mg
Fiber:
3
g
Sugar:
2
g