These Ukrainain syrnyky pancakes are made with rich farmer cheese (tvorog), delicate egg yolk, flour, and a hint of sugar. Enjoy them with sour cream, Greek yogurt, fruits, or jams.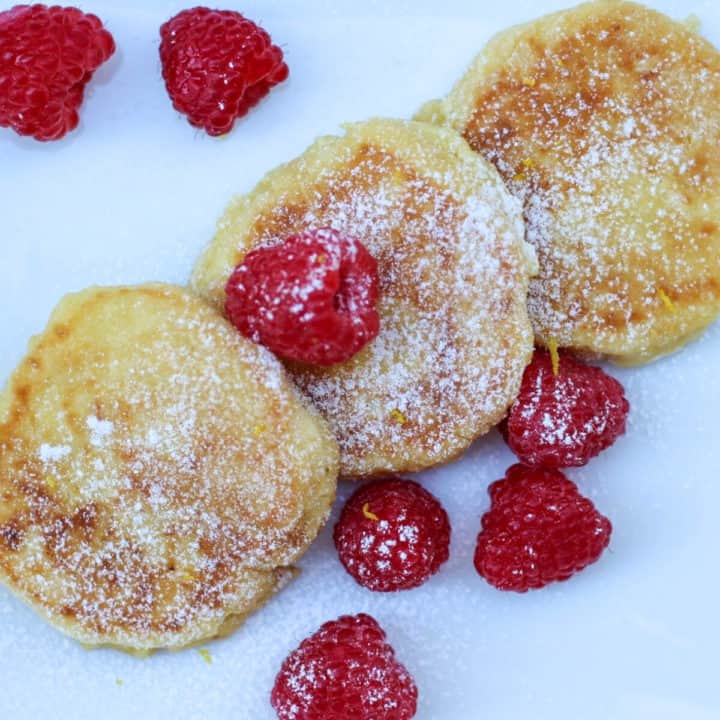 If you are familiar with Ukrainian cuisine, more than likely, you have tried these amazing farmer cheese (tvorog) pancakes. If not, I guarantee that you and your family will love these syrnyky (syrniki) recipe.
In cold winter months, enjoy it with some hot tea or Ukrainian uzvar drink.
You may also like our Ukrainian savory potato pancakes.
Jump to:
What is syrnyky
Syrnyky are fluffy, sweet pancakes made from farmer cheese (tvorog). These pancakes are popular in Ukraine, Latvia, and other Eastern European countries.
When making these pamcakes in the US, the key to success is to find a good tvorog (farmer cheese).
Some people make syrnyky with quark or ricotta cheese, but they do not turn out quite the same.
Tvorog is a type of cheese that is popular in Eastern Europe and Central Asia. It is something in between cottage cheese and ricotta.
Trovog has a dense texture and fine crumbs compared to cottage cheese, and it is not salty, but rather tangy.
You can find tvorog in any local Eastern European store. Whole foods or Sprouts sells it under the name Farmers cheese.
General information about the recipe
Other names and spellings: Sirniki, syrniki, Tvorozhniki, tvorog pancakes, farmer cheese pancakes.
Main Ingredient: Tvorog - European style farmers cheese 
Course: Breakfast, dessert
Difficulty level: Medium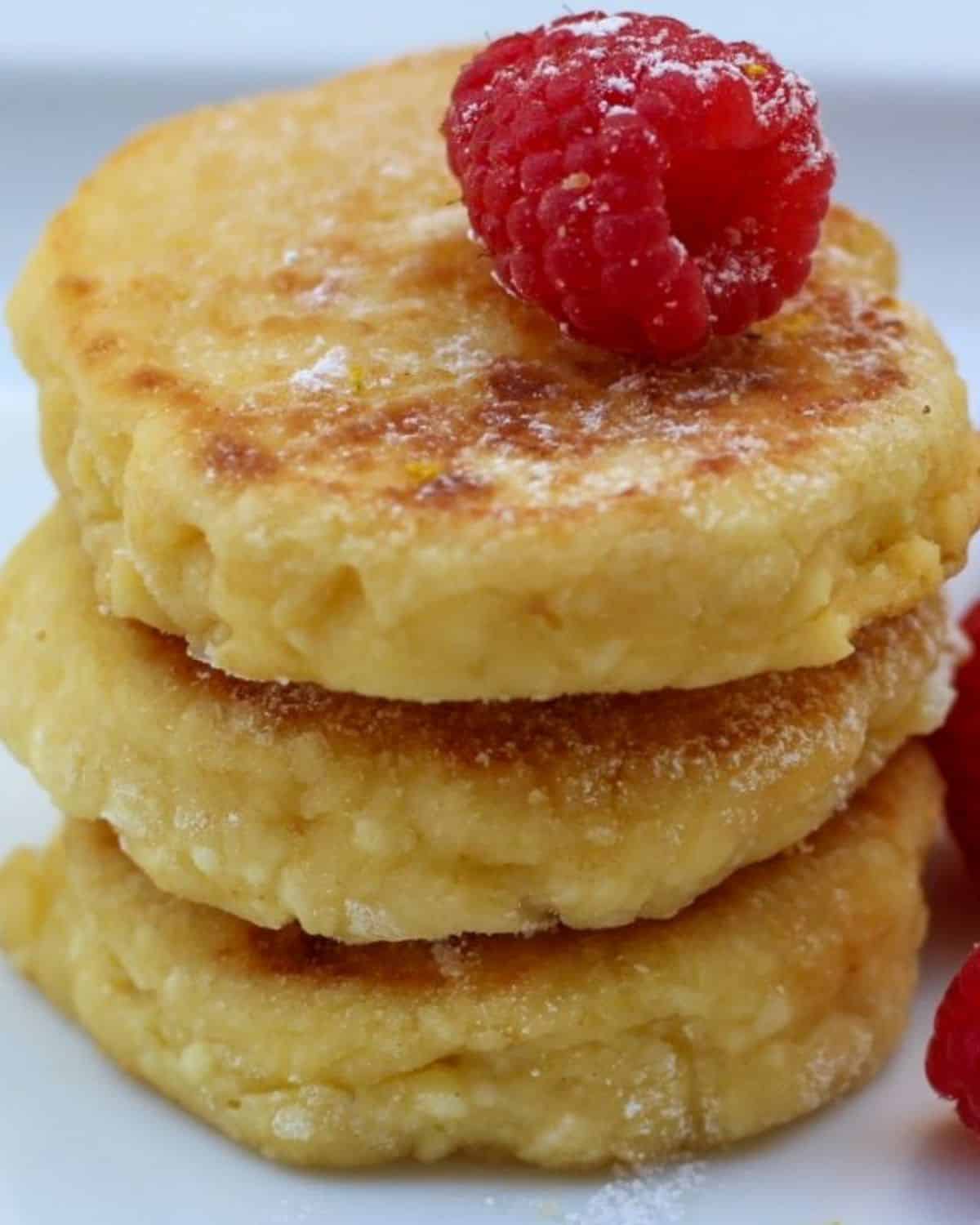 Why you will love the recipe
It's something new and different you can put on a breakfast plate for your family.
Very easy to make and affordable.
These pancakes are high in protein and calcium. Add some berries for extra vitamins, and you have a balanced meal.
Not high in sugar, but sweet enough not to require syrup for serving. They go better with sour cream, Greek yogurt, and berries.
Ingredients
You can find excact quantities in the recipe card below.
Farmer Cheese (tvorog): this is the main ingredient of these pancakes. Tvorog is similar to cottage cheese, but due to its low moisture content, it is more dry and is better for baking and cooking.
Wheat Flour: I used regular white wheat flour. You will need some kind of flour to create a firmer texture and crust for the pancakes.
Sugar: little sugar is needed to add sweetness.
Salt: just a little bit of salt is always added for taste. You may need more or less flour depending on the brand of tvorog, size of the yolk, and how you measure ingredients.
Egg Yolk: just egg yolk is perfect for helping the pancakes to keep their shape. Adding the whole egg will increase moisture content and you will need to add more flour, which will make your pancakes less cheese (not recommended, since cheese should remain dominant in this recipe)
Vanilla Extract: just a little bit of vanilla is optional but it goes very well with these pancakes.
Butter: I always use butter for frying pancakes. You can use other neutral oil instead.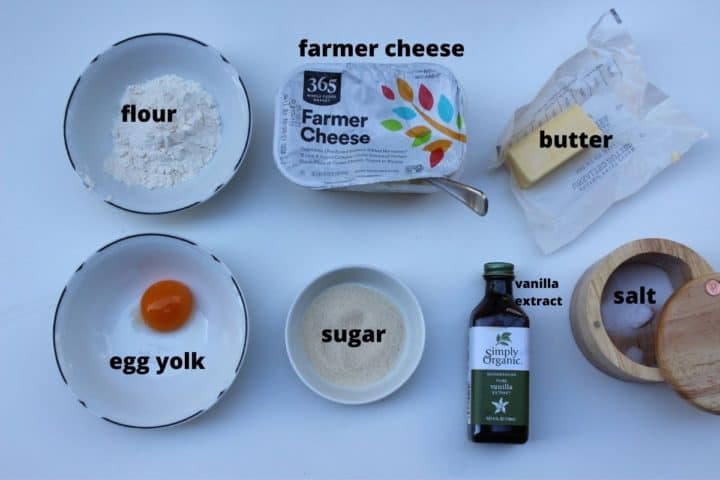 How to make Ukrainian syrnyky pancakes
Preheat oven to 400 F degrees. Line a baking dish with a sheet of parchment paper. In a large mixing bowl, add farmer cheese, flour, salt, egg yolk, and vanilla. Mix everything with the fork just to combine the ingredients. Do not over-mix it.
Spread 2 Tablespoons of flour on a table or cutting board. Cover your hands with some extra flour as well. Using floured hands, form a burrito from the cheese mix and coat well with the flour. The dough will be quite sticky and soft. You will need little to no pressure to form the roll. If the dough is very sticky and you cannot form a roll at all, add 1 Tablespoon of flour.
Cut the burrito into 6-7 parts.
Lay them on the flat side, dredge them with flour and flatten (just a little bit), flip on the other side, and repeat. Do not flatten the pancakes much, keep them tall and thick about one inch tall (not like regular pancakes). You will need flour on each side of the pancake to create a golden crust.
Preheat the nonstick frying pan on medium heat, add butter. Once the butter is hot (not burning). Place pancakes on the pan, fry on each side for about 1-2 minutes until golden brown.
Transfer the pancakes on prepared earlier pan and bake for 7-8 minutes. Serve immediately!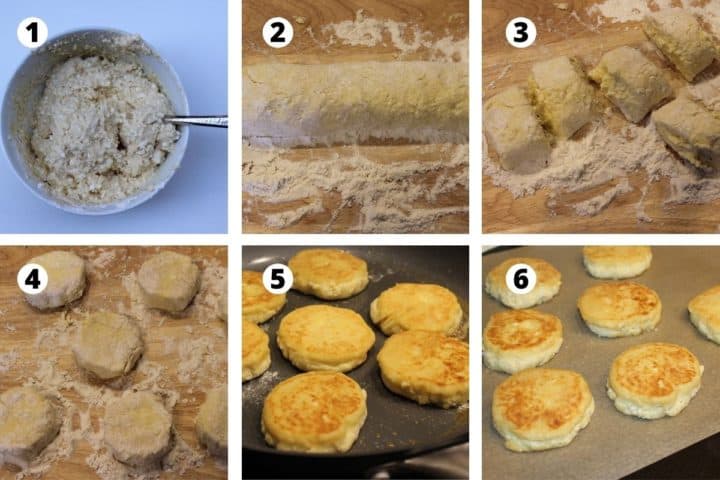 Storing and reheating
These cheese pancakes are best when served right away, but you can safely store syrnyky in an airtight container for up to 3 days in the fridge.
Reheat them in a microwave for 30 seconds, flipping them halfway.
You can also freeze them for up to 3 months.
Serving suggestions
Place 3 pancakes on a nice plate, sprinkle with some powdered sugar (optional). Add a dollop of sour cream (recommended) or plain yogurt on a side, jam and any berries you got.
Try dipping syrnyky in sour cream, so tasty!
In cold winter months, enjoy it with some hot tea, coffee or Ukrainian uzvar drink. In you can serve it with refreshing Kompot drink.
Variations and substitutions
make them gluten free by using any gluten free flour. Rice flour will work best here.
make them keto friendly by using any keto sweetener and almond flour.
add a handful of raising to the dough. Raising will add sweetness and texture.
if you cannot find farmers cheese, use quark or ricotta cheese instead. But in this case, you may need to adjust the amount of flour.
Equipment
large mixing bowl
cutting board or any flat surface
non stick frying pan
baking pan
Frequently asked questions
Are syrnyky healthy?
These pancakes can be a balanced meal when served with fruits and yogurt. They are high in protein and calcium, low in sodium and lactose.
Where to buy farmer cheese?
For this particular recipe I used farmer cheese from Whole Foods. It was 365 brand and can be found next to ricotta cheese in the refrigerated section.
Sprouts grocery store carries Lifeway brand farmer cheese, which is very similar to 365 one.
What is farmer cheese substitute?
The best farmer cheese substitute is ricotta cheese.
Other sweet breakfast recipes you may like
📖 Recipe
Syrnyky (Ukrainian farmer cheese pancakes)
Moderately sweet, high protein syrnyky pancakes are one of my favorite breakfast recipes. Traditionally served with sour cream, jam, or berries, these delicious pancakes are made with farmers' cheese, egg yolk, flour, and a little bit of sugar.
Equipment
1 mixing bowl

1 cutting board

1 non stick frying pan

measuring spoons
Ingredients
16

oz (one container)

farmer cheese

6

Tablespoons

white flour (2 for the coating)

or more if needed

2

Tablespoons

sugar

1

pinch

salt

1

egg yolk

½

teaspoon

vanilla extract

1

Tablespoon

butter

for frying
Instructions
Preheat oven to 400°F. Line a pan with parchment paper.

In a large mixing bowl, add measured farmer cheese, sugar, 4 Tablespoons of flour, salt, egg yolk and vanilla extract. Mix everything with the fork until well combined.

Sprinkle 2 tablespoons of flour on a cutting board, or a table. Flour your hands well and form the roll resembling a large burrito. Place the roll on a cutting board and coat it with the flour. Cut the roll into 6-7 thick pieces. Lay them on a flat side, flatten little bit with hands and dredge with flour. Flip and repeat. Leave syrnyky at least 1 inch thick.

Preheat pan over medium heat, add butter. When butter is hot, lay pancakes carefully and fry for about 1-2 minutes on each side until golden brown crust appeared.

Transfer syrnyky on a prepared pan and bake for 7-8 minutes. Serve hot with a dollop of sour cream, jam or berries.
Notes
if syrnyky start falling apart when frying, add more flour.
the dough will be sticky and very soft. It will be tempting to add more flour. But if you are able to from a roll on a table (you will not need too much pressure, because the dough will be super soft), no need to add more flour.
make sure to coat each pancake with flour well.
Nutrition
Calories:
289
kcal
Carbohydrates:
25.4
g
Protein:
18.9
g
Fat:
13.2
g
Sodium:
49.6
mg
Sugar:
9.3
g