Pink beet pancakes are sweet, fluffy, and nutritious. These easy pancakes are made in a blender with only simple and healthy ingredients. They are also gluten-free, egg-free, and can be made vegan.
Jump to:
About pink beet pancakes
My son loves pancakes for breakfast and we often make different ones. This time, I had already cooked beet in the fridge after making the beetroot risotto the night before.
So I decided to make the popular blender pancakes with added beets by adjusting a few ingredients.
These pink pancakes are not only a fun breakfast idea but are great for special occasions like Valentine's Day, Mother's Day, or Birthdays.
Beets are magical veggies that are full of nutrients. Beets are full of antioxidants, great for your heart, and are high in fiber.
And do not worry that the pancakes will taste too earthy, because I add only one small cooked beet or ½ if it is a medium size and you cannot even tell that the vegetable has been added to this sweet breakfast.
Another advantage of incorporating beets into the pancake batter is a beautiful pink color without adding artificial color, which I avoid in my kitchen.
If you are not sure about beets or you have picky eaters, add only ¼ of the beetroot for the start and see if they like it (I am sure they will).
I have experimented with this recipe with eggs and omitting them, and I've found that both variations have great results.
If you are looking to add some extra protein content and achieve a slightly lighter texture, you can easily incorporate one egg into the batter.
On the other hand, if you avoid eggs, I can assure you that this recipe works just as well without them.
Ingredients
You can find the ingredients quantities in the recipe card at the end of this post.
rolled oats - I used old-fashioned rolled oats. If you are gluten sensitive, make sure the oats are gluten-free certified.
cooked beet - You can boil whole beetroots for about 40 minutes until tender or use your instant pot to cook them even faster. You can even freeze cooked beets to have them on hand at any time. (not sure how to cook beets - follow this simple guide how to boil the beets)
banana - you will need a ripe medium banana. It adds sweetness and will keep the pancakes together as I did not use any eggs.
milk - I used 2% dairy milk. Make it vegan by substituting it with any plant-based milk option.
vanilla extract - you can also use almond extract instead.
sugar - I added a bit of cane sure. You can also use coconut sugar or agave syrup instead.
baking powder - to make pancakes fluffy.
pinch salt - to balance the sweet taste and enhance the flavors.
oil for frying - any neutral oil with a high smoke point. I used avocado cooking oil spray.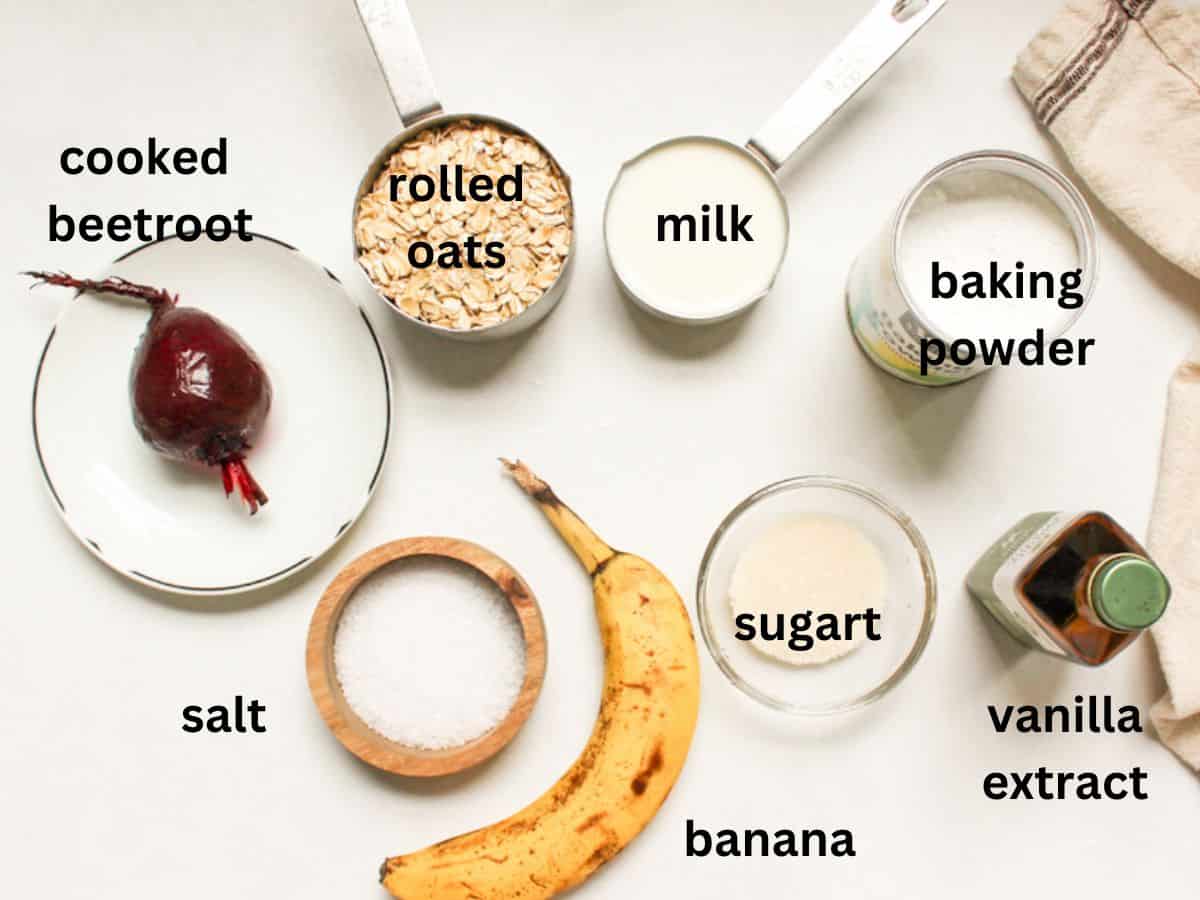 Step-by-step directions
1) In a blender or a food processor, add peeled cooked beet cut into chunks, oats, banana, milk, vanilla extract, sugar, and salt. Blend on high for about 1 minute or until smooth.
​2) Once all the ingredients are blended, add baking powder and briefly blend it again to combine. You do not want to over-mix the pancake batter at this stage.
3) Pour the batter into the bowl ( so you do not have to scrape the blender blades with a metal spoon) and let it rest for about 10 minutes.
4) Meanwhile, preheat the non-stick skillet over medium heat. Grease it lightly with neutral oil. Use a spoon to scoop the batter and pour it onto the preheated skillet to form the pancakes. Add 3-4 more depending on the size of your skillet. But do not overcrowd it as it will be hard to flip.
5) Cook the pancakes over medium-low heat for about 1-2 minutes. Once you see that edges settle, flip them with the spatula and cook for another minute or until fully cooked. Repeat the process with the remaining batter.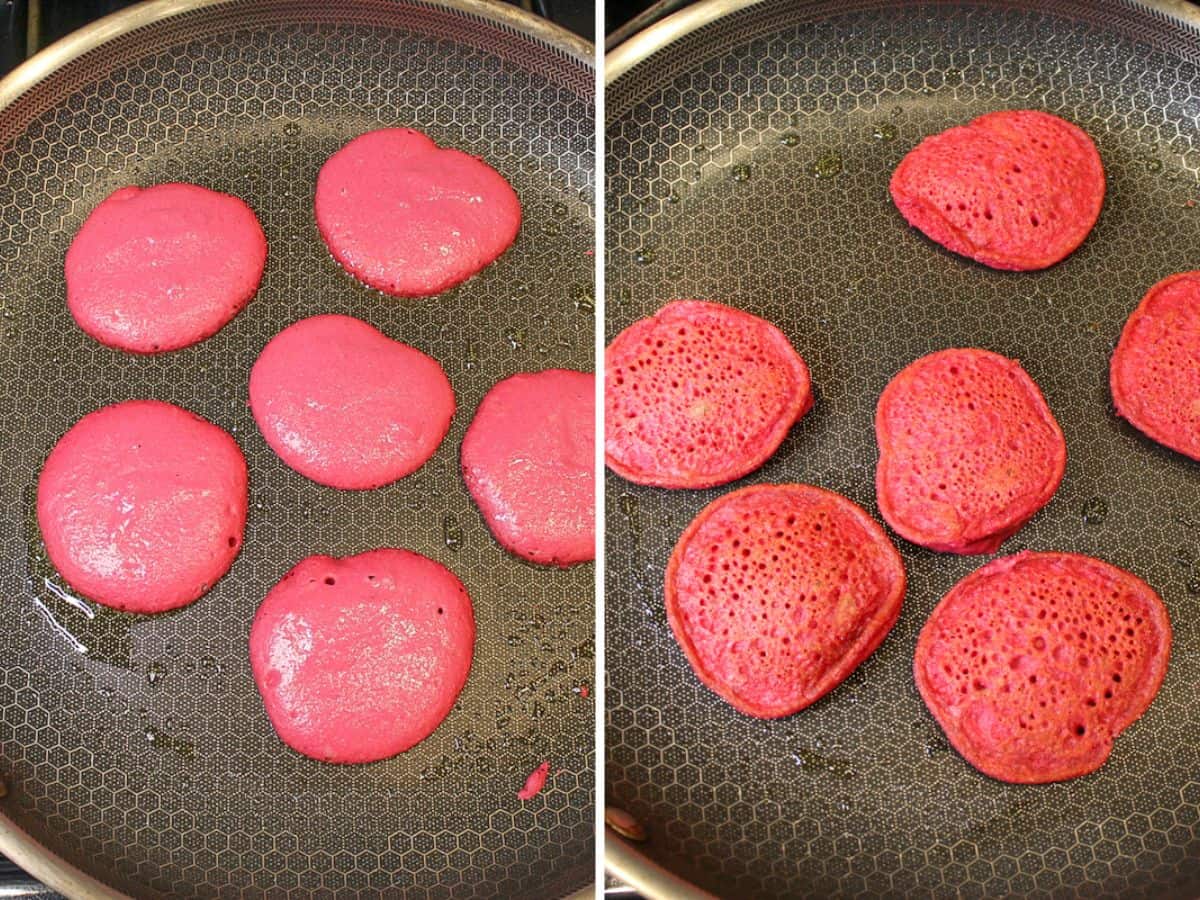 Expert tips
Add the baking soda after already blending the rest of the ingredients ensuring you will not over-blend the batter.
Let the batter rest for about 10 minutes, so the oats have time to absorb the liquid for better consistency.
Keep the pancakes warm while you cook the rest of them. Simply arrange them in a single layer on a baking pan lined with parchment paper and place them in preheated to 200°F oven.
You can make them smaller or bigger, but I prefer them as mini pancakes by measuring the size using a spoon.
Use a heart-shaped pancake/egg mold to make the heart shape Valentine's Day pancakes.
Optional toppings
Here are some delicious pancakes toppings to try:
Maple syrup or honey
Fresh fruit and berries
Whipped cream
Greek yogurt or coconut yogurt
Nuts and seeds
Jam or Jelly
Optional add-ons
I like mixing additional ingredients into the pancakes batter to add some flavor, textures, and extra nutrients:
Chocolate chips
Hemp seeds
Protein powder
Coconut flakes
Spices, such as cinnamon or nutmeg
How to store
Store beetroot pancakes like you would store any other leftover pancakes.
Refrigerate: ​once cooled, transfer them into an airtight container and store them in the fridge for about 2-3 days.
Freeze them (for longer storage): place cooled pancakes in a single layer on a baking sheet lined with parchment paper. Place the baking sheet with pancakes in the freezer and let them freeze for about 1 hour until solid. Once frozen, transfer them into a freezer bag. Mark the bag with the content and the date. They will stay fresh for a few months in the freezer.
How to reheat: you can reheat refrigerated or frozen pancakes in the toaster, oven, or microwave.
Other colorful recipes with beets
More pancake recipes
Frequently asked questions
Can I used canned beets?
You can use canned beets, but I do not recommend them. Canned beets have excess moisture and can make the batter too liquid. They will not give as vibrant color as the fresh beets.
How to make beet pancakes vegan?
Simply use any plant milk instead of regular milk to make them vegan.
How to cook beets for this recipe?
Boil whole beets in a pot filled with water for about 30-40 minutes or until tender. You can also cook them in a pressure cooker.
📖 Recipe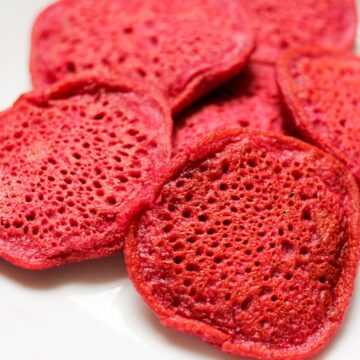 Pink Beet Pancakes (Gluten-Free, Egg-free)
Pink beet pancakes are sweet, fluffy, and nutritious. These easy pancakes are made in a blender with only simple and healthy ingredients. They are also gluten-free, egg-free, and can be made vegan. 
Equipment
1 Blender

1 non stick frying pan

1 spatula
Ingredients
1

cup

gluten-free rolled oats

1

small cooked beet, cut into chunks

1

ripe banana

½

cup

milk, dairy or plant-based

½

teaspoon

vanilla extract

2

teaspoons

sugar

1

teaspoon

baking powder

1

pinch

salt

oil for frying
Instructions
In a blender, add

1 cup gluten-free rolled oats

, 1 small cooked beet, cut into chunks,

1 ripe banana

,

½ cup milk, dairy or plant-based

,

½ teaspoon vanilla extract

,

2 teaspoons sugar

,

1 pinch salt

. Process for about 1 minute or until smooth.

Now add

1 teaspoon baking powder

and briefly pulse for 10 second just to combine. Do not over mix at this stage.

I like to pour the batter into a bowl (so you do not have to worry about scraping it off the blender when frying) and let it rest for about 10 minutes.

Heat a non-stick skillet or a griddle over medium heat. Lightly grease it with oil or cooking spray.

Pour a spoonful of batter onto a hot skillet to form each pancake. You can make them smaller or bigger.

Cook pancakes for about 2-3 minutes or until the edges set. Carefully flip them with a spatula and cook for another minute.

Repeat the process with the rest of the batter. You can keep cooked pancakes warm by placing them in a warm oven preheated to 200°F. Serve with honey, syrup, fruits or yogurt.
Notes
Oats: for gluten-free pancakes, ensure that the oats a reglet-free certified. Milk: make it vegan by using coconut, almond or other pant-based milk. Protein: you can add one egg for extra protein or ½ scoop of any protein powder. All nutrition facts are only estimate and should be used for information purposes only.
Nutrition
Calories:
188
kcal
Carbohydrates:
36.4
g
Protein:
6
g
Fat:
2.7
g
Cholesterol:
3.3
mg
Sodium:
76.3
mg
Fiber:
5.1
g
Sugar:
12.9
g