Turkish beet salad with yogurt is a popular appetizer and a side dish in Turkish cuisine that is also famous all over the world. It combines the earthiness and sweetness of boiled beets with creamy yogurt, walnuts, lemon garlic, and fragrant herbs. I like serving it as a salad, spread, or dip.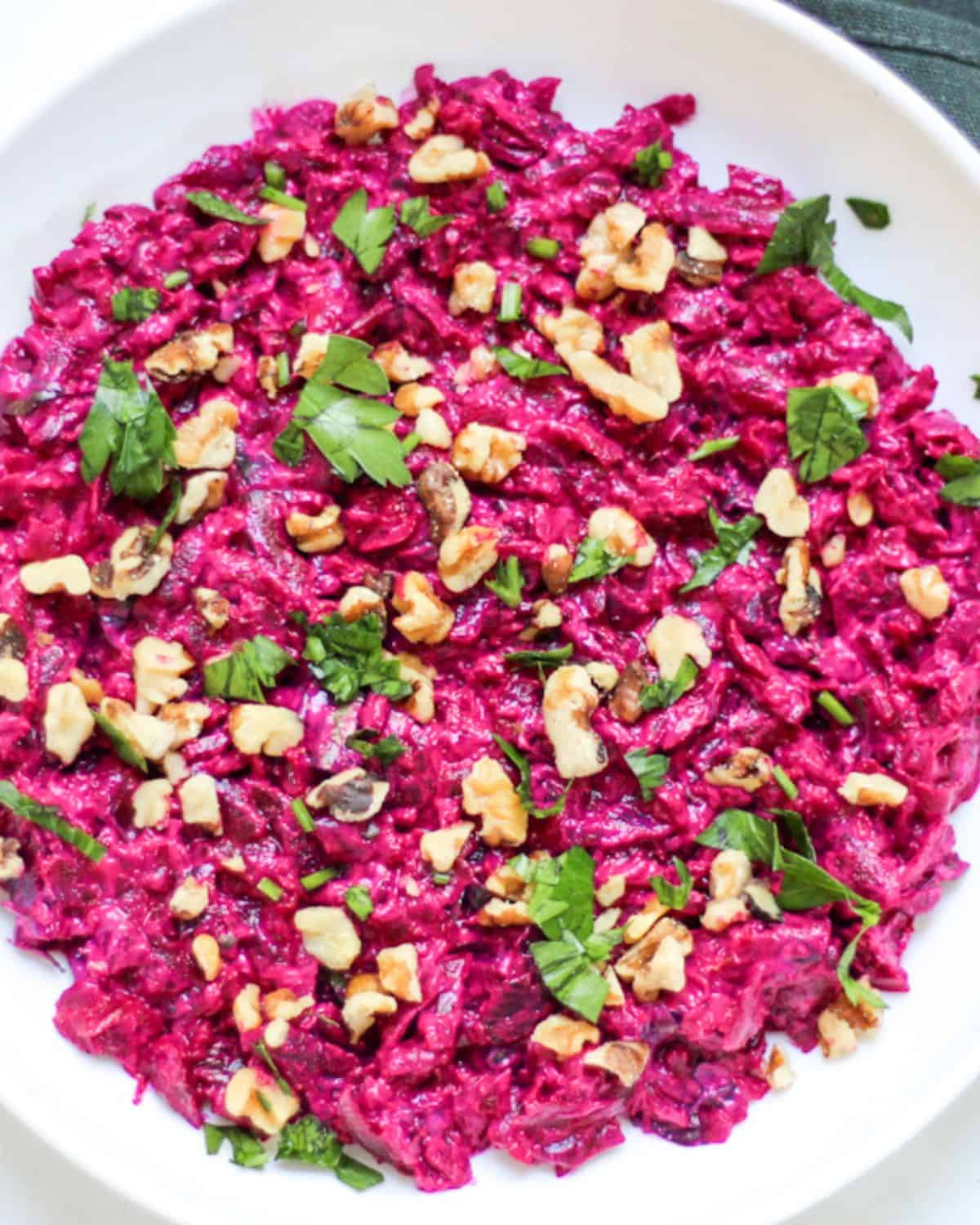 Jump to:
About the recipe
When I first tried Pancar Salatasi in a Turkish restaurant, it was served as a small side dish alongside my main course, which was lamb chops. Immediately, it reminded me of my home country Ukraine, because we also make a similar shredded beet salad only with mayo instead of yogurt.
I love how Turkish beets salad is made with yogurt and lemon juice making it lighter and a little sour to balance the sweet beets. This small side salad adds a nice color and textures to enjoy with your meat or other main course.
General recipe information:
Other names and spellings: yoğurtlu pancar salatası, Pancar Salatasi
Cuisine: Turkish
Key ingredient: beets
Course: appetizer, side dish
Difficulty level: easy
You may also see some variations of this salad made with different herbs, nuts, sumac, and pomegranate molasses. I usually make my version of this salad with the ingredients I found easily accessible in the US.
Initially, I made the small bowl of this salad without fresh mint. And it was for sure delicious. The salad had many textures and flavors. The beets' natural sweetness paired wonderfully with the fresh lemon juice, parsley, and a hint of fresh garlic. Toasted walnuts on top added a layer of crunchiness and nutty taste.
However, I knew it was missing something, until I decided to add fresh mint to the dish. And just a little bit of finely chopped fresh mint leaves made it perfect.
The herb added more freshness and complicity to the already delicious salad. So if you have some mint on hand, I do recommend adding some to the dish.
This final recipe is adapted to reflect my personal preferences and ingredients availability. I hope you like it too. And if you have any of your own variations, please share them as well.
If you have your own unique variations, I would be happy if you share them in comments.
Ingredients and substitutions
Below is the list of recommended ingredients for this recipe. You can find the quantities in the recipe card at the end of this post.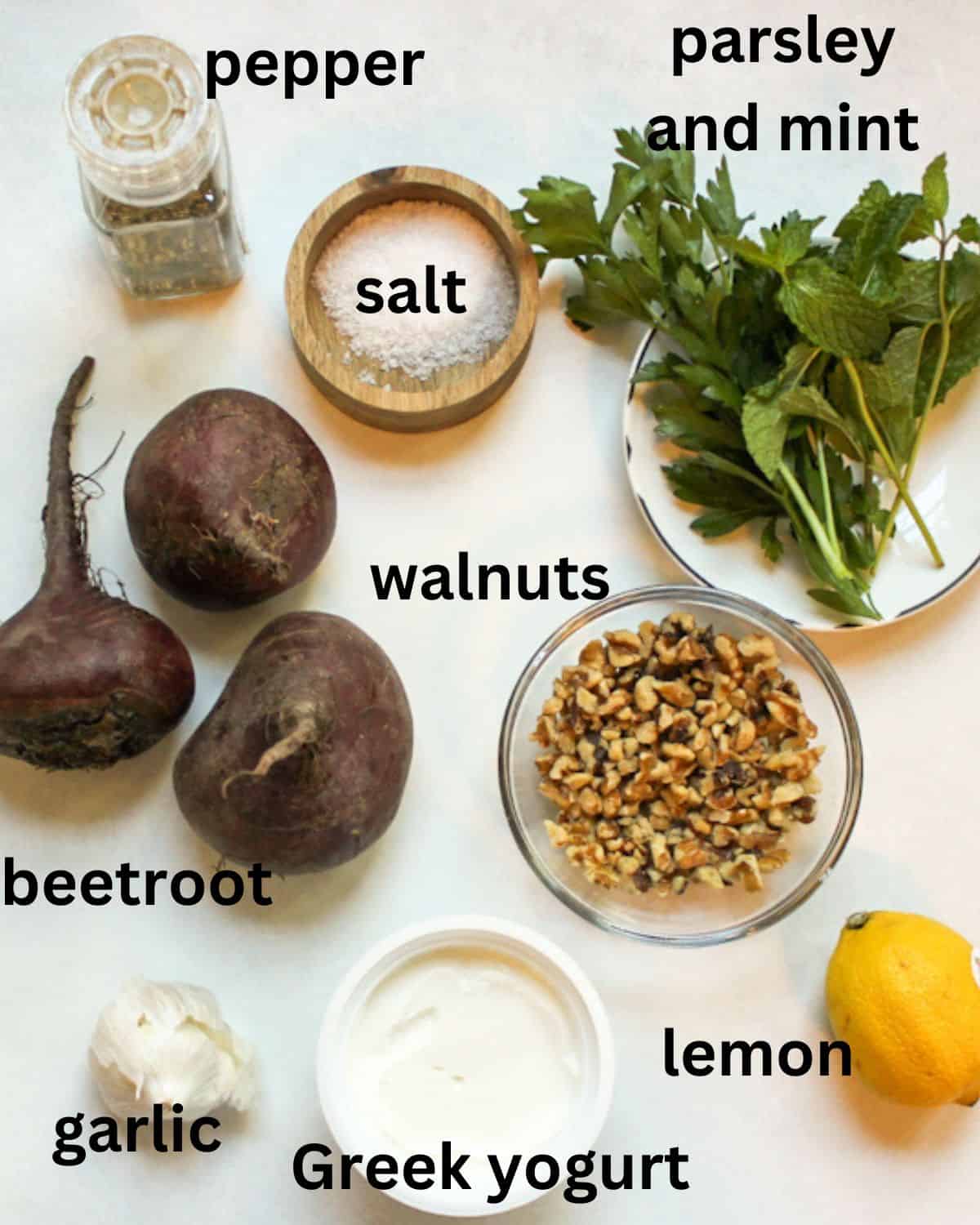 Beets: Choose small or medium beets if you love the sweet taste of beets. If you prefer earthy, large ones are great for a less sweet taste. I think sweet beets taste better in this salad when combined with the rest of the ingredients.
Plain Turkish yogurt or Greek yogurt: It is easier for me to find Greek yogurt, so I use it most of the time to make the recipe. They have similar tastes. Turkish or Greek, I only recommend choosing the full-fat one for this recipe for richness and creaminess.
Toasted walnut pieces: add a layer of flavor and texture to the salad. Instead of walnuts, you can use pecans or even pine nuts.
Garlic: one or two garlic cloves for a mild but noticeable pungency.
Lemon: use freshly squeezed lemon juice. It provides citrusy freshness to the salad.
Fresh herbs: I used fresh parsley and fresh mint. They add a burst of fresh and bright taste. If you like dill, it can also be a great herb to add.
Salt: add enough to balance the sweet taste of beets or to taste.
How to make Pancar Salatasi
Once you gathered all the ingredients, follow out easy step-by-step directions below or you can use a printable recipe card at the end of this post.
1) Boil the beets. Add the beets to the pot and fill it with water. Boil them over low-medium for about 30-45 minutes or until tender in the middle. You can also cook the beets in the instant pot, which takes a little less time.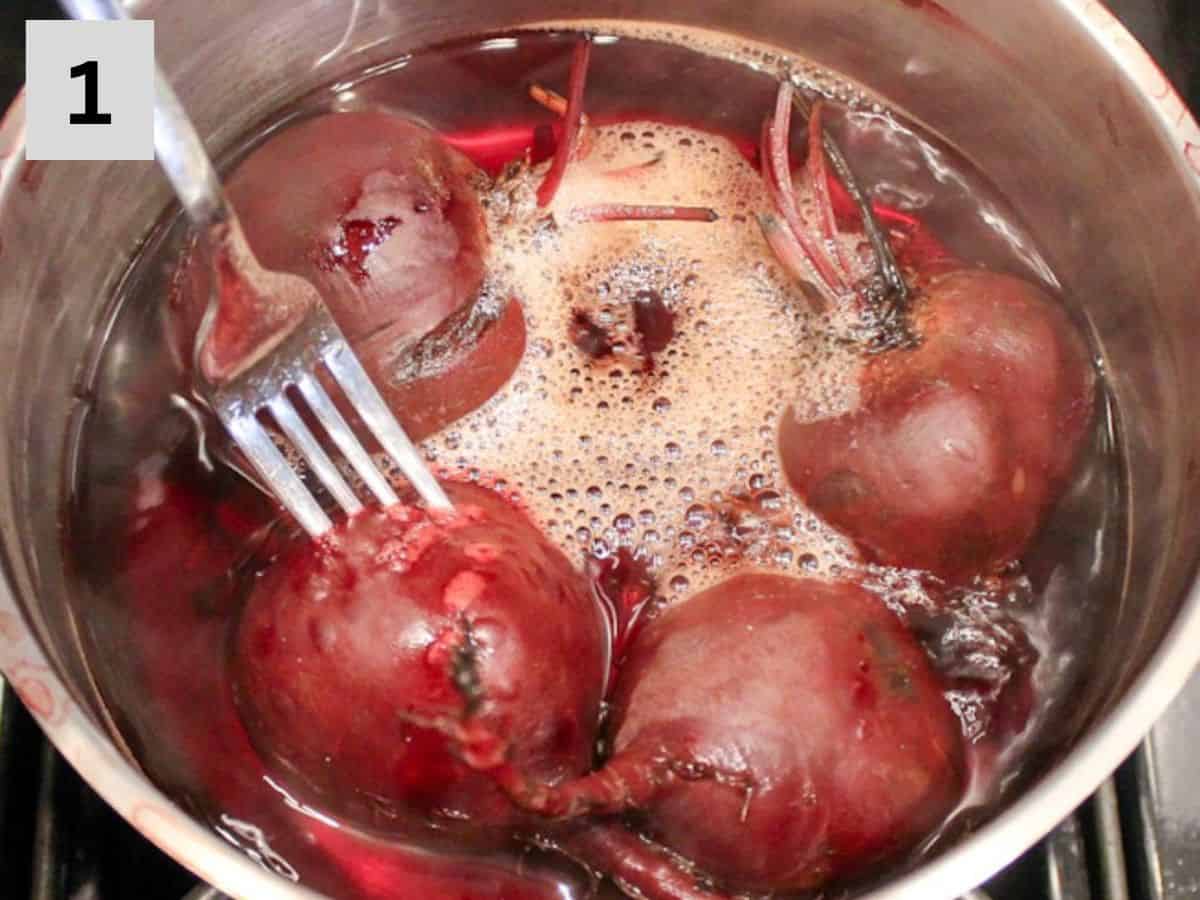 2) Grate the beets. You can grate them cold or when still warm (they will cool down fast once grated). Peel the beets and grate them into a large bowl or shallow dish using a coarse side of the box grater.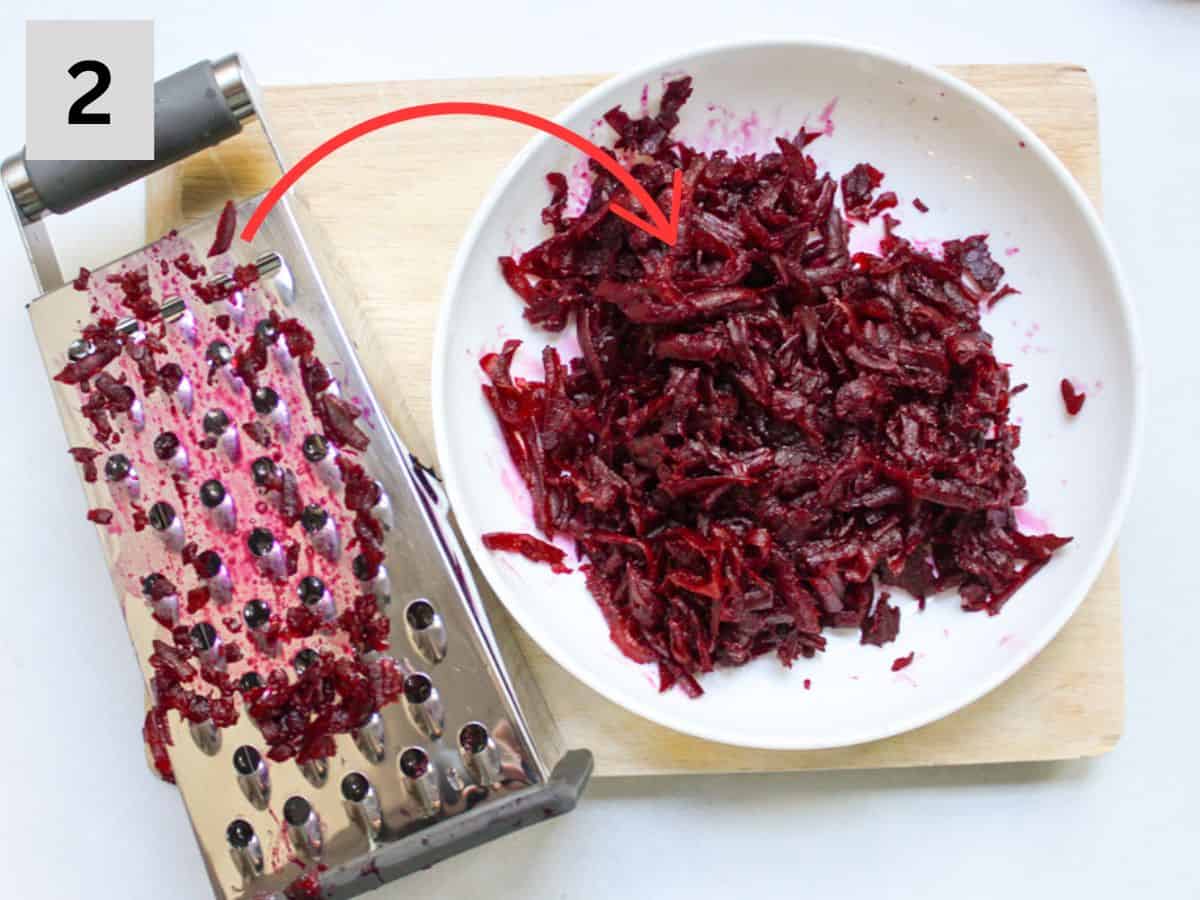 3) Add garlic, lemon juice, salt and herbs. Rinse parsley and mint. Remove the mint leaves from stems, because they are too fibrous to add to the salad. Chop the herbs finely with the knife. Grate the garlic cloves using a cheese grater or mince them with a knife. Squeeze about 1 tablespoon of lemon juice and add it to the grated beets. Now, add chopped herbs, minced garlic, salt and pepper. Mix it well to combine the ingredients.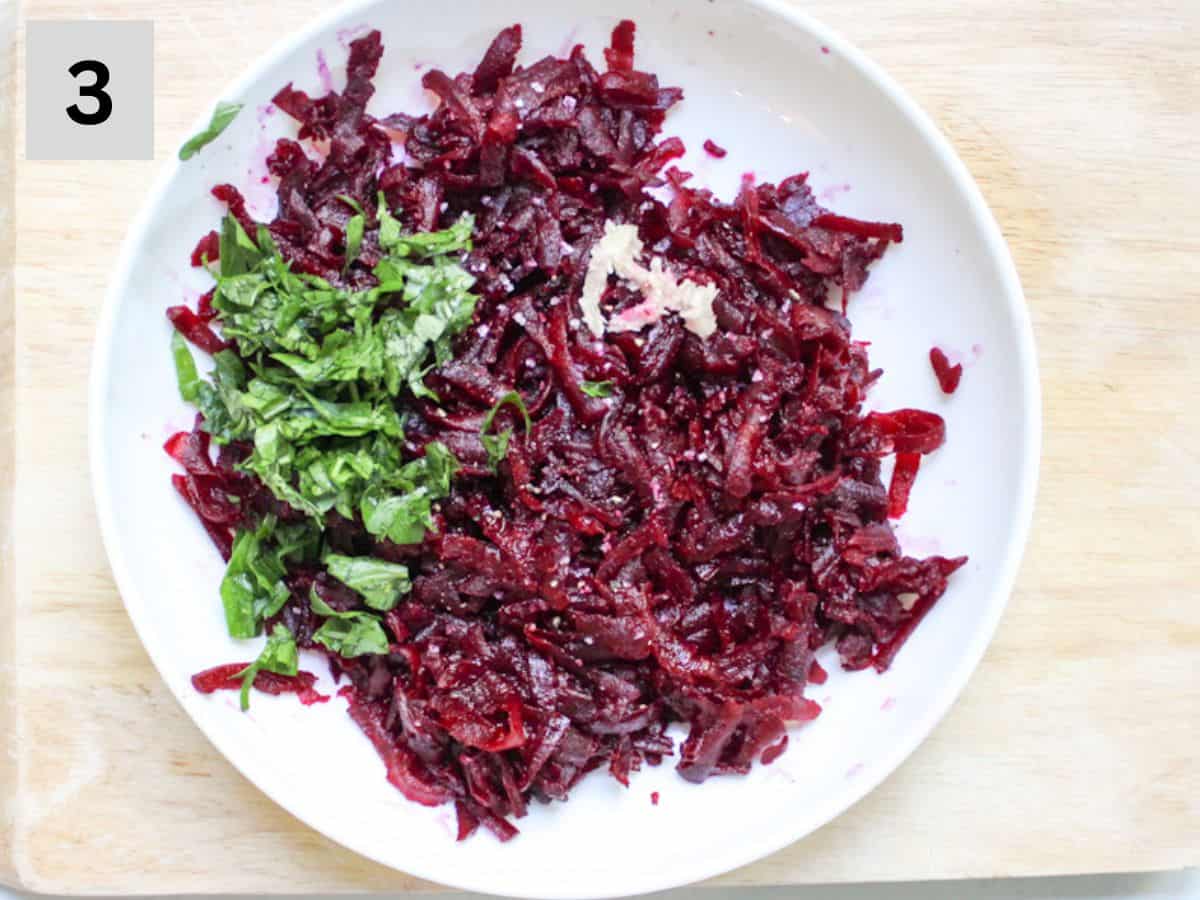 4) Mix in yogurt and top with walnuts. Now, you can stir in the cold yogurt. Mix the salad with a fork until creamy and the yogurt is evenly distributed. Taste the salad and add more salt if needed.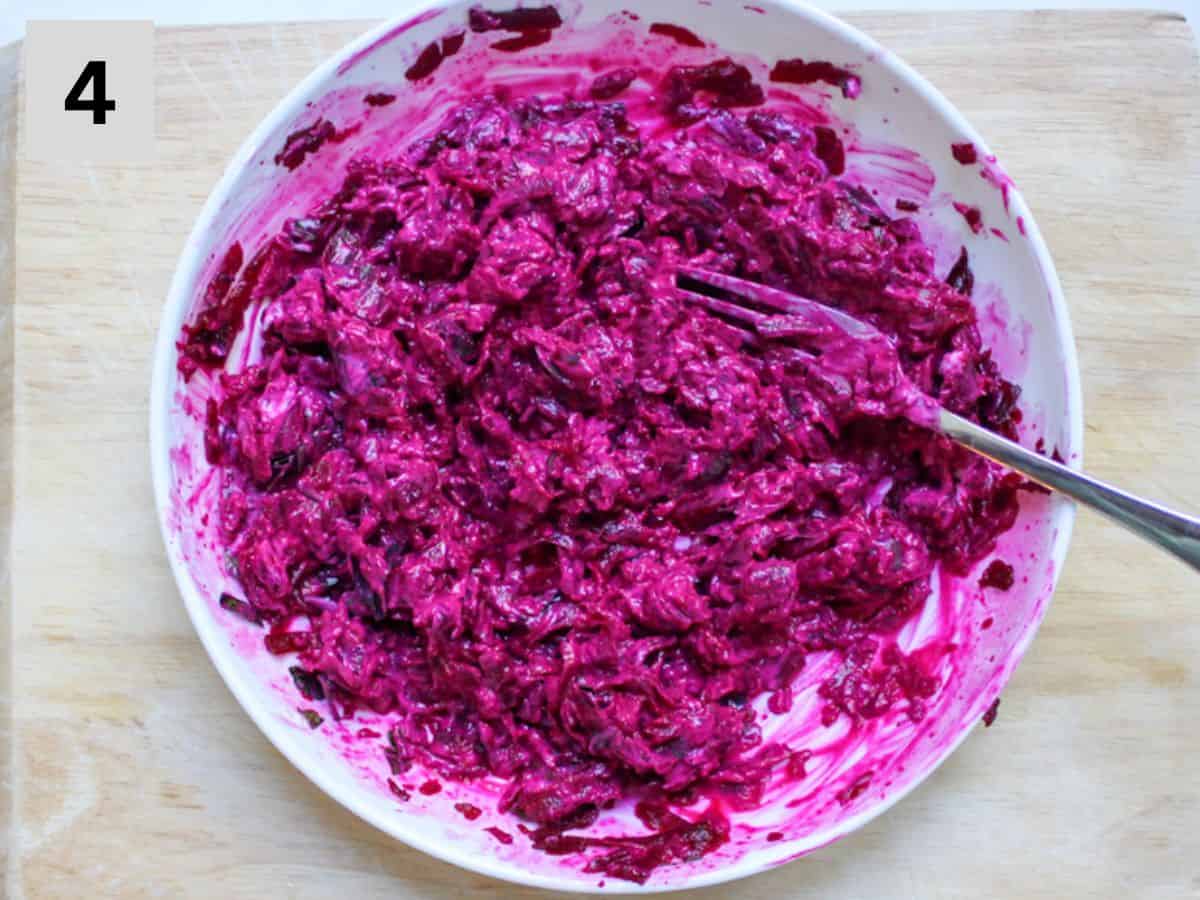 5) For serving, I always transfer the salad into a fresh dish or a shallow bowl, because the beet will stain the rims while you prepare and mix it. Now, you can top it with a layer of walnut pieces and some extra green parsley for the color contrast. You may enjoy it right away or chill it in the fridge for about 2-3 hours.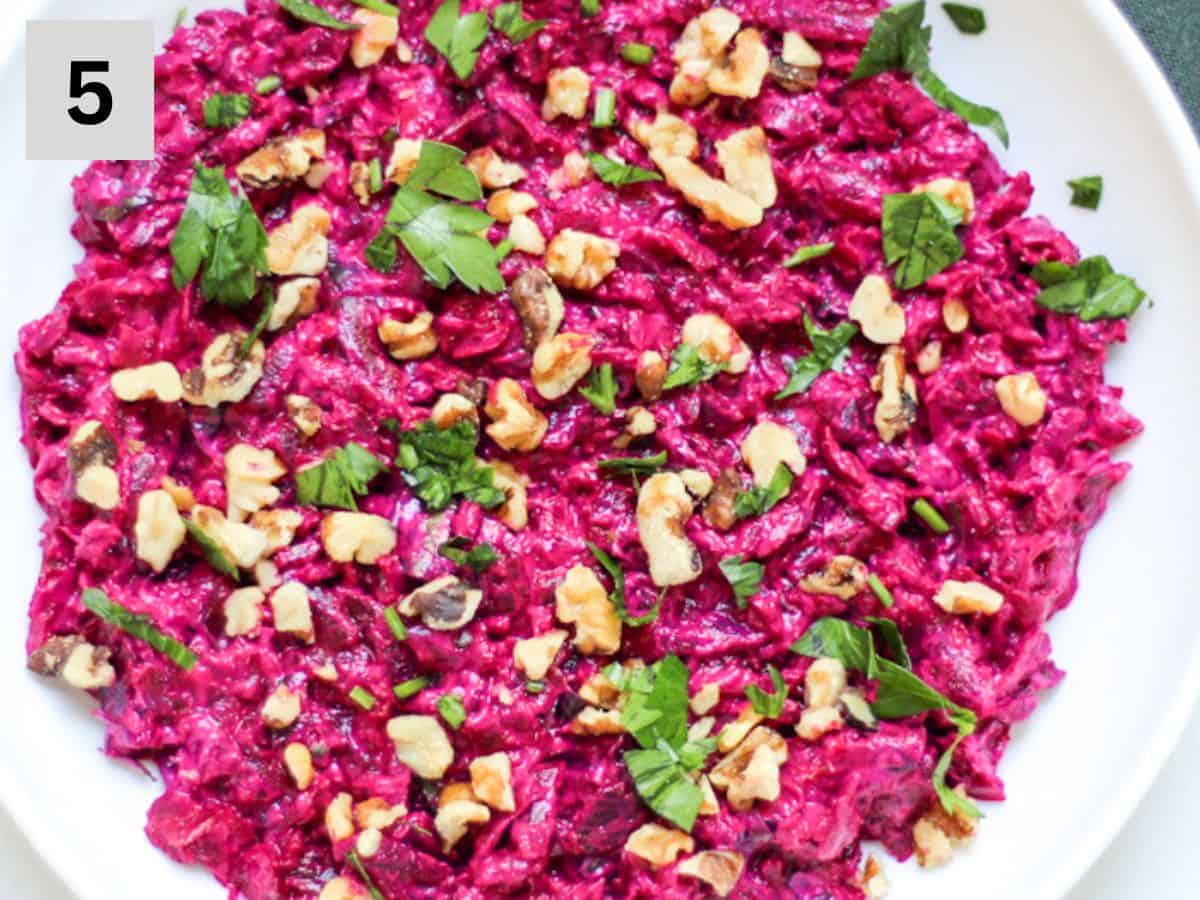 Is it better to grate or dice the beets for this salad?
There are a lot of beet salads with diced beets, and at first, it may seem like an easier way to go. As for this particular salad, I recommend peeling and grating cooked beets with the coarse side of your box grater, because of a few reasons:
Easier to eat: grated beets are much easier to scoop it up with a fork or a piece of bread.
Flavors: grated beets will absorb flavors much faster, making this salad ready to enjoy right away. No need to chill.
Textures: due to the creamy dressing and added walnuts, grated beets will create a more cohesive mouthfeel and contrast of textures.
Serving ideas
Below are my favorite traditional and non-traditional ways to serve it.
As a Meze (Turkish appetizer or snack): include it in a mezz plate alongside other dishes like hummus, tzatziki, falafel, dolmas, and more.
Side dish: serve it with grilled meats, lamb chops, and kebabs.
Dip or spread: I like to spread it on a slice of toasted bread as a light meal or a dip for pita chips.
Burger or sandwich: you can even add a scoop of it as a stopping for your favorite burger or sandwich.
Salad topping: add it to any salad. Creamy and tangy beets complement well lettuce salads with a choice of protein,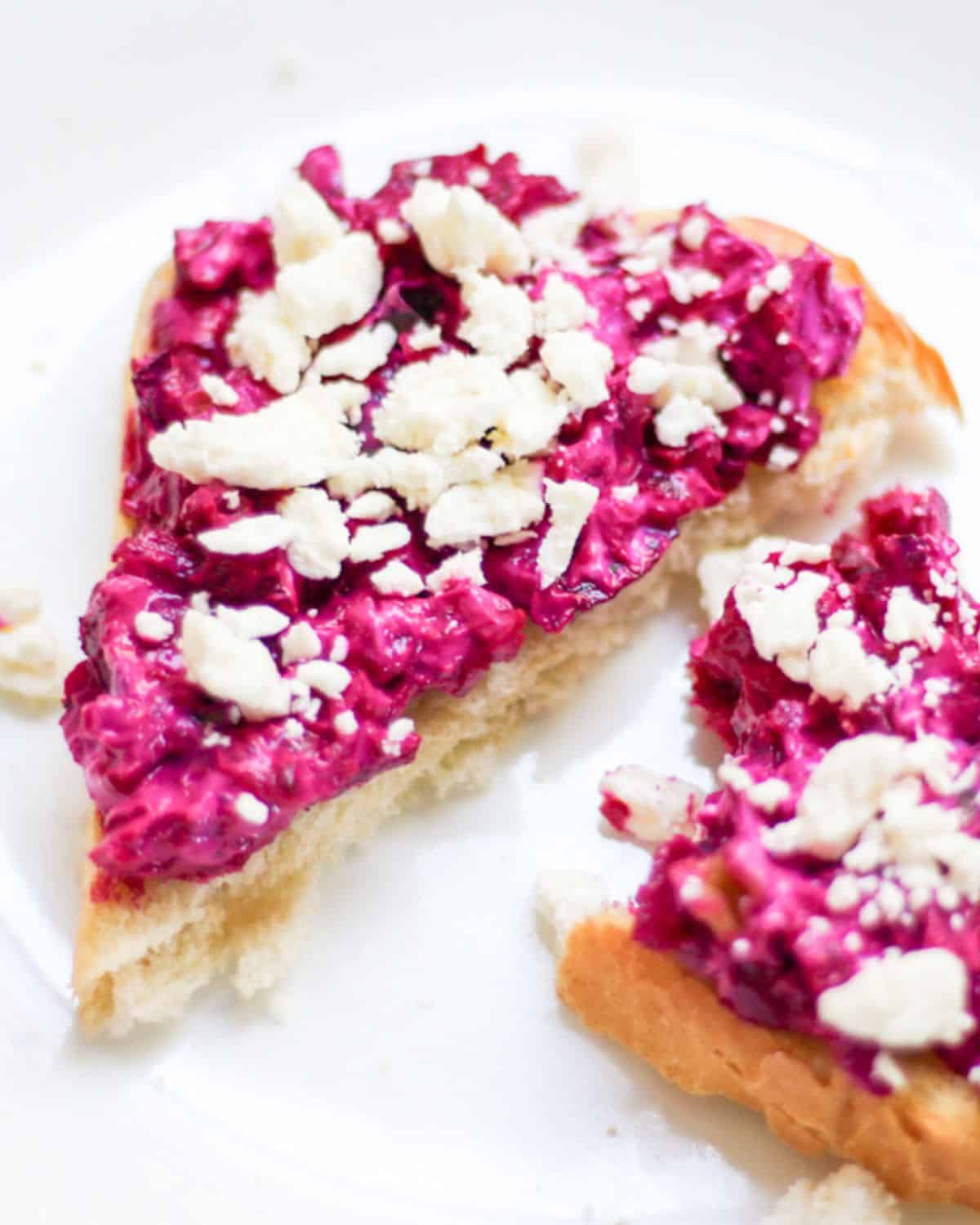 Expert Tips
You can boil beets ahead of time and store them in the fridge for a couple of days until ready to use.
The smaller the beets, the sweeter they taste.
Grate the beets on a larger side of the box grater. Avoid dicing or using a food processor.
I recommend using toasted or roasted nuts, as they will be less likely to get soggy and will remain crunchy longer on top of the salad. Toasted nuts also have a nuttier flavor.
Choose a full-fat yogurt as it has a richer and creamier texture.
Transfer any leftovers into an airtight container and store it in the fridge for about 3 days.
Frequently asked questions
Can I use store-bought precooked beets instead?
As a time-saving alternative, store-bought precooked beets can be a great option. But they will not be as sweet and flavorful as the fresh ones. Instead, you can boil beetroots ahead of time and store them for 3 days in the fridge until ready to make the salad.
Can I make this salad ahead of time?
Yes, this salad can be prepared ahead of time and stored in the fridge for about 3-4 days. However, it's best to add walnuts and fresh herbs right before serving.
Can I make it without nuts?
Yes, you can easily omit the nuts if needed. The salad will still be delicious without them.
What can I serve with grated Turkish beet salad?
This salad pairs well with grilled meat, kebabs, or as a side for a Mediterranean-style meal. You can also use it as a dip for pita bread, crackers, or chips.
More salads with beets
Other recipes with beets
📖 Recipe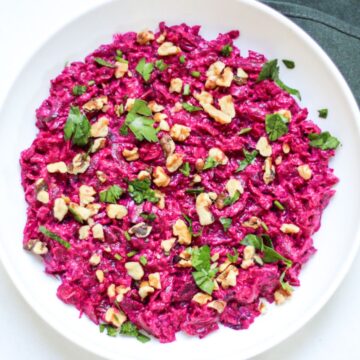 Turkish Beet Salad With Yogurt (Pancar Salatasi)
Turkish beet salad with yogurt is a popular appetizer and side dish in Turkish cuisine that is also famous all over the world. It combines the earthiness and sweetness of boiled beets with creamy yogurt, walnuts, lemon garlic, and fragrant herbs. I like serving it as a salad, spread, or dip.
Ingredients
3-4

medium beets, rinsed well

½

cup

Turkish or Greek yogurt

3

sprigs

fresh parsley, rinsed and chopped finely

5

fresh mint leaves, rinsed and chopped finely

1-2

fresh garlic cloves, finely grated or minced

1

Tablespoon

fresh lemon juice

¼-½

teaspoon

salt and pepper to taste

⅓

cup

toasted walnut pieces
Instructions
In a large pot, add whole beets and fill it with water enough to cover the beets. Bring it to a boil and simmer on low-medium heat for about 30-45 minutes or until the fork inserted in the middle goes in easily. Let them cool down.

Peel the beets and grate them using a larger (coarse) side of your box grater. Place the beets into a bowl.

Add chopped parsley, chopped mint leaves, minced garlic, 1 tablespoon lemon juice, salt and pepper (about ¼ teaspoon or more to taste). Use a fork to mix everything well.

Add about ½ cup Turkish or Greek yogurt and mix the salad. Taste it and add more salt if needed.

Distribute the walnut pieces on top of the salad and some extra parsley. Enjoy it as a salad, dip or spread.
Notes
Cooking the beets:
 Some cooks like to roast them whole in the oven with olive oil. But I like to use boiled beets for the salads, which require the beets to be cubed or grated. Boiled beets come out more hydrated ( the best way I can describe them).
Grating the beets:
 I recommend using a box grater, but if you have to, you can finely dice them or use a food processor. 
Mint:
 I do not always use it, but it adds a lot of freshness to the dish. If you do not have it, you can easily skip the mint. It still tastes delicious. 
Garlic: 
I added just a little bit of garlic, if you love garlic - add more. 
Nutrition
Calories:
90
kcal
Carbohydrates:
5.4
g
Protein:
3.3
g
Fat:
6.8
g
Cholesterol:
1
mg
Sodium:
114.3
mg
Fiber:
2.3
g
Sugar:
1.9
g