This arugula salad with beets and goat cheese is perfect for a light lunch or a classy side dish. Peppery arugula, sweet beets, creamy goat cheese, and a sprinkle of tart cranberries, all tossed in a homemade lemony dressing.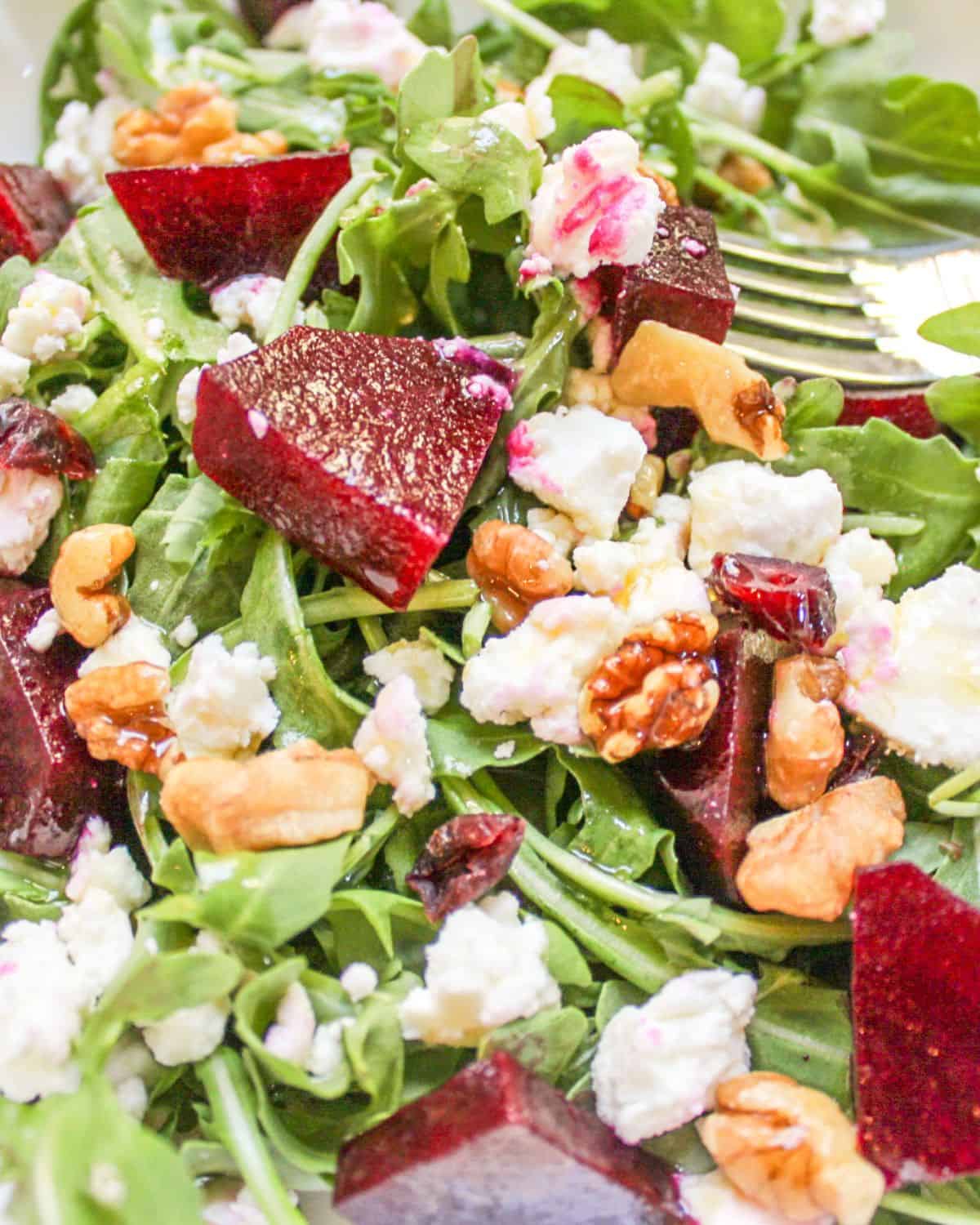 I am so excited to share this salad recipe because it is so good and very easy to make. Even those who aren't usually fans of beets end up loving this dish.
When you take a bite of this salad, try to get a little bit of everything on your fork to experience the contrast of flavors: the peppery kick of arugula, the sweetness and earthiness of beets, the creamy tang of goat cheese, the crunch of walnuts, and the sweet-tartness of cranberries, all coated in a zesty and sweet dressing.
As for the dressing, I offer you my simple honey and lemon dressing recipe. It is a perfect dressing for this arugula beet salad made with simple ingredients everyone has at home.
You can also use a store-bought dressing, such as a balsamic vinaigrette, raspberry vinaigrette, or any citrus dressing.
Jump to:
What you'll need
Here is what you'll need to make the salad and the dressing:
Cooked beets: Beets have a sweet, earthy flavor when cooked. They bring a tender texture and a vibrant color to the salad. You can roast, boil, pressure cook or even air-fry the beets for this salad. I like to cook smaller beets, as they cook faster and taste sweeter. You can use red beets, golden beets, or both.
Arugula:(rocket salad): you will need fresh arugula greens. These leafy greens have a peppery, slightly bitter taste that adds a complex flavor to the salad. If you do not like the peppery taste of arugula, use any other greens such as baby spinach, spring mix, or baby lettuce.
Goat cheese: you can use crumbled or soft goat cheese broken into small pieces. I use the soft traditional l goat cheese, it is very creamy, rich, and has a perfect tang. break the soft one into smaller chunks. Tangy goat cheese adds a bright zing to the dish. If you do not have goat cheese, use feta cheese.
Toasted Walnuts: I used toasted walnut pieces. You can also use almonds or pecans instead. Adding walnuts introduces a crunchy texture and a nutty flavor that complements the earthiness of the beets.
Cranberries: dried cranberries add a chewy texture and a little bit of tartness to the salad.
Olive oil: use a quality extra virgin olive oil to make the dressing.
Lemon juice: use freshly squeezed lemon juice, avoid the bottled one. You can also use apple cider vinegar instead.
Honey: it adds a touch of sweetness that complements the natural sweetness of the beets and also balances the bitterness of arugula. You can also use maple syrup instead of honey.
Salt and black pepper: I add both to the dressing to taste.
Find the complete recipe with measurements in the recipe card at the end of this post.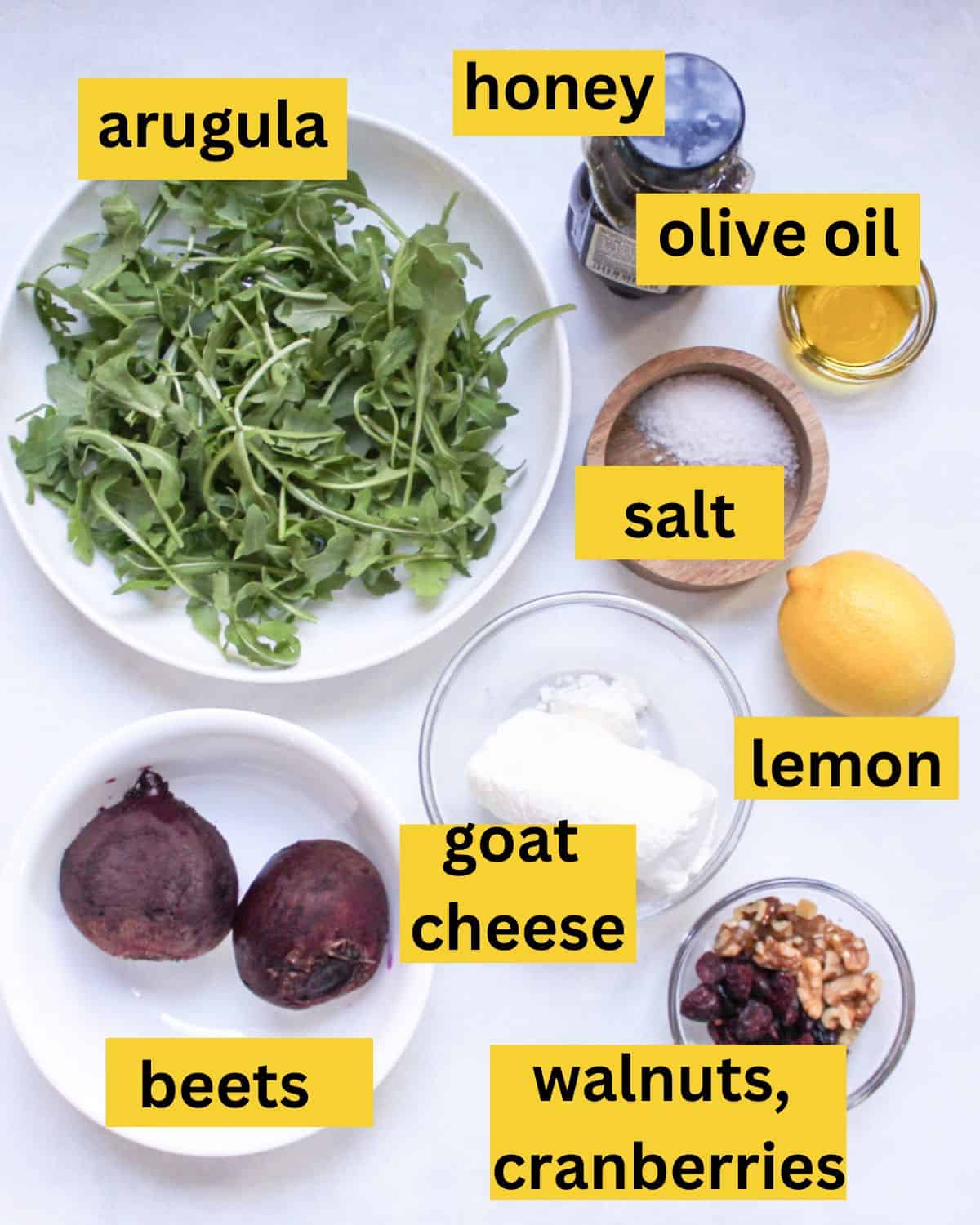 How to make it
First, you will need to cook the beets. Whole beets take some time to boil, but you can easily do it a day or two beforehand. For this salad, I like to boil the beets, as they come super tender and sweet. But you can also roast them if preferred.
Boil the beets in water for about 40-60 minutes, until they are fork tender. The cooking time depends on the size. Let them cool down and then, peel them.
After peeling, cut each beet into four wedges. Slice each wedge into medium or small, bite-sized pieces. Alternatively, you can dice the cooked beets into cubes if you prefer.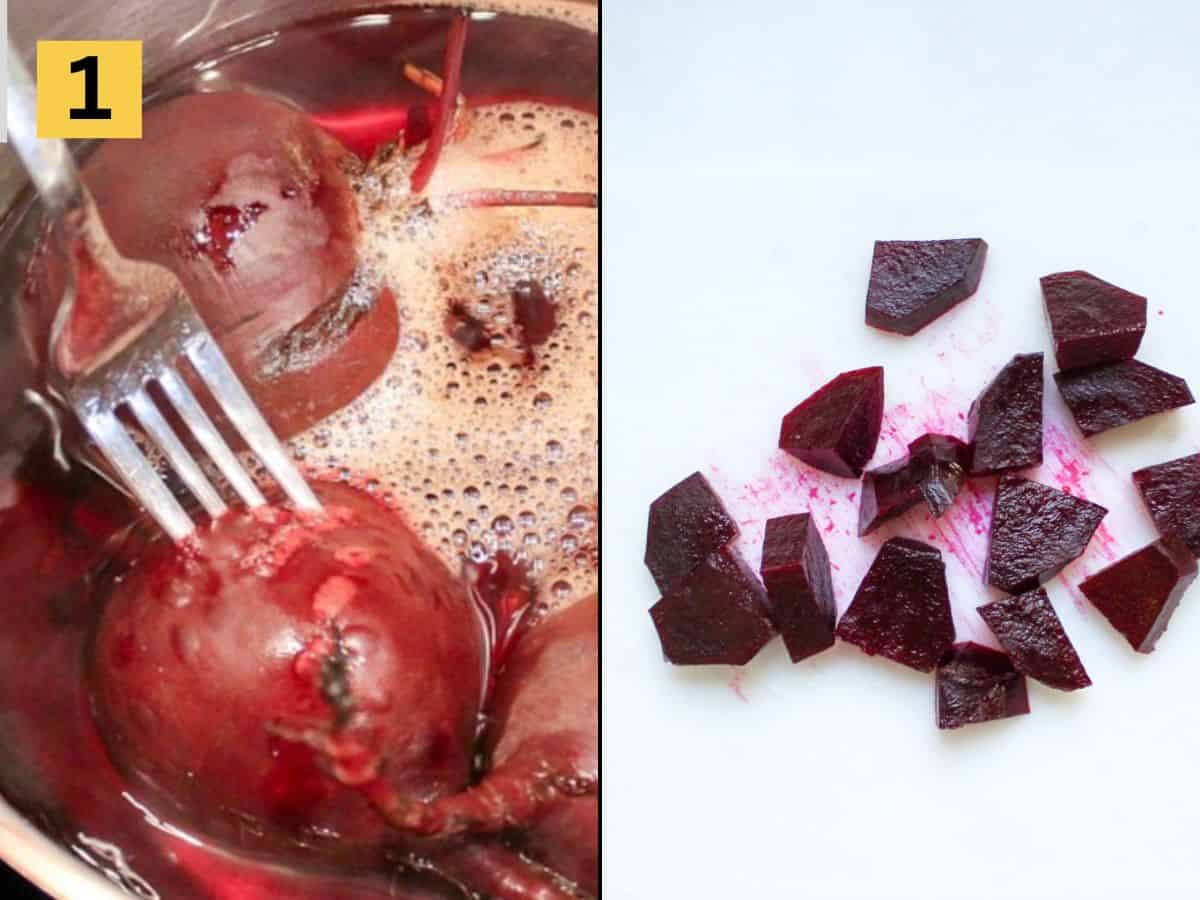 Now, let's make a simple dressing. In a small bowl or a mason jar, pour in the olive oil, squeeze in the lemon juice, and add honey. Whisk everything together (or shake if it is a jar) until it emulsifies into a smooth dressing. Season with salt and pepper to your liking. The dressing is ready.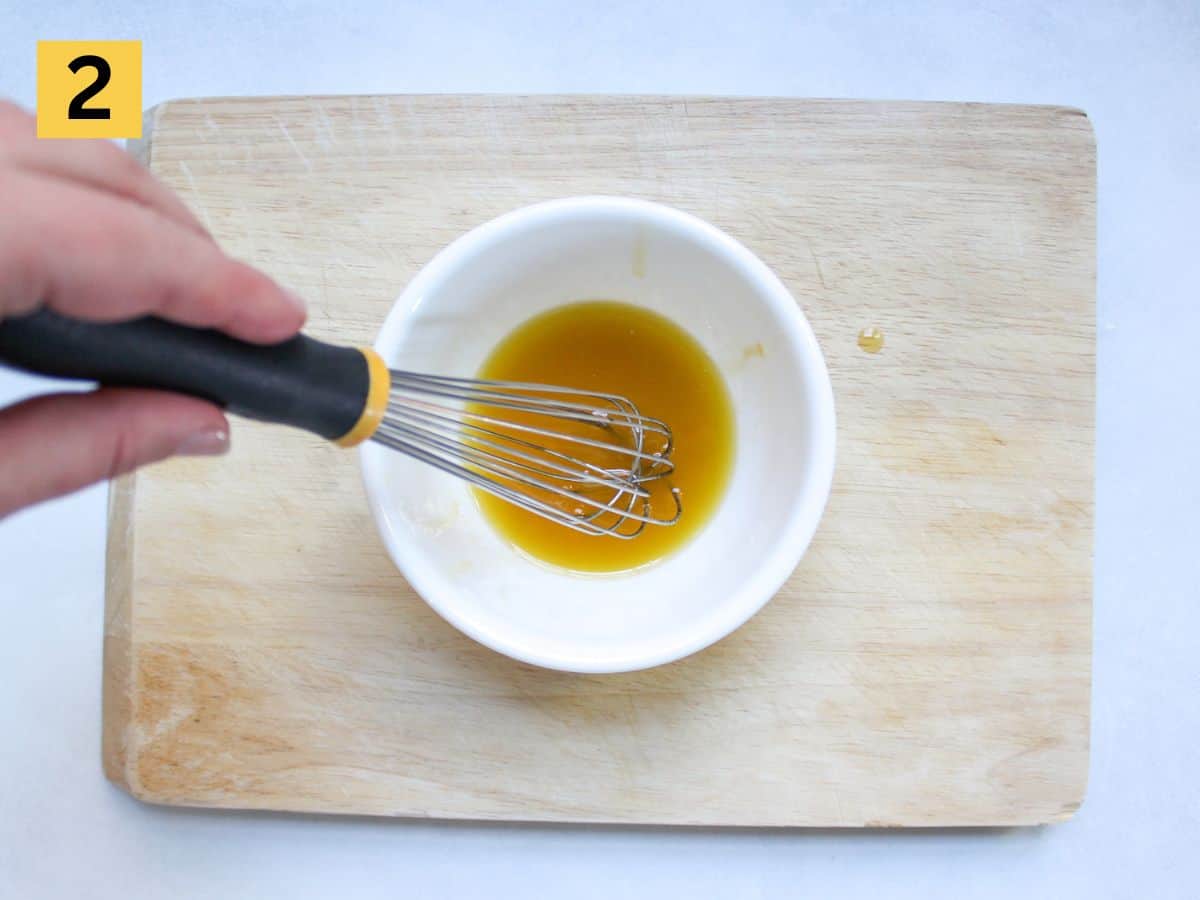 In a large bowl, add washed arugula. Drizzle half of the dressing over the arugula and gently toss it with tongs to coat the leaves.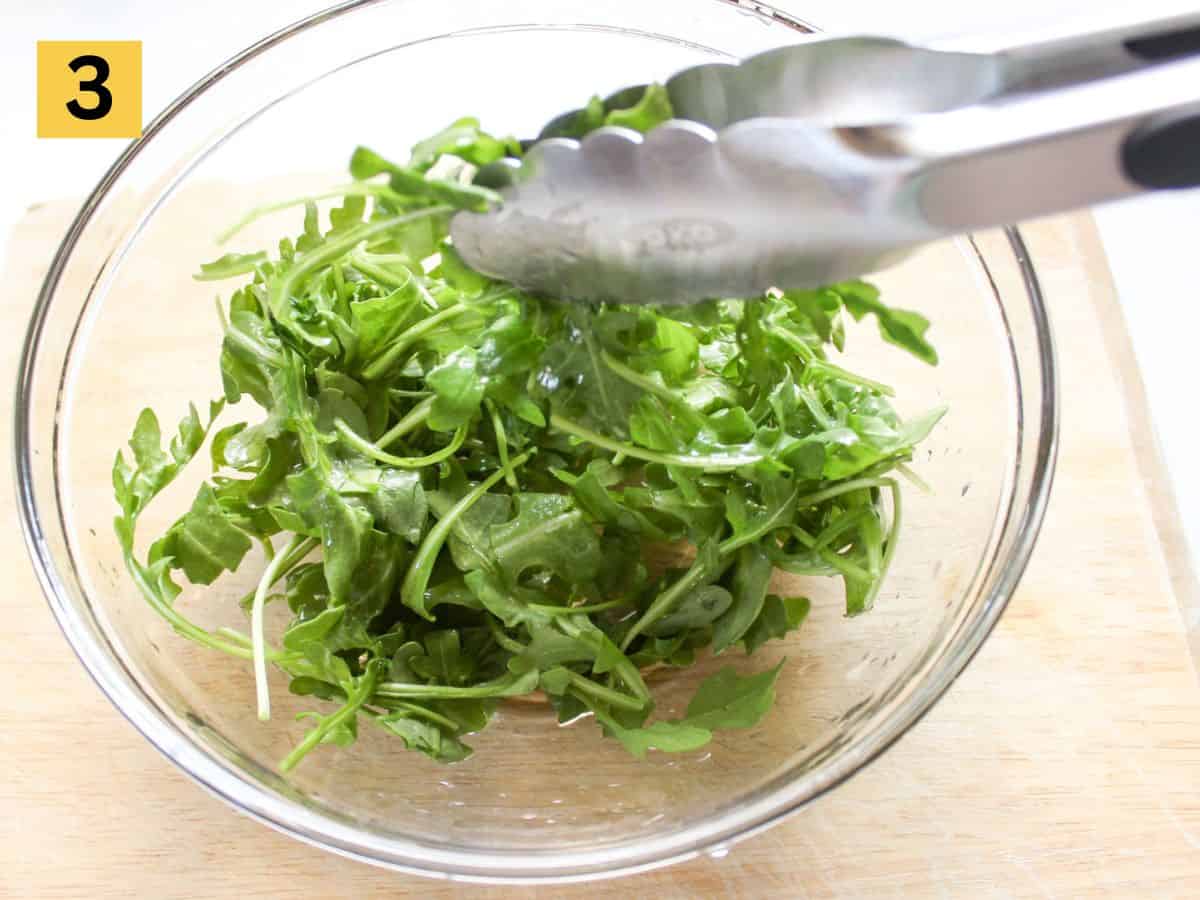 Assemble the salad. I like to do it in layers, as the beets can be messy and stain the plate and other ingredients in red. Lay down a bed of dressed arugula greens on a large platter or in a salad bowl. Arrange sliced cooked beets over the arugula. Crumble the goat cheese with your hands and sprinkle it over the salad. Take a handful of walnuts and cranberries, and sprinkle them evenly on top.
Just before serving, give the remaining dressing a quick whisk to blend it again in case it has separated. Then, drizzle the rest of the dressing all over the salad and serve.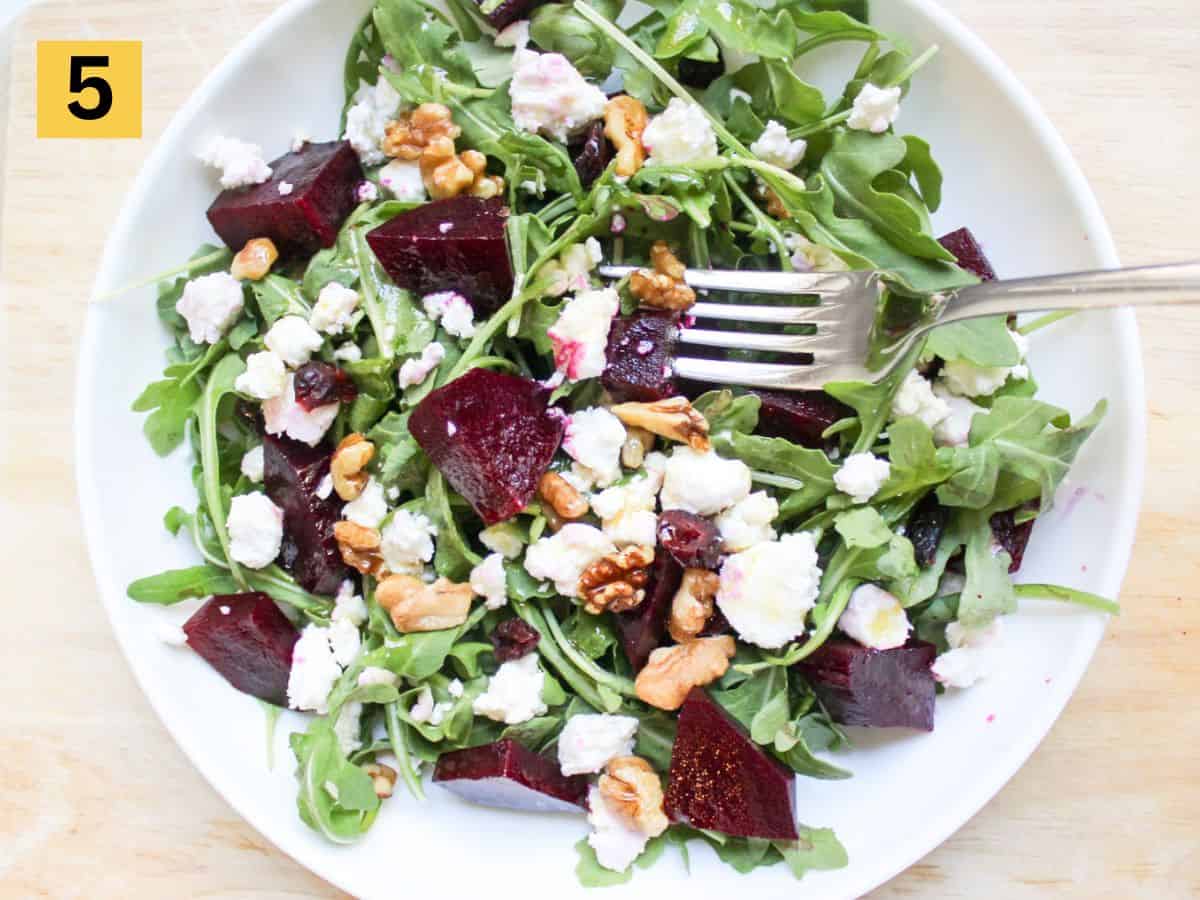 ​Recipe tips and troubleshooting
Prep ahead: you can cook the beets and prepare the dressing beforehand. Store them in a fridge separately until ready to make the salad.
Serve Immediately: once you add the dressing, serve the salad right away.
Presentation: because cooked beets can stain the rest of the ingredients and the plate, this salad looks better when assembled in layers and with drizzled dressing on top (without mixing). If you prefer each leaf to be perfectly coated, mix the arugula with some dressing before adding the other ingredients.
Wilted arugula: submerge the arugula leaves in the cold water for about 5 to 10 minutes. The cold water will shock the leaves and will bring back up the crispy texture.
Dressing Too Tart or Too Sweet: taste the dressing and add more honey or lemon juice to adjust.
Dressing Separation: Emulsified dressings can separate over time. Whisk the dressing again or shake it in a jar right before drizzling it over the salad.
Once the salad is dressed, serve it immediately.
The salad is best when fresh, but if you have any leftovers, store them in an airtight container in the fridge for up to 2 days.
What to serve with
This delicious salad looks beautiful on a dinner table and I often include it in our holiday meal menu. It is a perfect side dish for any main course. For an elegant meal, I like to serve with our popular roasted whole duck or turkey meat. Gamey flavors pair well with arugula and beets.
As for a casual weeknight dinner, it goes well with turkey meatloaf, breaded chicken breasts, mushroom risotto, chicken patties, and more.
More salads with beetroot
Other recipes with beets you may like
📖 Recipe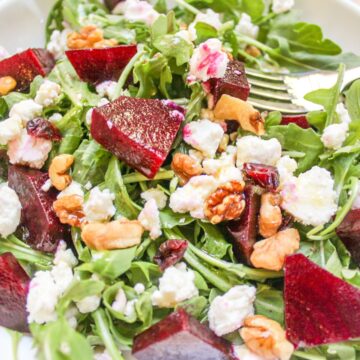 Arugula Salad With Beets and Goat Cheese
This arugula salad with beets and goat cheese is perfect for a light lunch or an elegant side dish. Peppery arugula, red roasted beets, creamy goat cheese, and a sprinkle of tart cranberries, all tossed in a homemade lemony dressing.
Equipment
1 large plate or salad bowl

1 small bowl or a mason jar

measuring spoons
Ingredients
Dressing
¼

cups (4 Tablespoons)

extra virgin olive oil

2

Tablespoons

lemon juice (freshly squeezed)

1

Tablespoon

honey or maple syrup

1

pinch

salt, black pepper (adjust to taste)
Salad
4

cups

arugula greens, washed and dried

4

small cooked beets

½

cup

goat cheese, crumbled

2

Tablespoons

dried cranberries

2

Tablespoons

walnuts, toasted and roughly chopped
Instructions
Dressing
In a small bowl, whisk ¼ cup olive oil, 2 tablespoon lemon juice, 1 tablespoon honey until well combined. Season it with salt and black pepper to taste. Add it to the salad right before serving or store it in the fridge until ready to use.
Salad
Peel and slice cooked beets. Alternatively, you can cube them.

In a large bowl, add 4 cups of arugula. Drizzle half of the dressing over arugula and gently toss it to coat the leaves.

Arrange the dressed arugula salad on a large platter or in a salad bowl. Scatter the sliced beets evenly over the bed of arugula, distributing them evenly. Sprinkle ½ cup of crumbled goat cheese over the salad. Add dried cranberries and toasted walnuts on top.

Drizzle the remaining dressing over the salad and serve it right away.
Notes
Boiled beets always are better for salads, as the come out juicier and more flavorful.
You can use store-bough vinaigrette or other dressing.
If you decide to make it ahead of time, store the dressing separately and add right before serving.
Nutrition
Serving:
1.5
cup
Calories:
266
kcal
Carbohydrates:
18.2
g
Protein:
6.2
g
Fat:
19.3
g
Sodium:
201
mg
Fiber:
2.7
g
Sugar:
14.3
g