Roasted whole beets without foil is one of the easiest methods to cook this delicious root vegetable. Sweet, earthy, tender, they are great for salads, sandwiches, sides and more.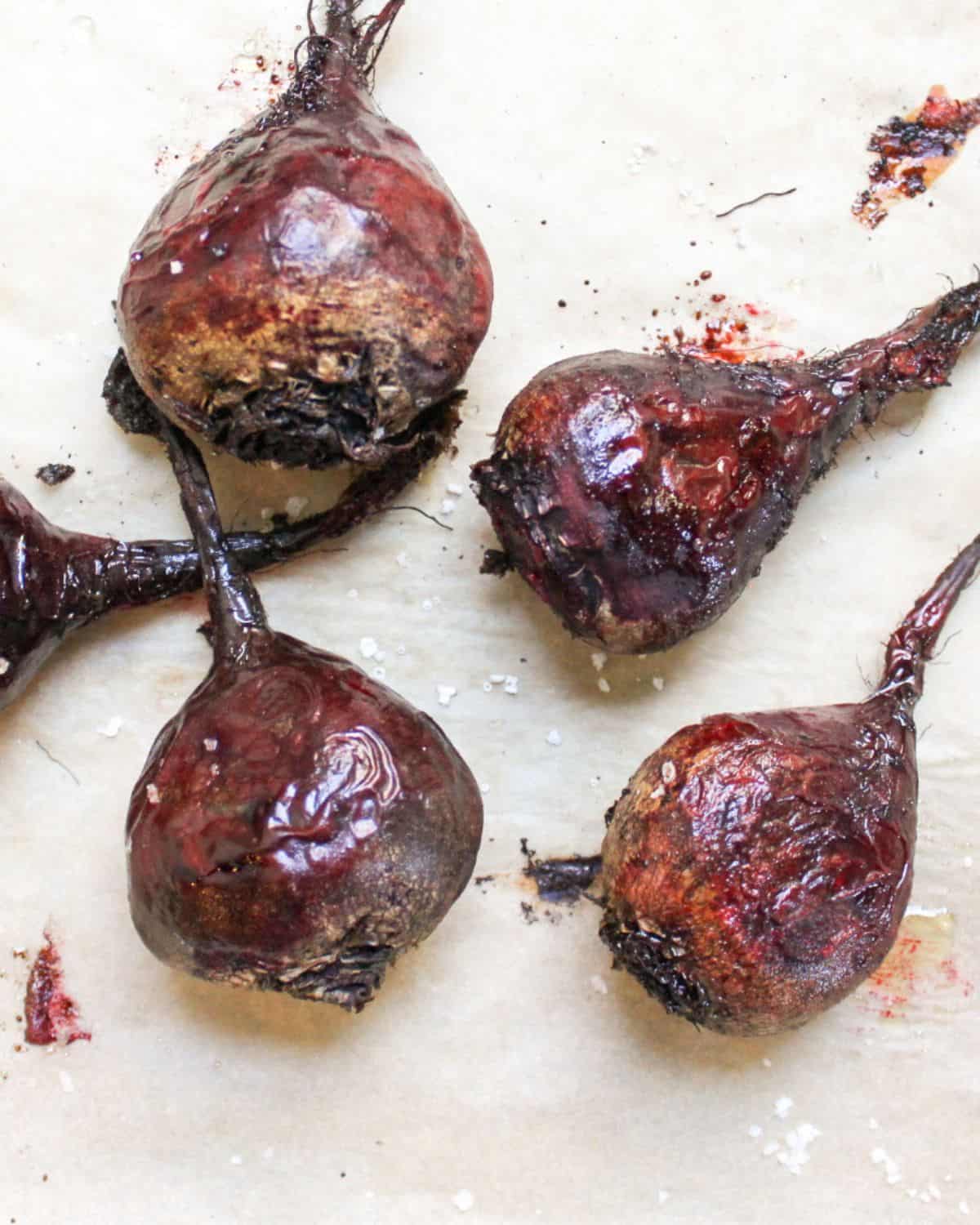 Jump to:
If you never tried roasting beets, this recipe is great for beginners. I grew up cooking and eating beets my whole life because they are one of the most popular vegetables in Ukraine. We boil them, we pickle them, we make salads with them and of course, beets are the star ingredients for the Ukrainian signature soup - borscht.
There are a lot of different methods of cooking this root vegetable. If you want your beets have easy-to-peel skin, and rich sweet taste - roasting them whole in the oven without foil is the best way. You can also use a pressure cooker for similar results
For this recipe, there's no need to wrap each beet individually in aluminum foil, which saves time, and effort and it's better for the environment.
These roasted whole beets have a tender and smooth texture, are naturally sweet with wrinkled, and are easy to peel beet skins after roasting.
You can season them with salt, pepper, and perhaps a drizzle of olive oil or a splash of balsamic vinegar, to balance their natural sweetness and earthy taste. You can also try my favorite homemade beet seasoning mix, which I used for this air fryer beet recipe.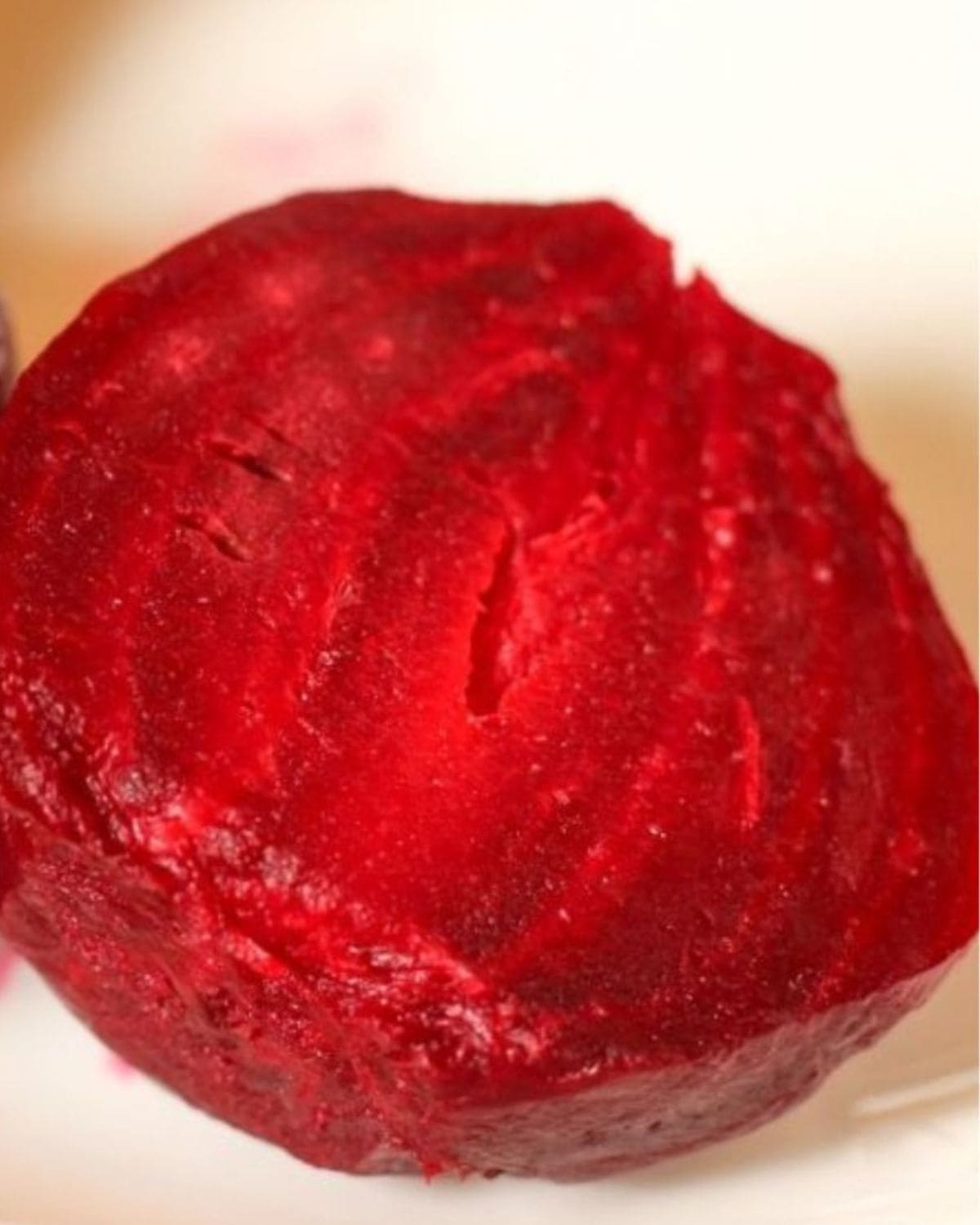 Ingredients
Here is what you'll need to roast the beets:
Whole beetroots: I recommend choosing the same size, small beets. Smaller beets are usually sweeter. If you have medium or larger beets, you can cut in into cubes or wedges.
Olive oil: just enough to lightly coat each beetroot. Oil improves the caramelization process and prevents them from drying out in the oven.
Salt: sprinkle lightly with salt before roasted. You can also use black pepper.
Find the complete recipe with measurements in the recipe at the end of this post.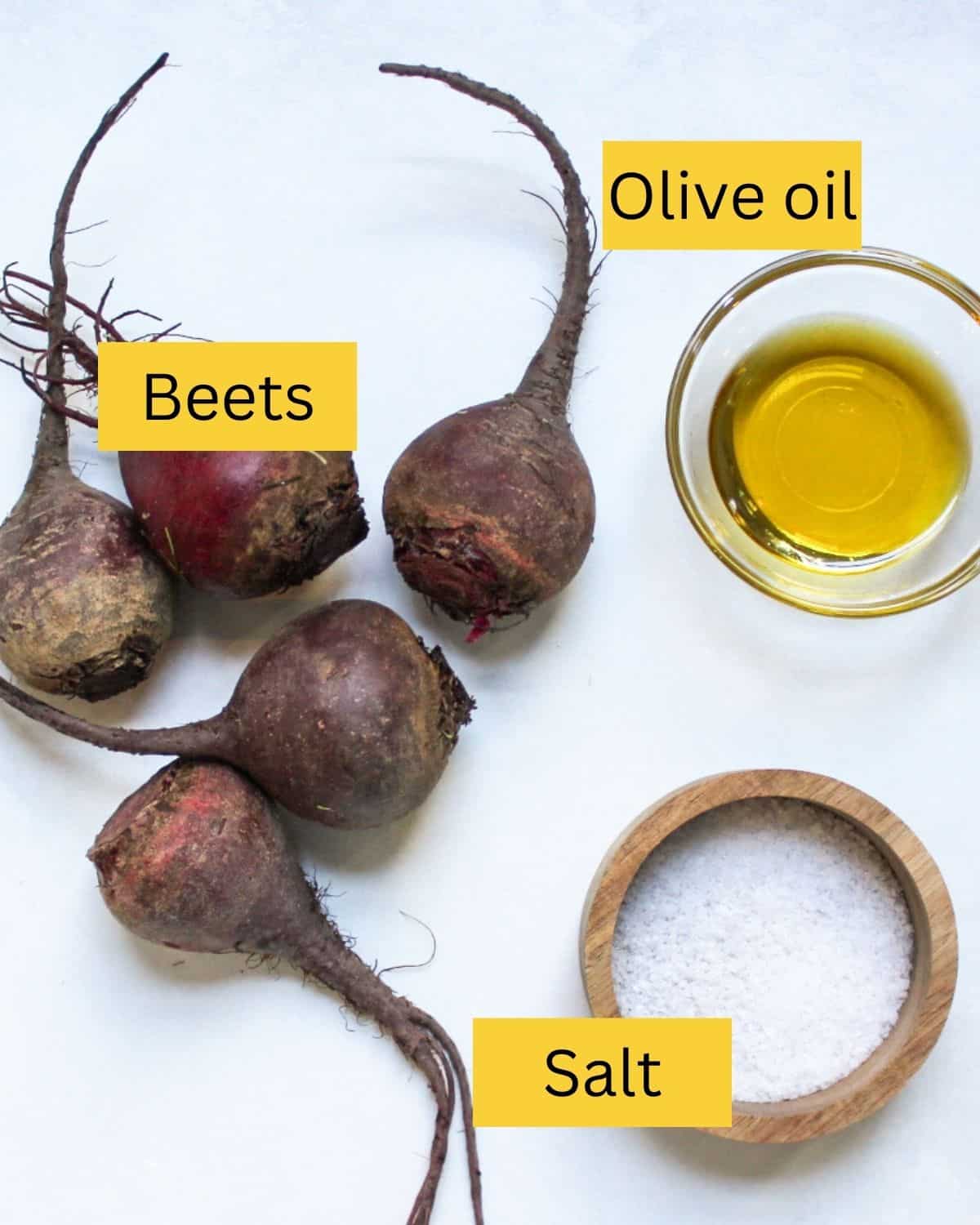 How to make it
1) First, cut the beet greens if present, and you can also trip the long tails. Make sure to leave about an inch of the stem and the tail on the beet, so it does not start losing all the juices.
Wash and scrub the beets under cold water to remove any dirt. Dry each beetroot with a paper towel.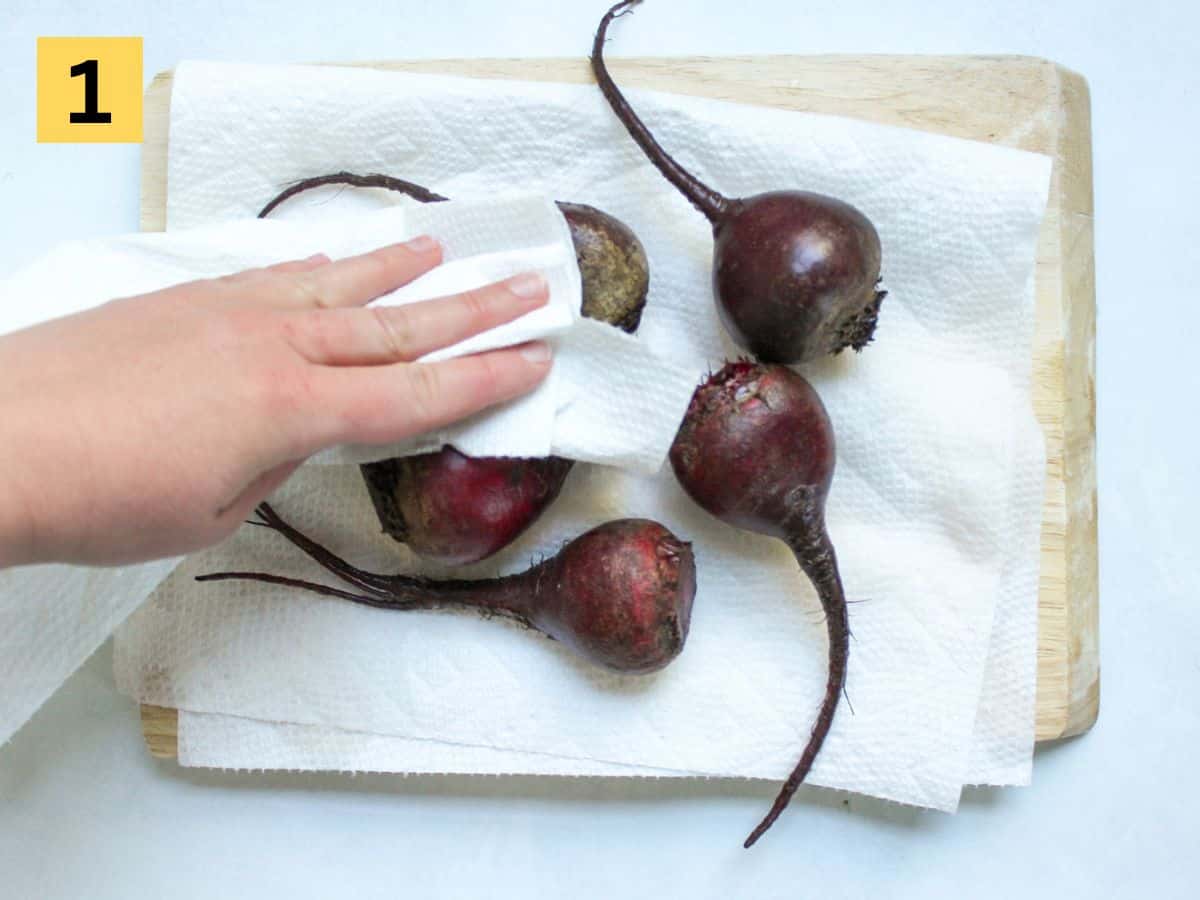 2) Coat each beet with a little olive oil. Preheat the oven to 400°F and line the baking sheet with a piece of parchment paper (optional, but makes clean up easier).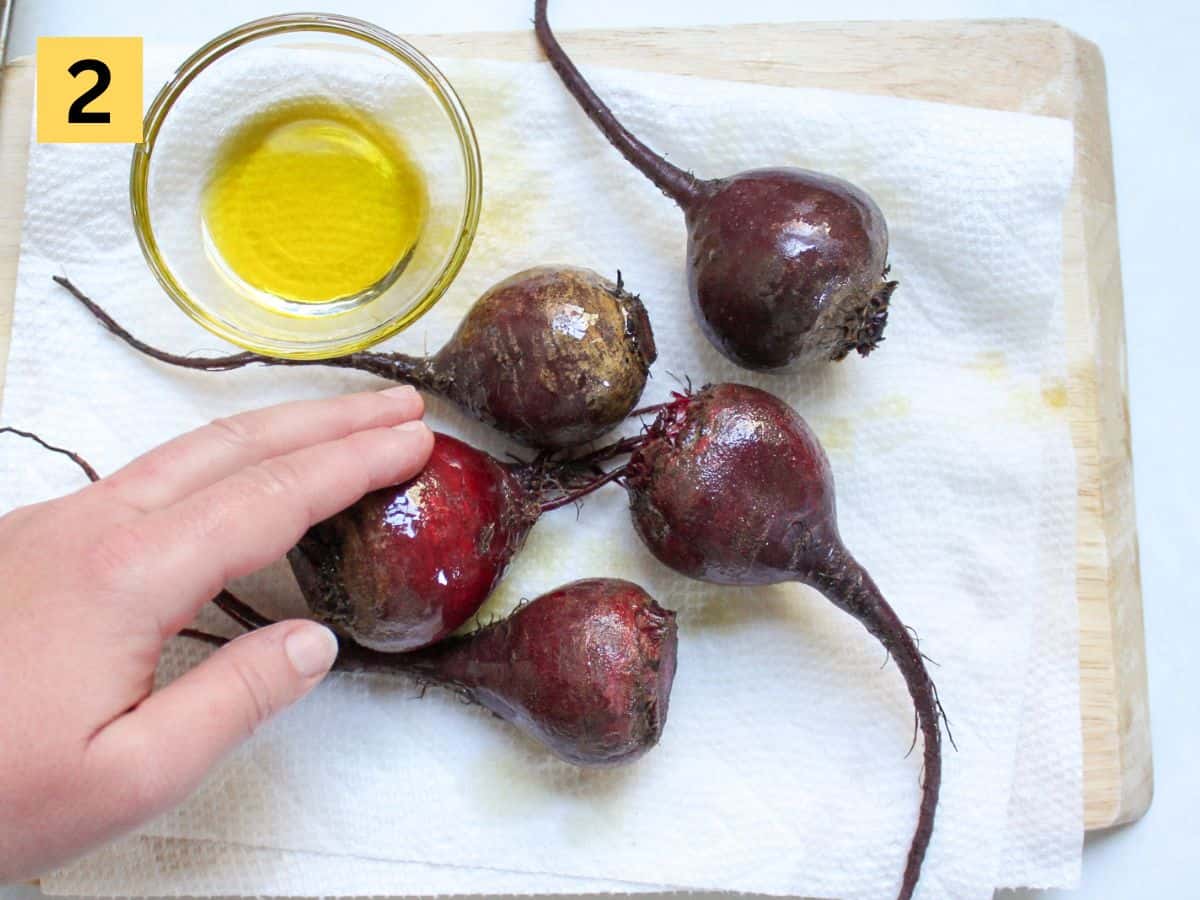 3) Arrange the beets in a single layer on a prepared baking dish. Sprinkle generously with salt on top.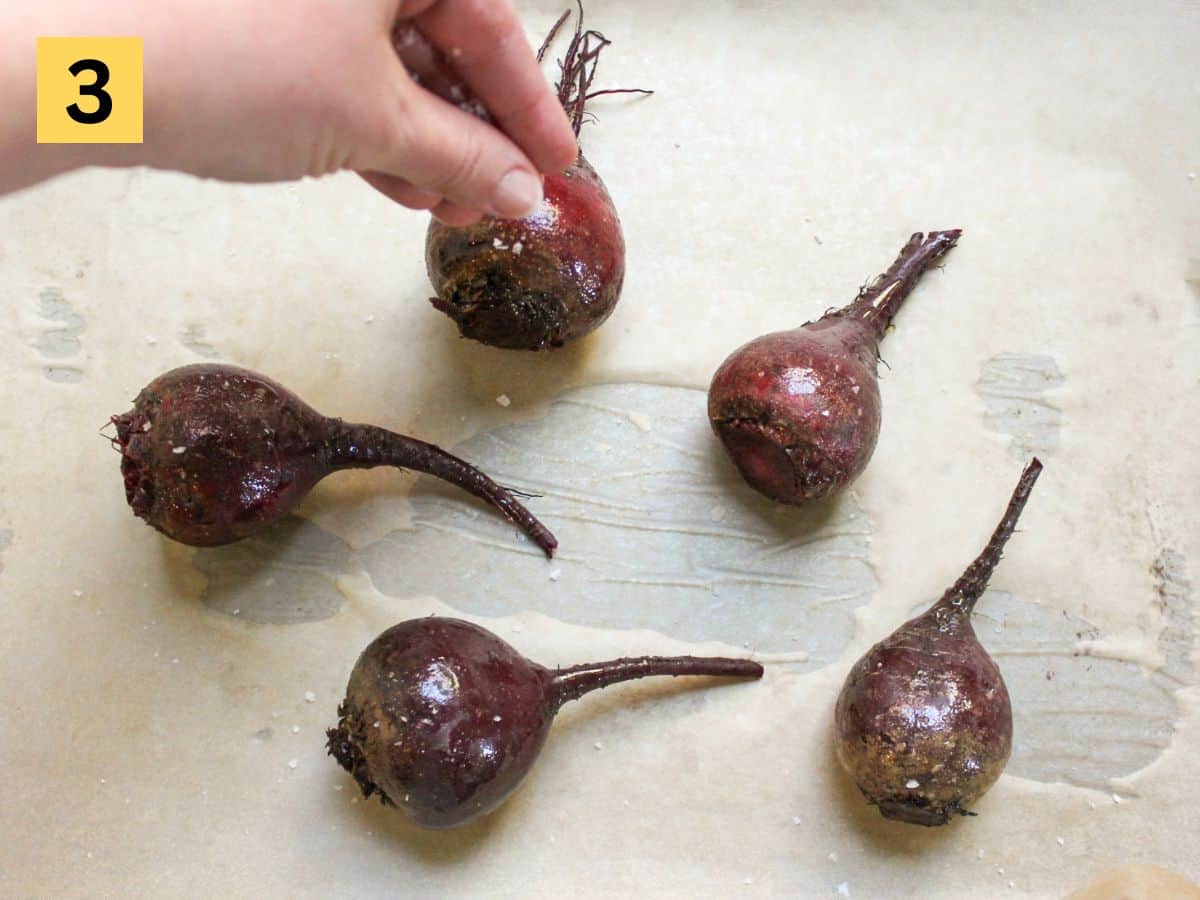 4) Roast beets at 400 F degrees for about 35-60 minutes, depending on the size. After 35 minutes, insert the fork into the largest beetroot. If it goes in with no or just little resistance, they are ready. Otherwise, cook them for another 10 minutes and check again.
Once cooked, remove them from the oven and let them cool down enough to handle. Now, you can peel and slice them to serve warm as a side dish. The skin is edible and you do not have to peel it.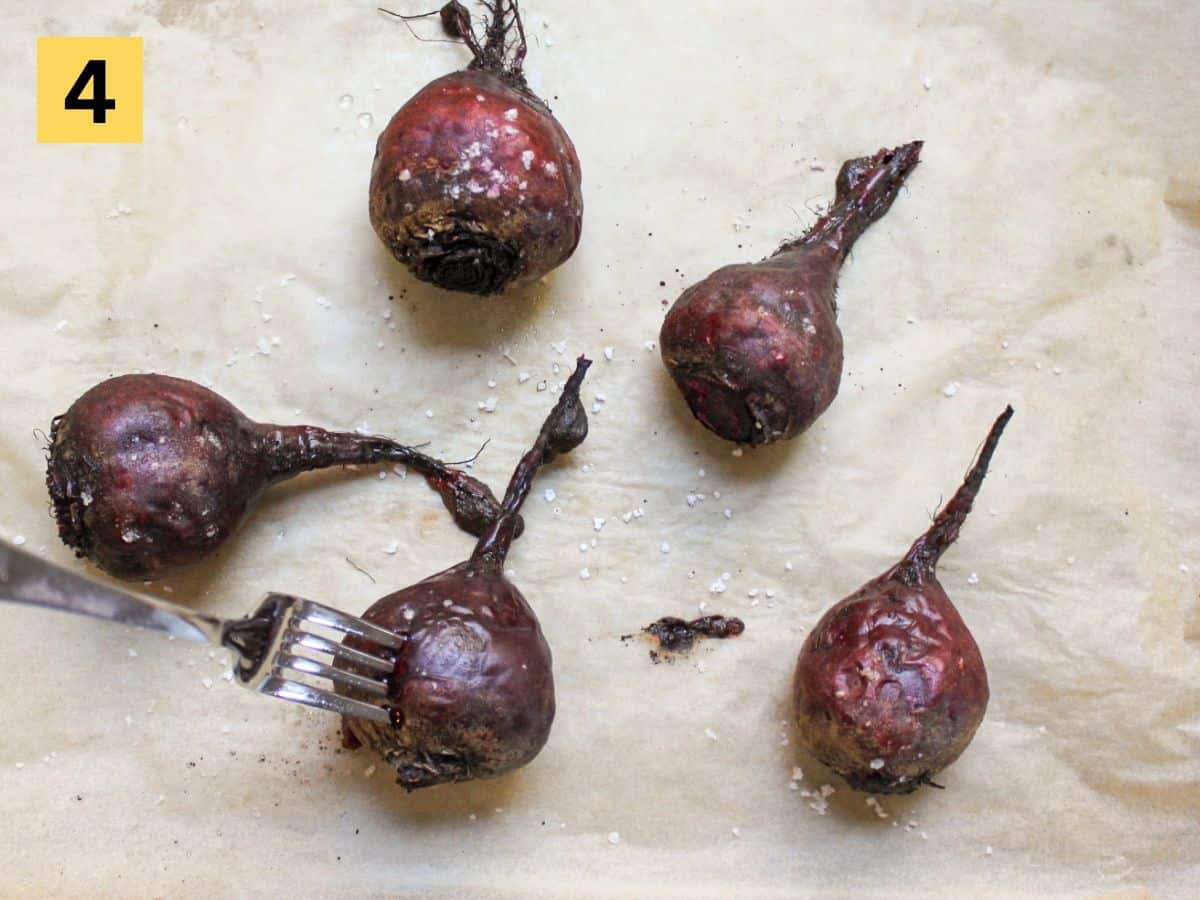 Quick cooking time note: small beets will take 40 minutes, while medium ones about one hour. If you have large beets, I recommend to quarter them.
How to use roasted beetroot
You can slice, season, and serve them as a delicious side dish to any main course. Add them to any type of salad, grain bowl, sandwich, or wrap. You can also use cooked beets to make one of my recipes:
Recipe tips and storage
Select the beets that are uniform in size, so they'll roast evenly.
You can use any variety of beets to make this recipe.
Save time, and effort and reduce waste by skipping wrapping them in foil. Roast them on a baking pan or parchment paper.
They peel easily, but to avoid staining hands I recommend using gloves. If you stain hands, wash them with a little bit of water and baking soda.
To store: let the beets cool down completely and store them in an airtight container for up to 5 days.
More easy vegetables recipes
Frequently asked questions
Do I need to peel the beets before roasting them whole?
No, you do not need to peel beets before roasting them whole. The skins of beets are edible, and they become much easier to remove after the beets are cooked.
​Do I need to wrap the beets in foil?
No, no need to wrap the beets in foil. Roasting without foil allows the beets to caramelize better and develop richer flavors. If you prefer softer, more steamed beets, then foil can be used.
How do I know when the beets are done roasting?
The beets are done roasting when the fork or a knife inserted in one of the vegetables goes in with a little resistance. They also should be soft but not mushy. 
Can I freeze roasted beets?
Yes, you can freeze roasted beets. Cool them completely, peel if desired, and place them in freezer bags. They will last in the freezer for up to 3 months.
📖 Recipe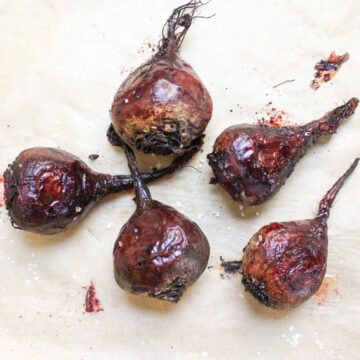 Oven Roasted Whole Beets Without Foil
Roasted whole beets without foil is one of the easiest methods to cook this versatile root vegetable. Sweet, earthy, tender, they are great for salads, sandwiches, sides and more. 
Ingredients
5

small beets, rinsed and dried

1

Tablespoon

olive oil, or more as needed

½-1

teaspoon

salt
Instructions
Preheat oven to 400°F. Line a baking sheet with some parchment paper.

Drizzle with olive oil and use your hands to ensure they are well-coated. Arrange the beets on a prepared baking sheet. Sprinkle them generously with some salt.

Place the beets in the preheated oven. Roast for about 40-60 minutes, depending on their size. The beets are done when they are fork-tender.

Once cooked, remove the beets from the oven and allow them to cool down. Now, you can peel, slice and serve them warm or refrigerate for later use. If you prefer, you can leave the skins on, they are edible.
Notes
Size: when roasting whole beets, choose smaller or medium size roots. They will take less time to cook. Larger ones may take more than one hour. Wrap up: although I prefer a no foil method, if you like beets more steamed and tender, you can wrap them in foil before cooking. Seasoning: besides salt, you can season them with herbs and spices you like.
Nutrition
Serving:
1
small beet
Calories:
68
kcal
Carbohydrates:
10.8
g
Protein:
1.7
g
Fat:
2.3
g
Sodium:
282.2
mg
Fiber:
3.3
g
Sugar:
7.5
g