Beetroots, olive oil, seasoning, and 20 minutes is all you need to make these air fryer roasted beets. They are great as a side dish or add them to your salads and bowls.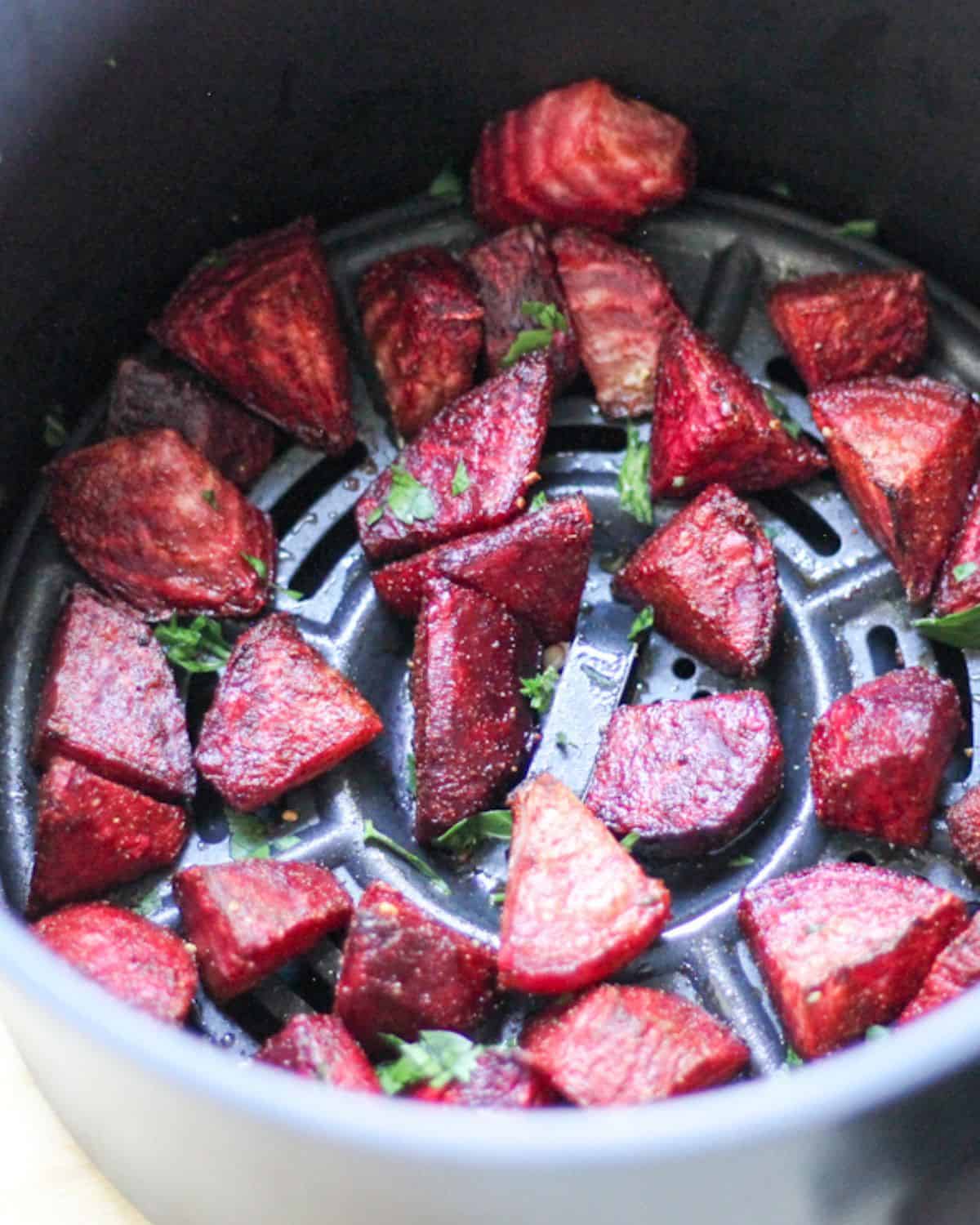 Jump to:
About roasting beets in air fryer
Roasting is one of the most popular methods of preparing beets. While I enjoy boiling whole beets for making specific recipes, like pancakes, and waffles, roasting is my favorite when I serve them as a side dish.
Roasting your beets in the air fryer is such a convenient and easy way to enjoy this root vegetable.
And if you do not have air fryer, you can easily roast whole beets in the oven.
If you are familiar with cooking beetroots, you probably know that their taste varies depending on the cooking method and the size of the beets (smaller beets are sweeter).
Air fryer uses a high circulating heat that takes away some moisture which results in a firmer texture of the vegetables compared to the boiling method. Roasting also caramelizes the beets' natural sugars, creating a sweeter and more complex flavor.
You can simply season the beets with salt and pepper. But if it is too simple, I recommend the spice mix I created especially for the beets.
I've chosen cumin, coriander, cinnamon, garlic powder, paprika, and pepper to balance their natural sweetness and earthiness. This spice mix adds aromatic flavors, a hint of spice, and warmness, which will intrigue everyone at the dinner table.
Oh, and the teaspoon of lemon juice at the end is optional but adds some bright and tangy notes to the dish. And for visual appeal and freshness, I like to add some fresh chopped parsley on top.
And just like that, you can transform simple beets into a beautiful and delicious side dish, perfect even for a holiday table.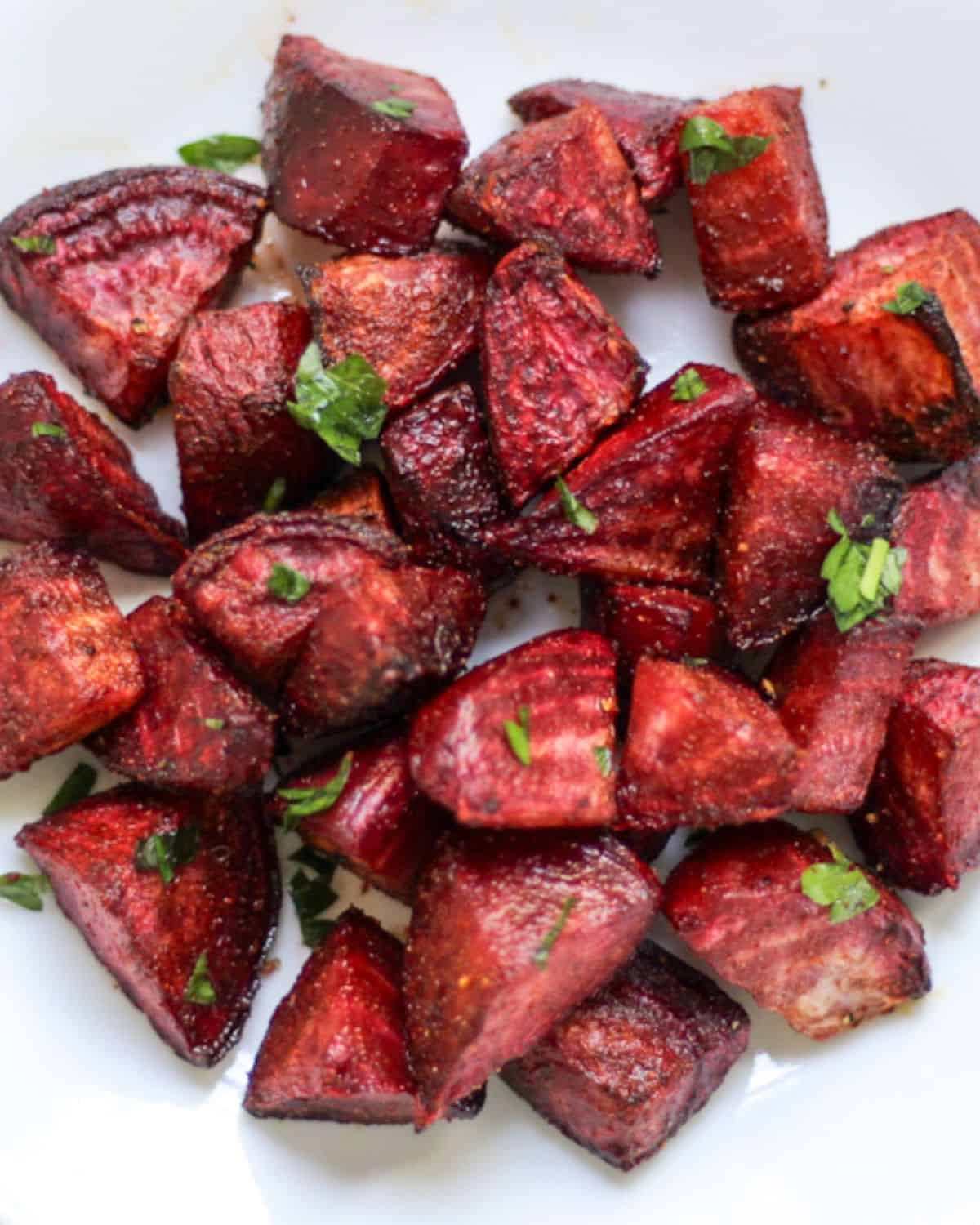 ​Ingredients you will need
You can find the ingredients quantities in the printable recipe card at the end of this post.
Beets: I used medium beetroots. If you want them to be earthier and less sweet, pick the large roots.
Oil: I used extra virgin olive oil. You can also use avocado or other vegetable oil or cooking spray.
Salt and spices: you can use only salt and pepper. But I recommend trying my spice mix made with cumin, coriander, cinnamon, paprika, garlic powder, and black pepper.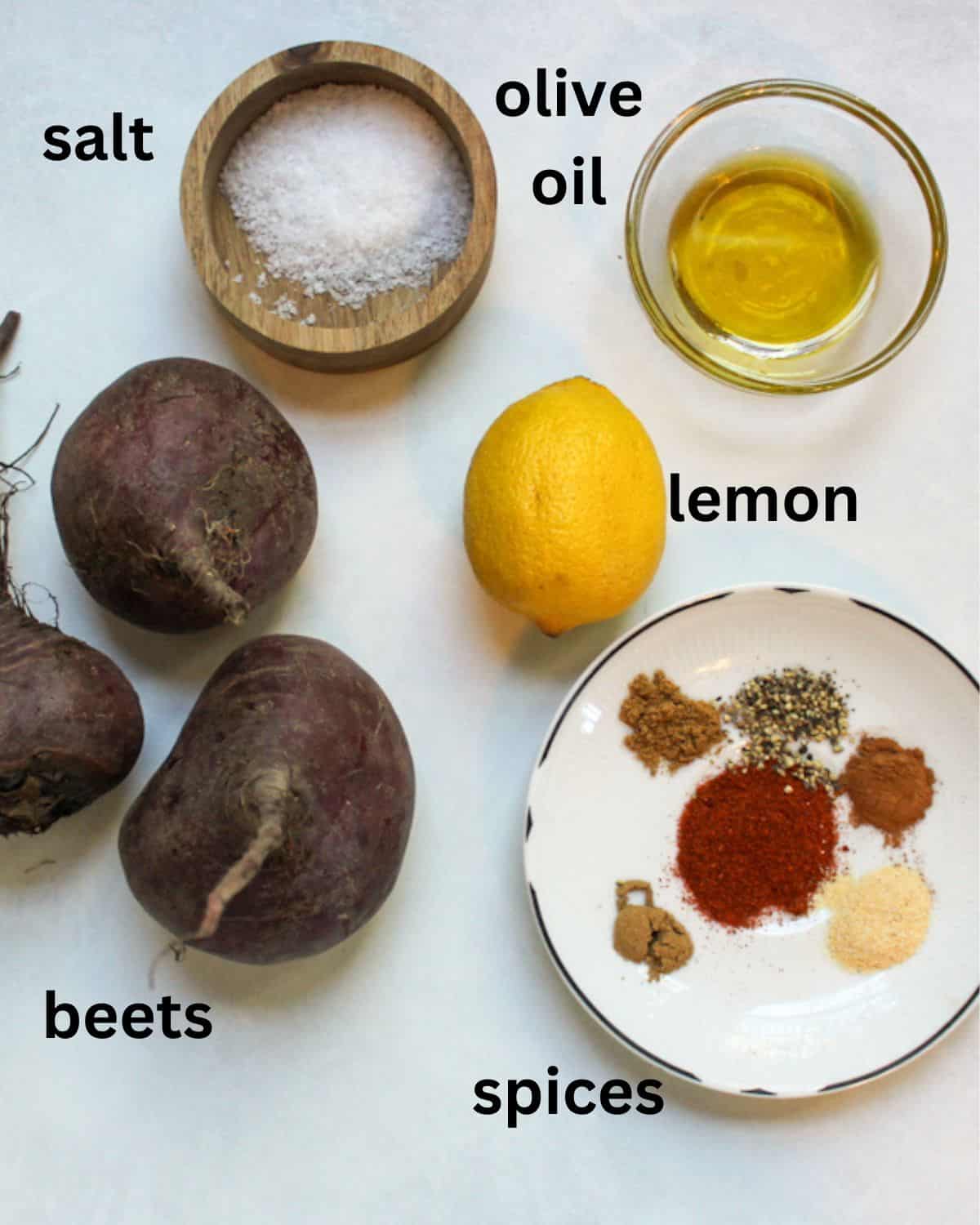 ​Step-by-step directions
1) Firstly, because beets are root vegetables, make sure you wash and scrub them well under running water to get rid of any dirt and debris. Peel beets using a knife or a vegetable peeler. Just like you peel the potatoes. If you do not want your hands being stained, wear some gloves. But if you wash them right away, the red color comes off easily with a dish-washing liquid.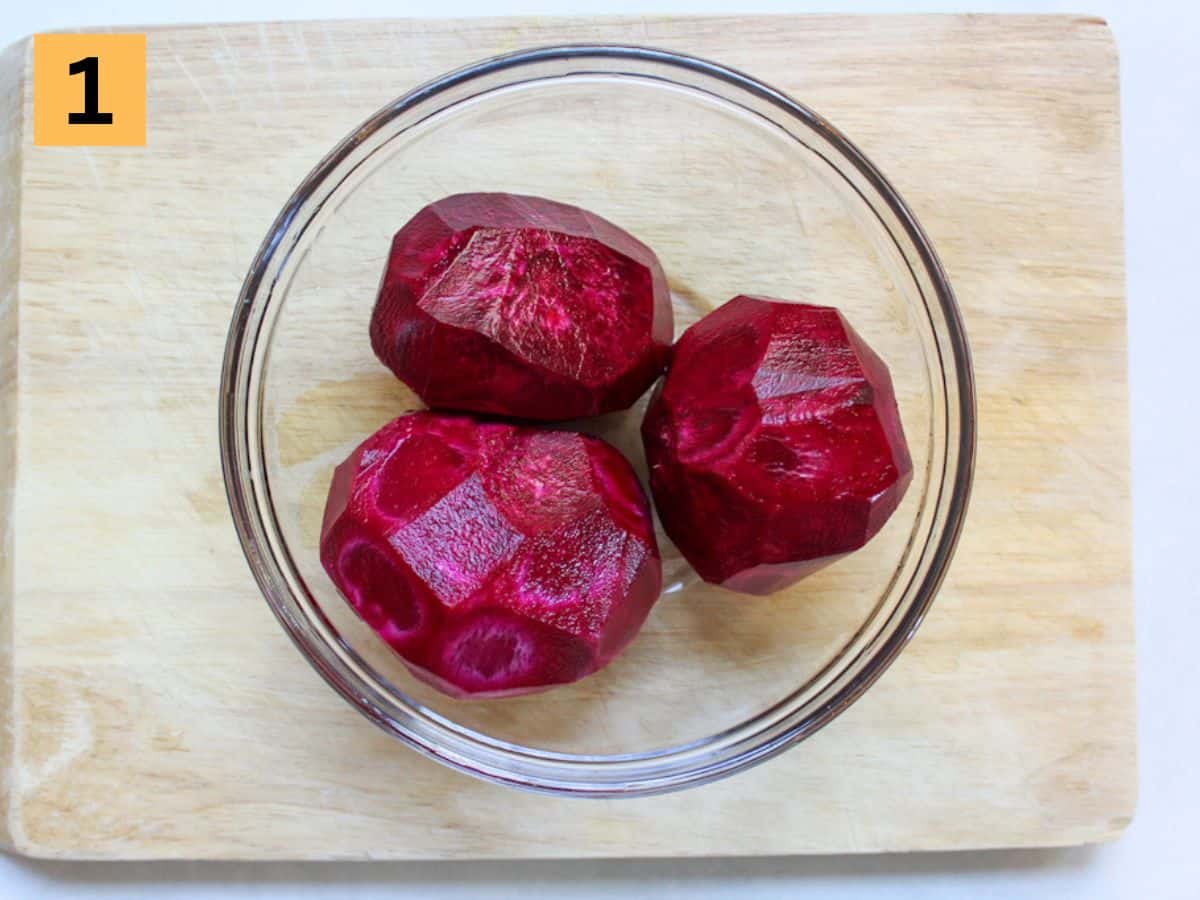 2) Cut each beet into 1-inch chunks or cubes. Do not worry about making them very even as it will be hard, since beets have a round shape.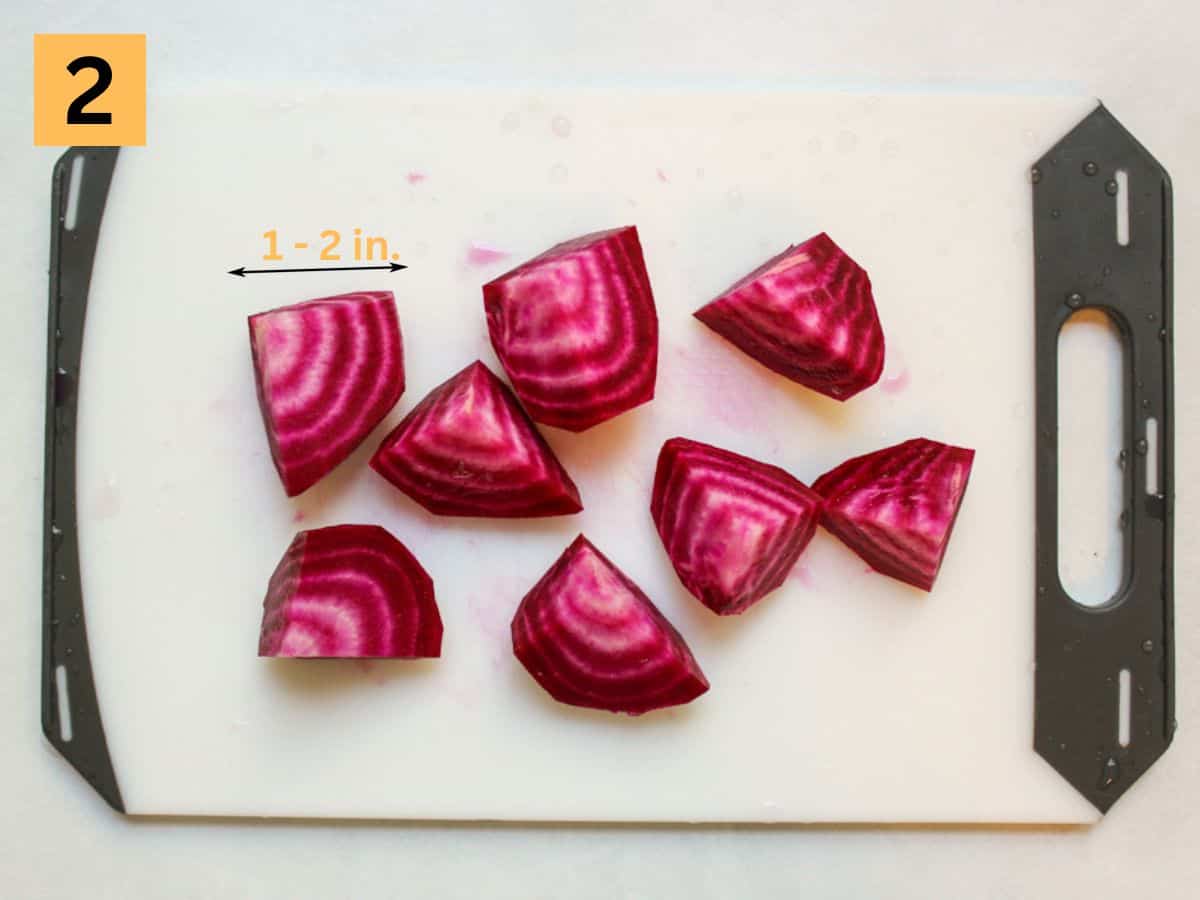 3) Place beet cubes into the medium-sized bowl. Add olive oil and salt. Mix well to coat. Transfer them into the air fryer basket. The beets may touch but should be in a single layer for even cooking. If they do not fit, roast them in batches. Air fry the beet for about 15-20 minutes at 400°F until fork tender, shaking them about halfway through They are ready to serve unless you want to try my spice mix, follow the steps below.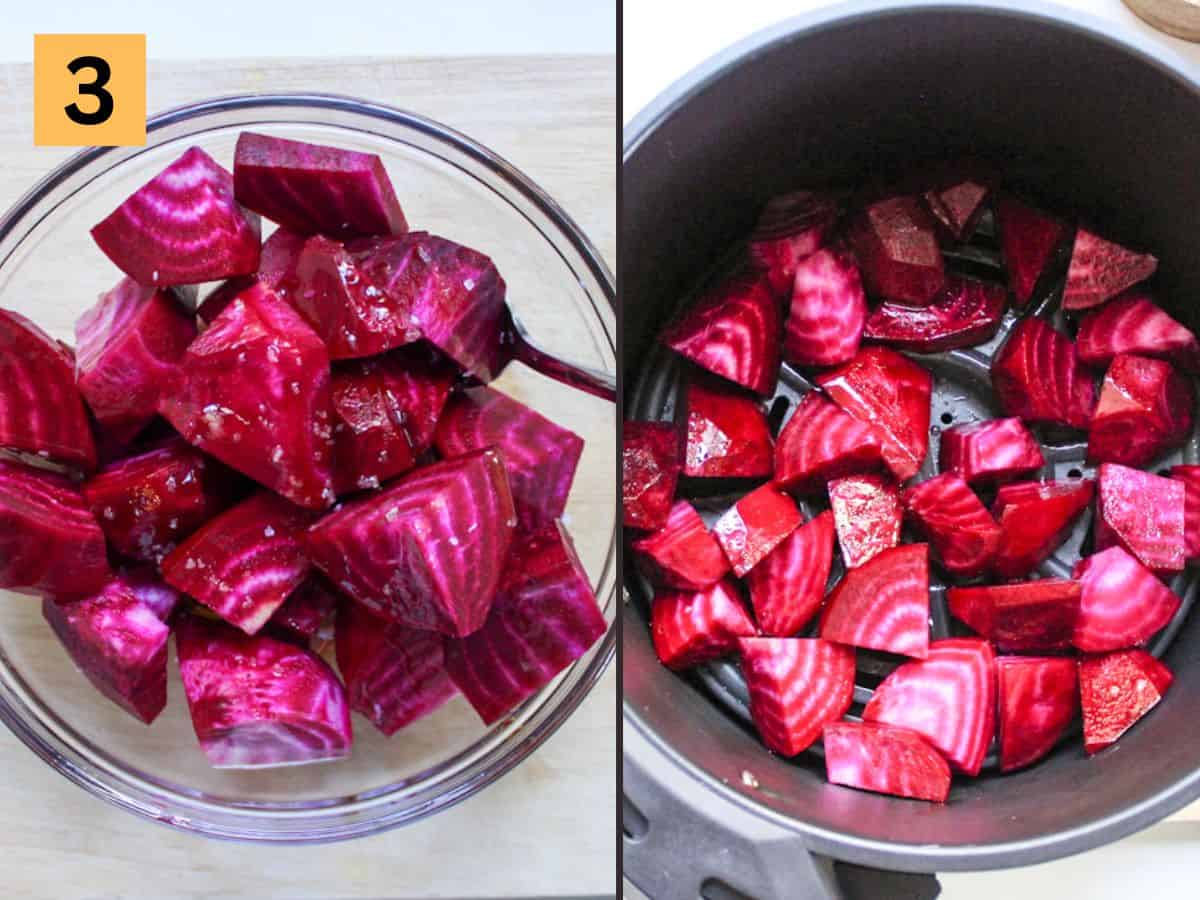 4) While the beets are air frying, in a small bowl mix paprika, coriander, cumin, cinnamon, and black pepper. Remove the roasted beets and place them back into the bowl. Add the spice mix (all of it or half) and mix to coat the beet cubes.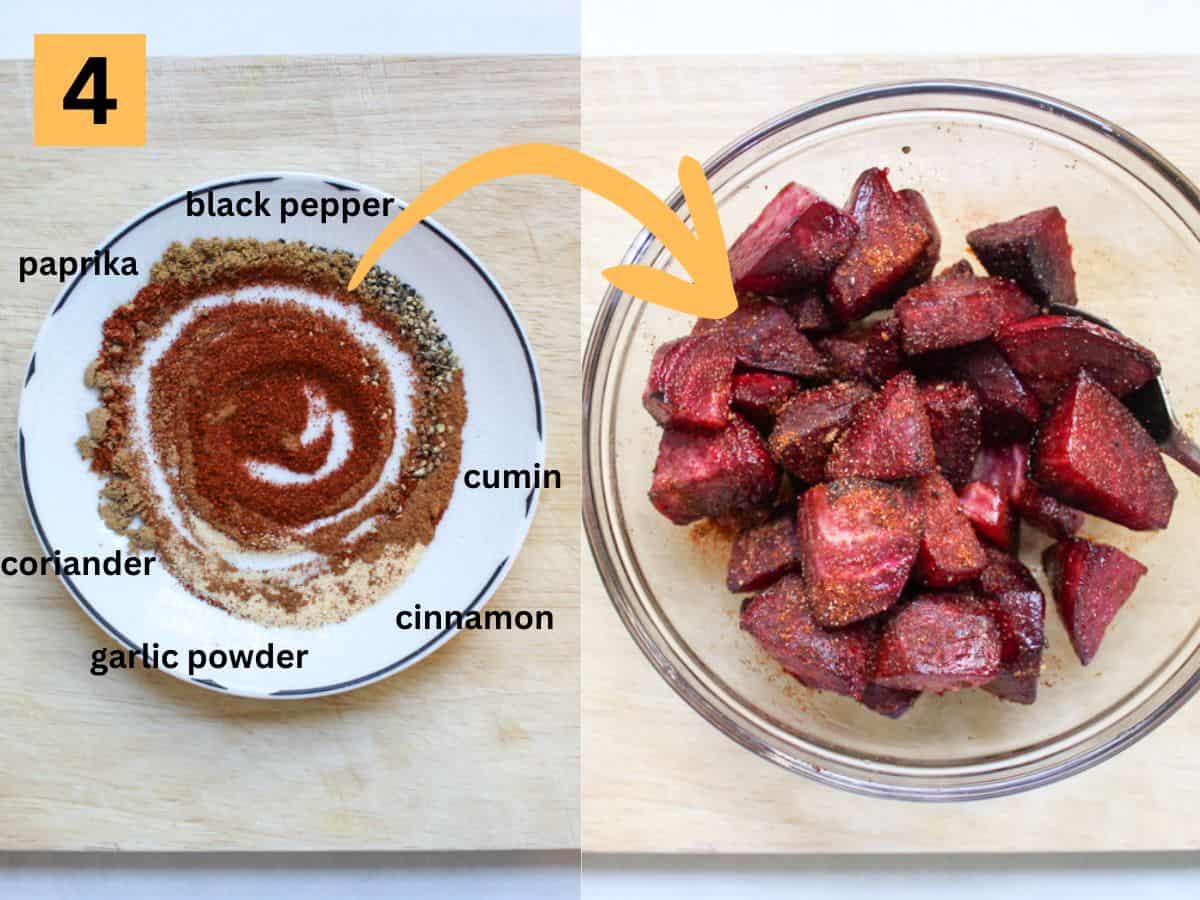 5) Place seasoned beets back in the air fryer and cook for another 2-3 minutes at 400°F. I do not add the spice mix before roasting them for the first 15 minutes, because the air fryer hot air will burn the finely ground spices quickly. Burnt spices will taste bitter and lose all the amazing favors.
Now, take the basket put and squeeze about 1 teaspoon of lemon juice over the beets. It is optional but adds a nice tang to the beets. I also add some fresh chopped parsley on top for serving.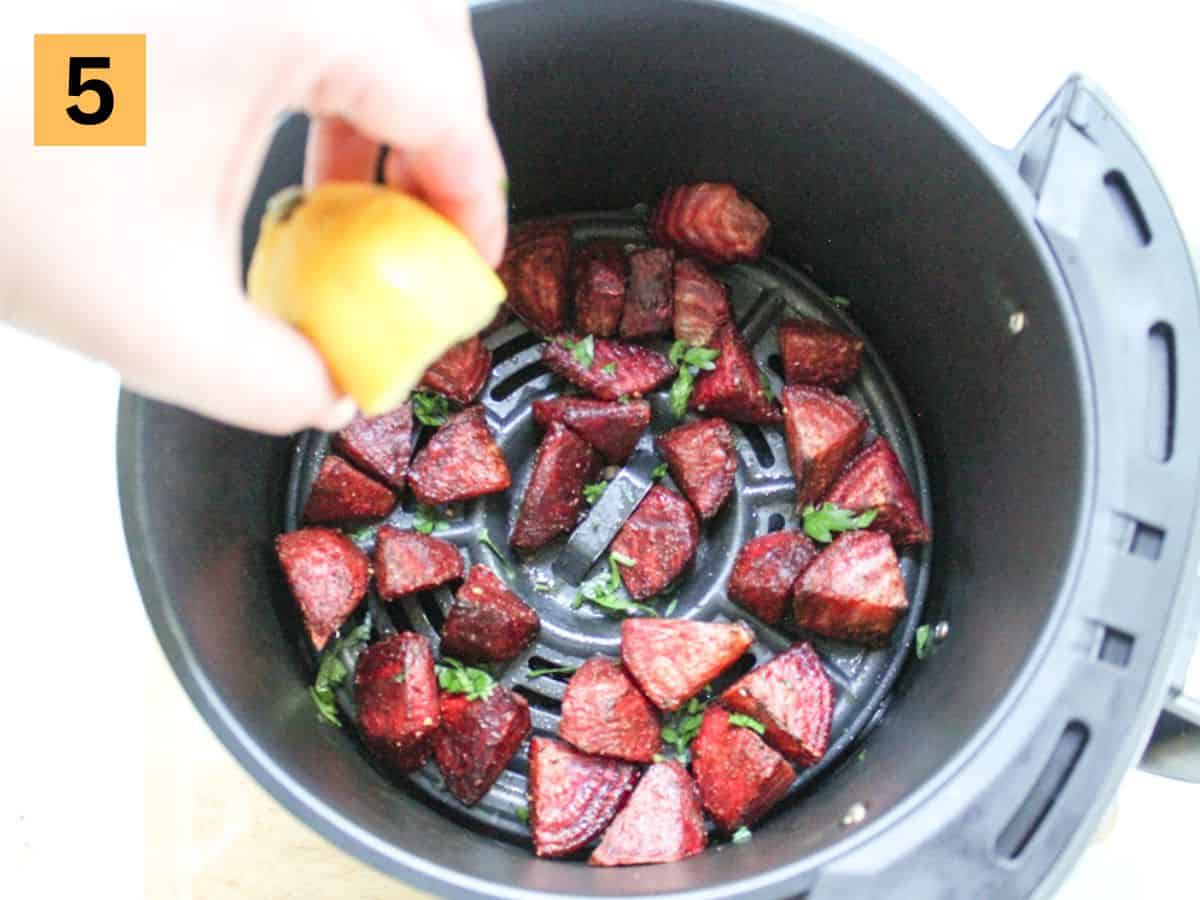 ​Expert Tips
Uniform pieces: cut the beets into about 1-inch pieces or chunks for even cooking.
Shake and toss: about halfway through cooking time, remove the basket and give it a shake.
Cooking time: cooking time may vary depending on the model of your air fryer. I used the Ninja brand for this recipe.
When to add spice mix: add any spice mix or herbs only during the last 2-3 minutes of cooking time to prevent them from burning and turning bitter.
Storage: store leftovers in an airtight container in the fridge for up to 3-4 days.
Reheat: you can reheat the beets in a microwave or air fryer.
Way to serve and use roasted beets
Side dish: serve them warm with any main dish ( try it with my baked duck, chicken, meatloaf, or mushroom risotto). You can top the roasted beets with feta cheese or goat cheese.
Salad toppers: you add them to any salad or even a grain bowl.
Appetizer: serve them as an appetizer alongside dips, chips, and crackers.
Frequently asked questions
Do I need to peel the beets before air frying?
No, you do not need to peel the beets. But when air frying or roasting them cubed, I recommend peeling the skin for a smoother texture and a more uniform appearance.
Can I roast whole beets in air fryer?
You can roast whole beets in air fryer, but it will take much longer. If you decide to roast them whole, pick smaller beets, do not peel the skin, and consider wrapping them in foil for even cooking.
How long does it take to air fry beet cubes?
The cooking time for beet cubes in an air fryer depends on their size and your specific air fryer model. Usually, it takes around 15-25 minutes, but it's important to check for doneness by piercing them with a fork or knife.
More air fryer vegetable recipes
More recipes with beets to try
📖 Recipe
Quick Air Fryer Roasted Beets
Beets, olive oil, seasonings, and 20 minutes is all you need to roast perfect beets in the air fryer. They are great as a side dish or add them to salads and bowls.
Equipment
medium bowl

Air fryer

I used Ninja XL

measuring spoons
Ingredients
3

medium beets

2

Tablespoons

olive oil

1

teaspoon

lemon juice (optional)

½

teaspoon

salt

1

teaspoon

paprika

¼

teaspoon

coriander

¼

teaspoon

garlic powder

¼

teaspoon

cumin

¼

teaspoon

cinnamon

¼

teaspoon

black pepper

1

teaspoon

chopped fresh parsley (optional)
Instructions
Wash and scrub the beets well. Peel the skin off with a knife or veggie peeler.

Prepare the seasoning mix by combining 1 teaspoon paprika, ¼ teaspoon coriander, ¼ teaspoon garlic powder, ¼ cumin, ¼ cinnamon, ¼ black pepper.

Cut the beets into 1-2 inch chunks or cubes and place them in a bowl.

Add ½ teaspoon salt and 2 tablespoon olive oil and mix well to coat.

Preheat air fryer to 400 degrees F. Place the beets in air fryer basket in a single layer.

Air fry for about 15-20 minutes at 400°F or until desired tenderness. You can enjoy them right away or roast them with the seasoning.

To do so, transfer roasted beets back to the bowl and add the prepared seasoning. Mix with the spoon to coat.

Add seasoned beets back to the air fryer basket and air fry for another 3 minutes at 400°F. After that, squeeze some lemon juice on top and sprinkle with fresh parsley. Enjoy!
Notes
Seasoning: adjust the amount of seasoning to your liking. I recommend adding half of the created spice mix if air frying only one batch of beet (about 2-3 medium roots). Make it spicy: if you like spicier food, add about ¼ teaspoon of cayenne pepper to the spice mix. Add sweetness: if you like sweeter roasted beets, you can drizzle them with honey or add some brown sugar before roasting.
Nutrition
Calories:
68
kcal
Carbohydrates:
10.8
g
Protein:
1.7
g
Fat:
2.3
g
Sodium:
282.2
mg
Fiber:
3.3
g
Sugar:
7.5
g