This beetroot risotto will impress everyone with its bright pink color and delicious earthy flavor. It is a perfect dish to make for Valentine's Day or a date night.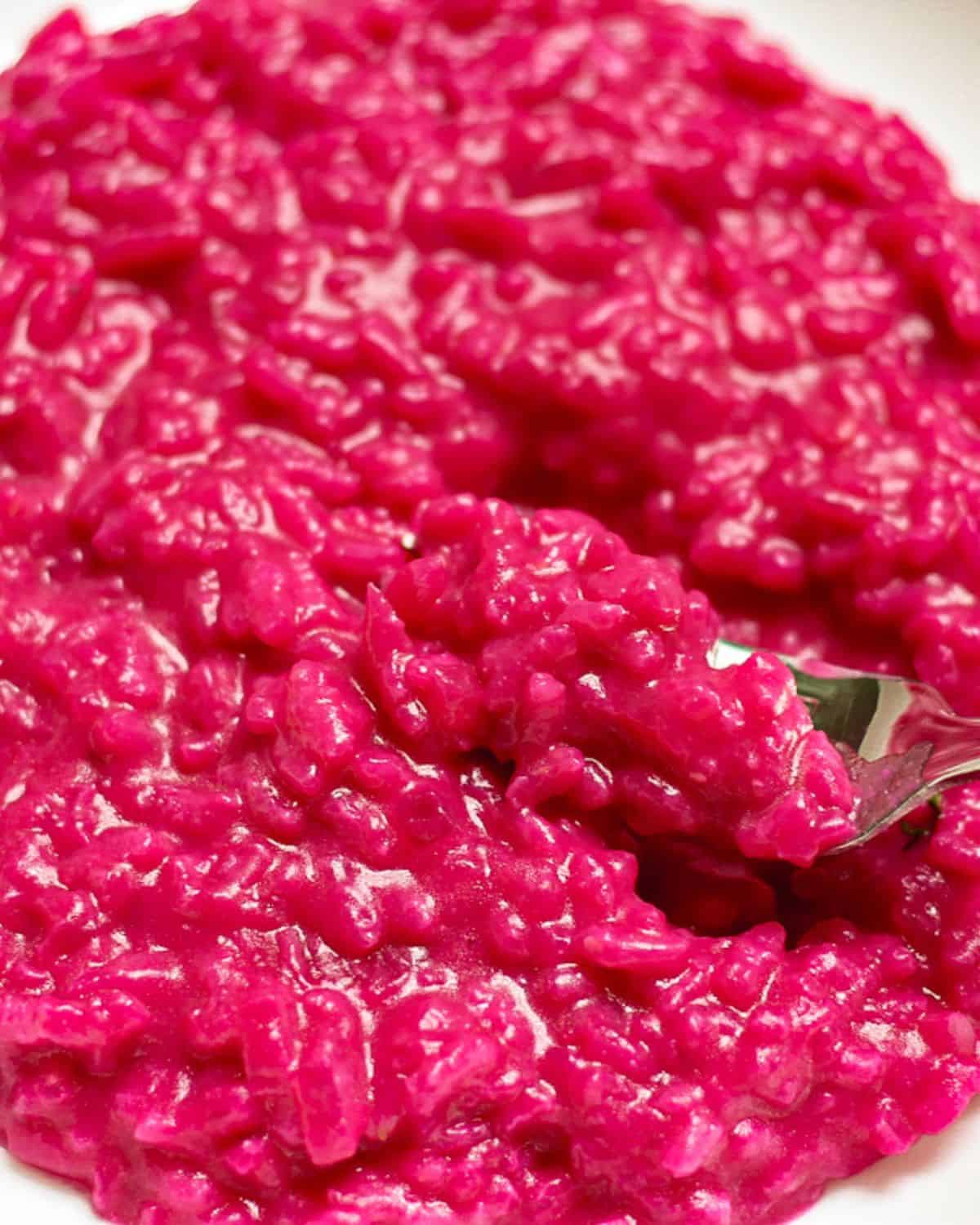 Transform your ordinary risotto into this beautifully pink and flavorful dish. And if you are looking for more pink-colored dishes made with boiled beets, check out this pink spaghetti , pink pancakes or pink waffles.
Each spoonful of this creamy risotto offers a combination of earthy sweetness from beets, followed by a pleasant Gorgonzola aftertaste with tangy and slightly spicy notes.
If you prefer, you can skip Gorgonzola, but it compliments the beets beautifully, adding some new and interesting flavors to this dish.
Gorgonzola is a type of blue cheese that has a bold tangy taste due to the aging process, which makes the dish more interesting. If you do not like blue cheese, you can use goat cheese or feta cheese instead to make this recipe.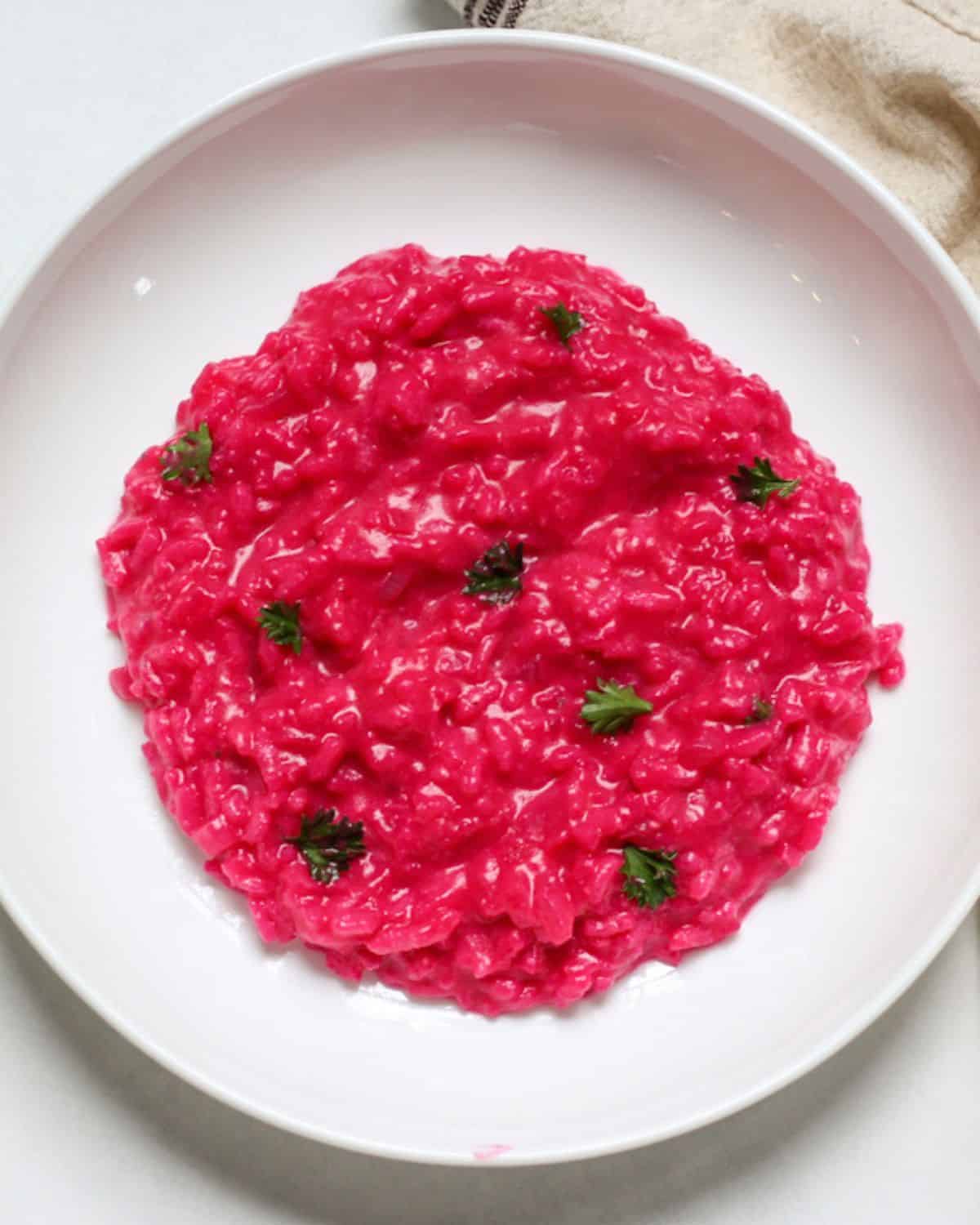 Jump to:
Ingredients
You can find ingredient quantities in the recipe card below.
Risotto rice: Arborio is the most common type of rice used for risotto and it is easy to find. Carnaroli is another suitable option. Read more about types of risotto rice.
Broth: I used chicken broth as it adds a nice savory flavor to the dish.
Dry wine: any dry white wine, such as Pinot Grigio or Sauvignon Blanc
Yellow onion or shallot: both are suitable for making risottos. Shallot has a milder taste.
Garlic: fresh garlic or garlic powder, in case you do not have a fresh one on hand.
Beets: you will need one medium red beet.
Gorgonzola cheese, crumbled: you can also use any other blue cheese instead or skip it altogether.
Grated Parmesan cheese: added at the very end for creaminess.
Butter: use for sauteing and you will need a tablespoon or two to add at the end.
Olive oil: for sauteing the onions.
Salt and pepper: season the risotto at the very end after tasting. Keep in mind that the broth and Gorgonzola already have added sodium.
Fresh parsley (optional): I like to add some fresh parsley or basil for garnishing and some fresh taste.
Step-by-step directions
Cook the beets. Boil whole beets for about 30-50 minutes until tender. You can also cook whole beets in the instant pot.
Blend cooked beets. Blend the beets in a blender or food processor with about ½ cup of broth until smooth. Set the beetroot puree aside.
Heat the broth. In a small pot, pour in the broth and keep it hot over low heat throughout the whole cooking process. ​
Saute onions. In a large high-sided pan or deep skillet, heat 1 tablespoon of olive oil and some butter. Add finely chopped onion, minced garlic and saute over medium until translucent and fragrant for 2-3 minutes.
Toast rice. Add Arborio rice to the pan and stir to coat it with the oil. Toast the rice for about 2 minutes over low-medium heat until fragrant.
Add wine (optional). Pour in the dry wine (if using) and let it cook stirring frequently until absorbed.
Add broth. Add one ladleful of hot chicken broth to the rice. Stir continuously until mostly absorbed, keeping the heat on medium-high. Add more broth and repeat the process 5-6 times or until the rice is creamy but still al dente in the middle.
Add beets puree. After you add the last ladle of broth, pour the beet sauce. Continue stirring until the rice is bright pink and most of the liquid is absorbed.
Add cheese and butter. Now, stir in crumbled Gorgonzola cheese (if using), grated Parmesan, and the remaining butter.
Taste and season. Taste the risotto and add more salt (if needed) and black pepper to taste. Serve and enjoy!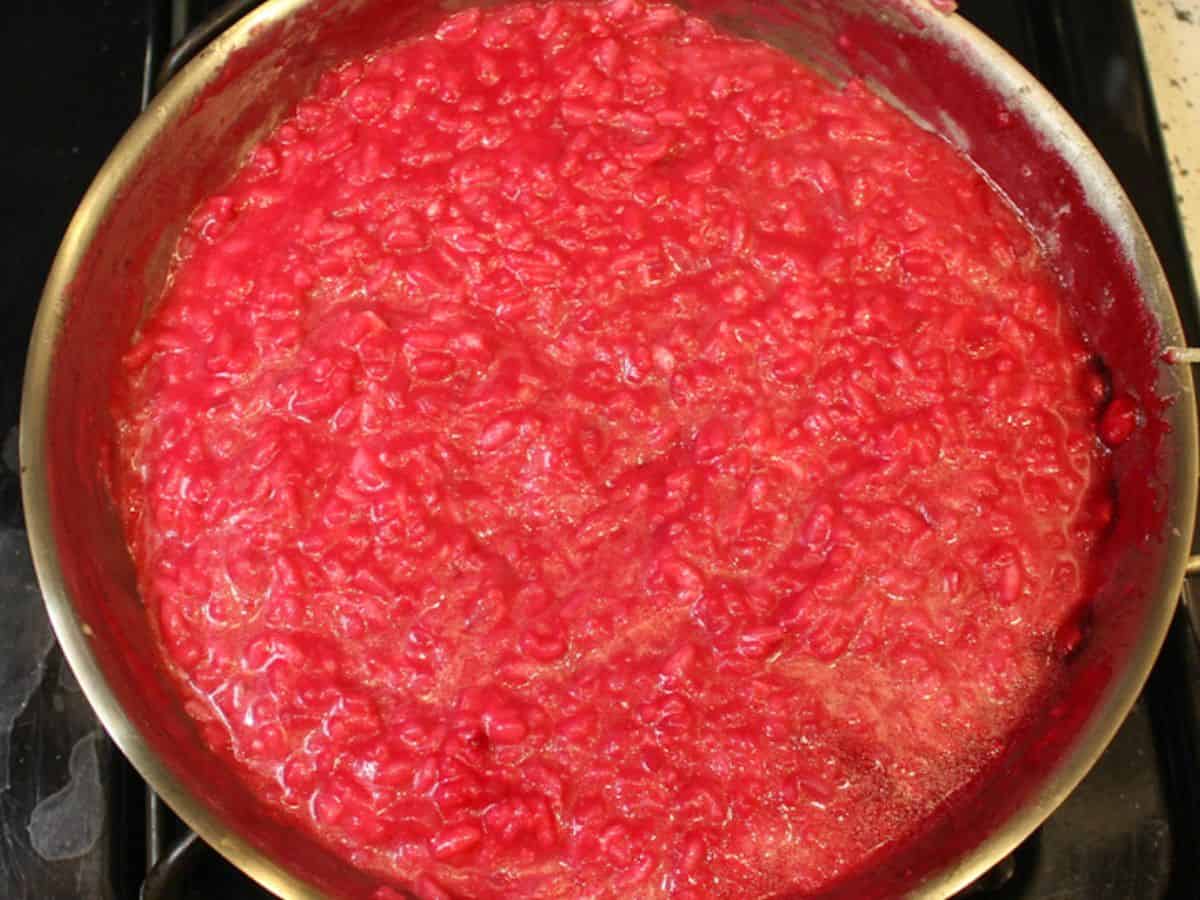 ​
Recipe tips
you can cook the beetroot the day before and keep it in the fridge until ready to use.
If your beet comes with green, you can chop beet greens and saute them with onions and garlic.
You may need only little to no salt, as the Gorgonzola cheese can be quite salty. Always taste before adding more salt.
Make sure to keep the broth hot during the whole cooking process.
Properly cooked risotto should remain al dente (with a slight bite in the middle).
Recipe variations
Vegan: you can use vegetable broth, and olive oil and add about ¼ cup of coconut milk and a few Tablespoons of nutritional yeast at the end more creamy vegan option.
Lemon and fresh thyme: add some lemon juice, lemon zest, and chopped thyme during the last minutes of cooking for a refreshing twist to the dish.
Balsamic glaze: drizzle a little bit of balsamic glaze over plated risotto for extra flavor and visual contrast.
Cubed roasted beets: instead of blending the beets into the sauce, you cut them into small cubes and roast them in the oven, before adding to the risotto at the very end. This will give the dish more roasted beet flavor and also texture.
How to store and reheat
You probably already know that risotto tastes best when fresh and right off the stove. But hey, if you happen to have some leftovers, you can store them in an airtight container and keep them in the fridge for up to 3 days.
And there is a more fun idea for those risotto leftovers. Instead of reheating risotto, why not turn it into something different, like Arancini balls or Suppli croquettes (my favorite)?
They are both very tasty and a great way to transform your risotto leftovers into a new dish.
What to serve with beetroot risotto?
If you serve beet risotto as a main dish, I recommend adding a side of fresh salad, roasted vegetables, such as asparagus, green bean, carrots, and maybe some fresh bread.
As a side dish, pair it with chicken, duck, or any type of seafood.
Frequently asked questions
What is the best wine pairing with this beet risotto?
Pinot Noir, Chardonnay, Rosé, Merlot, Prosecco, and even Champagne are all excellent options to compliment the earthy and slightly sweet beet risotto.
How to achieve vibrant pink color in beetroot risotto?
The pink color comes from a red beetroot. Once you add raw or cooked beets to the risotto, the rice will become bright pink.
Can I use canned beets?
While you can use canned beets to make this dish, using fresh ones will yield a better flavor and brighter pink color for the dish.
More risotto recipes
More recipes with beets
​
📖 Recipe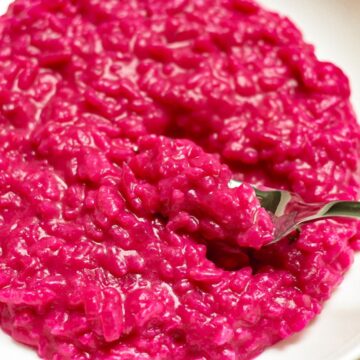 Beetroot Risotto With Gorgonzola Cheese
This beetroot risotto will impress everyone with its bright pink color and delicious earthy flavor. It is a perfect dish to make for Valentine's Day or a date night.
Equipment
1 small pot

1 large skillet or pot

1 blender or food processor

1 ladle
Ingredients
2

cups

Arborio rice

5-6

cups

chicken or vegetable broth, low sodium

½

cup (optional)

dry white wine

1

small onion or shallot, diced

2

garlic cloves, minced

1

medium beet

4-5

Tablespoons

Gorgonzola cheese, crumbled

or more too taste

½

cups

grated Parmesan

1

Tablespoon

olive oil

2

Tablespoons

butter

salt and pepper to taste

fresh parsley, for garnish
Instructions
Boil the whole beet in water or roast it in the oven for about 40 minutes or until fork tender. Let it cool down and peel it.

Heat the chicken broth in a saucer pan and keep it on the lowest heat throughout the cooking process.

Add roughly chopped beet and ¼ cup of broth to the blender. Puree it on high until it is smooth without any chunks. Set the beet sauce aside.

In a large skillet, heat 1 Tablespoon of olive oil and 1 Tablespoon of butter over medium heat. Add diced onions and minced garlic. Saute over medium heat for about 2 minutes or until translucent and aromatic.

Add 2 cups of risotto rice too the skillet and toast it for another 2-3 minutes over medium heat.

Pour ½ cup of dry white wine (if using) and cook it over medium heat until it is absorbed and alcohol evaporated.

Begin adding the hot broth, one full ladle at a time. Stir the rice continuously, allowing each portion of broth to be absorbed before adding the next one. Continue the process of adding broth and stirring for about 18-23 minutes or until the rice becomes creamy but remains al dente in the middle.

Pour the blended beets and stir risotto for about 1-2 minutes to incorporate the beets.

Take risotto off the heat. Add ¼ cups of grated Parmesan, 4 Tablespoon of Gorgonzola and the remaining 1 Tablespoon butter. Gently stir it until incorporated into the rice.

Taste risotto and add some salt (if needed) and black pepper to taste. Garnish with fresh parsley and serve!
Notes
Rice: use a special risotto rice, which is short grain and high in starch. Beets: you can use canned beets, fresh are recommend for the best flavor and color. Gorgonzola: you can use goat cheese or feta instead. All nutrition facts are only estimate and should be used for information purposes only.
Nutrition
Calories:
488
kcal
Carbohydrates:
38
g
Protein:
24.7
g
Fat:
21
g
Cholesterol:
36
mg
Sodium:
501
mg
Fiber:
4
g
Sugar:
3
g