Air fryer risotto balls are a delicious and quick way to repurpose leftover risotto. Enjoy them as a fun appetizer, snack or light meal.
While you can follow my best tips and tricks on how to reheat risotto, I like to get creative and repurpose the leftovers into something crispy and delicious - Arancini balls.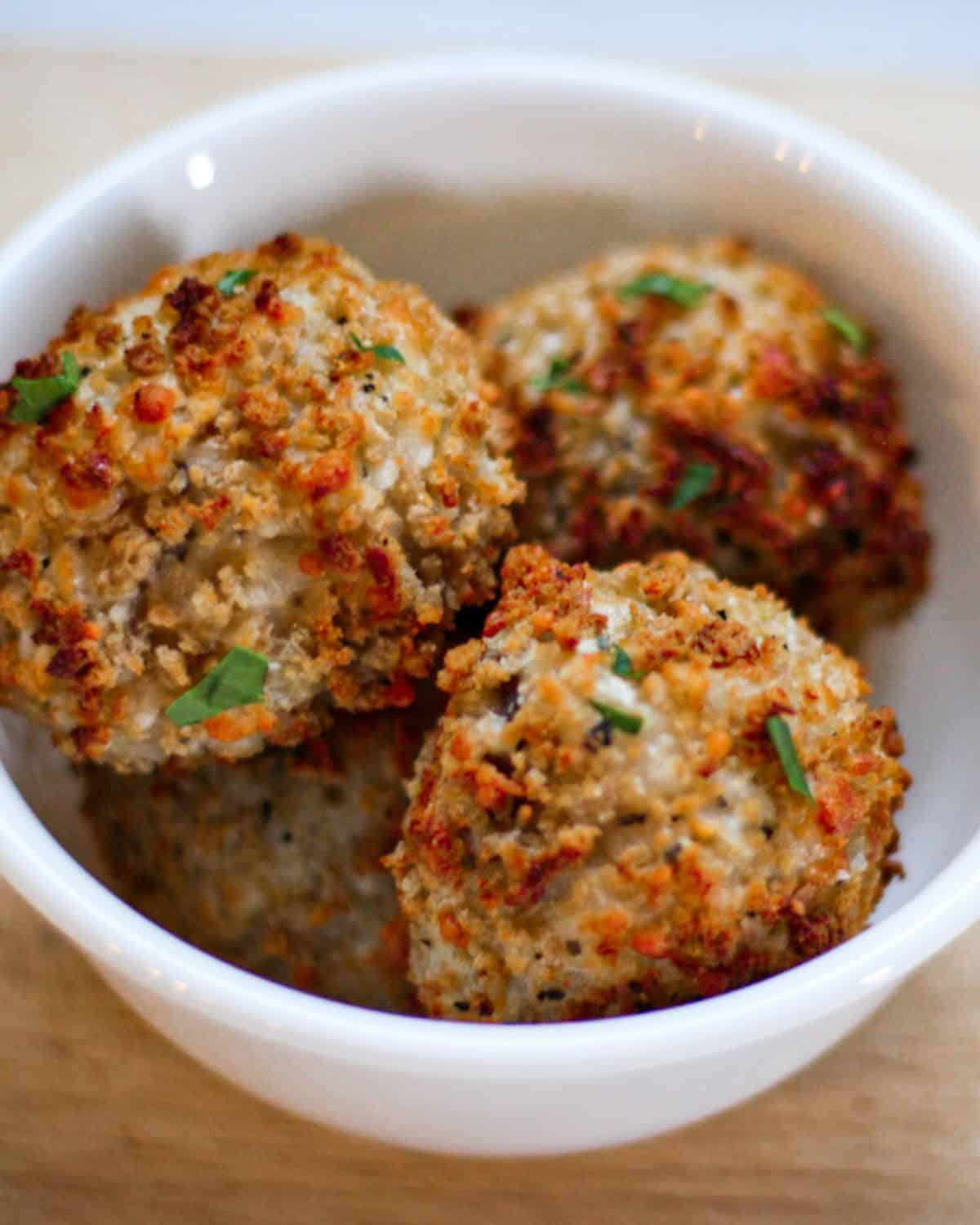 About Arancini balls
Arancini balls are one of the most popular street foods in Italy. The recipe originated in Sicily and quickly became popular in a lot of countries, including the US.
Did you know that "arancini" means "little oranges" in Italian? Because when fried, these rice balls resemble little golden oranges with their round shape and orange color.
Similar to Roman Suppli, traditional arancini are usually made with leftover risotto, breadcrumbs, eggs, dried herbs, and extra Parmesan cheese.
Cooked risotto formed into balls, dipped into the egg wash and bread crumbs, and then deep fried until golden brown.
Very often, there is a filling in the middle of each ball. It can be melted mozzarella cheese or beef ragù.
Traditionally, they are deep fried. But I prefer using my air fryer to make them.
You can easily use any type of leftover risotto to make these air fryer balls, but it is important to ensure that the risotto was made with a specific type of risotto rice.
Not sure what is the best type of rice to choose? Check out our article - types of Rice for Risotto to learn more.
And if you are looking for delicious risotto recipes try our fennel risotto, creamy risotto with mushrooms or Parmesan risotto.
From my experience, tomato risotto is one of the best ones to use to make the Arancini balls.
Ingredients
You can find the quantities to make 4 servings ( 8 balls) in the recipe card below).
Cooked risotto: any type of leftover risotto made with Arborio rice or Carnaroli rice.
Mozzarella cheese: you can also use Mozzarella cheese sticks, cheddar, Gouda, or other good melting cheeses.
Breadcrumbs: I used plain panko breadcrumbs. You can also use Italian breadcrumbs or other breadcrumbs.
Eggs: you will need 2 whole eggs to make the egg wash.
Parmesan cheese: you if made risotto yesterday, you still should have leftovers of grated Parmesan or Parmigiano-Reggiano.
Salt and seasoning: I used plain breadcrumbs, so added some salt, garlic powder, black pepper, and some dried parsley. You can also use store-bought Italian seasoning.
Cooking spray: for the air fryer basket to prevent the balls from sticking and it will also make the rice balls golden brown.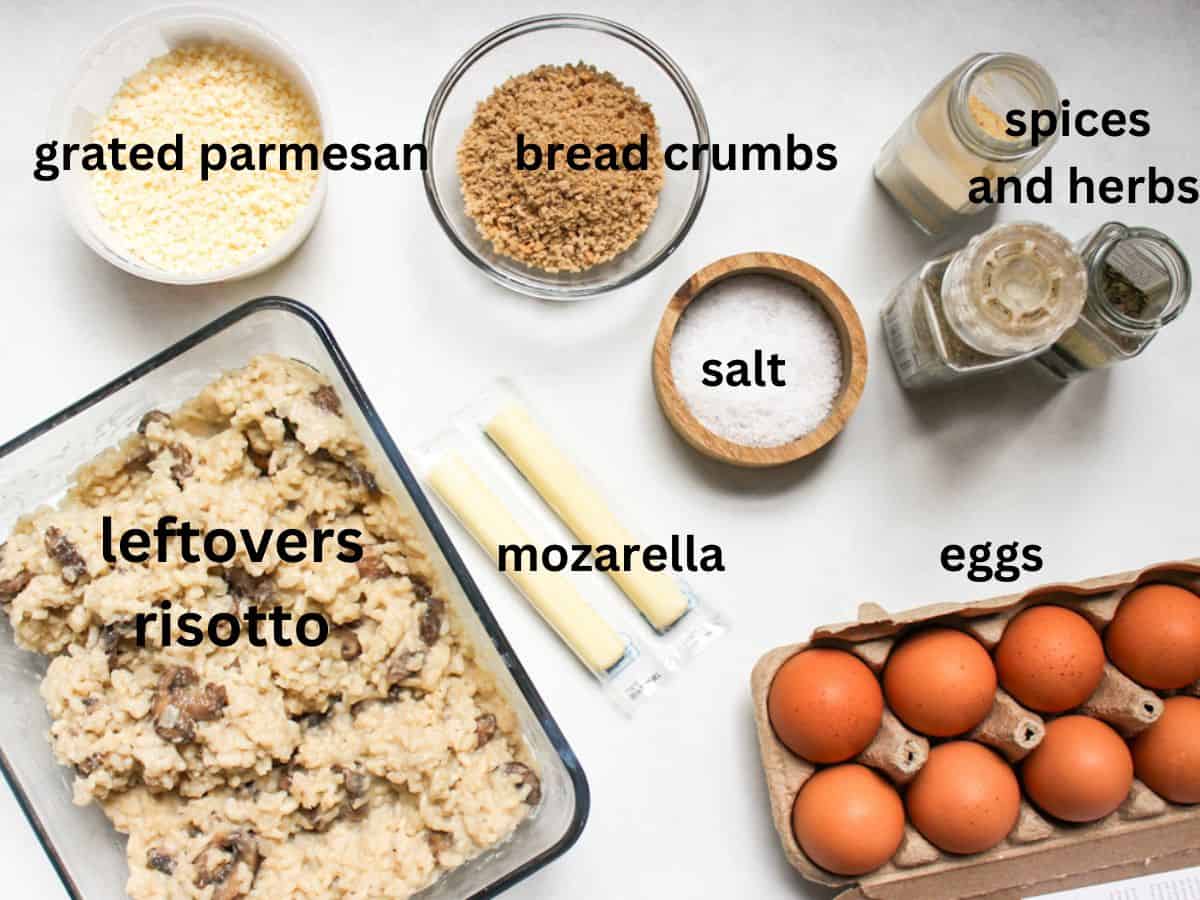 How to make air fryer arancini balls
Prepare the dredging station. In the first small bowl, whisk 2 eggs. In the second bowl, add bread crumbs, Parmesan cheese, salt, pepper, garlic powder, and dried parsley.
Form the balls. Use a ¼ measuring cup or an ice cream scoop (smaller balls) to divide the risotto into even balls. Use your clean hands to form a tight ball.
Press a small cube of mozzarella cheese into the center of each ball. Close each ball ensuring the cheese is covered completely.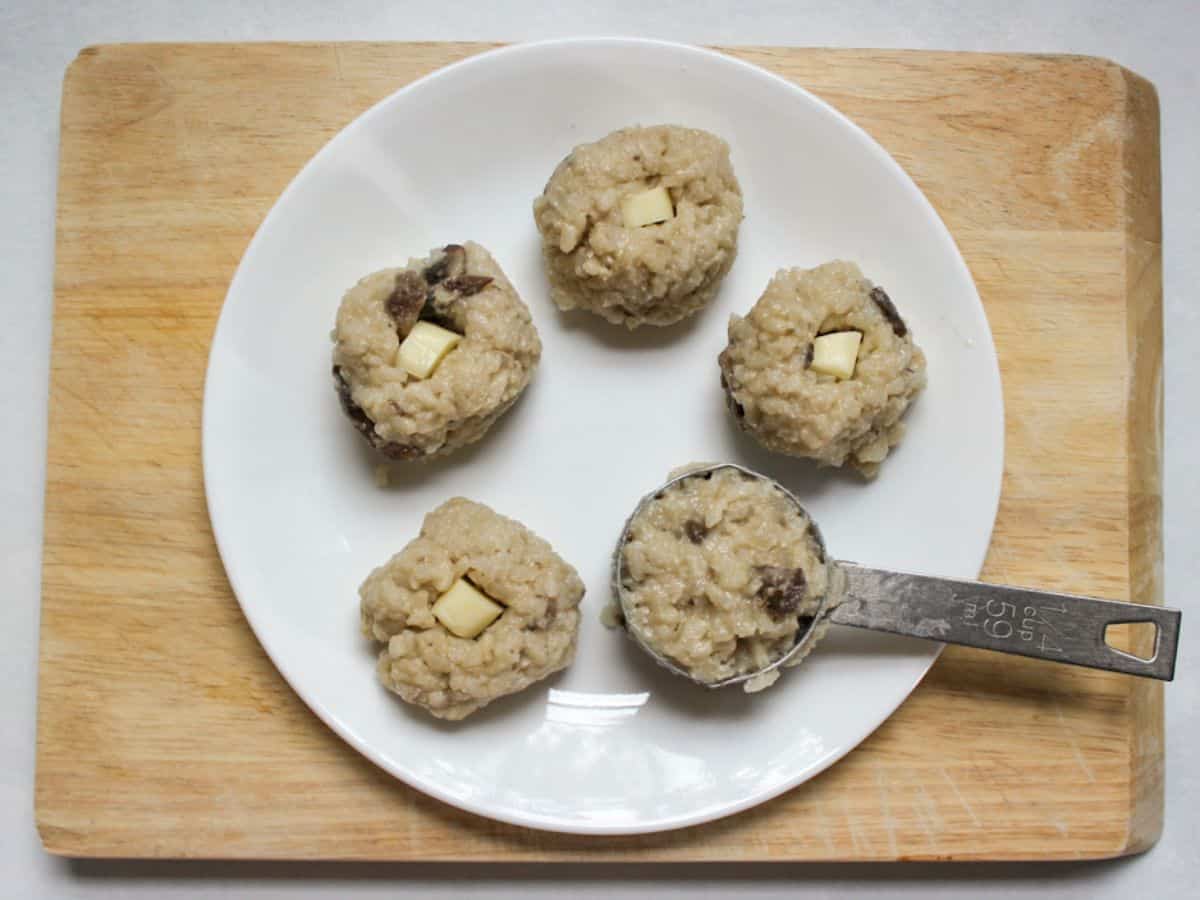 Dredge. Dip each ball into the egg mixture and then roll it into the breadcrumb mixture. You can press the crumbs gently into the rice.
Air fry. Spray the bottom of the air fryer tray with cooking oil. Place the balls into the preheated air fryer basket in a single layer.
I made them in 2 batches, not to overcrowd the air fryer.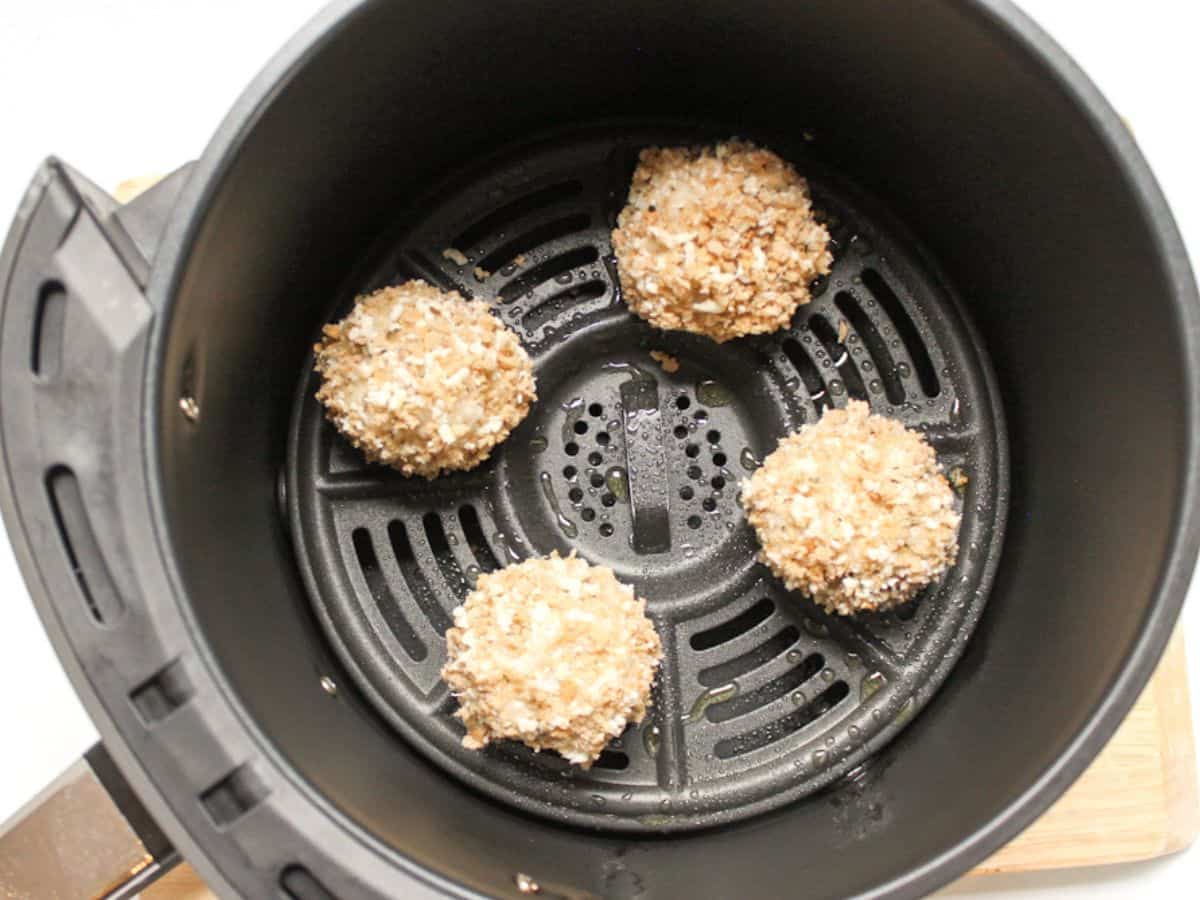 Cook them for about 8 minutes at 400°F, flipping them one time. They are ready when golden and crispy on the outside and the cheese is melted on the inside. All air fryers cook differently.
And It can be hard to tell if the cheese inside melted and the rice is hot, so I recommend using the kitchen thermometer. The internal temperature should be 165°F when inserted in the middle.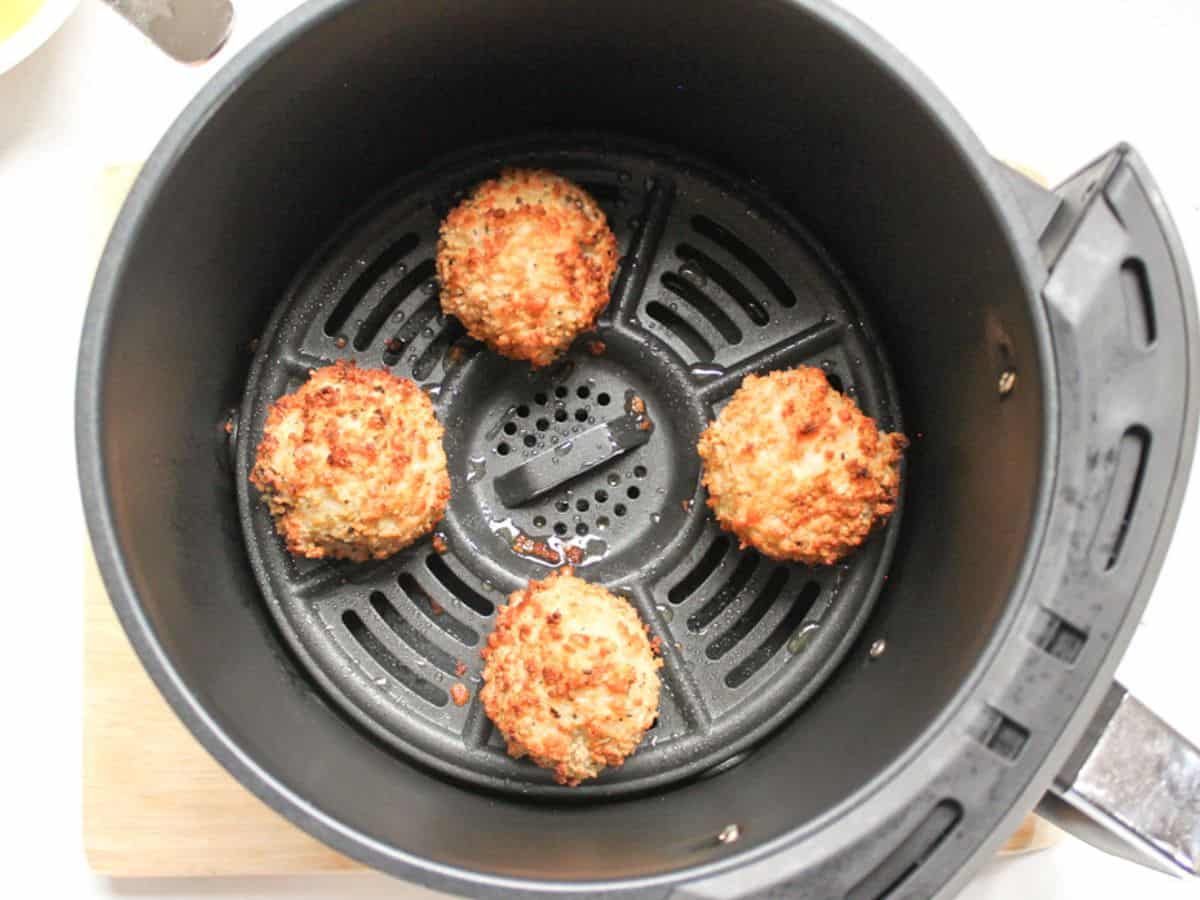 Serving
Arancini balls can be served as an appetizer, snack, or part of a main course.
With dipping sauce such as marinara sauce, tomato sauce, or aioli.
You can include them as a part of an antipasti platter alongside cured meat, cheese, bread, and olives.
Pair them with salad or vegetables to create a complete meal.
Recipe tips
Make sure to press the rice firmly while forming the balls to ensure they hold up better.
You can remove any large chunks of vegetables such as mushrooms from the risotto before forming the balls.
Chill the balls before frying for at least 30 minutes in the fridge.
Set up the dredging station in the order - egg mixture, breadcrumbs mixture, air fryer basket.
Use the food thermometer to ensure they are cooked through ( at least 165°) as different air fryer models cook differently.
Can I make them ahead of time?
No, it is not recommended to make this dish ahead of time due to food safety.
You can cook the risotto ahead of time and make the balls within 3 days if the risotto was in the fridge at all times.
Once you use cooked rice to make another dish that involves reheating, it is best to consume it right away and discard any leftovers.
Reheating any rice dish twice increases the chances of food poisoning.
I have seen a lot of recipes that recommend you can freeze cooked arancini balls or store them in the fridge for a few days.
Do not do it, as it will be considered as reheating the cooked rice twice.
More air fryer recipes
Frequently asked questions
Can I make them gluten-free?
Yes, you can make gluten-free arancini balls by using gluten-free breadcrumbs (or almond flour) and verifying the rest of the ingredients used to make the risotto are gluten-free.
I do not have an air fryer, can I still make them?
Yes, you can deep fry these Italian rice balls or bake them at 420°F on a baking sheet lined with some parchment paper.
Can I freeze cooked Arancini balls?
No, it is not recommended to freeze or refrigerate cooked Arancini balls as they contain rice that has already been cooked once. It is not safe to reheat rice twice due to the increased risk of bacterial growth.
📖 Recipe
Air Fryer Risotto Balls (Italian Rice Arancini)
Air fryer risotto balls are a delicious and quick way to repurpose leftover risotto. Enjoy them as a fun appetizer, snack, or light meal.
Equipment
2 small bowl or shallow dishes

1 ¼ measuring cup

1 air fryer, I used Ninja XL
Ingredients
2

cups

leftover risotto

4

oz

mozzarella cheese or 2 cheese sticks, cut into cubes.

2

ea

eggs

1

cup

breadcrumbs, regular or panko

¼

cup

grated Parmesan cheese

¼

teaspoon

salt

¼

teaspoon

garlic powder

¼

teaspoon

black pepper

½

teaspoon

dried parsley
Instructions
Use a ¼ measuring cup (or ice cream scoop) to divide the risotto into 8 parts. Form 8 balls with your hands, pressing the ball firmly. You might have about 10 balls if using the ice cream spoon.

Gently press a small cube of mozzarella cheese into the center of each ball, ensuring the cheese is fully enclosed by the risotto mixture.

Preheat the air fryer and spray the basket with cooking oil (optional).

In one bowl, add 2 eggs and beat them with a fork. In a second ball, mix breadcrumbs, grated Parmesan cheese, salt, garlic powder, pepper and dried parsley.

Dip each risotto ball into the beaten egg, allowing any excess to drip off. Then, roll the ball in a breadcrumbs mix until evenly coated. Place in a prepared air fryer basket. Repeat the process with the rest of the balls.

Air fryer for about 8 minutes at 400°F, flipping the balls once half way through. They are ready when golden brown and crispy on the outside.
Notes
If you do not have mozzarella cheese, you can use Gouda, Cheddar or make them without it.
Any type of leftover risotto will work well. I used the mushroom one this time.
Of you want the balls hold their shape better, roll them into cornstarch before dipping into the eggs mixture.
Once made, this Arancini balls should be consumed or tossed, because it is not recommended to reheat any rice more then twice.
Nutrition
Serving:
2
ea
Calories:
322
kcal
Carbohydrates:
50.4
g
Protein:
12.5
g
Fat:
7
g
Saturated Fat:
4.1
g
Polyunsaturated Fat:
0.1
g
Monounsaturated Fat:
0.5
g
Cholesterol:
25.5
mg
Sodium:
516
mg
Potassium:
7.8
mg
Fiber:
1.5
g
Sugar:
1.9
g