Risotto con funghi refers to a traditional Italian risotto with mushrooms. This flavorful dish is made with a short-grain rice, mushrooms, and a combination of other ingredients such as onions, broth, white wine, butter, and Parmigiano-Reggiano cheese.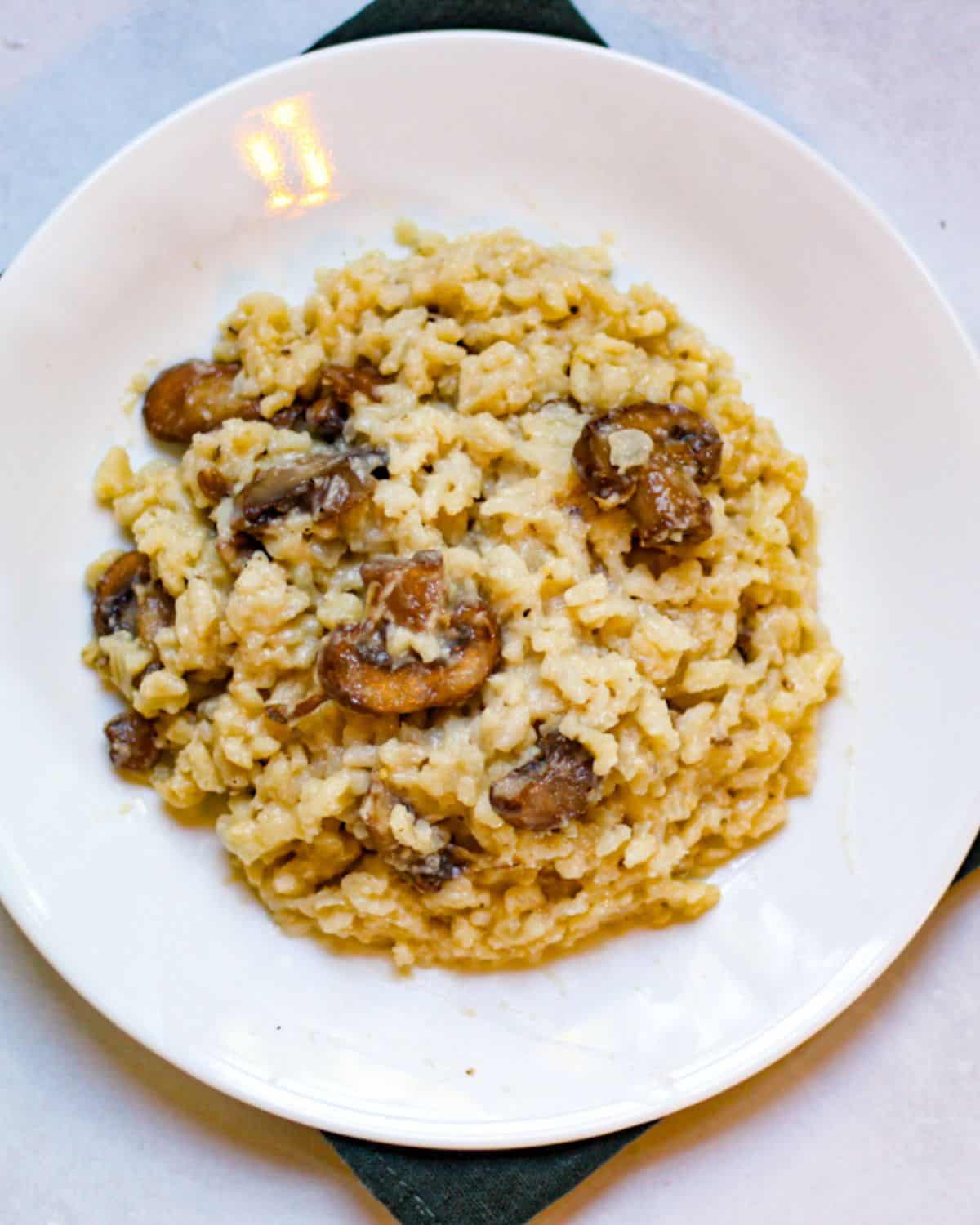 Risotto con funghi recipe
Risotto con funghi translates as "Risotto with mushrooms" in English.
It is a flavorful and satisfying dish, where earthy mushrooms are incorporated into the cooking process of Carnaroli rice.
During the cooking process, the risotto rice acts as a sponge absorbing the earthy and rich flavors of the mushrooms and other ingredients.
It is very important to choose the right type of rice for making authentic creamy risotto.
Arborio and Carnaroli, are the most popular risotto rice varieties. Both are short-grain and have a high starch content.
Check out our comprehensive guide on what types of rice are best for risotto to learn more.
The simplicity and elegance of the dish make it suitable for both casual dinners and special occasions.
You can serve it as a main dish or as a side dish alongside grilled meats, poultry, or seafood.
The best mushrooms for risotto
You can use any type of fresh mushrooms to make risotto. These are the most popular types that are the best for making this dish due to the robust flavors and texture:
Porcini mushrooms
Cremini mushrooms
Portobello mushrooms
Chanterelle mushrooms
Shiitake mushrooms
If you want to achieve a more natural mushroom flavor, use a combination of a few mushroom types.
Alternatively, you can use dried mushrooms to make this dish. Make sure you dehydrate them in hot water for 20-30 minutes before sauteing.
Most of the store-bought fresh mushrooms are grown in mushroom farms and if you ever tried real wild mushrooms, you know that the wild mushrooms are more earthy and flavorful.
That's why I like to add some dried wild mushrooms as well. You can find dried wild mushrooms at your local grocery store.
Can you eat risotto al dente?
Risotto is usually cooked al dente, meaning it has a very slight bite or resistance in the middle.
The Italian phrase "Al dente" is translated as "to the tooth". It is used to describe the specific doneness of pasta, risotto, or vegetables when they are cooked.
When the food is cooked al dente, it means it remains firm in the middle having a slight bite.
.Properly cooked risotto rice will be soft, creamy on the outside, and translucent with a slight bite in the middle. It should never be crunchy and always be cooked using the proper techniques.
To check, taste a spoonful and taste it. It should taste creamy and pleasantly chewy with a little resistance in the middle.
Al dente risotto should not taste raw and too starchy.
I was very curious, how is that long-grain rice must always be cooked well, and if not cooked all the way, it may even cause digestive issues.
After doing some research, the explanation was clear.
Risotto rice types have much higher starch content. They are also shorter and plump. It allows them to properly cook and reach safe temperatures while remaining slightly al dente.
Al dente risotto rice taste chewy and have a pleasant texture, while al dente long-grain rice will simply taste under cooked, crunchy, and hard to chew.
Ingredients
You can find the ingredients' quantities in the recipe card at the end of this post.
Rice - I used Carnaroli rice. You can use Arborio instead.
Mushrooms - I used baby Bella mushrooms. You can use any type of mushroom or a combination of different types.
Onion - yellow onion or a shallot will work great.
Garlic - fresh garlic cloves for flavor.
Olive oil - extra virgin olive oil for cooking the mushrooms.
Dry white wine - use dry white wine such as Pinot Grigio or Sauvignon Blanc. You can also skip the wine.
Broth - I like to use low-sodium chicken broth. You can also use homemade or store-bought vegetable or mushroom broth.
Parmigiano-Reggiano - you can use grated Parmigiano Reggiano or more popular in the US grated Parmesan cheese.
Butter - a small amount of butter is added at the end for extra flavor and creaminess.
Spring onion (optional) - optional ingredient, but I like to add some at the end for a fresh taste and color.
Salt and black pepper - I add a little bit for cooking the mushroom and at the end to taste.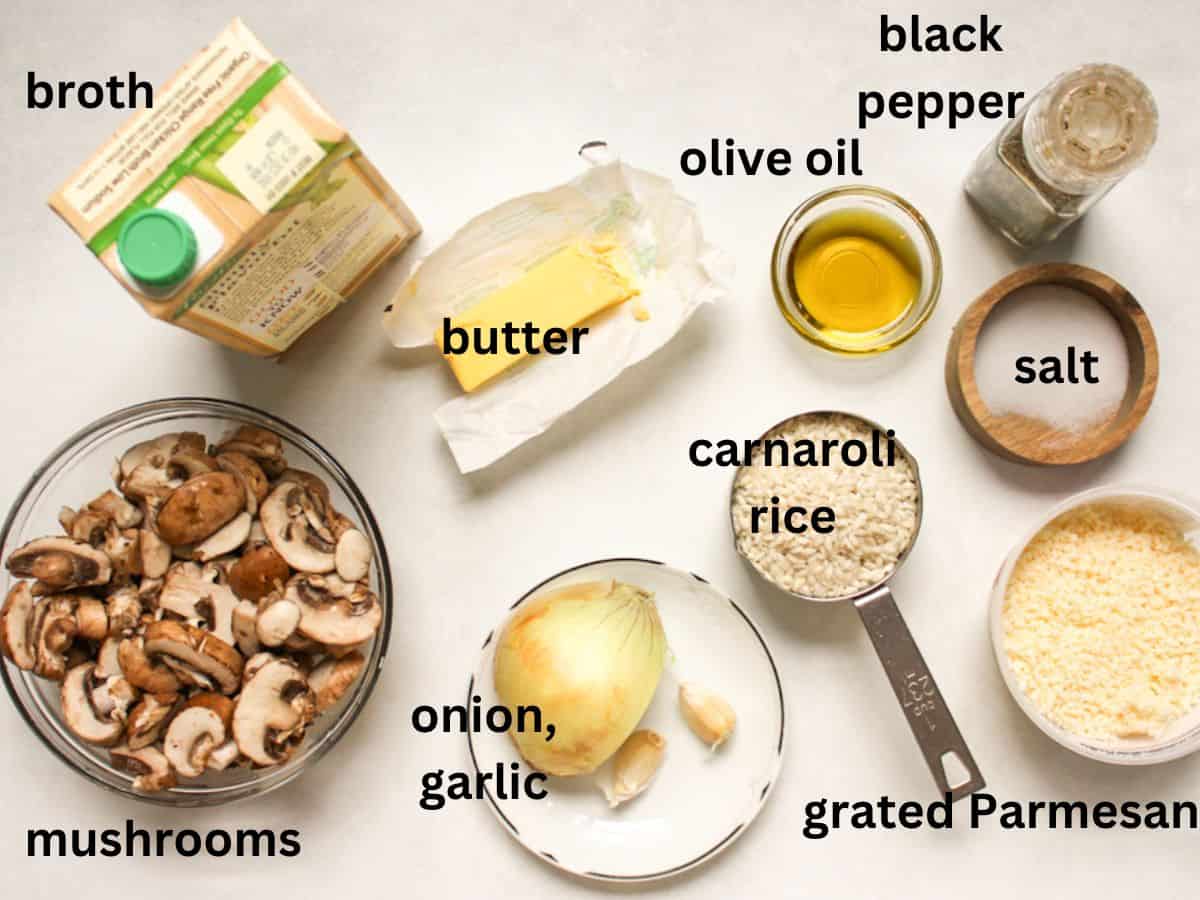 Special tools and equipment
Skillet - you will need a wide skillet or saute pan with high sides. You can also use a large wide pot.
Ladle - using a soup ladle is the most convenient way for scooping up and pouring the warm liquid into the risotto pot. It also allows you to be consistent at adding just the right amount of broth at a time. If you do not have a ladle, use a heat-resistant measuring cup.
Risotto spoon - it is simply a wooden spoon with a hole in the middle. This spoon allows a gentle stirring without breaking the rice grains. You can also use a heat-resistant silicone spatula or a slotted spoon.
Instructions
Place whole mushrooms in a large bowl and fill it with cold water. Gently scrub the mushrooms to remove any dirt or debris. Drain the mushrooms. And slice them thinly.
Dice the onions and garlic finely. In a large wide pot or skillet, heat olive oil.
​Heat the stock in a small pot and keep it warm throughout the whole cooking process.
Add sliced mushrooms and a little bit of salt. Cook the mushrooms over medium-high heat, stirring them occasionally.
Once the mushrooms are browned, transfer them and any juices into a separate bowl. Set it aside for now.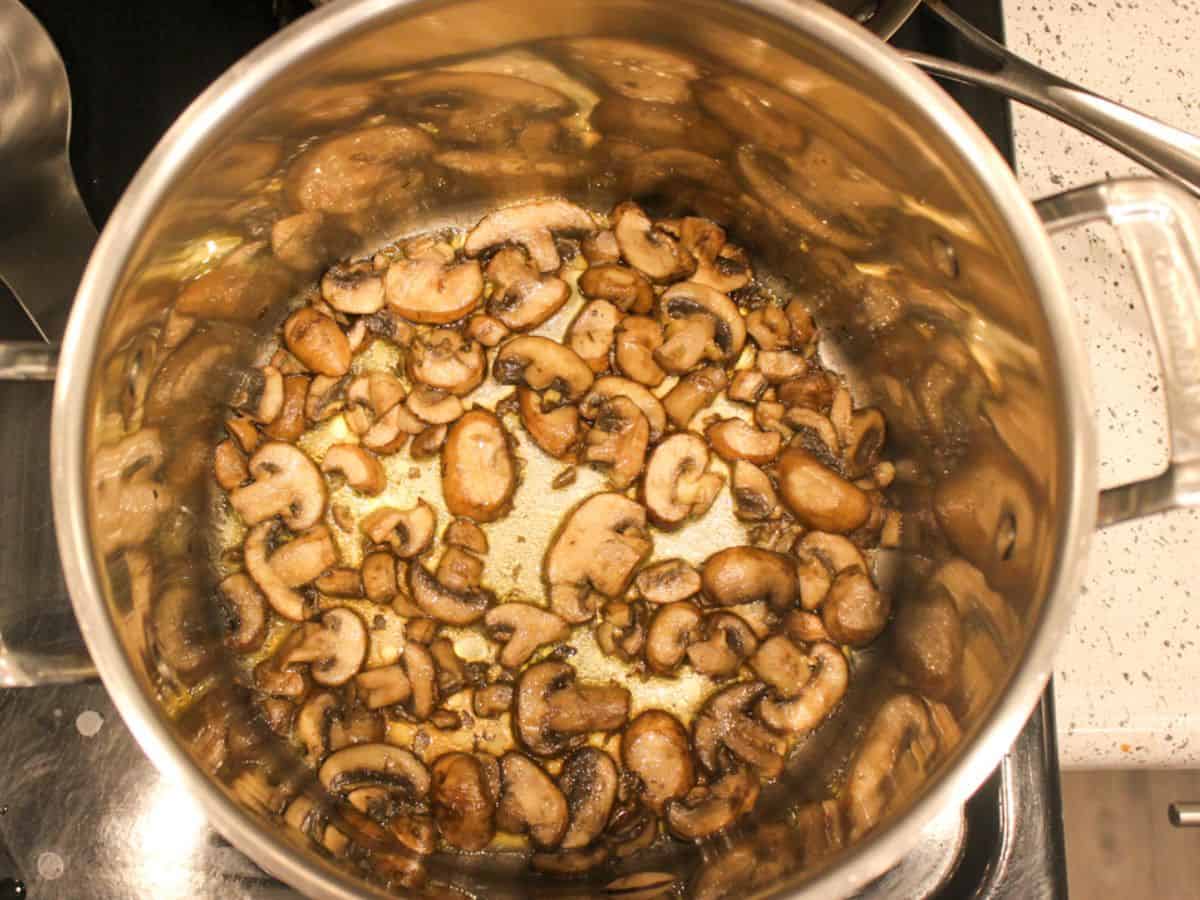 Add 1 Tablespoon of butter and 1 Tablespoon of olive oil to the same pot. Add diced onions and cook them for about 3-5 minutes or until they soften, but not brown.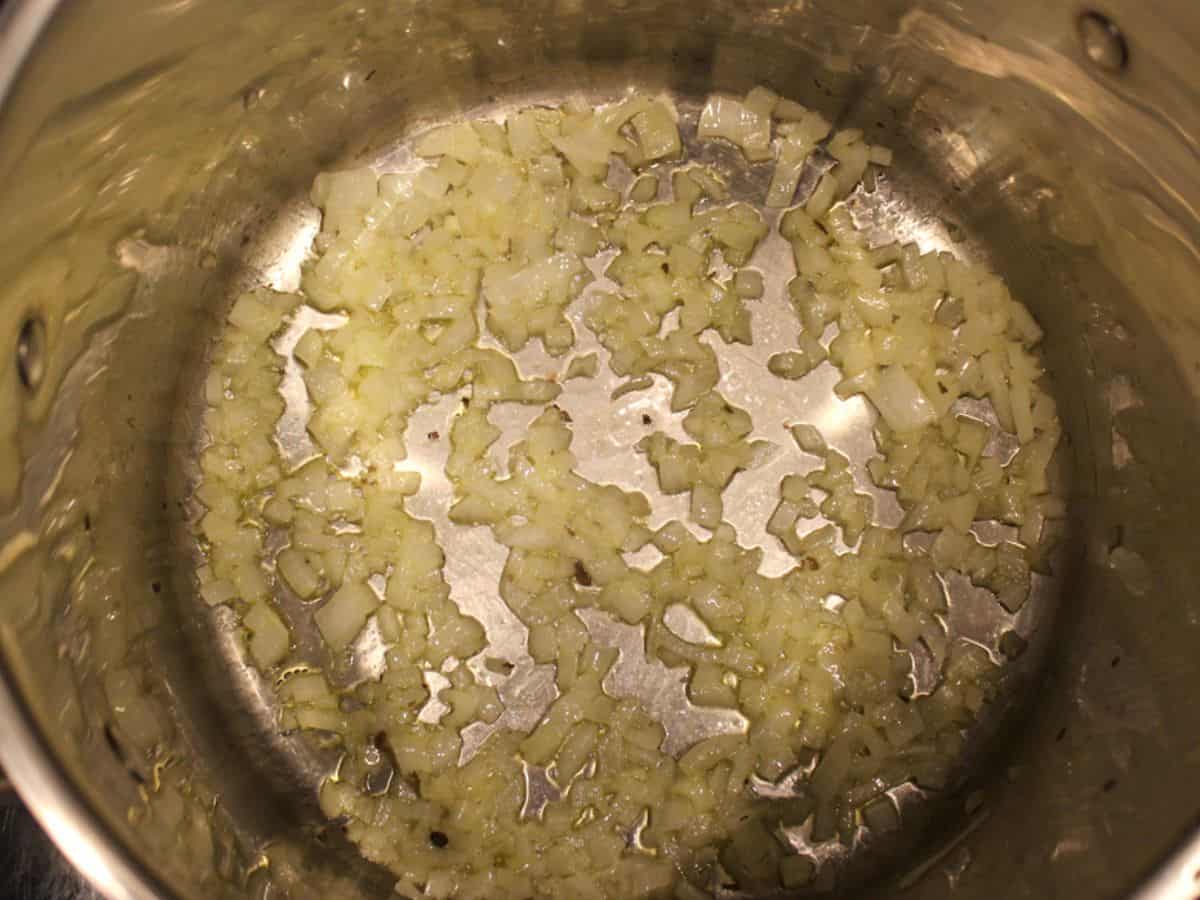 Now, add the rice and diced garlic. Toast the rice briefly, stirring it continuously over medium heat for a couple of minutes or until the rice grains become translucent.
After that, pour in about ½ cup of white wine (if using) and cook it over medium-high heat, stirring continuously until it is absorbed by the rice and the alcohol evaporates.
Now, start adding the chicken broth. Add one ladleful (about ½ cup) at a time, stirring it constantly over medium heat until the liquid is absorbed.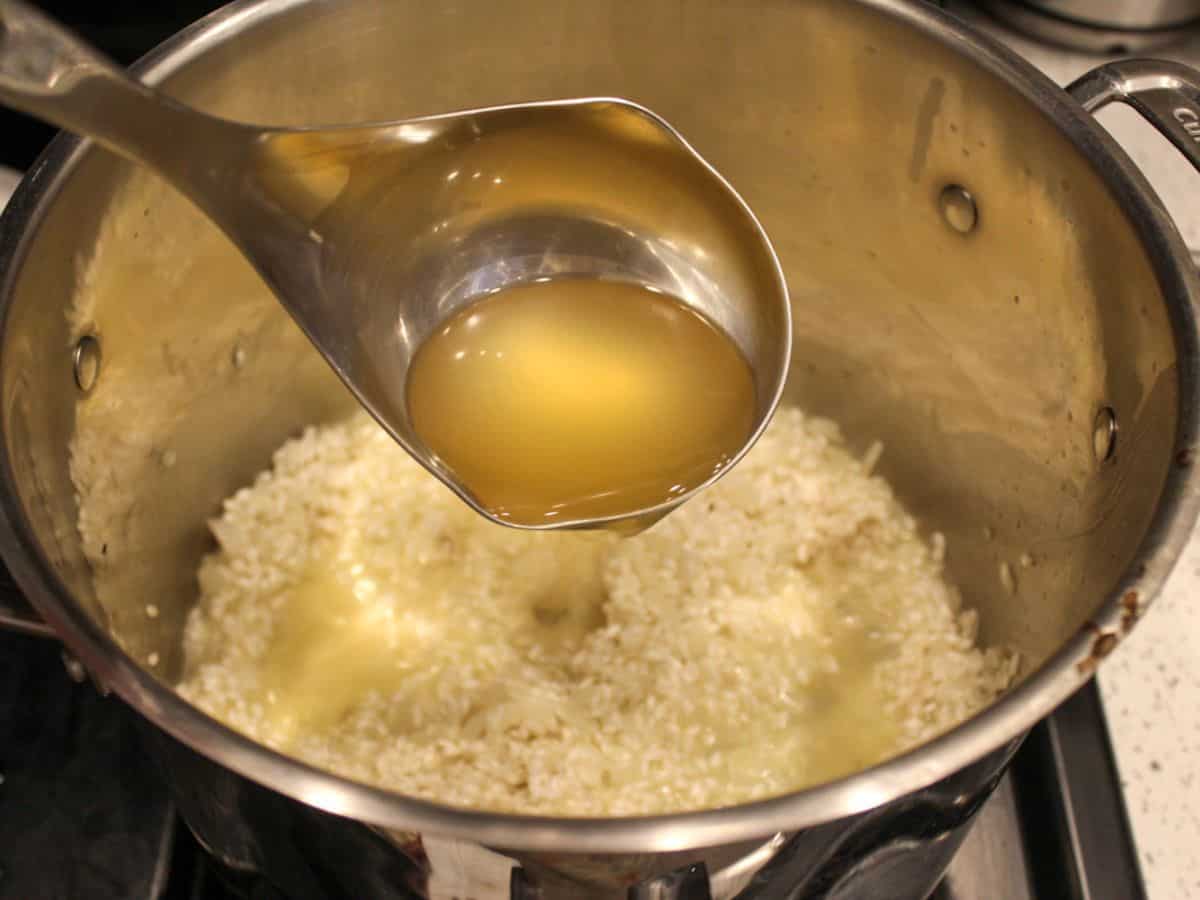 Once it is absorbed, add another ladleful of chicken stock and repeat the process until all the broth is used and the rice is evenly cooked. It should remain slightly al dente in the middle, with a pleasant bite.
The whole process should take about 20-30 minutes. If the rice is still not cooked, add more liquid and continue cooking until desired consistency.
Once it's cooked, add salt and pepper to taste. Take the pot with risotto off the heat. Immediately, add the mushrooms with any juices, grated cheese, and another Tablespoon of butter. Stir the risotto gently. Serve right away!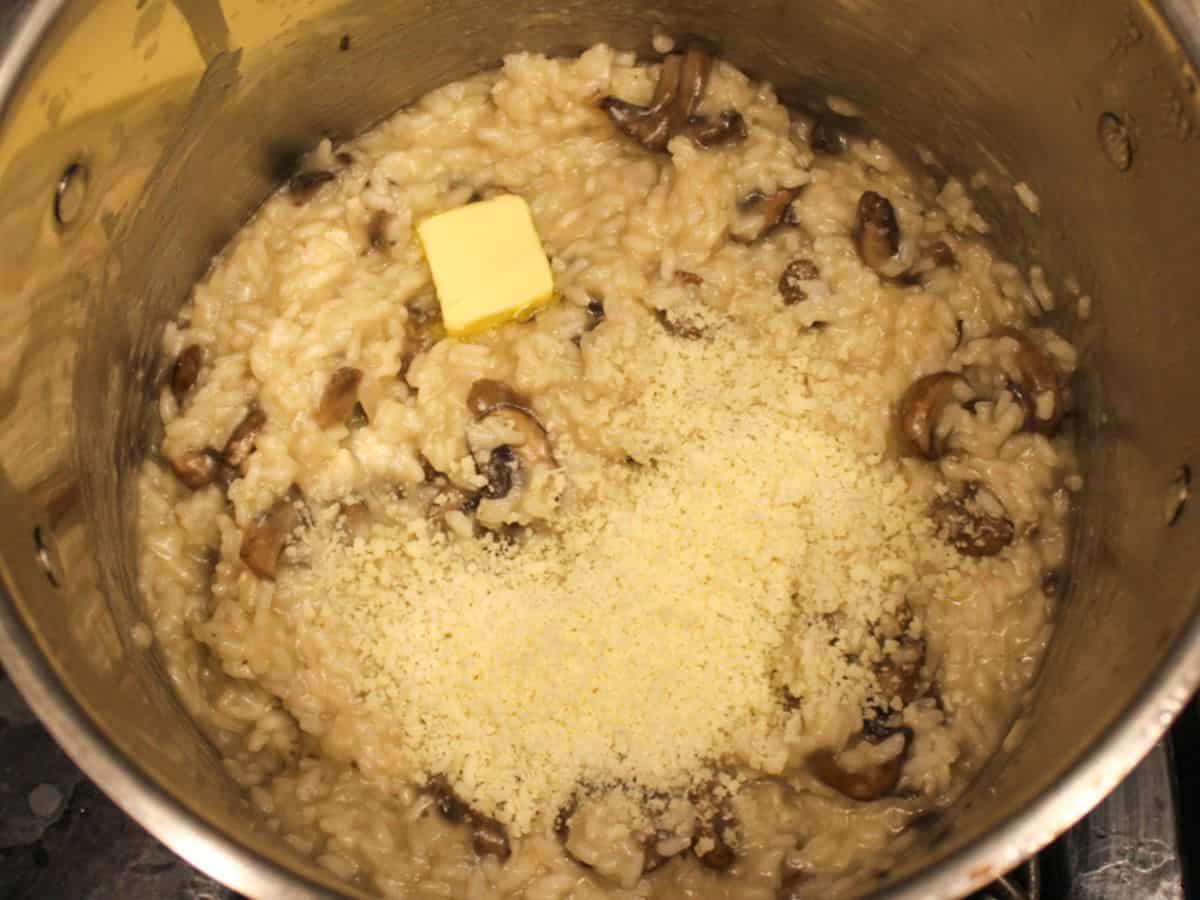 Recipe tips
Never wash rinse the risotto rice, as it will remove the starch that contributes to the creamy texture of this dish.
Always add hot liquid to the risotto during the cooking process.
Keep the rice slightly al dente in the middle.
Carnaroli rice takes a little longer to cook than Arborio.
Use a few types of mushrooms for a rich and earthy flavor.
Keep the heat at medium to medium-low levels during the cooking process.
Storing and reheating
Make sure to cool down any leftovers as quickly as you can. Transfer risotto leftovers into an air-tight container and store them in the fridge for about 1-2 days.
It is best to enjoy risotto right away, as it is not the best dish for reheating.
The best way to reheat the risotto is in a small saucer pan with added a little bit of water. Make sure to use low heat and stir it occasionally.
Learn about other best ways to reheat risotto.
You can also use leftovers risotto to make other recipes such as Italian Arancini (risotto balls) or Suppli.
Frequently asked questions
​Do I need to wash mushrooms?
Yes, always rinse and gently scrub mushrooms to remove any dirt and debris.
Can you make mushroom risotto in advance?
Yes, you can make mushroom risotto in advance, just keep in mind that risotto is best when served immediately. Reheating may change the texture and flavor of the dish.
Best mushrooms for risotto?
You can use any type of mushroom to prepare the risotto. Portobello, Porcini, Cremini, Chanterelle, and Shiitake are the most popular ones. You can also use dried mushrooms.
Difference between Arborio and Carnaroli rice?
Arborio and Carnaroli are both types of Italian short-grain rice specifically cultivated for risotto. Carnaroli rice grains are slightly longer and require more time and liquid to cook compared to Arborio rice. Carnaroli rice retains its shape better and is less likely to become mushy. Both types of rice are great for making Italian risotto.
Can I freeze risotto?
No, it is not recommended to freeze risotto as the delicate grains of rice will break during the thawing and reheating process.
Serving ideas
Below are a few easy ideas on what you can serve this mushroom risotto with:
More risotto recipes
📖 Recipe
Risotto con Funghi (Risotto with Mushrooms)
Equipment
1 wide pot or skillet with high sides

1 small pot

1 ladle

1 risotto spoon, wooden or silicone spoon

for stirring
Ingredients
8

oz (1 package)

baby Bella mushrooms or other mushrooms

2

Tablespoons

extra virgin olive oil, divided

2

Tablespoons

butter, divided

½

yellow onion, diced

1½

cups

Carnaroli or Arborio rice,

¼-½

cup (optional)

dry white wine

5-6

cups

low sodium chicken broth

½

teaspoon

salt, divided

½

teaspoon

black pepper

¼

cup

grated parmigiano-reggiano cheese or Parmesan
Instructions
Rinse, drain and slice the mushrooms. Pour 6 cups of chicken broth in to the small pot, heat it. Keep it warm throughout the whole process over the lowest heat.

In a white pot or skillet, add 1 tablespoon of olive oil and heat it over medium heat. Add sliced mushrooms and ¼ of salt. Cook the mushrooms for about 4-5 minutes, stirring occasionally until they are browned and the juice released. Transfer the cooked mushrooms with all the juices into a bowl and set it aside.

Add the remaining Olive oil and 1 Tablespoon of butter to the same pot. Add diced onions and saute until they become soft, but not browned.

Add the rice and diced garlic. Toast the rice for a few minutes over low-medium heat, stirring frequently until it becomes translucent.

Pour in the white wine (optionally). Stir the rice continuously until the wine is absorbed and alcohol evaporated.

Start adding the warm broth to the rice, 1 ladle at a time. Stir gently and continually until the liquid is absorbed.

Repeat the process of adding a ladleful of broth at a time, stirring it until absorbed and then adding more until the rice is cooked al dente or to your desired consistency. The whole process should take about 20-25 minutes. The rice should be soft on the outside t with a slight bite in the inside.

Always taste the rice to ensure it is cooked and seasoned to your liking. Add the remaining salt and some black pepper to taste.

Once the rice is cooked, remove it from the heat and add mushrooms with the juices, grated parmigiano-reggiano cheese, and the remaining 1 Tablespoon of butter. Stir gently. Serve it right away.
Notes
Rice – Arborio, Carnaroli or Vialone Nano types of short grain rice are recommended for making risotto.
Mushrooms - you can use any type of mushroom or a combination
Storing - store for up to 2-3 days in the fridge. It is not recommended to freeze risotto.
All nutrition facts are only estimate and should be used for informational purposes only.
Nutrition
Calories:
394
kcal
Carbohydrates:
35.1
g
Protein:
23.5
g
Fat:
13.2
g
Saturated Fat:
3.2
g
Polyunsaturated Fat:
0.5
g
Monounsaturated Fat:
3.2
g
Cholesterol:
12
mg
Sodium:
345
mg
Potassium:
139.9
mg
Fiber:
3.7
g
Sugar:
1.5
g