These air fryer chicken cutlets are crispy, delicious and easy to make. Serve them with your favorite side or as a sandwich.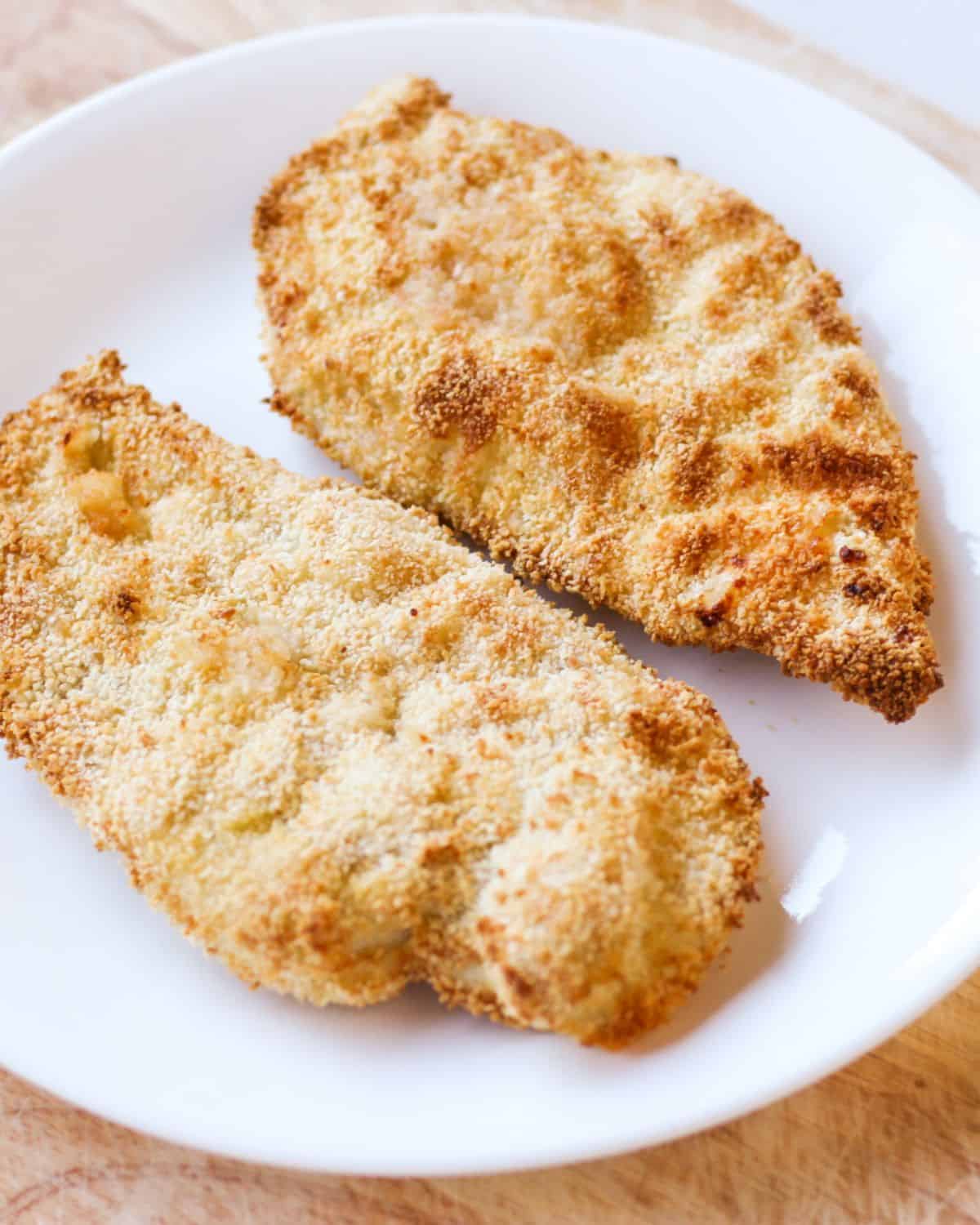 Jump to:
Air fryer chicken cutlets recipe
Everyone loves fried food from time to time. Chicken is probably one of the most popular meats to fry. Whether you are using the breading or not, frying in oil is not as healthy and adds a lot of calories to the dish.
That's why I like to use my air fryer to make a lot of my chicken recipes. You can even use it cook frozen meat (without defrosting). Try our air fryer frozen chicken breasts or even frozen wings.
The air fryer uses very hot circulating air to crisp up the exterior of the chicken cutlets, resulting in perfectly cooked meat without a large amount of oil.
Serve these chicken cutlets on their own, in a sandwich, or on top of the salad or pasta.
Here is why you will love this recipe:
Easy: once you make your breading station, the process of making the cutlets is super easy and quick.
Healthier: air fryer requires a minimum amount of oil to fry the meat.
Kids-friendly: if your kids love chicken tenders, they will enjoy these crispy cutlets as well.
Versatile: you can make a bunch of them and use them to make a different meal every day (salads, pasta, sandwiches).
What is a chicken cutlet?
Chicken cutlets are thin slices of boneless chicken breast. This makes them evenly thin and allows them to cook quickly and evenly.
You can buy chicken cutlets in the grocery store or make your own.
I prefer making my own cutlets by slicing boneless chicken breasts in half horizontally and then pounding them flat if needed. It's that simple.
Making your own chicken cutlets is cheaper, and it also gives you more control over the thickness and the size of the cutlets.
Pick larger and thicker chicken breasts because they are easier to slice in half without making them too thin or creating holes.
Chicken cutlets are often used in Italian recipes, such as chicken Parmesan, Chicken piccata, and Tuscan chicken.
They can also be baked without any breading, for a healthier option. As you can see, chicken cutlets are versatile and can be used in a variety of dishes.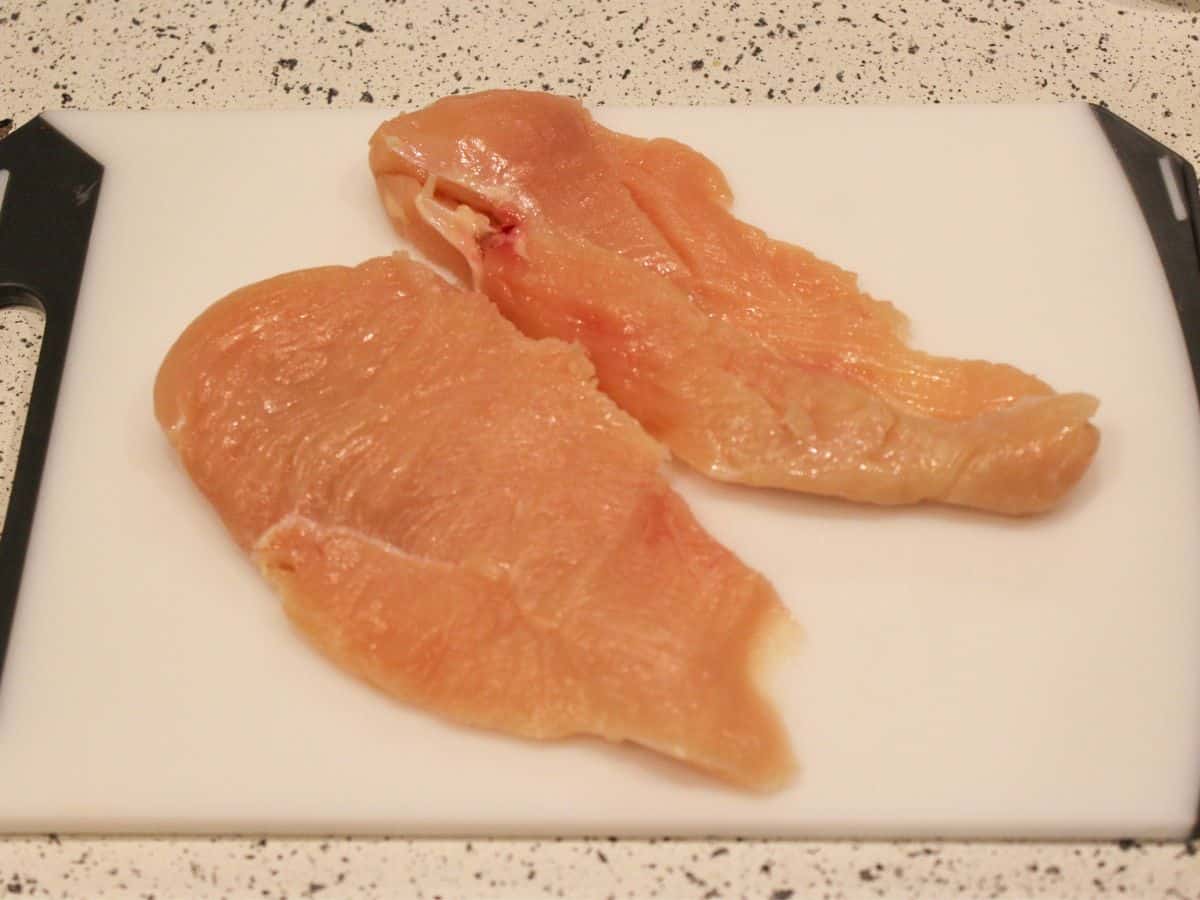 Ingredients
You can find the ingredients quantities in the recipe card at the end of this post.
Boneless, skinless chicken breasts that are thinly sliced into cutlets.
Flour helps to create a barrier between the chicken and the egg, ensuring that the egg coating sticks better to the chicken.
Eggs bind the coating ingredients while keeping the meat juicy inside.
Plain breadcrumbs add a crunchy texture to the coating. The combination of flour, eggs, and breadcrumbs helps to ensure that the coating does not fall off the chicken.
Seasonings: I usually use salt, black pepper, garlic powder, and paprika. You can use other herbs and spices you like.
Cooking oil spray is used to coat the air fryer basket, so the chicken does not stick.
How to make crispy chicken cutlets in the air fryer
Step 1. Skip this step if you already have thinly sliced chicken cutlets. Place the chicken breast flat on the cutting board and use the knife to slice through the middle of the breast, creating two thin halves. If the chicken cutlets have a very uneven thickness (one end is very thin, while the other one is too thick), use a meat pounder or rolling pin to gently pound each cutlet. Otherwise, I do not pound them.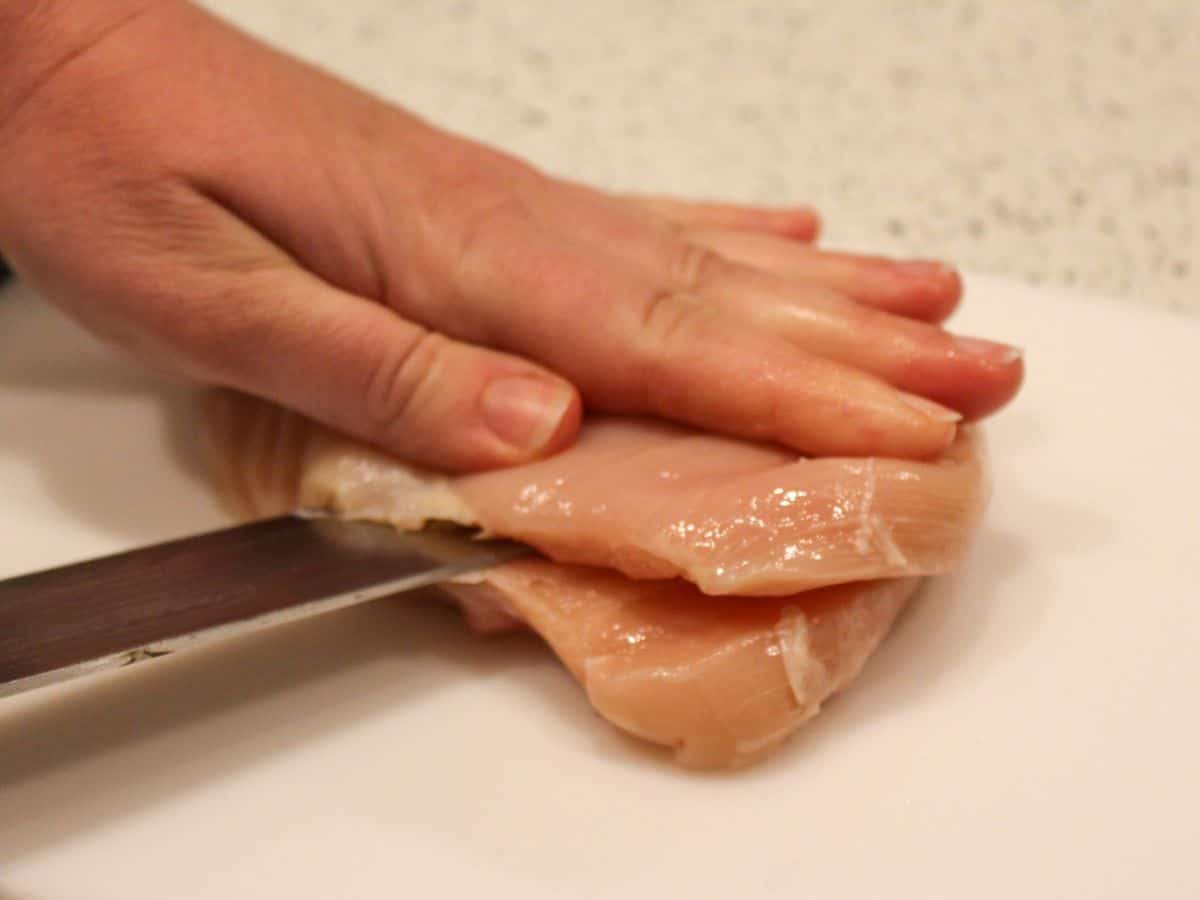 Step 2. Prepare a station for breading. You will need 3 shallow dishes. In the first one, add flour and seasonings; in the second one, add eggs and whisk them; in the third one, add bread crumbs. Arrange them in order on the counter. This step will make the process easier and quicker.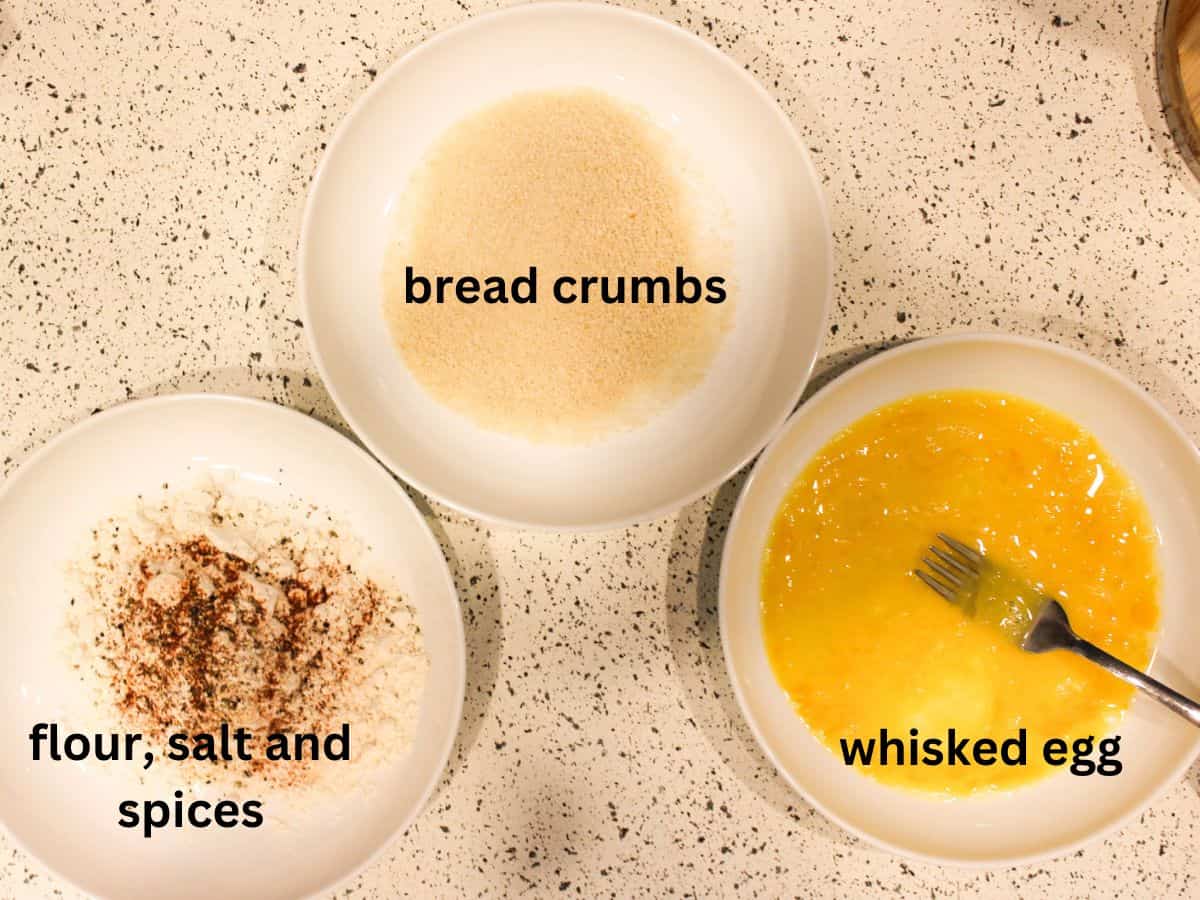 Step 3. Start working on breading using the station described in the second step. Follow the following order for crispy and golden crust: coat chicken breast lightly in a flour and seasoning mix. Shake off gently the access flour.
Next, dip the chicken cutlet into the whisked eggs, making sure to fully coat it on both sides.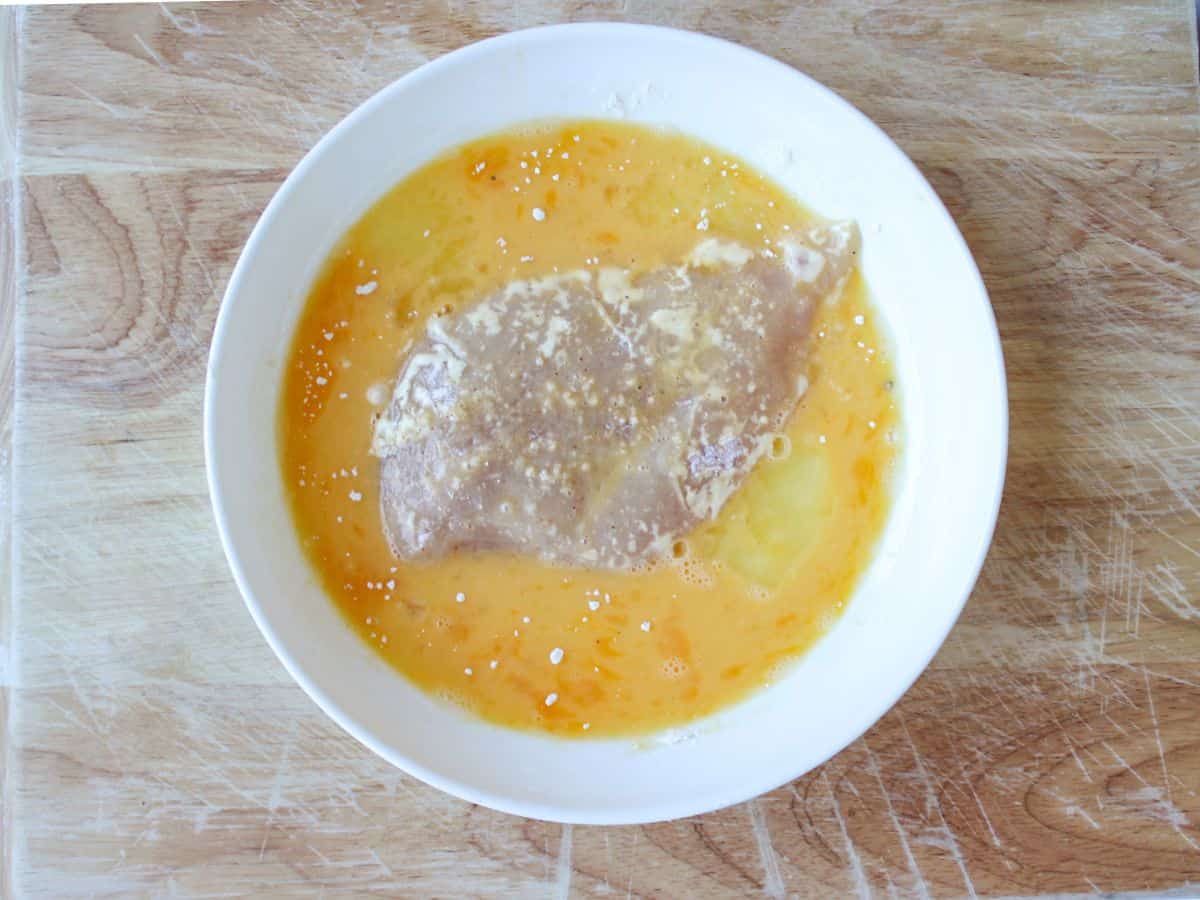 Finally, place the chicken cutlet in the dish with the breadcrumbs, making sure to fully coat it on both sides. Repeat the process with the remaining chicken cutlets. You can keep breaded chicken cutlets on parchment paper. If you decide to fry them later, transfer them to the fridge.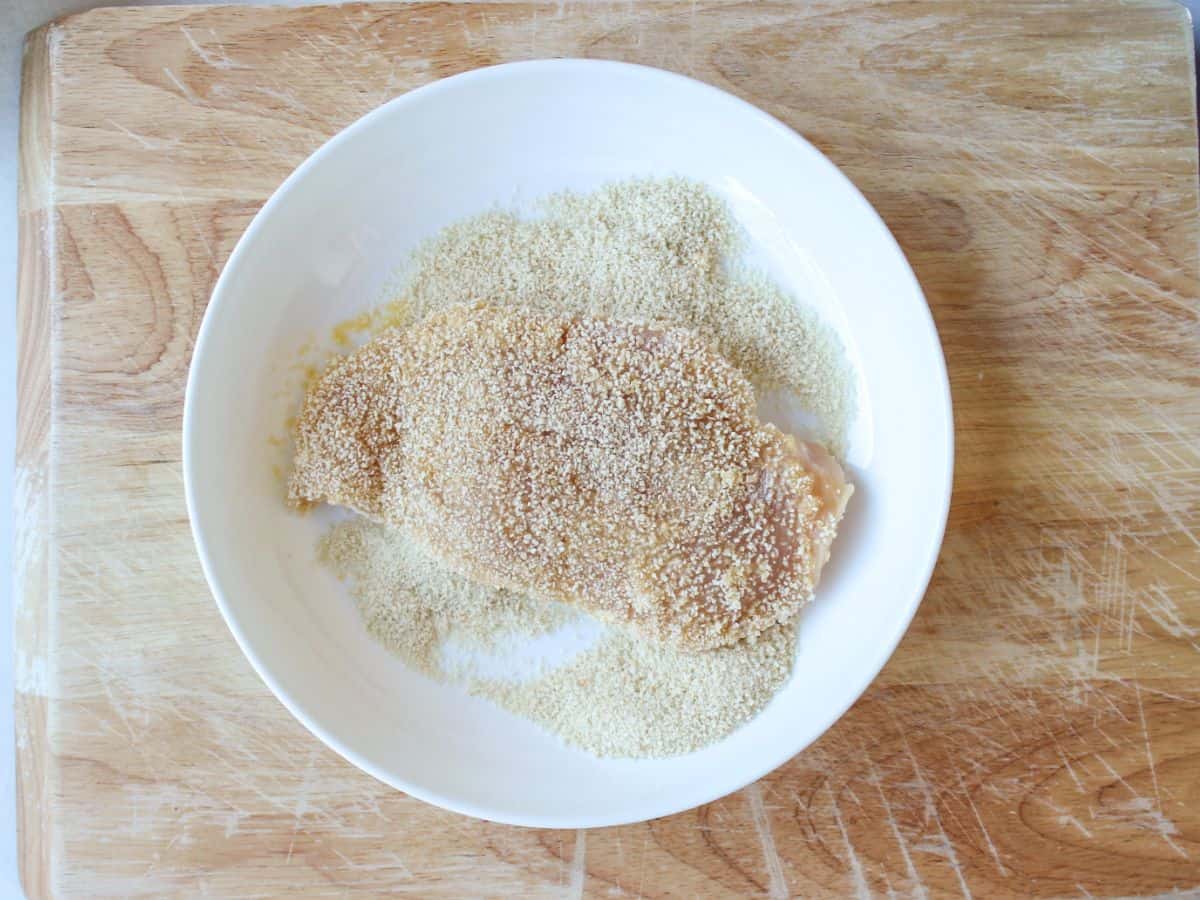 Step 4. Preheat the air fryer to 400F for about 3-4 minutes. Spray the basket with cooking spray. Place 2-3 chicken cutlets in a basket without overcrowding. Cook the chicken for 10-12 minutes, flipping them once halfway through until they are golden brown and crispy on both sides. The internal temperature needs to reach at least 165°F. Repeat the process with the remaining chicken.
Recipe tips
Preheat the air fryer: this is one of the recipes where I recommend preheating the air fryer to ensure the chicken comes out crispy.
Use a non-stick cooking spray: non-stick cooking spray will help to prevent them from sticking to the air fryer basket.
Seasoning: I like to add seasoning to the flour for extra flavor.
Even thickness: if the chicken cutlets do not have even thickness, pound them with a mallet or a rolling pin. This will help them to cook evenly.
Do not over-crowd the air fryer basket: cook the chicken cutlets in batches (2-3 at a time). Overcrowding will result in less crispy chicken.
Flip the chicken cutlets: This will help them look golden brown on both sides and cook more evenly.
Internal temperature: Use a meat thermometer to check the internal temperature of the chicken cutlets to ensure that they have reached 165°F. It prevents them from being under-cooked or over-cooked.
Serving ideas
I like to serve this crispy chicken cutlets with a side of baked sweet potato rounds, tattie fritters or Mediterranean rice. Add a fresh green salad for a complete meal.
They can also be used as a topping for a salad, pasta, or to create a delicious sandwich.
How to store and reheat
Always cool down the cutlets completely before placing them in the fridge to prevent them from being soggy.
To keep them crisp, wrap them first with foil or plastic wrap. Place wrapped cutlets in the airtight container and store them in the fridge for up to 3 days.
To reheat:
Oven: Preheat the oven to 375°F (190°C). Remove the cutlets from the refrigerator and unwrap them. Place the cutlets on a baking sheet. Bake the cutlets in the oven for 10-15 minutes, or until they're heated through.
Air fryer: Set the air fryer to 375°F and let it preheat for about 5 minutes.Arrange the cutlets in a single layer in the basket of the air fryer. Reheat the cutlets for about 4-6 minutes, flipping them halfway until they're heated through and crispy.
Seasoning variations
Experiment with different combinations to find your favorite. Below are a few of our favorite seasonings:
Italian (mild): Use a mixture of dried basil, oregano, thyme, and garlic powder for an Italian-style seasoning.
Mexican (spicy): Combine chili powder, cumin, paprika, and cayenne pepper for a spicy Mexican-style seasoning.
Cajun (spicy): Mix paprika, cayenne pepper, onion powder, garlic powder, and dried thyme for a Cajun-style seasoning.
Lemon pepper (mild): Combine lemon zest, black pepper, and garlic powder for a tangy and aromatic lemon pepper seasoning.
Frequently asked questions
Can I bake these chicken cutlets if I do not have an air fryer?
Yes, you can bake them for about 17-20 minutes in the preheated to 400°F oven. For best results, bake them on lightly oiled parchment paper. Flip the cutlets once halfway through baking.
Can you cook frozen chicken in an air fryer?
Yes, but you will need to completely thaw frozen chicken cutlets, as the breading will not properly stick to the frozen chicken.
How long to cook Perdue Chicken Cutlets in the air fryer?
Perdue frozen chicken cutlets are usually fully cooked. Air fry them at 375°F for about 8-10 minutes flipping them once or until the internal temperature is 165°F. Even if the frozen food is fully cooked, it is always recommended to reheat it until a safe temperature is reached.
More air fryer chicken recipes to try
📖 Recipe
Easy Air Fryer Chicken Cutlets
Crispy air fryer chicken cutlets are a delicious and healthier alternative to traditional fried chicken. This extra crispy chicken with less oil is ready in under 20 minutes.
Equipment
1 Air fryer

I used Ninja XL

3 shallow dishes

for breading station

1 Measuring Cup

measuring spoons
Ingredients
2

ea

chicken breasts

or 4 cutlets

½

cup

all purpose flour

2

eggs

1

cup

plain bread crumbs

or Panko bread crumbs

½

teaspoon

salt

½

teaspoon

garlic powder

½

teaspoon

paprika

½

teaspoon

black pepper
Instructions
Slice the chicken breasts horizontally into cutlets or use store bought chicken cutlets.

Prepare the dishes for breading: line up 3 shallow dishes on your kitchen counter. In the first dish, mix all-purpose flour, salt, garlic powder, paprika and black pepper. Fill the second dish with whisked eggs, and the third dish with breadcrumbs.

Take one chicken cutlet and lightly coat it in the flour, making sure to shake off any excess. Next, dip the chicken cutlet into the whisked eggs. After that, place the chicken cutlet in the dish with the breadcrumbs, fully coating it on both sides. Repeat the process with the remaining chicken cutlets. If cooking in batches, place breaded chicken cutlets on a sheet of parchment paper.

Preheat the air fryer and spray the basket with cooking oil. Place 2-3 cutlets at a time in a preheated basket. Air fry at 400°F for 5 minutes. Flip the cutlets and cook for another 5 minutes or until the internal temperature reached 165°F. Repeat with the rest of the chicken.
Notes
The cooking time for the chicken cutlets may vary based on the thickness of the cutlets and the specific model of your air fryer. Check the cutlets frequently and adjust the cooking time as needed.
Feel free to experiment with different seasonings and spices to add your own personal touch to this recipe.
Serve the crispy chicken cutlets with your favorite sides, such as roasted vegetables, a salad, or mashed potatoes.
Leftover chicken cutlets can be stored in an airtight container in the refrigerator for up to 3 days. Reheat in the air fryer or oven until crispy before serving.
Nutrition
Serving:
1
ea
Calories:
176
kcal
Carbohydrates:
10.6
g
Protein:
21.4
g
Fat:
5.2
g
Sodium:
520
mg
Fiber:
0.5
g
Sugar:
1
g