This creamy fennel risotto is an excellent choice for those who want to explore new flavors. Serve it as a standalone elegant main dish or pair it with grilled meat, seafood or vegetables.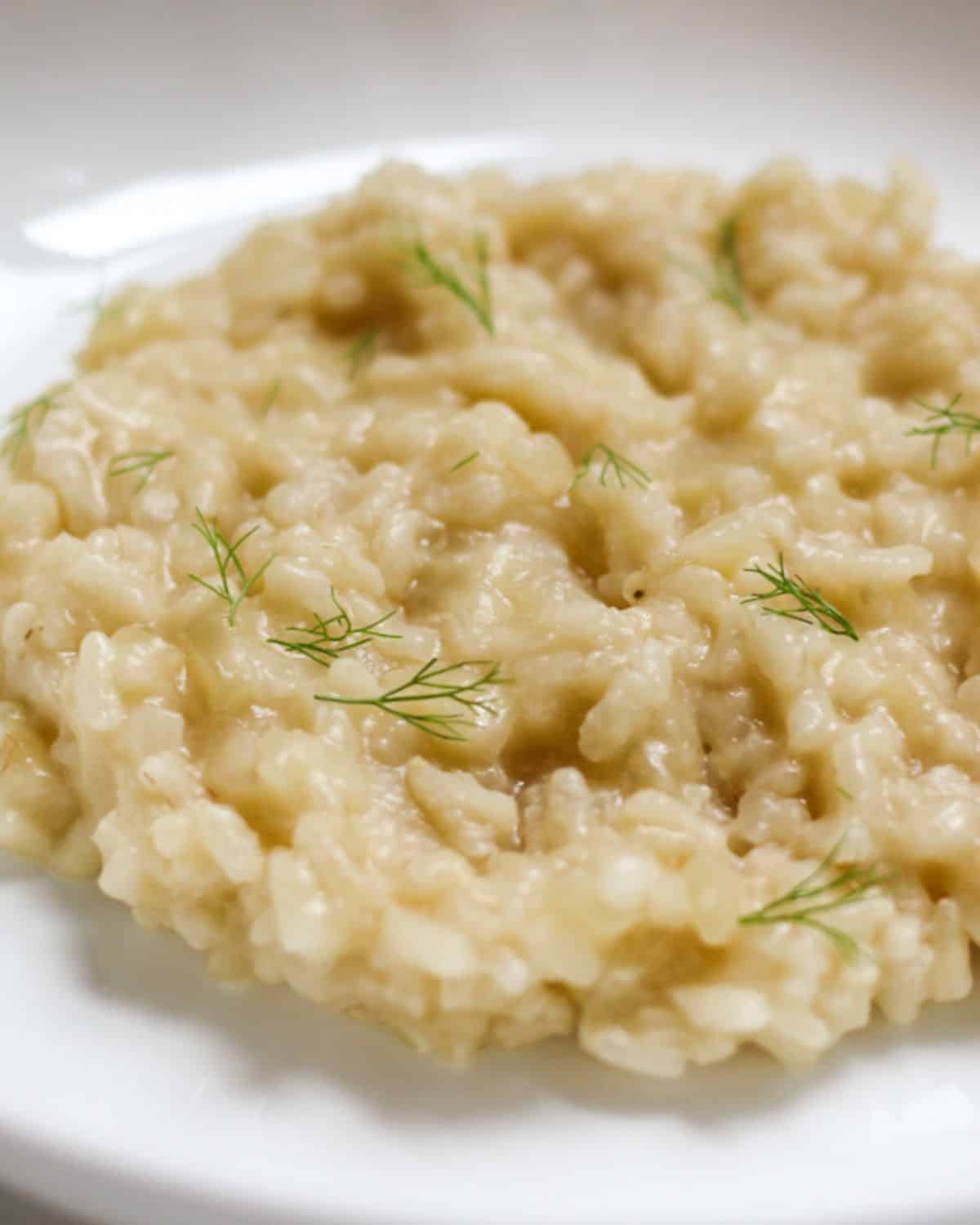 Jump to:
About fennel risotto
Risotto is a classic Italian dish that is popular worldwide for its creamy texture, flavor, and versatility.
Choosing the right type of rice is very important for making this Italian dish.
Risotto rice needs to be short-grain with high starch content. This type of rice beautifully absorbs flavors and creates a creamy texture without becoming mushy.
In the USA, I recommend choosing between Arborio or Carnaroli. Both types are cultivated for making risotto and they are easy to find at any grocery store or online.
This type of rice has a high starch content and creamy texture when cooked. The grains have a great ability to absorb flavors from broth, wine, herbs, and other ingredients.
Less often, you can find risotto made with barley or farro.
Risotto can be made with a variety of vegetables, meats, and herbs.
Today, I choose the popular in Italian cuisine Fennel to make this elegant dish. When cooked, this bulbous vegetable develops a unique sweet taste with a slight hint of licorice or anise. 
Do not worry, if you do not like licorice, because when cooked it is very mild and makes the dish more aromatic, and flavorful without overpowering other ingredients.
On the other hand, if you want the risotto to have a more distinct fennel flavor, garnish it with fresh fronds for serving.
Ingredients
Short grain rice - arborio rice, which is one of the popular types used for Risotto. You can also use Carnaroli or Vialone Nano, as they are also high-starch, short-grain rice types.
Fennel - I used a large fennel bulb. You can find fennel at your local grocery store in the produce section.
Shallot - both shallots and onions can be used to make risotto. I prefer shallots because are milder and sweeter compared to the onions.
Garlic - you will need one or two garlic cloves.
Broth - I used chicken low-sodium broth. You can use homemade or store-bought broth; vegetable broth or chicken work great.
Olive oil and butter - you can use only olive oil for sauteing vegetables, I like to use both because butter helps to retain the moisture of the vegetables, while oil prevents the butter from burning.
Parmesan - grated Parmesan is added right after the risotto is cooked. It adds extra creaminess and flavor to the dish.
Salt and pepper - add both to your liking at the very end. Both broth and Parmesan cheese contain sodium, so it is better to taste the dish first and add more salt to your taste at the very end.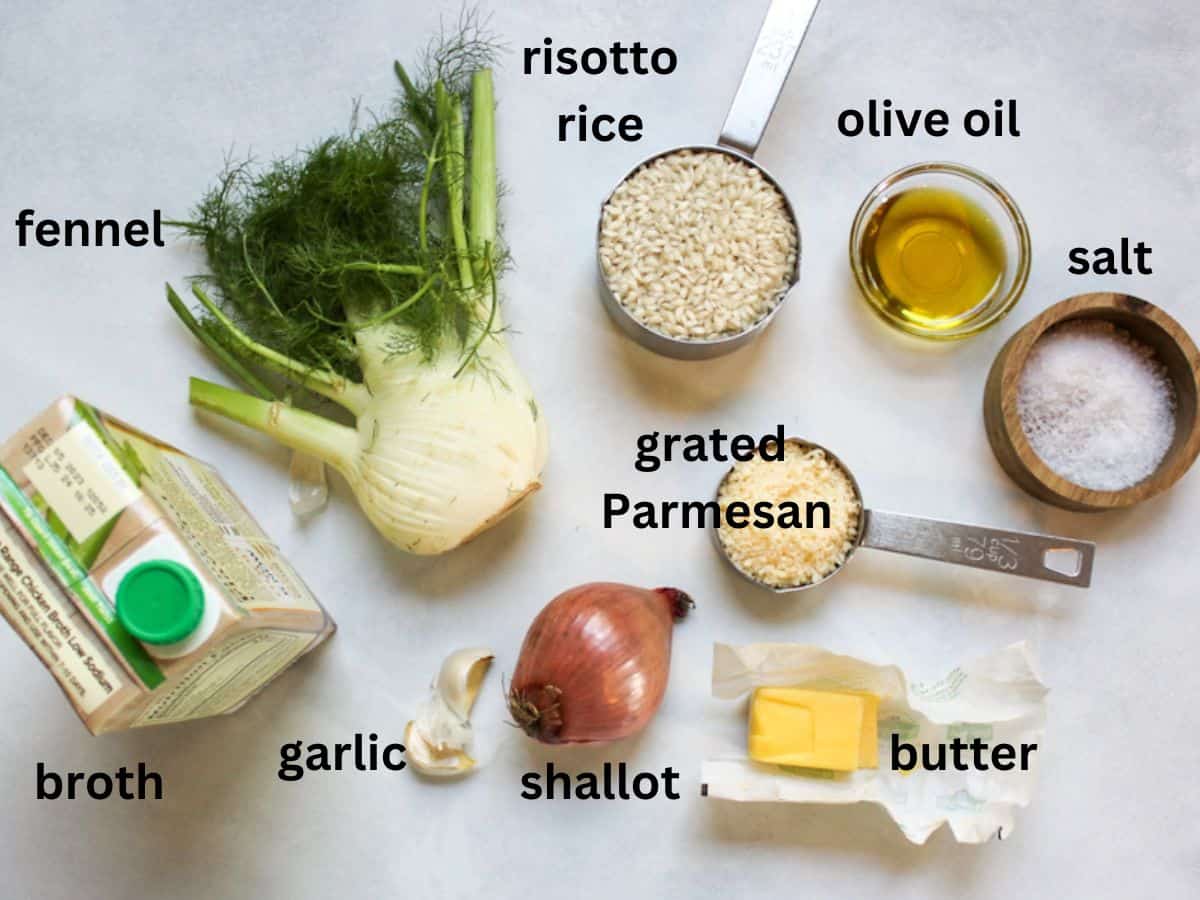 Directions
First, start cutting off the root and the top stalks and fronds of the fennel. Reserve the fronds for garnishing. You can use a veggie peeler to peel off the outer layers if they look wilted or dry.
Cut the fennel bulb in half and remove the core in a wedge shape using the tip of your knife as shown below.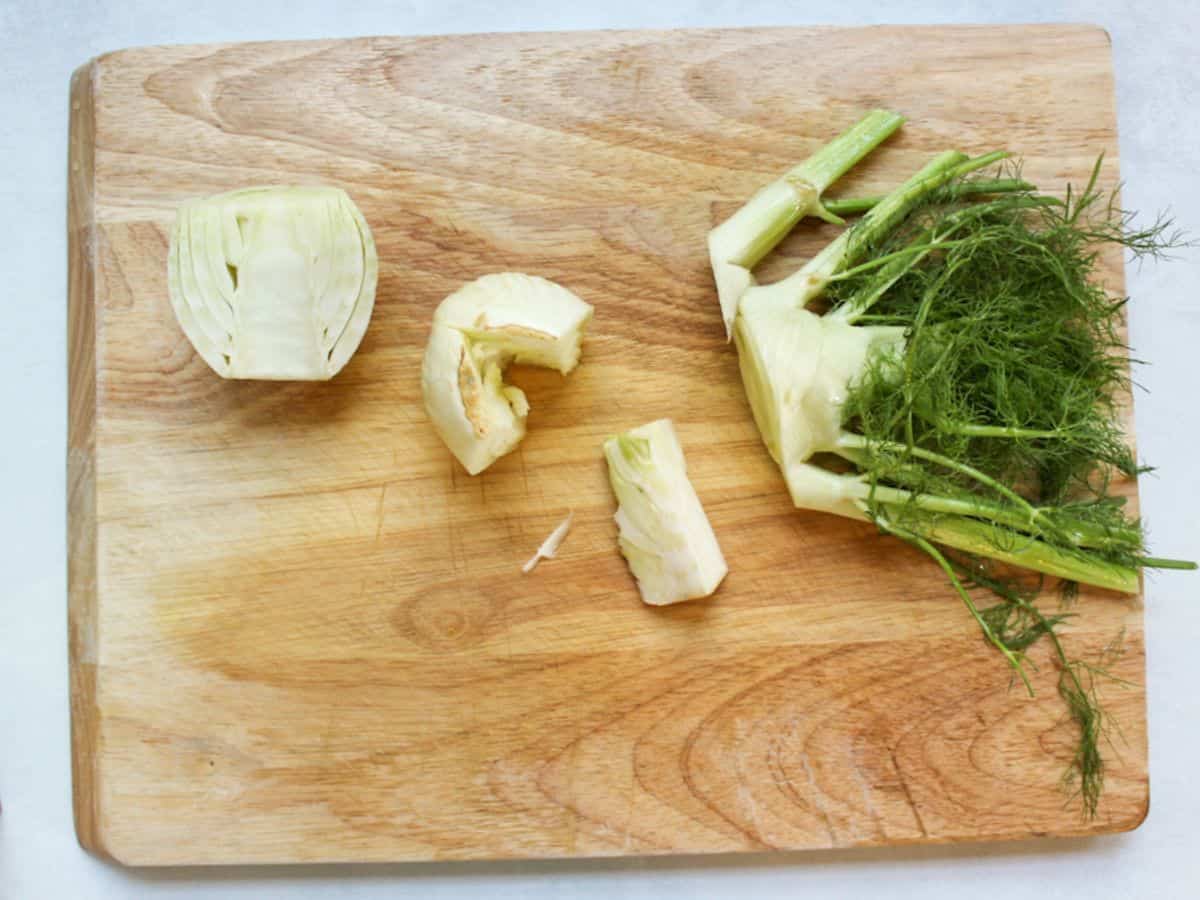 Now, you can chop the fennel haves into small cubes. Peel and chop the shallot as well into the same small pieces. Dice the garlic cloves finely.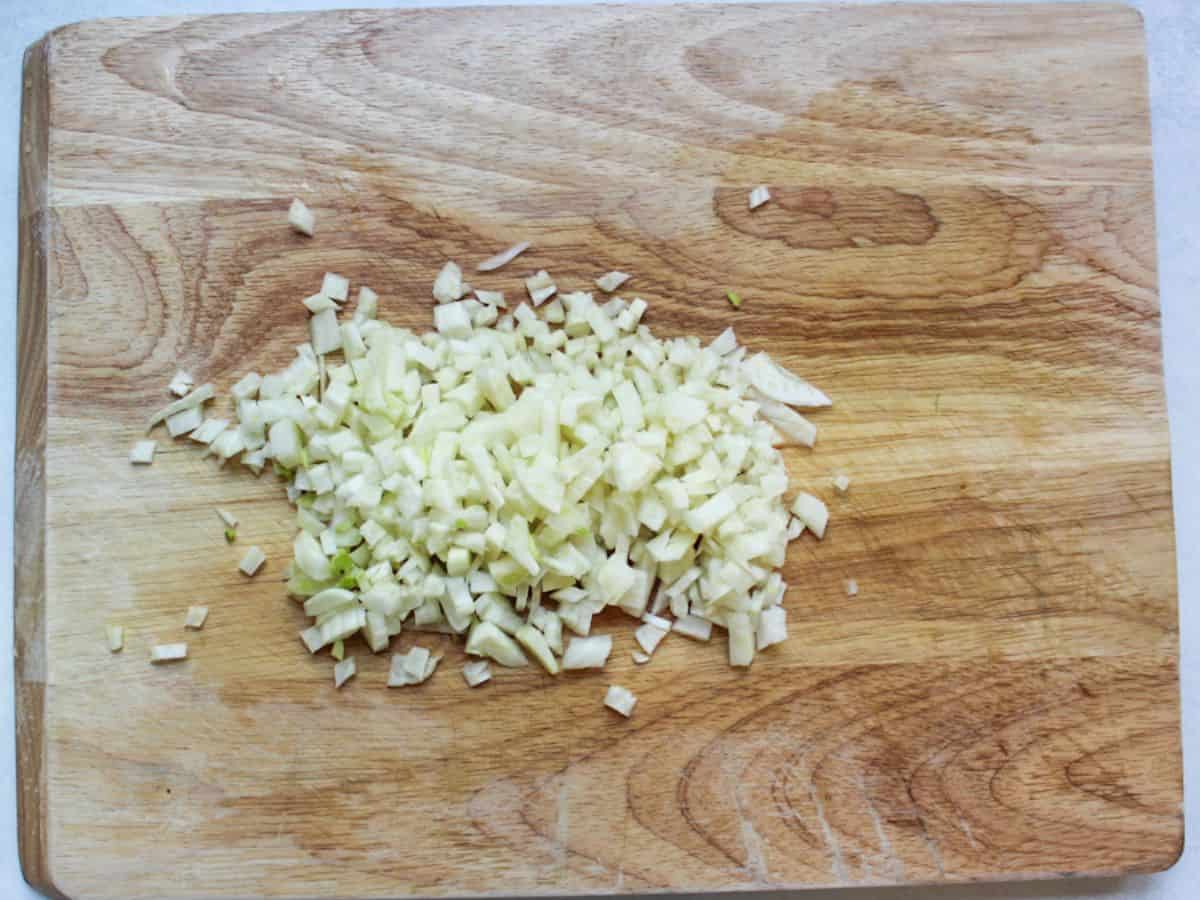 In a medium saucepan, pour chicken or vegetable broth and heat it over medium heat. Once so, keep it warm over low heat throughout the cooking process.
In a wide pot or a hide-sided skillet, heat olive oil and butter over medium heat. Add chopped fennel and shallot.
Saute over medium-low heat, stirring frequently until the vegetables soften up. Add diced garlic and cook for another minute.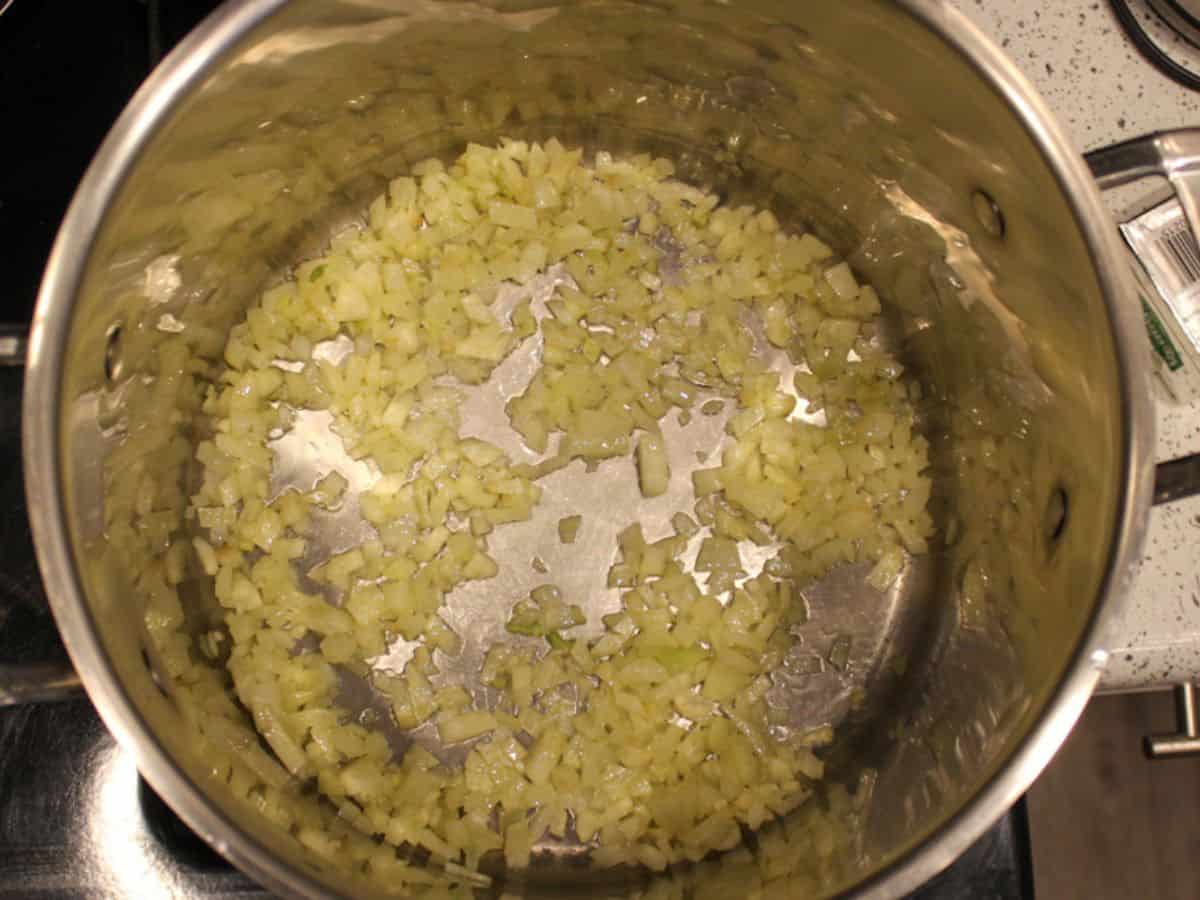 Add Arborio rice to the skillet and stir well to coat and toast the grains until the grains become translucent around the edges.
For best results, stir the rice with a special risotto spoon that has a whole in the middle. You can also use a wooden or silicone spoon.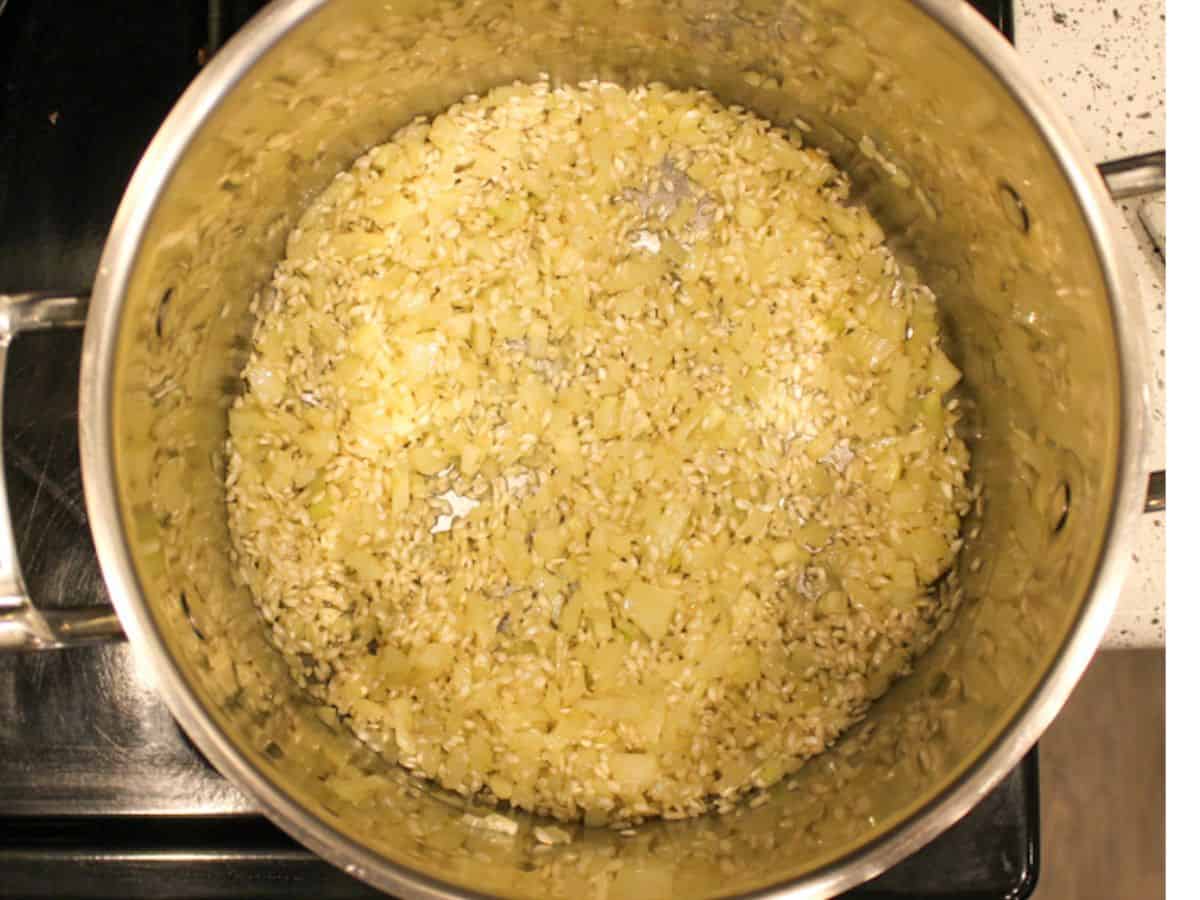 Now, pour in about ½ cup of white wine (if using) and cook it over medium-high heat, stirring continuously until it is absorbed by the rice.
After that, begin the process of adding the chicken broth. Add one ladleful (about ½ cup) at a time, stirring it constantly over medium heat.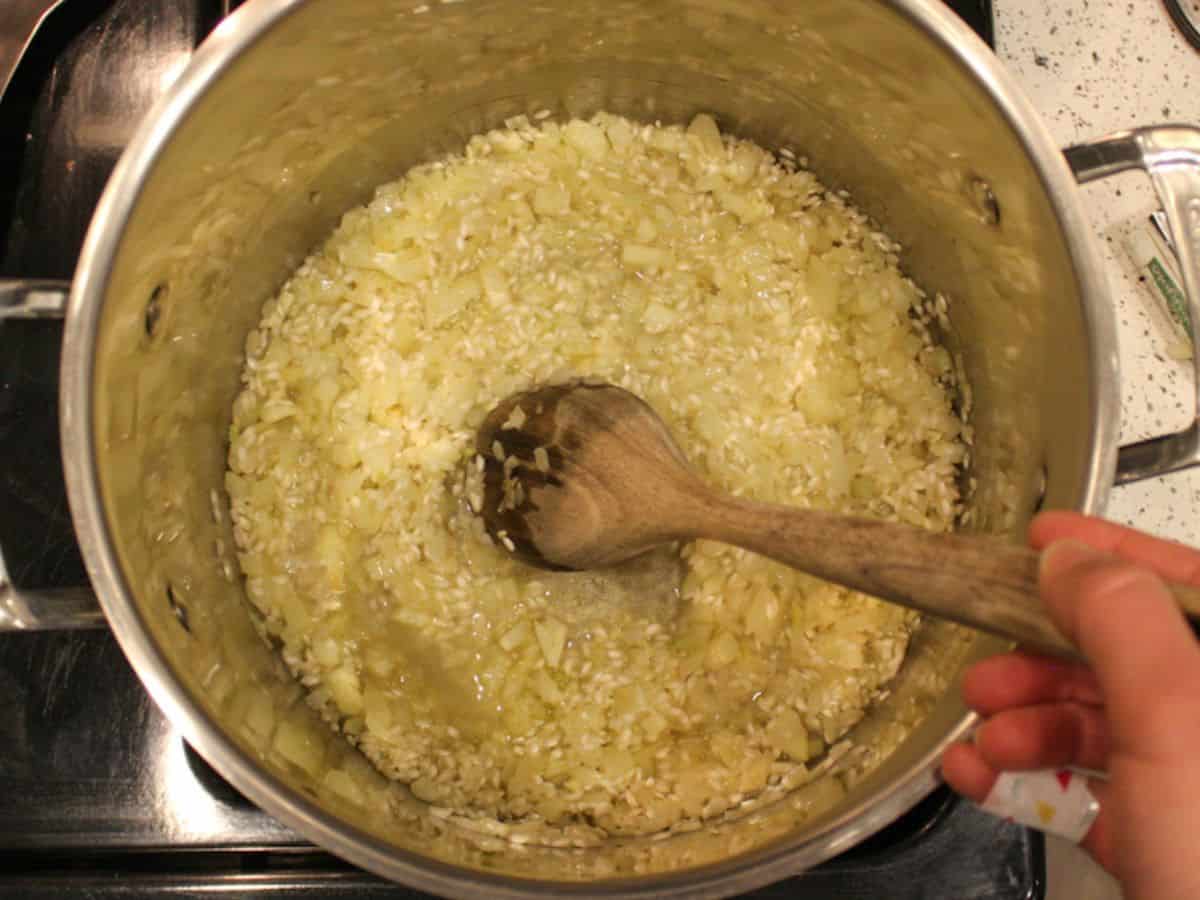 When the liquid is absorbed, add another ladleful of broth. Continue this process for about 20-25 minutes until the rice is cooked al dente (or to your liking) and most of the broth is used.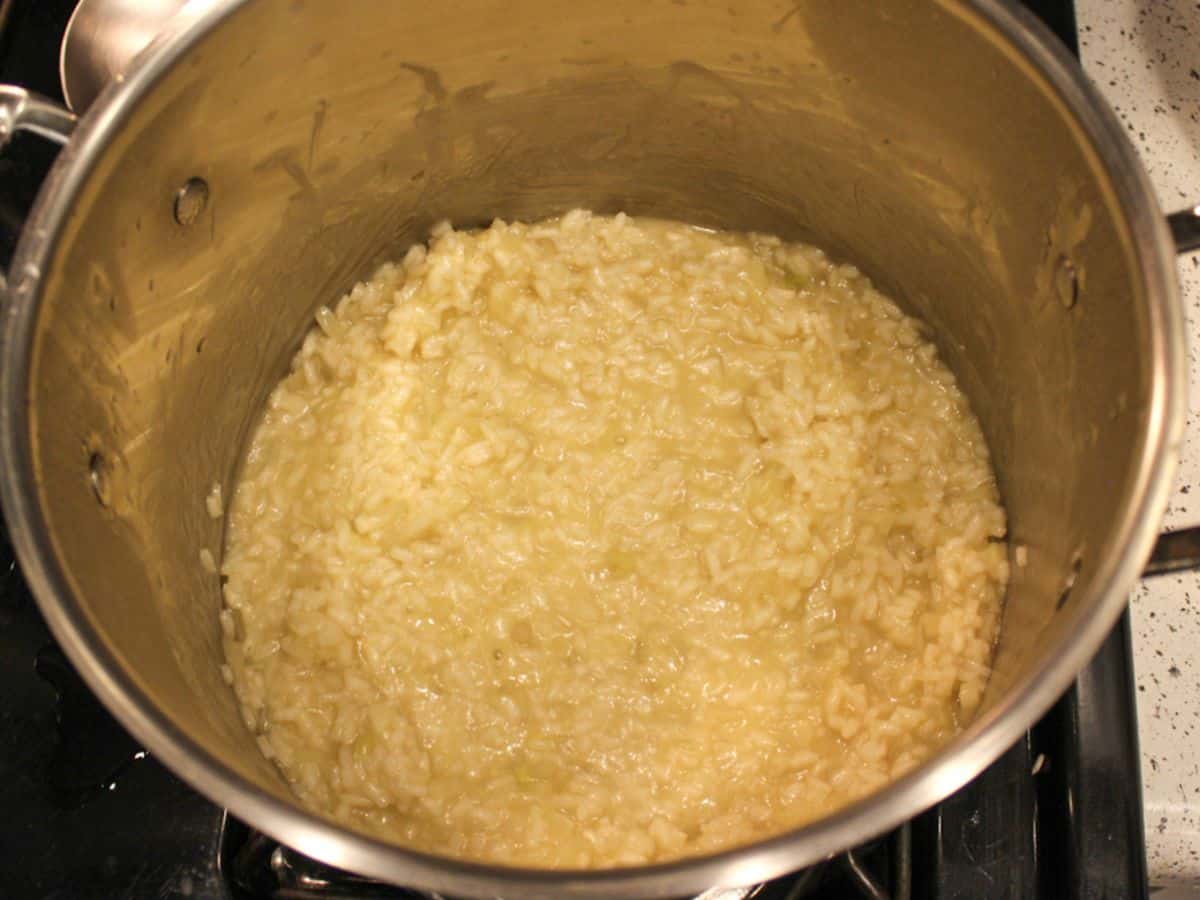 Remove the pan from the heat and stir in about ¼-1/2 cup of freshly grated Parmesan cheese. Add some salt and pepper to taste.
Serve risotto right away. I also like to rinse and chop the fronds to garnish the plate and add more fennel flavor.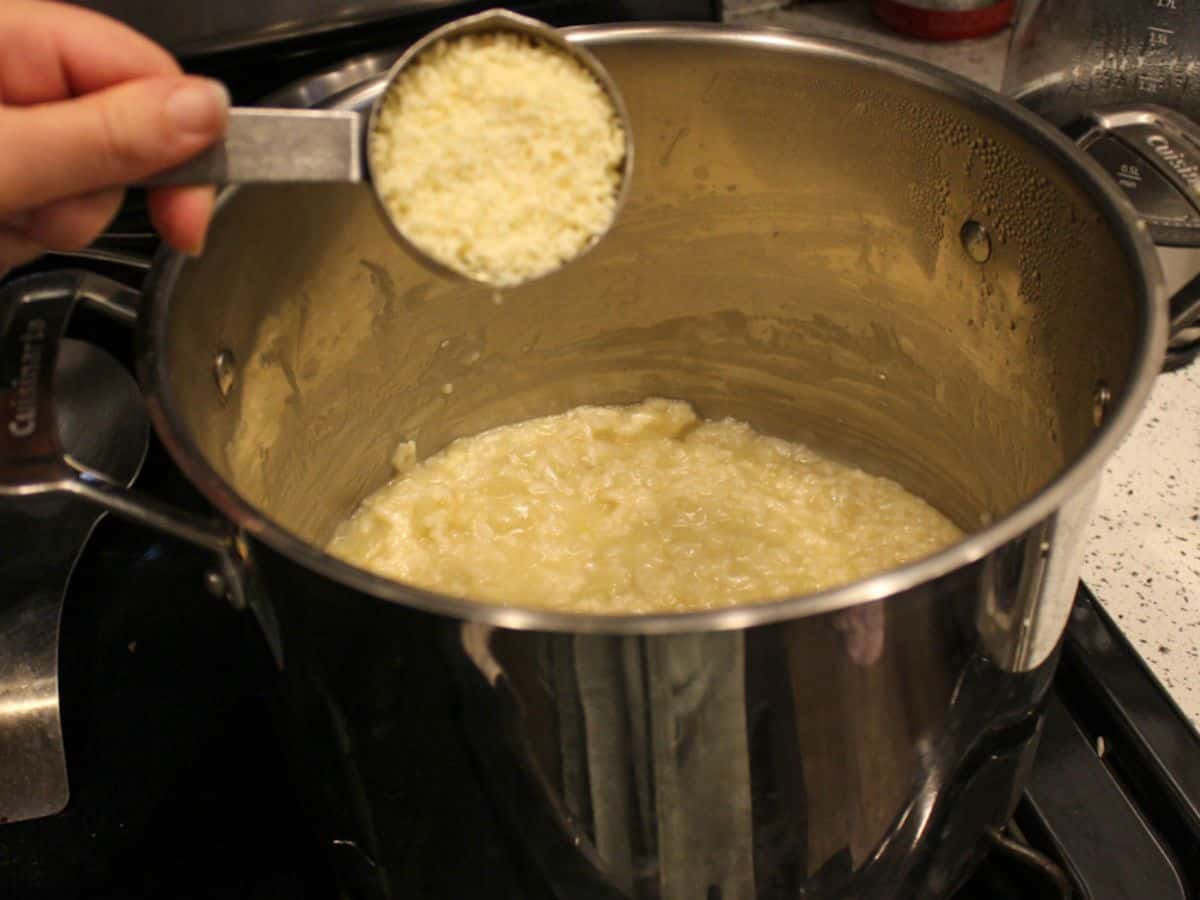 Serving
Fennel risotto is great when served alone as a main dish. You can garnish it with fresh parsley, basil, or fennel fronds.
Or you can pair it with chicken, beef, salmon, or shrimp. Add a fresh garden salad to make it a complete meal.
Risotto can be served in a wide-rimmed bowl or deep dinner plate to keep it in place. Although risotto has a creamy consistency, it is sticky enough to use the fork to enjoy the dish, allowing you to explore the texture of individual grains of the dish.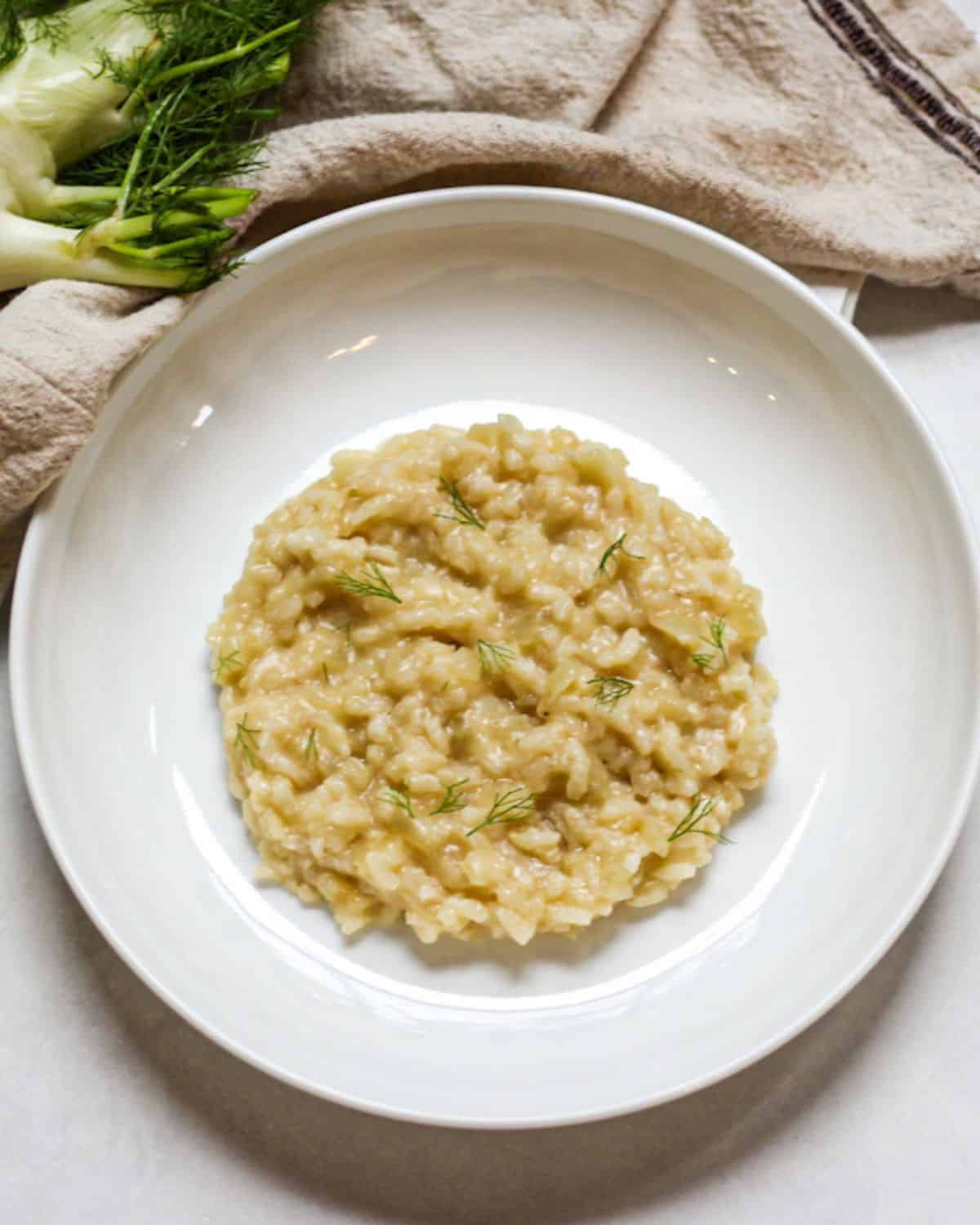 Recipe tips
Use a short grain special rice. Chose between Arborio, Carnaroli, or Vialone Nano.
Saute fennel and shallow first.
Dry white wine is optional, but it adds aroma and a slight acidity to the risotto.
Avoid metal spoons or utensils to stir the risotto, as they can break the delicate texture of rice grains. A special risotto spoon with a whole or any wooden and silicone spoons are the best.
Keep the heat at medium to medium-low throughout the cooking process for the rice to absorb liquid slowly and release the starch, which will make the risotto creamy.
Serve the risotto with the green leafy fennel fronds on top for more anise flavor.
How to store the leftovers
It is best to enjoy risotto immediately while it is fresh. But if you have any leftovers, let them cook down first, transfer the risotto into an airtight container and store it in the fridge for about 2-3 days.
I like to reheat risotto in a small saucer pan with a little bit of water. You can also reheat it in the microwave.
You can read my full guide on how to reheat risotto.
Leftover risotto can also be repurposed into other delicious dishes, such these air fryer arancini or deep fried crispy suppli.
Just remember, it is not safe to reheat any rice dish twice. So, if you repurpose or reheat the risotto leftovers, they must be consumed right away or tossed.
Recipe variations
Fennel and lemon risotto: add a few tablespoons of fresh lemon juice and lemon zest to the risotto during the final stages of cooking. Lemon will bring a refreshing tang to the dish.
Fennel and tomato risotto: add some diced tomatoes to the risotto. This variation pairs well with the anise-like flavor of fennel.
Fennel, cream cheese, and leek risotto: use the leeks instead of the shallots and at the very and add a few tablespoons of cream cheese towards the end of cooking.
Frequently asked questions
What is the best rice to make risotto?
Arborio rice is the best and the most popular rice to make risotto. Other options include Carnaroli rice and Vialone Nano rice.
Do I need to rinse Arborio rice before making risotto?
No, you do not need to rinse the Arborio rice. Rinsing rice risotto can remove some of the start, that contributes to the creamy consistency.
How much risotto per person?
If you serving it as a main course, you can estimate about ½-3/4 cup of uncooked rice (90-120 grams) per person. As a side dish or as a part of a larger meal, you can reduce the portion to around ⅓ to ½ cup of uncooked rice.
More risotto recipes
More Italian recipes
📖 Recipe
Creamy Risotto With Fennel Recipe
The subtle sweetness of the fennel harmonizes perfectly with savory notes from the other ingredients, making this creamy fennel risotto an excellent choice for those who want to explore new flavors. Serve it as a standalone elegant main dish or pair it with grilled meat, or seafood for a complete meal.
Equipment
1 wide pot

1 saucer pan

for heating the broth

1 Measuring Cup

1 ladle
Ingredients
1½

cup

Arborio rice or other short grain rice

1

large fennel, diced

1

shallot, diced

2

garlic cloves, diced

1

Tablespoon

olive oil

1

Tablespoon

butter

½

cup

dry white wine (optional)

5-6

cups

chicken broth

¼

cup

grated Parmesan

¼

teaspoon

salt, to taste

¼

teaspoon

black pepper, to taste
Instructions
Trim off the root off and the fronds from the fennel bulb. Remove any tough outer layer. Dice the fennel bulb into small cubes. Dice the shallot and garlic cloves.

In a wide pan, heat 1 tablespoon olive oil and 1 tablespoon butter. Add diced fennel and shallot. Saute over medium heat for about 5 minutes until the vegetables start softening up. Add diced garlic and cook for another minute.

Heat 5-6 cups of chicken broth in a saucer pan over medium heat, keep it warm throughout the cooking process over the low heat.

Add 1½ cup of arborio rice to the pan and stir it with the fennel and onions. Toast it stirring frequently for about 2-3 minutes until each grain is coated in oil and butter and slightly translucent around the edges.

Reduce the heat to medium-low. Pour in the white wine (optionally). Stir the rice continuously until the wine is absorbed.

Start adding the warm broth to the rice, 1 ladle at a time. Stir gently and continually until the liquid is absorbed.

Repeat the process of adding a ladleful of broth at a time, stirring until absorbed and then adding more until the rice is cooked al dente or to your desired consistency, The process should take about 20-25 minutes.

Once the rice is cooked, remove it from the heat and stir in grated Parmesan, salt and pepper to taste. Spoon it into serving plates and enjoy.
Notes
Rice - Arborio, Carnaroli or Vialone Nano types of short grain rice are recommended.  Broth - you can use chicken or vegetables broth to make risotto. Fennel - for extra fennel flavor, garnish risotto with fronds (green thin parts on top of the bulb). All nutrition facts are only estimate and should be used for information purposes only.
Nutrition
Calories:
374
kcal
Carbohydrates:
35.1
g
Protein:
23.5
g
Fat:
13.2
g
Saturated Fat:
3.2
g
Polyunsaturated Fat:
0.5
g
Monounsaturated Fat:
3.2
g
Cholesterol:
12
mg
Sodium:
308
mg
Potassium:
139.9
mg
Fiber:
3.7
g
Sugar:
0.9
g