Learn the proper techniques on how to store and reheat homemade risotto. While risotto is best enjoyed fresh, there are ways to preserve its creaminess and original taste for the next day.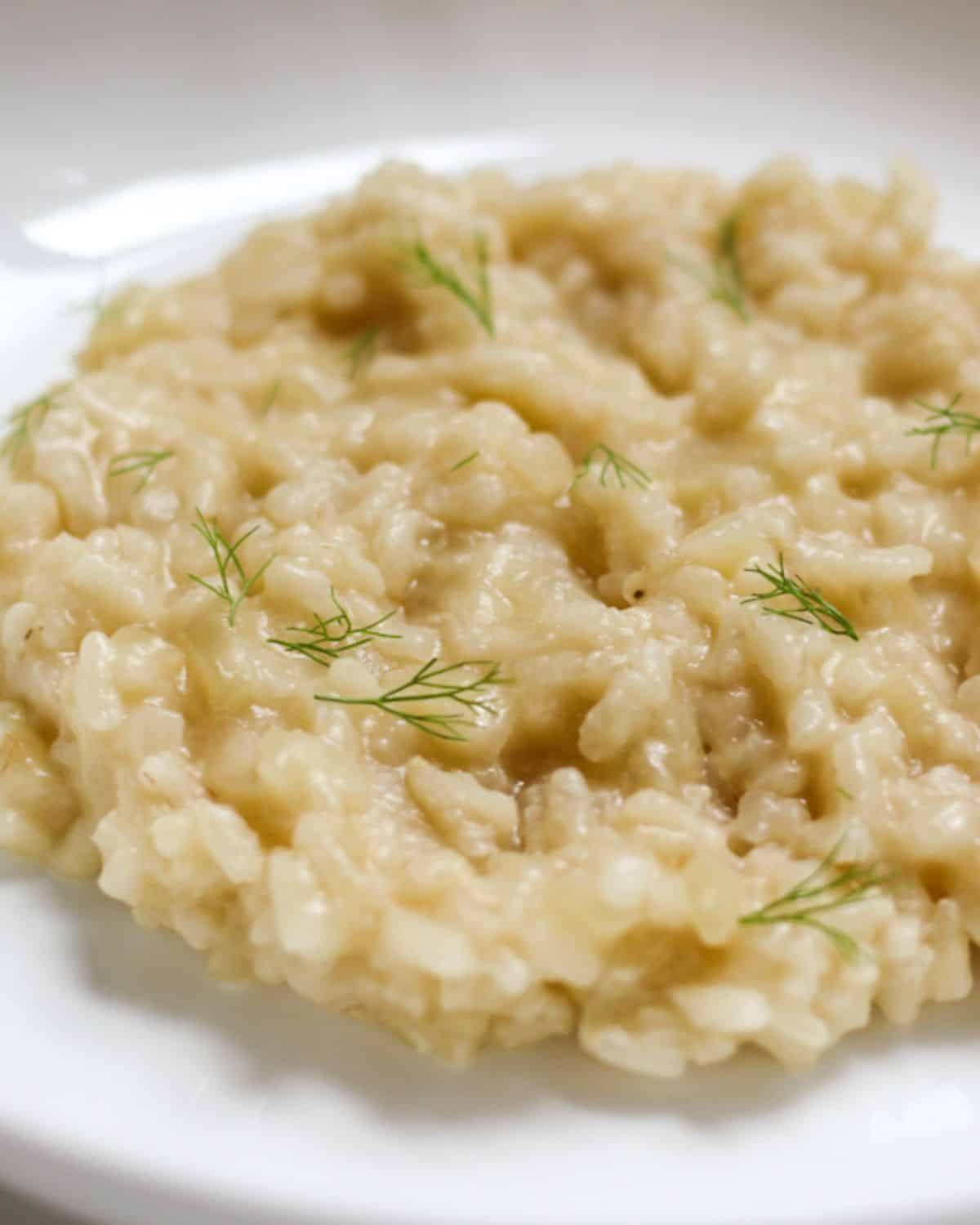 Jump to:
Is it a good idea to reheat risotto?
Some prepared dishes taste great when reheated, while others may lose the flavor and taste.
No doubt, risotto is one of the dishes you want to enjoy fresh.
Risotto is a Traditional Italian dish made with specific short-grain rice that has a high starch content.
Arborio rice and Carnaroli rice are the two most popular varieties of rice used for making risotto.
These rice types are known for their ability to create a creamy texture while maintaining a nice al dente bite.
Learn more about the types of rice and alternatives for making risotto.
If you are a beginner, please read my guide on how to make a perfect risotto.
Cooking risotto is a tedious process. And if I spend time making it, I would not want to toss any leftovers, just because the dish does not reheat well.
If you happen to have the risotto leftovers and would like to enjoy them the following day for lunch, you can:
Repurpose it into a different dish, such as supplì or arancini rice balls.
Chill it quickly, store it properly, and reheat it using one of the offered methods.
Note: keep in mind, that reheated risotto will never taste as good as it tastes right off the stove. The type of rice used to make risotto is high in starch and will change consistency (thicken) after reheating. But it is still possible to enjoy it after reheating if you follow a few of my proven tips and tricks.
When storing and reheating risotto leftovers, there are a few important things to focus on:
preserving the texture and consistency (see the reheating tips)
preserving flavor and taste (see the reheating tips)
following the food safety guidance (see the food safety tips)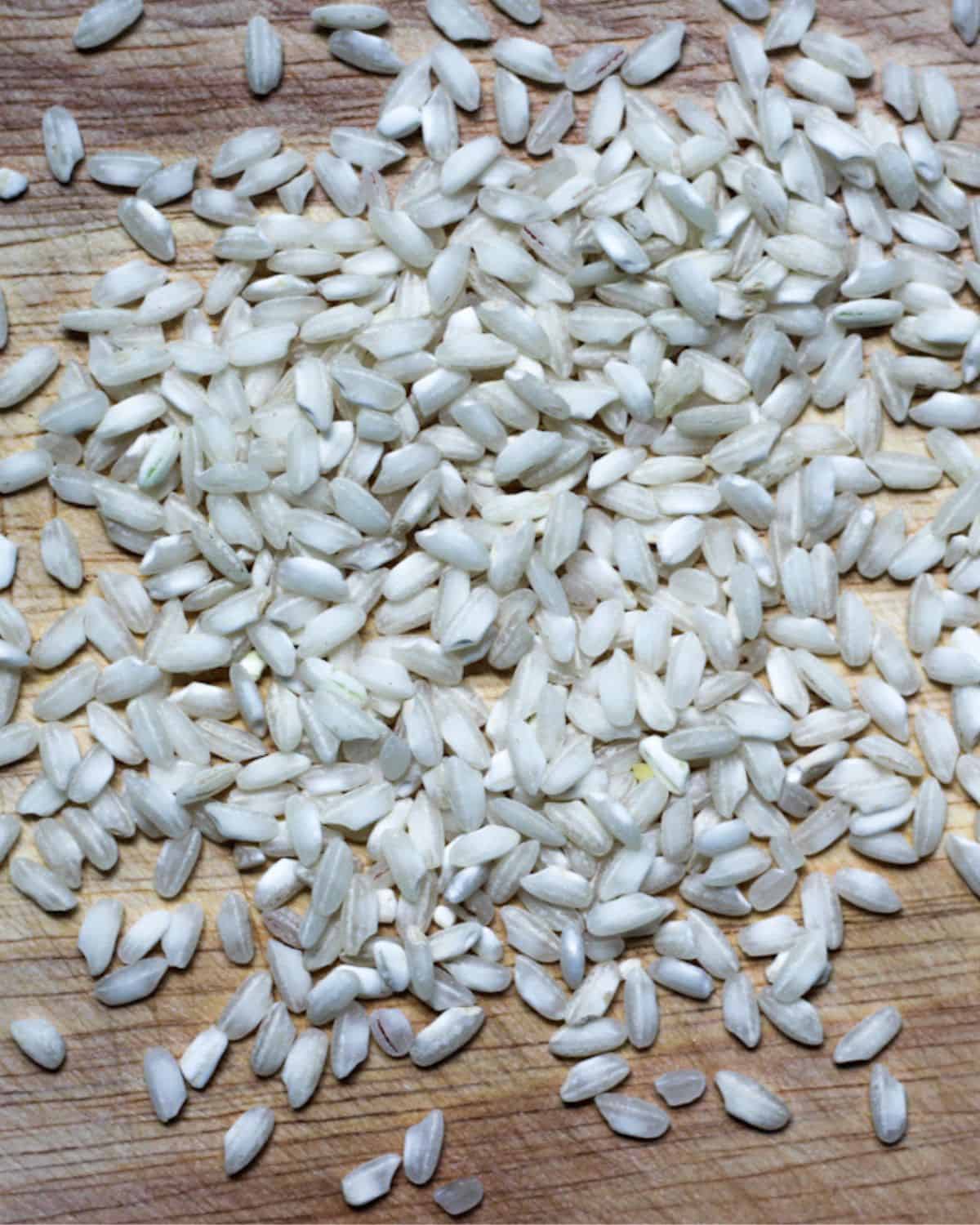 Food safety tips
Never reheat risotto or any other rice dish twice. It increased the risk of possible Bacillus cereus bacteria growth that can cause food poisoning.
Place the risotto leftovers in the fridge as soon as possible.
Through it out if the risotto doesn't look or smell right or if it has been left out for more than 2 hours.
Reheat it properly and evenly until the temperature reaches at least 165°F
Reheating tips
For one cup of leftover risotto add about 4 Tablespoons (¼ cups of broth or water) to preserve the creamy consistency.
Stir the risotto gently while reheating to preserve the rice texture.
To preserve the flavor and taste, add a little butter, grated Parmesan cheese, salt, and pepper at the end.
For the best results, use a nonstick pan for reheating to prevent the rice from sticking.
Use a low heat and take it off the heat as soon as it is hot, not to overcook the rice.
How to store risotto
​The best way to store risotto is in an airtight container in the fridge. Make sure to chill it as quickly as you can, as rice is not one of the foods you want to keep at room temperature for a very long time.
You can keep leftover risotto in the fridge for about 2-3 days. Although it might be safe to eat after day 3, I still do not recommend it as the freshness might be compromised.
I do not recommend freezing risotto, frozen rice will become mushy after reheating. No one will enjoy such an elegant dish after thawing.
​The bottom line is to stick with refrigerating the risotto leftovers for up to 3 days.
How to reheat risotto
Below are the 4 different methods to reheat risotto. I tasted them all and placed them in order from my most and least favorite methods to reheat the dish.
Stovetop (the best method)
In a non-stick pan or saucer pan, add 4 tablespoons of chicken broth (or water) and bring it to a simmer. Now, add 1 cup of cold risotto.
Turn the heat to low, cover, and simmer it gently for about 3-4 minutes or until the risotto is steaming hot.
Stir it occasionally to distribute the heat evenly and prevent the rice from clumping together.
Avoid high heat, as it may make the dish dry or even burn. When evenly hot, take it off the heat.
Add about 1 teaspoon of butter, 1 Tablespoon of grated Parmesan, and a pinch of salt and pepper to bring back the flavors and taste that might have been diluted with extra liquid.
Oven (longest method)
Preheat oven to 350°F. Transfer 1 cup of risotto to a small oven-safe deep dish and spread it in an even layer.
Add 4 tablespoons of chicken stock or water and cover the dish with aluminum foil tightly to prevent the moisture from escaping.
Place the dish in the preheated oven. Reheat the risotto in the oven for about 15-20 minutes, stirring it gently halfway. Keep a close eye on it to prevent it from drying or burning.
Once hot, remove the foil and add about 1 teaspoon of butter, 1 Tablespoon of grated Parmesan, and a pinch of salt and pepper.
Steamer basket (even heating)
Fill a pot with a small amount of water, so the water does not touch the steamer basket. Place the steamer basket inside the pot.
Transfer the risotto to a heatproof container (glass or silicone) that fits the steaming basket.
Carefully, place the container with risotto in the steamer basket. Cover the pot with a lid and bring the water to a boil over medium heat.
Turn it to low heat and steam for about 10 minutes or until hot.
You can still add a little bit of butter and Parmesan to hot risotto to make it taste fresh.
Microwave (quickest way)
In a microwave-safe bowl, add risotto leftovers and a splash of water or broth (about 4 tablespoons of liquid per 1 cup of rice).
Cover the bowl with a microwave-safe plate, plastic wrap, or a damp paper towel.
Microwave the risotto in short intervals (30 seconds) on medium power for about 3-5 minutes or until steaming hot.
After each interval, remove the bowl and give it a gentle stir.
Same as with the rest of the methods, because of the added liquid add some extra butter, Parmesan cheese, salt, and pepper to taste.
Risotto recipes
Frequently asked questions
How long does risotto last in the fridge?
When properly stored, risotto can last in the fridge for about 2-3 days.
Can I freeze risotto?
Although it is safe to freeze risotto, I do not recommend freezing it. The rice will become grainy and the risotto will become mushy after thawing.
Can I reheat risotto twice?
No, never reheat risotto (or any other cooked rice dish) twice due to possible Bacillus cereus bacteria presence.