Discover the best types of rice for making authentic Italian risotto and learn why choosing the right one is crucial.
When it comes to making Italian risotto, there are traditional rice options like Arborio, Carnaroli and Vialone Nano as well as some excellent alternatives such as barley or buckwheat.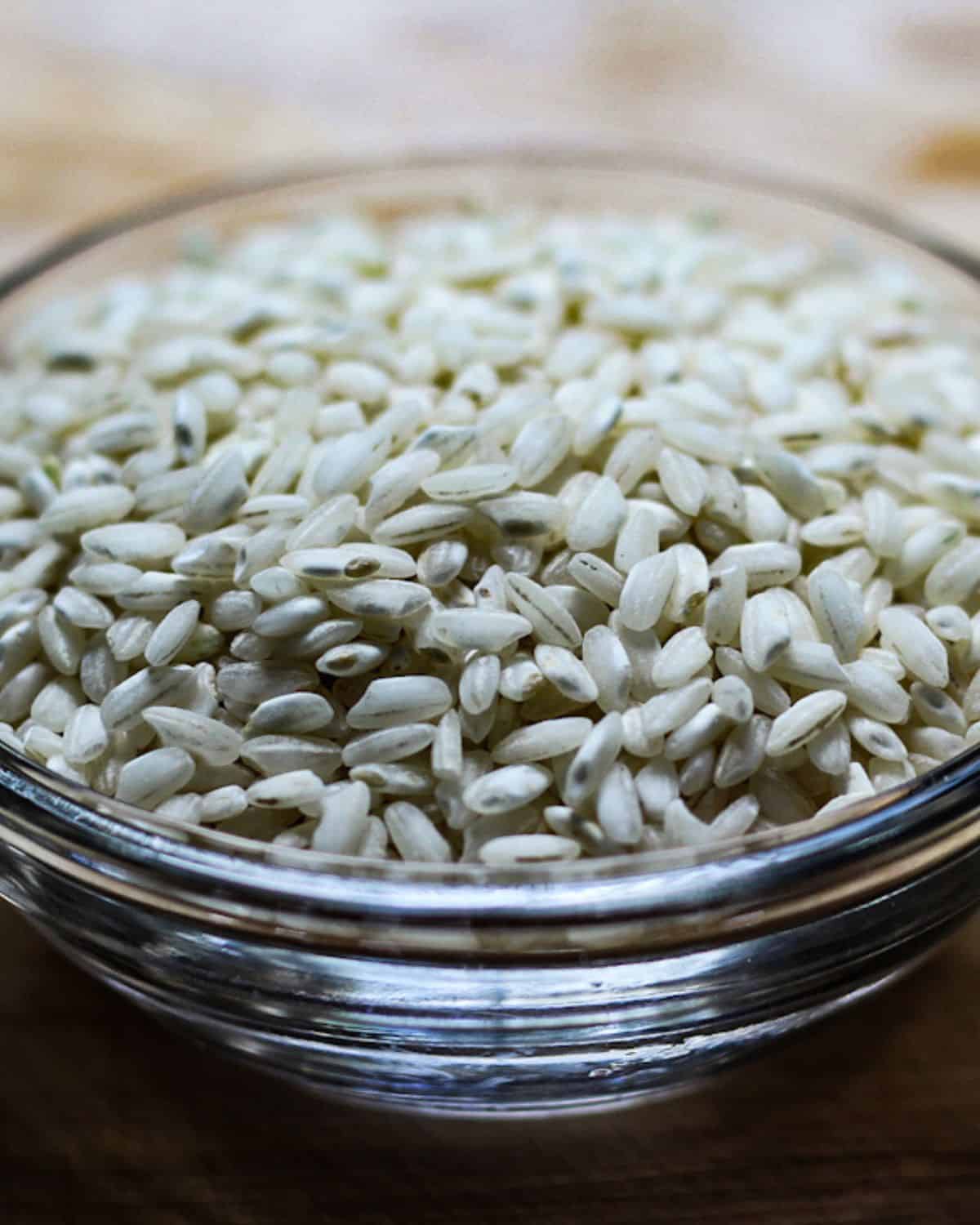 Jump to:
Why it is important to choose the right rice?
Risotto is one of the most famous dishes in Italian cuisine. 
The traditional risotto is prepared by cooking a specific type of short-grain rice using a special technique of gradually adding hot broth, which results in a creamy and velvety texture.
While the technique of making risotto is very important, it is also crucial to choose the right kind of rice.
Traditional Italian risotto is prepared using a specific variety of a short-grain rice, known for its high starch content.
There are few types of rice cultivated just for risotto.
When cooked slowly, this type of rice creates the desired creamy consistency without becoming mushy.
The outer layer becomes tender, while the inside of the rice remains al dente with a pleasant bite.
By the way, you never rinse the risotto rise, as it will wash away the starch.
Great risotto cannot be made with long-grain rice, such as Basmati or Jasmine rice.
Sometimes, other grains can be used to make risotto-style dishes, such as barley, farro, buckwheat, and quinoa.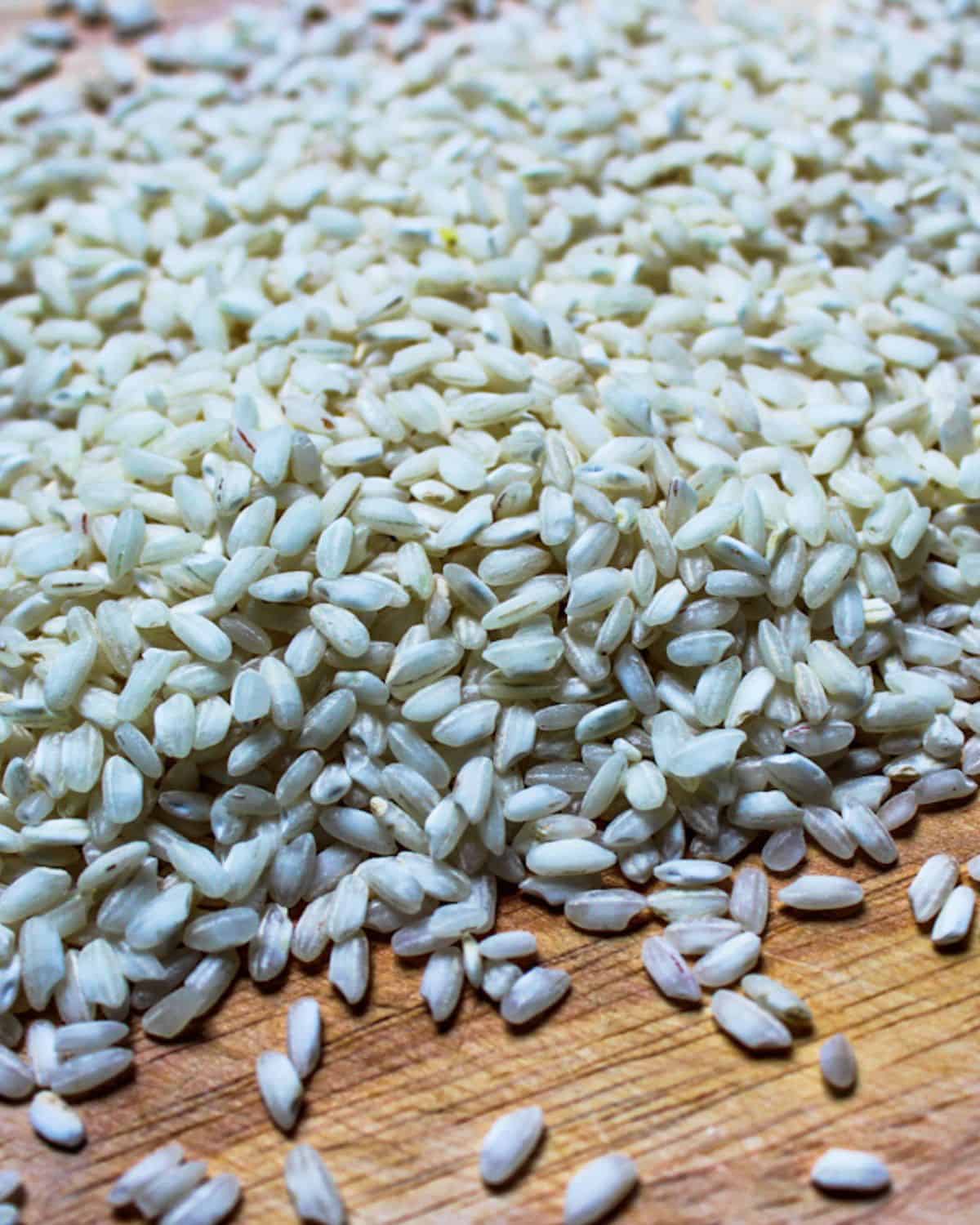 Technique for making risotto
Making risotto is easy, but requires time and a meticulous process of constant stirring. The cooking process usually takes about 20 minutes or until the rice reaches the desired consistency.
This technique allows us to absorb the flavors of vegetables, meats, seafood, herbs, and spices beautifully, creating a unique dish.
After sauteing the onions in butter or olive oil, followed by a chosen variety of rice, it is common to add a generous splash of wine for some extra flavor.
After that, you gradually add hot broth, allowing the rice slowly absorb the liquid before adding more.
Continuous stirring makes the rice release starch, resulting in a creamy texture. Right after the rice is cooked, it is common to add grated Parmesan cheese. It adds rich flavor and extra creaminess.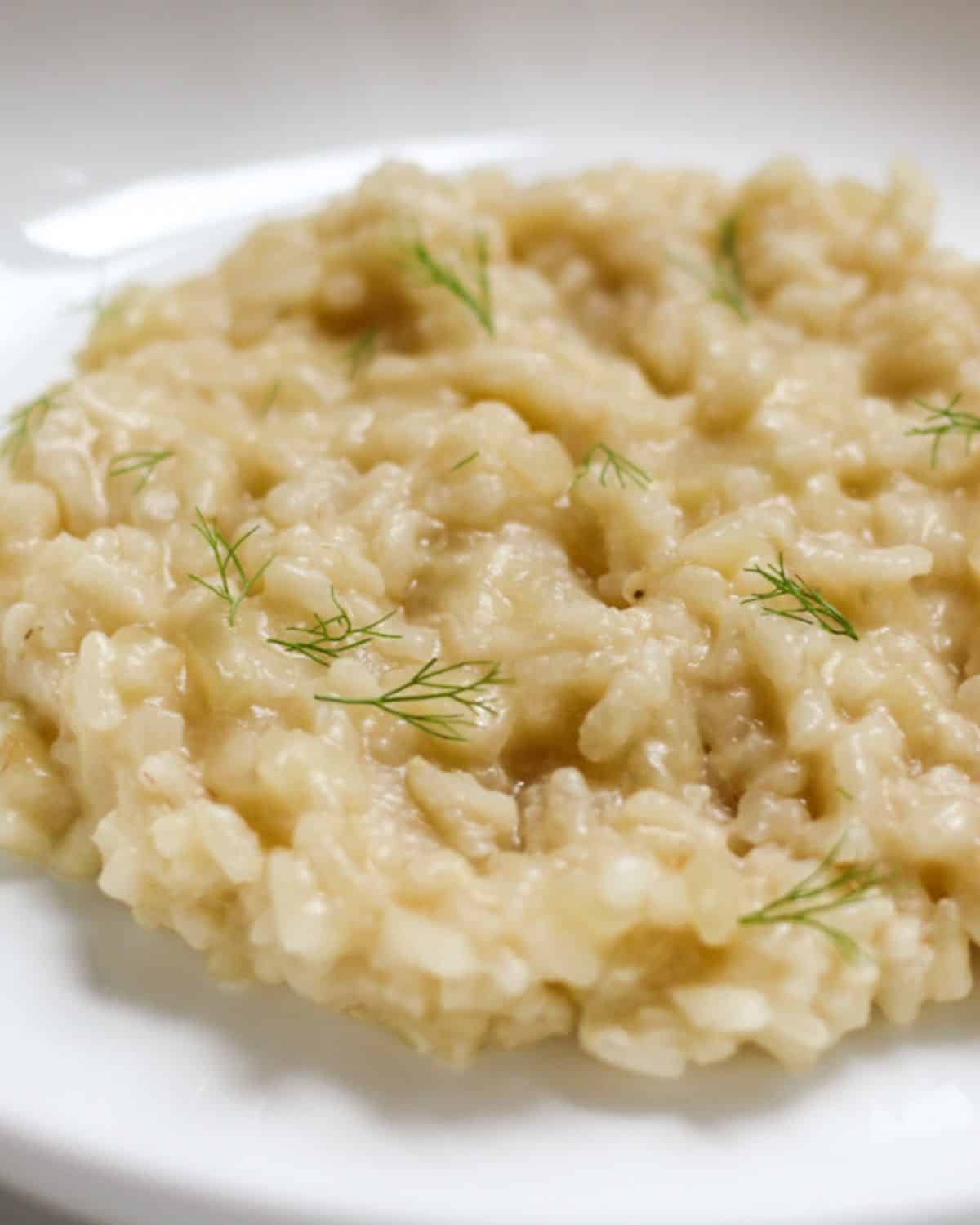 Is Risotto Rice or Pasta?
Authentic Italian Risotto is made exclusively with rice. Therefore, it is accurate to say that risotto is indeed rice.
I see how some people may confuse it with orzo pasta due to their similar size and shape.
Sometimes, orzo is cooked similarly to risotto resembling its creamy texture and people may even call it orzo risotto.
The best rice types for risotto
Below are the 4 best types of rice that can be used to make risotto. Arborio and Carnaroli are the most popular risotto varieties.
Vialone Nano and Balso are less known but can be also used to make the dish.
If you are making risotto in the United States, I would choose between Arborio and Carnaroli. Both make excellent risotto.
You can stop right here or read below to learn more about each of the varieties.
Arborio rice
Arborio is on top of the list and is the best choice for making a perfect risotto. Named after the Italian town of Arborio, this rice is specifically cultivated for making risotto. This fact explains why most chefs and home cooks prefer Arborio rice for making the dish.
The grain of this Italian rice is plump, round, and a little smaller compared to Carnaroli rice.
This rice has a high starch content and the ability to absorb liquid well.
After cooking, the grains are tender on the outside and remain al dente on the inside, if not overcooked. If overcooked, arborio rice may quickly become mushy.
Carnaroli rice
Carnaroli rice is another top choice for making risotto. Some consider it even better than Arborio. I think both types are excellent for making risotto.
I often prefer the Carnaroli type, as the grains hold their shape better and it is harder to overcook.
The main difference to know between the two most popular varieties used for making risotto lies in texture and cooking characteristics.
Carnaroli rice can withstand longer cooking times without becoming mushy. Carnatoli rice grains are slightly larger than Arborio and it has higher starch content, so it takes a little longer to cook and it needs more cooking liquid.
It also reheats better compare to the Arborio type.
Vialone Nano rice
It is a popular variety of rice in Northern Italy, specifically the Veneto region. Vialone Nano is is a high quality rice that is not easy to find in the US. You can order it online, but it can be quite pricey.
This specific type is preferred in the Veneto region for making risotto.
Vialone Nano has plump, round grains, shorter and wider than other varieties. It retains firmness and has a slightly chewy texture.
Baldo rice
Baldo rice is a less-known risotto rice variety. It is grown in Turkey and Italy. It is a hybrid of Arborio and Stripe rice.
The grains have a semi-round shape and are smaller compared to Arborio and Carnaroli.
This rice is starchy and can absorb liquids, making it another great option for making risotto.
The alternatives
Barley - you can use both hulled or pearl barley to make the risotto-like dish. Barley has a chewy texture and a nutty flavor. Pairs well with mushrooms, herbs, and lemon.
Farro - similar to barley, this ancient grain is a good alternative. It is hearty and has a chewy texture.
Buckwheat - is another grain you can use to make a risotto-style meal. It is gluten-free, chewy, and nutty.
Orzo - orzo is a small, rice-like shape pasta. You can easily prepare it in a similar way to risotto rice.
What types of rice to avoid
​For making risotto, avoid any long-grain rice varieties. They are less starchy and are not going to achieve a creamy texture.
Basmati, Jasmine, Wild Rice, Sushi Rice, Brown Rice, Wild Rice, and Parboiled Rice are not suitable for making the risotto.
Best wine for risotto
Dry white wine is the best one for making risotto. I like to use Sauvignon blanc or pinot grigio.
You can also pour yourself a glass while cooking risotto - the time will fly.
Key takeaways
It is important to choose a short-grain rice variety with a high-starch content to achieve the best creamy risotto.
Arborio and Carnaroli are the best options that possess these characteristics and are known for their ability to absorb the flavors.
However, it's worth noting that Carnaroli rice takes a little longer to cook compared to Arborio but holds its shape better, so less chance it will become mushy.
Vialone Nano and Baldo are less common types but you can easily use them to make risotto. Both types have high starch content and round shape.
If for some reason you don't have access to the above-mentioned rice varieties, you can create a risotto-style dish using alternatives like barley, farro, or orzo pasta.
Favorite risotto recipes
Frequently asked questions
How to store leftover risotto?
Leftover risotto should be stored in an air-tight container in the refrigerator for about 2-3 days.
How to reheat risotto?
The best way to reheat risotto is using the stovetop. For 1 cup of risotto use about 4 Tablespoons of broth or water. In a small saucer pan, bring the liquid to a gentle boil, add cold risotto, and heat it gently over low heat. You can add extra Parmesan, butter, and salt to taste. Check out other methods of reheating risotto.
What to serve the risotto with?
Risotto can be served as a main dish or as a side dish for grilled fish, chicken, or vegetables.