Learn how to cook different types of barley with detailed step-by-step instructions and helpful tips. As a result, you will have tender and chewy hulled, pearl, or quick barley to add to salads, bowls, soups, and more.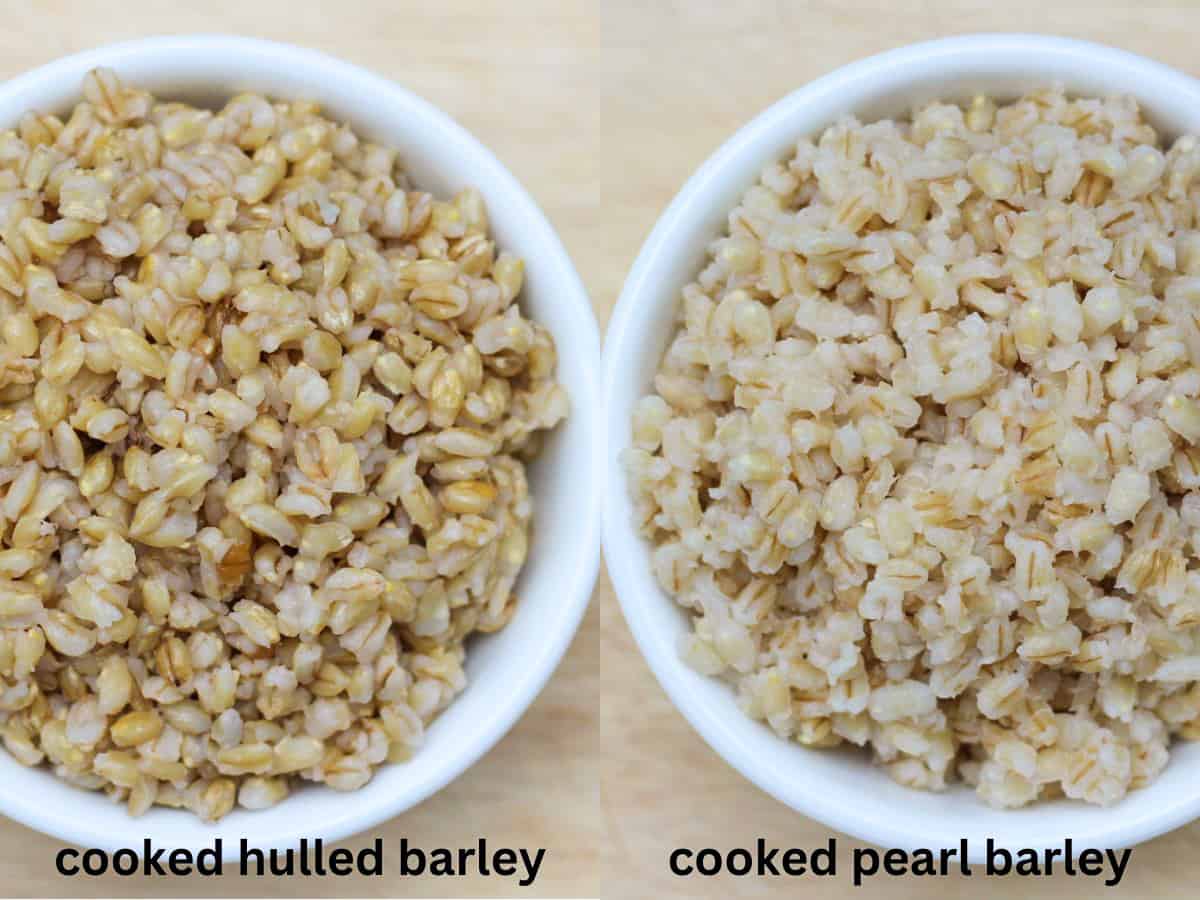 What is barley
Barley is an ancient grain with a high nutritional profile. When properly cooked, it has a tender, slightly chewy texture and a mild nutty flavor.
It is rich in fiber, manganese, selenium, copper, vitamin B1, and more.
The grain has one of the lowest Glycemic indexes (28) out of all the grains.
Buckwheat is another grain with a low Glycemic Index (30-35).
Growing up in Ukraine, my mom often made barley porridge as a side dish instead of rice. By the way, Ukraine is one of the biggest world exporters of barley.
It is very affordable there compared to rice. I even make Creamy Mushroom Risotto with barley instead of risotto rice.
Barley needs to be simmered in water or broth. You can also cook barley in your Instant Pot.
You can use barley in soups, casseroles, salads, and nutritious bowls. It makes the dish filling while adding a lot of extra nutrients.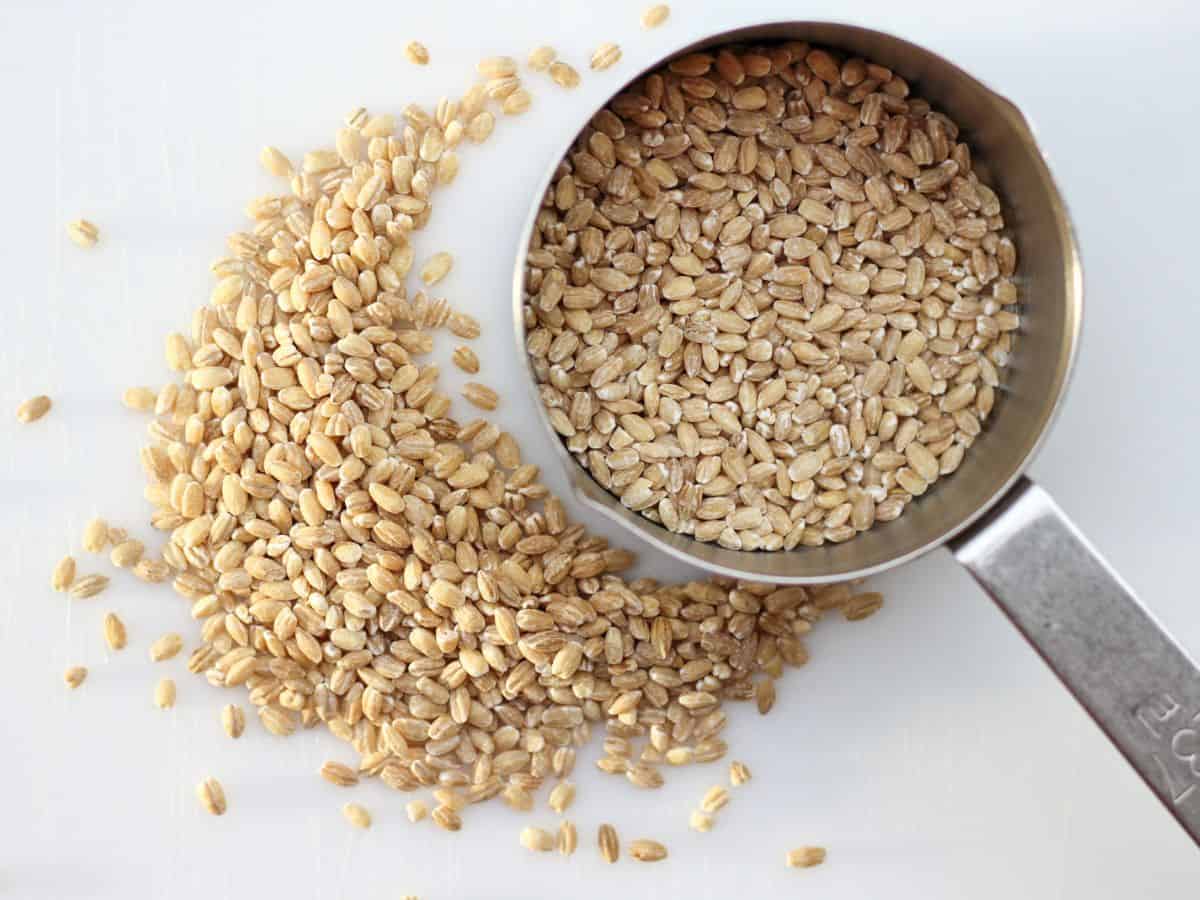 Types of barley
To cook the perfectly tender barley, you need to know what type of barley you are dealing with.
The only difference between the types is the way the grain has been processed after harvesting.
Hulled barley is the healthiest type and requires longer cooking time. It is a whole grain and has more nutrients compared to other types.
If you are not sure what type you've got at home (especially if you bought it in the bulk section), Hulled Barley vs Pearl Barley Post will help you to tell the difference.
Pearled barley is a polished grain with both the outer shell (indigestible part) and the barn removed. Although pearl barley is a refined grain, it is rich in fiber and other nutrients.
Quick Barley is the type of barley that has been slightly cooked and dried before packaging. It takes only 10 minutes to cook quick barley, not as nutritious but it is perfect to use for quick meals on an occasional basis. I always recommend cooking hulled or pearled barley and freezing it in portions to have it on hand at any time when the recipe calls for it.
Other forms of barley can be found online or in specialty stores. There are barley grits, barley flakes, and barley flour.
Yield and serving sizes
Dry barley absorbs water and swells up during the cooking process. 1 cup of dried barley will make about 3 cups of cooked grain.
The recommended serving size is about ½ cup of cooked barley for adults and ¼ cup for young kids.
Who should avoid barley
Everyone who is on a gluten-free diet: barley contains between 5-8 percent gluten. For comparison, wheat contains about 75-80 percent gluten.
Digestive issues: if you cannot tolerate high-fiber foods, it is better to avoid barley or consume it in very small quantities.
Expert tips
Rinse barley before cooking and soak hulled barley for at least 2 hours.
All brands are different and you may need less or more water.
The barley is cooked when the grain is tender but slightly chewy.
Freeze barley in batches to have it on hand at any time.
Ingredients
Barley: you can use hulled or pearl barley. Step-by-step instructions below explain how to cook both types.
Water: use filtered water or broth to simmer the grain.
Seasoning: barley does not have much flavor and it is a good idea to add I add a little bit of salt when cooking. I like to make it this way to be able to use it in a variety of recipes. But you can also add garlic or onion powder, pepper, dried basil, or thyme.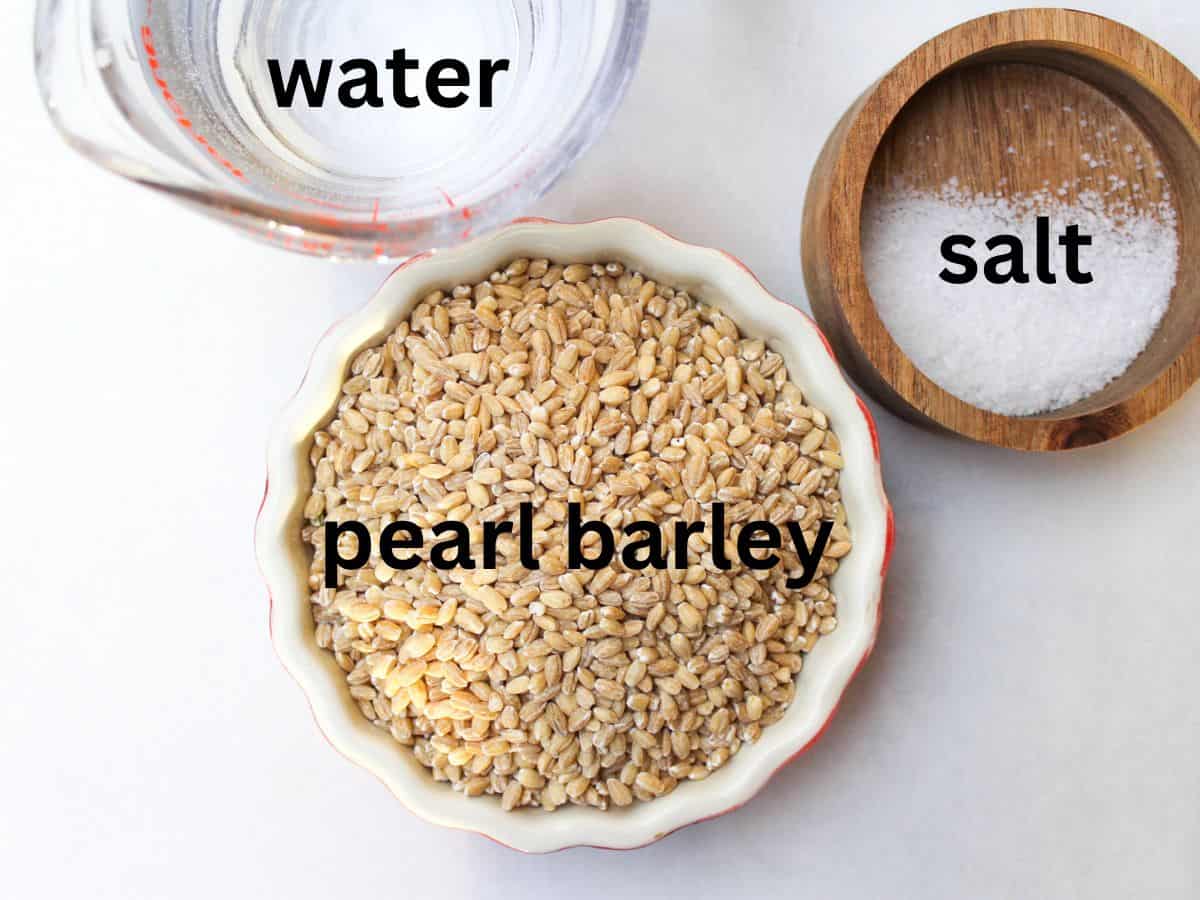 How to cook barley
Rinse and sort: Hulled barley is the least processed type and may have occasional debris, dust, or shells. I recommend looking through the grain and removing any debris and rinsing it afterward in cold water. If you cook pearl barley, rinsing a few times will be enough.
Soak: Skip this step if using pearl barley. Soaking hulled barely is always recommended. It will save you about 20 minutes of cooking time. In a large bowl, add one cup of rinsed hulled barley and 3 cups of cold water. Soak it for at least 2 hours, but better overnight. Transfer it to the fridge if soaking for more than 12 hours as it may start fermenting. Rise one more time before cooking.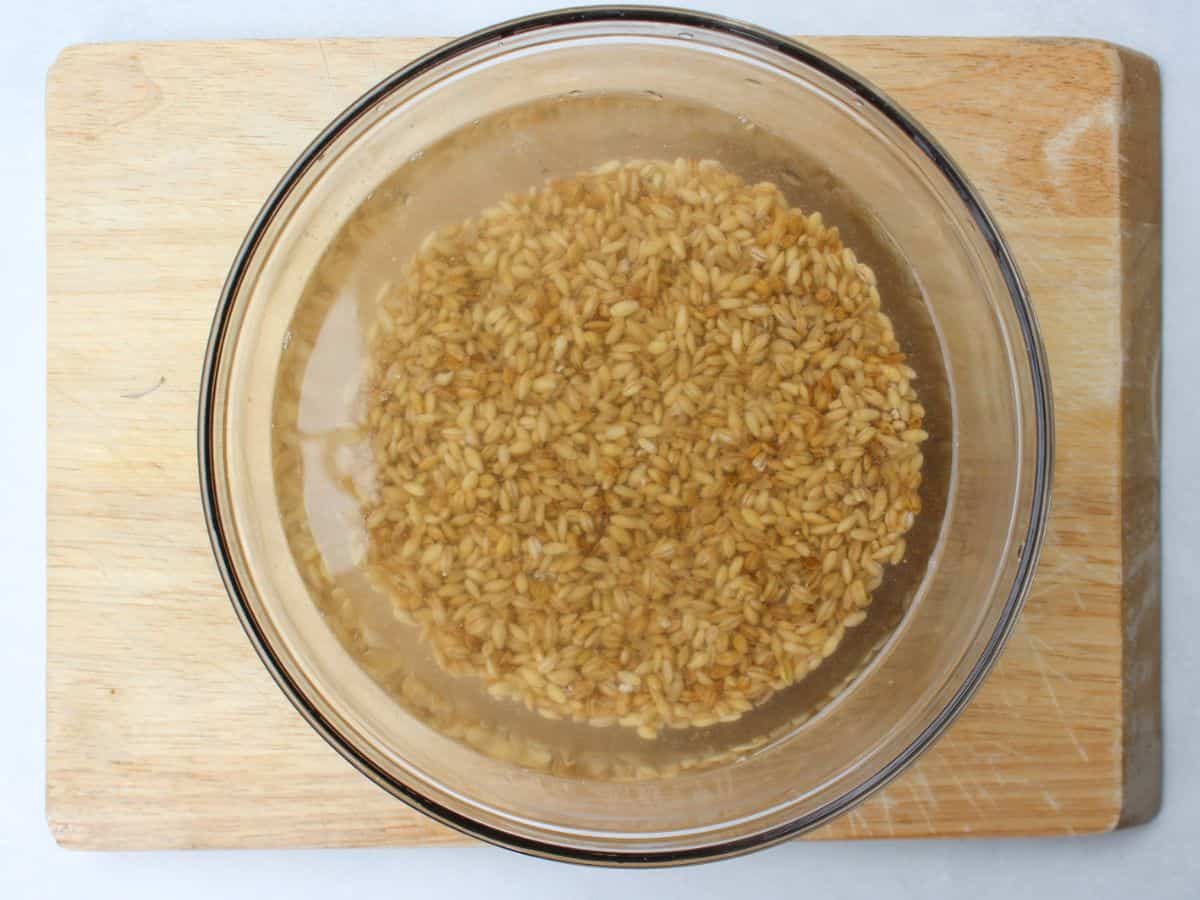 Cook: In a medium pan, add one cup of barley (pearl or soaked hulled). ⅛ teaspoon of salt and 3 cups of water. Bring it to a boil, cover and let it simmer for about 45-60 minutes. Add more water if needed. You can always drain the excess water. If the grain is tender and slightly chewy, and your barley is cooked, turn the heat off and let it sit covered for another 10 minutes to absorb any remaining water.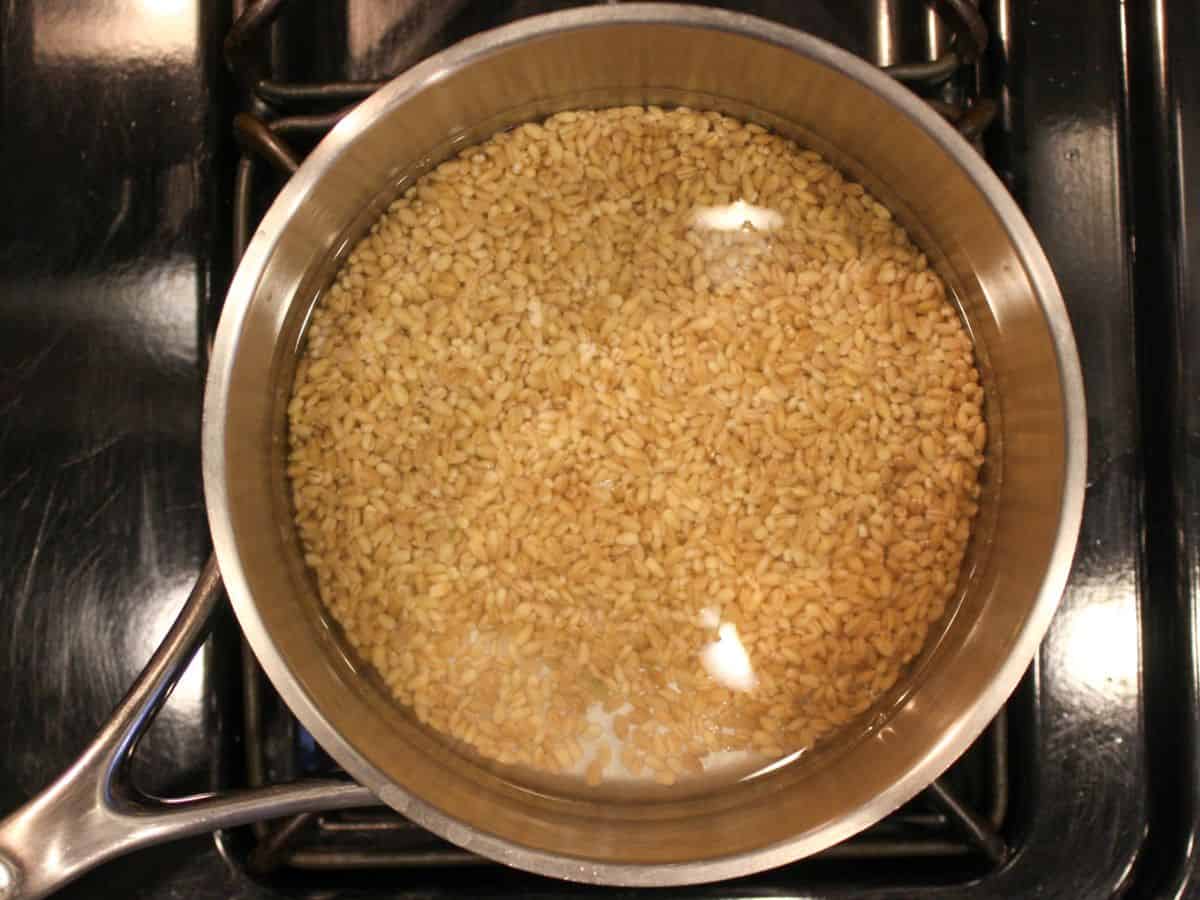 How to cook other types of barley
In my experience, Quick barley or Barley Flakes always have the directions on the package. Follow the package directions for the best results, as different brands of quick barley may have a different amounts of water and cooking times.
Barley flour can be used instead of wheat flour or starch to thicken stews or soups.
For baking, barley flour should be mixed with white flour to make pancakes, muffins, or cookies.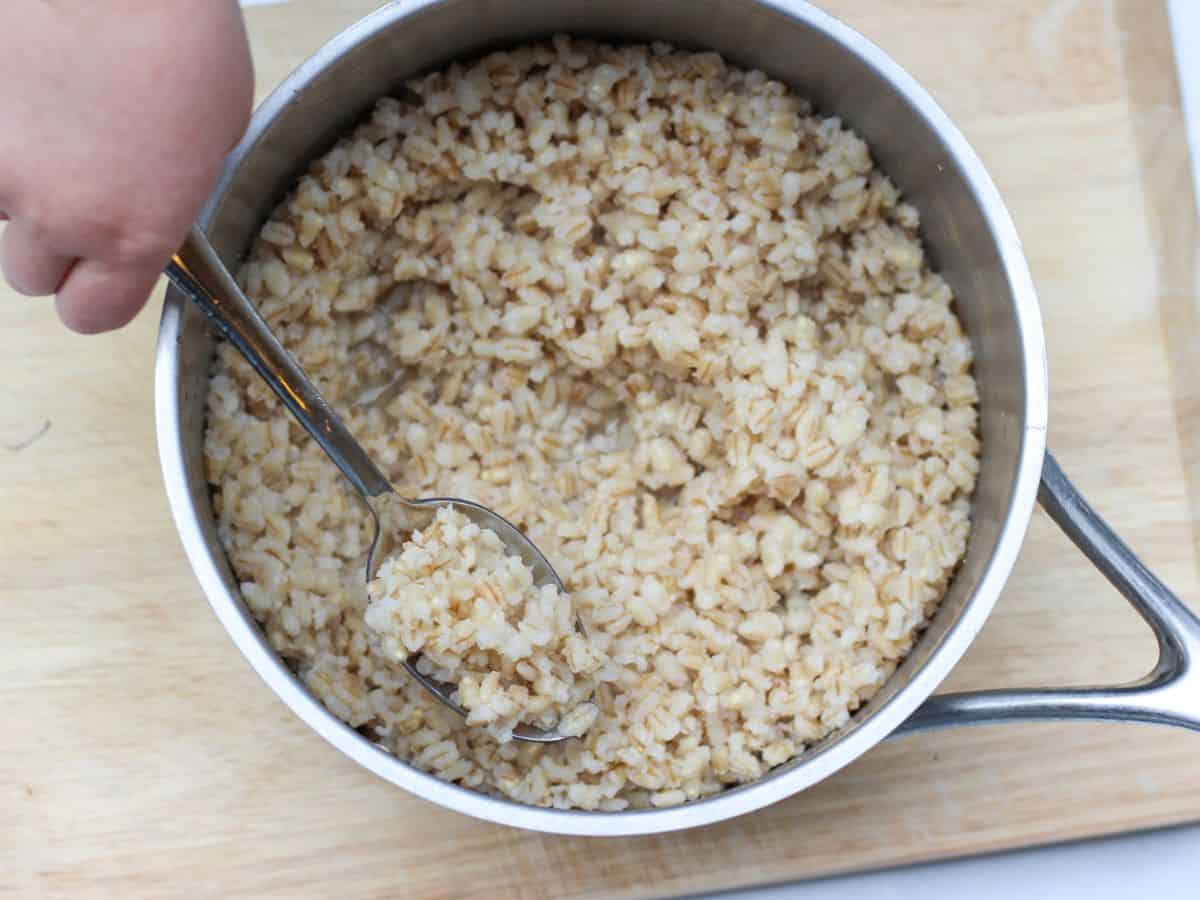 How to serve
Frequently asked questions
What is the best type of barley?
Hulled barley is considered the whole grain and contains all the nutrients because only the outer indigestible shell is removed. Pearled barley has both its outer shell and husk removed. Pearled barley still contains a great number of nutrients. 
Is barley gluten-free?
No, barley is not gluten-free and should be avoided by gluten-sensitive people. 
Where to buy barley?
You can buy barely in the grains section of the grocery store where you usually look for rice and quinoa. Sometimes you can find barley in the bulk section. You can also buy barely online. 
📖 Recipe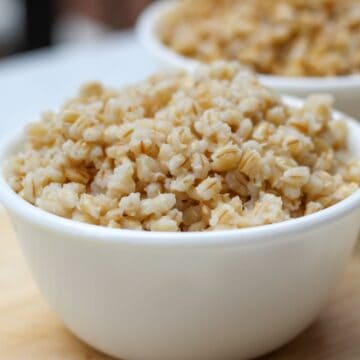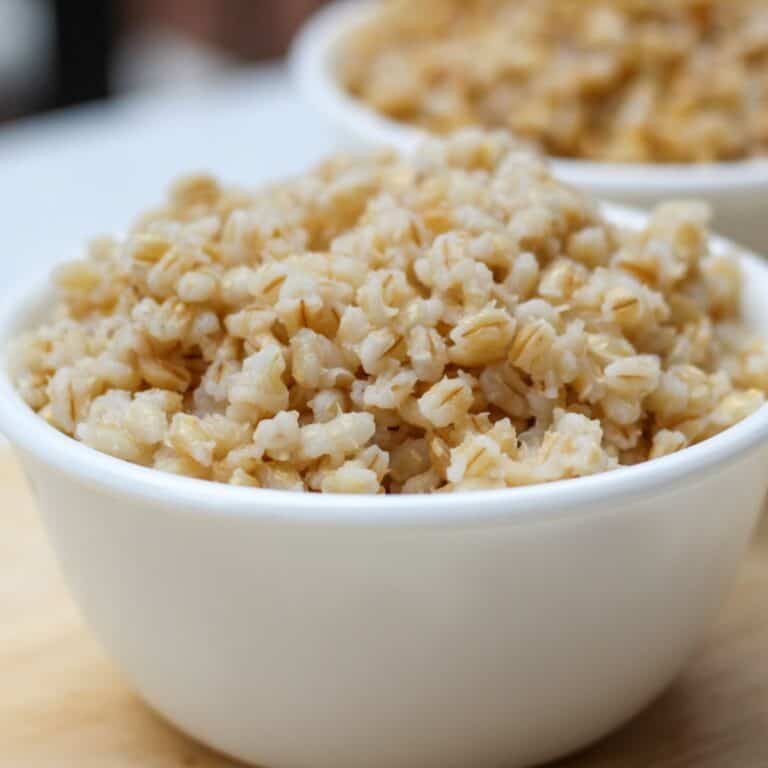 How to cook different types of barley: step-by-step instructions
Learn how to cook different types of barley with detailed step-by-step instructions and helpful tips. As a result, you will have tender and chewy hulled, pearl, or quick barley to add to salads, bowls, soups, and more.
Equipment
1 Measuring Cup

1 Fine mesh strainer

1 medium pot with lid
Ingredients
1

cup

barley (hulled or pearl)

3

cups

filtered water

⅛

teaspoon

salt

optional
Instructions
Soak hulled barley for at least 2 hours or better overnight. Skip soaking if using pearl barley. Rinse barley a few times under cold water.

In a medium pot, add 3 cups of water, 1 cup of barley and some salt. Bring to boil, cover, and simmer hulled barley for about 45-60 minutes or pearl barley for 30-45 minutes. The barley is cooked when most of the water is absorbed, the grain is slightly chewy and tender. Drain the access water if needed.

Serve as a side dish with butter or olive oil.
Notes
rinse barley before cooking
soak hulled barley for at least 2 hours
hulled barley is a whole grain
Nutrition
Calories:
135
kcal
Carbohydrates:
25
g
Protein:
3.5
g
Fat:
2
g
Sodium:
65
mg
Fiber:
7
g