Instant pot buckwheat will quickly become your favorite grain to cook in your pressure cooker. These buckwheat groats are great as a side dish, breakfast hot cereal, or add a scoop to your favorite salad for extra nutrients. If you have not tried buckwheat groats yet, it is time to do so!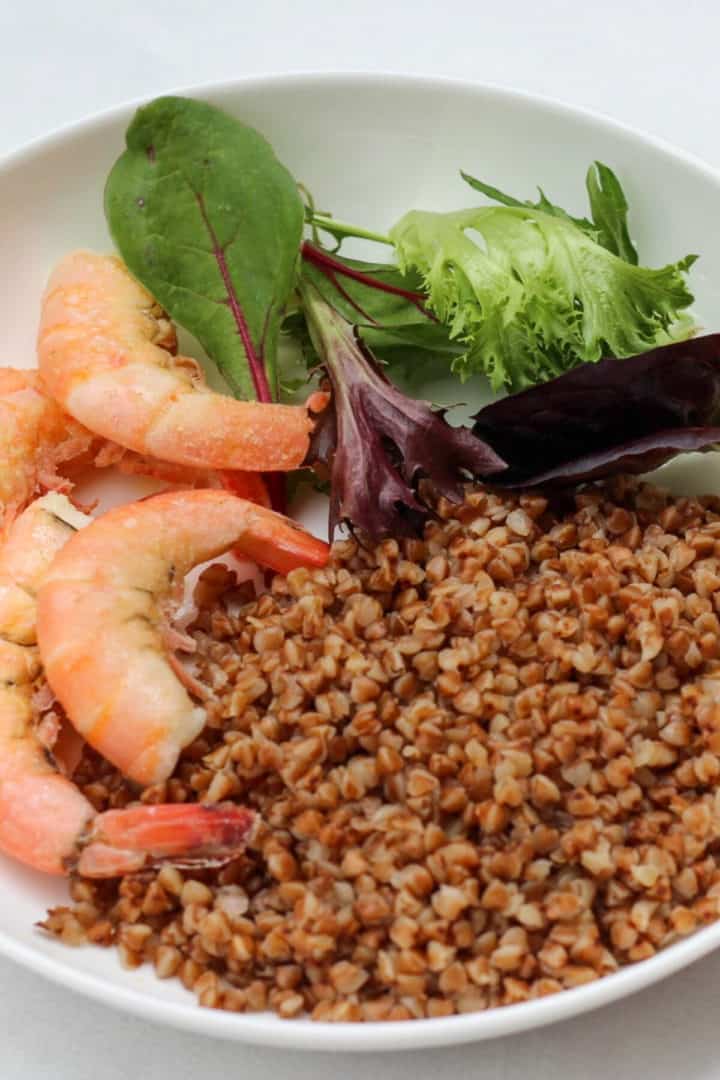 Buckwheat is one of the most popular grains in Ukraine. We call it "kasha". The literal translation of " Kasha" is porridge. Buckwheat is the queen of "kashas" in Ukraine. Cooked "kasha" is used in a lot of recipes in Ukraine.
In addition, it is one of the cleanest grains these days. The buckwheat plant grows easily and does not require chemicals and pesticides.
Without a doubt, I would always pick buckwheat as the first baby grain to introduce. The best form of buckwheat to introduce for small kids is the cream of buckwheat (Pocono brand). You can find it at Sprouts and Whole Foods stores. It is non-toasted, organic, certified gluten-free cracked buckwheat groats. So great for small kids or those who follow an AIP diet.
Another naturally-gluten free and nutritious grain is millet. Try this instant pot millet recipe to diversify your meals and nutrition.
Jump to:
Why you will love this recipe
this recipe is gluten-free and is great for people who follow a low food map diet.
buckwheat is very nutritious and rich in fiber, magnesium. It is a great quality plant-based protein and contains a good number of essential amino acids.
this recipe is great for meal prep and can be used in a variety of ways: salads, sides, breakfast cereals, smoothies.
Ingredients
This instant pot buckwheat recipe requires only a few ingredients listed below.
Toasted Buckwheat Groats: I buy Ukrainian brand toasted buckwheat on Amazon. Just search for Skvira Buckwheat on Amazon to get these delicious and clean Ukrainian buckwheat groats. As alternative use American brand toasted (brown) or not toasted buckwheat (green). Just heads up, it will be mushy. For fluffy buckwheat use, the Ukrainian brand is suggested above.
Filtered Water: tap or filtered water to cook the groats.
Salt: salt is optional, but I always use a little bit of salt to cook my buckwheat for more taste and flavor.
Butter: butter is also an optional ingredient, and is used only for serving.
See recipe card for quantities.
Suggested Equipment
This is the list of equipment I used to make this recipe:
Measuring Cup
Measuring spoons
Mesh Strainer
Instant Pot Duo
How to cook buckwheat in Instant Pot
This is the step-by-step detailed instructions on how to make this recipe.
1. Measure the desired amount of buckwheat groats. Pour them on a flat large flat plate and sort them, getting rid of any debris and rocks. These days buckwheat usually comes pre-sorted and mostly clean, but I always recommend double-checking.
2. After that, using a large mesh strainer, rinse the grains under cold water to wash off any dust.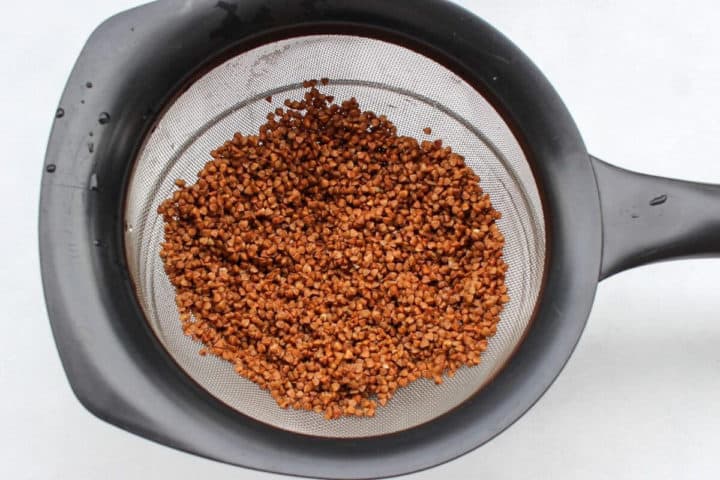 3. Add rinsed and sorted buckwheat to your instant pot metal inner pot. Now add the required amount of filtered water and salt (if using).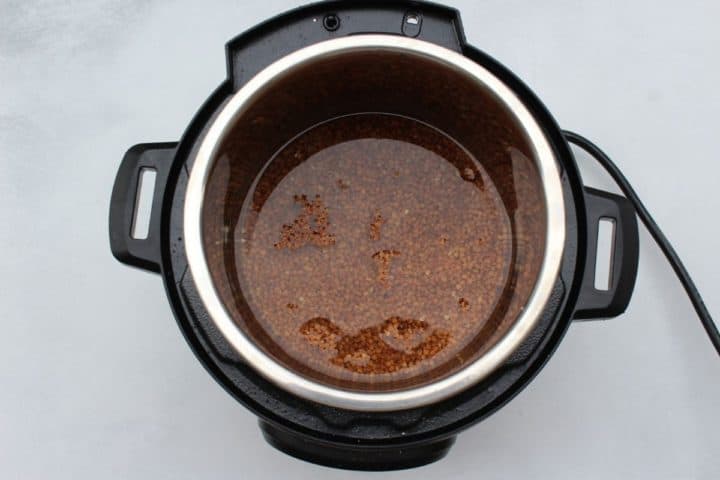 4. Close the lid and turn the valve to the sealing position. At last, press "pressure cook" and set the time to 5 minutes. Do natural release for 10 minutes followed by quick pressure release after.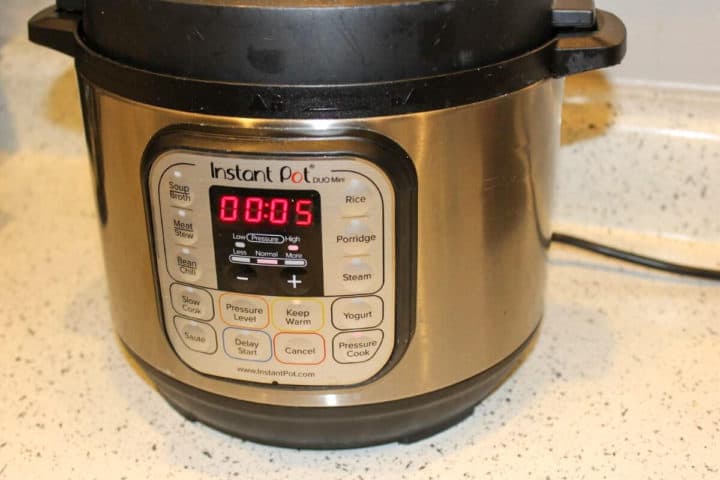 5. And finally, fluff the buckwheat groats with the fork and enjoy!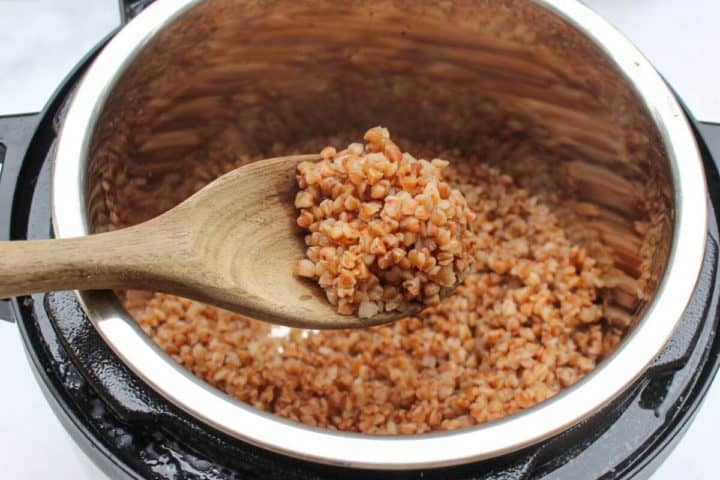 Pro Tip
For fluffy buckwheat Kasha, use the Ukrainian brand of buckwheat I suggested above.
How to serve
There are many ways to enjoy buckwheat groats: side dishes, in salads or smoothies, as a breakfast porridge.
My always favorite way is hot buckwheat with butter on top and some good quality protein and vegetables.
Below are some ideas what to serve your buckwheat with: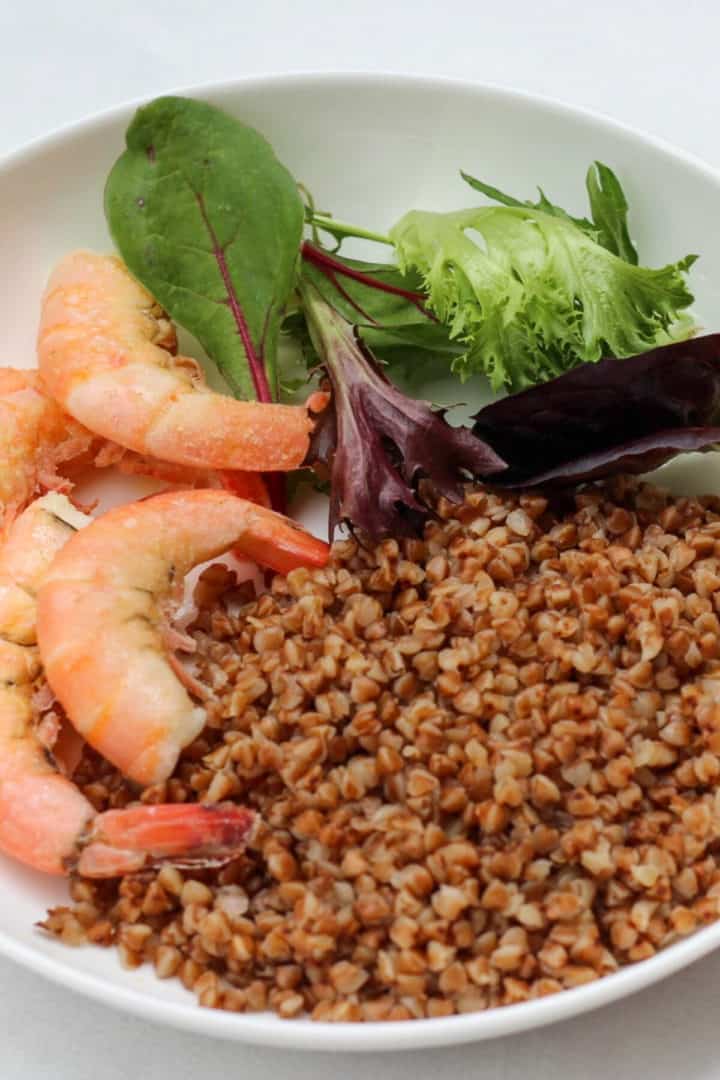 How to store cooked buckwheat
Refrigerate: when the buckwheat cools down, transfer the groat to an airtight container and store it in the fridge for about 3-5 days. Reheat in the microwave or on a frying pan with a little bit of water.
Freezing: you can freeze the groats, but I do not recommend doing it unless you like mushy buckwheat.
Frequently asked questions
-Is buckwheat gluten free?
Yes, buckwheat, without a doubt, is a gluten free pseudo-grain. However, it is possible some wheat cross contamination if brand that does not have a certified gluten free marking on the packaging.
-Is buckwheat Paleo?
Buckwheat is considered a pseudo-grain and as a result, most of people avoid it on the Paleo diet.
But there is always a debate. Since buckwheat groat is literally a seed of a flower and not an actual grain, some consume it on Paleo diet.
Given these points, it all depends on how strictly your Paleo diet is.
📖 Recipe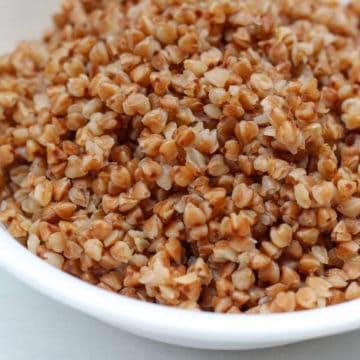 Instant Pot Buckwheat
Instant pot buckwheat will quickly become your favorite grain to cook in your pressure cooker. These buckwheat groats are great as a side dish, breakfast hot cereal, or add a scoop to your favorite salad for extra nutrients. If you have not tried buckwheat groats yet, it is time to do so!
Equipment
1 Measuring Cup

1 measuring spoons set

1 mesh strainer

1 instant pot
Ingredients
1

cup

toasted buckwheat groats

1.5

cup

filtered water

¼

teaspoon

salt

or by taste

½

teaspoon

butter

for serving, optional
Instructions
Rinse and sort buckwheat.

1 cup toasted buckwheat groats

Add buckwheat, water and salt to your instant pot metal pot.

1 cup toasted buckwheat groats,

1.5 cup filtered water,

¼ teaspoon salt

Pressure cook on high for 5 minutes, followed by 10 minutes natural release. Carefully open the vent valve to do the quick release to get rid of any steam left.

Open the lid, fluff the buckwheat with the fork. Serve hot with some butter!
Notes
*for softer and mushier groats cook on high pressure for 6 minutes followed by natural release.
*fluffy buckwheat is guaranteed if you use Ukrainian brand toasted buckwheat.
*make sure to rinse and sort buckwheat to get rid of any dust or debris.
Nutrition
Serving:
70
g
Calories:
80
kcal
Carbohydrates:
17
g
Protein:
3
g
Fat:
0.5
g