Bring a taste of Hungary to your dinner table with this authentic Hungarian chicken paprikash. Fresh chicken, aromatic Hungarian peppers, and onions in a creamy paprika sauce simmered to perfection for a comforting and flavorful meal.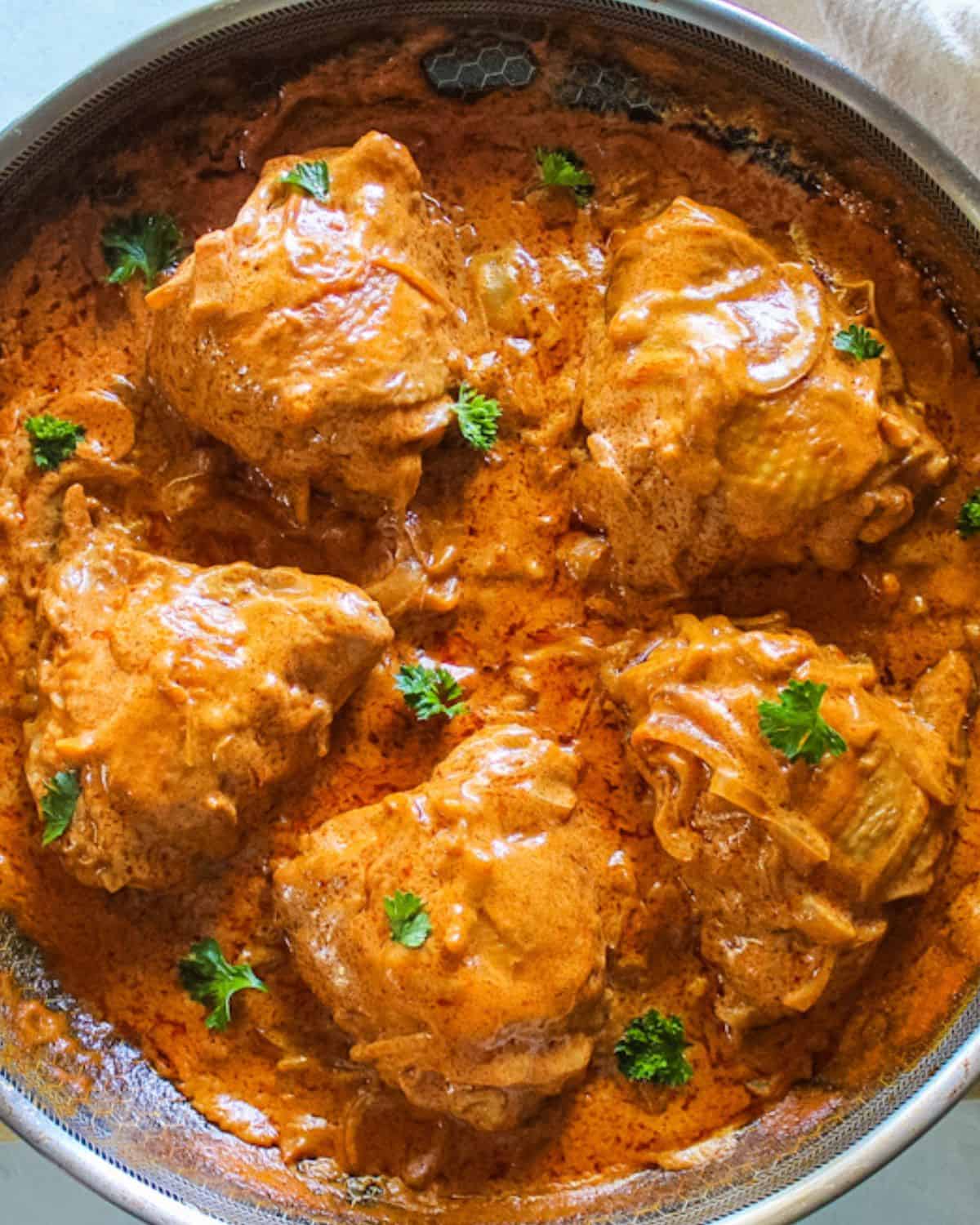 Jump to:
About my chicken paprikash recipe
At first, chicken paprikash might sound like a complicated dish to make. Even if you are new to cooking this classic dish, my recipe is very easy to follow, making it approachable for everyone.
Growing up in Ukraine, my mom made the same chicken paprikash recipe she found in an old Hungarian cooking book or a magazine (being honest, I do not remember). So I believe it is quite authentic.
She used home-grown whole chicken cut into large pieces to make this dish.
Every summer, we had this dish at least twice, as she was growing a lot of Hungarian and Bulgarian peppers, tomatoes, and onions.
She would use salo (lard or pig fat) for sauteing and searing, which gives the dish the best flavor. Sometimes, she prepared this recipe with other types of meats such as pork, rabbit, or just mushrooms, as the meat was not always available.
I adapted this recipe to taste as close as the one she made, with a few substations because some ingredients are not widely available in the US.
I want you to be able to make the dish without searching for the right ingredients all over your city.
The only ingredient that might be harder to find at your local grocery store - is real Hungarian paprika. I recommend purchasing it online.
I always use Hencher sweet ground paprika. It is authentic and the country of origin is Hungary.
Recipe general information
Other names and spellings: chicken Paprikash, chicken paprika or paprika chicken (simplified English versions), paprikás csirke (pron. as pah-pree-kahsh cheer-keh), csirkepaprikás.
Cuisine: Hungarian, Eastern European
Main Spice: Paprika
Course: Main dish
Difficulty level: Medium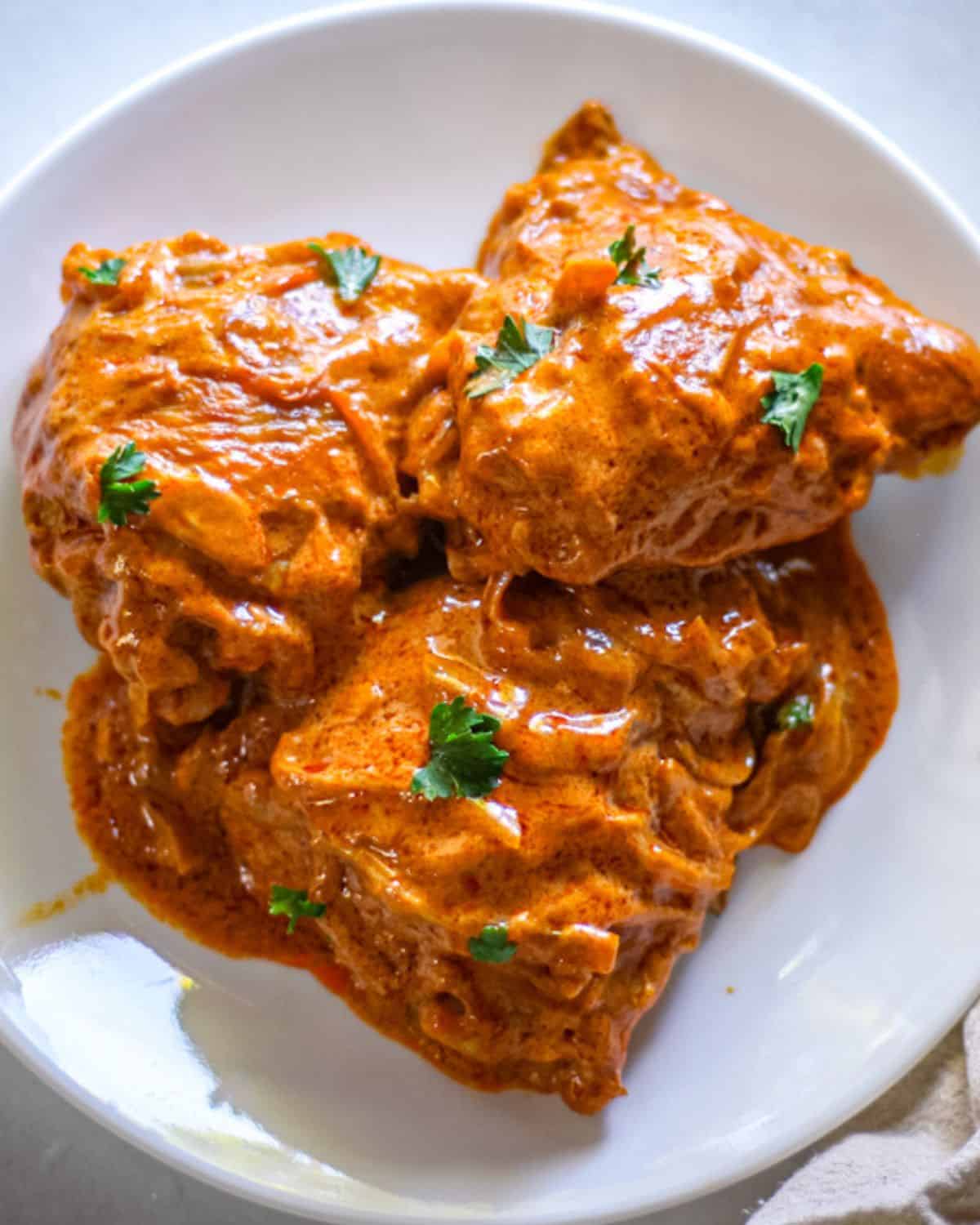 Ingredients
You can find the full list of ingredients with quantities in the recipe card at the end of this post.
Chicken: I used bone-in, skin-on thighs. Bone-in chicken pieces absorb the flavors better and remain tender. You can also use a combination of legs, thighs, and other parts.
Hungarian peppers: Hungarian peppers are full of flavor, but are usually available in the US only at the end of summer. They are very flavorful and can range from mild to spicy. You can skip them to make the dish or check for the best substitution in the next paragraph.
Onion: I use one large yellow onion for this recipe.
Garlic: You can skip garlic, but it adds some nice flavor to the dish.
Oil or cooking fat: I used olive oil today. If you have pig fat or ghee, it's even better.
Hungarian Paprika: I used sweet Hungarian paprika to make this recipe. If you like spicy food, use the hot paprika. Hungarian paprika is different than "regular paprika" most of the grocery stores sell. Look for real Hungarian paprika from Hungary online (not Hungarian-style one).
Tomato paste: My mom used garden fresh tomatoes, but I find it easier to use some tomato paste. Tomato paste or tomatoes add more flavor and a hint of sourness to the dish.
Broth: Chicken broth (homemade or store-bought) is the best option. I used low sodium this time.
Sour cream: for the sauce and optionally for serving. Make sure to use full-fat sour cream.
Flour: a little bit of all-purpose flour to thicken the sauce.
Salt and black pepper: You will need some to season the chicken before searing and at the end to season the sauce if it still needs some salt.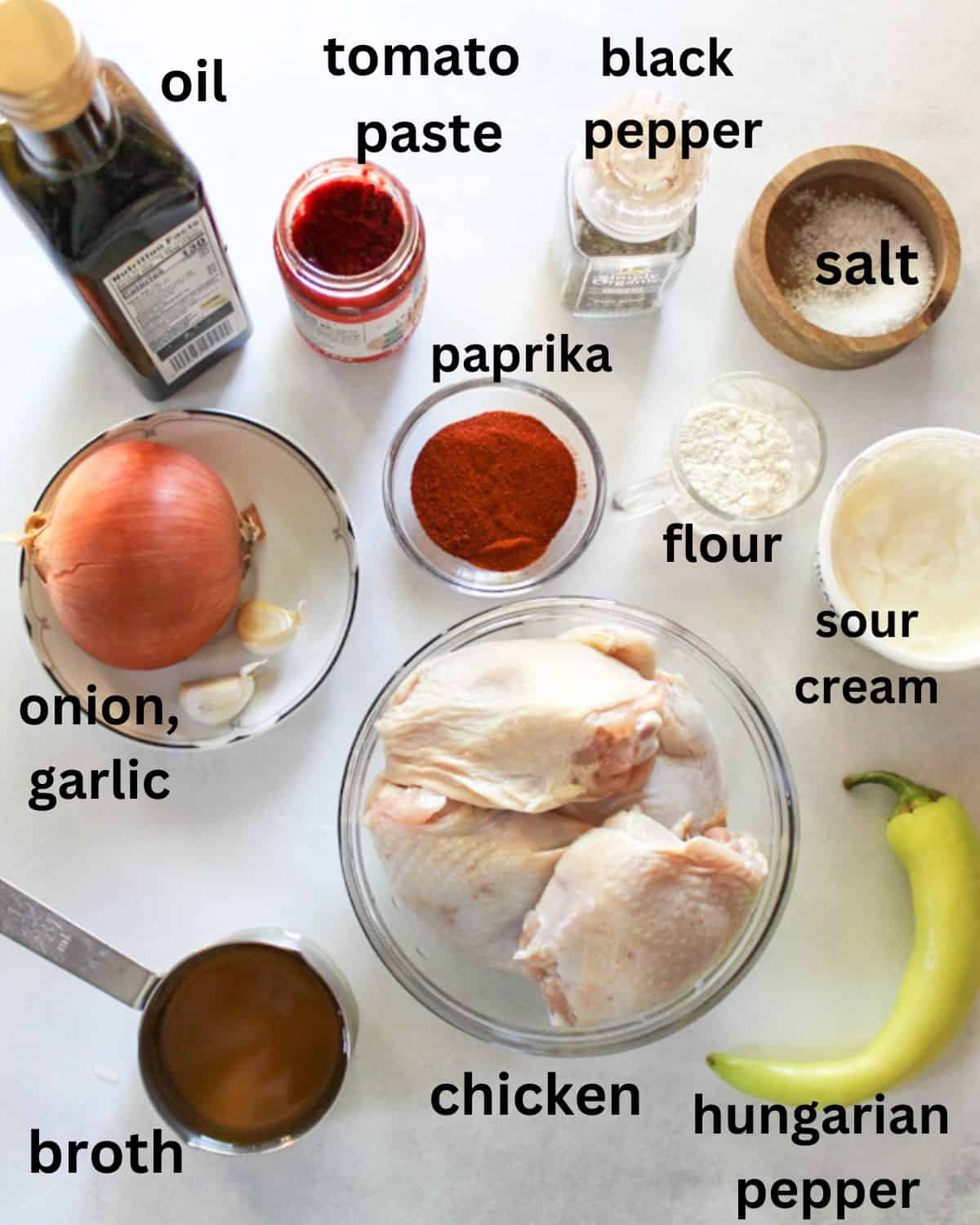 Substitutions for harder-to-find items
Hungarian pepper: You can use green bell pepper instead.
Hungarian Paprika: If you cannot purchase real Hungarian paprika online, the next best substitute is "regular" paprika mixed with some cayenne pepper.
Broth: While chicken broth is great and adds a lot of flavor, you can also use water instead.
Method
First, peel the onion and cut it into four wedges. Slice each wedge into thin strips. If you want the onion to break down more and blend into the dish, you can chop it into small pieces. But I prefer the strips because they give a nice texture and look great in the dish. For the Hungarian pepper, just take out the seeds and slice the same way you did the onion. Dice the garlic cloves.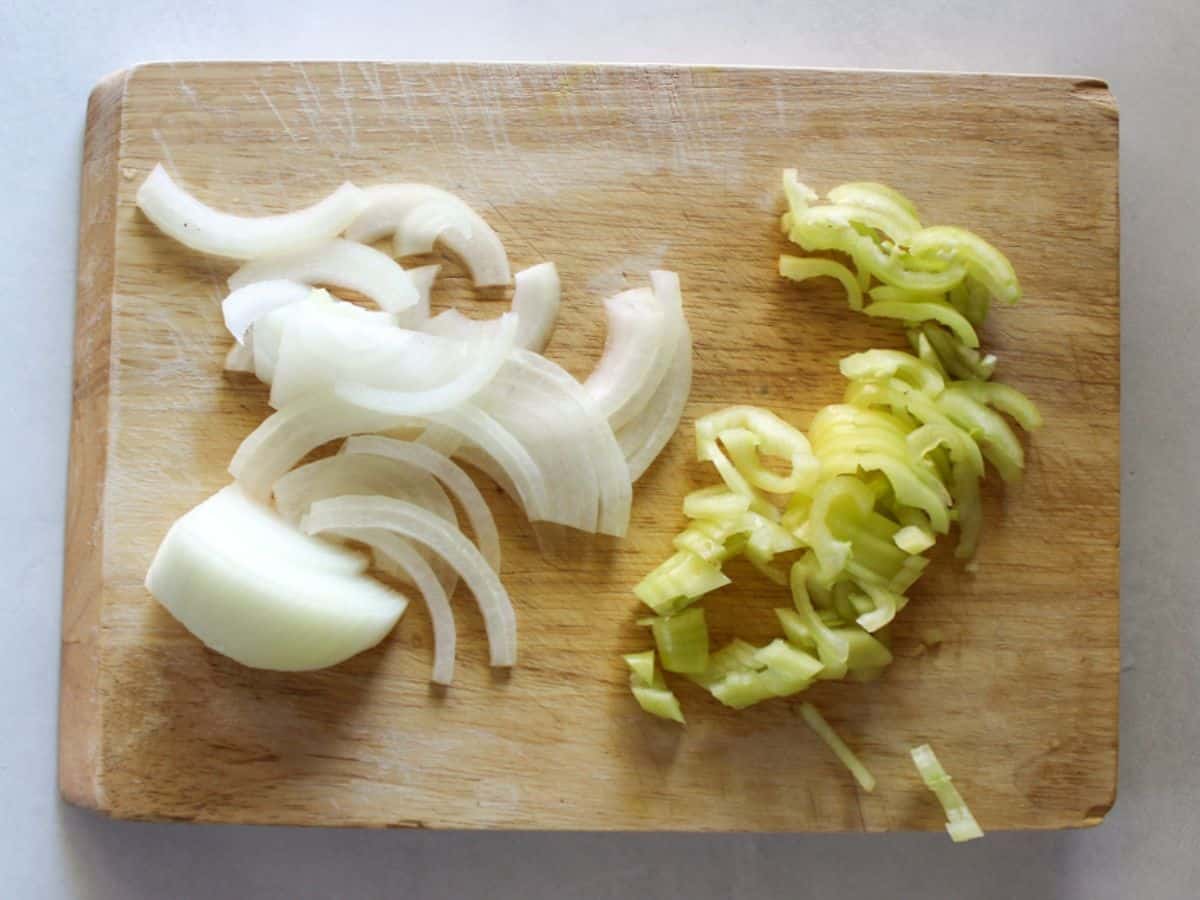 In a large skillet, heat the oil or fat over medium heat. Season chicken generously with salt and pepper. Sear the meat over medium-high heat for 4 minutes on each side or until golden brown on both sides. Remove the chicken from the skillet, place it on a separate plate, and set it aside.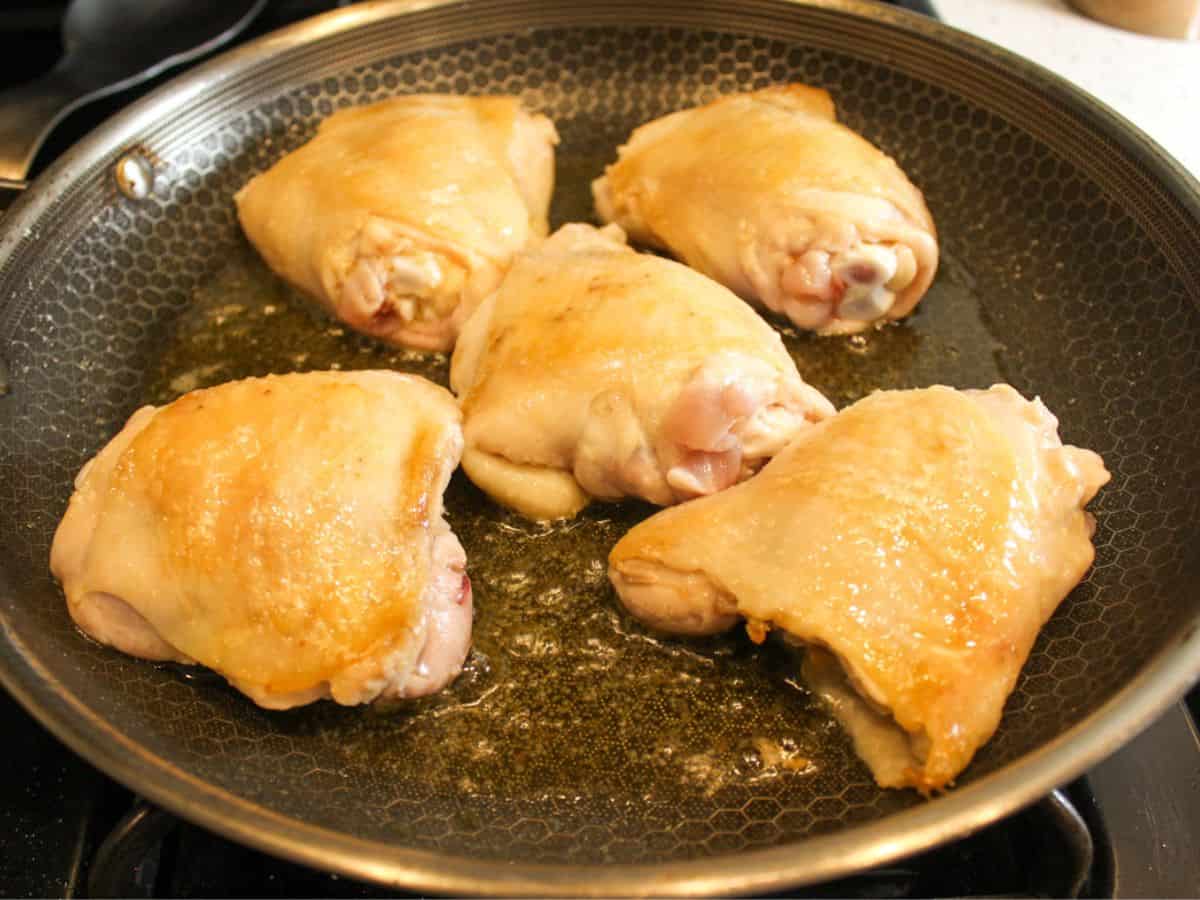 Add onions and peppers to the same skillet. Saute the vegetables for about 3-5 minutes until the onions become translucent. Add diced garlic and cook for another minute.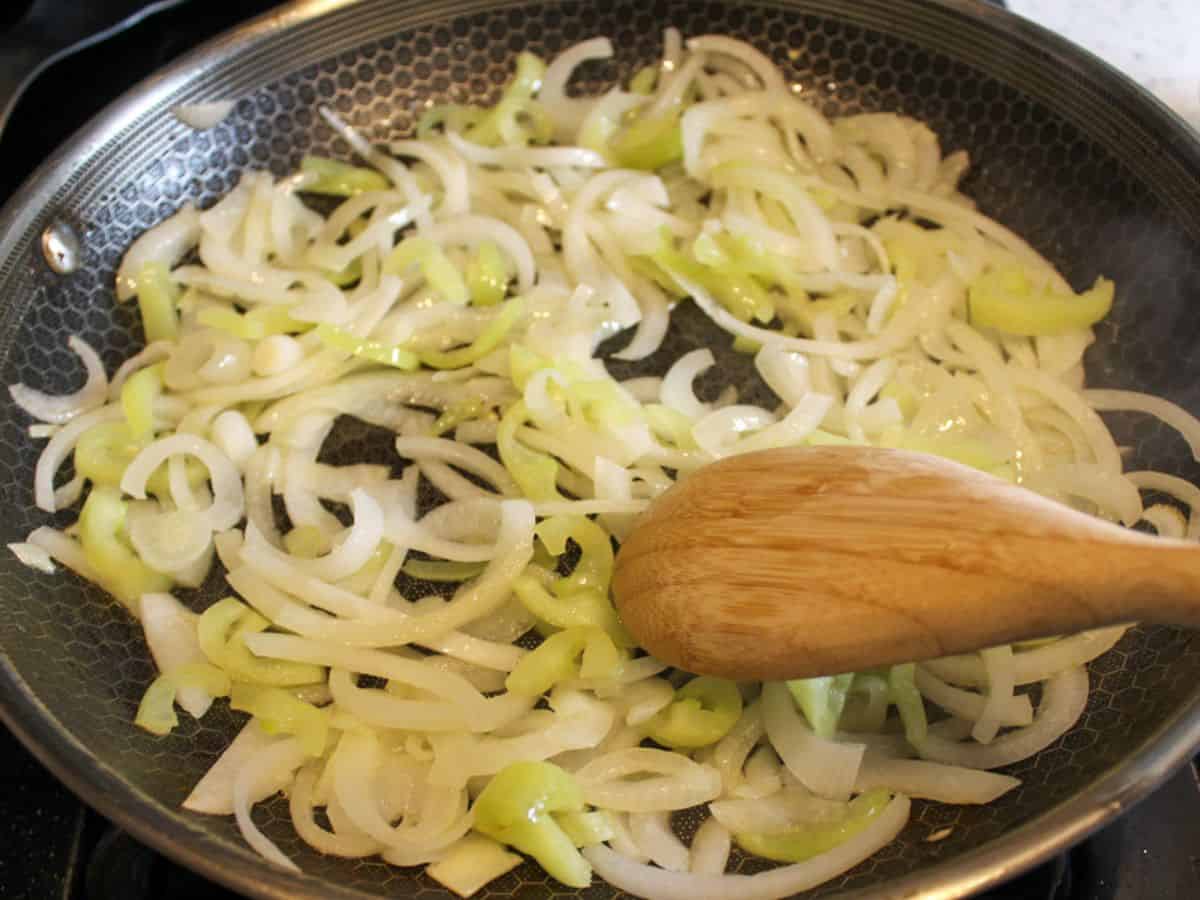 Now, turn the heat over to the lowest setting and add paprika spice and tomato paste. Cook it, stirring continuously for about 1-2 minutes until the vegetables are evenly coated and paprika becomes aromatic.
Add back the chicken, pour the chicken stock, bring it to a boil, and in and simmer over low heat covered for about 30 minutes. The chicken is done when no longer pink near the bone and the internal temperature reaches 165°F. Remove the cooked chicken on a separate plate.
Once the chicken is cooked and out of the skillet, make the sour cream and flour mixture. In a measuring cup or a bowl, add ¾ cup of cold sour cream and add there 1 Tablespoon of all-purpose flour. Mix it well with a spoon or a fork. Slowly pour about ¼ cup of hot sauce from the skillet to the sour cream and flour paste. Mix it with a whisk well until one thick consistency.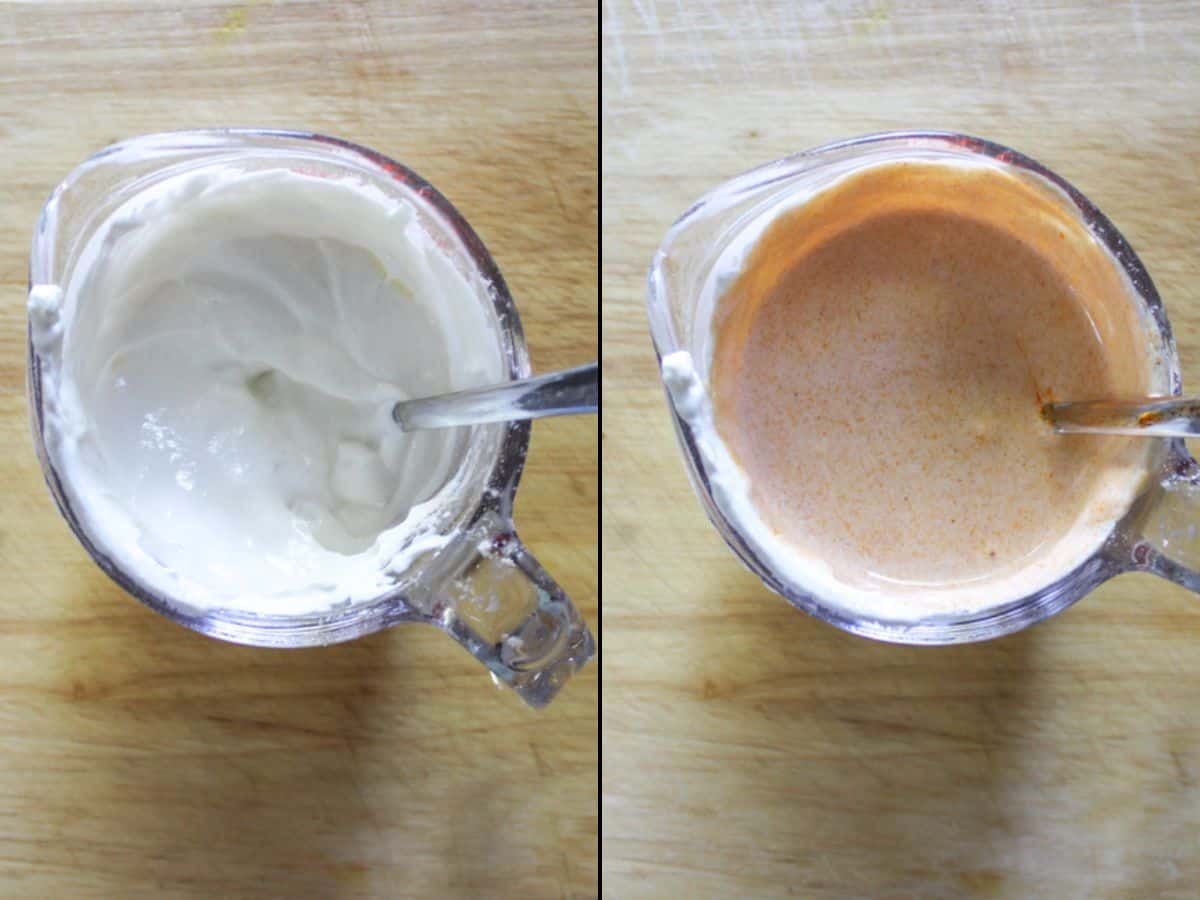 Pour the sour cream mixture into the skillet. Stir it well into the paprika sauce using a wooden spoon. Let it cook uncovered without boiling on low heat for another 5-6 or until the sauce thickens.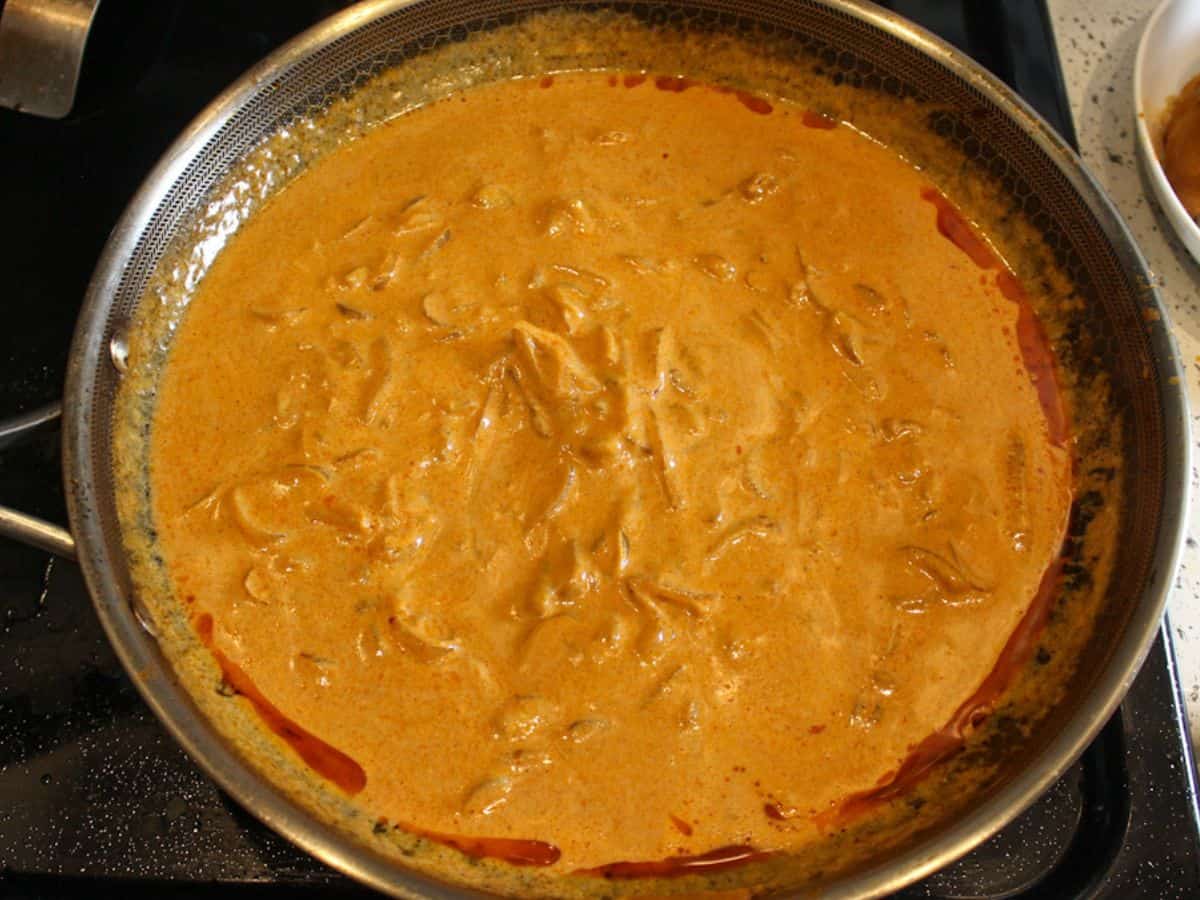 Now, you can either pour the sauce over the chicken on a plate or add back the chicken to the skillet, spoon some sauce over it to keep it warm before serving. I also like to garnish the dish with some fresh parsley or dill.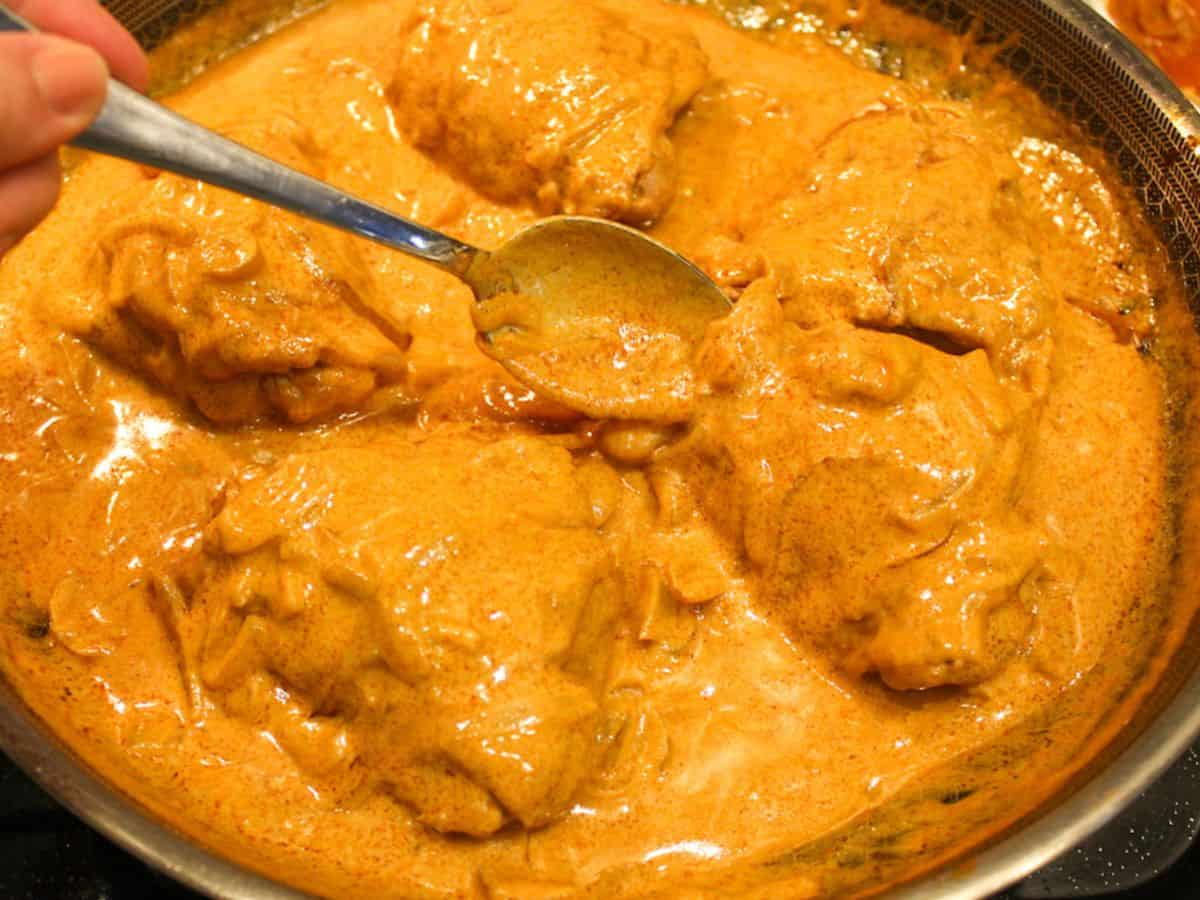 Recipe tips for the best Paprikás Csirke
Use fresh quality paprika: Invest in a good quality authentic Hungarian paprika spice that usually comes in a tin or a bag. Hungarian paprika can be sweet or hot, and it is always full of flavor and bright red. Make sure it has not been open for longer than a year and not expired.
Chicken: I recommend using bone-in chicken pieces, as they tend to be juicier and absorb more flavors. It is too easy to overcook chicken breasts.
Garnish: I like to garnish the finished dish with fresh parsley or dill for color contrast and fresh taste.
Low heat: When you add the paprika spice to the skillet after sauteing the onions and peppers, make sure the heat is on the lowest setting (or you can even turn it off for a few minutes). Paprika can burn and become bitter if exposed to high heat.
Serving suggestions
In Hungary, most people love having their chicken paprika with their famous Hungarian dumplings (Nokedli). It can be also served over egg noodles, boiled potatoes, or popular in Eastern Europe buckwheat, or millet.
My family likes this chicken over store-bought egg noodles, rice or mashed potatoes with a side of fresh salad.
As for the drinks, the dish is rich, creamy, and sometimes spicy. So I recommend cold, acidic, and crisp drinks such as:
Non-alcoholic - sparkling water with lemon, lemonade, iced tea.
Alcoholic - Chardonnay, Pinot Grigio, Hungarian Tokaji wine, wheat beers, or pilsners.
How to store and reheat
This dish reheats well and tastes even better the next day. Store the leftovers in an airtight container for up to 3 days.
Avoid reheating it in the microwave (results in uneven heating). Instead, reheat chicken paprika with the sauce in a small saucer pan with a splash of water or broth over low heat.
History and culture behind chicken Paprikash
Chicken Paprikash is one of the most popular comfort foods in Hungarian cuisine. This recipe has been around for centuries and has fans all over the world.
While We can't all visit Hungary to taste it there or recreate the first authentic version (since it varies from one household and region to another), we can still cherish and honor this Hungarian recipe by understanding its history, and cultural meaning, mastering the right cooking techniques and the ingredients.
This recipe became popular between 18th-19th century. It's when the spice called paprika first started to be used in Hungary, thanks to Turkey which introduced it. Similar to turmeric which is used to make a lot of curry dishes in Indian cuisine, paprika is associated with Hungarian cuisine. It's in many of their famous dishes like Goulash, Chicken paprika, fisherman soup, vegetable stews, and more.
Recipe variations
Spicy: If you are looking for some heat in this dish, add about ¼ teaspoon of cayenne pepper.
Type of meat: While chicken is the most traditional type of meat used, you may prepare the dish with turkey, veal, or pork.
Vegetables: You can add bell peppers, fresh tomatoes, zucchini, and mushrooms.
Frequently asked questions
Can I freeze chicken paprikash?
The dish tastes better when fresh, but you can safely freeze it for up to 3 months. Make sure to use freezer-safe bags or containers, leaving some space for expansion. You may need to add some broth or water when reheating it.
What to serve with Hungarian chicken paprikash?
The Chicken paprikash pairs well with a lot of side dishes, such as
Hungarian dumplings, rice, mashed potatoes, steamed vegetables, crusty
bread.
Is chicken paprikash spicy?
Chicken paprikash is typically not very spicy. The main flavor comes from Hungarian sweet paprika spice, which is mild but has a rich flavor. If you like spicy food, you can make it spicier by using hot paprika or adding some cayenne pepper.
More Eastern European recipes to try
📖 Recipe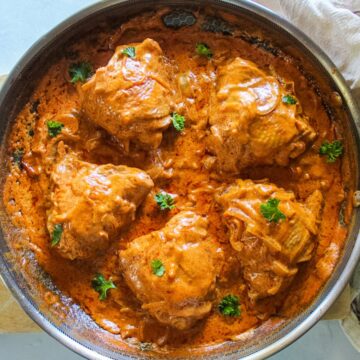 Hungarian Chicken Paprikash (Paprikás Csirke)
Bring a taste of Hungary to your dinner table with this authentic Hungarian chicken paprikash. Fresh chicken, aromatic Hungarian peppers, and onions in a creamy paprika sauce simmered to perfection for a comforting and flavorful meal.
Equipment
1 large skillet or dutch oven with a lid

1 Measuring Cup

1 meat thermometer

1 wooden or silicone spatula
Ingredients
2

pounds

bone-in chicken thighs, or legs

1

large yellow onion, thinly sliced

1

Hungarian pepper, seeds removed, thinly sliced

use green bell pepper instead

2

garlic cloves, minced

3

Tablespoons

authentic Hungarian paprika or regular paprika plus ¼ teaspoon cayenne pepper

1

Tablespoon

tomato paste

½

teaspoon

salt, to taste

½

teaspoon

black pepper

1

Tablespoon

olive oil or ghee butter

or other oil on hand

2.5

cups

low sodium chicken broth

¾

cup

cold sour cream, full fat

1

Tablespoon

all-purpose flour
Instructions
Season chicken thighs generously with salt and pepper on both sides.

In a large skillet, heat oil or ghee butter over medium heat. Add chicken thighs, skin side down and brown them fro about 4-5 minutes per each side. Remove chicken from the skillet and set aside in a separate plate.

In the same skillet, add sliced onions and peppers. Saute for about 3-4 minutes until translucent. Add minced garlic and cook for another minute.

Reduce heat to the lowest. Add 3 tablespoon paprika spice and 1 tablespoon tomato paste. Cook for about 1-2 minutes, stirring continuous to prevent it from burning.

Return the chicken to the skillet and pour in about 2.5 cups of chicken broth, so the meat is half way submerged. Bring it to a gentle boil, cover and let it simmer for about 30 minutes or until the internal temperature of the chicken is 165°F.

In a measuring cup or a bowl, add ¾ cup of cold sour cream and 1 tablespoon of flour. Mix it until smooth. Take about 3 tablespoon of the hot liquid from the skillet and slowly whisk it into the sour cream.

Once the chicken is fully cooked, remove it from the skillet in a clean plate. Slowly stir in the sour cream mixture into the paprika sauce. Cook for another 5-6 minutes on low, uncovered until the sauce thickens. Stir it occasionally so the it does not boil. Taste the sauce and add more salt if needed.

You can pour the sauce over the plated chicken or return the meat back to the skillet to keep it warm until serving. Optionally, garnish the cooked dish with fresh parsley or dill.
Notes
Chicken 
- You can use thighs, legs, breasts (cooks faster but can be dry), or a whole chicken cut into large pieces. 
Spiciness
 - Add about ¼ teaspoon of cayenne pepper to make the dish spicy.
Paprika
 - use fresh paprika spice, preferably authentic one from Hungary, that I usually buy online.
All nutrition facts are only estimate and should be used for information purposes only.
Nutrition
Calories:
444
kcal
Carbohydrates:
3.6
g
Protein:
30
g
Fat:
34
g
Cholesterol:
29.5
mg
Sodium:
345
mg
Fiber:
0.6
g
Sugar:
2.3
g