Enjoy a cup of this rich and delicious chicken thigh broth. This affordable, easy-to-make recipe is my favorite method to make the most flavorful chicken stock with only a few ingredients.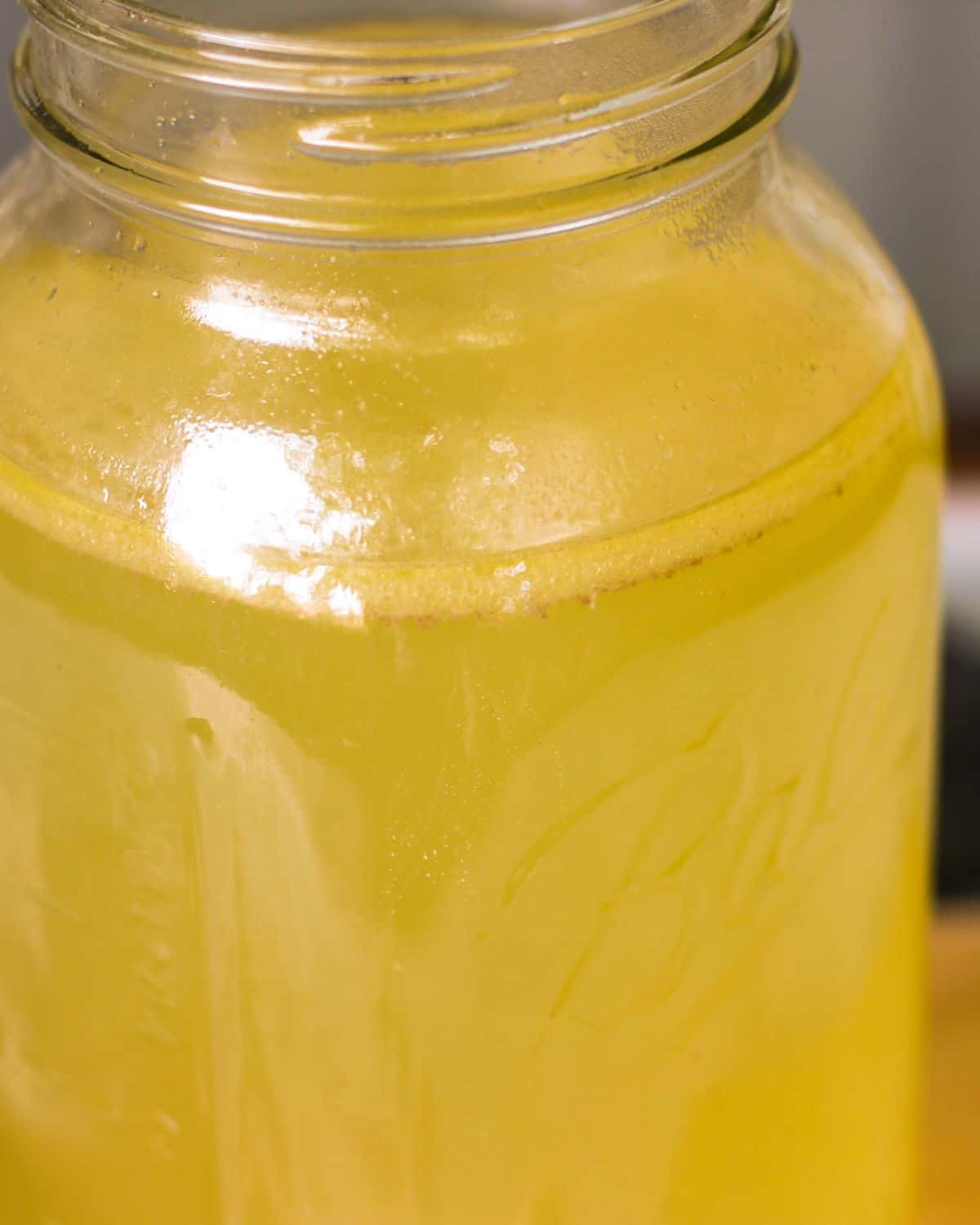 Jump to:
Broth made with chicken thighs
Last week, my son was feeling under the weather and I made him homemade chicken broth using only a few organic chicken thighs and veggies. It was so good. We enjoyed it warm in the cup and as chicken soup the next day. I just added there some noodles and lemon juice too.
This recipe is perfect for a smaller family. It makes a good amount of broth to enjoy for a few days for a family of 2-3 people. And if you are looking to make a large batch of chicken broth, try my whole chicken broth recipe.
Chicken thighs make the most efficient stock, without compromising the flavor and quality of your broth. If using only wings or chicken feet, the final product will have not much meat.
Thighs have a high-fat content for extra nutrients, bones for collagen, and delicious dark meat.
You will get the most out of this one recipe - broth and juicy shredded meat. I shred the meat and store it separately to make some quesadillas the next day.
Homemade chicken stock is rich in iron, collagen, amino acids, minerals, and vitamins.
Ingredients
Chicken thighs - I make sure to use organic bone-in and skin-on chicken thighs. Skin and bones will add so much flavor. You can also use whole chicken legs.
Carrots and celery - these will add nutrition, flavor, color, and sweetness to the stock.
Onion and garlic - fresh onion and garlic will make the broth aromatic and add some antioxidants.
Bay leaves and whole peppercorns - both will add a subtle bitterness to the broth, which will balance its taste perfectly.
Fresh parsley - it is optional. Great for some fresh flavor.
Apple cider vinegar - you will not taste it, but the acidity will help to break down the collagen to make the stock more nutritious and rich.
Salt - I like to add just a little bit to the pot, and afterward individually.
Water - I used filtered water we use for drinking.
See the recipe card for the ingredients' quantities.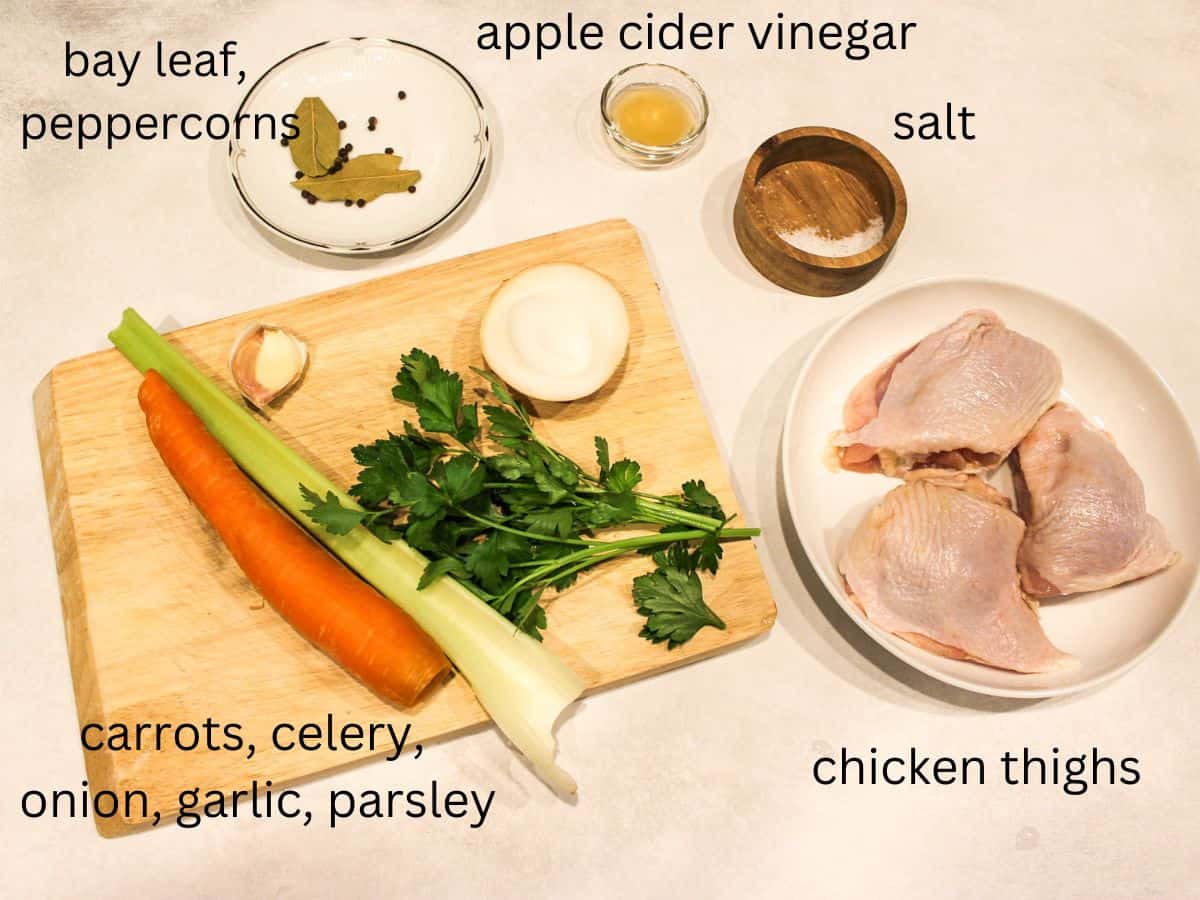 How to make the broth using chicken thighs
Prepare all the ingredients: wash carrots and celery. Peel garlic cloves. Peel and cut in half the onion. You do not have to peel the vegetables, but I prefer doing so to prevent the onion or garlic peel from floating in my broth. If you leave the peel on, consider straining the broth after it is ready.
Add: In a large pot, place chicken thighs, carrots, celery, onion, garlic, bay leaf, whole peppercorns, parsley, salt, and apple cider vinegar. Now, add filtered water, just enough to cover the meat. I used about 1.5 liters (5-6 cups) of water per 3 large bone-in chicken thighs for a rich broth.
Low simmer: bring everything to a boil over medium heat, reduce to low heat and simmer the broth for at least 1 hour. One hour is the minimum time, but if you are in no rush, let it cook for up to 2 hours. Remove and discard the vegetables. Remove the chicken for other use. I love to eat this boiled chicken meat with little salt and pepper. Pour some in a cup, add salt by taste and enjoy this super nutritious drink.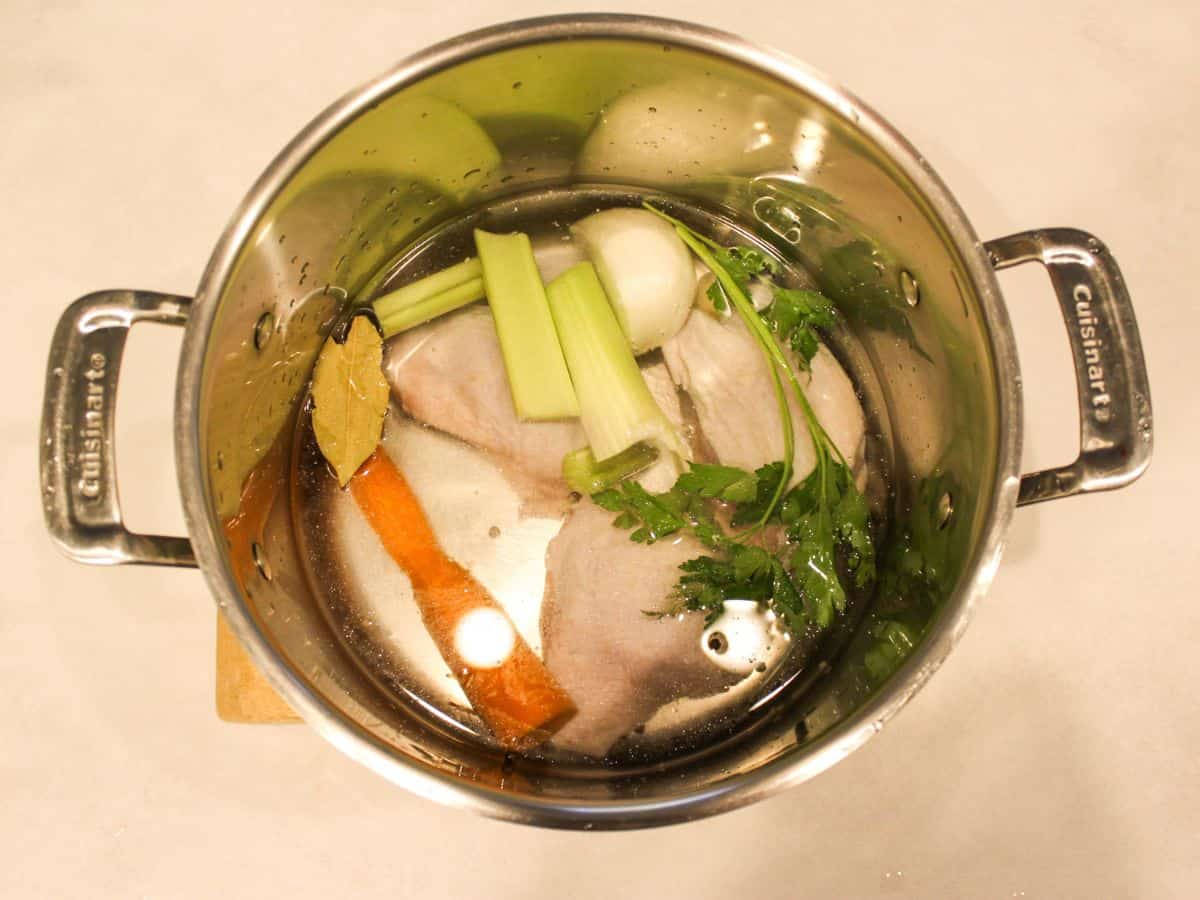 Best tips
the broth needs to be simmering very gently: cook it on the smallest burner using the lowest heat. If you still see boiling rapid bubbles, cook it with no lid
if you see a lot of broken veggie pieces floating, consider straining the broth using a fine-mesh strainer.
you can use any vegetable scraps you saved in your freezer.
the safest method to cool down the broth and soups is using an ice water bath.
Proper storage
When the broth is cooked, carefully remove the cooked chicken in a separate container. You can shred it right away or store it as it is in an airtight container for up to 3 days refrigerated.
Remove and discard vegetables and herbs.
It is very important to cool down the broth properly. Never put the hot broth stock or soup in the fridge. It will raise the fridge temperature and you will risk having spoiled food in the fridge.
Instead, pour the broth into a wider container or a large stainless steel bowl. The pot you used will slow down the cooling process, so we need to use a cold container.
For smaller batches, I just leave it on a counter in a cold container for about one hour, stirring occasionally to even out the temperature and to speed up the process.
If you have a large batch or want to speed up the process, carefully place the container with hot stock in an ice water bath to cool down.
Once it is barely warm or at room temperature, pour the broth into a glass jar and store it in the fridge for about 3 days.
You can safely freeze the broth for up to 3 months.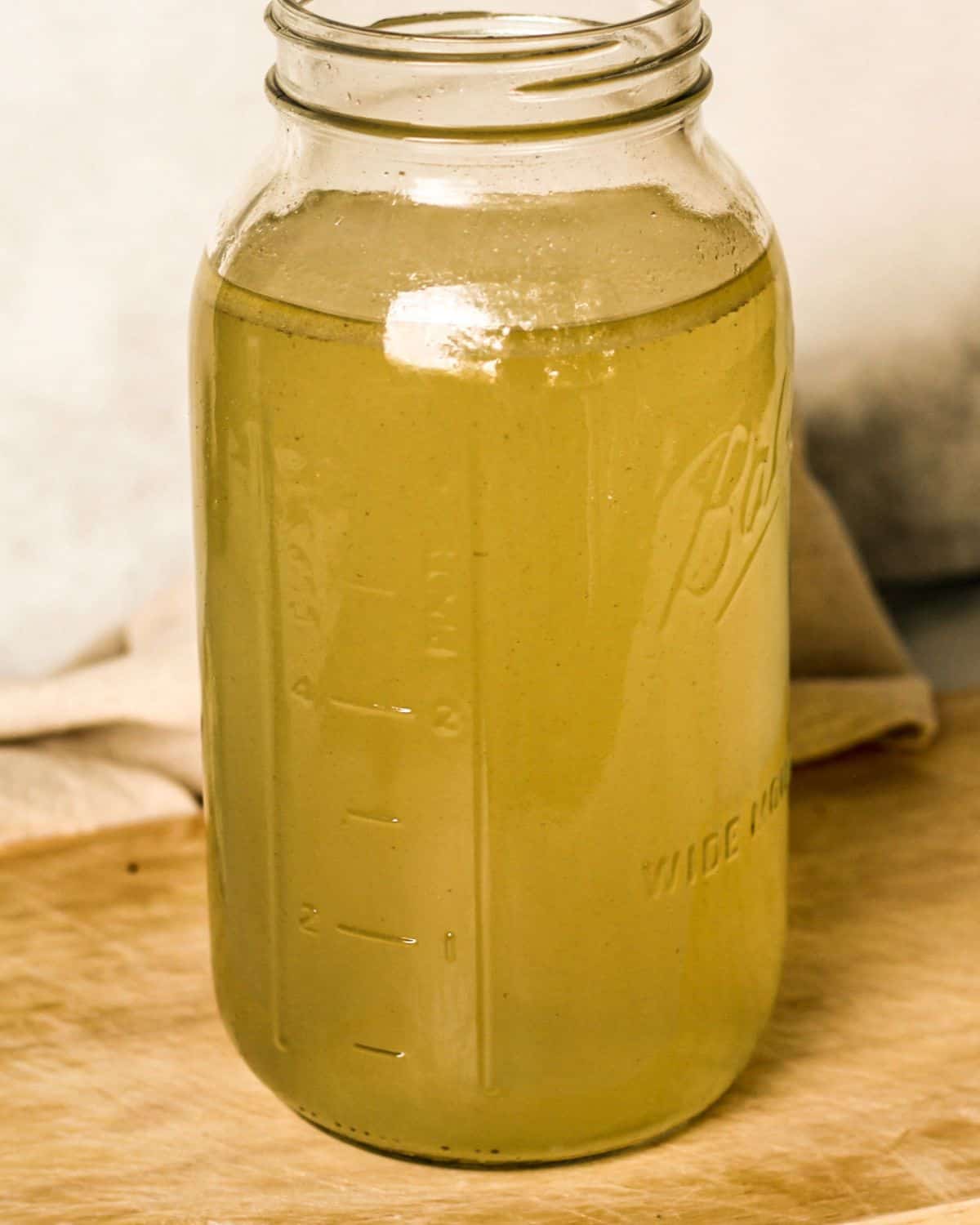 Ways to use homemade stock
as sipping broth with some extra salt, pepper, and crackers on a side.
great for making rich and flavorful soups.
Frequently asked questions

Can I make this broth in the instant pot?
Yes, I do it often. Load all the ingredients and water, and cook the broth on high pressure for one hour in your instant pot.
Can I use other chicken parts to make the recipe?
Yes, you can. I do not recommend using boneless chicken breasts as the meat will be dry and the broth will not be as rich. Whole chicken, thighs or chicken legs are the best ones to use for boiling for juicy meat and rich broth.
How to get rid of excess fat in the broth?
This fat is quite nutritious and I love how rich it makes the broth. But if for some reason you need to remove it, let it cool down in the fridge. When it is cold, you will see a good layer of fat on top. Just use a spoon to remove it.
Other favorite recipes with chicken
📖 Recipe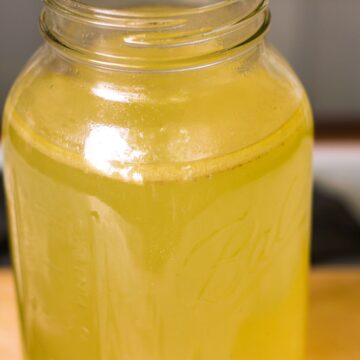 Rich Chicken Thigh Broth
Enjoy a cup of this rich and delicious chicken thigh broth. This affordable, easy-to-make recipe is my favorite method to make the most flavorful chicken stock with only a few ingredients.
Equipment
1 large stock pot with the lid

1 Fine mesh strainer
Ingredients
3

bone-in skin-on chicken thighs

1

large carrot

1-2

celery ribs

½

yellow onion, peeled

2

bay leaves

6-8

whole peppercorns

3-4

parsley sprigs

1

Tablespoon

apple cider vinegar

1

teaspoon

salt

or more by taste
Instructions
In a large stock pot, add chicken thighs, carrot, celery, half of the onion, bay leaves, whole peppercorns, salt, apple cider vinegar and parsley. Fill the pot with water enough to cover the ingredients.

Bring the broth to boil and simmer on low for at least 1 hour. For even more flavorful and rich broth, cook it for 2 hours.

Discard the vegetables. Remove cooked chicken. Strain the broth in a mesh strainer if needed. Serve hot in a cup with extra salt and black pepper.
Notes
Simmer broth on the lowest heat for no less than 1 hour.
I used about 5-6 cups of water for 3 large chicken thighs.
I prefer to add salt individually for serving, so feel free to add more salt by taste to the pot.
Nutrition
Serving:
1
cup
Calories:
120
kcal
Protein:
9
g
Fat:
11
g