Chicken thighs can take between 20-50 minutes to boil depending on a few factors: whether they are bone-in or boneless and whether they are frozen or fresh.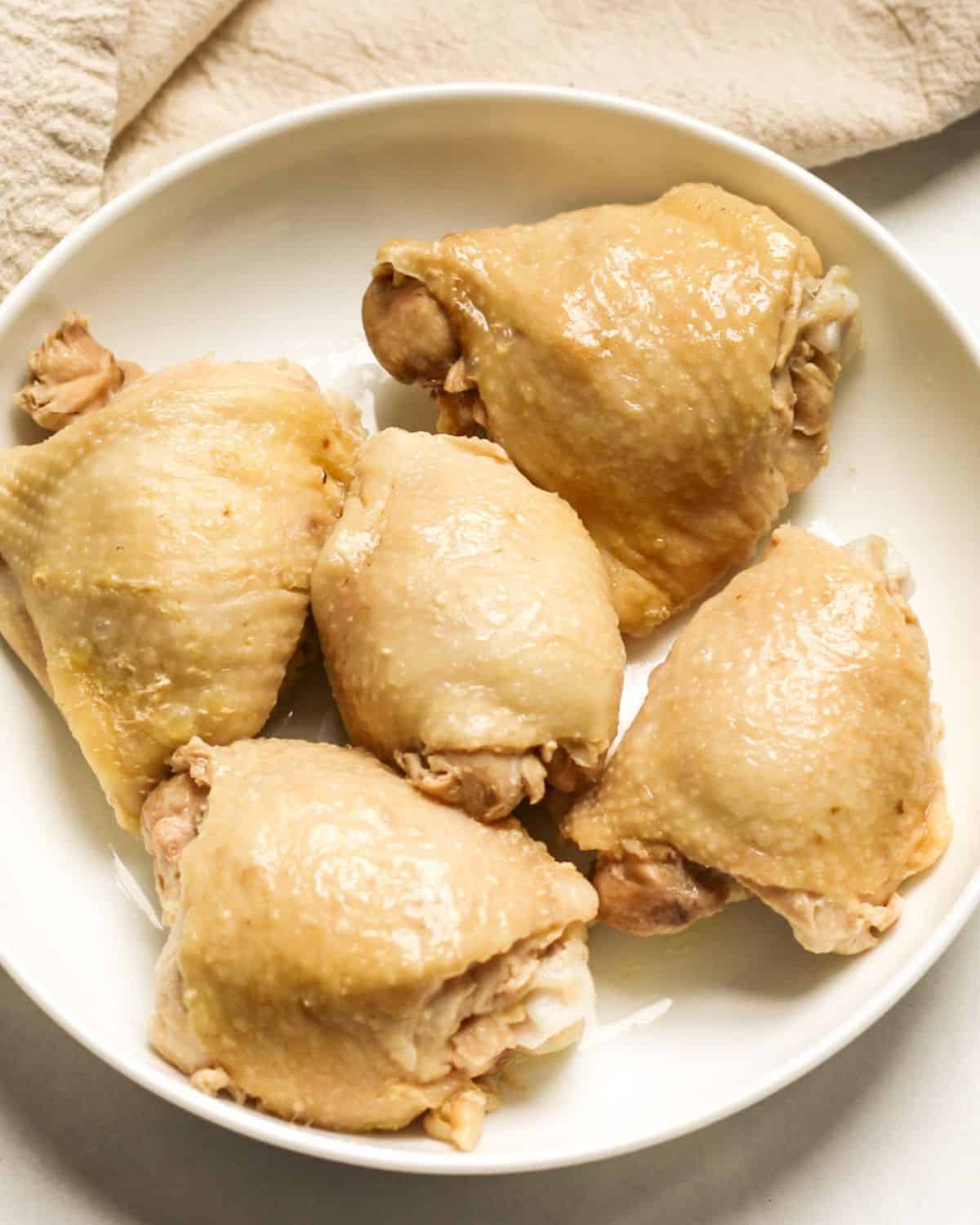 Jump to:
Boiling is one of the easiest and healthiest methods to prepare chicken thighs or chicken drumsticks, without adding any oils or frying. The meat comes out juicy, flavorful, and tender.
If you are looking to try a different way to prepare chicken thighs, try our air fried boneless chicken thighs.
You can also add more water and a few other ingredients to make a rich broth using bone-in chicken thighs.
In this guide, you will learn how to perfectly boil bone-in or boneless chicken thighs and you can do it if the meat is frozen or fresh.
And if you have an entire bird, you can choose to boil the chicken whole as it is.
How long to boil chicken thighs
To see how long it takes to boil chicken thighs, I boiled boneless frozen, boneless thawed, bone-in frozen and bone-in thawed separately to see what is the difference in cooking time.
Below you can see the results:
bone-in fresh - 25-30 minutes
bone-in frozen - 45-50 minutes
boneless fresh - 20-25 minutes
boneless frozen - 30-35 minutes
The time will also very on the size of the chicken thigh, mine were medium, about 3.5 oz.
Chicken is fully cooked when the internal temperature reaches at least 165°F. It is hard to overcook the thighs because of the high fat content, so do not be afraid to cook it little longer.
That's why, I cook the bone-in thighs and legs until 175°F to make sure it is cooked well near the bone.
If you do not have meat thermometer, you can use the tongs to take out one of the thighs, place it on a cutting board, and cut it through to check if it's fully cooked. If the meat is not red, and the juices run clear - the chicken is ready.
Is it better to boil bone-in or boneless chicken thighs
Both types of thighs are great for boiling, and can be delicious and flavorful. 
Bone-in chicken thighs have richer flavor and are juicier because they have more fat, and the bones help to retain more moisture.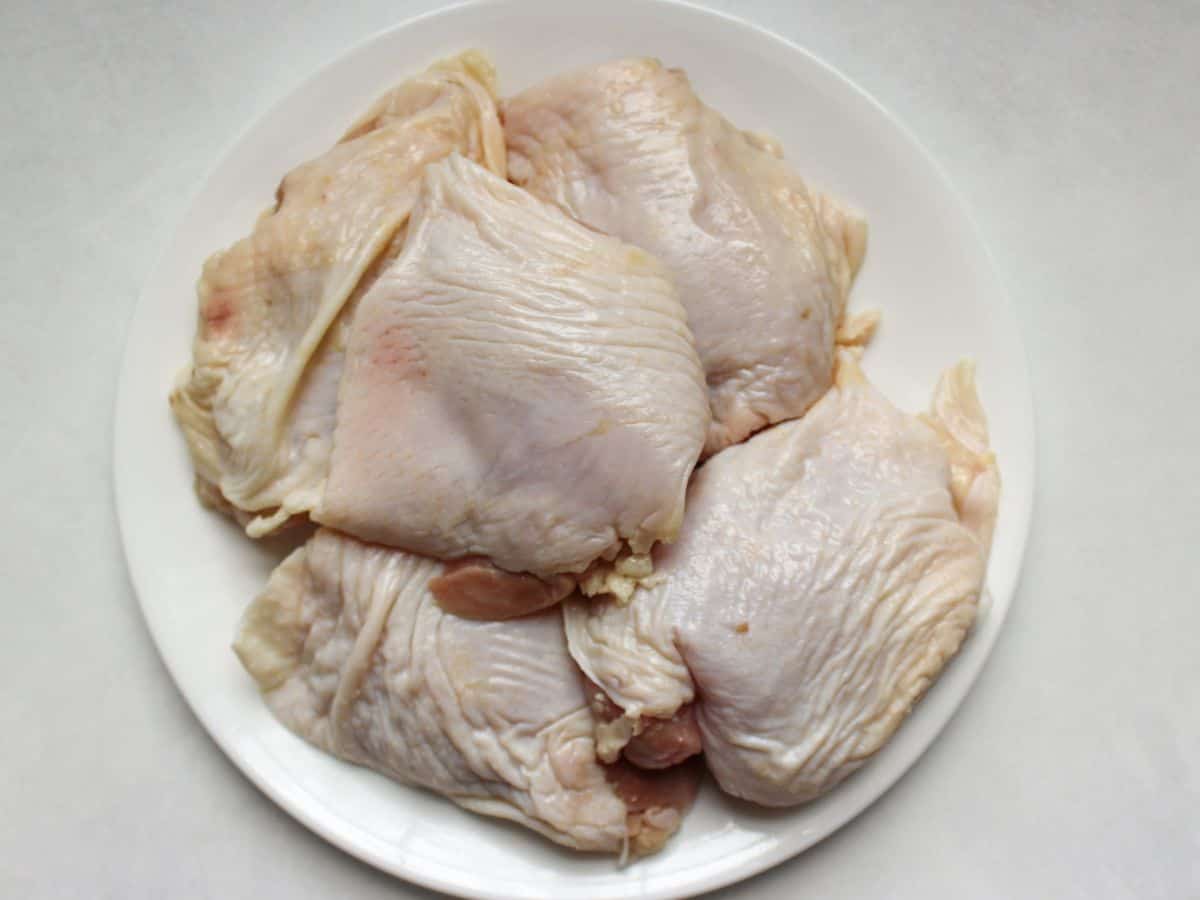 After the bone-in chicken thighs are de-boned and have their skin removed, they become flattened.
Boneless chicken thighs have less flavor, and they are little bit dryer. Great option, if you want juicier meat without extra fat.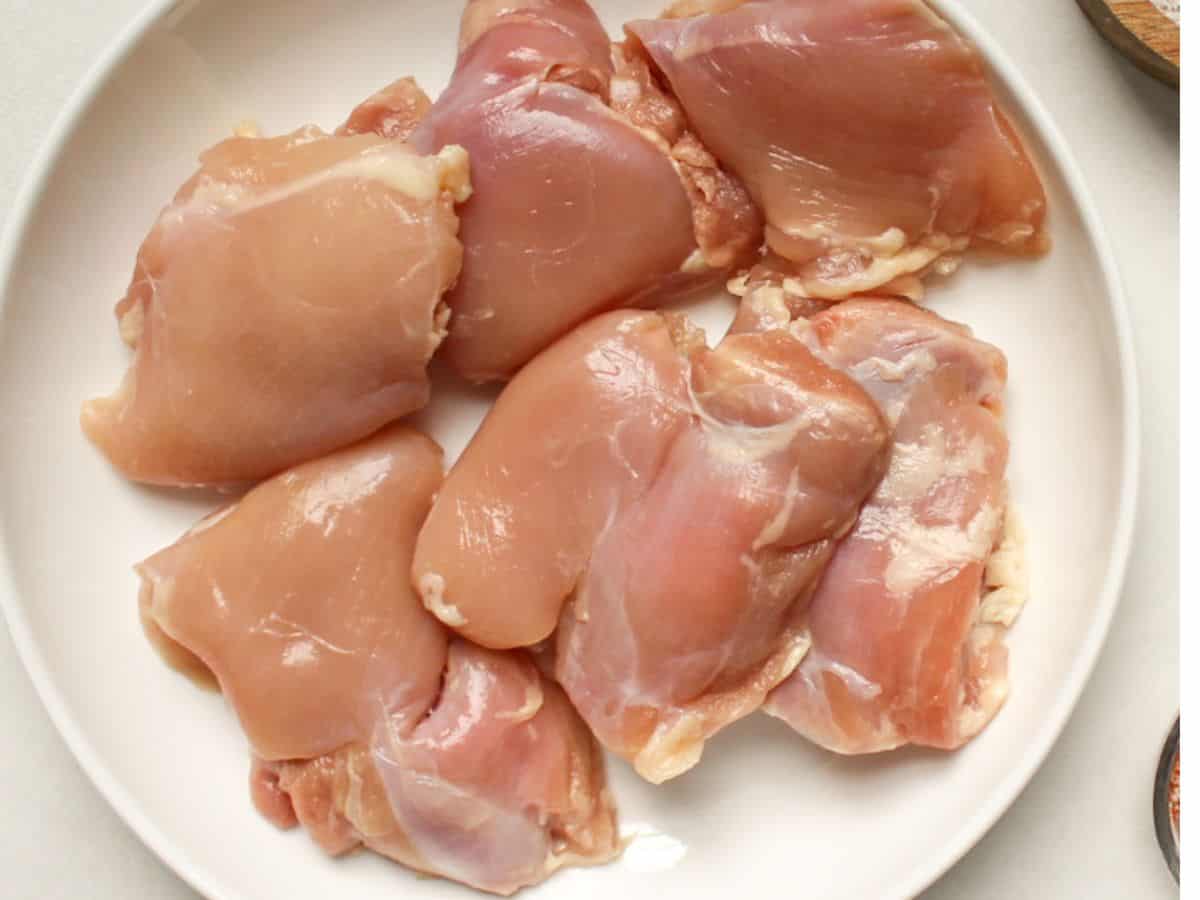 What you will need
You will need only a few ingredients and some basic kitchen equipment to make this recipe. You will find the quantities in the recipe card at the end of this pots.
Ingredients
Chicken thighs - you can use boneless, bone-in, fresh, or frozen chicken thighs. Bone-in and skin-on will have more flavor and are juicier, while boneless are leaner. I like to use the boneless type for shredding, and bone-in for broiling or to use in soups. 
Salt - do not overdo it with salt, as you can adjust it later. I usually add about ½ teaspoon of salt per pound of chicken.
Spices and herbs - today, I added only bay leaf and whole peppercorns. You can use other herbs and spices, especially if you plan to use the stock. 
Equipment
Pot or saucer pan - large or medium pot with a lid. I prefer stainless steel. If you plan to boil the thighs and discard the water after, the medium pot will be more efficient as the water will boil faster.
Tongs - use tongs or a slotted spoon to remove the chicken from the hot water. 
Thermometer - I always recommend using a meat thermometer to ensure the chicken is fully cooked. 
Step-by-step directions
Step 1. Place fresh or frozen chicken in a pot, preferably in one layer. Make sure the pot is big enough to fit the chicken and has adequate space for the water.
Sprinkle the chicken thighs with salt, and add whole peppercorns, bay leaves, and any other seasoning you are using.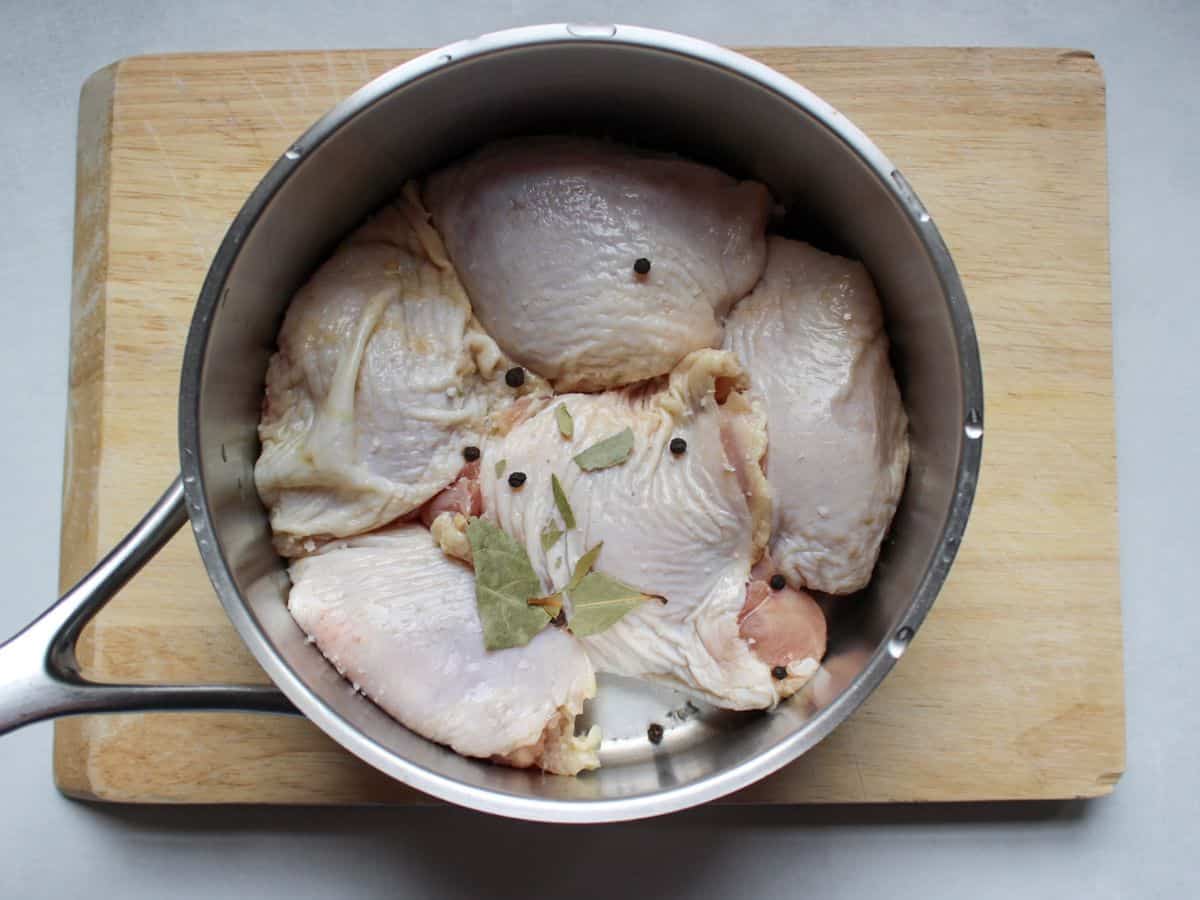 Step 2. Fill the pot with water to cover the chicken completely by approximately 2-3 inches. The meat should be fully submerged in the water. You can also add more water as needed during the boiling process.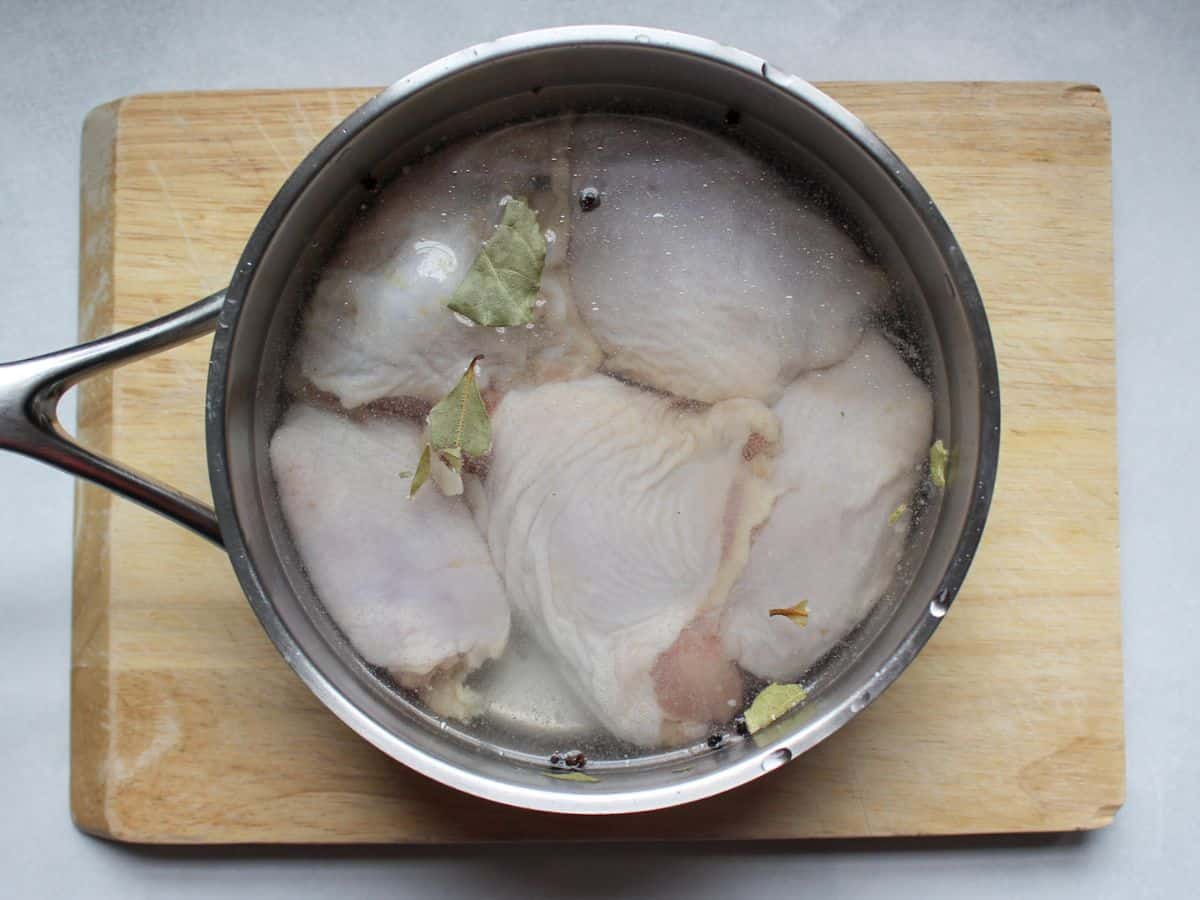 Step 3. Place the pot with water and chicken over high heat. Bring it to a boil.
Once it starts boiling, cover it with a lid and simmer it on low-medium heat for about 20-50 minutes (depending on the type and whether it's fresh or frozen) until the internal temperature reaches 165°F (for boneless) or 175°F (for bone-in)
During the boiling process, you may see a gray foam or scum that forms on top. It is always a good idea to skim it off using a slotted spoon.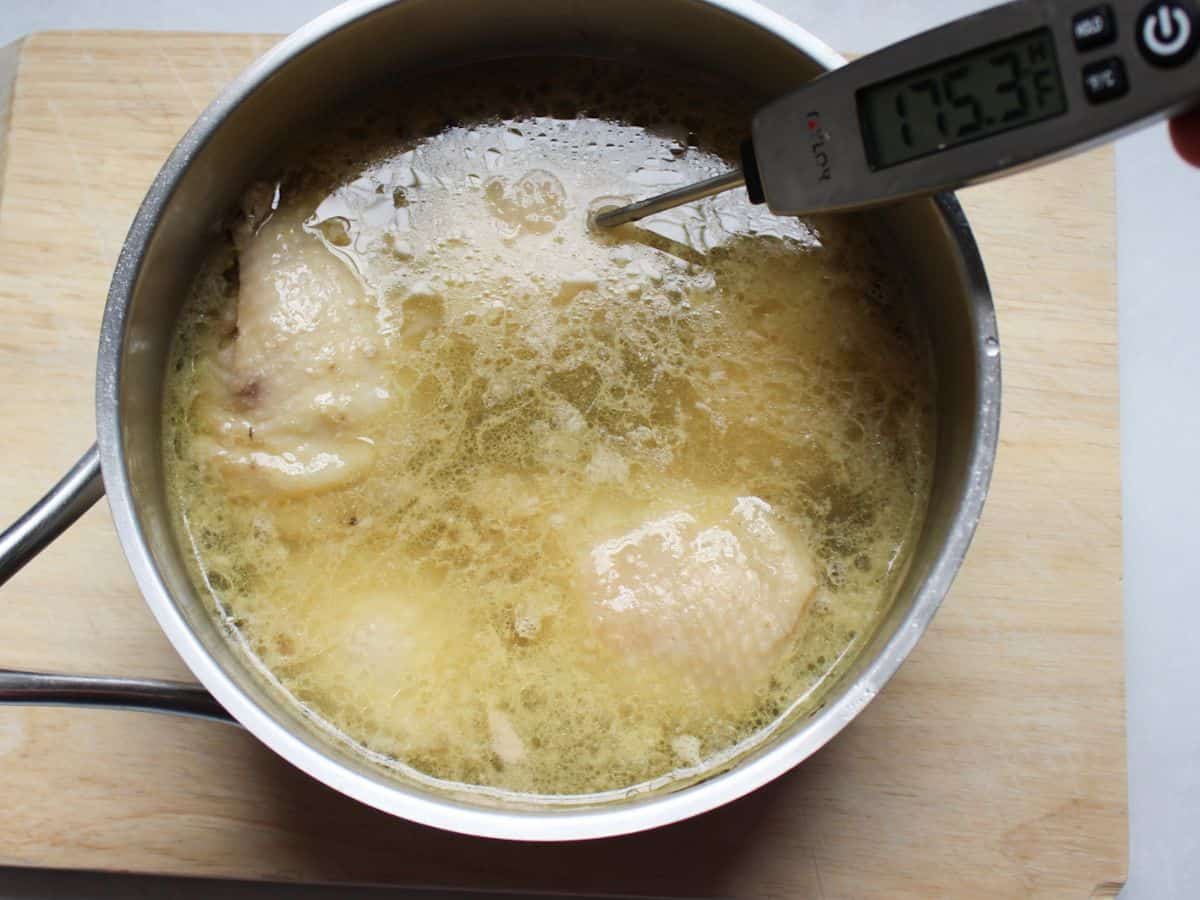 Expert Tips
add ½ teaspoon of salt per pound of meat, as you can add more later to taste.
adjust the cooking time depending if the thighs are bone-in or not and whether they are fresh or frozen.
add more water during the cooking time as needed, the meat needs to be fully submerged at all times to stay juicy and to cook properly.
Removing the foam that appears during the boiling process helps to make the cooked chicken look cleaner and the broth clear.
If you are boiling the bone-in thighs, cook them until the internal temperature reaches 175°F, to avoid the meat being red near the bones.
As a general rule for boiling from chicken frozen, add 15 extra minutes of cooking time.
Ways to use boiled chicken thighs
There are probably a hundred ways how you can use cooked chicken thighs. Below are our favorite ones:
Serve them with some mashed potatoes, and steamed or roasted vegetables.
Brush boiled chicken thighs with some BBQ sauce and broil or grill them for 5 minutes until crispy. 
Use shredded chicken thighs to make sandwiches, pizzas, quesadillas, wraps, or chicken salads. 
Add diced meat to the soup or stew.
How to store and reheat
You can sherd, cube, or store them whole in an airtight container for up to 3-4 days in the fridge. 
They reheat well in the microwave or add cold shredded and cubed pieces to your soups, casseroles, or quesadillas before cooking.
If you plan to freeze cooked chicken thighs, shred or dice the meat and place it in a freezer-safe container or a bag.
Label it with the date and store it in the freezer for up to 3 months.
Frequently asked questions
How long do you boil chicken thighs for?
Boiling time can vary depending on the type of chicken thighs, ranging between 25-50 minutes. Bone-in frozen chicken thighs take longer to cook compared to boneless thighs that are already thawed.
How to add extra flavor to the boiled chicken thighs?
To add more flavor, try adding fresh herbs to the pot, such as thyme, rosemary, oregano and chunks of fresh vegetables such as onion, celery, carrot. You can also season cooked boiled chicken with curry powder, garlic powder, onion powder, black pepper and paprika.
How to tell when your chicken thighs are ready to eat?
The best way is to use a meat thermometer. Internal temperature of the thighs needs to reach 175°F for the bone-in and 165°F for the boneless pieces.
Other easy chicken recipes
📖 Recipe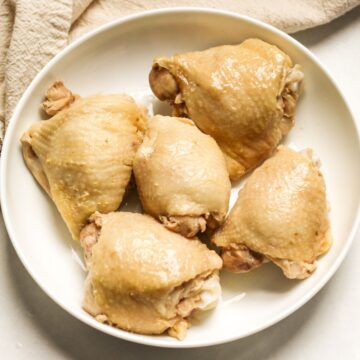 How Long to Boil Chicken Thighs
Chicken thighs can take between 25-50 minutes to boil depending on a few factors: whether they are bone-in or boneless and whether they are frozen or fresh.
Equipment
1 large or medium pot with a lid

1 tongs

1 slotted spoon

1 meat thermometer
Ingredients
5

bone-in chicken thighs, fresh *see notes below

½-1

teaspoon

salt

6

whole peppercorns

2

bay leaves

3-5

cups

cold water
Instructions
In a medium pot, arrange chicken thighs in a single layer. Sprinkle them with the salt. Add whole peppercorns and bay leaves on top.

Pour about 3-5 cups of water over the chicken, enough to cover it completely.

Bring it to boil. Use a slotted spoon, skim off any gray foam that appears. Cover the pot with the lid and boil the meat for about 30 minutes over low to medium heat (see notes below*) or until the internal temperature reaches 175°F.

You can serve them as it is or brush the skin with olive oil, add some spices and broil cooked thighs for about 5 minutes. A
Notes
it takes between 25-50 minutes to boil chicken thighs, depending if the are boneless or not and if the meat is frozen or fresh.
bone-in fresh - 25-30 minutes
bone-in frozen - 45-50 minutes
boneless fresh - 20-25 minutes
boneless frozen - 30-35 minutes
you may need less or more time depending in the size of the thighs, always cut the meat in half to check if it's cooked or use a meat thermometer.
the nutrition facts are for information purposes only
Nutrition
Serving:
4
oz
Calories:
250
kcal
Protein:
19
g
Fat:
19
g
Sodium:
257
mg
Tips for handling raw chicken safely 
Below are a few important tips, you can read more about handling and cooking chicken safety on the official USDA FSIS website.
keep raw chicken separately from other foods in the fridge and during the preparation process.
never wash raw chicken to avoid spreading of bacteria.
if you decide to thaw chicken before boiling (even you can boil it form frozen), do it in the fridge and not on the counter.
wash any dishware, cutting boards, utensils, surfaces with soapy water after handling the chicken.
wash your hands with soap every time you come in contact with raw chicken. It's also a great idea to use disposable gloves when possible.