Air fryer tortilla pizza is made with flour or corn tortillas as a crust and your favorite pizza toppings. Ready in under 5 minutes, this crispy tortilla pizza is great as a quick lunch, dinner, or snack.
Jump to:
Air fryer tortilla pizza
Making pizzas with tortillas in your air fryer can turn your dinner time into a fun experience for the whole family.
Make it as simple as cheese and sauce pizza or customize it using different meats, veggies, and seasonings.
Everyone will love the crunchy thin crust because the air fryer makes the tortillas super crispy.
Tortilla pizzas are healthier, lighter, and take only 5 minutes to make.
Why you will love this recipe
it is lighter than any other pizza.
can be made with any leftovers found in the fridge.
it takes a little effort and time to make.
kids can help to assemble the pizzas.
Ingredients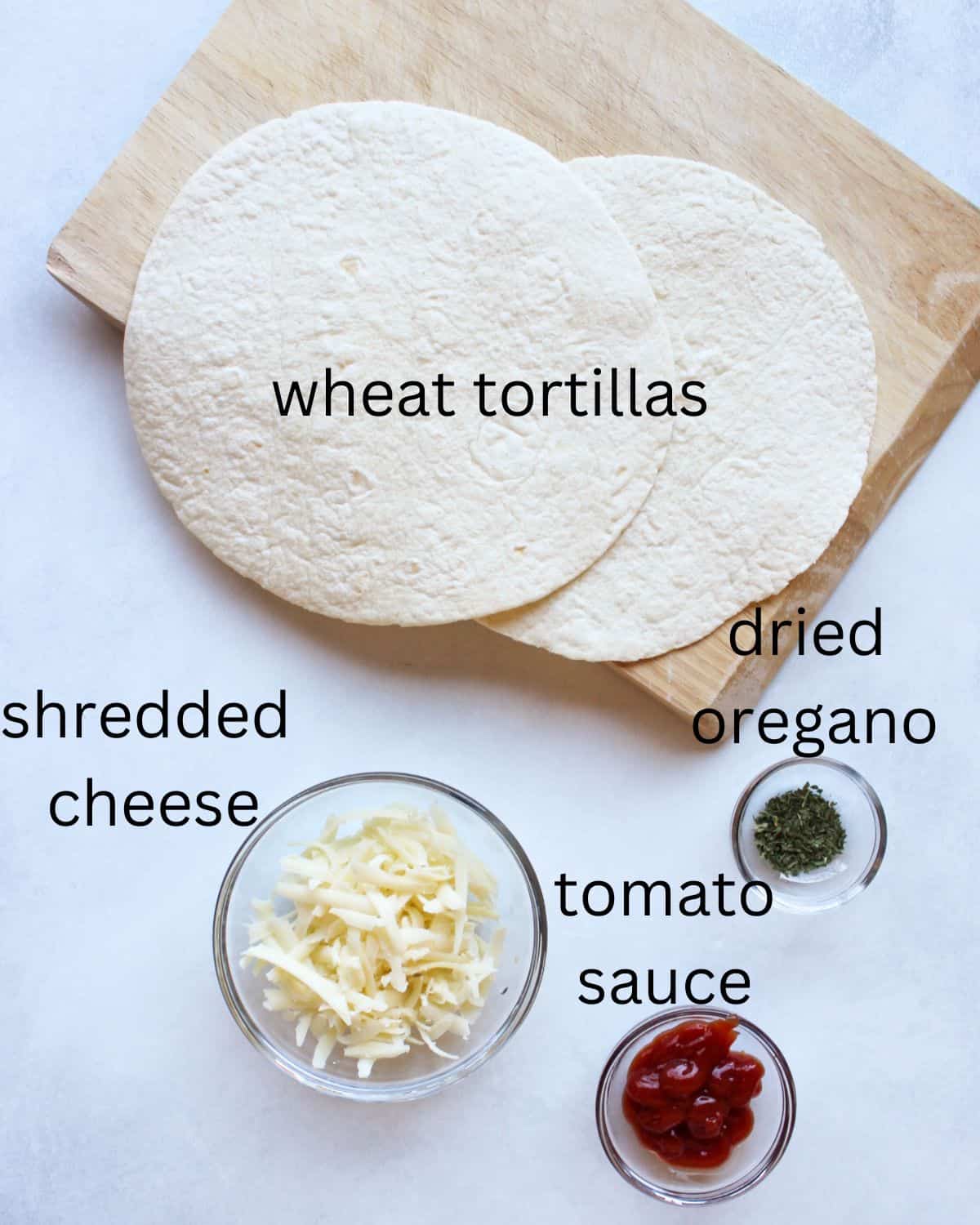 Tortillas: large store-bought or homemade wheat tortilla for the crust. You can also use corn tortillas.
Tomato Sauce: I used a plain tomato sauce. You can use pizza or pasta sauce instead.
Cheese: I used shredded mozzarella cheese. You can use other cheeses that melt well.
Dries Oregano: a little bit of dry oregano on top of the sauce for extra flavors. You can use a fresh one as well.
How to make tortilla pizza in the air fryer
Spread the Sauce - First, spray the basket with some cooking oil. Place the wheat tortilla in an air fryer basket. Use a spoon to spread a thin layer of sauce on top. Leave an edges empty to make them crispy, especially if you spray them with some cooking oil. Sprinkle the sauce with dry oregano.
Add Toppings - now, add some shredded mozzarella cheese. Or any other topping you like.
Air Fry - insert the basket back into the air fryer unit. Set the temperature to 390° and air fry the pizza for 3-5 minutes or until the cheese melts. Make sure to check on you pizza in about 1 minute to make sure the cheese didn't start flying and pizza is not getting burnt.
Note: If the cheese or other ingredients start flying (it happens often) because of hot air circulation, cover the pizza with an air fryer rack.
Serve - use a spatula to remove the pizza. Let it cool down for a minute before cutting it. Enjoy with your favorite size.
Toppings to try
Sauce and cheese are my favorite toppings for tortilla pizza. Tortillas are thin and it is better not to load them heavily with toppings like we often do with traditional pizza.
But you can easily add two or three toppings to make it more fun and filling.
These air pizzas are the best to make with kids. Super quick, mess-free, and easy and it will be fun for them to choose their favorite toppings.
I often use salsa instead of sauce and add some canned beans, chorizo, or corn to my tortilla pizzas. So delicious!
Meats:
Pepperoni
Ham
Deli turkey
Thinly shredded chicken
Anchovies
Veggies:
Thinly sliced tomatoes
Bell peppers
Olives (kids' favorites)
Onions
Cheeses:
Italian blend
Mexican Bland
Goat soft cheese
Gouda cheese
Sauces:
Spicy or traditional marinara sauce
Salsa
Creamy Alfredo sauce
Pesto sauce
Seasonings:
Italian seasoning mix
Mexican seasoning
Dried oregano
Dried parsley
Dried marjoram
Red pepper flakes
What to serve with
Make it a complete meal by serving this cheesy tortilla pizza with a salad, veggies, or fruits on the side:
steamed broccoli
roasted asparagus
Caesar salad
fresh garden salad
spinach and tomato salad
fruit salad
Cooking tips
cooking time may vary depending on your air fryer. Check your pizza in about 60-90 seconds.
make it crispy by leaving the edges without sauce and spraying it with some cooking oil.
you can even use two tortillas stacked on each other with toppings in between and on top.
spread only a thin layer of tomato sauce as too much sauce may make the pizza soggy.
use thick-cut shredded cheese to prevent it from flying due to hot air circulating.
to prevent the cheese from flying, consider using the air fryer rack, especially if adding finely shredded cheese and toppings like pepperoni or ham.
once cooked, wait a minute for it to cool down before cutting it.
it is best to enjoy tortilla pizza right away, but leftovers can be stored in the fridge for about 2-3 days.
Equipment
Air Fryer: for this recipe, I used Ninja Air fryer.
Pizza Cutter: much easier to cut a thin pizza with a sharp pizza cutter instead of a knife.
Note: If you do not have an air fryer, cook the tortilla pizza in the oven at 400°. Make sure to use some parchment paper if you choose the oven method.
Frequently asked questions
What type of tortillas to use?
Wheat, corn or even gluten-free tortillas.
How to reheat tortilla pizza?
Reheat any leftovers in the air fryer or the microwave oven.
How to make tortilla pizza crispy?
Air fryer usually makes tortillas crispy. If you love very crispy edges, do not add the sauce on them and spray some cooking spray or brush with a little bit of butter.
Other air fryer recipes you may like
📖 Recipe
Air Fryer Tortilla Pizza
Air fryer tortilla pizza is made with flour or corn tortillas as a crust and your favorite pizza toppings. Ready in under 5 minutes, this crispy tortilla pizza is great as a quick lunch, dinner, or snack.
Equipment
1 Air Fryer Ninja XL

1 spatula

1 Pizza Cutter
Ingredients
1

wheat tortilla

cooking spray

2

Tablespoons

tomato sauce

2

Tablespoons

Mozzarella cheese

¼

teaspoon

dry oregano
Instructions
Spray the bottom of the air fryer basket with some cooking oil. Lay a wheat tortilla in the bottom of your air fryer basket.

Spread the tortilla with a thin layer of sauce. Sprinkle with some oregano. Add shredded cheese on top.

Air fry at 390°F for about 3-5 minutes or until the cheese softens and tortilla edges are crispy.
Notes
cooking times may vary depending on the air fryer.
you can use any favorite topping.
do not go heavy on the sauce as it may make the tortilla soggy.
leave the edges with no sauce and spray with some oil for a crispy crust.
nutrition information are for information [purposes only.
Nutrition
Serving:
1
ea
Calories:
218
kcal
Carbohydrates:
30.7
g
Protein:
10.1
g
Fat:
8.7
g
Sodium:
161.5
mg
Fiber:
4.6
g
Sugar:
5.5
g