Air fryer parsnip fries are an easy side dish that is healthy, nutritious, and tastes so good with your favorite dipping sauce. Next time you go to the grocery store, grab some parsnips to make this delicious air fryer recipe.
I love using my air fryer for a variety of recipes that require frying or baking. You can make a fried healthy vegetable side dish by using just a bit of oil.
An air fryer can come in handy while you use the oven to make other dishes. It allows me to make healthy sides in no time.
Jump to:
What are parsnips
Parsnips are root vegetables related to carrots and parsley. This root vegetable has a sweet flavor and earthy taste. Its flavor is more complicated than carrots. Fresh parsnips are available at grocery stores at any time of year, but their peak season is winter.
These root veggies are rich in fiber, Vitamins, and minerals. Lots of people pass by the parsnips in the produce section because they are not sure if they taste good and how to cook them. This air fryer parsnip fries recipe can be a great start to trying this amazing root vegetable.
Why you will love this air fryer parsnips
a healthy swap for potatoes when making french fries (or even sweet potato fries).
cooking in an air fryer requires less oil.
parsnips are rich in calcium, potassium, zinc, and vitamins C and K.
they go well with my favorite Utah fry sauce (recipe included in this post) or any other dips such as ketchup, mustard, or mayo.
great way to include more vegetables in your family's diet.
this recipe is vegan and paleo when served without Parmesan cheese.
Ingredients
Parsnips - I used medium parsnips. Larger or medium parsnips are much easier to peel and cut into fries. When picking parsnips make sure they are fresh and the ends are not wilted. Older parsnips might be stringy.
Olive Oil - I used a small amount of oil to air fry parsnip fries. Extra virgin olive or avocado oil works great.
Sea Salt - you will need a little salt to make these fries when serving with a savory dipping sauce.
Garlic Powder - we are adding only this one spice not to ruin parsnip's natural flavor.
Parmesan Cheese (optional) - I like to sprinkle Parmesan cheese on cooked Parmesan fries for some cheese flavor. You can skip the cheese.
Fresh Parsley (optional) - add chopped parsley on top of cooked fries for extra flavors and a festive look.
Dipping Sauce Ingredients
My favorite way to serve this parsnip fries is along with this Utah fry sauce. It is easy to make and you more likely have already all the ingredients in your fridge.
Mayo (½ cup)
Ketchup (¼ cup)
Dill Pickle Brine (2 teaspoons)
Paprika (½ teaspoon)
Worcestershire sauce (¼ teaspoon)
Onion Powder (¼ teaspoon)
See the recipe card for quantities
Step-by-step-directions
Wash and Peel Parsnips - first, rinse the parsnips under cold water to get rid of any dirt. Trim tops and bottoms. Use a knife or a veggie peeler to remove the thin skin. Same as you would peel the carrots. You should always peel parsnips, especially if eating in large quantities. More details about it at the "tips for success" section.
Cut Parsnips - now, cut parsnips into fries or chips. You can make them thinner or thicker - up to your liking. I keep them thicker, it prevents fries from being too dry and still leaves parsnips with crispy edges to enjoy. First, I cut the vegetable in half. This way helps us to divide a vegetable into wide and narrow chunks. Now, cut each part in half lengthwise. You will basically quarter the vegetable. Slice each quarter into chips. The wide half will have a wider chip, so you may need to slice them in half (see the picture below).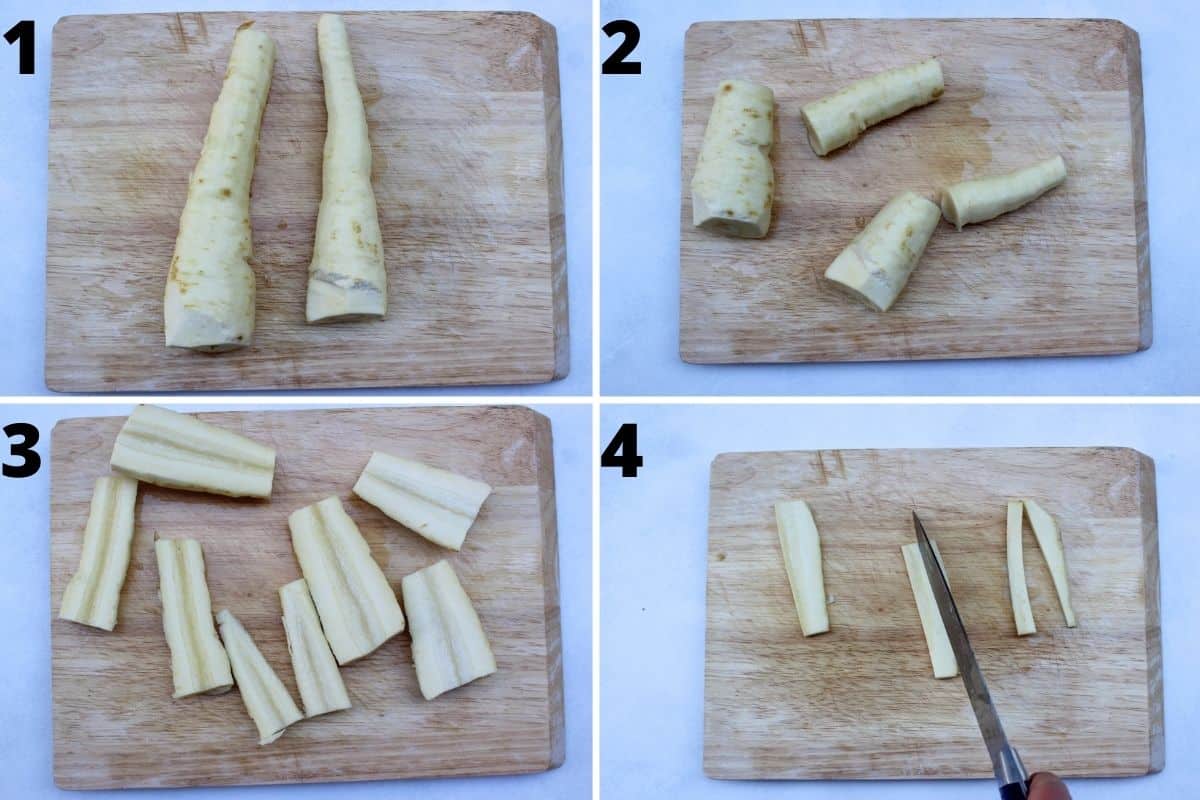 Season - place parsnip fries in a large mixing bowl. Now, add salt, garlic powder, and olive oil. Mix to coat each fries with oil and seasoning. Set seasoned parsnips aside for 10 minutes. They will marinate a little bit and absorb seasoning better.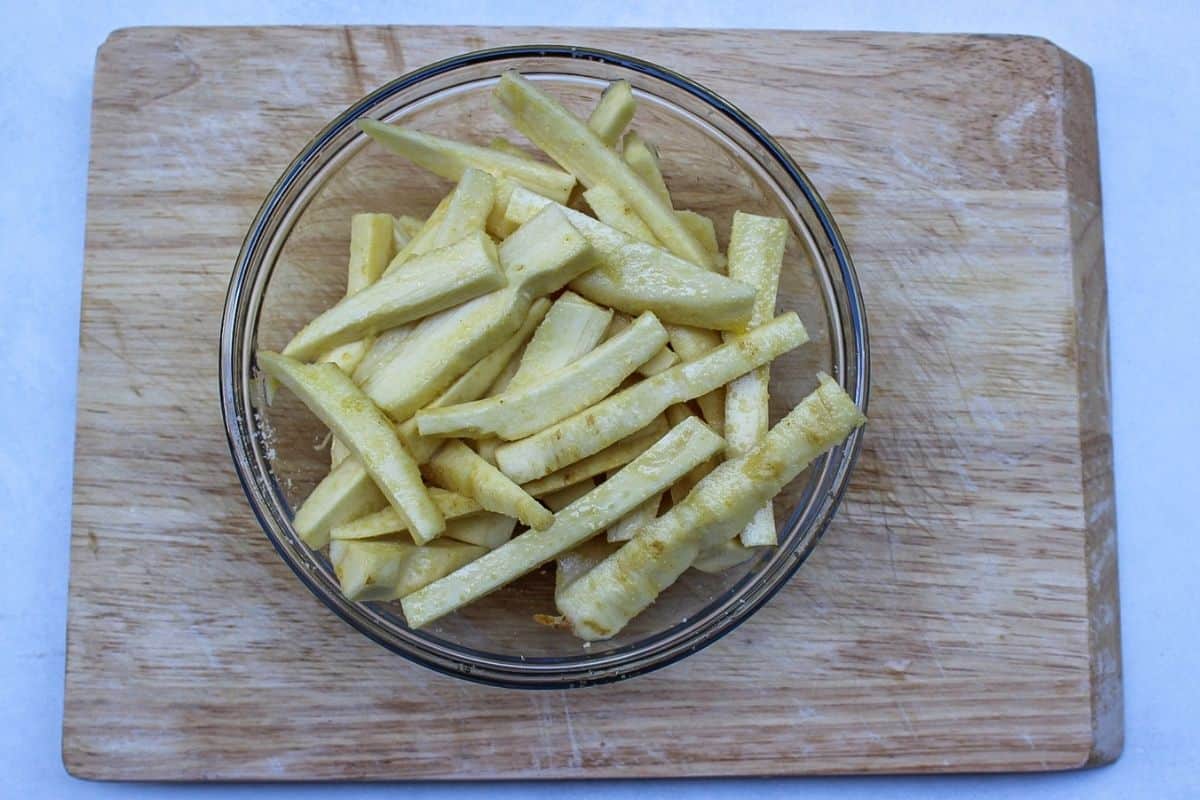 Air Fry - preheat the air fryer for 3 minutes at 390°F. Now, add parsnip fries distributing them evenly at the bottom of the air fryer basket. Air fry parsnips for 10-15 minutes or until golden brown and soft inside, tossing them halfway, at 390°F. Transfer fries into a bowl or a basket for serving.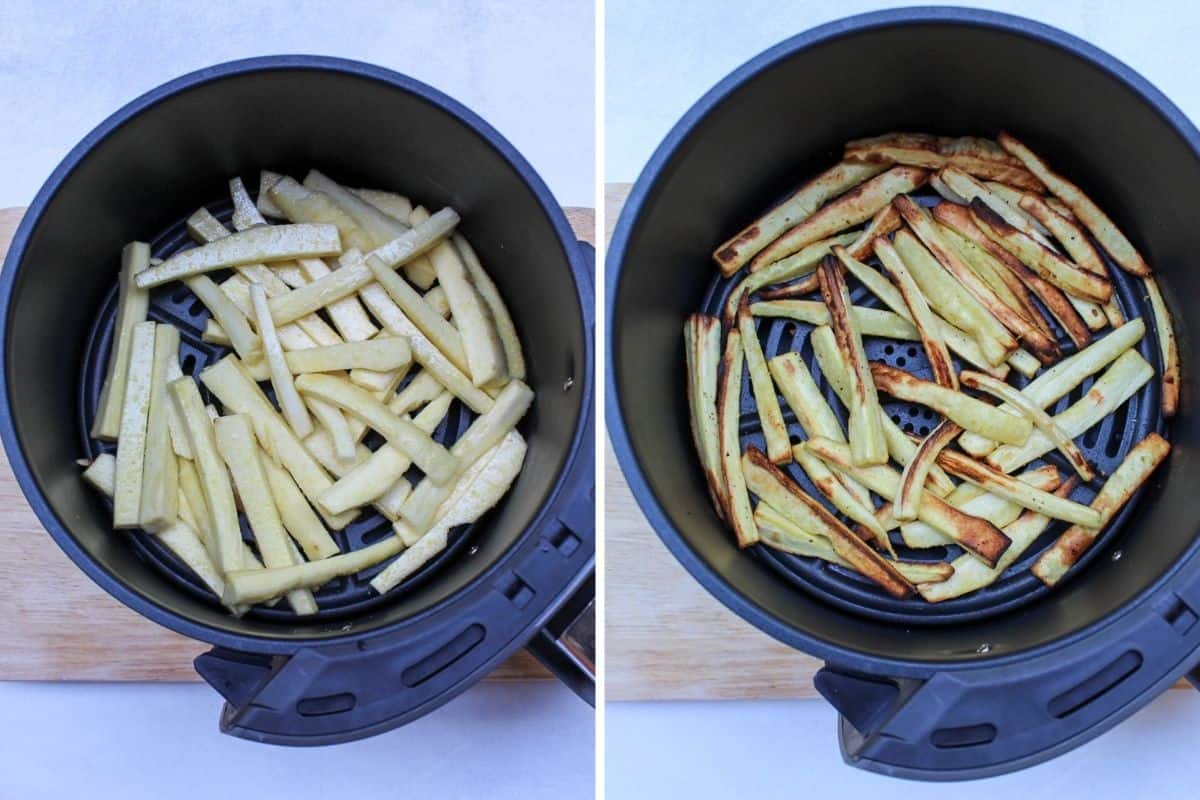 Sprinkle with Parmesan and Parsley - this step is optional but grated Parmesan and fresh herbs (parsley, dill, or cilantro) are a good way to dress your cooked parsnip chips when serving for your family or friends. Serve immediately with your favorite dipping sauce.
Dipping sauce instructions
Measure - Measure all the required ingredients and add them to a small bowl.
Mix - Whisk everything until one consistency. Serve as a dipping sauce for your parsnip fries.
The dipping sauce recipe makes ⅓ cup of dipping sauce. Store the leftovers in an airtight container in the fridge for about one week.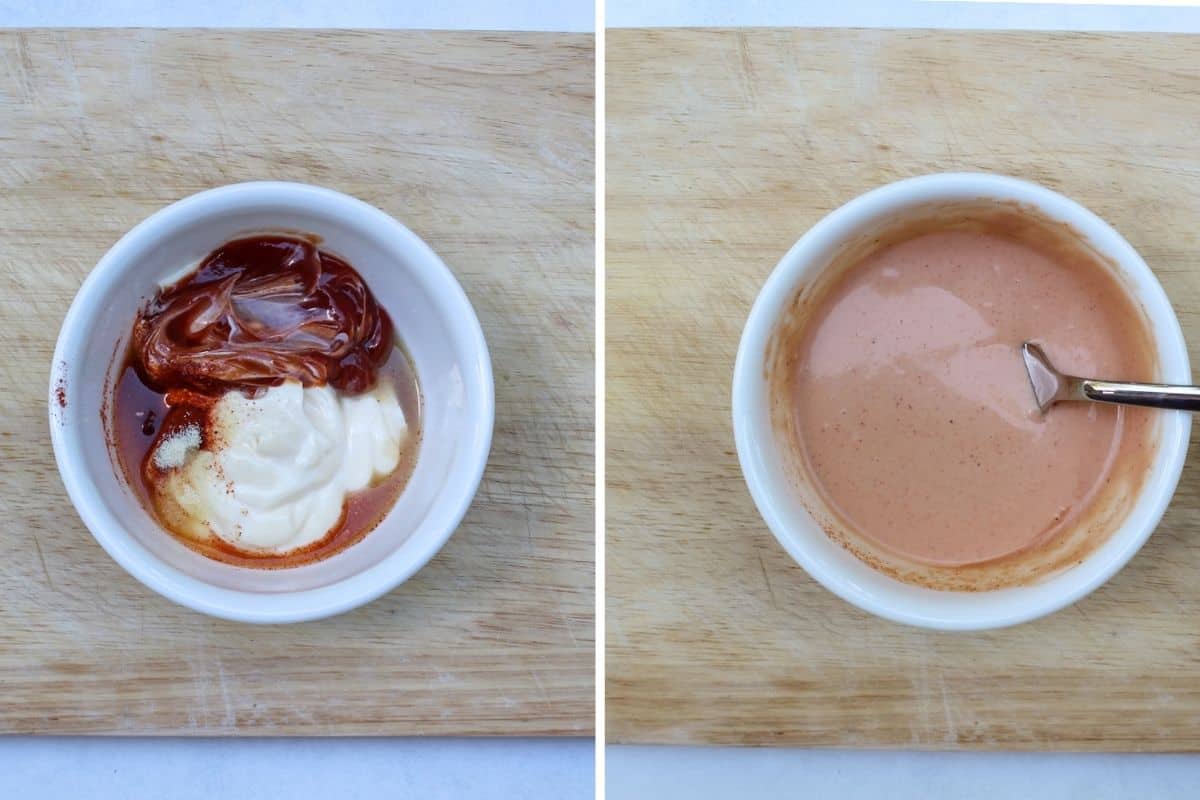 Serving suggestions
Parsnip fries are a perfect side dish. It goes well with many main dishes, such as grilled chicken, meatloaf, and pork chops.
These fries can be a great healthy snack for kids. This is an easy way to increase the vegetable intake in the kids' diet.
You can serve these parsnip chips with so many dipping sauces: ketchup, mustard, thousand island dressing, BBQ sauce, garlic aioli, or my favorite Utah fry sauce.
Tips for success
Always peel your parsnips when eating in large quantities or when serving them to small kids. Parsnip's skin has a higher concentration of the natural toxin that can irritate your digestion.
Let the seasoned fries sit for about 10 minutes before cooking, They will marinate and taste even better.
Cooking time may vary depending on the size of your fries and on your air fryer type.
Do not overcrowd the air fryer. It is OK if fries touch and few are on top of each other but do you best to arrange them in a single layer. If you have too much leftover parsnips, cook the second batch right away after the first one. Do not store seasoned and cut parsnips for more than 2 hours at room temperature.
Recommended equipment
Ninja Air Fryer - you can use any other air fryer
Set of measuring spoons
Measuring cup - only if you are making a dipping sauce.
Large mixing bowl and a small bowl (for the sauce)
How to store and reheat
It is best to eat parsnip fries (like any other fries) right away. But if you have some leftovers, transfer them to an airtight container and store them in the fridge for up to 3 days.
Reheat the fries in your air fryer for about 2-3 minutes at 400°F.
Recipe variations
Spicy - you can make spicy parsnip fries by adding 1 Tablespoon of Cajun seasoning and skipping the salt.
Sweet and Spicy - add ¼ teaspoon of chili powder (or more) and 1 Tablespoon of maple syrup or honey.
Curry - add 1 teaspoon of your favorite curry seasoning to make curry parsnip fries.
Loaded - add your favorite toppings (shredded cheese, sliced jalapenos, chicken, avocado, sour cream, etc) to make an easy main course dish.
Common questions
Can I make parsnip fries in the oven?
If you do not have air fryer, bake seasoned parsnip fries on parchment paper at 400°F for about 30 minutes or until golden brown.
Are parsnip crisps/fries keto-friendly?
Parsnips are keto-friendly and can be consumed in moderation on a keto diet. Make sure to weigh and use a macro-nutrients calculator to count the number of carbs in parsnips.
What flavors or ingredients combine well with parsnips?
Parsnips are winter root vegetables that go well with pork and poultry. The best spices and herbs to cook with are rosemary, black pepper, garlic, parsley, and sage. Maple syrup and honey pair well with this root vegetable.
Other air fryer recipes you may like
📖 Recipe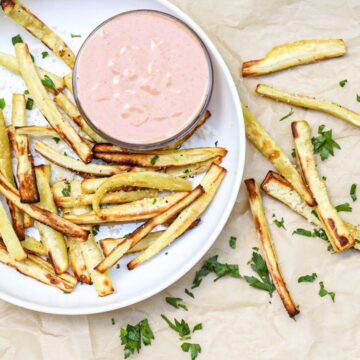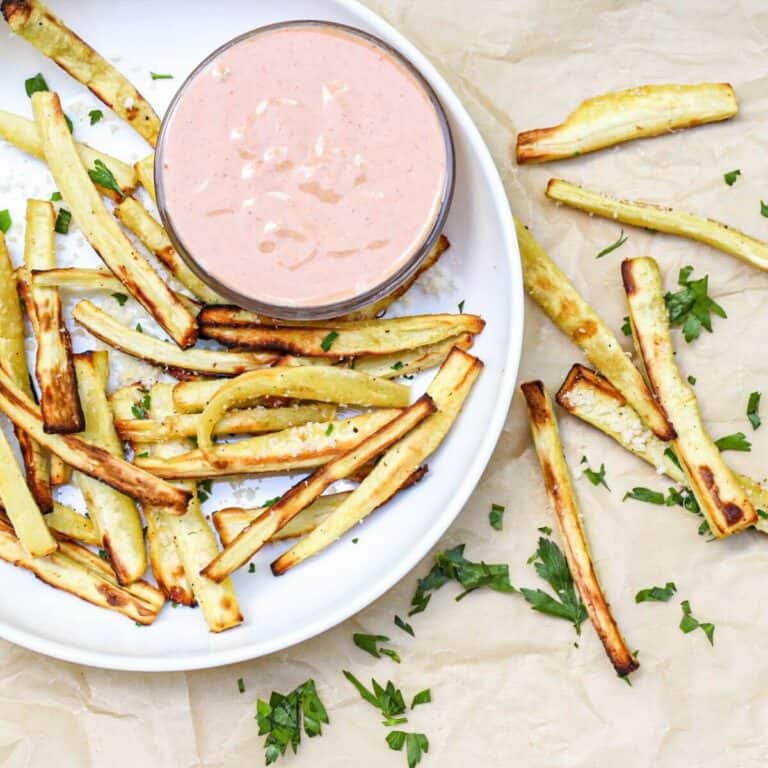 Air Fryer Parsnip Fries (with Utah Fries Sauce)
Air fryer parsnip fries are an easy side dish that is healthy, nutritious, and tastes so good with your favorite dipping sauce. Next time you go to the grocery store, grab some parsnips to make this delicious air fryer recipe. 
Equipment
1 Air fryer

(I used Ninja Brand)

1 set of measuring spoons

1 large bowl

1 Measuring Cup

for the sauce

1 small bowl

for the sauce
Ingredients
Air Fryer Parsnips
2

medium parsnips

2

Tablespoons

Olive Oil

½

teaspoon

salt

1

teaspoon

garlic powder

2

Tablespoon

grated Parmesan (optional)

1

Tablespoon

chipped fresh parsley (optional)
Utah Fries Sauce
½

cup

Mayonnaise

¼

cup

Ketchup

2

teaspoons

Dill pickle brine

or apple cider vinegar

½

teaspoon

Paprika powder

¼

teaspoon

Worcestershire sauce

¼

teaspoon

Onion Powder
Instructions
Air Fryer Parsnip Fries
Wash and peel parsnips. Cut into fries sticks (thin or thick).

Add salt, garlic powder and olive oil. Mix well to coat. Let them marinate at room temperature for 10 minutes.

Preheat your air fryer (if it requires preheating). Add parsnip fries to the air fryer basket. Air fry for 10-15 minutes at 390°F until parsnip fries are golden brown on top and soft inside. Sprinkle with grated Parmesan and chopped fresh parsley on top. Serve hot with your favorite dipping sauce.
Utah Fries Sauce
Add all ingredients to the small bowl. Whisk everything with a fork until one creamy consistency. Enjoy with your parsnip fries!
Notes
always peel parsnips when consuming in larger quantities.
you can cut them thin ( french fries) or thick (chips).
adjust cooking time depending on the fries size and air fryer brand.
for accurate nutrition information weigh all ingredients and use apps (such as MyFitnessPal) for accurate calories and macro-nutrients numbers.
the nutrition information above is only for parsnip fries (no dipping sauce).
Nutrition
Calories:
92
kcal
Carbohydrates:
7.5
g
Protein:
0.5
g
Fat:
6.9
g
Sodium:
295.8
mg
Fiber:
1.5
g
Sugar:
2
g