These air fryer portobello mushrooms with balsamic marinade are one of my favorite vegan recipes - so easy to make and full of flavor.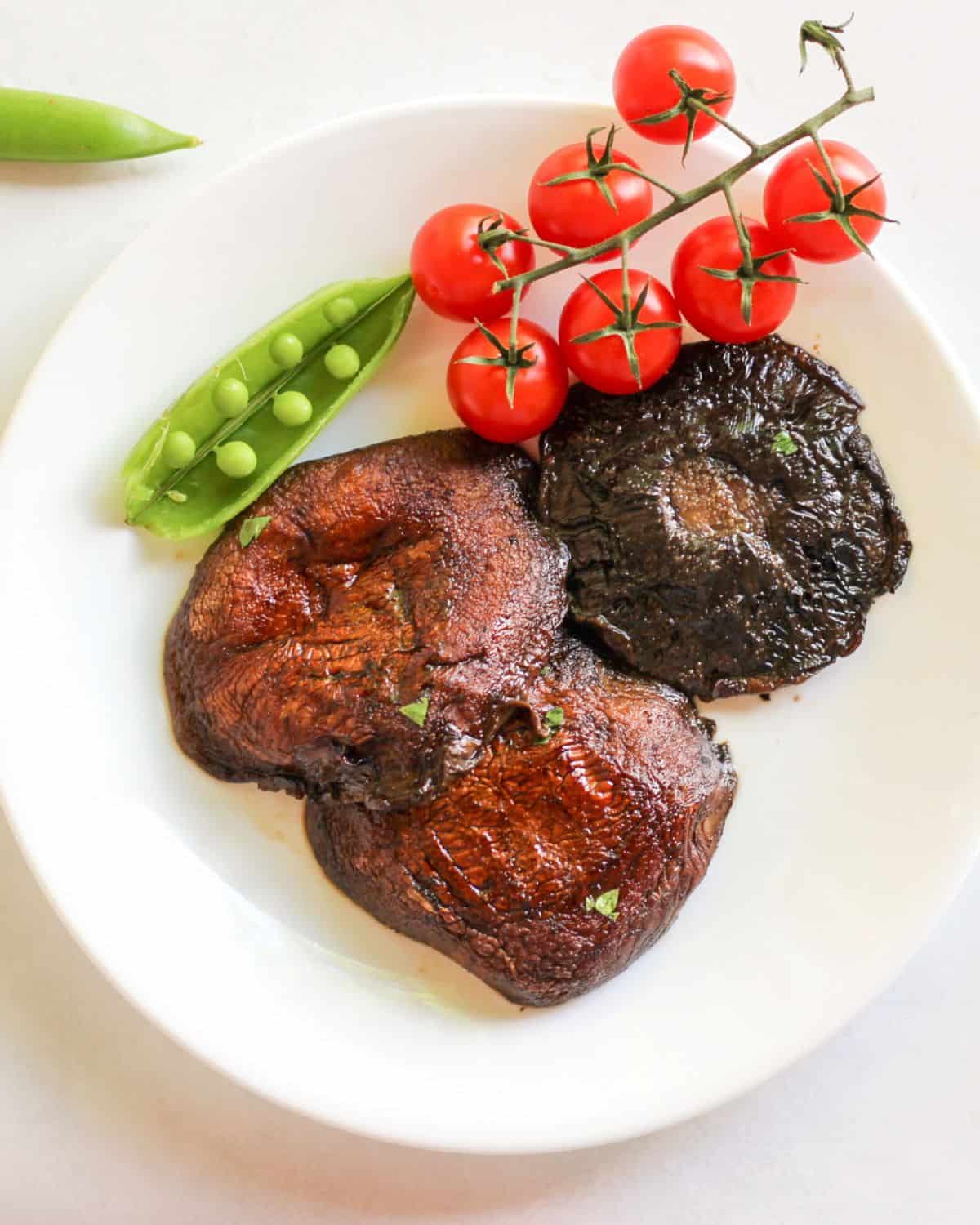 Jump to:
What are portobellos
Portobellos are edible mushrooms native to Europe and North America. Portobello mushrooms come in 3 sizes by age. From small to large: button mushrooms, cremini mushrooms, and portobello.
All three are the same type of mushroom, just harvested at different ages. Button mushrooms (baby bella) are white. Cremini and portobello are usually brown.
Portobello mushrooms have a meaty texture and earthy flavor. They are low in calories and are a great source of vitamin B2, selenium, and dietary fiber.
The stems and gills of portobello mushrooms are edible, but, many prefer to remove them because they tend to have a woody texture. You can use them to make some stock.
Mushroom lovers can follow this recipe to make all three types of portobellos Today, I am cooking large portobello mushrooms with a simple marinade which are great for burgers, sandwiches, or as a side dish.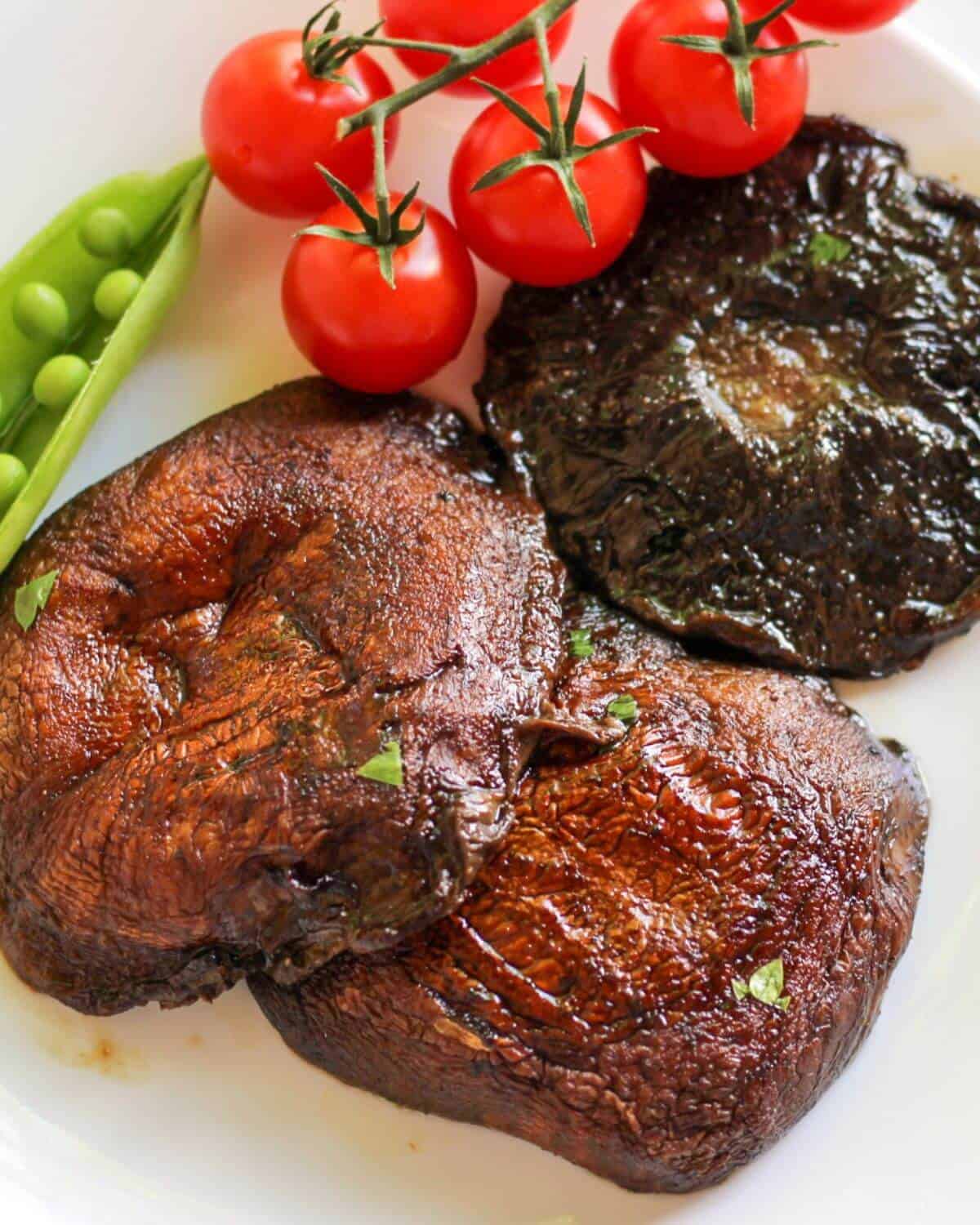 Why you will love this recipe
great main or side dish for meatless dinners.
portobello mushrooms are low in calories but contain a lot of essential nutrients and fiber.
the recipe takes less than 20 minutes and does not require too much preparation.
can be used in so many ways: burgers, sandwiches, pizzas, or as a side dish for eggs, potatoes, and pasta.
low carb and can fit into a keto diet.
Ingredients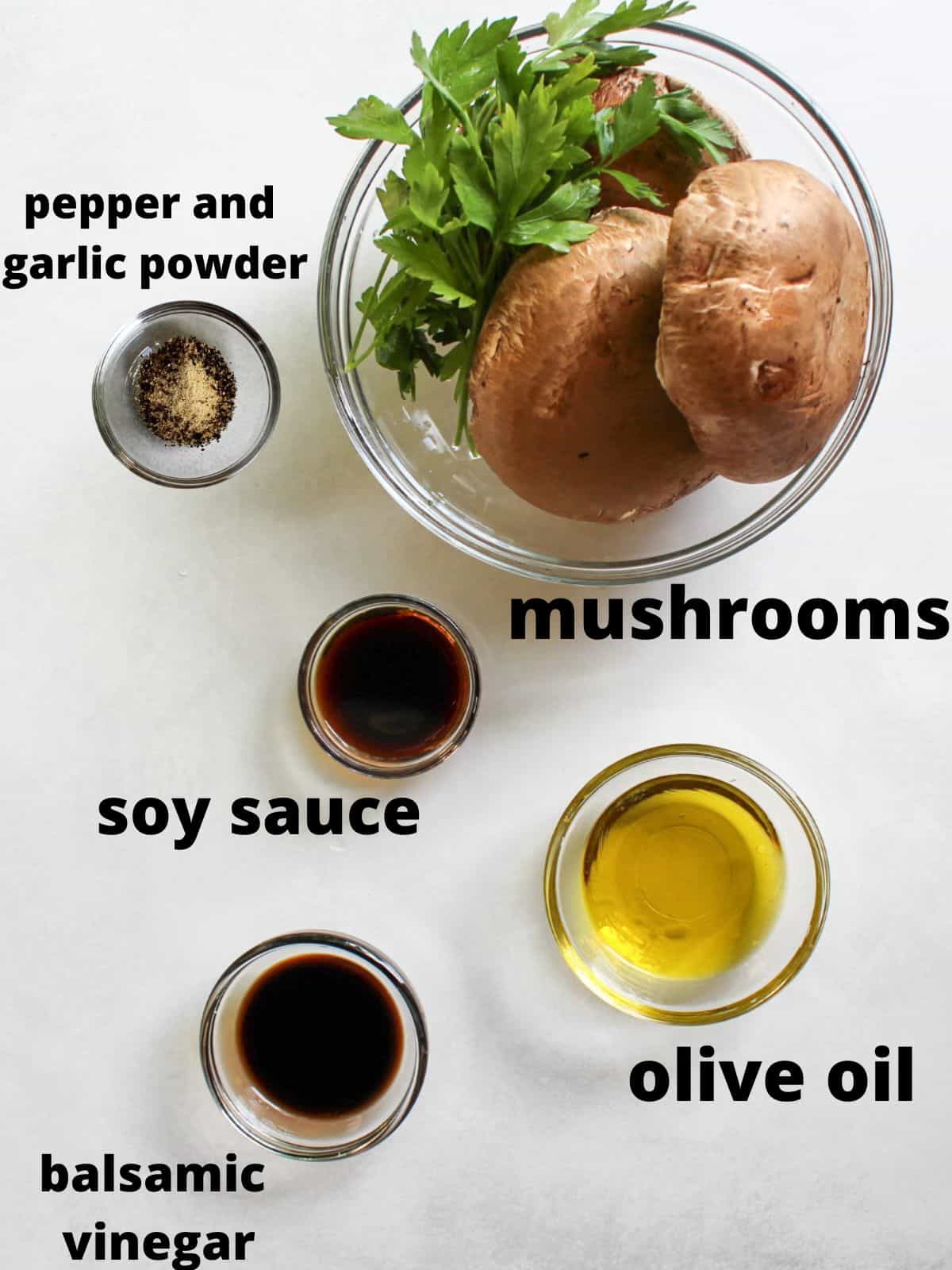 Fresh Portobello Mushrooms - I used large and thick mushrooms for this recipe.
Olive Oil - olive oil works great for making marinade. You can use avocado or vegetable oil instead.
Balsamic Vinegar - for a sweet and tangy taste. I used aged balsamic vinegar but any kind will work great.
Soy Sauce - choose reduced-sodium soy sauce if possible. You can also use coconut aminos instead
Garlic Powder and Black Pepper - for a mild spicy taste.
See the recipe card for ingredient quantities.
Step-by-step instructions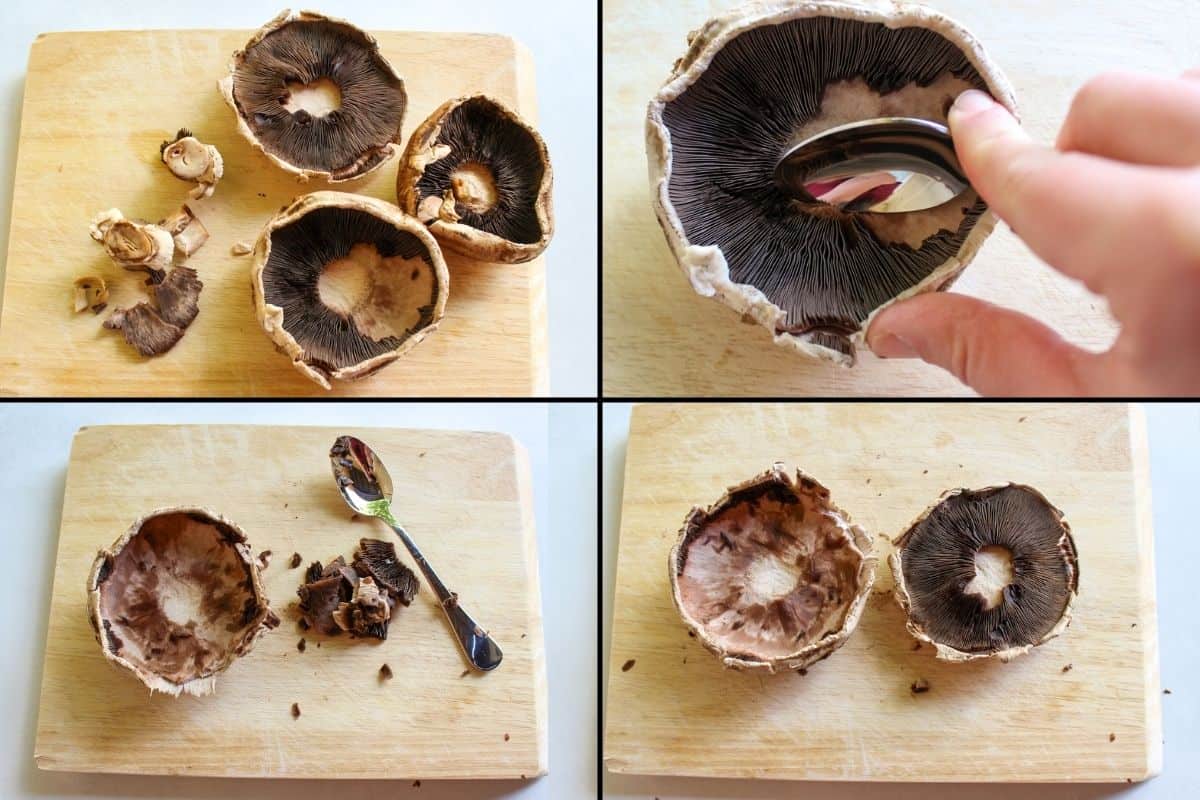 Clean the Mushrooms - First thing, use a damp cloth or a damp paper towel to wipe the mushrooms carefully to get rid of any dirt. If your mushrooms look too dirty, briefly rinse them under cold water. Remove the stems and the dark gills (optional)
Note: do not keep mushrooms under water for too long and do not soak them in water. They will absorb the water and the texture will be different after cooking. You can keep the stems and gills. The whole mushroom is edible.
Below you can see how I removed the gills off one of the mushrooms. I cooked the other two mushrooms with the gills. It's totally up to your personal preference.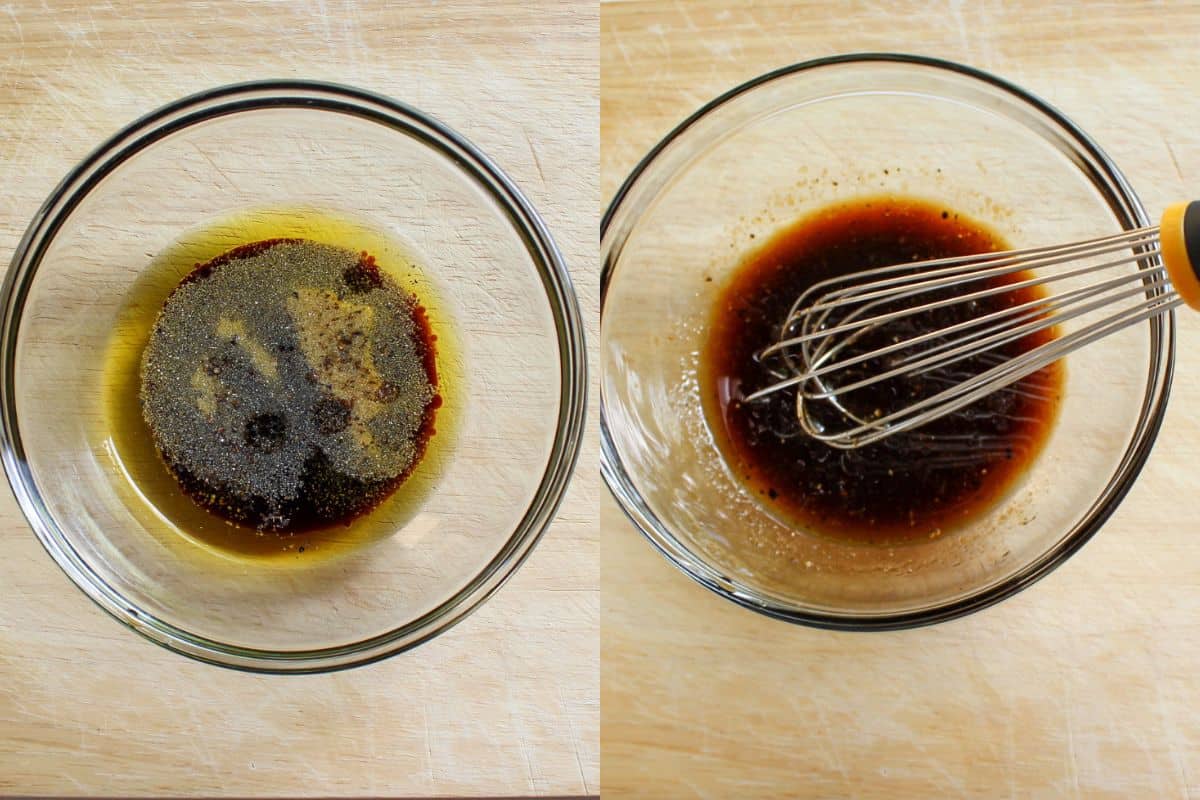 Prepare Marinade - in a small bowl, add olive oil, balsamic vinegar, soy sauce, pepper, and garlic powder. Whisk everything well until combined.
Note: I like to use only few simple spices for the marinade. You can add fresh herbs such as rosemary, basil, or some Italian seasoning to the marinade.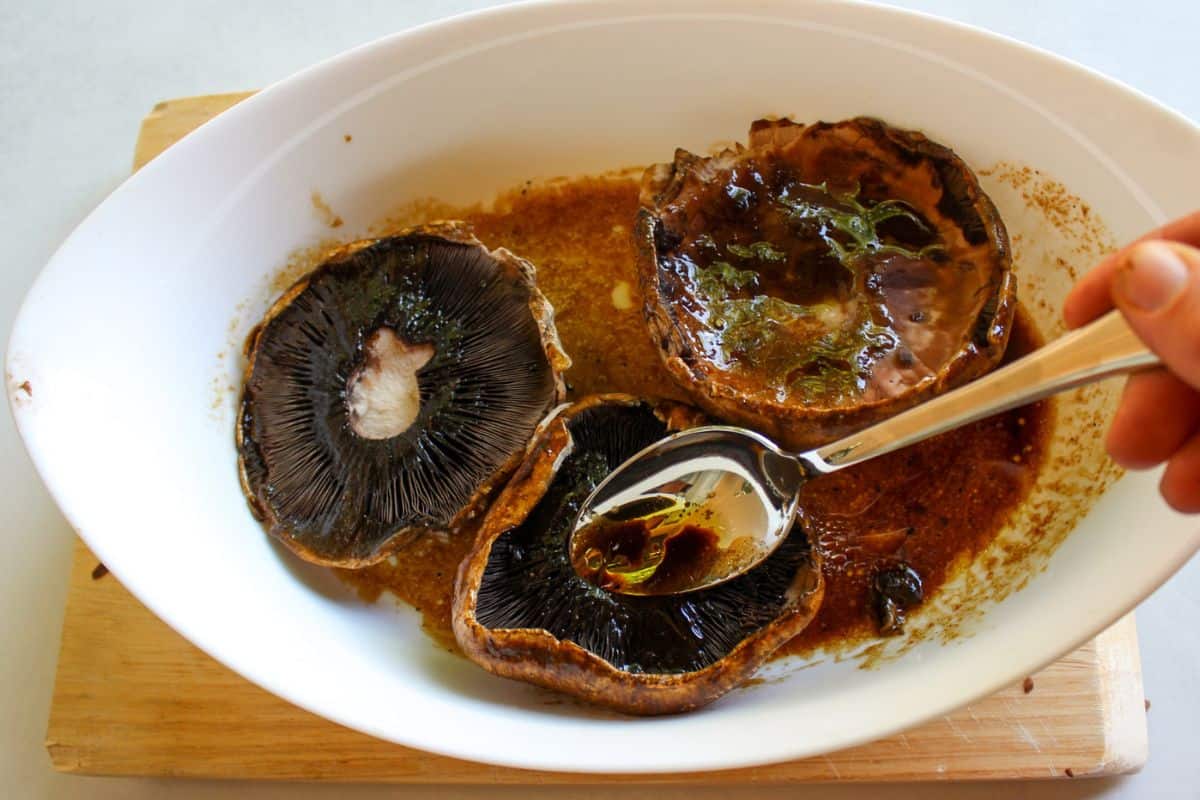 Quick Marinate - pour the marinade into a shallow dish. Place clean mushrooms with the caps down into the dish and pour some extra marinade on top. Marinate for 5 minutes and flip them on the other side for another 5 minutes.
Note: instead of marinating, use a basting brush to apply the marinade on both sides of the mushroom. Let it sit for 5 minutes before cooking to absorb the flavors.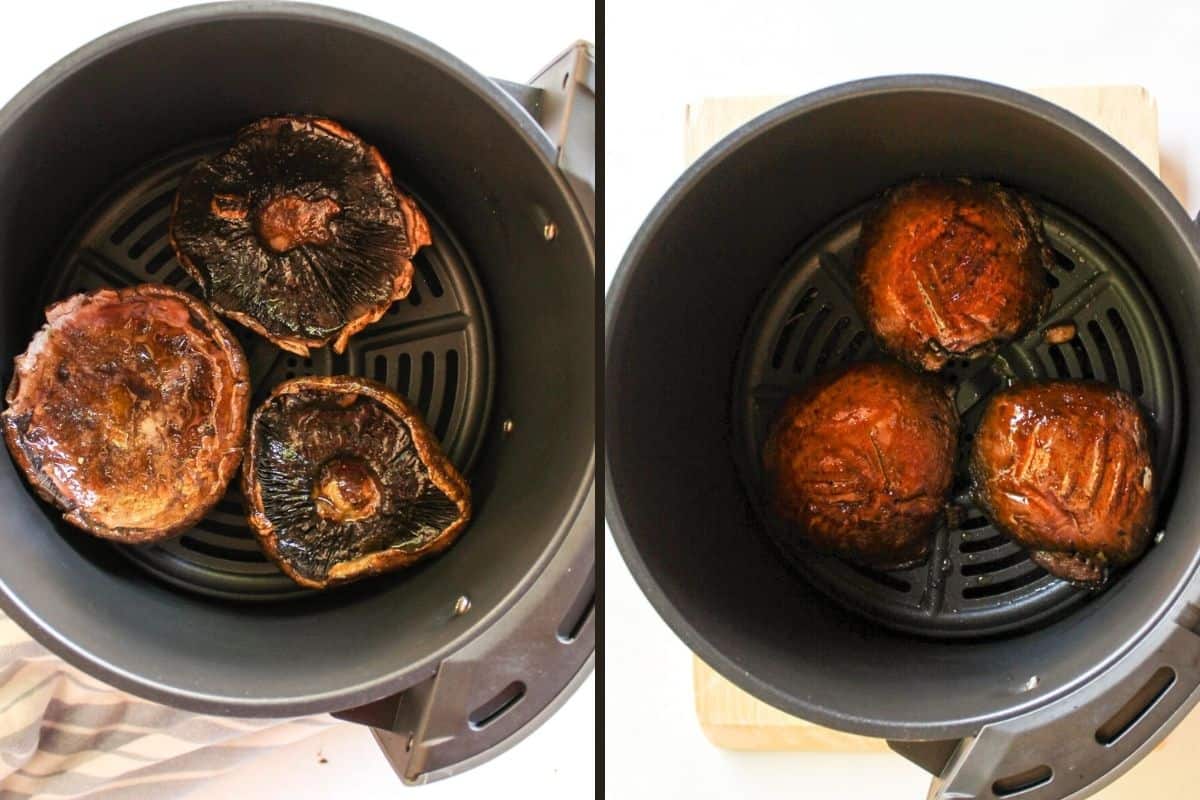 Air Fry - preheat the air fryer for 5 minutes at 390°F. Remove the air fryer basket and place mushrooms in a single layer with the caps down first. Cook for 4 minutes at 390°F. Flip the mushrooms and cook for another 4-5 minutes or until they are soft and jucy inside and browned on the outside. Carefully remove the mushrooms and enjoy!
Note: cooking time may differ depending on the type of air fryer and thickness of the mushrooms.
Serving
Side Dish: enjoy sliced portobello mushroom as a side dish to company pasta, eggs, and french fries.
Portobello Burger: portobello mushrooms have a meat-like texture and make excellent vegetarian burgers.
Ciabatta Sandwich: my favorite one is the sandwich with a cooked mushroom, goat cheese, and arugula on a slice of toasted ciabatta bread.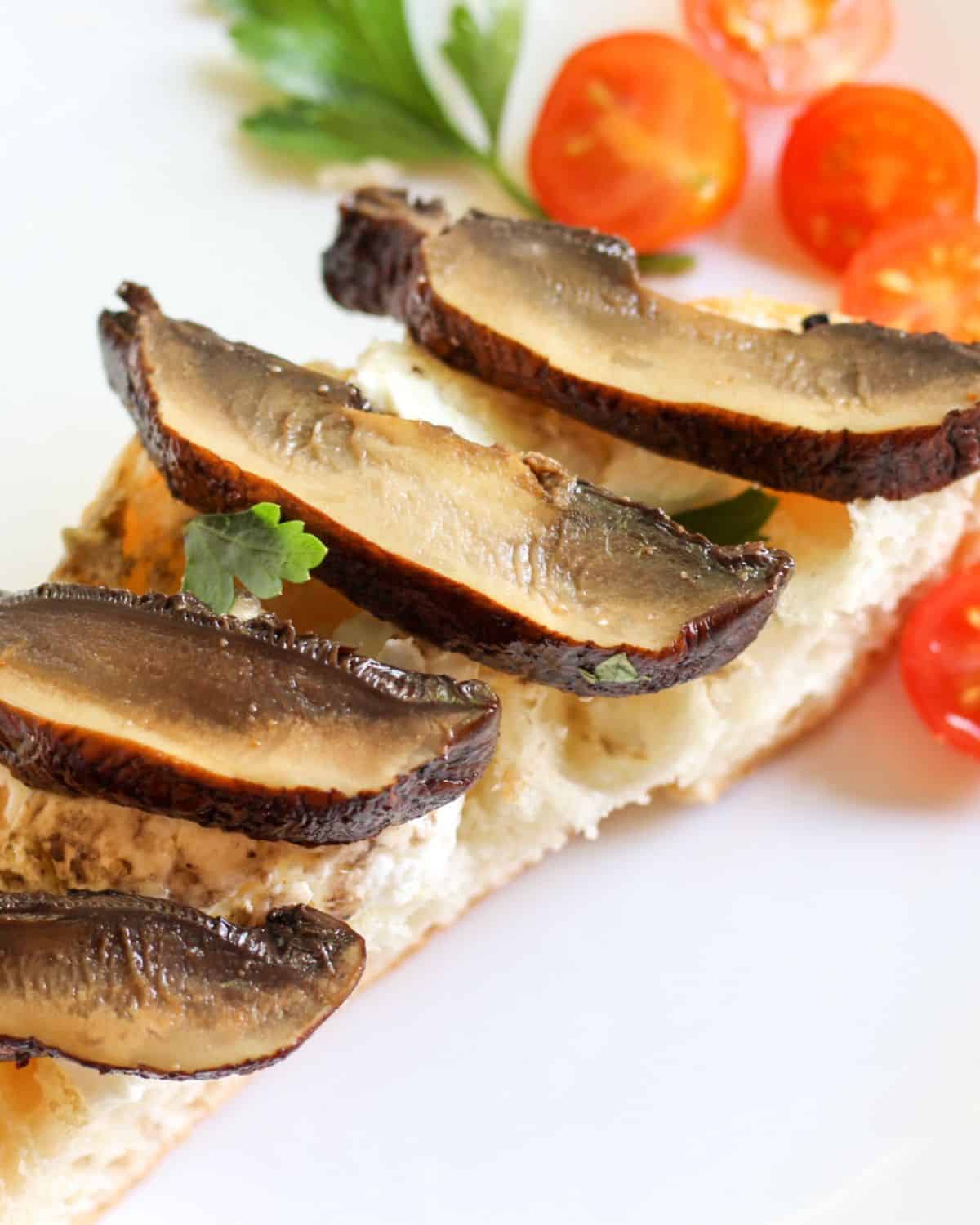 Tips for success
clean the mushrooms with a damp paper towel or cloth.
you do not have to remove the gills.
let the mushrooms marinate for 5 minutes.
cooking times and temperatures may vary depending on the air fryer type.
How to store and reheat
Transfer any leftovers to an airtight container and store them in the fridge for up to 3 days.
I do not recommend freezing whole mushrooms caps.You can freeze chopped mushrooms to use for the saute later.
The best way to reheat the cooked mushrooms without drying them out is in the microwave oven for about 1 minute. You can also reheat them in the air fryer at 350°F for about 3 minutes or until hot.
Common questions
Do I need to remove the gills of a portobello mushroom?
No, you don't. Both gills and stems are edible. Some people prefer to remove them because they do not like how they look and taste. Gills and stems might taste too woody and release liquid. If you remove stems and gills, use them to make some stock.
How to store fresh portobello mushrooms?
All fresh mushrooms should be stored in the fridge in thin the ordinal package or a paper bag for up to one week. Do not freeze fresh mushrooms.
Can I make this recipe without an air fryer?
Yes, you can grill or fry the mushrooms on a pan using the same marinade.
Other easy air fryer recipes using vegetables
📖 Recipe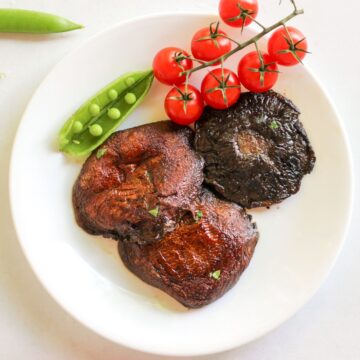 Air Fryer Portobello Mushrooms
These air fryer portobello mushrooms with balsamic marinade are one of my favorite vegan recipes - so easy to make and full of flavor.
Equipment
1 Air fryer

I used Ninja.

1 small bowl

1 shallow dish or a basting brush

1 set of measuring spoons
Ingredients
3

large portobello mushrooms

2

Tablespoons

olive oil

1

Tablespoon

balsamic vinegar

1

Tablespoon

low-sodium soy sauce

½

teaspoon

garlic powder

½

teaspoon

black pepper
Instructions
Clean the mushrooms. Remove the stems and the gills by scraping them with a spoon (optional).

In a small bowl, add olive oil, soy sauce, balsamic vinegar, garlic powder and pepper. Whisk to combine.

Pour the marinade into a shallow dish. Place the mushrooms and let them marinate on each side for 5 minutes. You can use a brush to apply marinade on both sides instead and let the mushrooms rest for about 5 minutes.

Meanwhile, preheat the air fryer at 390°F for about 5 minutes. Arrange the mushrooms (caps side down) in the air fryer basket in a single layer.

Air fry for a total of 8 minutes at 390°F flipping the mushrooms once halfway. Enjoy!
Notes
rinse the mushrooms under cold water only if they are very dirty, otherwise wipe the dirt off with a damp paper towel.
you do not have to remove gills. Whole mushroom is edible.
the cooking time and temperatures can be different depending on your air fryer.
the nutrition information is only the estimate. For accurate nutrition information weigh all ingredients and use apps (MyFitnessPal) for accurate calories and macro-nutrients numbers.
Nutrition
Serving:
1
mushroom
Calories:
113
kcal
Carbohydrates:
5.1
g
Protein:
2.5
g
Fat:
9.4
g
Sodium:
198.1
mg
Potassium:
324.1
mg
Fiber:
1.5
g
Sugar:
0.8
g