These air fryer pears are a beautiful and simple dessert to enjoy any time of the day. Perfect for a healthy dessert or breakfast when served with granola, fruits, and yogurt.
The air fryer has been such a great addition to my kitchen so far. I love using it to make simple and healthy meals.
These tender pears perfectly match the fall notes. The warm, moderately sweet pears are a must to try this season. Make this beautiful dessert in no time using your air fryer.
Jump to:
Why you will love this recipe
these air fryer pears are great as an elegant and light dessert on your holiday table. You can even serve it with a scoop of vanilla ice cream.
the air fryer makes the pears perfectly cooked in under 15 minutes. Much faster than in the oven.
kids can enjoy it as a fun breakfast served with granola, seasonal fruits, and yogurt.
these pears are air-fried perfectly only with only a few spices and no sugar or butter added.
Ingredients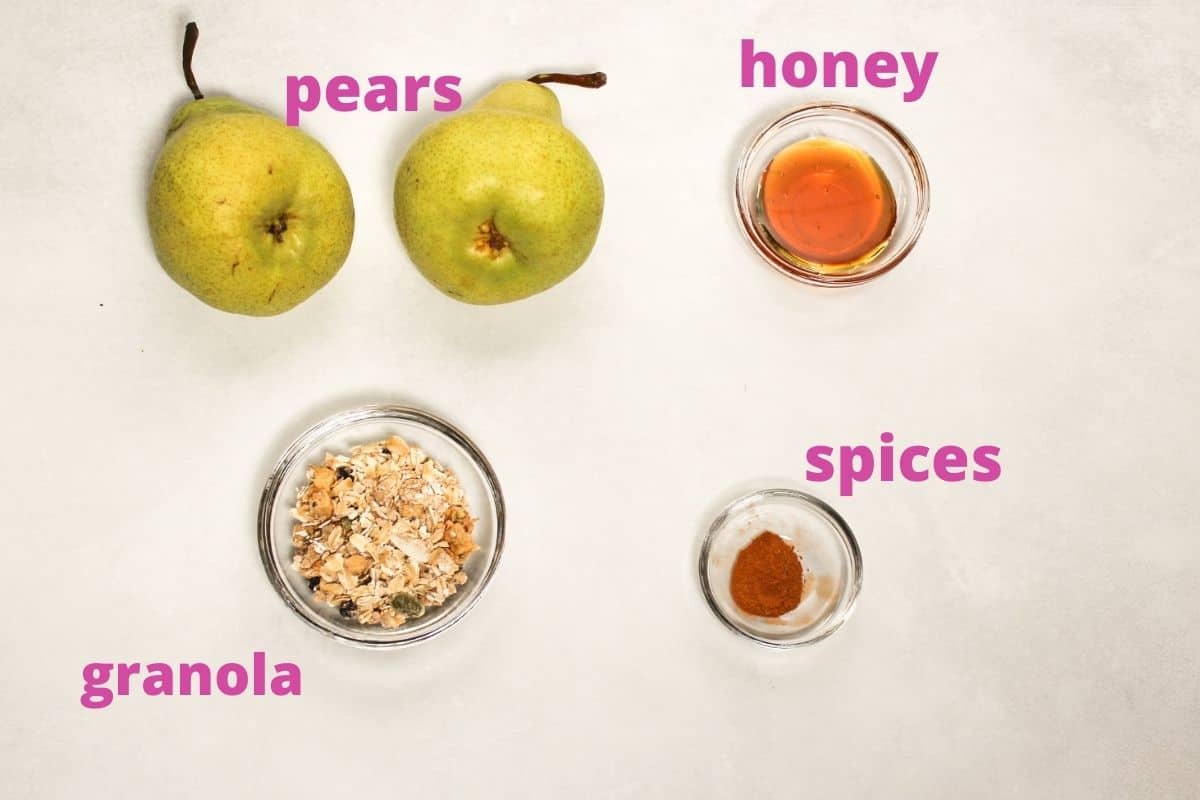 To make these baked pears in air fryer you will need only a few simple ingredients.
Pears: I used organic D'anjou pears. Any kind of pear will be good for air frying. Just do not use very ripe, soft pears (eat those raw!). Very ripe pears will be too mushy when cooked, I prefer cooking crunchy ones.
Spices: My favorite ones are cinnamon and just a pinch of nutmeg.
Honey: Honey is used only for serving and it is optional.
Granola: I add some granola on top of air-fried pears when serving them for breakfast.
How to make air fryer pears
Wash and Cut - rinse the pears under cold water, remove any stickers and dry them with a kitchen towel. Cut each pear in half.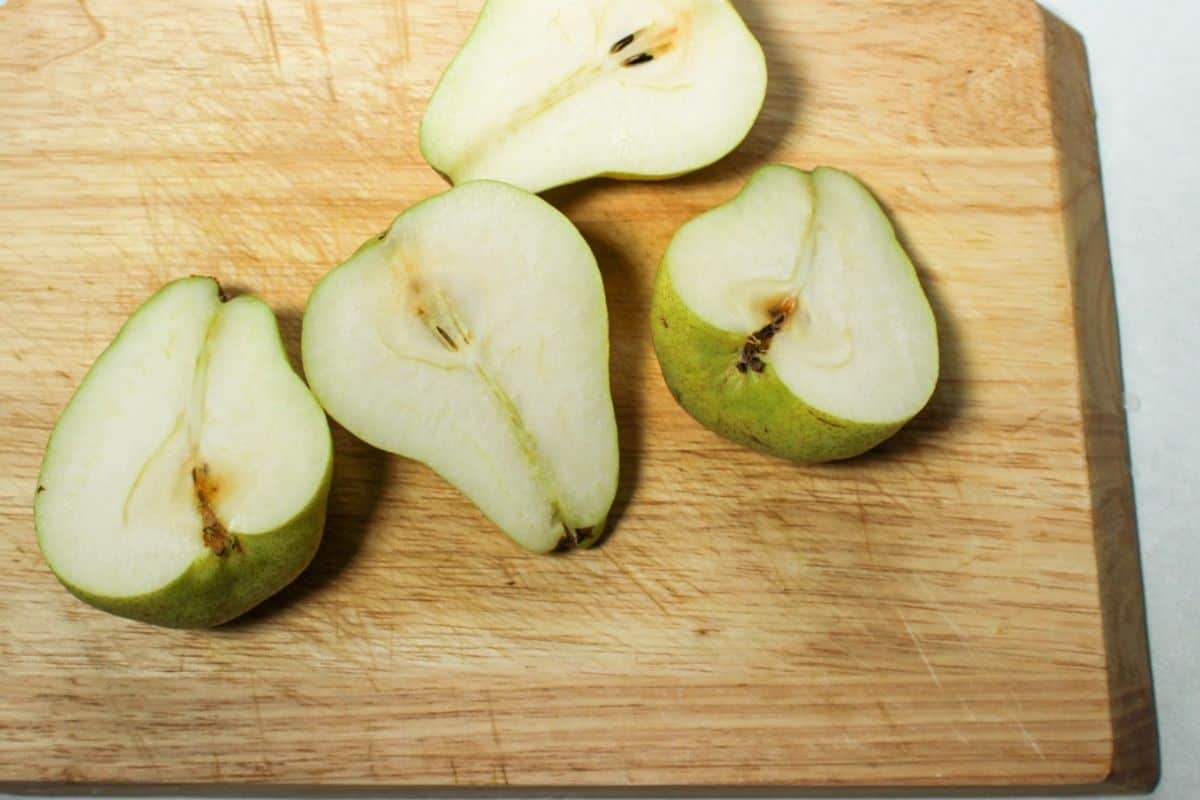 Remove Seeds - using a knife or a spoon, scoop out the seeds and the core.
Add Spices - place the pear halves on the air fryer basket, facing the cut size up. Sprinkle the pears with cinnamon and nutmeg spice mix.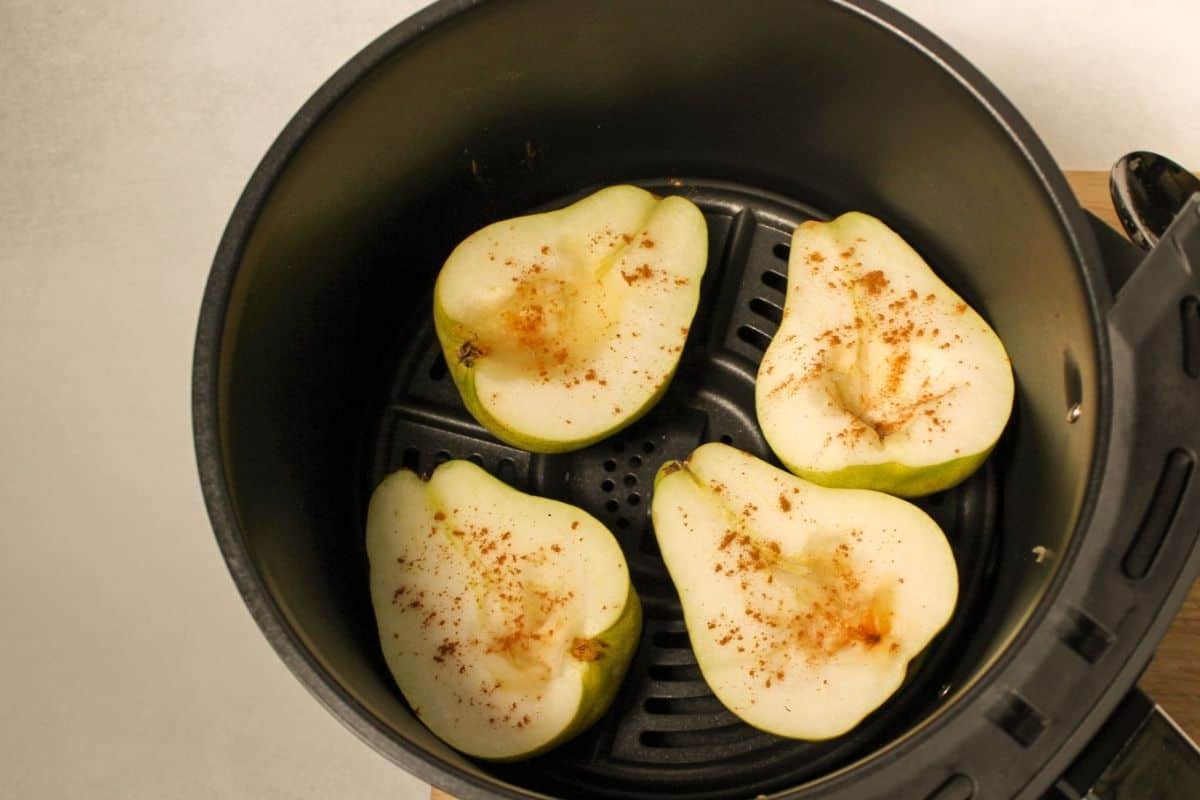 Air Fry - Air fry for 7 minutes at 390°. Open the air fryer at flip the pears. Cook them for another 7 minutes or until they reach the desired tenderness.
Enjoy - let the pears cool down for a few minutes. Serve with a drizzle of honey, granola, or nuts on top.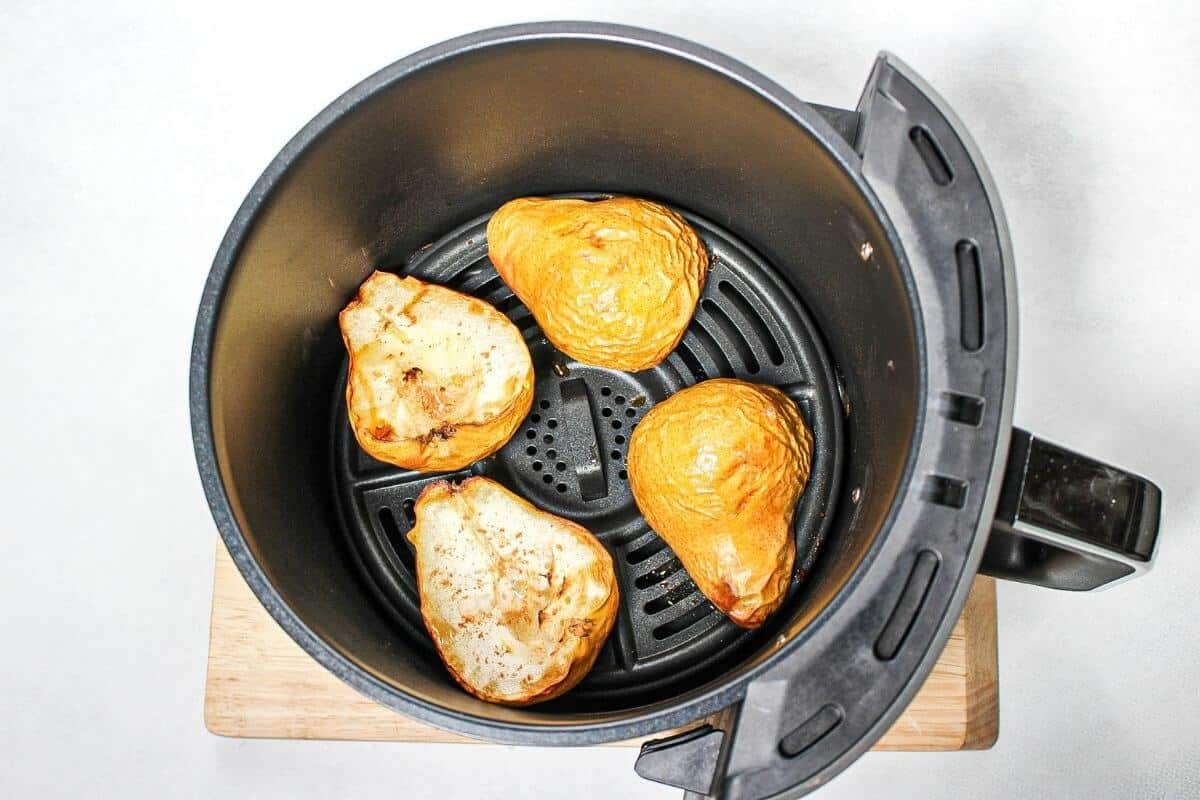 Hint: if you have pears with stems, do not remove them. Stems will make your dessert look more aesthetic.
Serving suggestions
Dessert: with a spoon of ice cream, whip cream, or even some chocolate sauce.
Breakfast: add some honey (or agave nectar), granola, and yogurt for a delicious complete breakfast. I also love drizzling these cooked pears with some tahini.
Equipment
Cutting board and a knife. You can use a melon baller to core the pear, but a knife and a spoon work perfectly well.
I used my Ninja air fryer to bake the pears. Any other air fryer brand can be used. Depending on the air fryer type, you may need to adjust the cooking time.
Storing
Place any leftovers in an airtight container and store them in the fridge for up to 3 days. You can reheat the pears in a microwave.
Tips for success
Use slightly underripe, firm pears for air frying
The best pears for baking are firm ones such as D'anjou, Seckel and Bosc. They will not lose their shape after cooking.
No need to peel the pears. The cooked peel will be tender and will add some good texture to the pears.
Flavors Variations
Pumpkin Spice: use a half teaspoon of pumpkin pie spice.
Spicy: air fry the pears with some rosemary, black pepper, chili powder, and a drizzle of agave nectar. You have a perfect side for duck, lamb, or pork.
Lemony: after you flip the pears, add 1-2 teaspoons of lemon juice, and some zest on top of the cut side and continue air frying for another 7 minutes.
Common questions
Can I freeze baked pears?
It is not recommended to freeze these pears. They will more likely fall apart after thawing and reheating.
Can I make them in the oven?
Yes, It will only take much longer to cook them in the oven than in the air. Preheat the oven to 400°F and bake them on parchment paper for about 20-30 minutes or until tender.
More fun sweet treats
Other easy air fryer recipes
📖 Recipe
Air Fryer Pears (no sugar or butter)
These air fryer pears are a beautiful and simple dessert to enjoy any time of the day. Perfect for a healthy dessert or breakfast when served with granola, fruits, and yogurt. 
Ingredients
2

firm large pears

½

teaspoon

cinnamon

1

pinch

nutmeg

1

teaspoon

honey (for serving)

optional

2

Tablespoons

granola (for serving)

optional
Instructions
Cut washed pears in half. Remove the seeds.

Place the pears in air fryer basket facing the cut side up. Sprinkle with cinnamon and nutmeg. Air fry for 7 minutes at 390°F.

Flip the pears and air fry for another 7-8 minutes or until tender.

Serve with some honey and granola or a scoop of vanilla ice cream.
Notes
for more accurate nutrition information weight all the ingredients and use special apps to calculate the calories and macro nutrients.
the nutrition information above includes only pear (no honey or granola)
refrigerate leftovers for up to 3 days.
Nutrition
Serving:
1
pear half
Calories:
64
kcal
Carbohydrates:
25
g
Protein:
1
g
Fiber:
6.2
g
Sugar:
19.5
g