This delicious apple sponge cake is one of the easiest and most delicious apple desserts you can make. It is light, sweet, and requires only a few ingredients. It's my go-to dessert for unexpected guests or as a sweet treat to enjoy with your tea on a chilly day.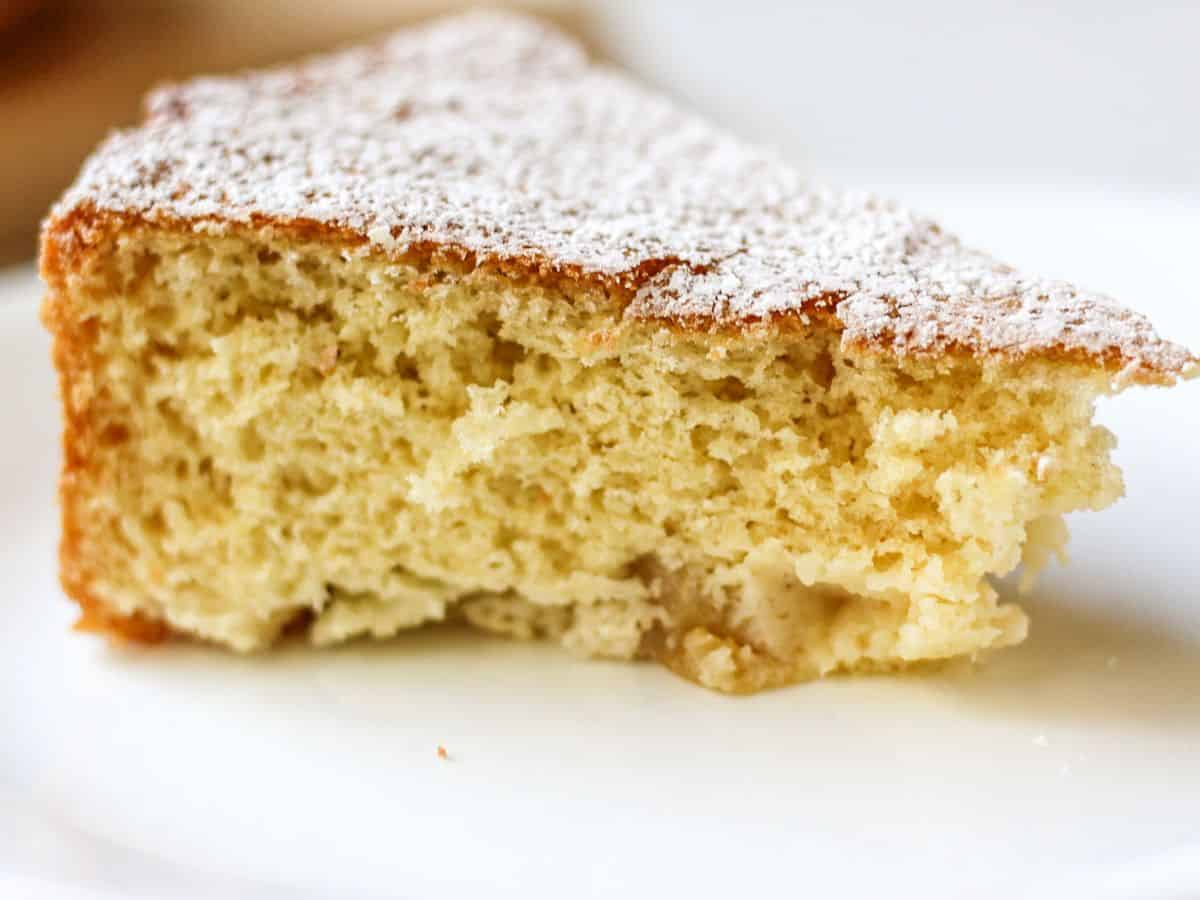 Jump to:
Apple sponge cake recipe overview
This simple apple cake is a very popular dessert in a lot of European countries. In Ukraine, we call it "Sharlotka" (from Charlotte). This was my first ever cake my mom taught me to make when I was around 10 years old. The recipe is very easy to follow and you will need only a few simple ingredients.
The hardest part of prep work is beating the eggs. You have to make sure to beat them long enough for the cake to be spongy. It takes a little work, but worth the results a the end.
By the way, you probably already have everything you need to make this basic apple cake.
This sponge cake is light and fluffy inside with a delicious thin crust on the outside. It is sweet with a hint of sourness coming from the sour apple slices.
A perfect apple dessert for Thanksgiving or even Christmas.
And if you are looking for a healthier apple dessert, check out this brown sugar-gluten free apple cake.
Ingredients
See the recipe card below for the ingredients' quantities.
All-Purpose Flour - unbleached all-purpose flour. I always use the King Arthur brand.
Granulated Sugar - regular cane sugar to make the batter. You can use caster sugar as well, it tends to dissolve much faster and is great for making cakes.
Eggs - I used 4 medium eggs, 45-50 grams each without a shell. If your eggs are extra large, 3 is enough. For best results use room-temperature eggs. It takes much faster to properly;y neat them when at room temperature.
Fresh Apples - But for the best results, I suggest any tart and sour apples. Granny Smith, Honey Crisp, and Pink Lady are my favorite to use for apple desserts. I like to use two or three different types at the same time.
Powdered Sugar (optional) - since this cake does not require frosting, you can use some powdered sugar for dusting once the cake is baked and cooled down a little bit.
Add-ins - this cake is great as it is, but you can also add some vanilla extract, lemon juice, lemon zest, and cinnamon to the batter.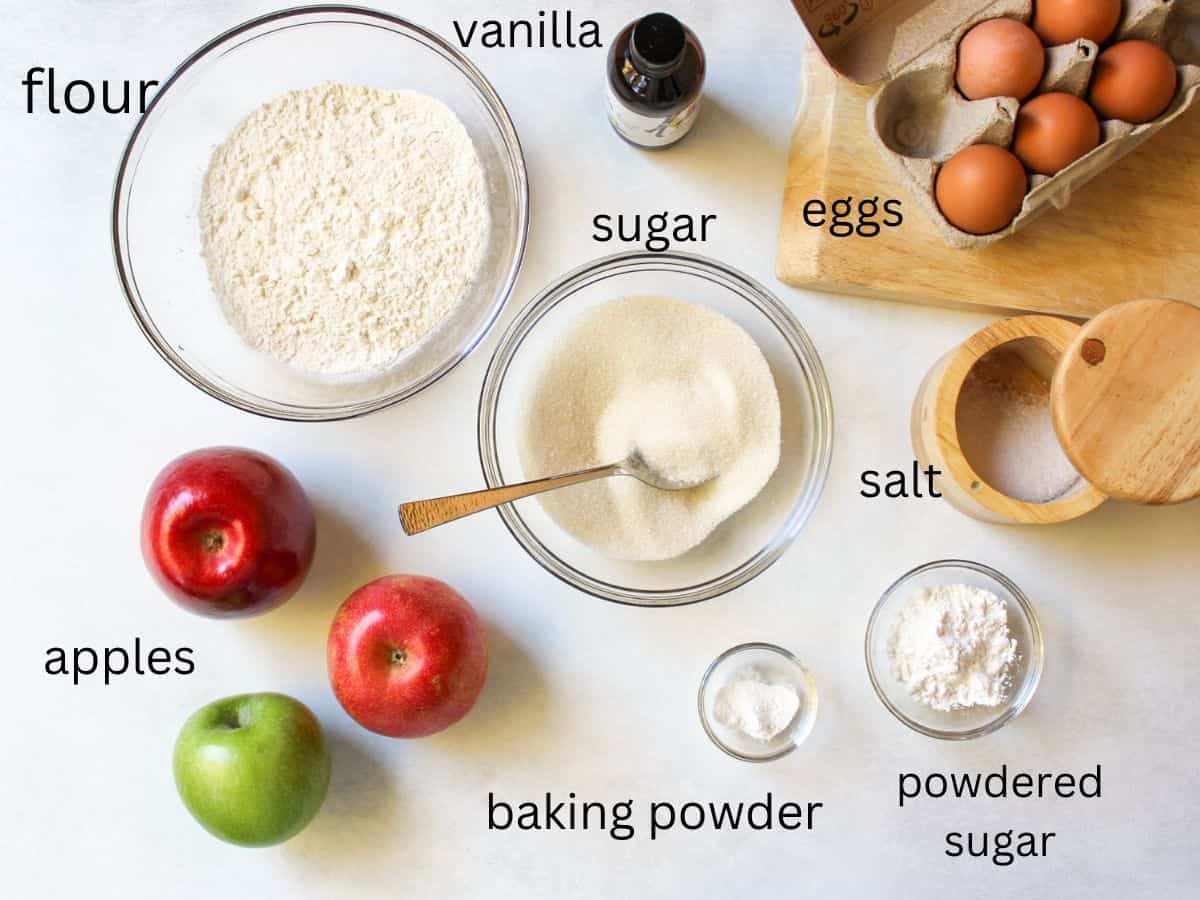 How to make apple sponge cake
Prepare the baking pan: first thing, grease a 9" spring cake pan. After that, dust it with some flour. If your pan has been used for a very long time, I suggest cutting off two strips of parchment paper and laying them crossed at the bottom of the pan. It will be easier to take out the cake.
Prepare the apples: make sure to rinse the apples first and remove any sticker labels. Peel, core, and slice the fruits into ¼" thick slices. You can also chop the apples into bite-size cubes. Spread chopped apples at the bottom of the pan.
Sift flour and baking powder: in a medium mixing bowl, sift the flour with ½ teaspoon of baking powder. Set the dry ingredients aside for now. Sifting is important for a light and fluffy texture.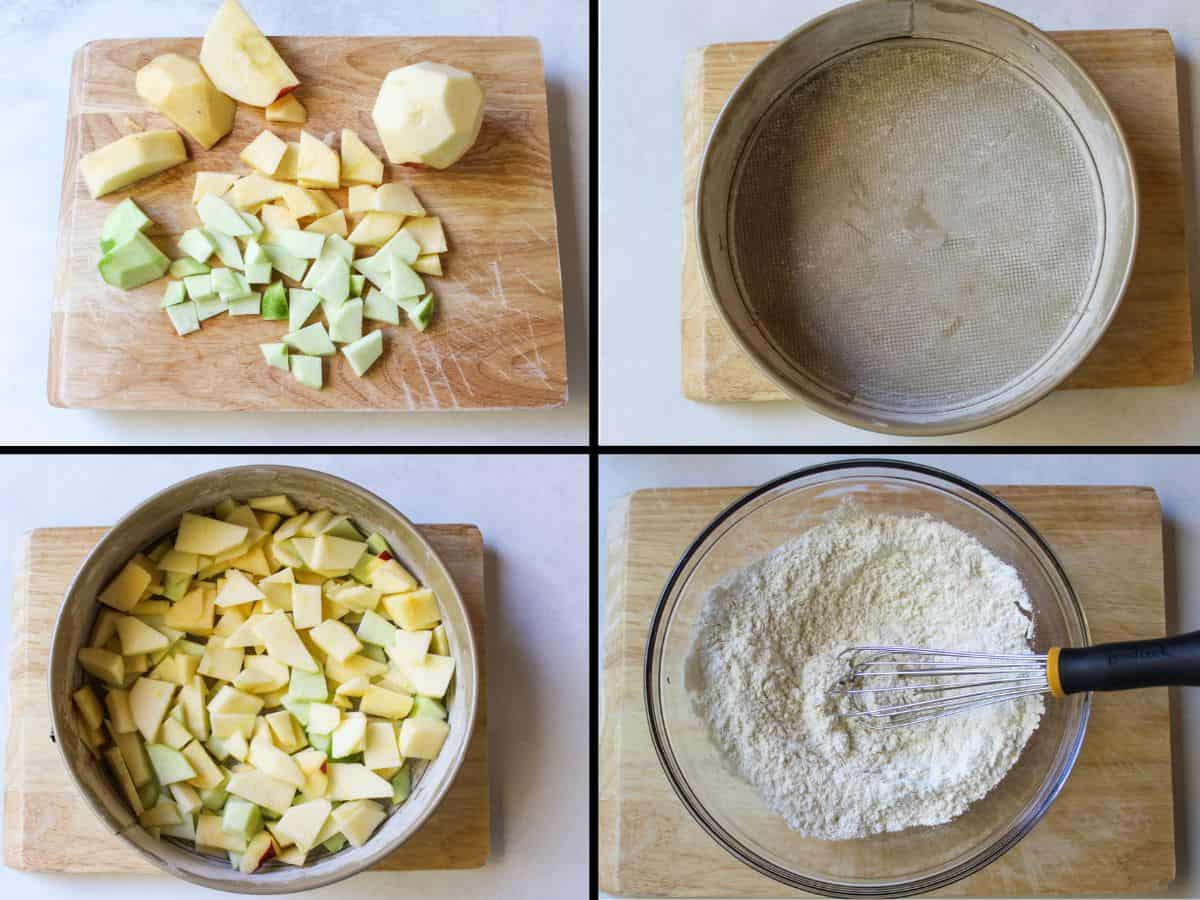 Beat eggs and sugar: in a large bowl, add all 4 eggs and a pinch of salt. Use a hand or stand mixer to beat the eggs for about 1 minute on high speed. Now, slowly start pouring the sugar while keep beating the mixture on high for another 10-12 minutes. The stand mixer should take between 8-10 minutes. The mixture is ready when the consistency is thick and the volume triples. To check, pull up the whisk and the running batter should leave a ribbon on the surface that disappears in a few seconds.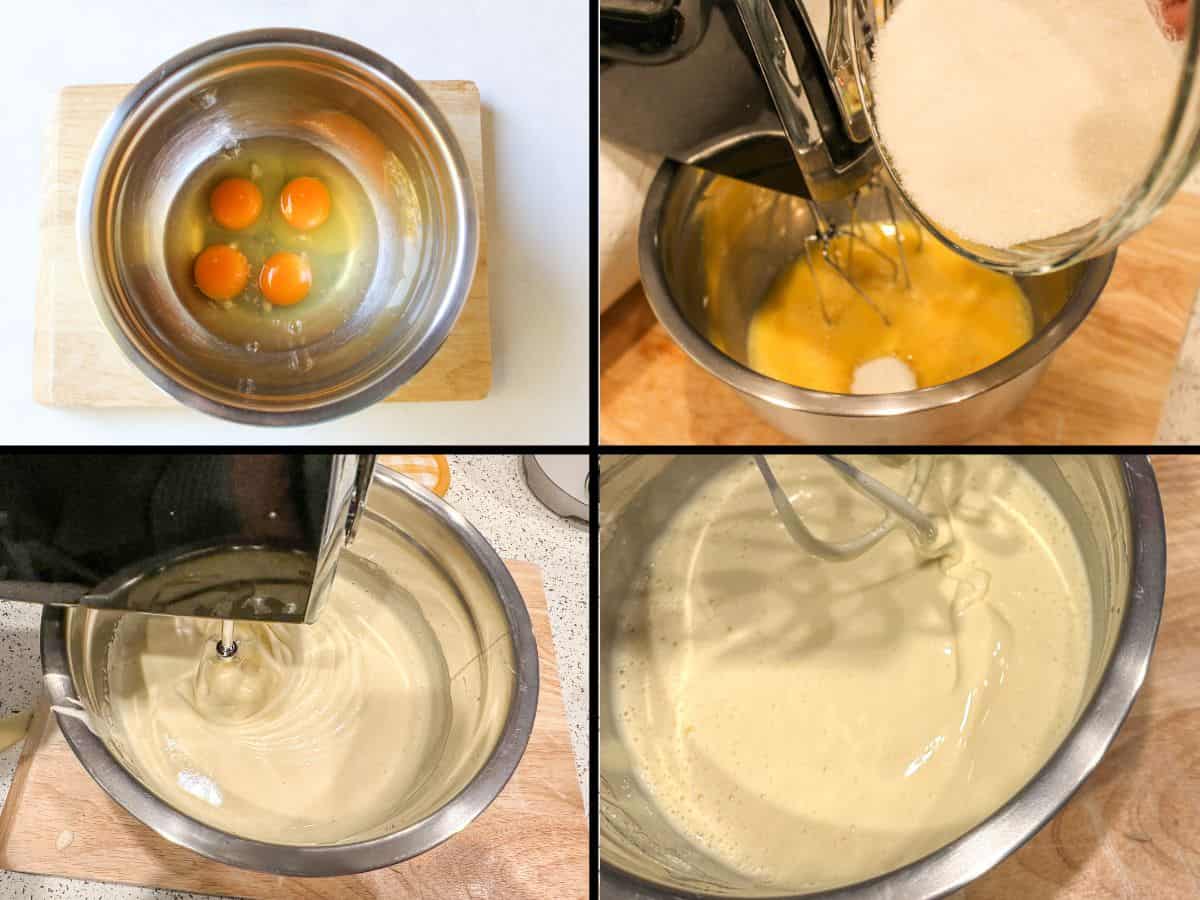 Combine: gradually, add the flour mix to the egg mixture. I do it in three batches, while gently mixing it with a silicone spatula. When all the flour is incorporated and there are no visible white streaks, the batter is ready. In the end, gently mix in some vanilla extract.
Bake: pour the cake batter in a prepared pan over the apples, spreading it evenly with a rubber spatula. Bake the cake at 350°F for about 40-45 minutes or until the top is golden brown. You can also use a cake tester to check if it's done. But this cake should not be cooked for longer than 50 minutes.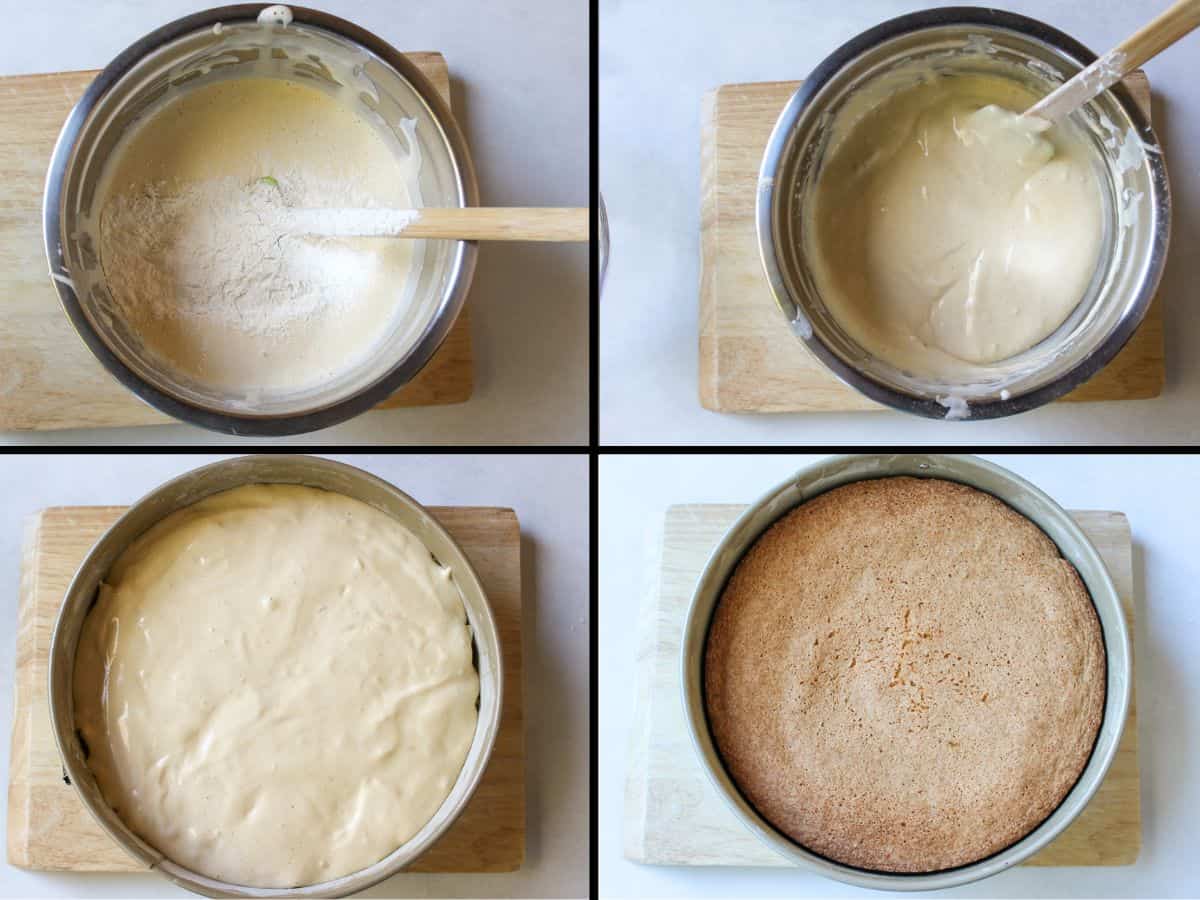 Dust: let the cake cool down for about 15 minutes in a pan. Carefully remove the cake and place it on a wire rack. Cool it down for another 15 minutes and dust the top of the cake with some powdered sugar. I usually use my small mini tea strainer to dust the cake.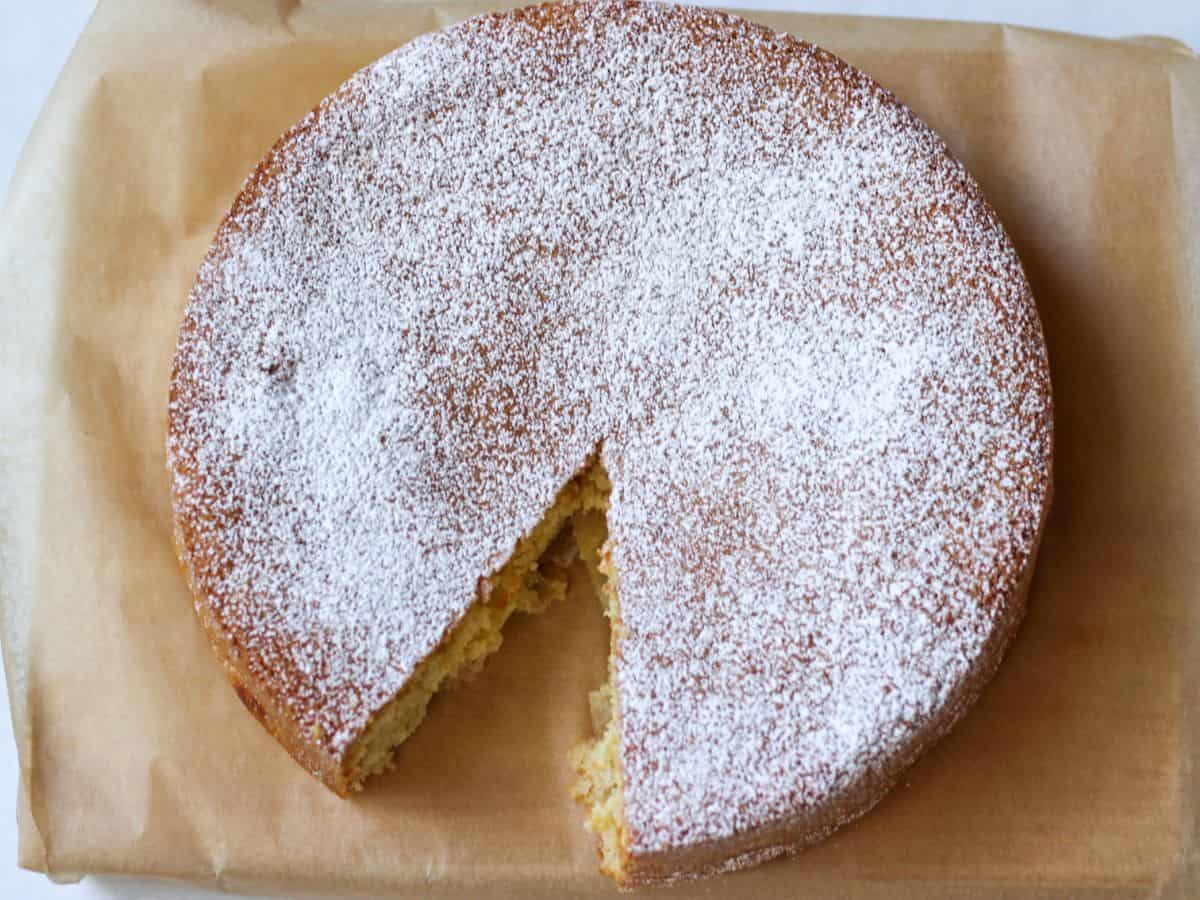 Recipe tips
Bring eggs to room temperature by placing them in a bowl with very warm water for about 5 minutes.
Sift the flour with baking powder.
The success of the sponge cake depends on sufficiently beaten eggs. It should take you no less than 8 minutes, and the mixture should leave a ribbon on the surface when you pull out the mixer whisk.
Use sour and tart apples to balance the sweet taste.
Do not open the oven while the cake is baking unless you need to check its doneness at the very end.
Keep the cooked cake away from drafts to avoid the eggy taste.
Equipment notes
I used a hand mixer and a 9inch spring form pan to make this recipe.
You can use a deep 9x9 glass dish instead. Just make sure to grease it well and lay the bottom of it with some parchment paper.
If you have a stand mixer, it will take less effort and time to sufficiently beat the eggs, but a hand mixer works great too.
How to store it
If you are planning to eat this apple cake the same day, keep it on the counter wrapped in some plastic wrap or an airtight container. Wait until it cools down to place it in a container.
You can store the leftovers in an airtight container for up to 2-3 days in the fridge.
Frequently asked questions
Can I make it ahead?
It is best to enjoy "Sharlotka" the same day you bake it. But it will still taste great even the next morning to enjoy it with your coffee or tea. Just wrap it tightly with plastic wrap or place it in an airtight container and keep it on the counter until the next day. After that, it's better to store any leftovers in the fridge for up to 3 days.
What apples should I use?
Avoid using any sweet apples. The cake itself is very sweet, so sour apples are the best ones to use. I prefer baking with Granny Smith Apples. They are sour enough and hold their shape after baking. Other varieties to use are Pink Lady, Braeburn, Cortland, Fuji, or Honey Crisp.
Should I peel the apples?
Yes, I strongly recommend peeling the apples. You do not want to be surprised by chewy apple skin while enjoying this delicate dessert.
Other fruity desserts recipes
📖 Recipe
Apple Sponge Cake
This delicious apple sponge cake is one of the easiest and most delicious apple desserts you can make. It is light, sweet, and requires only a few ingredients. It's my go-to dessert for unexpected guests or as a sweet treat to enjoy with your tea on a chilly day.
Equipment
1 hand mixer

1 9inch spring pan

1 Measuring Cup
Ingredients
4

eggs

room temperature

1

pinch

salt

1

cup

sugar

3

large sour apples

1

cup+2 Tablespoons

all purpose flour

1

teaspoon

vanilla extract

1

Tablespoon

powdered sugar for dusting
Instructions
Preheat oven to 350°F. Grease a 9inch spring cake pan with some butter or cooking spray, then dust with some flour. Wash, peel and slice apples. Spread apples at the bottom of the pan.

In a mixing bowl, sift 1 cup and 2 Tablespoons of flour with a ½ teaspoon of baking powder.

Using a hand mixer, beat 4 eggs with a pinch of salt for one minute. Slowly pour 1 cup of sugar while mixing on high. Beat eggs and sugar for 10-12 minutes on high speed until the ribbon is left on the surface when you pull up the mixer whisk. The volume should be tripled.

Using a silicone spatula, gently fold in the sifted flour in three batches. Now, gently mix in 1 teaspoon of vanilla extract.

Pour the cake batter over the apples. If needed, use a spatula to spread the batter on top of apples.

Bake at 350F for about 40-45 minutes until the top is golden. Use a toothpick or a cake tester to check if the cake is ready.

Cool down the cake for 15 minutes. Remove from the pan and dust it with some powdered sugar.
Notes
sift the flour for a fluffy texture
use sour apples
do not open the oven while the cake is baking
cool down the cake little bit before dusting
Nutrition
Serving:
1
slice
Calories:
233
kcal
Carbohydrates:
48.5
g
Protein:
5
g
Fat:
2.6
g
Sodium:
37
mg
Fiber:
2.3
g
Sugar:
32.8
g