Our Kapusniak soup is made with sauerkraut, potatoes, and millet grain, all simmered in a flavorful broth. Enjoy the bowl of this hearty soup on a cold day.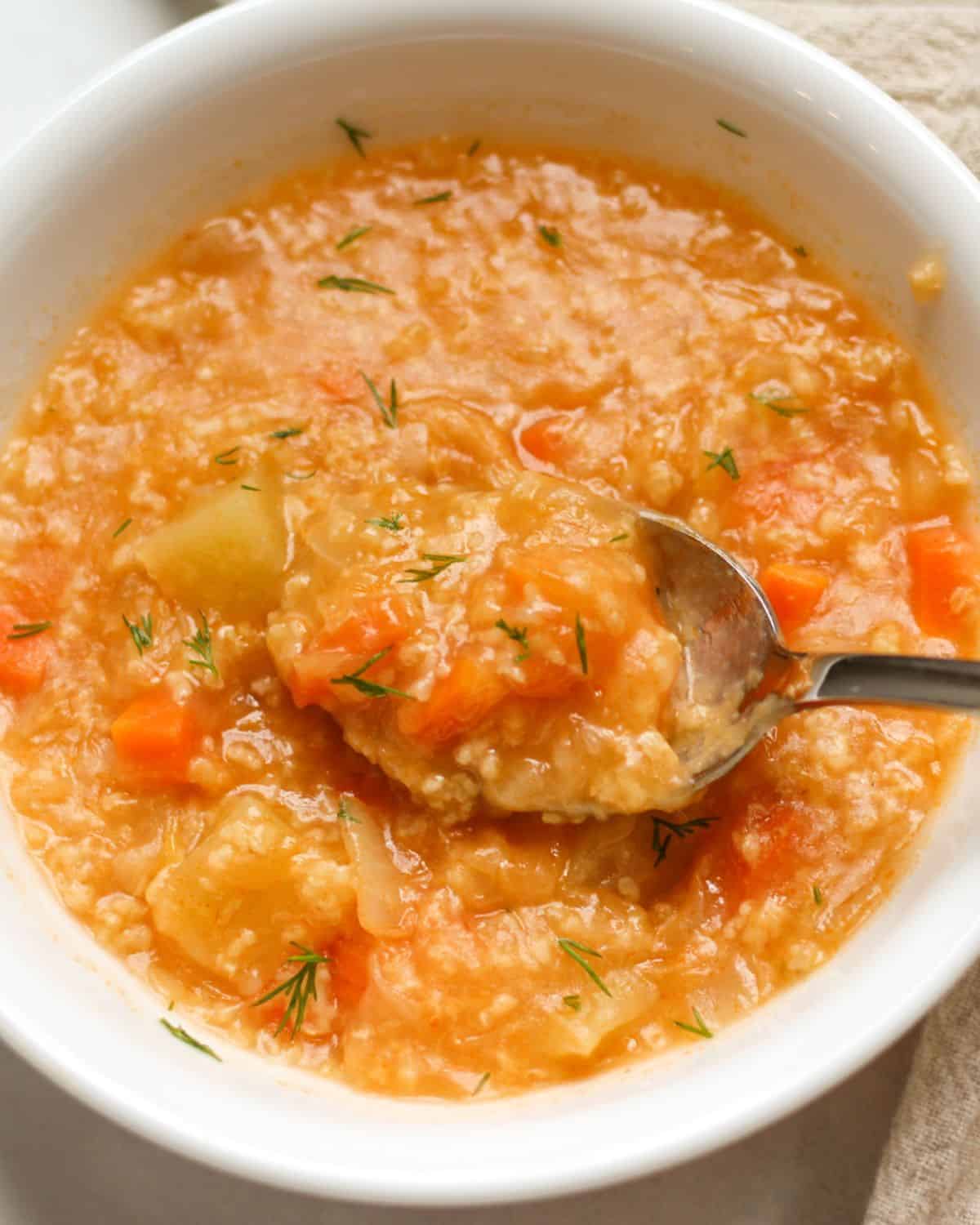 Jump to:
About kapusniak soup recipe
Kapusniak, a traditional cabbage Polish soup, is a popular dish in Eastern Europe. It is a hearty and flavorful soup made with fermented cabbage, potatoes, carrots, onions, and meat.
Similar to Borscht, this soup has a few variations based on region, season, and available ingredients.
I really loved the way my grandma made Kapusniak and that's the way I make mine.
During the lent, she made it with only vegetables and millet. Otherwise, the soup had shredded pork, beef, or even canned fish in it.
It was rich, filling, and always made with homemade fermented cabbage. Both of my grandmas always had barrels of their own sauerkraut, pickled cucumbers, tomatoes, and beets in the root cellar.
I remember how one day, my grandma's neighbor suggested me to watch her closely in the kitchen, so I can learn the whole process of making her signature Kapusniak, because no one else knows how to make it so good.
It made me feel that my grandma's recipe was some kind of secret, and magical, so I had to get up and watch how she prepared her delicious cabbage soup.
I think the secret was not only in the recipe itself but also in the clay stove "pich" that she used to cook most of her food.
I developed my recipe to taste just like hers and even my home smelled like grandma's after cooking this soup, bringing me all the childhood memories.
Food-related Ukrainian word to learn: Kapusta [ˈkapusta] means cabbage. In some Ukrainian regions, Kapusniak soup is also called Kapusta.
Polish Vs Ukrainian kapusniak
Kapusniak originated in Poland and was later adopted in Ukraine. As I mentioned before, the ingredients may vary depending on the region and season.
But the main difference between Ukrainian and Polish cabbage soup is that the latter has often polish sausage Kielbasa added.
In Ukraine, we typically make it with pork or beef, and very often millet is added to the soup. Millet makes it more filling and adds nutrients.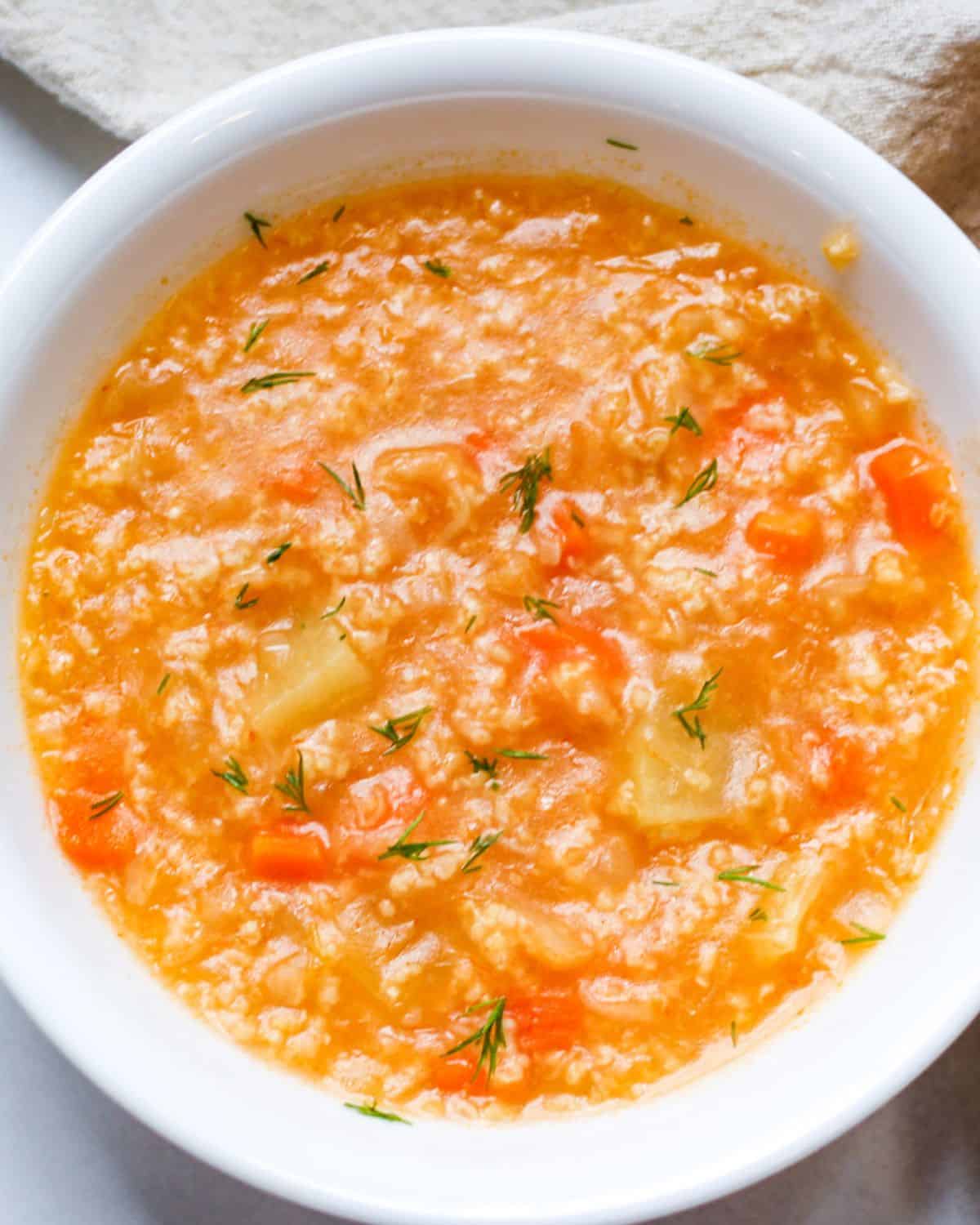 Main ingredients
You can find the ingredients' quantities in the recipe card at the end of this post.
Fermented Cabbage: you can use store-bought or homemade sauerkraut. If you prefer less sour soup, add both fermented and fresh cabbage. When using store-bought sauerkraut, make sure to pick naturally fermented cabbage without any sugar or other additives. The best sauerkraut is made with only shredded cabbage, water, salt, and sometimes caraway seeds. Caraway seeds are OK and will perfectly match the soup.
Vegetables: traditional recipe always includes carrots, onions, and potatoes. You can also add celery, parsley root, and fresh or canned tomatoes.
Millet: my grandma always added some millet to her kapusta and I do the same. It makes it thicker and more feeling. Once, I made it without millet and the soup was too thin, it reminded me of a completely different soup - Shchi (another cabbage soup)
Spices, Herbs, seasonings: I always add bay leaf, coriander, and black pepper (for serving). I skip the salt as sauerkraut has enough sodium. Fresh dill and parsley are great to add for serving.
Broth: today, I am making vegan kapusniak. But you can use beef, pork, or even chicken broth. Add shredded meat of your choice to the soup as well.
Oil: in Ukraine, we mostly used sunflower oil for cooking. Olive oil, avocado oil, or ghee butter are all great substitutes. You can even add a ham bone to make the broth.
Tomato paste: my grandma always added a little bit of tomato paste to her kapusta. It adds color and flavor.
Sugar: it is optional, but I always add a little bit to balance the sour taste.
Substitutions and variations
Cabbage: if you do not have sauerkraut, you can use thinly sliced fresh cabbage and a tablespoon of lemon juice.
Millet: you can use quinoa, buckwheat, or even rice instead. You can also skip the grains, especially if making the soup with meat.
Meat: you can make the dish with any meat of your choice ( chicken, pork, beef, or even canned sardines). Or skip the meat and make it vegetarian.
Step-by-step directions (vegetarian version)
Step 1. Rinse and drain the millet. Set it aside.
Step 2. Wash and peel the vegetables. Dice the carrot and onion. Cut the potatoes into small cubes.
Step 3. In a large pot, add oil and heat it over medium heat. Add diced onions and saute them until translucent stirring often. Now, add the carrots. Cook them for about 3-4 minutes, stirring occasionally. Stir in a tablespoon of tomato paste and cook everything for another minute or two.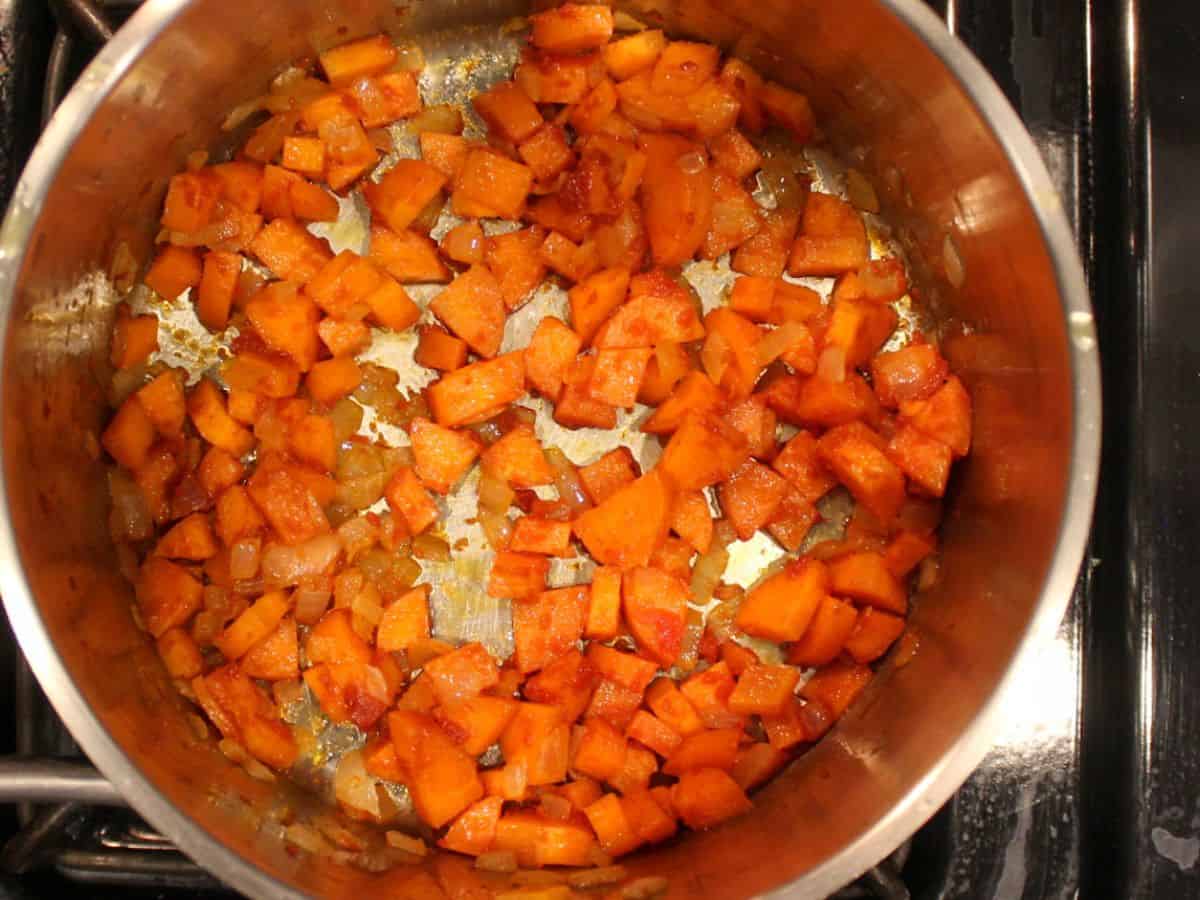 Step 4: Add rinsed millet, potatoes, bay leaf, coriander, and water or broth to the pot and bring it to a boil. Cover and cook on low heat until the potatoes are soft, about 15 minutes. I had to make the soup a few times to finally figure out why my potatoes were not tender. The acidity prevented them from becoming soft. So now, I know to cook the potatoes first. That explains why my grandma always mashed potatoes for this soup, which is also an option.
Step 5. Only after they are tender, add drained sauerkraut and about ½ teaspoon of sugar. Cover the soup and simmer it on low heat for another 15 minutes or until the millet is cooked. The soup is ready!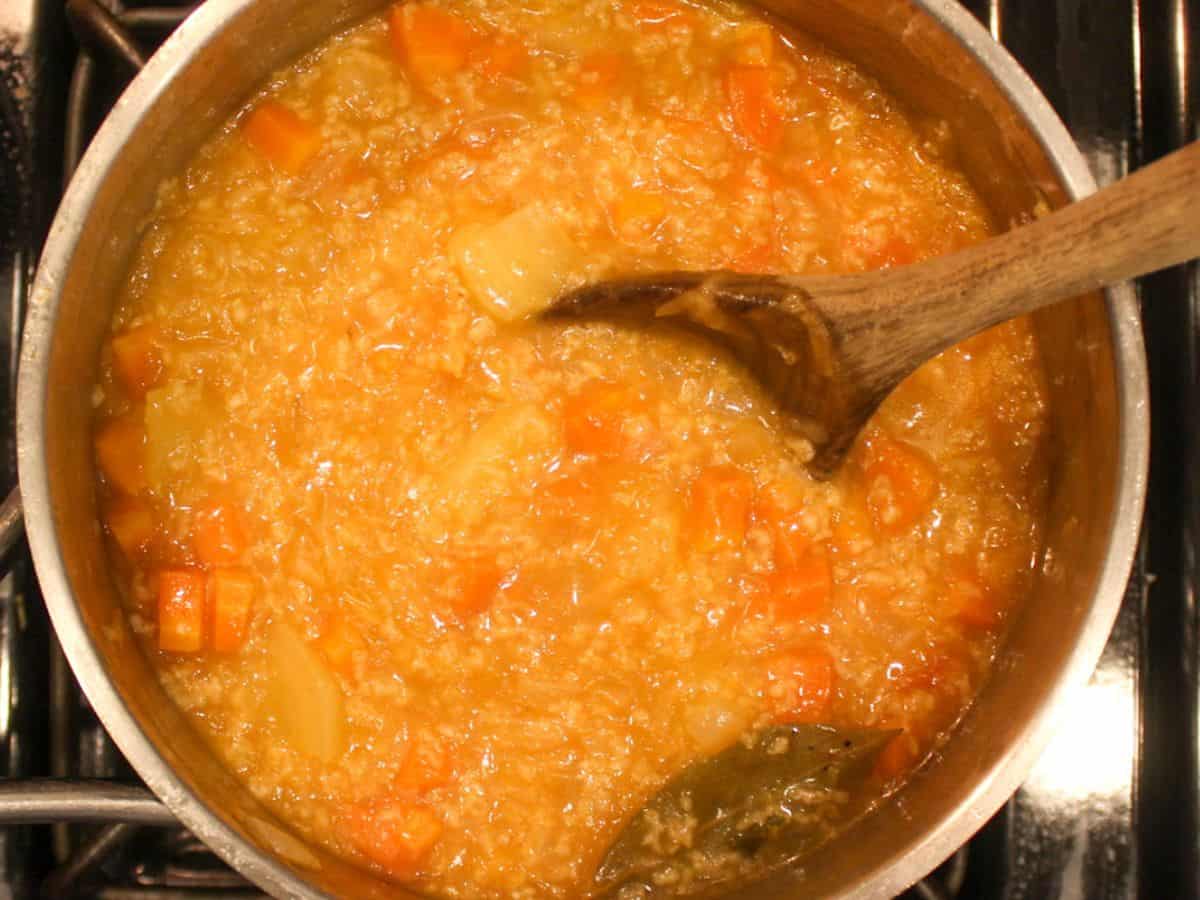 How to make it with meat
You can make the soup with meat, by making the broth first and sauteing the vegetables in a separate skillet:
Step 1. Start by adding cold water, meat, a couple of bay leaves, a half of the whole onions to the large pot. Simmer the broth on low heat for about 30-40 minutes or until the meat is fully cooked. Remove the meat and shred it. Set the meat aside. Discard the onion.
Step 3. In a separate frying pan, saute onions and carrots with oil. Add some tomato paste and cook for another minute. Add sauteed vegetables to the boiling broth.
Step 4. Now, add the rest of the ingredients except for the sauerkraut. Only when the potatoes are soft and tender, add the sauerkraut, and about ½ teaspoon of sugar. Simmer the soup on low heat until the millet is tender. In the end, add back the shredded or cubed meat.
Serving
This soup is great as a main dish or as a starter. Very often, we add a dollop of sour cream on top. It helps to cool down hot soup and makes it creamy.
We often serve Kapusniak with a slice of rye bread or with some Pampushky bread rolls.
Storing
Let the soup cool down and store it in an airtight container in the fridge for up to 3 days.
Reheat the needed amount in a small saucer pan over the medium heat or in the microwave.
I make this recipe only for 4-6 servings on purpose, as the soup does not freeze well.
Tips
to make Ukrainian kapusniak - add millet, to make a Polish version- skip the grains and add sliced Polish sausage to the soup.
add the sauerkraut only after the potatoes are cooked. The acidity will prevent them from softening properly. You can also mash them once they are tender.
if you want the soup to have a less sour taste, reduce the sauerkraut in half and add some fresh cabbage.
add millet or quinoa for extra nutrients, especially if making it vegetarian.
sauerkraut is quite salt, so be careful adding too much salt.
you can use beef, chicken stock, or just vegetable stock to make the soup.
Other Ukrainian recipes with cabbage
📖 Recipe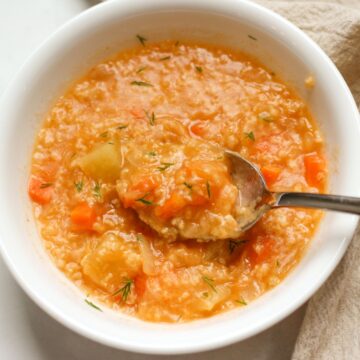 Kapusniak Soup
Nothing beats a bowl of warm hearty soup on a cold day. Our Kapusniak soup is packed with sauerkraut, potatoes, and millet grain, all simmered in a flavorful broth.
Equipment
1 Measuring Cup

measuring spoons

1 medium or large pot
Ingredients
¼

cup

millet (*see notes)

½

ea

medium onion

1

ea

medium carrot

2

medium

potatoes

¾

cup

sauerkraut, drained

5-6

cups

water or broth

1

Tablespoon

olive oil

1

Tablespoon

tomato paste

1-2

ea

bay leaves

¼

teaspoon

coriander

½

teaspoon

sugar

by taste

black pepper
Instructions
Rinse and drain ¼ cup of millet. Set it aside. Dice carrot and onion. Peel and cut potatoes into small cubes.

Heat a Tablespoon of olive oil in a medium pot. Add diced onion. Saute for about 3-4 minutes over medium heat, stirring frequently. Add carrots and cook for another 3 minutes. Turn the heat on low and stir in a Tablespoon of tomato paste.

Add rinsed millet, cubed potatoes, bay leaves, coriander and 5 cups of water. Bring it to boil and cook over medium heat until the potatoes are tender, for about 15 minutes.

Once the potatoes are cooked, add about ¾-1 cup of sauerkraut and ½ teaspoon sugar to the soup. Simmer on low heat for another 15 minutes or until the millet is fully cooked. Serve with black pepper, fresh chopped dill and a dollop of sour cream.
Notes
Millet is optional and usually used in the Ukrainian version; you can also use quinoa, buckwheat or rice instead.
If you cook potatoes with sauerkraut, they will not soften properly.
I do not add salt, because sauerkraut adds enough salt to the soup. You may add some by taste.
Adding sugar helps to balance the sour taste.
Polish kapusniak often has kielbasa added.
Nutrition
Calories:
156
kcal
Carbohydrates:
20
g
Protein:
2.7
g
Fat:
2.7
g
Sodium:
203
mg
Fiber:
2.1
g
Sugar:
1.9
g