Lentil soup is a nutritious and affordable recipe the whole family will love. This tasty soup is made with red lentils, potatoes, veggies and tomato paste mirepoix, turmeric, and a squeeze of lemon juice.
Jump to:
Why you will love this lentil soup
-this lentil soup is made with simple affordable ingredients. Most of the ingredients are pantry staples.
-small kids friendly: this soup is not pureed with a blender, it is chunky but same time very tender and can be offered to smaller kids. The bite-sized potato pieces can be smashed by a fork before serving if needed.
-this soup is vegetarian but can be a balanced meal itself. The lentils are packed with protein, and together with vegetables will provide a great serving of necessary nutrients.
You may also like our one pot brown lentils with pasta.
Ingredients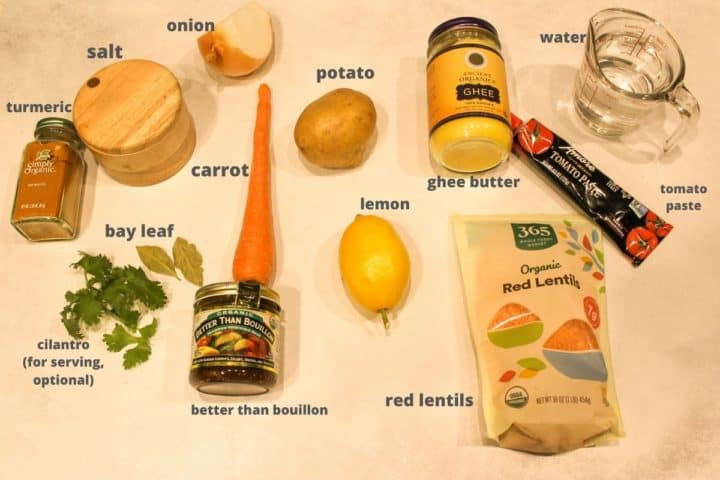 Red Lentils: I always use red split organic lentils. Organic lentils are still very affordable and contain fewer pesticides compared to conventional ones. You can also use green lentils.
Bay Leaf: bay leaf is optional, but if you have one add a leaf or two.
Better Than Bouillon: this is my secret ingredient for most of the soups, when I use water instead of broth. I usually use vegetable organic flavor, but any other flavor will work great.
Turmeric: little bit (or more) of turmeric powder with its amazing anti-inflammatory benefits will add some great color to the soup.
Filtered Water: I always use bottled or filtered water for my soups. If your tap water is great, you can use it, of course.
Potato: I used yellow potatoes, but you can always use any other type.
Ghee Butter: you will need just a little bit for making the mirepoix.
Onion: a little bit of diced yellow onion is a must for any soup.
Carrot: some shredded onions will add great flavor, nutrients, and color.
Tomato Paste (mixed with little hot water): tomato paste goes very well with lentils. It brings up all the flavors and gives the soup a hint of sourness.
Salt: by taste. Keep in mind if you are using the bouillon base, you will need to add little or no salt to the soup.
Lemon Juice: just a little squeeze of fresh lemon juice at the end will make your soup taste even better.
Recommended equipment
Mesh strainer: to wash and drain the lentils.
Medium pot with the lid: for making the soup.
Frying pan: to make the mirepoix.
Knife and a cutting board: for peeling and chopping the vegetables.
Grater box: to grate the carrot.
Measuring spoons, measuring cup.
Instructions
Using the mesh strainer, rinse the lentils couple of times in cold water and drain them. You should always rinse lentils to get rid of dust, possible bugs, and any dirt. I am using split red lentils in this recipe which will cook very fast and do not require soaking. If you are sensitive to legumes, soak the lentils in cold water for a few hours before cooking.
In a medium-size pan, add water, lentils, bay leaf, turmeric, and better than bouillon base. Bring it to boil uncovered. The lentils will create a lot of foam when start boiling, and will make some mess on your stove if you cover the pot.
Prepare the vegetables by first peeling and rinsing them to get rid of any dirt. Dice the onion very small and set aside. Using a shredder box (larger side) shred the carrot. Chop the potatoes into bite-size cubes.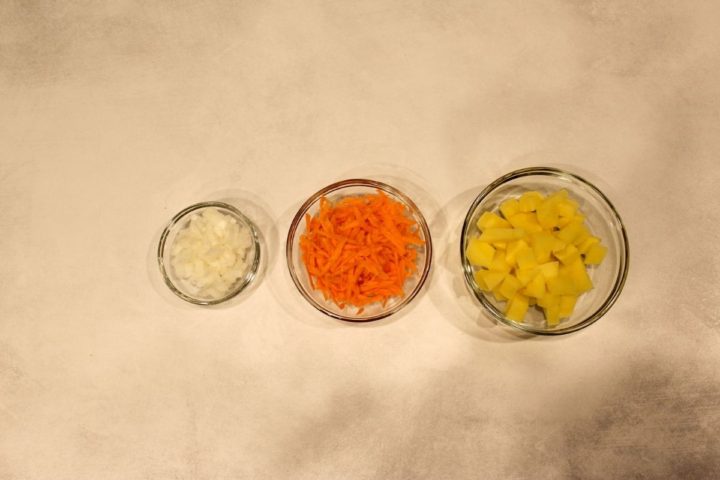 Once the lentils start boiling, add cubed potatoes to the pot. Turn the heat on medium-low, cover halfway and let the soup simmer gently.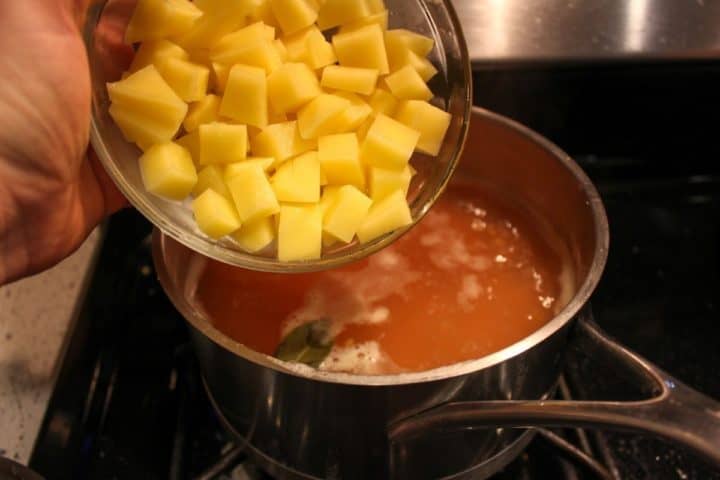 Make the mirepoix: in a frying pan, heat the ghee butter. Once it melts and gets hot, add diced onions. Cook them on medium heat for one minute. Add carrots and cook for another 3 minutes, stirring occasionally until vegetables soften up. In a small bowl, add tomato paste and hot water. Mix well and add it to the frying pan. Cover and let it cook for another 3 minutes on low.
Once the potatoes and lentils are soft and almost cooked (it will take them 20-25 minutes to become soft and fully done), add the mirepoix to the boiling soup. Mix it with the spoon and simmer for another 5-10 minutes to marry all the flavors with ingredients.
Add lemon juice and extra salt if needed. Do a test, salt always can be added individually. Serve hot and garnish with some lemon slices and cilantro on top.
Serving suggestions
Serve this delicious red lentil soup with a slice of lemon and chopped fresh cilantro added to the bowl.
Fresh french baguette or naan bread go really well with this healthy soup.
And of course mini pizzas (my son's favorite side to eat with any soup)
Storing and reheating
Refrigeration: let the lentil soup cool down before transferring it to the airtight container. Sore in the fridge for about 3 days. Reheat the needed amount in a small pot over low-medium heat or in a microwave.
Freezing: if you decide to freeze this turmeric and lemon lentil soup, skip the potatoes for this recipe. Potatoes will fall apart after freezing.
Recipe variations and substitutions
Make this lentil soup vegan by using olive oil instead of ghee butter.
Experiment with different vegetables: you can add parsnips, celery, or cauliflower instead of potatoes.
Make it a curry lentil soup by adding some curry powder by taste.
Other meatless soups you may like
📖 Recipe
Lentil soup
Lentil soup is a nutritious and affordable recipe the whole family will love. This tasty soup is made with red lentils, potatoes, veggies and tomato paste mirepoix, turmeric, and lemon juice.
Equipment
1 Medium Pot

1 Frying Pan

1 mesh strainer

1 grater box

1 small bowl

measuring spoons

1 Measuring Cup
Ingredients
¾

cup

red lentils

4

cups

water

1

teaspoon

"better than bouillon" base

¼

teaspoon

turmeric

or more by taste

1

large potato

1

Tablespoon

Ghee

¼

small onion

1

carrot

1

Tablespoon

tomato paste

3

Tablespoons

hot water

1

Tablespoon

lemon juice

extra salt

by taste
Instructions
Rinse and drain lentils in a mesh strainer. In a medium pot add water, lentils, bay leaf, better then bouillon, turmeric. Bring to boil.

Cube potatoes and add to the boiling lentils. Cook for about 15 minutes or until lentils and potatoes are almost cooked.

Dice onions, grate carrot on a grater box.

Make the mirepoix: heat ghee butter in a frying pan. Add diced onions and cook for one minute. Add carrots and cook for another 3 minutes stirring occasionally. Mix tomato paste with hot water until combined. Add the tomato paste mix to the cooking mirepoix, cover and cook on low for another few minutes.

Add mirepoix to the boiling soup. Cover and simmer on low for another 10 minutes or until the potatoes are fully cooked and lentils are tender.

Add some lemon juice to the soup and extra salt if needed. Turn off the heat. Serve hot and enjoy!
Notes
rinse the lentils few times in a cold water.
bring the lentils to boil uncovered to prevent the mess on your stove.
do not add salt until you test the soup. Adding the bouillon might be enough of sodium.