I never thought pasta and lentils go so well together until I made this delicious one-pot pasta and lentils meal. This recipe is our favorite budget-friendly, healthy, one-pot meal.
I was inspired by Sicilian-style lentil pasta recipe to make this dish. This pasta with lentils recipe is an easy and healthy dinner idea for busy days, and leftovers are perfect for your lunch box next day.
Jump to Recipe
Jump to:
WHY YOU WILL LOVE THIS RECIPE
healthy and very low-cost meal. Lentils are packed with protein, iron, and fiber while being very affordable. Even the organic type of dal is not expensive. You can use whole wheat pasta as a healthier option.
this is a complete one-pot meal: veggies, plant-based protein, carbs.
kid's favorite: my son loves this pasta and lentils. The pasta in this recipe is small, and the lentils with veggies become soft (almost like a sauce) due to simmering.
made with very basic ingredients that create this delicious meal.
very simple to make and kids can be easily engaged to help with the cooking.
Lentils are a great source of protein, iron and other good nutrients. But not everyone likes lentils. Cooking them with pasta, veggies and little tomato paste is such a game changer. Kids love this meal cause it has a great texture, it's creamy and the color is so pleasant. This recipe is a great option for easy and light vegetarian dinners.
INGREDIENTS
Dal Red Lentils: sorted, rinsed and drained: you can use green lentils but they take much longer too cook. Red organic lentils have less strong flavor, take less time to cook and have more pleasing color which is especially important for kids.
Pasta: 1 cup of any small pasta. You can actually use any type of pasta but in my opinion small goes better with tiny lentils on your plate. I used "Ditalini" Barilla Brand.
Water: 5 total cups ( or more if needed) of hot boiling water. Cold can be used too but hot water will expedite the cooking process
Olive Oil: 1 Tablespoon for sauteing the veggies.
Garlic: 1 clove of fresh garlic, peeled.
Yellow Onion: ¼ of a small onion, diced finely. You can skip onion completely, that's what I actually did today, because I didn't have any, and the dish still turned out great.
Carrot: 1 medium size carrot, washed, peeled and finely diced.
Celery: 2 ribs, washed and finely diced.
Tomato Paste: 2 Tablespoons of good quality tomato paste.
Salt: ½ teaspoon of fine salt.
Shredded Parmesan Cheese: for serving.
HOW TO MAKE PASTA AND LENTILS DISH
1. Rinse and sort red lentils. If want to cut the cooking time, soak the dal in cold water for at least 30 minutes. Dice onion, carrot and celery. Peel the garlic.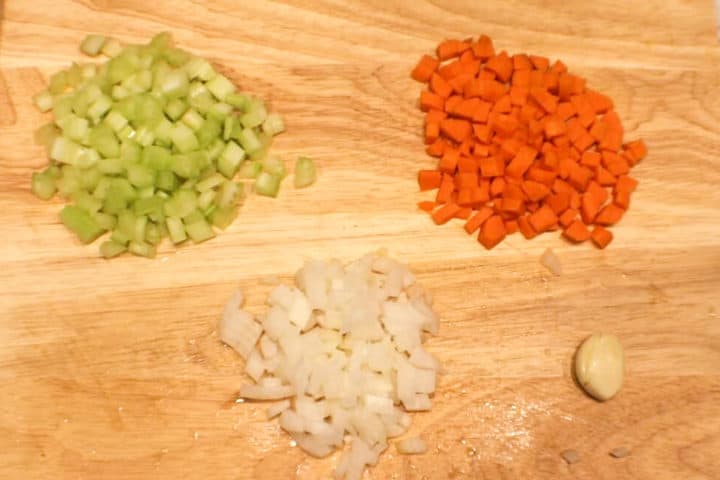 2. Boil 3 cups of water in an electric pot and set aside. (you can also use cold water, hot water will expedite the cooking time).
In a medium-size pot heat the olive oil over medium heat. Crush garlic with the flat side of the knife, and add it to the pot. Cook until garlic starts releasing the aroma, just do not brunt it. Once the garlic starts becoming brown, discard it. Now add onions and saute until translucent. Add carrots and celery, cook for another minute or 2, mixing it occasionally.
Add rinsed lentils and mix everything until lentils are coated with olive oil.
In a small bowl, mix 2 Tablespoons of tomato paste with few tablespoons of hot water and add it to the pot. Mix everything again. Pour the rest of the hot water into the pot, add salt. Bring everything to a boil and simmer on medium-low until lentils are cooked ( about 30 minutes).
Boil another 2 cups of water. When lentils are soft, add pasta and only 1 cup of hot water for now. Here, I always add hot water not to create fluctuations of temperature in already cooking veggies and lentils.
3. Cook pasta over medium heat stirring frequently ( because it will start sticking). If you see there is no water left, and pasta is still now done, add another half cup of hot water or more as needed. Just do not forget to stir, because it will stick, even if you have enough water there.
When the pasta cooked al dente, turn off the heat. If you still have lots of water left in the pot, turn the heat on high and mix constantly the lentils with pasta, most water will evaporate quickly. But the dish itself should be a consistency of a thick stew, so do not worry if you have some water left.
Enjoy how with some Parmesan cheese on top.
For more recipes with red lentil dal check out my easy red lentil and chicken curry.
WHAT IS DAL RED LENTILS
Dal or dhal is the dry split peas or lentils that usually do not require soaking before cooking.
I used Red Lentil Dal. But you can use green or brown lentils. Just keep in mind, the cooking time may be different for various kinds of dal.
There is no need to soak dal but I often do so to make it easier to digest.
Red Lentils Nutrition and benefits: lentils are rich in B vitamins, iron, potassium, magnesium, and zinc. They are packed with plant-based protein and fiber. ¼ cup of dry lentils contains only 170 calories with 12 grams of protein and 5 grams of fiber.
If you want to incorporate more dal in your diet, but you do not know how to cook red lentils and what recipes to start with, start with this super tasty pasta and red lentils recipe. You and your kids will love it, I promise!
HOW TO SERVE THIS PASTA WITH LENTILS
This one pot dish is a complete meal itself. We usually eat it as a main dish but can be served as a side dish with your favorite protein.
Serve it with some Parmesan cheese on top and drizzle of good quality olive oil. I also love to add some Cambodian white pepper to my plate.
HOW TO STORE
Refrigerate this dish in an airtight container for up to 3 days.

Freezing is safe for up to 3 months, but I do not recommend freezing this whole meal. Better freeze cooked lentils separately and use them following the same recipe, just adjust cooking time and water amount.
RECIPE VARIATIONS AND SUBSTITUTIONS
Use green or brown lentils: you can easily use green or brown lentils in this recipe, just adjust the cooking time accordingly. I love the red ones because they give the dish such a vibrant color.
Instead of water use the broth of your choice: the broth will add more flavor and nutrition. When using broth, do not forget to adjust the salt amount.
Add One Teaspoon of "better than bullion" base to the boiling water: I like the vegetable one, but chicken or beef is great too. Just skip the salt if using the bullion, unless you need more by taste.

Use different size pasta: any pasta will be great in this recipe. But I prefer the smaller ones to match the tiny dal lentils and diced veggies.
📖 Recipe
RED LENTILS WITH PASTA (ONE POT DISH)
I never thought pasta and lentils go so well together until I made this delicious one-pot pasta and lentils meal. This red lentils with pasta recipe is our favorite budget-friendly, healthy, one-pot meal.
Equipment
Fine mesh strainer

Medium Pot
Ingredients
1

cup

red lentils

1

cup

small pasta

1

Tablespoon

olive oil

1

clove

fresh garlic

¼

small onion

1

carrot

2

ribs

celery

2

Tablespoon

tomato paste+same amount of hot water

½

teaspoon

salt

4

cups

hot water

or more as needed to cook pasta

1

Tablespoon

shredded Parmesan cheese

for serving
Instructions
Rinse 1 cup of lentils in a cold water using the fine mesh strainer.

Dice onion, carrot and celery. Peel the garlic and smash it with the flat side of knife.

In a medium size pan, add the olive oil and heat it over medium heat. Add garlic, and cook it for one minute until the aroma released, but do not burn it. Discard the garlic.

Add onions and cook for a few minutes until translucent. Add carrots and celery. Cook stirring occasionally for few minutes.

While vegetables are cooking, boil 3 cups of water in electric pot. In a separate cup, mix 2 tablespoons of tomato paste with same amount of hot water.

Add lentils to the pot, mix to coat them with olive oil. Add tomato paste mix, salt and hot water. Bring to boil and simmer until lentils are cooked, 25-30 minutes.

When lentils are cooked, add pasta to the pot and another cup of hot water. Cook on medium heat until pasta is done. Stir very often to prevent it from sticking. If pasta is not done and there is barely any water left, add another half cup of water and continue cooking the pasta.

Once pasta is fully cooked or al dente (your choice!), and most water is evaporated, turn off the heat. The dish is ready! Enjoy with some Parmesan and drizzle of olive oil on top.