This Vitamix carrot ginger soup is a delicious joy in your bowl. It is a vegan and gluten-free soup made with just a few wholesome ingredients and blended until super creamy. 
Late summer and fall is the season for root vegetables such as parsnips, carrots, beets. Although they are available all year round, root vegetables are the most flavorful and nutritious when in season.
Learn how to make this delicious Vitamix carrot ginger soup with only few ingredients.
There was only one regret when I made this soup for the first time - I did not make more of it. First, when I was just testing this carrot and ginger soup recipe, I planned to use more ingredients such lemon and coconut milk. But it tasted so good with only a few ingredients, so I decided not to add anything else.
Why you will love this Vitamix carrot ginger soup
It's super easy to make and requires minimum ingredients.
All the ingredients are very affordable. Feed the whole family with a healthy meal for less money.
This carrot and ginger soup is kid-friendly. The color is so bright, kids will love it.
How to encourage kids to eat this nutritious soup
Often kids will refuse to eat something new, especially if you tell them you made it from vegetables. I love explaining to my son about benefits and taste of each ingredient:
carrots are orange, which means they are rich in beta-carotene. Your body converts it into Vitamin A. And Vitamin A is so good for your eyes.
ginger is a spicy root, but we did not add too much of it, so the soup does not taste very spicy.
parsnips are similar to carrots but not as sweet. They are rich in Vitamin C, just like oranges.
Ingredients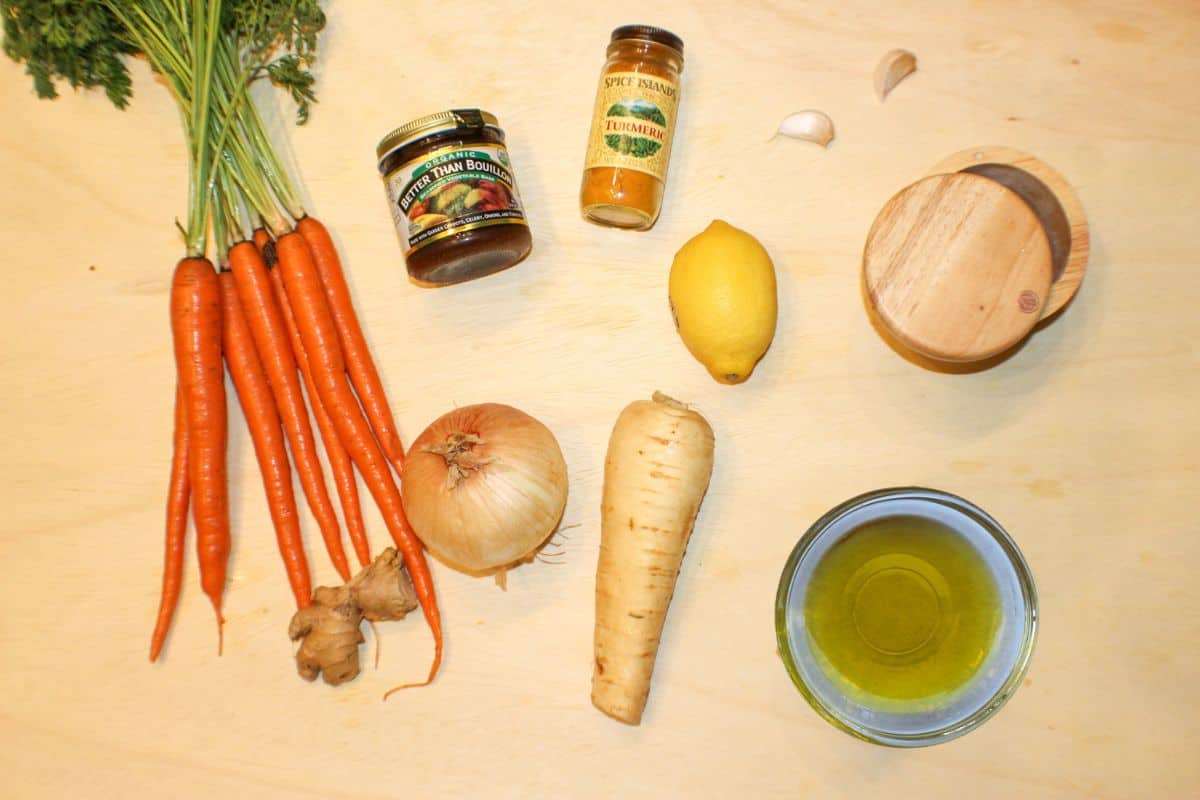 Carrots - I used 3 cups of roughly chopped carrots which is equal to 3 large carrots or 6 small ones. Find fresh and crisp carrots. Sometimes it's better to taste the carrot before using it to make sure it is fresh and sweet.
Parsnip - I used half of a large parsnip which is about 1 cup of roughly chopped parsnip.
Olive oil - I used 1 Tablespoon of olive oil to saute the veggies.
Onion - Only ¼ of a small onion, or just about ⅛ of a large one. You do not want to use too much onion in this soup not to ruin the flavor.
Ginger Root - ½ teaspoon of finely chopped fresh ginger.
Garlic - 1 chopped fresh garlic clove.
Turmeric Powder - ⅛ teaspoon. This is optional ingredient, but turmeric will guarantee bright orange color of this soup.
Water - I used 3 cups of filtered water. If you like more thin consistency you can add more.
"Better Than Bullion" Vegetable base - 1 teaspoon of the bullion base will add salt and some more flavor.
Lemon Juice - it is optional, but I add some lemon juice to most of my soups. It brings up he flavors and balances the sweetness.
How to make it
1. Prepare all the ingredients by peeling carrots, parsnips, onions, ginger and garlic. I rinsed my carrots and parsnips in cold water to get rid of possible dirt. Chop carrots and parsnips into approximately 2 inches chunks. Does not matter how you chop, they all are going to be blended. Chop ginger and garlic finely with the knife and set aside separately.
2. Heat olive oil in your pot over medium heat. Add onions and cook them for about 2 minutes stirring occasionally until translucent. Add ginger and garlic and cook for another one minute until the aroma is released, make sure not to burn the garlic.
3. Add carrots, parsnips, bullion base, water and turmeric. Bring everything to boil, turn the heat on medium-low and cook for 3o minutes or until carrots are very soft. Carrots have to be fully cooked, very soft, even a little bit overcooked. This will make your soup super creamy.
4. Turn off the heat and let the soup cool down to at least 170°F (for about 15 minutes). Transfer the content to Vitamix container and blend it on high until silky smooth. Transfer the soup back to the pot or a container. Add some lemon juice (optional). Serve and enjoy! 
Note: You can use any other blender, just make sure it is safe to use with hot temperatures. A powerful immersion blender will work well too. Blend the soup at high speed until very creamy.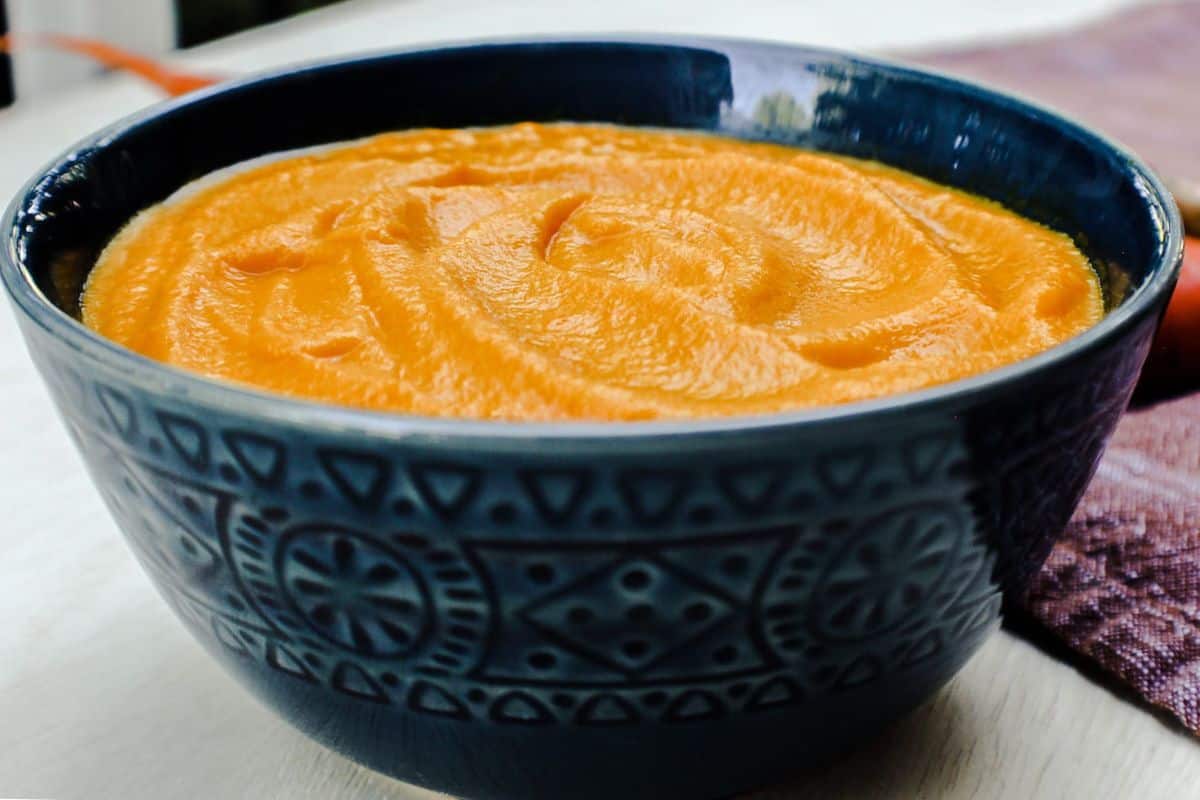 Equipment
Vitamix blender
Large pot with lid
Serving suggestions
This carrot soup is very light, and in case if you serve it as a single meal, you can add some cooked rice or barley to chicken it up and to add more calories.
Serve it with some grilled cheese or your favorite sandwich.
Add some cooked shrimp or shredded chicken to your bowl for extra protein, so tasty.
Storing and reheating
Refrigeration: Let the ginger and carrot soup cool down, and then transfer it to the container with the lid. Refrigerate for 3-4 days. To reheat: pour the needed amount in a small saucepan and heat on low heat until simmering. Use microwave for a fast reheat.
Freezing: it freezes so well. Make sure it completely cools down before pouring it into a freezer-safe container. It will last for 3 months in the freezer. To reheat: Use a saucepan over low heat or microwave.
Variation and substitution:
You can use chicken bone broth in place of water and vegetable bullion base for a more nutrient-rich version of this soup.
If you do not have fresh ginger, use dry powdered ginger. ½ teaspoon or more by taste.
Use ghee butter instead of oil. It will not be vegan anymore, but ghee butter adds such a great buttery flavor to any soup.
Other recipes featuring carrots
Other blender soups you may love
Bone broth butternut squash soup
Vegan potato leak soup in instant pot
📖 Recipe
Vitamix carrot ginger soup
This Vitamix carrot ginger soup is delicious joy in your bowl. It is a vegan and gluten-free soup made with just a few wholesome ingredients and blended until super creamy. 
Equipment
1 Blender

1 large pot with lid
Ingredients
3

cups

roughly chopped carrots

½

cup

chopped parsnip

1

Tablespoon

olive oil

¼

small onion

1

teaspoon

chopped garlic

1

teaspoon

chopped ginger

3

cups

filtered water

1

teaspoon

vegetable "better than bullion" base

⅛

teaspoon

turmeric

optional, used for color

1

teaspoon

lemon juice

optional
Instructions
Wash, peel, and coarsely chop carrots and parsnips. Dice onion, garlic and ginger.

In a large pot, heat one tablespoon of olive oil. Add onions and cook for 2 minutes or until translucent. Add diced garlic and ginger. Continue cooking for another minute.

Add carrots, parsnips, turmeric, "better than bullion" and water. Cover the pot with the lid, bring everything to boil, simmer on low for about 30 minutes or until vegetables are tender and soft. Turn off the heat and let the soup cool down for at leas 15 minutes.

Carefully transfer the soup to Vitamix container. Blend at high speed for a few minutes until very creamy (Caution Hot!). Pour the soup back to the pot, add some lemon juice and give it a mix. Serve hot and enjoy!
Notes
fry garlic and ginger only until they release aroma, for about 1 minute. Do not burn garlic, it will taste bitter and ruin the soup.
Vitamix maximum safe temperature is 170°. Let the soup cool down before transferring to Vitamix container.
You can use stainless steal immersion blender instead.
Be careful while blending - the soup will be very hot.
If you like more salty food, add salt by taste.
Nutrition
Serving:
1
cup
Calories:
86
kcal
Carbohydrates:
12.8
g
Protein:
1.2
g
Fat:
3.7
g
Sodium:
255
mg