I promise, you will love making (and eating!) this instant pot vegan potato leek soup on any day of the week. Russet potatoes, leeks, sage, are cooked in Instant Pot to create this creamy and healthy soup.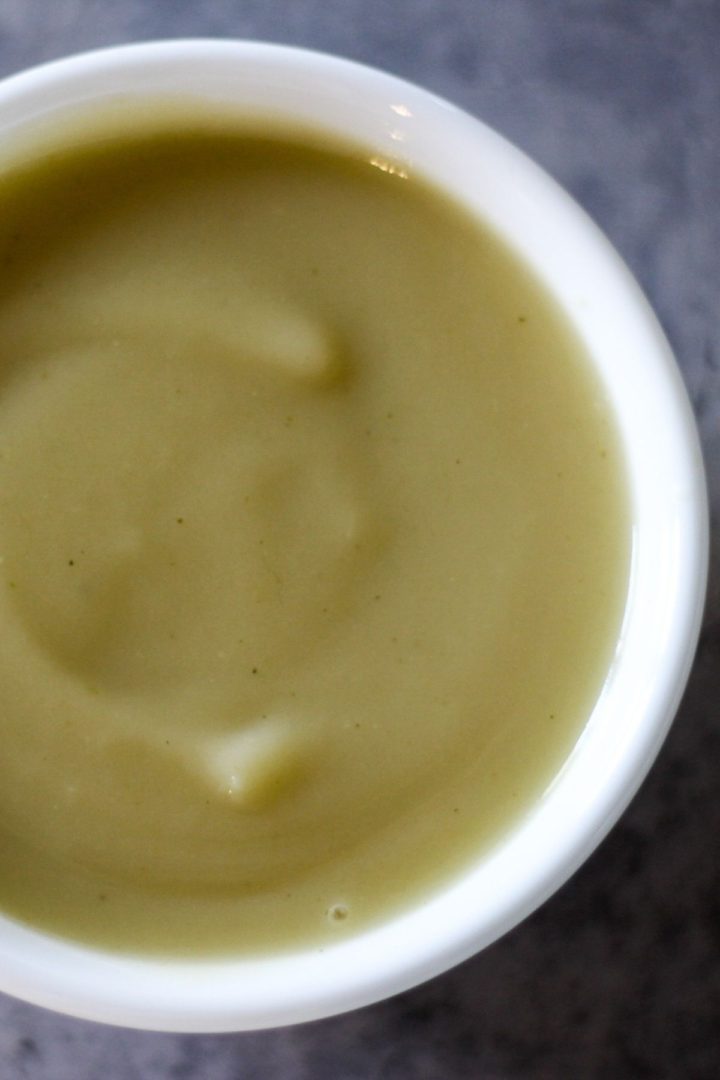 I love making different soups at least once a week. My soups are always rich and loaded with different veggies to maximize their nutritious value.
Instant pot vegan potato leek soup comes out very creamy and flavorful with only a few ingredients needed. You will not even notice it is dairy-free. Coconut milk makes it super rich and creamy.
Jump to:
Why you will love this recipe
you will need only a few ingredients to make this delicious soup.
even if you use all organic ingredients, this soup is still very low cost.
it is dairy-free but still comes out very creamy.
kids love this soup, especially dipping some fresh bread or crackers in it.
this soup makes great leftovers.
Ingredients
Leeks: fresh leeks is one of the main ingredient for this soup. Leeks have a much milder and sweeter taste than onions. They create amazing flavor when used in soups.
Potatoes: I used russet potatoes for this vegan potato leek soup. Russet potatoes are great in cream soups. You can also use Yukon yellow potatoes in this recipe.
Olive oil: you will need it to saute the leeks.
Sage: I used fresh sage leaves. They have a rich flavor that beautifully matches this potato leeks soup. You can also use dry sage or other herbs such as rosemary or thyme.
Garlic: this soup for sure will benefit from adding some fresh garlic. You can also use garlic powder instead.
Water: filtered water or even vegetable broth.
"Better than Bouillon": if you use water, I recommend adding some "Better than Bouillon" vegetable base. It's more economical than the broth and has a great flavor.
Salt: make sure to taste the soup first. "Better than Bouillon" has quite a bit of sodium, so you might not need to add much salt if any at all.
Coconut Milk: since this is a vegan soup, I used full-fat coconut milk for a richer and creamier flavor. Just do not add more than listed in a recipe card. Too much coconut milk can overpower the taste of all the vegetables and herbs.
Chives: Chives are optional and used for garnish, but if you have some, do not skip them. Add diced chives to add more flavor and beautiful color to your plate.
See ingredient quantities in the recipe card.
Recommended Equipment
Instant Pot Duo
Cutting Board
Knife
Colander
Medium Bowl
Spatula
Measuring Spoons
Measuring Cup
Immersion Blender
How to make vegan potato leek soup in Instant Pot.
Prepare Leeks: rinse the leeks first and pat dry them (pic.1). Using a large knife, slice off the roots of the leeks and the green tough ends (pic.2). Slice the leek in half lengthwise and now do the same with both halves (pic.3). Now cut the leeks into thin slices (pic.4). Transfer the chopped leeks into a large bowl with cold water. Rinse and drain well. Use a paper towel to pat dry the chopped leeks.
Cube the Potatoes: wash and scrub the potatoes. Using a veggies peel or a knife, peel the potatoes. Rinse the peeled potatoes one more time. There might be still some dirt left after peeling. Now, cube them into medium size pieces.
Saute the Leeks: set your instant pot on saute mode. Add olive oil. When it is hot, add chopped leeks and saute them until fragrant and translucent stirring often. Add chopped sage and garlic. Cook for another minute until garlic releases the aroma. Just not too long, because garlic can burn very fast.
Cook the Soup: now add the potatoes, water (or broth), and "better than bouillon" to the instant pot. Close and seal the lid. After that, press the Pressure Cook button, and set a timer to 10 minutes. It will take around 10-12 minutes for the instant pot to preheat. And another 10 minutes of cooking. When the cooking cycle ends, do a manual quick release. Make sure to be careful and keep kids away from the valve due to very hot steam. When the pin drops, open the lid carefully.
Blend: Now, add the coconut milk. Using an immersion blender, blend the soup until smooth. Be aware of the hot splashes, keep your face in the distance. If using a countertop blender, make sure to cool down the soup a little bit and blend it in batches.
Taste and Serve: taste the soup and add more salt if needed. Serve hot with some black pepper and chives on top.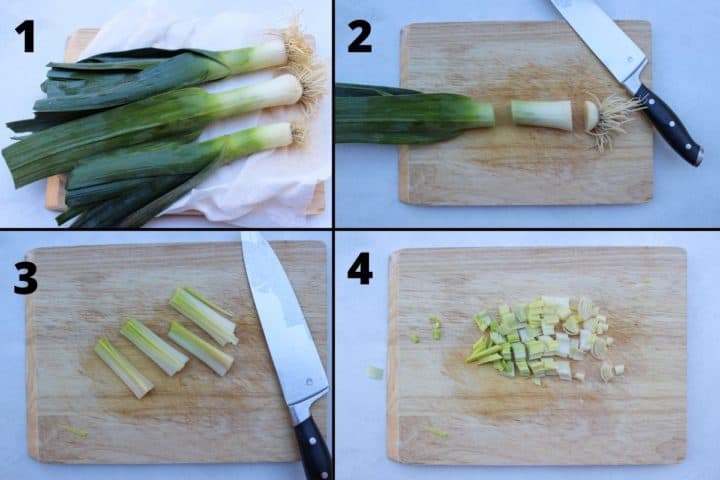 Top Tip
If you use the "Better than Bouillon" base, add the salt at the very end and only after tasting the soup.
How to serve
Topping: chives or green onions, black pepper, sun-dried tomatoes, pumpkin seeds or even a squeeze of fresh lemon.
On the side: enjoy this delicious soup with a slice of fresh sourdough bread or some crackers.
How to store and reheat this soup
Refrigerate: make sure to let the soup cool down, transfer it to an airtight container and keep it in the fridge for about 3 days. Reheat the needed amount in a small pot over medium heat or in the microwave.
Freeze: freeze this vegan potato and leek soup in batched. The best way is to use freezer-friendly bags. It can be stored in the freezer for up to 2 months. You can thaw the soup in the fridge overnight, or just run the bag under hot water and once lose, transfer the frozen soup to a small pot. Melt it is over low heat and then heat it up over medium heat until boiling hot.
Thank you for stopping by! Please take a moment to leave a comment or give this recipe a 5 star if you loved this instant pot vegan potato leek soup.
Common questions
Can I make this soup on the stove?
-Yes, the process is the same, you will just need to boil it until the potatoes are cooked and then blend it. But I still prefer a pressure cook method - much faster and creamier soup.
Can I use onions instead of leeks?
-Yes, just keep in mind the flavor will be different. Onions have a much stronger taste, while leeks are sweeter and milder.
Other meatless soups you may like
📖 Recipe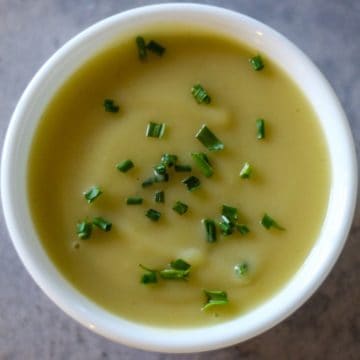 Instant Pot Vegan Potato Leek Soup
I promise, you will love making and enjoy eating this instant pot vegan potato leek soup on any day of the week. Russet potatoes, leeks, sage, and coconut milk are cooked in Instant Pot to create this creamy and healthy soup.
Equipment
1 instant pot

1 cutting board

1 colander

1 knife

1 set of measuring spoons

1 Measuring Cup

1 spatula

1 Immersion blender

or countertop blender
Ingredients
2

medium size leeks

about 1 cup

3

medium Russet potatoes

about 1-1.5 pounds

2

tablespoons

olive oil

1

diced garlic clove

1

Tablespoon

chopped fresh sage (about 7 leaves)

3

cups

water

1

teaspoon

"better than bouillon" vegetable base

¼

cup

full fat plain coconut milk

¼

teaspoon

salt

or more by taste

1

teaspoon

chives for garnish
Instructions
Cut off the roots and green stems of the leek. Quarter the leek lengthwise and cut into thin slices. Rinse and drain chopped leeks.

Wash, peel and cube the potatoes.

Press the Saute button on your instant pot. Add olive olive. Once hot, add leeks and cook stirring often until soft and fragrant. Add chopped garlic and sage. Cook for another minute.

2 medium size leeks,

2 tablespoons olive oil,

1 diced garlic clove,

1 Tablespoon chopped fresh sage (about 7 leaves)

Add water, "Better the Bouillon" and potatoes. Set pressure cooker on high, and timer for 10 minutes. When the cooking cycle is over, do a quick release by manually opening the valve. Be careful, the steam is very hot.

3 cups water,

1 teaspoon "better than bouillon" vegetable base

Carefully open the lid and add coconut milk.

¼ cup full fat plain coconut milk

Using immersion blender, blend until silky smooth. Taste and add some salt if needed. Enjoy hot with some chives and black pepper on top.
Notes
*wash the chopped leeks well, they often have dirt in between white layers.
*use Instant Pot  and a blender with caution. There soup will be very hot. 
*when using "Better than Bouillon" base, add salt at the very end after tasting the soup.
Nutrition
Calories:
157
kcal
Carbohydrates:
15.3
g
Protein:
2.9
g
Fat:
9.6
g
Sodium:
244.8
mg
Sugar:
1.9
g