This yellow split Pea soup with asparagus is made with yellow split peas, asparagus, carrots, potatoes and onions. It's comforting, tasty and easy to make recipe.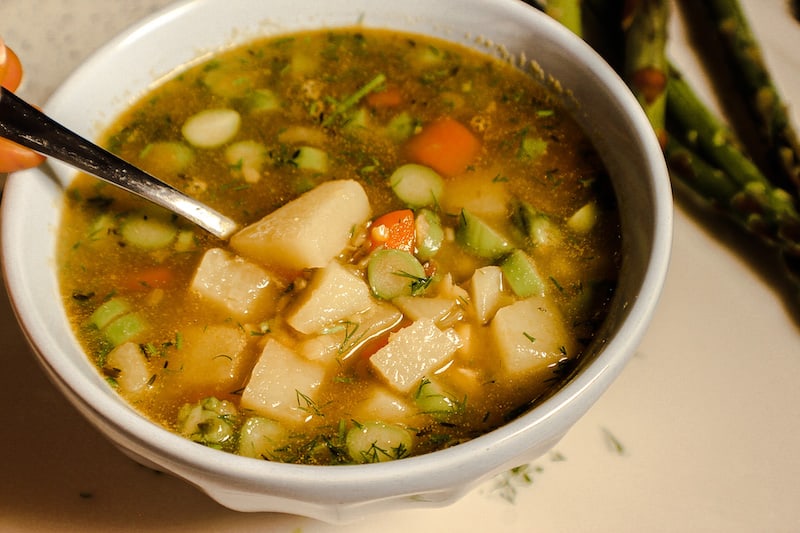 Jump to:
Why you will love this recipe
Juts like our vegan split pea soup, it's high in protein and hearty but at the same time light and very flavorful with just few simple ingredients.
It is very affordable to make. Split peas are super cheap, and the rest of ingredients can be found at almost any kitchen. You can also add or omit some vegetables and the soup will still taste great.
When your toddler son who recently became pickier loves it – it's a big win.
I love easy, straight forward recipes without any complicated tricks and techniques. This is one of them.
Did I mention this soup is super delicious?
Ingredients
Yellow Split Peas: One cup of yellow split peas. Please do not forget to rinse and sort the split peas as some debris may be present. Soaking is not necessary although it will reduce the peas cooking time.
Yellow Onion: You can use more or less, but we do not like too much onion, so I chopped ¼ of a medium size onion finely.
Fresh Garlic: fresh garlic is a must in this soup. Just one clove will do the job and add that amazing flavor to go well with the rest of ingredients.
Olive Oil: just tablespoon to cook onions garlic. You can use butter or even ghee butter instead or oil.
Carrots: I used 2 small fresh carrots, peeled and washed and chopped.
Potatoes: any potato will work well in this recipe, but I used yellow one. Juts one large potato or couple of small ones is enough.
Fresh Asparagus: I used 4 asparagus stalks, rinsed and chopped into in about quarter inch to half inch pieces.
Water and Bullion: ⅕ liters of water and one teaspoon of organic vegetable base called "better than bullion". You can also skip the bullion base and use homemade or store-bought broth of your choice. I did not use any extra salt because we try to east less sodium but if you like more salty soups add some more bullion base or salt by taste.
Spices: Thyme, Bay Leaf. You are welcome to add black pepper, rosemary or any other dry herbs of your choice. But just thyme and bay leaf and maybe some black pepper for serving is totally enough.
Fresh Dill: I love to add chopped dill at the end of cooking process when about to turn off the heat. If you do not like dill, add some fresh parsley that has milder taste. It will add some fun green color to your coup that makes the meal more appetizing.
How to make yellow split pea soup with asparagus
Prepare the split peas by rinsing and sorting them. Sorting means look through the peas and in case if there is any rocks or debris remove them. Due to its small size the best way to rinse the peas is in the sifter under cold running water.
Begin making soup with cooking onion and garlic. First chop onion and garlic finely. Heat olive oil in the pot you going to make soup in and add onion. Cook on medium heat for about a minute, add chopped garlic and cook until translucent. Make sure not to burn the garlic. Add rinsed yellow split peas, water, bullion and bay leaf. Cover half way with the lid and bring to boil. Once it starts boiling turn the heat down on medium and continue cooking for 45-60 minutes or until split peas are soft.
Prepare the rest of vegetables. While split peas are cooking, peel and cube potatoes into one-inch size pieces. Keep them in cold water so they do not turn dark. Chop carrots and asparagus in approximately same size - quarter inch to half inch pieces. Keep them separately because asparagus cooks very fast and will go last.
When split peas are soft and cooked, add potatoes and carrots to the pot. If there is not much water left and soup is too thick, add some extra boiling water. Split peas absorb quite a bit of liquid. Boil for 15 minutes or until carrots and potatoes are cooked or almost cooked. Now add asparagus. It will need 3-5 minutes to be cooked.
While your soup is almost done but still boiling, chop some dill finely and add it to the pot. Boil for another minute. Turn off the heat and let rest covered for 10 minutes. Serve hot and enjoy!
How to store and reheat the soup
First you need to cool down the soup until it reaches almost room temperature. Then, place in air tight container and store in the fridge for 3 days. To reheat the soup, pour the needed amount in a small pan and cook over medium heat until boiling hot (recommended method) or use the microwave and a microwave safe bowl.
It's safe to freeze it but I would not freeze this soup, vegetables will become mushy. Soups are best when eaten fresh.
Recipe Tips
To shorten the split peas cooking time, soak them in cold water for 3-4 hours.
Always cool down the food before refrigerating, but it's not recommended to leave it at room temperature for more than one hour. In order to cool down the soup faster, pour it from the pot to a bigger cold pot or in 3-4 smaller bowls. This way the soup will properly and safely cool down before refrigerating.
Make it a meat lovers' soup by adding some bacon and/or ham.
Serving suggestions
I love to have some kind of bread with any soup I eat. My favorites that goes well with this delicious soup are:
Toasted Sourdough Dough Slice of Bread spread with some avocado and topped with feta and few sliced olives.
Grilled cheese also goes well with this soup.
Simple Saltine Crackers on a side are great with almost any soup.
Other comforting soups to try
📖 Recipe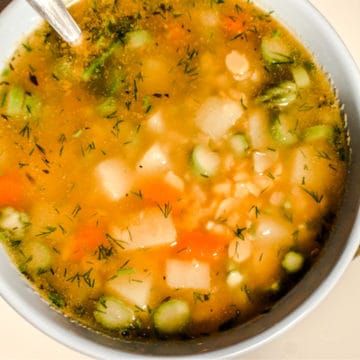 Vegan Yellow Split Pea Soup with Fresh Asparagus
Light but filling and hearty, packed with plant based protein soup recipe
Ingredients
1

cup

rinsed and sorted yellow split peas

¼

diced medium yellow onion

1

diced garlic clove

1

tablespoon

olive oil

1

teaspoon

vegetarian better than bullion base

1

bay leaf

⅛

teaspoon

dry thyme

1-2

cubed large potatoes

2

chopped carrots

4

stalks

chopped asparagus

2

tablespoon

chopped fresh dill
Instructions
Heat olive oil in the pot where you are going to cook the soup. Add chopped onions, cook for a minute on medium heat, add chopped garlic and cook until both onions and garlic are translucent. Do not burn the garlic.

Add yellow split peas, water, bay leaf, better than bullion base. Bring to boil and cook 45-60 minutes on medium heat or until peas are soft.

Once peas are cooked, add carrots and potatoes. Boil for another 15 minutes or until veggies are soft.

Add asparagus and conitinue boiling for another 5 minutes. Add chopped dill and in one minute turn of the stove. Let the soup sit covered for 10 minutes. Serve hot and enjoy.