Okroshka soup made with boiled and fresh vegetables, eggs, fresh summer herbs, and cooked meat is a healthy Eastern European dish. This cold summer soup is a perfect option for hot summer days when the thought of spending too much time near the hot stove is not as exciting.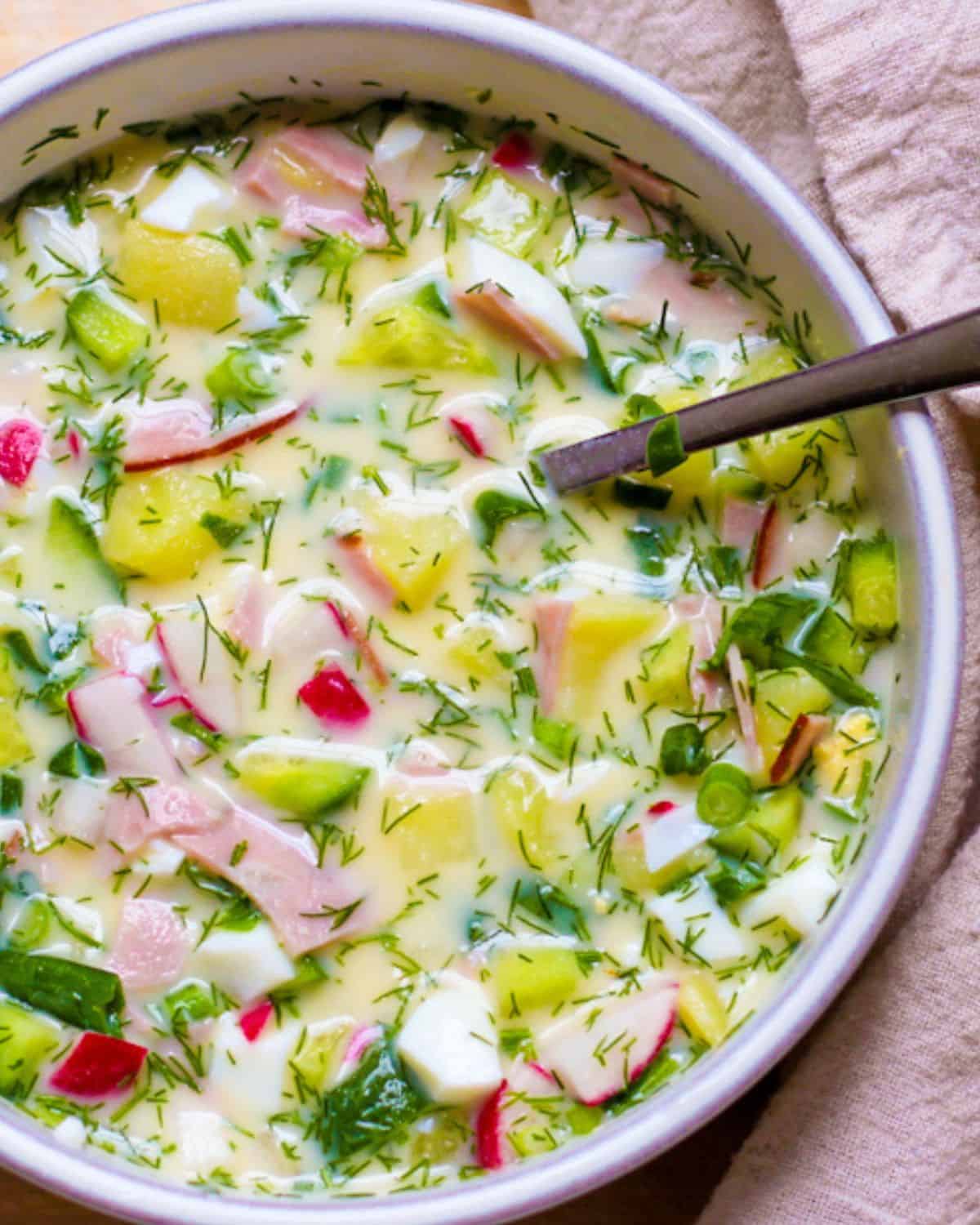 Jump to:
What is Okroshka
Okroshka is a cold soup that is beloved in Eastern European countries and traditionally consists of boiled potatoes, eggs, fresh cucumbers, dill, cooked meat, sour cream, and Kvas (or other liquid). 
The liquid part can vary, depending on your taste and the ingredients available. You can simply add water if kvas, kefir, and other options are not available. I will list all liquid options below this paragraph for you to pick.
Growing up in Ukraine, my dad never understood Okroshka, saying it's just a salad with liquid, Olivier in particular. But I and my mom loved this cold dish, it still reminds me of my childhood and forever symbolizes the essence of summer.
We made it every year, with the first garden cucumbers, aromatic dill, and green onions. Traditionally, the meat in okroshka is a famous "Doctorska Kovbasa (translates as Doctror's bologna). Today, these bologna sounds appear commonplace and inexpensive. Back in my childhood, not every day was a feast with Doctor's bologna. Most of the time, we relied on the meats from my family's small farm. We rarely ate store-bought processed meats, so when we had it, it always tasted so special.
As summer unfolded, our frozen reserves from the previous fall were almost gone, making it a rare occurrence to have freshly butchered meat so it was a perfect time to buy meat at the store.
In those months, everyone was busy with gardens, preserving the produce for winter, and nurturing young livestock, so the cooked summer meals had to be simple and easy.
Okroshka can be easily made ahead of time and be ready to be served straight from the fridge, as the dish does not require reheating.
Just like Borscht, each family has their unique approach to making okroshka. Today, I am happy to share my okroshka recipe that successfully captures authentic flavors I remember from Ukraine, using the ingredients readily available in the US.
Ingredients
This cold soup consists of solid and liquid ingredients. Below is the list of suggested ingredients and substitutions. You can find the exact quantities in the recipe card below.
Soup solid ingredients
Potatoes - I used Yukon gold, but any kind of waxy potatoes will work.
Radishes - fresh red radishes.
Fresh Cucumbers - Ideally, you would want to use garden or pickling cucumbers. Today, I used Persian cucumbers, as they are crispy and have thin skin. If you are using English cucumbers, it's better to peel them.
Eggs - you will need hard-boiled eggs.
Meat - you can use any cooked meat: boiled chicken, sausage, bologna, or cooked turkey. Today, I am using a leftover ham.
Dill - one of the main ingredients for the soup. Use fresh dill only.
Green onions - I like to use spring onions, as they are milder and so flavorful. You can easily use yellow onion instead.
Sour cream - If you are using Kefir, it is OK to skip the sour cream. Otherwise, full-fat sour cream is added for creaminess and tanginess.
​Mustard - I like to add a little bit of Dijon mustard for a little spicy taste.
Salt - I usually sprinkle salt over the herbs and yolk mixture and also add some for serving. Salt can be adjusted to personal taste.
Soup liquid combinations options (chose one)
You can choose one of the below options to make the soup. The most traditional one is Kvas. It can be quite hard to find this unique drink in the US, so I offer you a few other options to make a perfect-tasting okroshka.
Cold Still water and sparkling water (used for this recipe)- I like to add some seltzer water to the soup. Light carbonation will add a similar to fermented Kvas effect.
Kvas - Kvas is a naturally fermented beverage that originated in Eastern Europe. This unique non-alcoholic drink is made of grain, rye bread, and fresh east. Kvas has a tangy, and slightly flavor. It is usually slightly bubbly, due to natural fermentation. Very often, Kvas is made at home but you can also buy it bottled at most of the Eastern European stores in the US. 
Cold mineral water - you can use only still water make okroshka. Once mixed with the rest of the ingredients, it will make the soup light but still flavorful.
Kefir - try full or low-fat kefir as a liquid part for the soup. It's the second most traditional option for the traditional recipe. If you like okroshka creamy and tangy - this is the best option for you.
Kombucha - it is a great alternative to Kvas. Make sure to choose original kombucha, without fruits, teas, and other flavors added.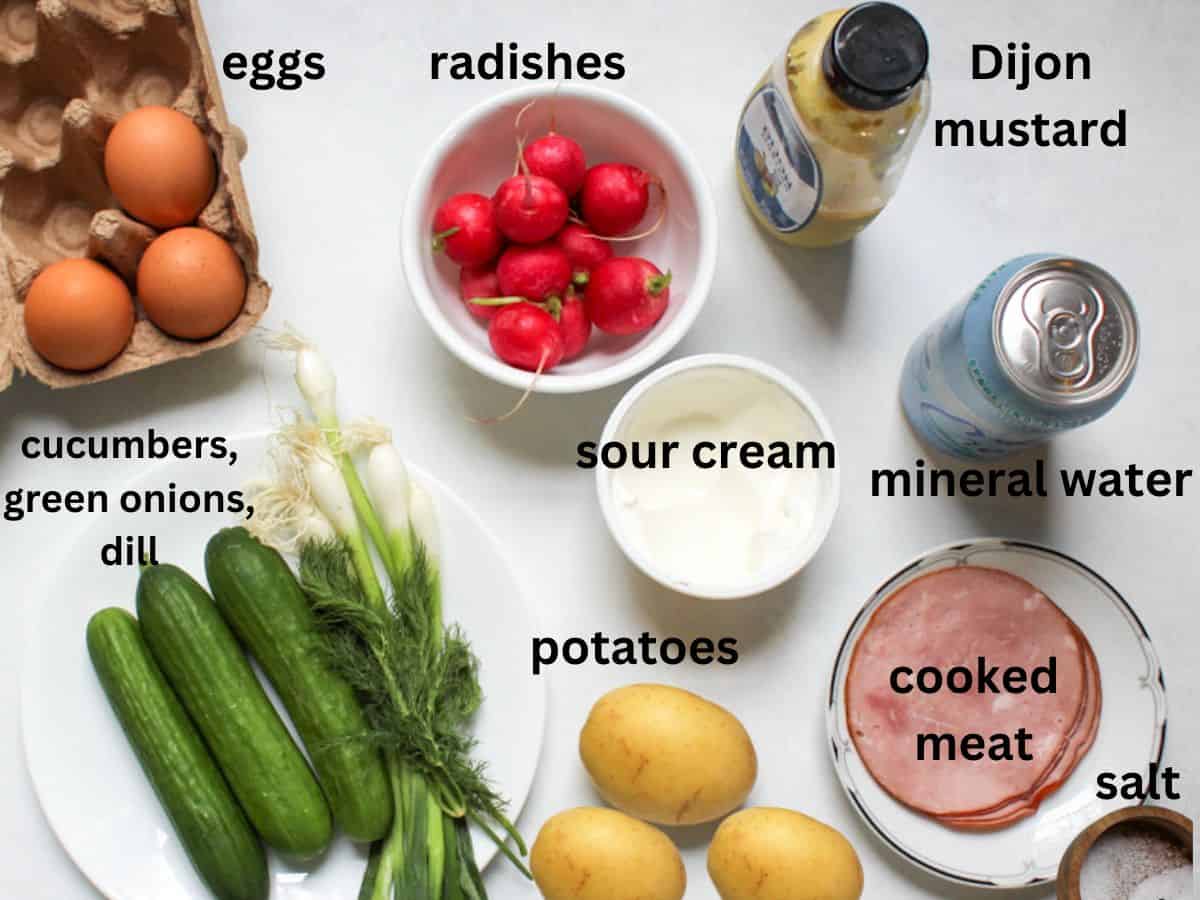 How to make Okroshka
In a medium pot, add whole potatoes and water enough to cover the vegetables. Bring it to a boil and simmer over medium heat for about 30-40 minutes, until the potatoes are tender.
This is the longest process in this recipe, so sometimes I use my Instant Pot to cook the potatoes.
Once cooked and cooled down, peel the potatoes and cut them into small cubes.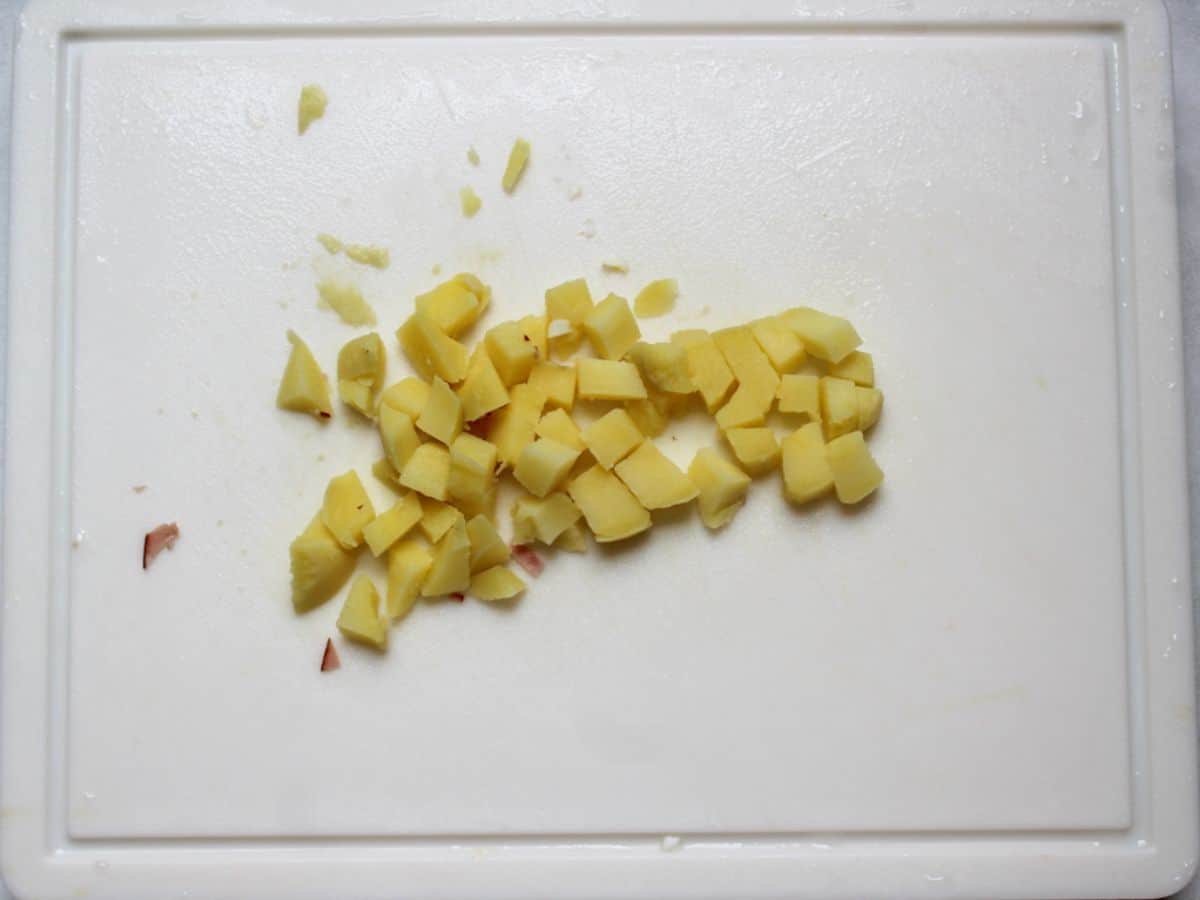 While the potatoes are cooking, fill the small pot with water and carefully add eggs. Once it starts boiling, cook eggs for 10 minutes. Run eggs under cold water afterward. 
Peel the eggs and separate the yolks from the whites. Dice the whites into cubes and set the yolks aside for now.
Now, rinse and pat dry fresh vegetables. Dice cucumbers, radishes, and meat.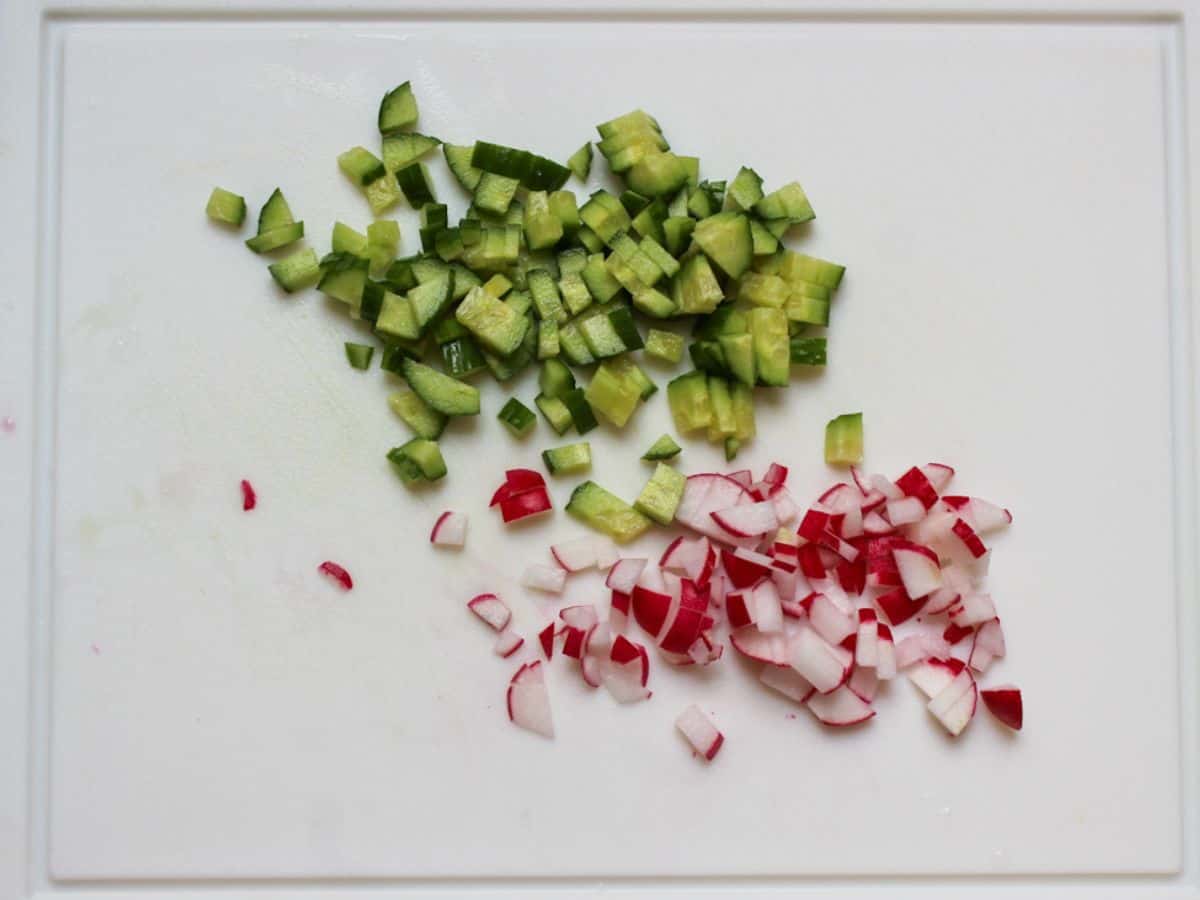 Rinse fresh herbs under cold water. Chop dill and green onions finely.
In a small bowl, add egg yolks, chopped dill, green onions, mustard, sour cream, and a good pinch of salt. Use a fork and smash all the ingredients into a paste.
This step will release herbs' oil and make the soup even better.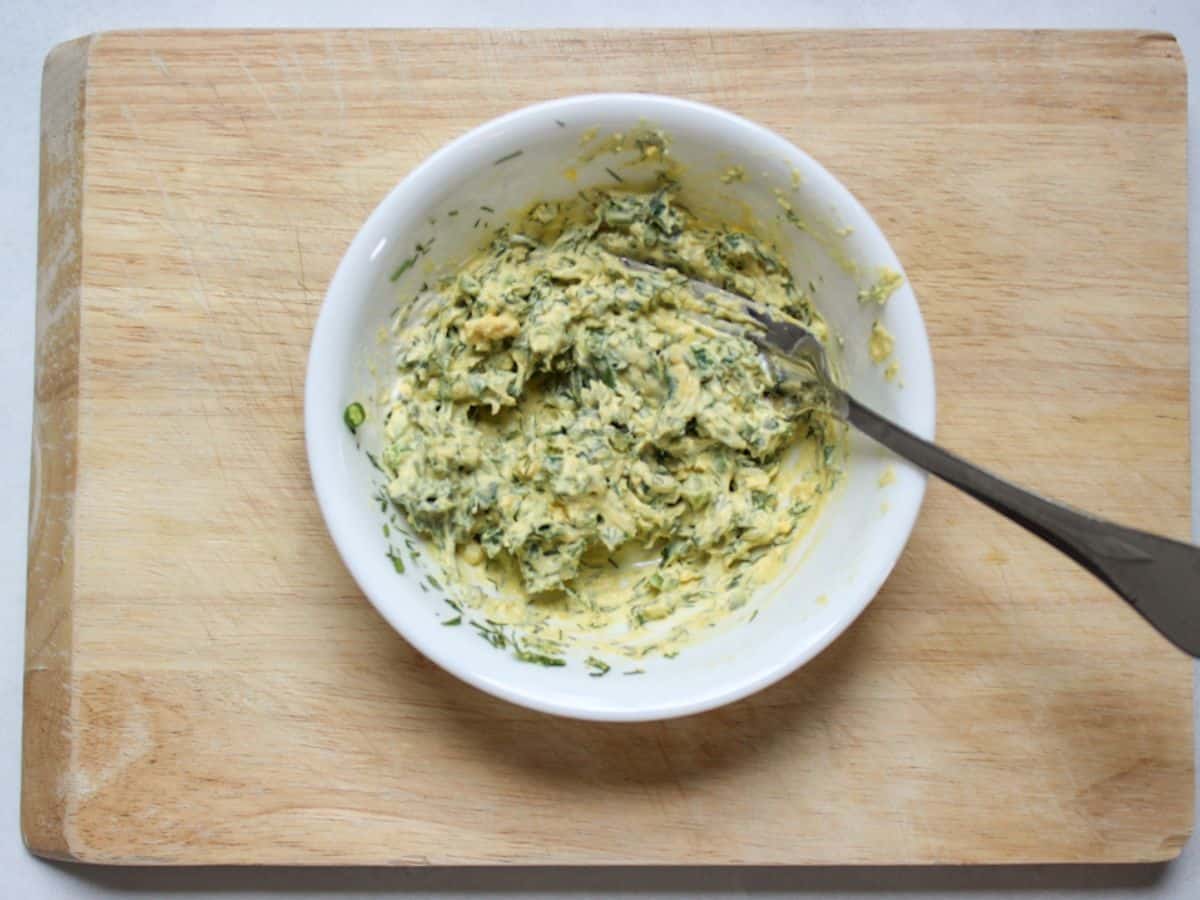 Now, it's time to assemble okroshka. Divide the ingredients between 3-4 soup bowls if serving the soup right away and sprinkle with a little bit of salt.
If serving it later, skip the salt and place the chopped ingredients into a container. Add about a tablespoon of the herbs and yolk mixture into each bowl.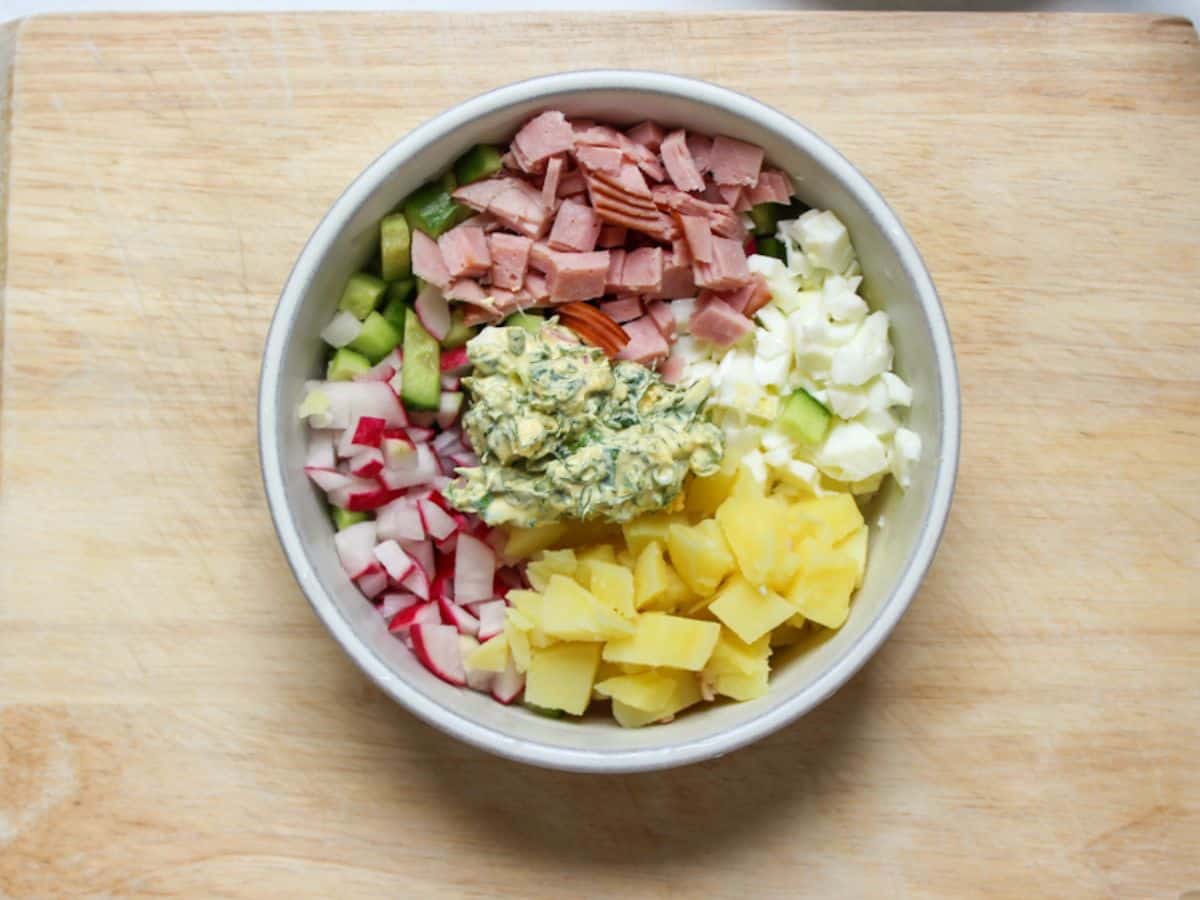 Pour still water over the soup and add a little bit of seltzer water as well (optional). Add more salt to taste and enjoy.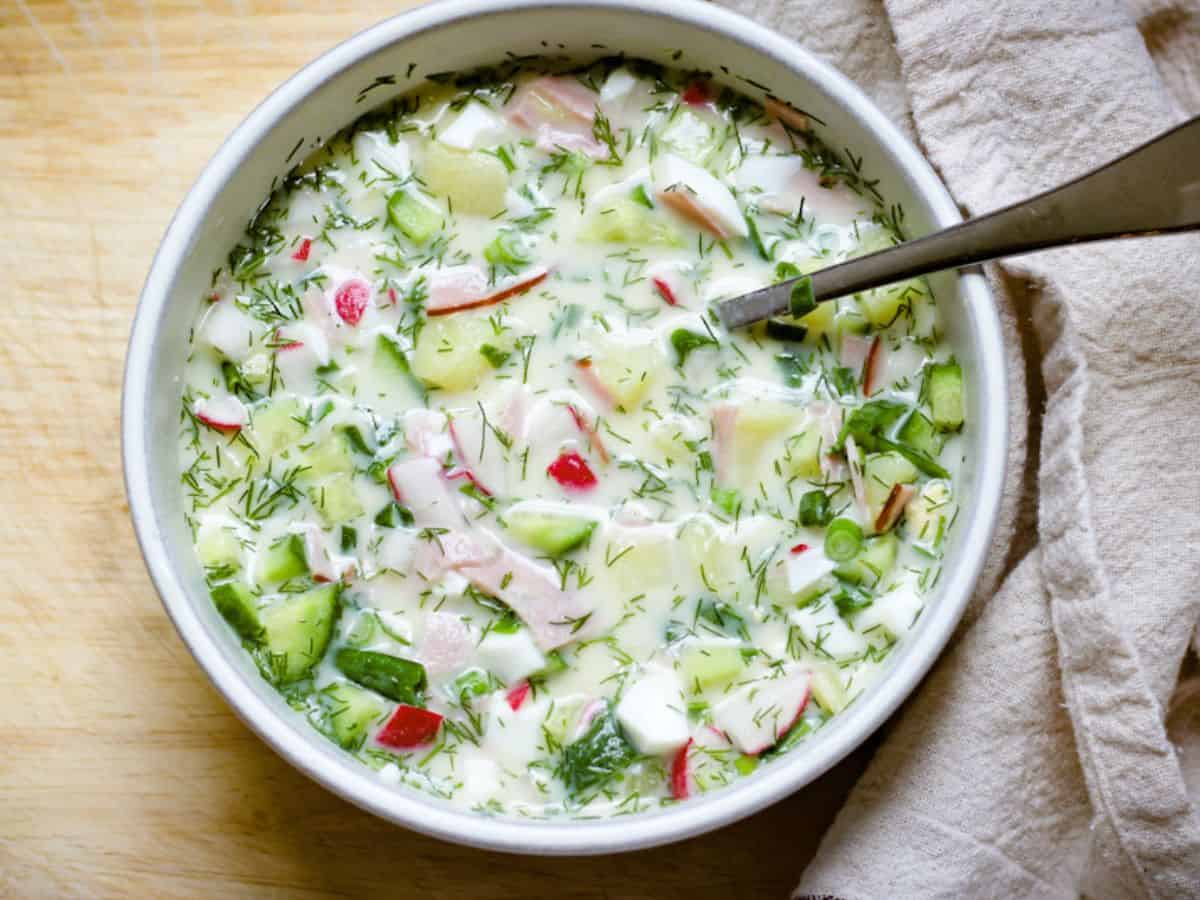 Serving
Okroska is always served cold. You can enjoy it as an appetizer or a light meal.
If serving the soup for guests, serve the liquid part in a cup next to the chopped ingredients in a deep bowl, as some may like the soup thicker or some may need more liquid. I also like to have some salt and pepper on a table.
How to store
I recommend storing the chopped ingredient, dill and egg yolk mixture, and liquid part separately in the fridge.
Stored the soup in the fridge for up to 3 days, make sure to use an airtight container or a glass jar.
Recipe tips
If you cannot find kvas, you can use kefir, water, or kombucha.
You can use any type of cooked meat, or make it vegetarian.
Mashing the herbs and yolks create "Zatyrka", which is like a flavor base for the soup, as the herbs release aromatic oils.
If your water is not cold, add a couple of ice cubes to the bowl.
More summer Ukrainian recipes
Frequently asked questions
What is Kvas, and can I substitute it in this recipe?
Kvas is a traditional fermented beverage, commonly used to make Okroshka. If you cannot find Kvas, you can substitute it with kefir, still or seltzer water, or even kombucha.
What to serve with okroshka?
Okroshka is a light dish that can be served on its own or you can serve it with additional dishes such as bread, crackers, cheese, and baked fish.
📖 Recipe
Okroshka (Cold Summer Soup)
Okroshka soup made with boiled and fresh vegetables, eggs, fresh summer herbs, and cooked meat is a healthy Eastern European dish. This cold summer soup is a perfect option for hot summer days when the thought of spending too much time near the hot stove is not as exciting.
Equipment
2 pots, small and medium

1 small bowl

1 cutting board
Ingredients
3

potatoes

3

hard boiled eggs, yolks separates

3

small cucumbers

6-8

red radishes

½

pound

ham or other cooked meat

1

bunch

dill

3

green onions

2

Tablespoons

sour cream

1

teaspoon

Dijon mustard

½

teaspoon

salt

3

cups

cold still water

½

cup

cold sparkling water
Instructions
Boil whole potatoes until fully cooked, for about 30-40 minutes. Boil the eggs for 10 minutes. Let them cool down. Peel potatoes and eggs.

Separate cooked egg whites from the yolks. Set the yolks aside.

Dice egg whites, cooked potatoes, cucumbers, radishes, and meat into cubes.

Chop the dill and green onions finely.

In a small bow, add 3 egg yolks, chopped dill, green onions, 2 tablespoon sour cream, 1 teaspoon Dijon mustard and salt. Mash everything with a fork well until paste-like consistency.

Divide the chopped ingredients between the serving bowl. Add about 1 tablespoon dill and egg mixture to each bowl. Pour about ½ of water and a splash of sparkling water into each bowl. Stir and add more salt to taste. Enjoy cold!
Notes
Liquid
 - you can use cold Kvas, Kefir, Kombucha, or mineral water. 
Serving
 - the soup is served cold. You can chill it in the fridge before serving or add a few ice cubes. 
Meat
 - you can use any cooked meat you like (beef, chicken, bologna, ham), or make it vegetarian. 
All nutrition facts are only estimate and should be used for information purposes only.
Nutrition
Calories:
233
kcal
Carbohydrates:
19.9
g
Protein:
15.7
g
Fat:
9.9
g
Saturated Fat:
3.7
g
Polyunsaturated Fat:
1.2
g
Monounsaturated Fat:
3.9
g
Cholesterol:
390
mg
Sodium:
390
mg
Potassium:
657
mg
Fiber:
2.3
g
Sugar:
1.6
g