This traditional Ukrainian borscht is my favorite soup of all time. Beets, carrots, potatoes, and cabbage create this rich, aromatic soup with a unique flavor. Serve it with a dollop of sour cream or cashew cream to make it vegan. 
Jump to:
🍲Traditional Ukrainian soup
Borscht is one of the most famous dishes in Ukraine. It is a rich and flavorful soup with a moderately sweet earthy taste and a vibrant red color. Traditionally, borscht is served with a dollop of sour cream and pampushky garlic bread rolls.
Every Ukrainian woman has her own secret Borscht recipe. Very often the name of the person who makes the recipe is added. So, they would call my recipe - Nataliia's Borscht. Borscht is on the list of the best 20 soups in the world.
You can see a lot of variations of this soup because it is also popular in other eastern European countries.
For example, Polish Borscht is typically clear and served with mushrooms dumplings during Christmas Eve dinner.
There are traditional red borscht and green borscht (sorrel leaf borscht) in Ukrainian cuisine.
You can make this soup with or without meat. Today, I am sharing a meatless version of borscht. Serve it with dairy-free sour cream to make it vegan.
👩🏻‍🍳Recipe background
This recipe comes from my family. My mom and my dad used to make this borscht, except they usually made it with meat (beef or pork).
The vegan version is much lighter and faster to make because you do not need to simmer the meat broth for hours and separate the meat from the bones.
In Ukraine, vegan borscht is often made with kidney beans and it is served on Christmas Eve or during the Great Lent (great fast).
This borscht is so good that even my husband who does not eat beets loves this delicious soup and always asks for seconds. This is the only dish with beets he will eat.
This healthy soup has a complex and rich flavor - sweet, sour, and earthy. It is not spicy and can be served to small kids.
This vegan borscht recipe is affordable, easy to make, and adjusted to taste authentic using only American ingredients.
🥕Ingredients notes and substitutions
Red Beets: pick fresh, good-quality red beets. Beets are the main ingredient of borscht.
Green Cabbage: fresh green cabbage, also known as cannonball cabbage.
Yellow Onion: yellow onion is the best for soups as they have a strong flavor and high sugar content. White onions will be OK to use as well.
Carrots: large or medium fresh carrots.
Orange Bell Pepper: I used half of the bell pepper. You can also use a red or yellow one. It is optional, but I always add some when making meatless borscht.
Yellow Potatoes: yellow or any other waxy potatoes are the best for soups. Avoid starchy potatoes such as russet, they will not hold their shape after cooking.
Filtered Water: you can use broth or stock of your choice too. But most of the time I just use water and some are better than bullion base (vegetable flavor).
Better Than Bouillon Base: I add it to the soup when using only the water. If you do not have any bouillon base just add extra salt and some extra dry herbs at the end by taste.
Bay Leaf: for amazing flavor.
Olive oil: you can use sunflower oil or any other vegetable oil to saute the veggies.
Tomato Paste: You can also use tomato sauce or even chopped fresh tomatoes. But tomato paste creates a deeper flavor. You can freeze the leftovers of tomato paste for later use.
Fresh Lemon Juice: it is needed to balance the sweet flavors and creates a pleasantly sour taste. So do not skip it. My mom used to add apple cider or distilled vinegar instead. They both will do the job.
Sugar: only a little bit to balance the taste. Sometimes my beets and carrots are super sweet and I skip them. But most of the time little bit of sugar is needed to create that rich flavor this soup needs.
Salt: add by taste at the end. It is easy to overdo it with a large batch of soup, so I'd rather add salt individually. Keep in mind that Better Than Bouillon adds some sodium as well.
Dry spices and herbs: sweet paprika powder, coriander, black pepper, oregano. These are my favorites to add to this soup. Add some more black pepper for serving.
Fresh Dill and Parsley: chopped fresh herbs will be added at the very end to highlight the rest of the dish.
Fresh Garlic: you can use powder but fresh garlic is so much better to use.
Sour Cream: for serving. Use vegan sour cream if needed.
See the recipe card for quantities.
♨️How to make Borscht
Gather all ingredients: prepare 5 separate bowls, cutting board, shredder box, knife, skillet, and large pot. Take all vegetables out of the fridge, and wash and peel them.
Start with the broth: add water (or vegetable broth), bay leaves, and "better than bullion" to the pot. Bring to boil, cover, and reduce heat to the lowest setting.
Prepare the vegetables: if you are making borscht for the first time, I recommend chopping and shredding all the vegetables and setting them aside in separate bowls. It will make the process so much easier. You can even do it a day before. Dice the onion finely and add it to the 1st bowl. Slice bell pepper thinly (matchstick size), and shred the carrots on the larger side of a grater box. Transfer bell peppers and carrots into the 2nd medium bowl. Using the large side of a shredder box, grate the beets and place them into the 3rd bowl. Peel and cube potatoes and transfer them to the 4th bowl. Using a knife shred the cabbage and transfer it to the largest 5th bowl.
Note: traditionally, all vegetables (except for onions and cabbage) are cut into matchsticks or grated using a shredder box. You can also use a food processor to do so, just do not shred them too fine.
Prepare the mirepoix: mirepoix is a flavor base made from vegetables cooked with butter, oil, or other fat. This is the heart of classic Ukrainian borscht, so we need to make sure it tastes delicious. In a large frying pan, heat 2 tablespoons of oil over medium heat. Once the oil is hot, add diced onion and cook just until they become translucent. Now, add the carrots and peppers. Cook for about 5 minutes on medium heat until vegetables start softening up, stirring occasionally. After that, add shredded beets, tomato paste, freshly squeezed lemon juice, ¼-1/2 teaspoon of sugar, and ⅓ cup of water. You might need to add more sugar later if your beets are not very sweet. Stir everything well, cover, and let it simmer on low heat for about 10 minutes. Taste the mirepoix. It needs to taste pleasantly sour and sweet. Turn off the heat and set it aside.
Add potatoes and cabbage: add cubed potatoes and shredded cabbage to the boiling broth and cook for about 10 minutes or until they are fork tender. You can do it while the mirepoix is simmering on low. Just do not add them too early not to overcook the potatoes.
Add mirepoix and herbs: when the potatoes are cooked, turn the heat on low, add the mirepoix, herbs, and spices to the pot and stir well to combine. Cover and simmer on very low for another 2-3 minutes to marry all the flavors.
Taste check: taste the soup and add some salt, pepper, or other spices if needed. If it tastes too sweet, add a Tablespoon of lemon juice. If it doesn't taste sweet enough, add about half a teaspoon of sugar.
Fresh herbs and garlic: dice dill, parsley, and garlic cloves finely. Add all three ingredients to the soup, and turn off the heat. Let it stand covered for 10-15 minutes before serving. Enjoy with some sour cream and fresh bread.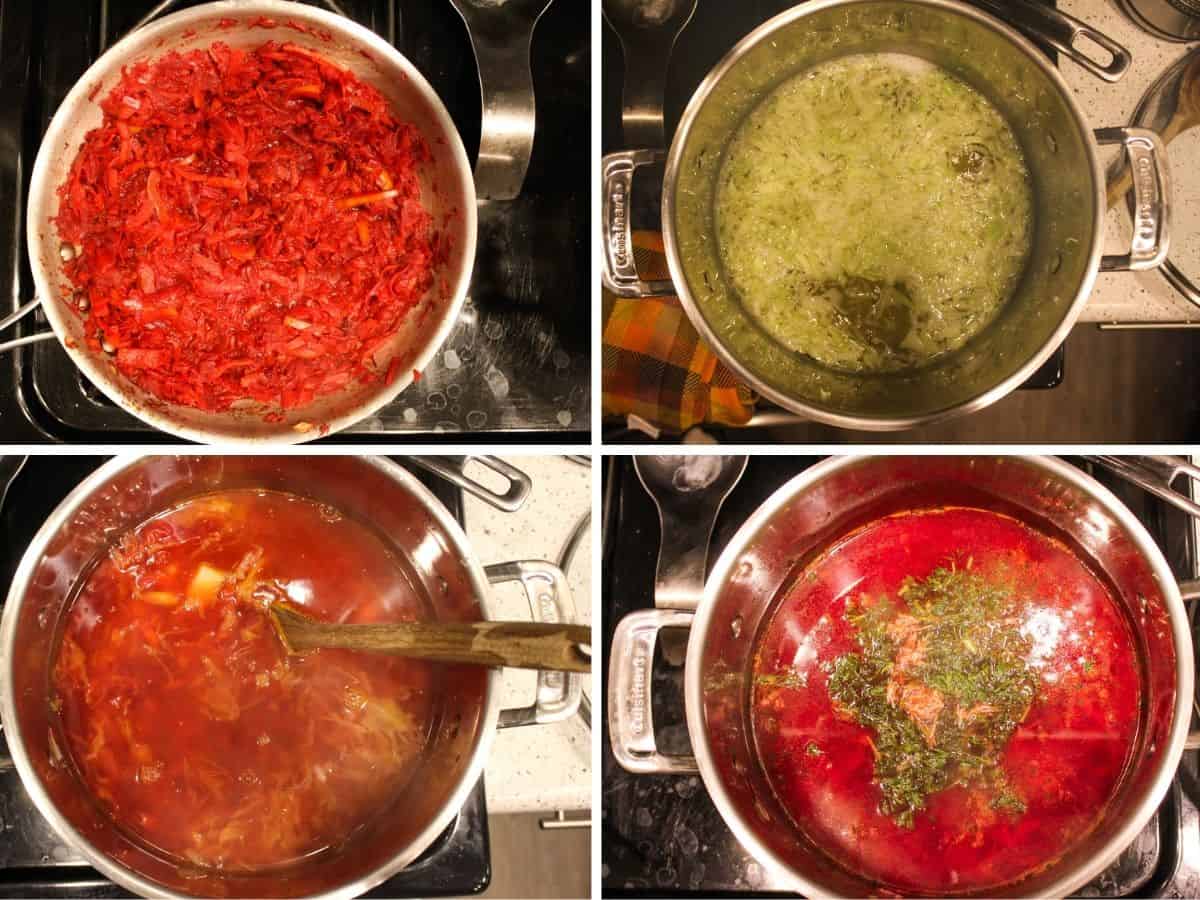 🔪Recommended Equipment
5 bowls - 1 small, 3 medium and 1 large
cutting board and a knife
box grater
skillet
large stock pot or dutch oven
💭Recipe tips
use fresh quality vegetables.
it is easier to chop and shred all the vegetables and place them in separate bowls.
borscht soup is always made in a large pot.
do not skip lemon juice (or apple cider vinegar) and sugar. Borscht is not just a beet soup, it has a complex sweet, sour, earthy flavor.
always taste the soup at the end and adjust it to your taste.
to make it ahead of time, prepare the mirepoix and freeze it in a freezer-safe container or bag.
🍴Serving suggestions
Serve this traditional beet soup with a dollop of sour cream (or cashew cream) and extra chopped dill on top. Rye bread or Ukrainian garlic rolls are the best to serve with this soup.
It can be great as a main dish or a starter for a special occasion when serving a lot of guests.
🌡️Storing and reheating
Refrigerate: It is well known, that borscht tastes even better the next day. Make sure to cool down the leftover soup properly. If it is a large batch, transfer the soup to smaller containers or bowls to bring it to room temperature faster. Do not leave the soup out for longer than 2 hours. Keep the leftovers refrigerated in an airtight container for about 3-4 days.
Reheat: the best way to reheat the soup is by simmering it in a small saucer pan over low-medium heat. You can also reheat it in the microwave oven.
Freeze: It is not recommended to freeze borscht, but you can easily prepare mirepoix ahead of time and freeze it for up to 3 months in freezer bags.
🥙Other Ukrainian recipes
📖 Recipe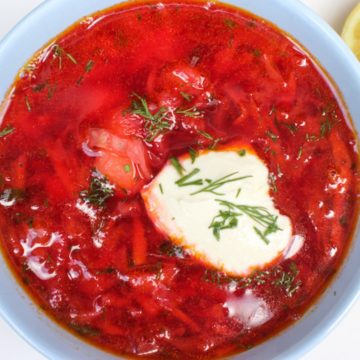 Ukrainian borscht (VEGETARIAN)
This meatless Ukrainian borscht is my favorite soup of all time. Beets, carrots, potatoes, and cabbage create this rich, aromatic soup with a unique flavor. Serve it with a dollop of sour cream or cashew cream to make it vegan. 
Equipment
1 Box grater

1 large skillet

1 large dutch oven or stock pot

5.7 qt.
Ingredients
1

large beetroot

½

green cabbage

½

medium onion

2

medium carrots

½

bell pepper

3-4

yellow potatoes

1½

liters

filtered water, plus ⅓ cup for the mirepox

1

teaspoon

"better than bullion" base

1

bay leaf

2

Tablespoon

olive oil

1

Tablespoon

tomato paste

1

teaspoon

fresh lemon juice

add more for more sour taste

¼-½

teaspoon

sugar

to balance tomato paste taste

½

teaspoon

salt

¼

teaspoon

sweet paprika powder

¼

teaspoon

coriander

¼

teaspoon

black pepper

by taste

2

tablespoons

finely chopped dill and parsley

2

cloves

diced fresh garlic

extra salt, sugar, lemon juice

by taste
Instructions
In a large stock pot, add water, Better Than Bullion", and bay leaf. Bring to boil and simmer on low.

Rinse and wash all the vegetables. Dice onion and place them in the 1st bowl. Shred carrots and cut the bell peppers in to matchsticks and transfer them into the 2nd bowl. Place peeled and cubed potatoes into the 4th bowl. Shred the cabbage finally and transfer it to the 5th bowl.

Make the mirepoix: heat the oil in a large frying pan over medium heat. Add onions and cook until translucent. Add carrots and bell peppers and continue cooking for another 4-5 minutes stirring occasionally. Add shredded beet, tomato paste, lemon juice, sugar, ⅓ cup of water. Stir the mirepoix, cover and cook on low heat for 10 minutes.

Add potatoes and cabbage to the boiling broth. Cook for about 10 minutes or until potatoes are tender. Add prepared mirepoix. salt, dry herbs and spices to the soup. Stir it well mix, cover and let simmer on low ( do not bring to heavy boil) for another 3-4 minutes.

Taste the soup. Add more salt, pepper, lemon juice or sugar if needed.

Add freshly chopped dill, parsley and garlic to the pot. Turn off the heat and let stand covered for 10-15 minutes before serving.

Serve hot with a big dollop of sour cream and bread!
Notes
use water or broth.
make sure to add lemon juice  and sugar for the best flavors.
use vegan sour cream if needed for serving.
cool down leftovers in smaller bowls to bring to room temperature faster before transferring to the fridge.
you can make the mirepox ahead of time and freeze it up to 3 month.
nutritional facts are for information purposes only, and not to be considered medical advice.
Nutrition
Calories:
257
kcal
Carbohydrates:
16
g
Protein:
2
g
Fat:
4
g
Sodium:
450
mg
Fiber:
2
g
Sugar:
8
g