Traditional Ukrainian Borscht is my favorite soup of all times. Beets, carrots, potatoes and cabbage create this rich, aromatic soup served with a dollop of sour cream on top.
Jump to:
Why you will love this recipe:
Borscht was on the list of best 20 soups in the world.
It's versatile and can be made with any type of meat (but not fish), beans or just veggies.
Usually you make a whole pot of this tasty soup. Great recipe to feed a big crowd.
It's made with so many vegetables, so healthy and tasty.
Do you need "kvas" to make traditional Ukrainian borscht
No, you do not need it. The article about 20 best soups in the world stated that Borscht is made with "kvas", a special fermented beet juice. But it's not always true. Writing that you need "kvas" to make Borscht can scare away those who really want to try to cook this delicious soup, because it's kind of impossible to buy it. "Kvas" is usually made at home in wooden barrels by fermenting the beets. Good news is you do not need "kvas" to make a tasty classic Borscht. I was born and raised in Ukraine and I have never even tried Borscht made with "kvas". Maybe some regions use it, but not where I was from, even though my grandmother always had a barrel of pickled beets with that fermented juice in the underground cellar, she never used "kvas" to make traditional Borscht.
Recipe background
This soup is a staple food in Ukraine, Russian and other post soviet countries. Visit Ukraine and ask 10 different housewives how to cook Borscht, they will give you 10 different recipe variations and all of them will be delicious. The techniques and ingredients will be similar but every family has their own way of cooking Borscht.
In summer, it is popular to make Green Borscht. Green sour borscht soup is made with sorrel (or spinach and lemon juice) and served with sour cream and chopped boiled egg.
This recipe comes from my family. My mom and my dad used to make this borscht, except they usually made it with meat. I slightly changed the way I make it, but it's for sure so good, even those who do not like beets, love this soup. In my family, you will rarely see vegetarian Borscht. I cook mine mostly with no meat. Vegetarian borscht is much lighter and faster to make because you do not need to simmer the broth for hours and separate the meat from bones. Of course, you can add chunks of pork or beef, or use the meat broth as a base.
And as a prove how good this Borscht is: my husband cannot stand beets and this is is the only dish with beets he will not just eat, but he loves it.
Do not get intimidated by a long list of ingredients - they are super affordable and simple; don't get discouraged by long instructions - it's just a lot to type but very easy to execute.
Ingredients
Here is the list of ingredients and below it there is shopping list I created for your convenience to screenshot before you go to the store.
Red Beets: pick fresh, good quality red beets. Beets are the main ingredient of borscht. You cannot skip it.
Green Cabbage: green fresh cabbage, also known as cannonball cabbage.
Yellow Onion: I used yellow onion, you can cook borscht with who\ite or sweet onion instead. Avoid using red ones.
Carrots: fresh, sweet carrots, washed and peeled.
Orange Bell Pepper: I used half of the bell pepper. You can also use red or yellow one. You can skip this ingredient but since this is vegetarian borscht I am adding some bell pepper for flavor and variety.
Yellow Potatoes: yellow or any other waxy potatoes will be good for Borscht. Avoid starchy potatoes such as russet, they will fall apart in the process of cooking.
Filtered Water: you can use sore bought broth or stock of your choice but most of the times I just use water with better than bullion base (any flavor). When I make my borscht with meat, it's better to make your own broth.
Better Than Bullion Base: any kind of bullion cube or paste will be great if you use water as. I love better than bullion, because of good quality ingredients and the way it taste. If you do not have any bullion base or cubes just add extra salt and some dry spices at the end by taste.
Bay Leaf: for amazing flavor.
Olive Oil: or any other oil for braising the vegetables.
Tomato Paste: 2 teaspoons of good quality tomato paste. This is another must in this recipe. You can also use tomato sauce or even chopped fresh tomato. But tomato paste taste much better in Borscht.
Fresh Lemon Juice: this beet soup always needs some acid added. Otherwise, it will taste not right. I also used to add apple cider or regular vinegar instead.
Sugar: only little bit to balance the taste.
Salt: add by taste at the end.
Sweet Paprika Powder: this is optional, but I love the light flavor it adds to the soup.
Coriander: just few pinches and only if you like the flavor
Black Pepper: add little nit to the soup and then by taste for serving
Fresh Dill: 2 teaspoon of finely chopped dill.
Fresh Garlic: you can use powder but fresh garlic is so much better to use in this recipe.
Sour Cream: for serving.
See recipe card for quantities.
Equipment
7 bowls (6 medium, 1 large)
cutting board
knife
grater box
large stock pot or dutch oven
How to make Borscht
Gather all ingredients: prepare 5 separate bowls, cutting board, shredder box, knife, large pot. Take all vegetables out of the fridge, wash and peel them.
Start with the broth: add water, bay leaves, paprika, coriander and "better than bullion" to the pot. Bring to boil, reduce heat to low.
Prepare the vegetables: if you are making borscht first time. I recommend chopping and shredding first all the vegetables and setting them aside in a separate bowl. Dice the onion finely. Slice bell pepper thinly (matchstick size), shred the carrot on the larger side of a grater box. If you do not have a shredder, slice all shredded ingredients into matchsticks. Transfer peppers and carrots in a separate bowls. Using the large side of a shredder box, shred the beet. Peel and cube potatoes. Dice garlic and chop fresh parsley with dill.
Shred the cabbage: remove the outer leaves of the cabbage and cut the cabbage in half (store the other half in the fridge for other use). Cut one of the halves into a few wedges. Using the knife, shred the cabbage the way you do it for a coleslaw. Our goal is to cut our cabbage into thin shreds. Place the shredded cabbage in a big bowl, add a few pinches of salt and massage the cabbage with your hands to soften it up. Set the cabbage aside.
Prepare the mirepoix: mirepoix is a flavor base made from vegetables cooked with butter, oil, or other fat. This is the heart of our Classic Ukrainian Borscht, so we need to make sure it tastes delicious even by itself. In a large frying pan, heat 2 tablespoons of oil over medium heat. Once the oil is hot, add diced onion and cook just until it becomes translucent. Now it's time to add the carrots and peppers. Stir everything from time to time and cook for about 2 minutes on medium heat until vegetables start softening up. Now add shredded beets, 2 teaspoons of tomato paste, freshly squeezed lemon juice, ¼ teaspoon of sugar, and ⅓ cup of water. You might need to add more sugar if your beets are not very sweet. Taste the mirepoix. It needs to taste pleasantly sour and sweet. Turn the heat on low, cover with the lid and cook it on low for 10 minutes. Turn off the heat and set it aside.
Adding the rest of the vegetables and mirepoix: Add cubes of potatoes and cabbage to the boiling water. Cook for about 10-15 minutes or until the potatoes are almost done, add mirepoix to the soup, mix the soup with a large spoon. Cover and simmer on low for another 5 minutes to marry all the flavors.
Taste check: add some salt, black pepper. Adjust the taste if needed by adding more lemon juice and a little bit more sugar, salt (do not forget that we already added lemon and sugar to the mirepoix, so add more only if the borscht does not taste good enough).
Finishing up: chop garlic and dill very finely. Add it to the soup, turn off the heat. Let it stand covered for 10-15 minutes before serving. Enjoy with some sour cream and fresh bread.
Serving suggestions
Serve hot with a dollop of sour cream or coconut plain yogurt for vegan meal.
Add extra fresh chopped parsley and dill for serving.
Fresh sourdough or baguette bread.
Storing and reheating
Cool down borscht completely in a room temperature. It is a big batch of soup, so I recommend pouring it into 3 large containers so it's safely and faster cools down. Once your borscht cooled down transfer it in a large air tight container and store in the fridge up to 4 days.
Borscht is not freezable. Of course, you can freeze it, anything can be frozen, but it will not taste great.
To reheat: pour the necessary amount in a saucer pan and heat up over medium heat until hot. This is the best method to reheat the borscht. You can pour the soup straight to the bowl and warm it up in the microwave.
Other Ukrainian recipes you make like
Ukrainian beet salad "vinegret"
📖 Recipe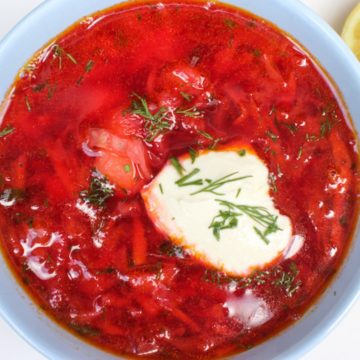 Ukrainian borscht (VEGETARIAN)
Traditional Ukrainian Borscht is my favorite soup of all times. Beets, carrots, potatoes and cabbage create this rich, aromatic soup served with a dollop of sour cream on top.
Ingredients
1

large beetroot

½

green cabbage

½

small onion

2

medium carrots

½

bell pepper

3-4

yellow potatoes

1.5

liters

filtered water

1

teaspoon

"better than bullion" base

1

bay leaf

2

tablespoon

olive oil

2

teaspoon

tomato paste

2

tsp

fresh lemon juice

can add more for more sour taste

¼

teaspoon

sugar

to balance tomato paste taste

¼

teaspoon

salt

¼

teaspoon

sweet paprika powder

1

pinch

coriander

¼

teaspoon

black pepper

by taste

2

teaspoon

finely chopped dill

1

clove

fresh garlic

extra salt, sugar, lemon juice

by taste
Instructions
Gather all ingredients. Wash and peel the vegetables. Take the outer leaves off the cabbage.

Pour water or broth into the big pot, add "better than bullion", paprika, coriander and bay leaf. Bring to boil and simmer on low.

Dice onion and place in a separate bowl. Shred carrots, cut bell peppers into matchsticks and set aside. Using a large knife, cut the cabbage into thin shreds. Place the shredded cabbage in the big bowl, add few pinches of salt and massage it few times with your hands to soften it up. Shred the beet using a large side of the grater box. Peel and cube potatoes. Transfer them to separate bowls. Chop garli, parsley and dill.

Make the mirepoix: heat the oil in a large frying pan (medium heat). Add onions and cook until translucent. Add carrots and bell peppers and continue cooking for another 2 minutes stirring occasionally. Add shredded beet, tomato paste, lemon juice, sugar, water. Stir the mirepoix, cover and cook on low heat for 10 minutes.

Add potatoes and cabbage to the boiling broth. Cook on low for about 10 minutes or until potatoes are almost done. Add prepared mirepoix to the soup, mix, cover and let simmer on low ( do not bringto heavy boil) for another 5-10 minutes until potatoes and cabbage are soft.

Add freshly chopped dill and garlic to the pot.

Taste the soup. Add more salt, pepper, lemon juice or sugar if needed. Turn off the heat and let stand covered for 10-15 minutes before serving.

Serve hot with a big dollop of sour cream!