Carrot omelette is a high protein and balanced breakfast idea that is ready in under 20 minutes. Such a bright and nutritious meal!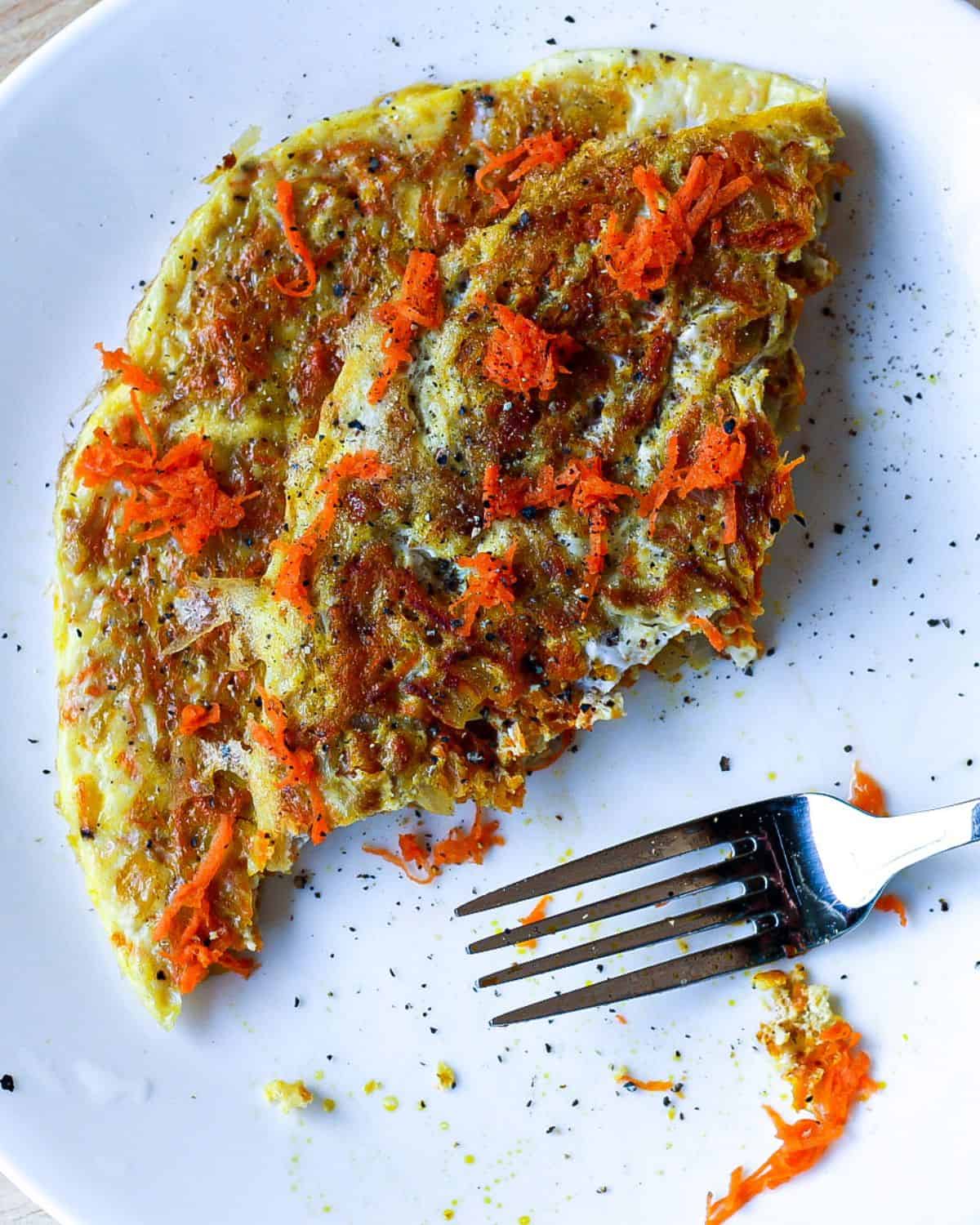 Jump to:
Egg omelette with carrots
The other day, I did not have my go-to omelette veggies, so I decided to experiment and added some grated carrot to my favorite breakfast. And it turned out to be one of the best omelettes I've ever made.
Soft beaten eggs with sweet carrots and onions, salt, and pepper is cooked with ghee butter to create the most nutritious breakfast.
Carrots will add extra nutrients to your breakfast as they are rich in Vitamin A, Vitamin K, Calcium, and dietary fiber.
Ingredients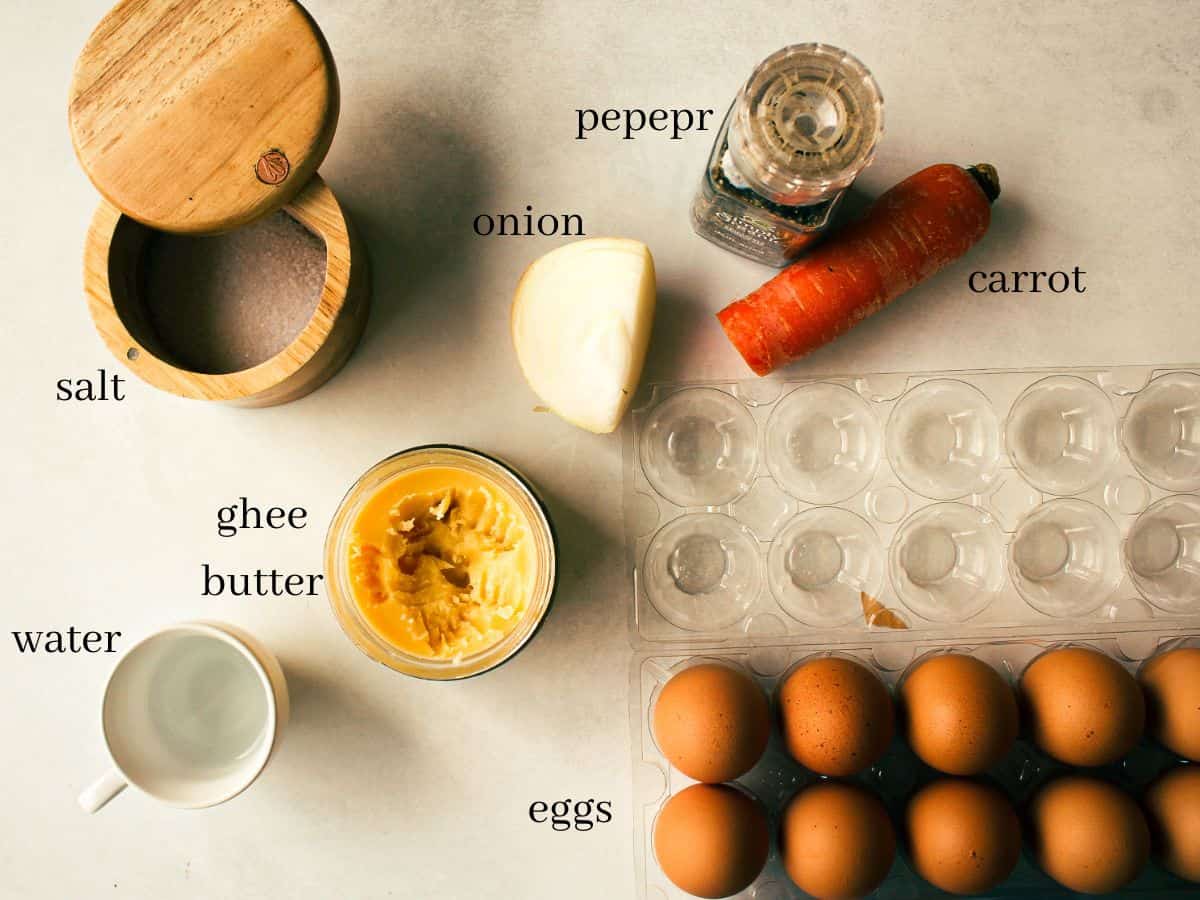 Eggs - large or medium eggs as a main ingredient. I always use free-range or organic eggs.
Carrots - you will need a small carrot or half of the medium one. You can add more or less by taste.
Onion - yellow or white onion. It adds a nice flavor, but you can easily skip it.
Salt and Black Pepper - add by taste to whisked eggs. I also love to add a good amount on already cooked omelette.
Water - water will make the eggs fluffy. You can use milk instead.
Ghee Butter - ghee butter adds great buttery flavor and is a great for frying. You can also use regular butter or olive oil.
See the recipe card for ingredients quantities
How to make carrot omelette
Peel and dice the onion finely and set it aside.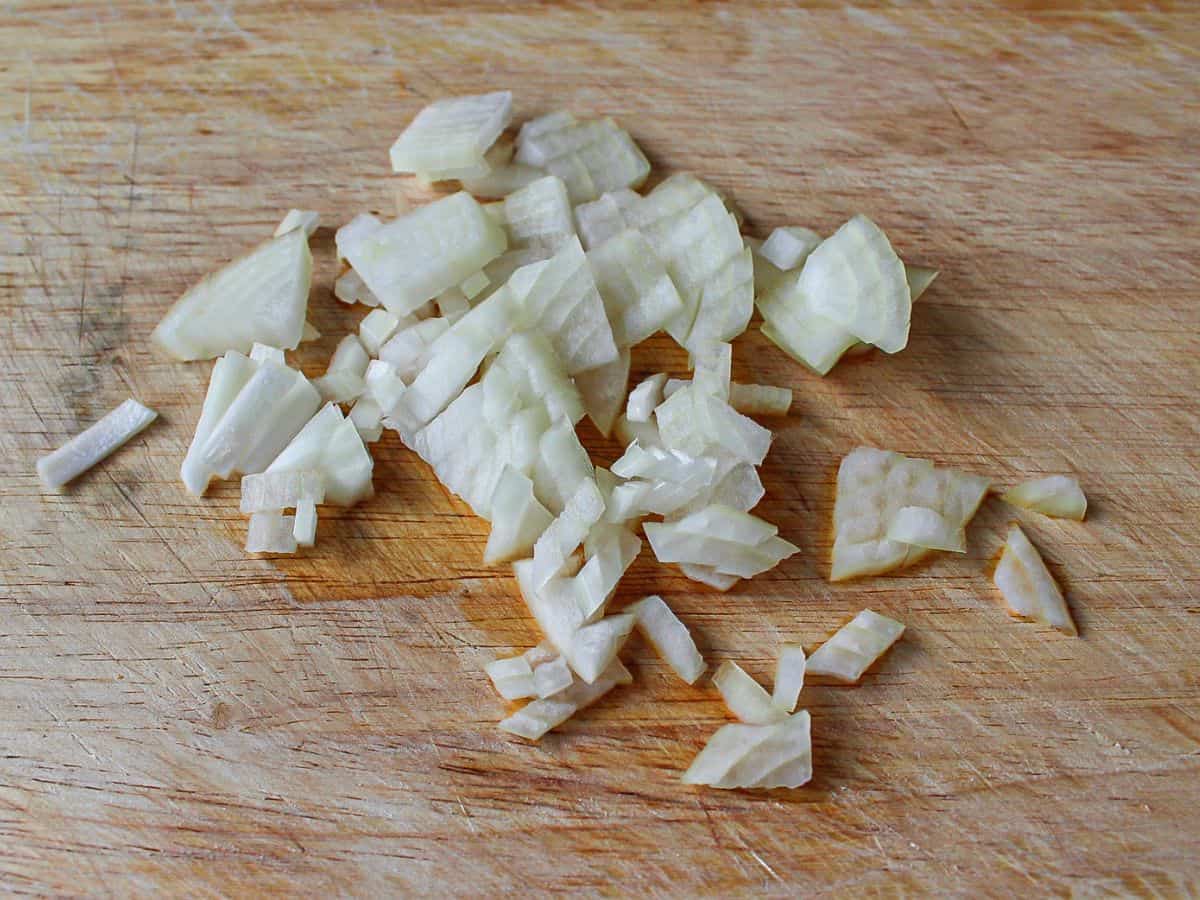 Wash and peel the carrot. Use a finer side of a box grater to shred the carrots. You can also do it it in the food processor. But for one serving, it is faster to use a manual box grater.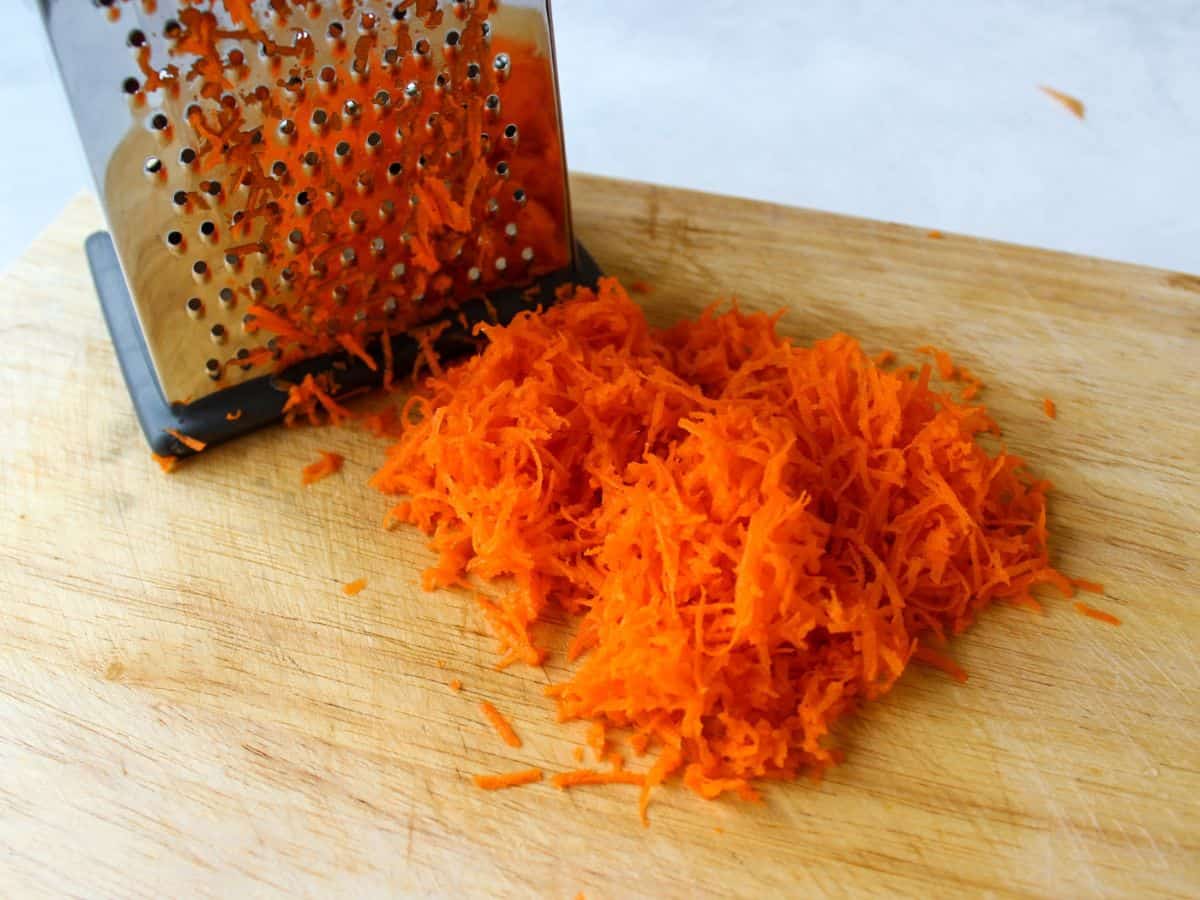 In an 8" non stick frying pan, add ghee butter. Heat it over medium heat and add diced onions. Cook onions for about 3-4 minutes stirring often until they become translucent and start browning.
Now, add grated carrots to the frying pan and cook for another 5 minutes stirring often. If the pan seems dry, add little but more ghee. Cook the carrot until they start browning and are softer.
In a small bowl, whisk 2 eggs, water, a pinch of salt and black pepper until combined. I usually whisk it with the fork, it works great.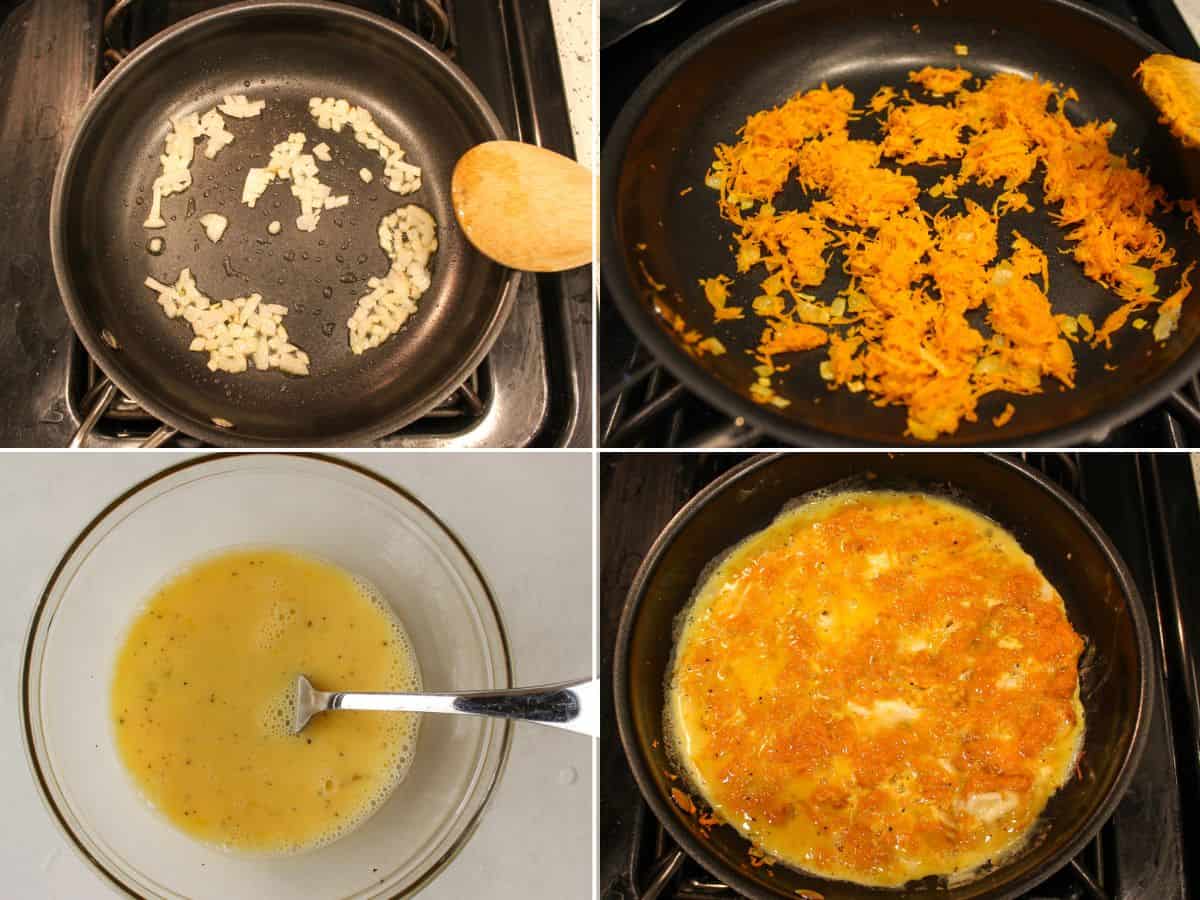 Pour the egg mixture to the pan with cooked carrots and onions. Stir everything gently, cover with the lid and cook it on low heat for about 8 minutes until the eggs look fully cooked and do not look runny on top.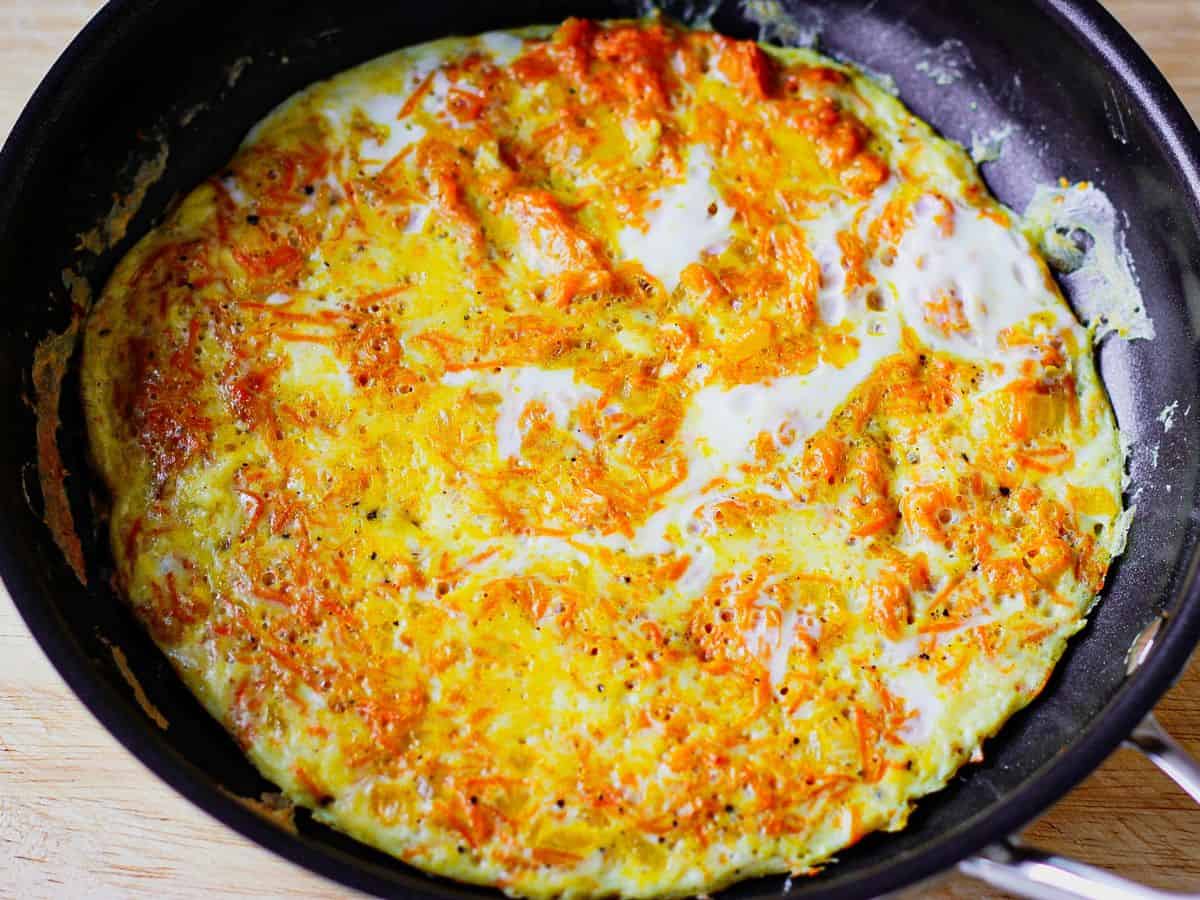 Make ahead
This carrots omelette can last in the fridge for up to 3 days in an airtight container. Just make sure to refrigerate it as soon as it cools down. I often make a double batch to last it for a few days. Just warm it up in the microwave the next day to enjoy it for breakfast or even lunch.
Add-ins
cooked bacon bits
smoked salmon
diced ham
shredded cheese
diced spring onion, bell peppers or tomatoes.
Tips
For one serving carrot omelette (made with 2-3 eggs) use an 8" size non stick pan. Use bigger pan if making 4-6 egg omelette.
Cook the vegetables before adding the eggs as they take much faster to cook.
Set a side some grated fresh carrot and sprinkle some on top of the cooked omelette on a serving plate.
Frequently asked questions
What frying pan is the best to make omelette?
Use a non-stick pan if you do not want to worry about omelette stick to the pan. If using cast iron or stainless steel, make sure you add a good amount of oil and preheat the pan properly.
Can I freeze it?

Yes, omelette can be stored in the freezer in a freezer-safe bags up to 3 months.
How long omelette last in the fridge?
When properly stored in an airtight container or a Ziploc bag, carrot omelette will last in the fridge up to 3 days.
Other recipes featuring eggs or carrots
📖 Recipe
Carrot Omelette
Carrot omelette is a high protein and balanced breakfast idea that is ready in under 20 minutes. Kids love this fluffy omelette that is rich in vitamin A, and good fats and have a vibrant color.
Equipment
1 Box grater

1 8" non-stick frying pan
Ingredients
2

eggs

1

small carrot (about 4 Tablespoons shredded)

⅛

medium onion (1 Tablespoon diced)

2

Tablespoons

water

1

pinch

salt

1

pinch

black pepper

plus more for serving

1

Tablespoon

Ghee butter or oil

or more as needed
Instructions
Dice the onion into small pieces. Use a finer side of a box grater to grate the carrot.

In an 8" non-stick frying pan, add ghee butter. Add onions and cook them over medium heat for about 4 minutes until translucent. Add grated carrots and cook for another 4-5 minutes stirring often until carrots become softer and start browning.

Meanwhile, in a small bowl whisk 2 eggs, 2 Tablespoons of water, a pinch of salt, and some black pepper.

Pour eggs into the pan and stir gently. Cover, turn the heat to low, and cook for another 8 minutes or until the eggs are fully cooked. Enjoy with some extra black pepper on top.
Notes
if using stainless steel pan, make sure to add a good amount of fat and preheat it well.
refrigerate the omelette for up to 3 days and reheat it in the microwave.
this recipe yields one serving. 
you can add some bacon, ham or cheese.
the nutrition fact are for information purposes only.
Nutrition
Calories:
200
kcal
Carbohydrates:
4.6
g
Protein:
13
g
Fat:
14.2
g
Cholesterol:
382.3
mg
Sodium:
235
mg
Fiber:
0.8
g
Sugar:
2.6
g