Instant Pot barley comes out perfectly tender and fluffy every time. You will need only 3 ingredients and 30 minutes to prepare pearl or hulled barley in your pressure cooker. Use it as a side dish or add to salads, stews and soups.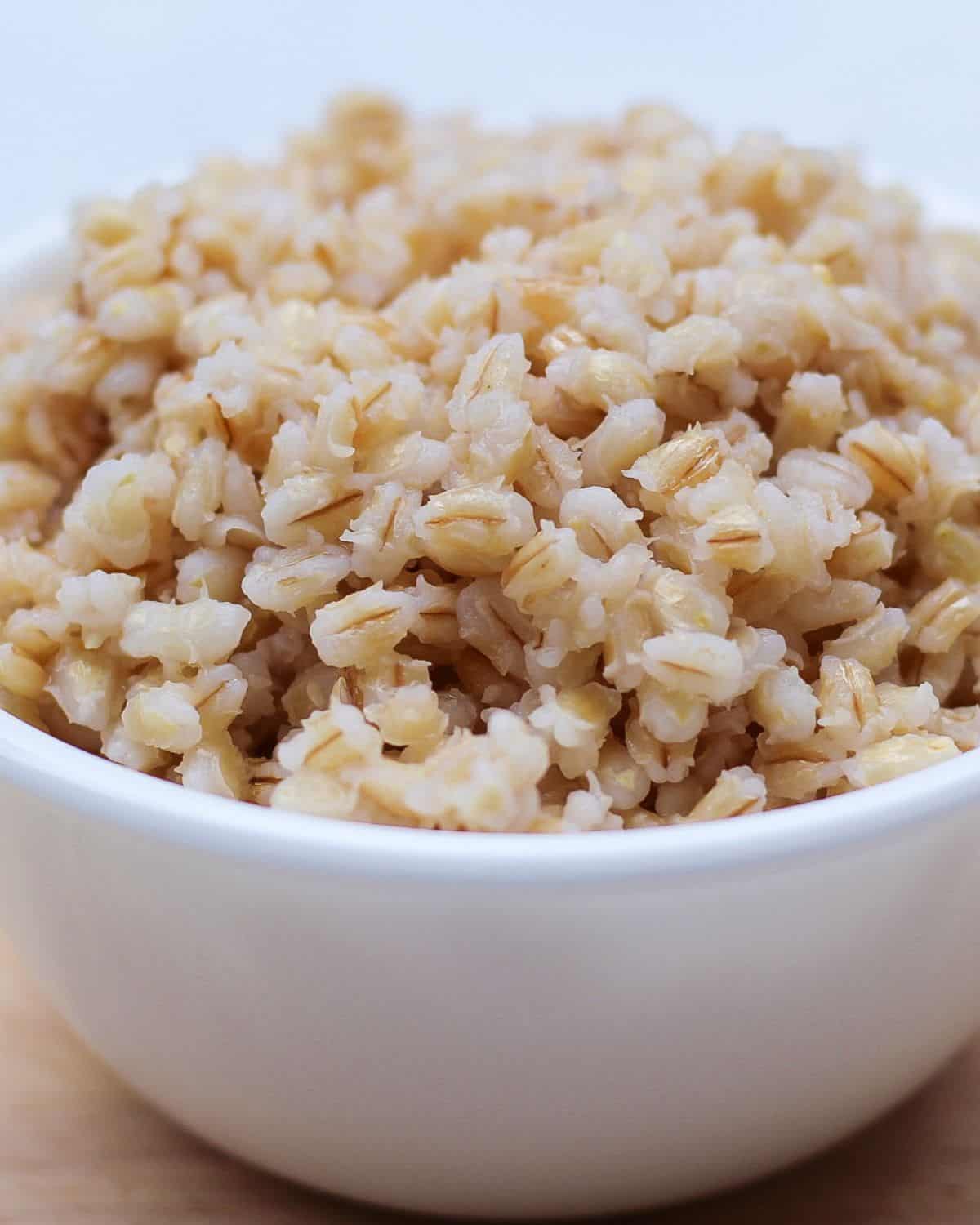 Barley is a whole grain that has a chewy texture and slightly nutty flavor. People often avoid buying barley, because they are not sure how to cook it or what to serve it with.
But did you know that this grain can be a great substitute for rice or even pasta?
Barley is packed with nutrients. It is rich in fiber, iron, potassium, manganese, and folate. Barley has the lowest glycemic index (22-28) out of all grains.
You can even use it instead of rice to make Creamy Barley and Mushroom Risotto.
I love cooking grains in a pressure cooker, they always come out tender and fluffy. Try my Instant Pot Buckwheat or Millet.
If you do not have an instant pot or a pressure cooker, barley is very easy to cook on the stove.
Ingredients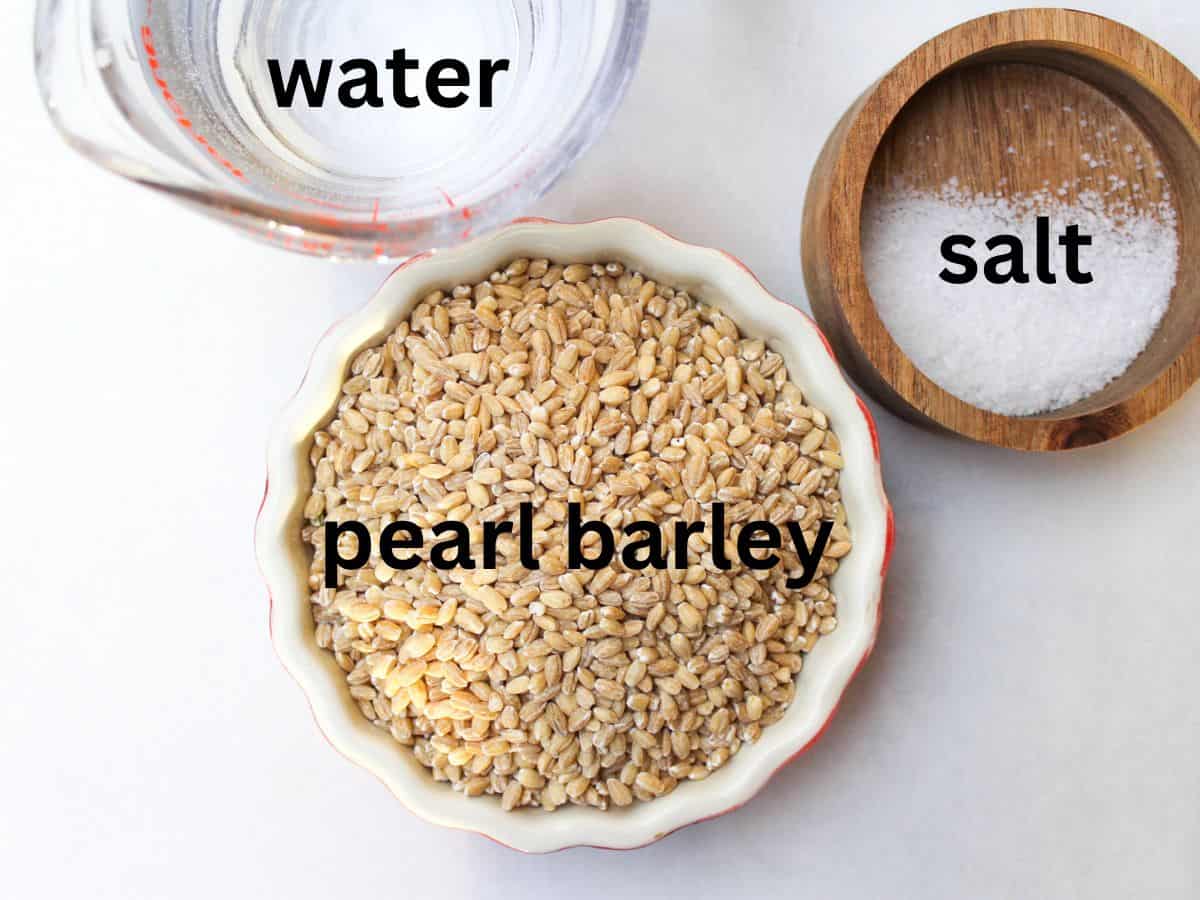 Barley: you can use pearl or hulled barley. Barley can be found in the grains aisle of the grocery store where you usually find rice. You will more likely find hulled barley in the bulk section.
Water: I used cold filtered water. Use broth instead of water for a rich flavor.
Salt: salt is optional, but I always add a little bit for taste.
Instructions
Below are step-by-step instructions for making pearl barley in your instant pot. I used Instant Pot Duo to make this recipe.
First, you need to know what type of barley you are about to cook. If you are not sure which one you have, my Hulled Barley vs Pearl article will help you to tell the difference.
You will need 22 minutes and 2 cups of water to cook pearl barley and 30 minutes and 2.5 cups of water to cook hulled barley in Instant Pot.
Step 1. In a large bowl, add barley and cold water. Use your hands to swirl the grain. The water will become cloudy. Dump the water and repeat the process a few times until the water runs clear.
You can use a mesh strainer to rinse it, but this method requires more water.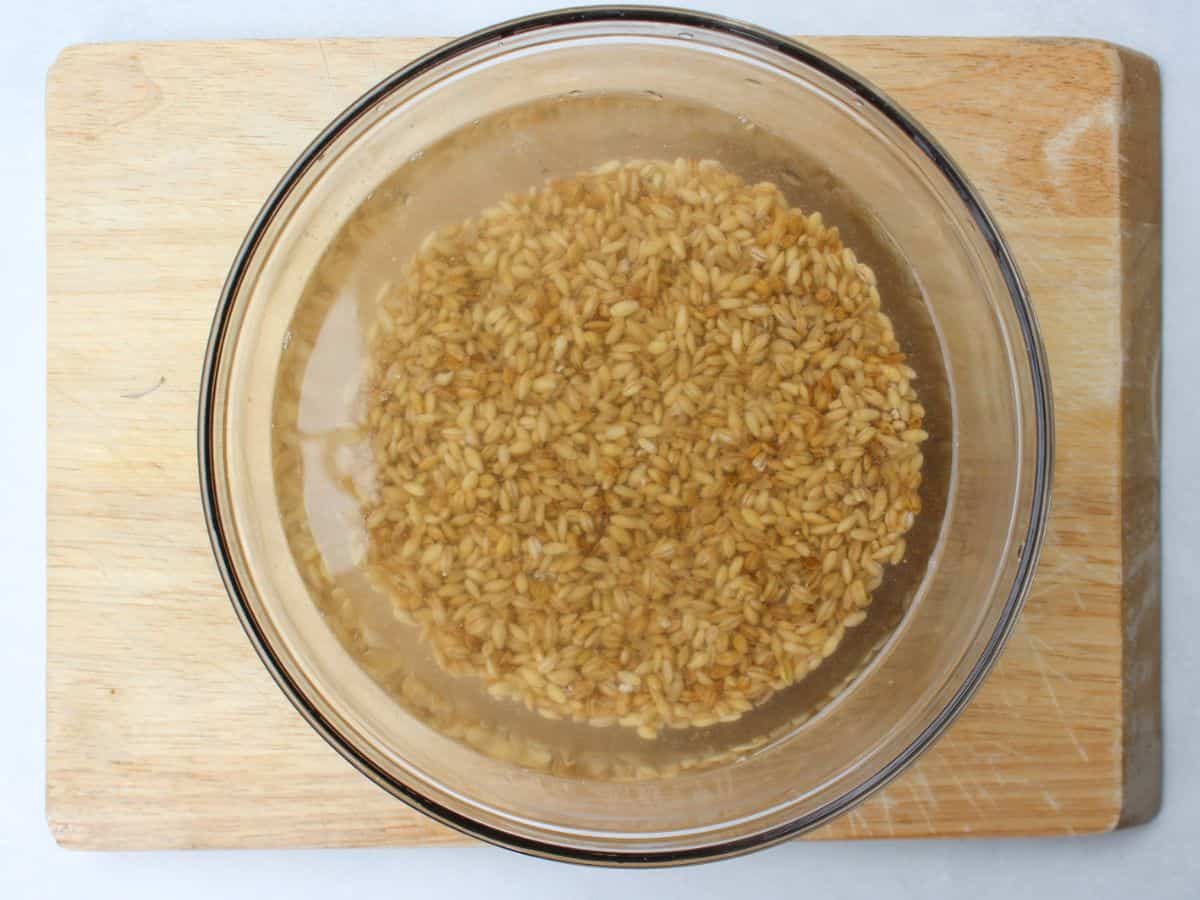 Step 2. Add rinsed barley, water (or broth), and salt (optional) to your instant pot. Close the lid and place the valve in the sealing position.
Note: I always double-check if my rubber ring is in the lid and placed properly.
Step 3. Press the "pressure cook" button and set the pressure level on high (for manual older models). Set the timer to 22 minutes (pearl barley) or 30 minutes (hulled barley). It will take about 5 minutes to build the pressure and once you hear 3 beeps, the timer will start the count down.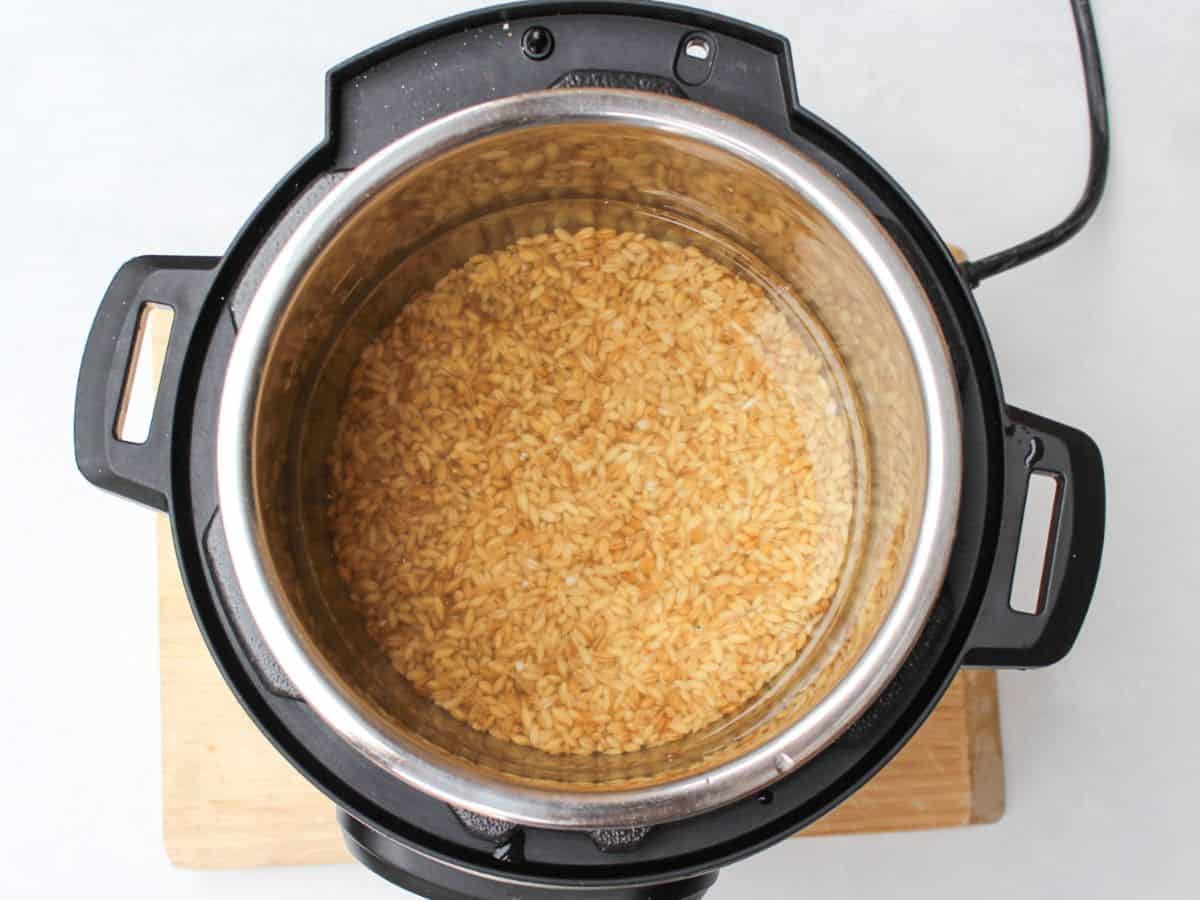 Step 4. After the time elapsed, do a natural release for 10 minutes. It means just letting the pot sit without disturbing it. After that, carefully turn the valve to the venting position (older models) or press the quick-release button (new models) to release the remaining pressure and steam.
Step 4. Carefully remove the lid, fluff the cooked barley with the fork and serve.
Best tips
rinsing barley to clean it and to prevent it from sticking.
stick to the same brand of barley, as a different brand might need a slightly different cooking time and amount of water.
if there is water left after cooking, drain it using a mesh strainer.
cook barley in batches and freeze it. Add it straight to soups or stews.
How to use cooked barley
Barley is great as a side dish with chicken, turkey, or beef. You can serve it in place of rice, pasta, or potatoes.
Adding cooked barley to your salad can make it a complete meal, as barley is a good source of slow carbs, fiber and so much more.
Make a Breakfast Barley Porridge with almond milk, berries, nuts, and honey.
How to store and reheat
After the barley cools down completely, store it in the fridge in an airtight container for about 3-5 days.
You can freeze barley for up to 3 months.
Reheat the barley in the microwave or on the stove with a little bit of water and butter.
Frequently asked questions
What is the difference between hulled barely and pearl barley?
Hulled barley is a whole grain with the outer inedible shell removed. Pearl barley is a polished grain and has a shell, bran, and parts of the endosperm removed.
Do I need to soak hulled barley?
Only if you using a stove-top method. Hulled barley does not require soaking when cooked in Instant Pot.
How do you add flavor to barley?
If serving barley as a side dish, I like to jazz it up with some butter, Italian seasonings and grated Parmesan.
📖 Recipe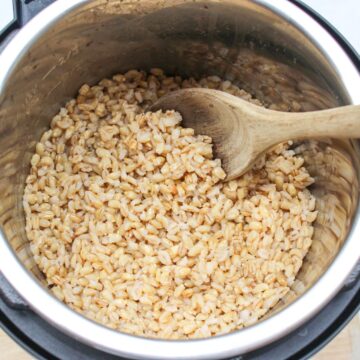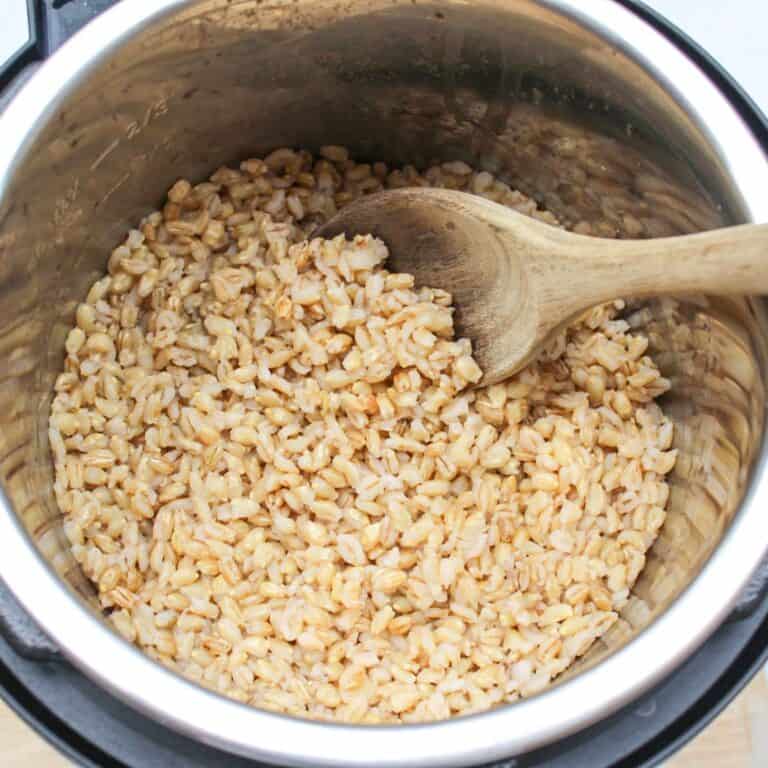 Instant Pot Barley
Instant Pot barley comes out perfectly tender and fluffy every time. You will need only 3 ingredients and 30 minutes to prepare pearl or hulled barley in your pressure cooker. Use it as a side dish or add to salads, stews and soups.
Equipment
1 Measuring Cup

1 instant pot
Ingredients
1

cup

pearl barley

or hulled, see notes

2

cups

water or broth, *see notes below for hulled barley

⅛

teaspoon

salt
Instructions
Rinse barley few times until the water runs clear.

Add barley, water and salt to the pressure cooker. Close the lid and place the pressure valve in the "sealing" position.

Choose high pressure and set the timer for 22 minutes. Once the cooking time is over, let it naturally release for 10 minutes followed by a quick release for the remaining steam.

Open the lid carefully and serve barley.
Notes
*hulled barely: add 2.5 cups of water and cook for 30 minutes followed by 10 minutes natural release.
you can freeze cooked barely in batches and add it straight to soups and stews.
the serving size is ½ cup of cooked barley per person.
the nutrition facts are not to be used as medical advice and they are for informational purposes only.
Nutrition
Calories:
135
kcal
Carbohydrates:
25
g
Protein:
3.5
g
Fat:
2
g
Sodium:
65
mg
Fiber:
7
g