Let's learn the difference between hulled and pearl barley. This detailed article compares grain structure, look, nutrition profile, and taste of both types.
In simple words, hulled barley is barley that has a thin protective layer on the outside called "hull". On the other hand, pearl barley is the same barley grain, but its hull has been removed, making it look shiny like a pearl.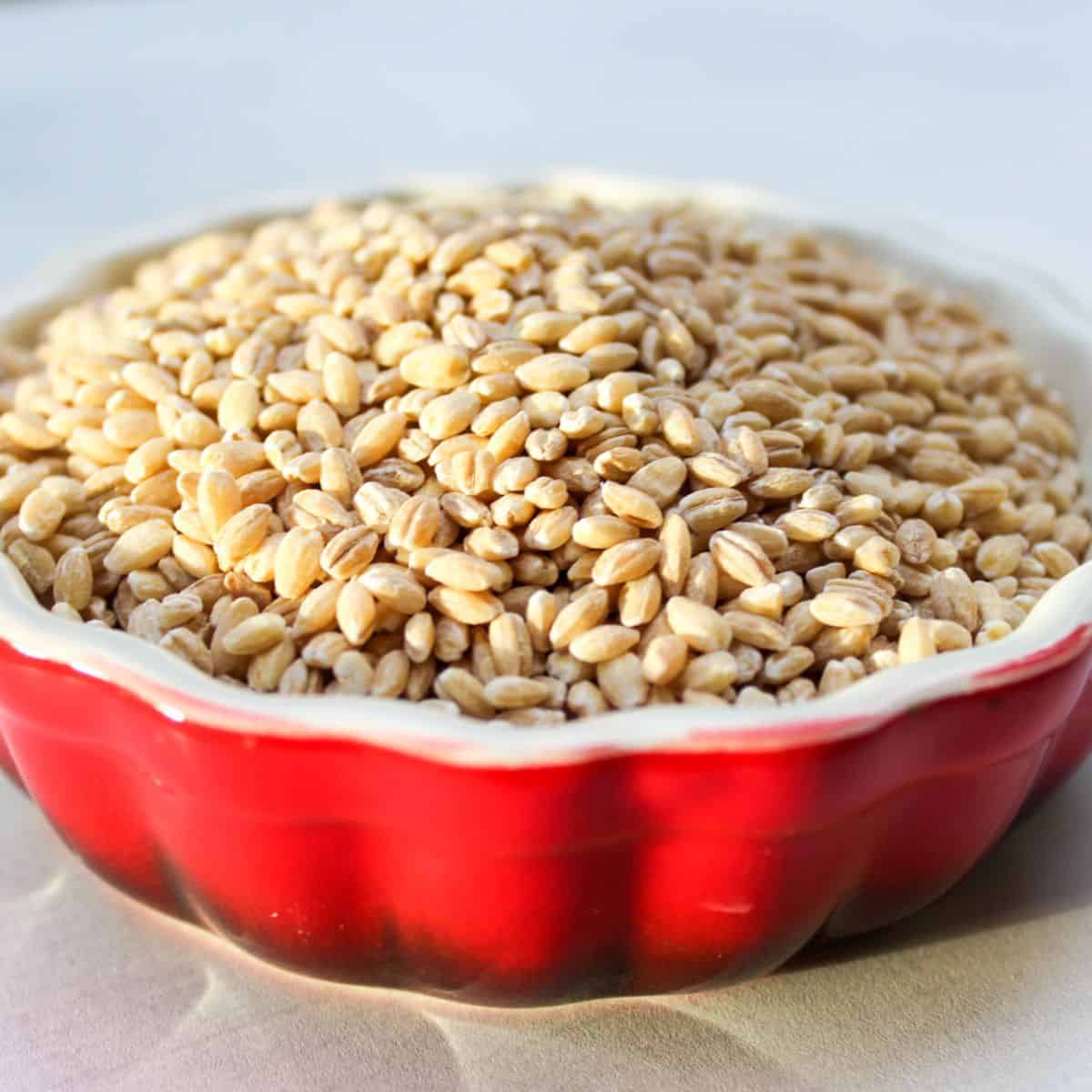 Barley is a nutritious ancient grain that you can find in the grain aisle of any grocery store. Hulled barley and pearl barley (or pearled) are the most common types found in the US. There are also quick barley, barley flakes, and even barley flour.
You can use the advanced jump to button below to easily navigate the post.
Jump to:
What makes hulled and pearl barley different?
Some may think that hulled and pearl barley are two different barley plant types, like red and white quinoa. 
But hulled and pearl barley are more like brown rice and white rice. Comes from the same plant, but is processed differently.
First, let's learn about the structure of the barley grain. Because that's what makes both types different. The processing changes the grain's structure.
Like any other grain, the whole barley grain (straight from the pant, before the processing) consists of the germ (the core), the endosperm (bran and fibers, it is an interior layer that holds carbs, protein, and vitamins), and the husk (the inedible protective layer).
Now, let's see why hulled and pearl barley are different.
Hulled Barley is considered a whole grain as only its outer inedible shell has been removed.
Pearled Barley has its outer shell, bran, and sometimes part of the endosperm removed.
How to tell the difference between the two?
The picture below can easily help you identify the difference between the two types of barley. If you have both types, you can tell the difference between them by look and touch.
The Hulled (on the left) is darker and has a slight shine because it still has the bran. If you pick one hulled barley, you can feel the sharp ends.
Pearl barley (on the right) is lighter in color. It looks polished, almost matte. The grain does not have sharp ends like the hulled one.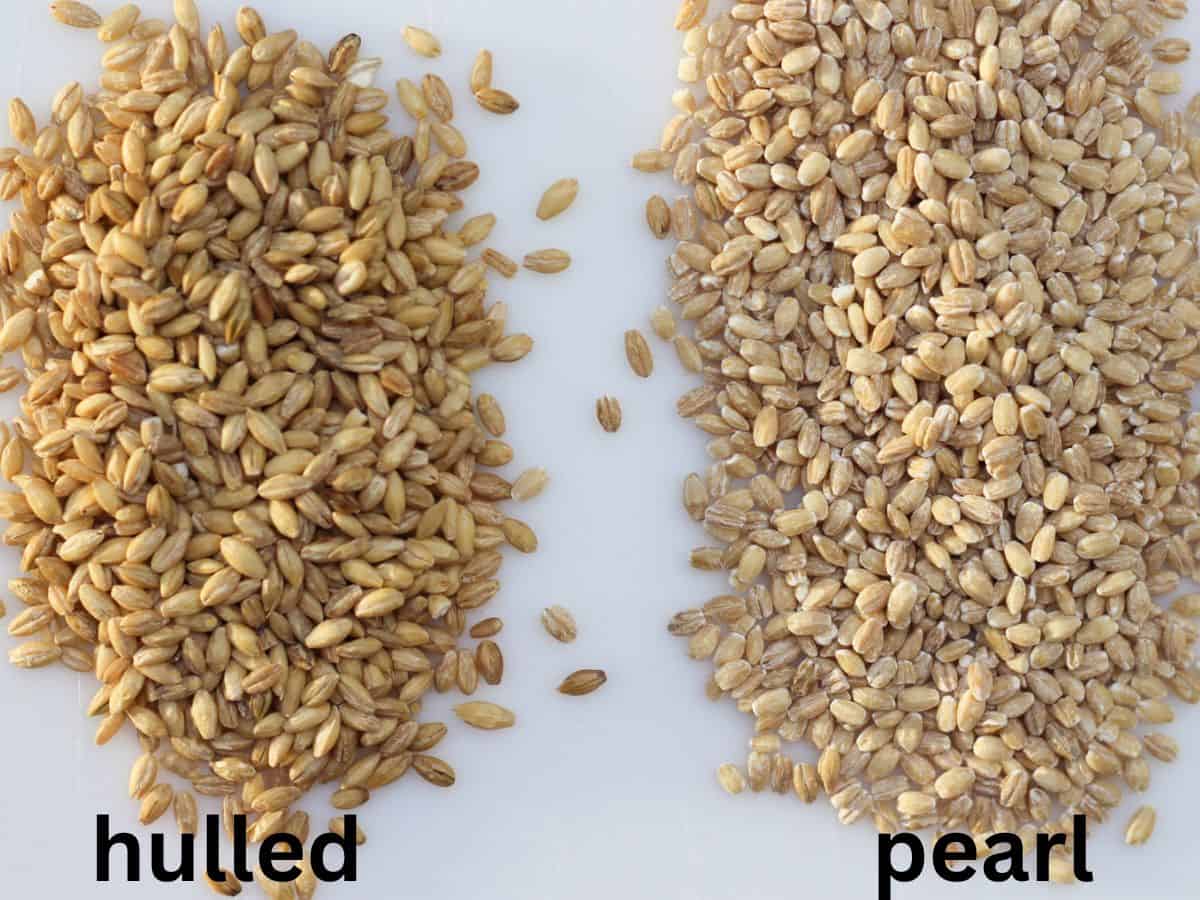 How do I cook hulled and pearl barley?
Both types need to be simmered in water like any other grain. The water ratio is 3 cups of water for every 1 cup of barley (hulled or pearl). The cooking time wary between 30-50 minutes, hulled barely takes longer to cook. The barely is ready when most of the water is absorbed and the grain is tender.
You can also cook barley in Instant Pot. Pressure cooker method is much faster and easier.
Both types require the same amount water, because is recommended to soak hulled barley before cooking as it takes longer to cook.
You can find the step-by-step cooking directions with tips in my article How to Cook Different Types of Barley.
If cooking unsoaked barley, you may need to add more water and cook it longer.
You can always add more water and cook it longer if the grain is not tender.
Nutritional value
If you have a choice, pick hulled barley over pearl. Hulled barley is a whole grain and contains more fiber and nutrients.
Pearl barely is considered refined, but it is probably one of the most nutritious refined grains available. It contains a lot of fiber and is quite healthy to consume.
Note: the nutritional facts and article information is not to be considered as medical advice and not to be used as such. It is only for informational purposes.
Hulled dry barley nutrition facts (per 1 cup)
Calories: 651kcal
Total Fat: 4.2g
Sodium: 22mg
Total Carbohydrates: 135g
Dietary Fiber 32g
Sugar: 1.6g
Protein: 23g
Calcium: 6.1%
Iron: 36.8%
Potassium: 831.7mg
Pearl dry barley nutrition facts (per 1 cup)
Calories: 640kcal
Total Fat: 2.8g
Sodium: 6.4mg
Total Carbohydrates: 132g
Dietary Fiber 24g
Sugar: 1.4g
Protein: 20g
Calcium: 8 %
Iron: 24%
Potassium: 560mg
As you can see, both hulled barley and pearl barley are rich in fiber, plant protein, potassium, and iron. Hulled barley has higher load of the main nutrients due to being a whole grain.
Both types of barely have a low glycemic index (22-29), making it a perfect grain for weight loss and those who monitor their sugar levels.
Add barley to soups, stews, or use it to make a Breakfast Porridge or Risotto.
Frequently asked questions
Can I use hulled barley if the recipe calls for pearl barley?
Yes, you can use any type of barley. Make sure you adjust the cooking times depending on the type.
Do hulled barley and pearl have the same benefits?
Both types are rich in fiber, vitamins in minerals. However, hulled barely has a higher amount of nutrients due to being whole grains. 
Does hulled barley and pearl barely taste the same?
Both types taste quite the same. I find hulled barley has a nuttier taste and it is chewier.
Is barley gluten-free?
No, barely is not a gluten-free grain and contains about 5-8% gluten.